SS Regina Archival Collection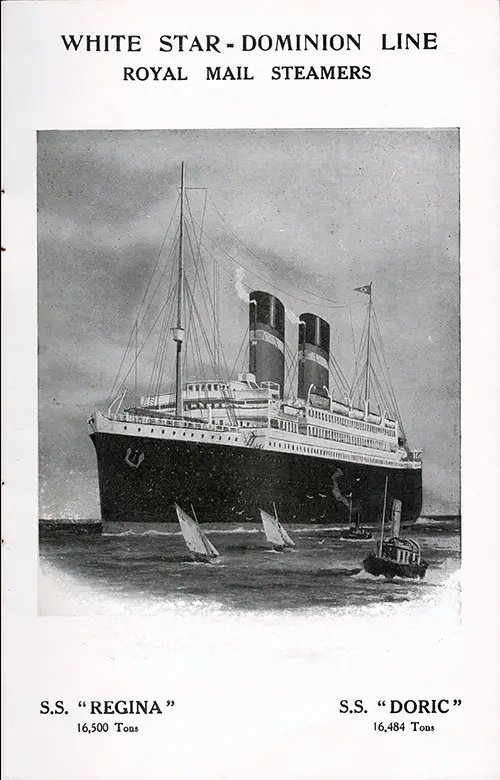 White Star-Dominion Line Royal Mail Steamers SS Regina 16,500 Tons and SS Doric 16,484 Tons. SS Canada Passenger List, 18 September 1925. GGA Image ID # 1ea5f9fba4
Content Links
Regina (1918) White Star Line
Built by Harland & Wolff, Ltd., Belfast, Ireland. Tonnage: 16,289. Dimensions: 575' x 67'. Triple-screw, 16 knots. Triple expansion engines and one steam turbine. Two masts and two funnels. Modifications: Built as a cargo ship for Dominion Line. However, converted to passenger liner. First voyage as such was in March 1922. She was launched as the Regina for the Dominion Line, but shortly afterwards, was transferred to White Star Line. Renamed: Westernland (1929). Sister ship: Pittsburgh.
Return to Content Links
Menus
1927-06-13 SS Regina Dinner Menu Card
Vintage Third Cabin Tourist Dinner Bill of Fare Card from 13 June 1927 on board the SS Regina of the White Star Line featured Sea Bass à la Commodore, Ribs and Sirloin of Beef Horseradish, and Pouding Baronne for dessert.
Return to Content Links
Sailing Schedules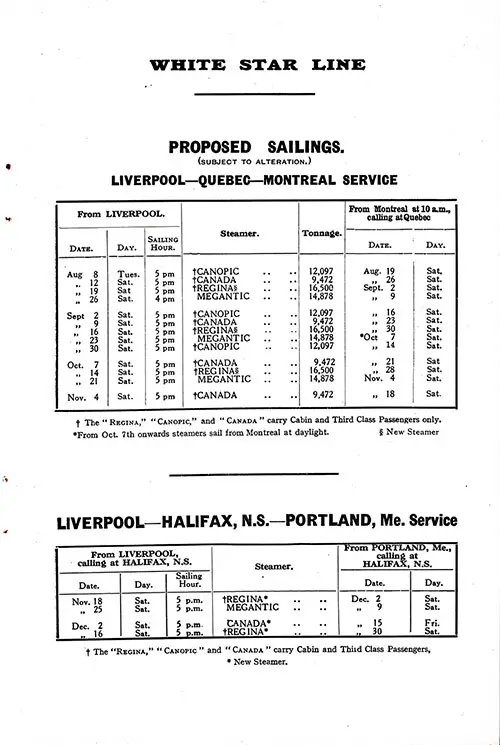 White Star Line Proposed Sailings, Liverpool-Québec-Montréal Service; and Liverpool-Halifax-Portland, ME Service, from 8 August 1922 to 30 December 1922. Ships Include the Canada, Canopic, Megantic, and Regina. RMS Majestic Passenger List, 6 September 1922. GGA Image ID # 1dd5148dae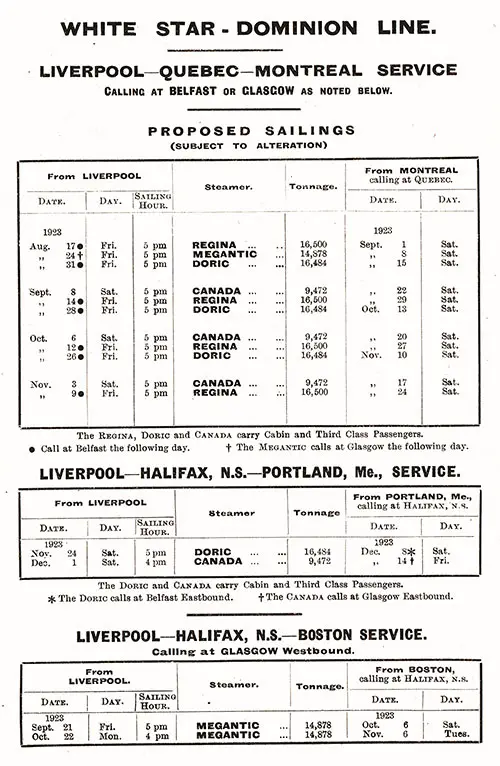 Sailing Schedule, Liverpool-Belfast-Glasgow-Québec-Montréal, Liverpool-Halifax-Portland, ME, Liverpool-Halifax-Boston, from 17 August 1923 to 14 December 1923. Ships Included the Canada, Doric, Megantic, and Regina. RMS Homeric Passenger List, 5 September 1923. GGA Image ID # 1f0b2c0cc8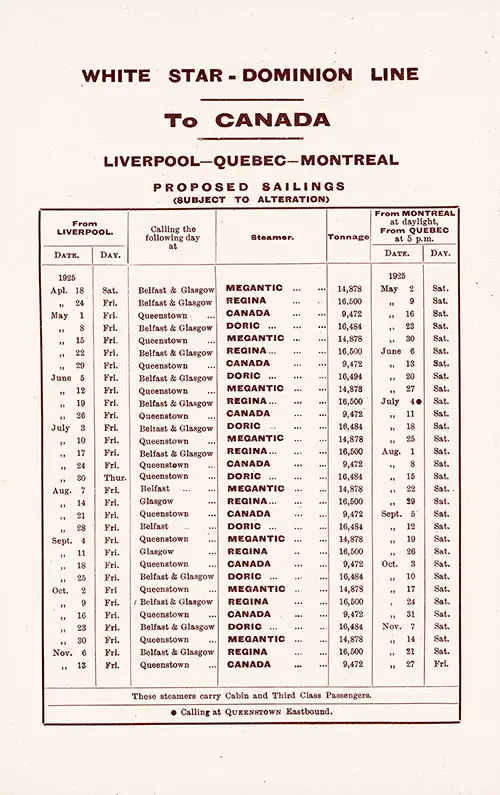 Sailing Schedule, White Star-Dominion Line, Liverpool-Québec-Montréal, from 18 April 1925 to 27 November 1925. Ships Included the Canada, Doric, Megantic, and Regina. RMS Celtic Passenger List, 30 May 1925. GGA Image ID # 1e52957de8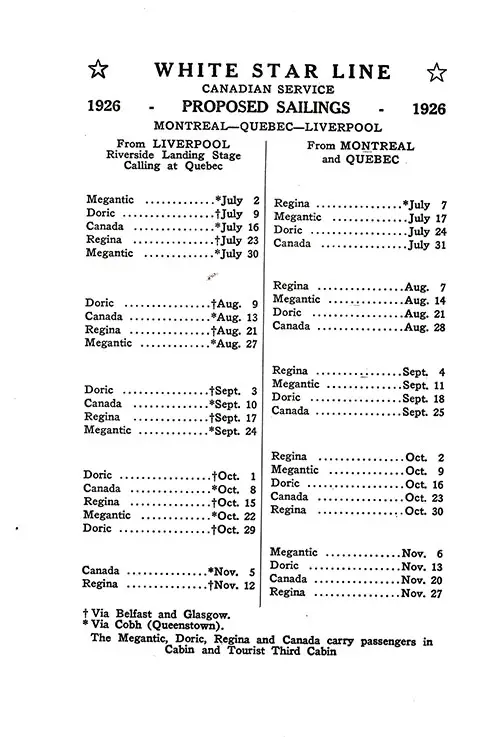 Proposed Sailings, White Star Line Canadian Service, Montréal-Québec-Liverpool, from 2 July 1926 to 27 November 1926. Ships Included the Canada, Doric, Megantic, and Regina. RMS Belgenland Passenger List, 26 June 1926. GGA Image ID # 1df2d57133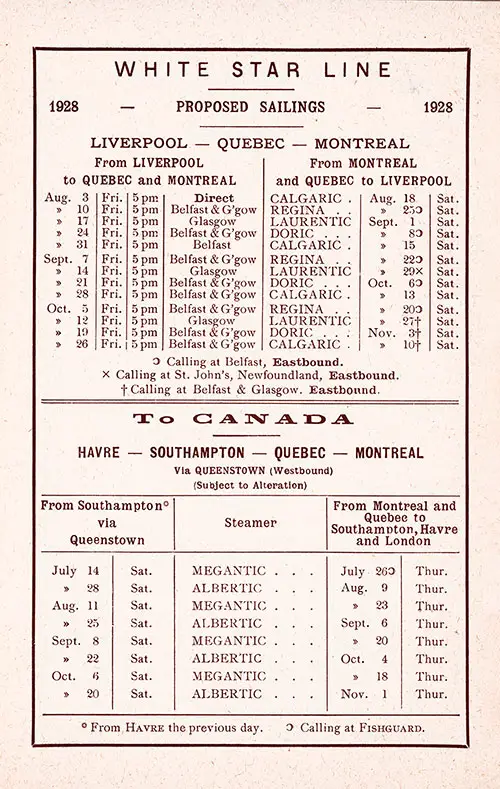 Sailing Schedule, Liverpool-Québec-Montréal and Le Havre-Southampton-Québec-Montréal, from 14 July 1928 to 10 November 1928. Ships Included the Albertic, Calgaric, Doric, Laurentic, Megantic, and Regina. SS Lapland Passenger List, 31 August 1928. GGA Image ID # 1ebeb75533
Return to Content Links