SS Ruahine Collection
Ephemera for the SS Ruahine are available at the GG Archives, including Passenger Lists, Menus, Brochures, Event Programs, and more.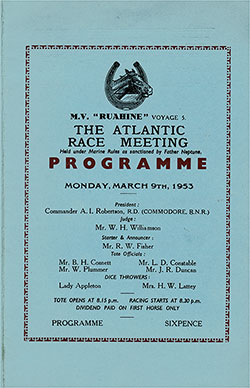 1953-03-09 Horse Racing Program - MV Ruahine
They had fun putting together this "Horse Racing" program onboard the MV Ruahine of the New Zealand Steamship Company for Monday, 9 March 1953. Wooden horses were advanced on a track based on the roll of dice. Each horse in the six races included owner, name of horse, jockey, and quip.