SS New York Passenger List - 27 February 1904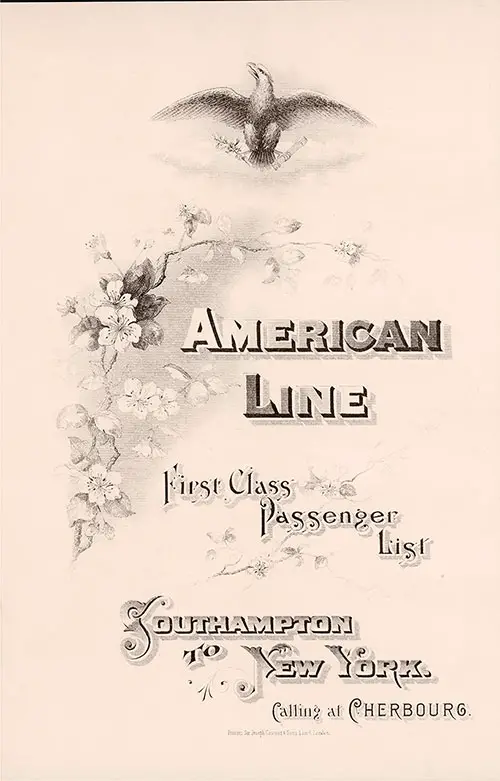 Front Cover of a First Class Passenger List for the SS New York of the American Line, Departing Saturday, 27 February 1904 from Southampton to New York via Cherbourg, Commanded by Captain F. M. Passow. GGA Image ID # 158ef3d3f0. Alamy
Senior Officers and Staff
Captain: F. M. Passow
Purser: Thomas Kinsey
Surgeon: L. F. Psotta
Chief Steward: George Campbell
First Class Passengers
Miss Bateman
Mr. E. S. Belden
Mrs. E. S. Belden
Mr. E. K. Bennett
Mr. Edward B. Blakely
Mrs. Edward B. Blakely
Mr. R. C. Board
Mrs. R. C. Board
Mrs. Charles H. Bond
Miss K. Campbell
Mr. Hugo Carlsson
Mr. R. S. Carter
Mr. W. H. Castell
Mr. Allen Cressman
Miss Josephine M. Dowling
Mrs. A. B. Fleshes
Miss Constance Gilman
Mr. Henry H. Grant
Mr. Albert Haas
Mrs. Julia G. Hills
Mr. Livingston. Hunt, U.S.N
Mrs. Livingston Hunt
Master Livingston Hunt and Nurse
Mr. W. Imans
Mr. Ingersoll
Mrs. J. Kater
Mr. Lionel Kremer
Mr. Guy La Coste
Mr. Wm. Lennox
Miss Helen C. Lincoln
Miss A. Maitland
Mr. E. A. McLennan
Mr. N. D. Metzger
Mr. J. L. Meyers
Mrs. John S. Morrison
Mrs. M. J. Mulhall
Mr. E. Mullen
Mr. Andrew Newborg
Mrs. Andrew Newborg
Mrs. E. Oaksmith
Mrs. Jane Van M. Parry
Mr. Noel Perret
Mrs. Noel Perret and servants
Miss E. Purcell
Mrs. Jas. E. Reade
Miss N. Regan
Mr. H. D. Richardson
Mr. F. C. Roberts
Miss A. C. Ryan
Miss Seymour
Mr. H. G. Torrence
Mr. Joseph F. Trunkett
Mrs. Joseph F. Trunkett
Mr. L. S. Twiss
Mr. L. E. Weber
Mr. E. Weinheim
Miss A. Wickstrom
Information for Passengers
Breakfast from 8:00 until 10:00 am Luncheon at 1:00 pm Dinner at 7:00 pm
The Bar closes at 11:00 pm
Lights are extinguished in the Saloon at 11:00 pm, and in the Smoking Room at 12 (midnight).
Please apply to the Second Steward for Seats at Table.
Letters and Telegrams should be handed to the Saloon Steward within an hour after leaving Southampton, and those for despatch upon reaching port should be handed to him an hour before 'arrival.
Writing Paper, Envelopes, and Telegraph Forms will be found in the Library.
For Railway and Steamship Time Tables of the various Companies, apply to the Saloon Steward.
Inquiries regarding Baggage will be attended to by the Baggage Steward, to whom all Baggage which Passengers wish to leave in the Company's care should be handed, properly labelled, and with full instructions as to disposal.
Large Deck Chairs can be obtained for use on the voyage, at a charge of $1 each, upon application at the Purser's Office, or to the Deck Steward.
The Company will not be responsible for valuables or money unless given in the charge of the Purser, and a receipt for same should be obtained from the Purser.
Letters may be addressed to the care of any of the Offices named below, and they will be retained until called for, or forwarded according to instructions.
The Gjenvick-Gjønvik Archives Reference Number: 3307.1435.3856 1912-04-14