SS Europa Passenger List - 7 July 1937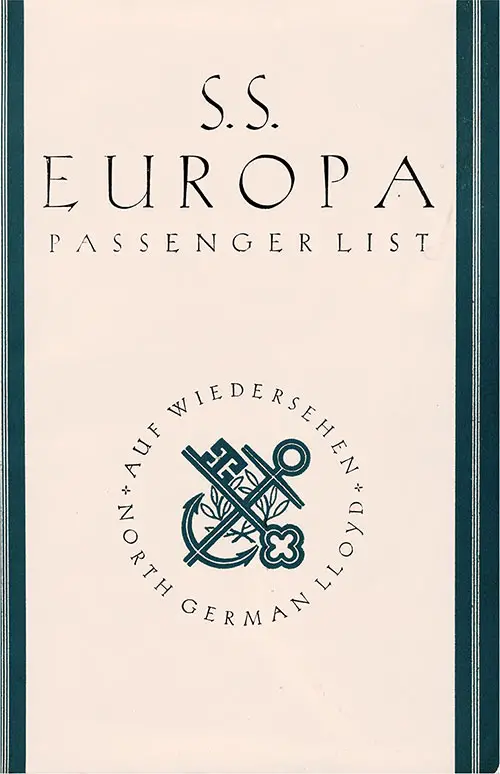 Front Cover of a Tourist Class Passenger List from the SS Europa of the North German Lloyd, Departing 7 July 1937 from New York to Bremen via Cherbourg and Southampton, Commanded by Captain O. Scharf. GGA Image ID # 13ed928a29
Senior Officers and Staff
Captain: O. Scharf
Chief Officer: W. Kracke
Chief Engineer: H. Eints
Fint Doctor: Dr. J. von Geyr
Second Doctor: Dr. H. Grote
Graduate Nurse: Miss A. Maul
Chief Purser: H. W. Müller
Purser Cabin Class: K. Rohde
Purser Tourist Class: D. Zelle
Purser Third Class: H. Jüncmann
In Charge of Travel Bureau: W. de Haas
Special Travel Service: Miss E. Dackau
Managing Chief Steward: G. Pflüger
Chief Steward Cabin Class: G. Jander
Chief Steward Dining Room: K. Schwarz
Chief Steward Tourist Class: B. Willkehr
Chief Steward III Class: O. Dunkel
Chief Steward (Restaurant): J. Aigner
Managing Chief Cook: C. Wagner
Wireless First Officer: D. Berbig
Baggage Master: H. Horstmann
Tourist Class Passengers
Miss Erna Ahrens
Miss Clara Albrecht
Mr. George Alders
Mrs. Alders
Miss N. Allen
Miss Margaret Ames
Mrs. Eleanor Anderson
Miss Carrie Andres
Miss Louise Andres
Miss Mamie Andres
Miss Marianna Andres
Miss Jane Ashe
Mr. Clifford S. Aspegren
Miss Mary C. Atkins
Miss Helen Ault
Miss Ruth Ayres
Mr. Henry Baer
Mrs. Baer
Mr. Benjamin Baer
Miss Maud Banks
Miss Vilva Banks
Dr. C. Barck
Mrs. Barck
Mr. Rudolf Barfuss
Miss Winnefred Barr
Mrs. Edith R. Barron
Mr. Everett W. Barto
Mrs. Barto
Mr. William Bauch
Mrs. Bauch
Miss Betty Bauch
Dr. Louis Baumann
Mrs. Baumann
Mr. Ralph E. Bayes
Miss Mary E. Beasley
Mrs. Elizabeth Behr
Mrs. Christine Behr
Miss Mary C. Bell
Mrs. Gertrud Benson
Dr. A. E. Bertling
Mr. Ernst Bick
Mr. Ernst Bing
Mrs. Bing
Miss A. Blecher
Miss Isabell Bodden
Dr. F. W. Bode
Mrs. Bode
Miss Margaret Bode
Master F. W. Bode
Mr. John M. Boekesch
Mrs. Boekesch
Miss Bolzck
Mrs. Marjorie Booth
Mrs. E. Bornecamp
Miss Sarah H. Bowditch
Miss Elizabeth Boyer
Mr. Paul Braun
Mr. Robert Breckinridge
Mr. Louis Brennecke
Mrs. Brennecke
Mr. W. Rice Brewster
Mr. Robert W. Brodmann
Mrs. Brodmann
Mrs. Nattana Brodowiak
Mrs. Emma F. Brown
Miss Jane Brown
Mr. Geo. G. Brownell, Jr.
Mrs. Brownell
Mr. Wilhelm L. Bruhn
Mrs. Fitch C. Bryant
Mr. R. F. Buntz
Mrs. Buntz
Miss Claudia Burghardt
Miss Alice D. Burke
Mr. H. E. Burns
Mrs. Burns
Mr. Harold Burns
Mr. J. Robert Bums
Mrs. Frank Burton
Miss Frances Burton
Miss Marion Burton
Mr. Brandon Byrne
Mrs. Byrne
Miss Margareth P. Cahill
Miss Elizabeth Calhoun
Miss Otis Camp
Miss Catherine Campbell
Mr. A. S. Carhart, Jr.
Mr. Wm. T. Carter, II
Mrs. Carter
Mr. Wm. T. Carter, III
Miss Elizabeth Carter
Prof. Arthur Casagrande
Miss Anne Chamberlaine
Mr. C. U. Chappell
Miss Natalie Charlton
Miss Marie Cheever
Miss Pelagia Chôma
Mr. K. H. Christensen
Mrs. Christensen
Mr. A. D. Chistian
Mrs. Chistian
Mr. Charles H. Christopher
Mr. Otto Clauss
Mrs. Clauss
Miss Mary Van Dyke Clifton
Miss Mildred Cogley
Miss Elizabeth Coker
Miss Mary Conlough
Miss Grace Conlough
Miss Irma J. Cooper
Miss Marion Coot
Miss Barbara Coot
Mr. John F. Cordes
Mr. W. C. Covert
Mrs. Covert
Mr. William J. Creed
Mrs. Creed
Mrs. Nan Croft
Miss Anne Cronin
Miss Marion L. Crowe
Mr. Ralph D. Cutler, Jr.
Miss Ethel Daley
Mrs. K. M. Dallenbach
Miss E. G. Darce
Miss Sibyl Davis
Mr. J. R. Dawson
Mrs. Dawson
Miss M. E. Decher
Miss Mary Dcnmann
Mr. Josef P. Dessauer
Mr. William Dexter
Mr. Nathaniel T. Dexter
Mrs. William Dexter
Miss Constance Dexter
Mr. Charles Deutsch
Mr. Dietrich
Mrs. Marie Dinse
Miss Mary Disbrow
Mr. Jacob Doerrig
Mrs. Doerrig
Mrs. Don
Miss Faith Donaldson
Miss Florence Donnelly
Mr. T. F. Donovan
Miss Mina Doossen
Mr. Frank A. Dorner
Mrs. Dorner
Miss Graces Dorr
Mrs. Alice G. Douding
Miss Mary Douglas
Mr. George Dudley
Mrs. Dudley
Mr. R. J. Dunlop
Master Paul C. Eaton
Miss Clark Ebert
Mrs. Robert Edgar
Miss Phyllis Ebert
Miss Katherina Eide
Miss Kathryn Elliott
Mrs. Dora Ernst
Mrs. Mabel E. Evans
Miss Eleanore Fallon
Miss Halbe Fairbank
Miss Olga Fekula
Mr. W'illiam Fekula
Mr. Charles H. Feltman
Miss Lulu Fiedler
Miss E. R. Finkenstaedt
Mr. T. Fischer
Mr. T. Fischer
Miss Maria Fitschen
Mr. F. Murray Forbes
Mrs. Forbes
Miss Ruth L. Ford
Miss G. Folendorf
Mrs. E. Forties
Miss A. J. Foster
Dr. M. A. Frances
Mrs. Frances
Mr. Rudolf Frensel
Mr. Arthur Frenzel
Miss Ella B. Fuhs
Mr. Adam Gabriel
Mrs. Gabriel
Master Lawrence Gabriel
Miss Anna Gartner
Miss Lucy J. Gebauer
Miss Esther Gebauer
Miss Julian Geiger
Mrs. Margaret Gessner
Miss Frances Gessner
Miss Katherine Gessner
Mr. Otto Giermann
Mrs. Giermann
Mr. D. M. Gledden
Miss May Glynn
Miss Kath. Golz
Dr. Paul Goodrich
Mrs. Goodrich
Dr. Gouwens
Mrs. Gouwens
Mr. Gouwens
Mr. von Grenauth
Dr. Anna B. Grey
Dr. Dorothy Grey
Miss Elizabeth B. Grimble
Mr. John Gruy
Mr. Henry Guyer
Mrs. Guyer
Miss Alma Hakansson
Dr. Katherine Hale
Mr. John Hammon
Miss Martha P. Hansen
Miss Ann Harrington
Miss Eleanor Harrington
Miss Winifred Harrison
Miss Lucy Harrison
Mrs. V. Harris
Miss Mary E. Harrison
Mr. Frank Harth
Mrs. Harth
Mrs. May Haynie
Mr. Fred. H. Hayward, Jr.
Mr. Max O. Hasner
Mrs. Hasner
Mr. D. J. Headford
Mrs. Headford
Miss Agnes Heidenry
Miss Ursula Heidecker-Preiss
Miss Mary A. Helmer
Mr. E. F. Hendershot
Mrs. Hendershot
Mr. Henry R. Henry
Mr. Ernst Hepp
Mrs. Hepp
Mrs. Dorothy C. Heywood
Mr. Rich. Hillman
Miss Louise Himmelreich
Mr. Louis P. Hoffmann
Mrs. Hoffmann
Mr. George C. Hoffmann
Mrs. Hoffmann
Miss Bertha A. Holderman
Miss Louise Holderman
Miss Carol Holderman
Mrs. J. P. Hollingsworth
Mrs. Betty Holtorf
Mrs. N. J. Hormon
Mr. Henry Howard
Mr. Eddy Howell
Mrs. Howell
Dr. Theodore Huebner
Miss Agnes Huelsman
Miss L. Humphrey
Miss Hilart Hunt
Dr. Andrew Hunter
Mrs. Lee Hunter
Miss Evelyn Hunter
Miss Virginia Hunter
Dr. Andrew Hunter
Miss Thelma Hurd
Mrs. M. Hyde
Miss Virginia Hyde
Mrs. G. Illing
Mrs. Margarete Jaeger
Mr. August Jandorek
Mrs. Jandorek
Miss Alice C. Jenkes
Mr. Johan Johnsen
Mr. Carl E. Johnson
Miss Geraldine Jones
Dr. Bob Jones
Miss Margot Jones
Mr. T. S. Jung
Miss E. Jung
Mrs. Frank Jutton
Rev. John Kane
Miss Louise Kane
Miss Anna C. Kaufmann
Mr. Arthur Kaupp
Mr. Erich Kaupp
Miss Helen Keeley
Dr. T. F. Kelligan
Miss Hettie Craig-Kelly
Miss Georgian Kememy
Mrs. A. J. Kemp
Mr. Robert W. Kesler
Mrs. Kesler
Mr. W. H. Kessel
Mrs. Kessel
Miss Helen Keyes
Miss Marjorie Keyes
Mr. John W. Kirby
Mr. William J. Knapp, Jr.
Mrs. Kate Knoth
Miss Winifred Knoth
Miss Cassie E. Kost
Mr. Walter Kratel
Miss M. H. Kretschmar
Mrs. H. Krueger
Mr. F. Kudert
Mrs. Kudlack
Miss Margarete Kullman
Mrs. George Kuell
Mr. Horst Kurnik
Mrs. V. Fisher Kuser
Prof. Rudolf Ladenburg
Mrs. Ladenburg
Mrs. Margarete Ladenburg
Master Thomas Ladenburg
Master Peter Ladenburg
Miss Florence Lafrentz
Miss Dorothy Lambrecht
Miss M. Lambrecht
Miss Landmann
Mrs. Frederick Lane
Mrs. M. K. Lane
Miss Mary Larken
Mrs. Manfred Lausch
Mr. Emil Lauster
Mr. Pierre Lavarde
Mrs. Lavarde
Mr. Ross Lawler
Mr. Charles L. Lawrence
Mrs. Lawrence
Mr. Rudolf Leinfest
Mrs. Leinfest
Mrs. Frieda Lessing
Mr. Ernest Leuenberger
Mrs. Leuenberger
Mr. Kurt Leonhart
Mrs. Frieda Lewin
Miss Janet M. Lewis
Miss Winifred Leyfe
Miss Louise Libby
Miss Elizabeth Lichtenberger
Mr. G. Lindenmeier
Mrs. Anna Orth Linsmann
Dr. William B. Lipphard
Miss Katherine J. Logan
Miss Grace Lohman
Miss S. Lotz
Mrs. Daniel Lynch
Miss Elizabeth Lynch
Mr. Charles MacClintock
Miss Martha MacDonald
Miss Agnes MacDonald
Sir Ernest MacMillan
Lady MacMillan
Miss Sallie Lou MacKinnon
Mr. Edward K. Macrum
Miss Annie MacWhite
Miss Marie R. Mahoney
Miss Helen P. Mahoney
Mrs. Martha Maier
Mrs. Main
Mrs. Anne Malon
Mrs. Thora Mard
Miss Berthe Markmiller
Mr. Stani Mars
Mrs. Mars
Mrs. Nellie Marsh
Miss Thekla Martin
Rev. John J. Martin
Mr. Eduard Matthiae
Miss Helen Mayer
Mrs. Edgar H. McBride
Mrs. M. McClellan
Miss Mary W. McCormick
Miss Mae McIntyre
Miss Catherine McKenna
Mr. John McKie
Mrs. G. L. McKinney
Col. G. L. McKinney
Miss Helen McLean
Miss Estehr McNellis
Mr. Donald McSween
Mr. Noel McVicker
Miss Edith McWade
Mrs. Anna H. Meluskey
Miss Loretta C. Michael
Miss Anna Miller
Mrs. Elisabeth L. Moran
Mr. M. C. Morgan, Jr.
Mrs. Morgan
Mr. Jacob Morrison
Miss Georgiana C. Mottley
Mrs. D. Moulton
Miss Lena B. Munger
Mr. Alfred Neff
Judge Lila Neuenfeld
Miss Amanda Newgaard
Miss Thias Nichols
Mr. Wayne Nicholas
Mr. Ernest F. Niemeyer
Mrs. Niemeyer
Miss Lucille Noble
Mr. Eugen Noetker
Mrs. Sophie Nothelfer
Master Otto Nothelfer
Mr Walter Notter
Miss Annie O'Callaghan
Miss Mary Ochs
Mr. Heinz Ohlendorf
Mr. Anton Okorn
Mr. Oldenburg
Mrs. Oldenburg
Miss Elizabeth Oldenburg
Miss M. Oldenburg
Miss Beth. Olson
Mrs. Margaret D. Otto
Mr. H. N. Page
Mrs. Papana
Mrs. Charles Parcells
Miss Elizabeth Parcells
Miss Maria P. Parcells
Miss J. Reed Parks
Rev. John Partch
Mr. Henry Paul
Mrs. Paul
Miss Lucille Pearce
Miss Freda Pejtel
Miss Emma L. Pennewill
Miss Ethel B. Perry
Miss Freda Pestcl
Mrs. William Peters
Mr. Roy Peters
Mrs. Peters
Miss Ora Phillips
Mr. A. R. Porter
Miss Josephine Porter
Mr. Edward Predeaux
Miss S. Raedler
Mrs. Thomas Ragsdale
Mr. Frank Ramstetter
Mrs. Annie Rapp
Miss Anna Raudzins
Miss Sara V. Rash
Miss Anne Reeves
Mr. Fred Reihle
Mr. Otto Reisinger
Mr. Ralph Reisinger
Mrs. Sophie Remnitz
Miss Annabel Remnitz
Miss Charlotte Reynolds
Mr. T. Rhodes
Mr. Denis Rhodes
Miss Jane E. Rhodes
Miss Anna M. Richman
Mrs. E. Rickards
Mr. Kurt Riemenschneider
Miss Frances Rippey
Rev. C. E. Rittmann
Mrs. Rittmann
Miss Dorothy Rittmann
Miss Lydia Rittmann
Miss Eleanor Roberts
Miss Celina Robins
Dr. R. A. Robinson
Mr. Richard Robinson
Miss Norene Roboken
Mrs. W. R. Rodgers
Miss Carmen Rogers
Mrs. C. Rogers
Mrs. Edgar Rombauer
Mr. Irving A. Row
Mrs. Row
Mrs. A. Rudo
Mr. Edward H. Saile
Mrs. Saile
Miss Saltonstall
Mrs. M. Satewicz
Miss M. Satewicz
Mr. Arthur Saysell
Mrs. William B. Scarborough
Miss Nancy H. Scarborough
Master Frederick Scarborough, Jr.
Miss Frances Schaeffer
Mrs. Jacob Schang
Miss Dorothy Scheu
Miss Beate Schick
Mr. H. J. Schick
Mrs. Schick
Miss Elionor Schipbanker
Miss Frances Schipbanker
Mr. Karl G. Schmidt
Mrs. Schmidt
Miss Maria Schmidt
Master Karl Schmidt
Miss Dorothea E. Schmidt
Miss Alice Scholborg
Miss Elsa Schroeder
Mr. Paul C. Schubert
Mr. Scutter
Mr. Ludwig Sebastian
Miss Anna Segelken
Mr. Erich Seidel
Miss Mary Shafranska
Miss Mildred Sharkey
Miss Margaret Sherer
Miss Jane Sheridan
Mr. Charles Sherrel
Mrs. Sherrel
Mr. William B. Shute
Mrs. Shute
Miss Louise Siebel
Miss Barbara Sieving
Mr. John Sige
Mrs. Sige
Mr. George Simcox
Mrs. Simcox
Mrs. J. N. Sinsabaggh
Mrs. T. P. Smith
Miss Mathilda C. Smith
Mr. H. R. Smalley
Miss V. Smith
Miss C. Smith
Miss Mathilda C. Smith
Mrs. F. W. Smith
Mr. Salmon B. Smith
Mrs. Smith
Miss Carmen Smith
Miss G. Snyder
Mr. Kenneth Snyder
Mrs. Snyder
Mr. Horace Mann Snyder
Miss Ida Sprung
Mr. Fritz Staib
Mrs. Fred W. Starke
Miss Ellen Stewart
Mr. John W. Steffen
Miss Della Stoer
Mrs. James Stokeley
Mr. James Stokeley
Miss Janie Stokeley
Mr. Norman Stoll
Miss Josephine Strickland
Mr. R. D. Stuart
Mr. R. D. Stuart
Mr. Willy Stuber
Mr. W. F. Sullivan
Mrs. Sullivan
Mrs. Joseph Tarrant
Mr. Siegfried Tautenhahn
Miss Elizabeth Taylor
Dr. Carl Theobald
Mrs. Theobald
Mr. Jacob Theobald
Mrs. Theobald
Mr. Walter Theobald
Mrs. Theobald
Mrs. Carrie Thiele
Miss Dorothy Thompson
Mrs. L. M. Thompson
Mr. Benjamin C. Thompson
Mrs. Anna Timm
Mr. Max Tomalka
Miss Helen Valuis
Miss Milicia Vranesch
Mrs. Margaret Wade
Mrs. Cath. Wagner
Mr. William H. Wagstaff
Mrs. Wagstaff
Miss Betty A. Wagstaff
Miss F. C. Walter
Mr. John J. Ward
Mrs. Thora Ward
Mr. Erwin Warth
Mr. George T. Washington
Miss Peggy Watkins
Mr. Robie R. Weaver
Mrs. Weaver
Miss Helen Weicherding
Mrs. John C. Wellwood, Jr.
Mrs. W. F. Werline
Miss Dorothy M. Wesp
Mrs. C. C. West
Mrs. Edith A. von Wenckstern
Mr. Richard Westphal
Mrs. Westphal
Mr. Melvin K. Whiteleather
Mr. S. Y. Wheeler
Miss Hazel Whelen
Miss Anne Mae White
Mr. Robert Whitehead
Miss Betsy Wiley
Miss Marjorie Willemin
Miss Madelon Willemin
Mr. W. W. Willett
Mr. N. W. Wilson
Miss Leni Wirsing
Mr. Robert Wolf
Mr. Robert Wolf, Jr.
Miss J. Wolff
Mr. H. Duane Woodruff, Jr.
Mr. Albert Woods
Miss Betty Wright
Mr. Herberth Wuttig
Mr. Arnold Wychodil
Miss Winifred Wygal
Prof. Robert Zahn
Miss Erna Zehlein
Mr. Karl Ziennert
Mr. Willy Zimmer
Miss Margaret Zimpfer
Mr. Anthony Zipprick
Mrs. Zipprick
Mrs. Helen Zykan
Additional-List Tourist Class
Mr. Alvare Aguilar
Dr. Robert A. Ashworth
Rev. James Bcggan
Mr. Ulrich Bigalke
Mr. Bruno Britt
Mrs. B. Britt
Mr. Timothy Buckley
Mrs. Beatrice Emilie Davis
Mr. Russell D'Oench
Mr. Edward Eccardt
Mr. John Erhardt
Dr. D. Farguharson
Mrs. Anna Faser
Mrs. Emilie Geiger
Mr. Ulrich von Giemanth
Mrs. Angie Hansen
Miss Eleanore Hartmann
Mr. George Heinitsch
Mrs. Heinitsch
Miss Elisabeth Heinitsch
Mr. Robert Hoffmann
Mr. Hoehner
Mrs. Hoehner
Mrs. Myrtle White Hill
Mr. Kaddatz
Mrs. Kaddatz
Mr. Bruno Kobelt
Mrs. Kobelt
Miss Hilarty T. Lunf
Mr. Adolf Moritz
Miss Anette Prideaux
Miss Benlah Reenstjema
Mr. Riedel
Mrs. Riedel
Rev. R. P. Sieving
Mrs. R. P. Sieving
Mr. W. H. Trampler
Mrs. \V. H. Trampler
Mr. Walter Tschopp
Mrs. Eleanore Tschopp
Mr. Fritz Walz
Mr. Günther Wich
Mr. R. S. Young
Northwestern University Orchestra
Cliff Aspegren and His Northwestern University Orchestra, Northwestern University - Evanston, IL.
CLIFFORD B. ASPEGREN, Leader
H. DUANE WOODRUFF, Jr.
HERMAN STOLL
JOHN W. STEFFEN
JOHN W. KIRBY
Information for Passengers
IMPORTANT NOTICE
In view of the decree issued by the German Government prohibiting the importation of German notes and silver coins into Germany, all members of our ships' personnel, the stalls, bars and all other places where purchases are made on board have been strictly forbidden to accept Reichsmark notes and German silver coins in payment. The pursers only are authorized to accept German silver coins from passengers, within the framework of the special regulations governing the exceptions to the rule Passengers are, therefore, requested not to make their payments on board in Reichsmark notes or German silver coins.
Passengers are requested to comply with the orders of the Captain and his officers, who are responsible for the safety of the ship, the comfort of passengers, and order on board.
Meals will be served as follows:
If one Sitting
Breakfast: 8:00 A.M.
Lunch: 12:30 P. M.
Dinner: 7:30 P. M.
If two Sittings (1st Sitting 2nd Sitting)
Breakfast: 8:00 A. M. | 9:00 A. M.
Lunch: 12:00 Noon | 1:00 P.M.
Dinner: 6:30 P. M. | 7:30 P. M.
Seats in the Dining Room may be reserved upon application to the Chief Steward.
Meals are not served in the cabins or on deck, unless passengers are prevented through illness from taking their meals in the Dining Room.
A selection of good beverages and smoking accessories is carried on board.
In order not to disturb passengers, lights in the Social Hall, Smoking Room and on the Promenade Deck will be extinguished at 1 a.m.
Passengers are requested not to order any beverages in the Smoking Room after 12:30 a.m. and not to frequent the Promenade Decks between 1:00 a.m. and 7 a.m.
Baggage. Hand baggage and steamer trunk may be taken into the cabin, but the steamer trunk must not exceed the maximum size, 3' 3" long by 1' 11" wide and 1' 1" high.
Larger articles of baggage will be stored in the baggage room and will be accessible to passengers at certain times during the day. Baggage should not be placed in the corridors.
Baggage, parcels, etc., intended for forwarding, for storage, or for delivery to a third party, are to be handed only to the Baggage Master who is authorized to receive such baggage.
The Company accepts no responsibility for any article handed over by passengers to other members of the*ship's personnel.
For their own interest passengers are especially requested upon landing to look after their hand baggage and to take care that, before leaving the steamer, no personal belongings are left in their cabins or elsewhere on the steamer.
Animals. All animals, regardless of size and kind, will be accommodated aboard in suitable quarters. It is not permissible under any circumstances to take animals into rooms used by passengers or to lead them around any part of the steamer set aside for the convenience of passengers.
Money and Valuables. Safe deposit boxes for the safe keeping of money, jewelry, documents or other valuable articles, can be procured free of cost upon application to the Purser's office.
Exchange of Money. The purser has only a limited supply of currency at his disposal, and thus money can only be exchanged to such an amount as is in accordance with the amount of currency available.
Library. A library on board, properly catalogued, is placed at the disposal of the passengers.
Doctor. A duly qualified physician is on board who will, free of charge, attend to passengers who take ill and are in need of medical aid during the voyage.
Treatment of Sea-Sickness.
Travelers inclined toward seasickness have an opportunity on all North German Lloyd passenger steamers of availing themselves of the inhalation treatment (Dr. Dammert's Process).
Experience has hitherto shown that good results are attained by this method. Passengers wishing to be treated by this new process are requested to apply to the ship's doctor.
A small charge of Mks. 2 (about 80c.) is made for each treatment, the amount to be paid to the Chief Steward. A printed form is provided on which to enter memo of treatments received, and this is to be handed in at Chief Steward's office at end of voyage when settlement is made for sundry expenses incurred during the voyage.
Bath Rooms. Passengers intending to use the bath rooms, are requested to write their names, and the hour desired, on the list placed on the door of the bath room.
Barber, Hairdresser. Prices are exhibited in the Barber's room.
Photographer. The photographer is entitled to charge for his services in accordance witn the tariff exhibited.
Films and Chemicals. Any large quantities of films, chemicals and other photographic material of inflammable nature may under no circumstances be kept in the cabins. Passengers are requested to hand them to the Purser on board for safe keeping.
Cigars, Cigarettes and Playing Cards may be obtained in the Smoking-Room at list prices.
Smoking is only permitted in the Smoking Room and on deck. It is trictly prohibited below deck, in the Dining Room or in the state rooms.
Letter» und Telegrams. The Chief Steward ha« charge of the distribution of incoming mail.
Mail for passengers is delivered on board at the port of arrival before the passengers land. Before leaving the ship passengers should ascertain personally whether there is any mail for them.
Passengers should also leave their addresses with the Chief Steward so that mail arriving after their departure may be forwarded to them.
Letters and telegrams may be addressed in care of any of the company's agents.
Deck chairs and rugs may be rented for the voyage from the deck stewards at the following rates:
In tourist class, chair $1.00 cushion $1.00, rug $1.00.
In third class, chair $1.00, cushion 50c, rug 50c.
Pastimes and Games are at the disposal of the passengers.
Complaints. Passengers are requested, in their own interest, to submit any complaints they may have to make to the Captain at the time of his daily round of inspection every morning. Toe wishes of the passengers will be complied with if possible.
Wireless Telegraph and Telephone. The wireless station (Telefunken-System) on board of the steamers of the North German Lloyd is permanently in communication with coast stations. Wireless Messages, cablegrams, telegrams and applications for telephone communications arc accepted at any hour of the day or night.
All information regarding the dispatch of wireless messages, length of time required for transmission and telegraph fee, may be obtained at the wireless station on board, or on land from the Deutsche Betriebsgesellschaft für drahtlose Telegraphie m.b.H., Berlin-Charlottcnburg 2, Hardenbergstr. 43, telegraphic address "Debeg," Tel. C. Steinplatz 8051.
Telegrams, Radiograms and Cablegrams are accepted at the ship's wireless station, also at certain hours, made known by poster n the lobby, an Officer will receive messages for transmission and requests for telephone communication in the Chief Steward's Office of the Tourist Class or Third Class on C deck.
A daily bulletin is published with news received by wireless.
Special Travel Service
A Special Service Secretary on l>oard will advise and assist passengers. making their first visit to a foreign country. This service is also available for travelers with whatever special purpose in view, such as business, social, educational, etc. This office is prepared to give any information gratis and, if possible, to assist in bringing the passenger in touch with the desired persons or firms.
Air Travel in Germany
Upon application, made either before departure, or during the voyage at the Purser's office or Travel Bureau on board, passengers arriving at German port will be met by a speedy LUFTHANSA airplane for quick transportation to any of the larger German cities, from where further direct connections can be made by air or rail.