SS Europa Passenger List - 5 July 1930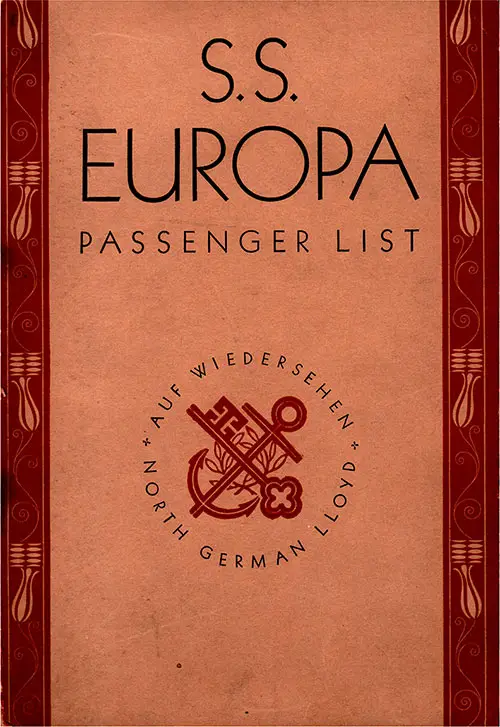 Front Cover, Third Class Passenger List from the SS Europa of the North German Lloyd, Departing 5 July 1930 from New York to Bremen via Cherbourg and Southampton, Commanded by Captain N. Johnsen. GGA Image ID # 12fc551a91
Senior Officers and Staff
Commodore: N. Johnsen
First Officer: P. Petersen
First Officer: F. Leusner
First Officer: H. Lorenz
First Officer: H. Reinhardt
Second Officer: F. Knevelkamp
Second Officer: P. Greift
Second Officer: F. Habermann
Second Officer: F. Mellert
Third Officer:         F. Kuhlig
Third Officer:         H. Pieper
Third Officer:         F. Hagenmeyer
First Doctor:          Dr. H. Jelden
Second Doctor: Dr. F. Lamszies
Purser: L. Wulle
Assistant Purser: W. Kunkel
Assistant Purser: Th. Dellith
Purser's Assistant: E. Döring
Purser's Assistant: H. Giesel
Purser's Assistant: K. Rohde
Chief Engineer: H. Eints
First Engineer: R. Westphal
First Engineer: A. Köhler
First Engineer: Chr. Veit
Second Engineer: F. Lindemann
Second Engineer: M. Thiele
Second Engineer: K. Pfennig
Second Engineer: F. Becker
Second Engineer: A. Segelke
Second Engineer: H.Spieckermann
Third Engineer: A. Gnauke
Third Engineer:  H. Duch
Third Engineer: P. Hampel
Third Engineer: E. Kühne
Third Engineer: W. Streuer
Third Engineer: B. Liese
Third Engineer: H. Wehrmeyer
Third Engineer: A. Brandt
Third Engineer: G. Christensen
Third Engineer: C. Volger
Fourth Engineer:  W. Caspar
Fourth Engineer: E.Winzenburger
Fourth Engineer: H. Koslowsky
Fourth Engineer: H. Gerdts
Fourth Engineer: H. Hillmann
Fourth Engineer: G. Schweers
Fourth Engineer: H. Koch
Fourth Engineer: E. Hellmann
Fourth Engineer: H. Wicker
Fourth Engineer: F. Freese
Fourth Engineer: W. Herr
Fourth Engineer: H. Lindemann
Fourth Engineer: G. Ruperti
In Charge of Travel Bureau: W. de Haas
Assistant: F. Schwäcke
Managing Chief Steward: O. Meinnert
Second Chief Steward I Class: H. Trantofsky
Chief Steward II Class: J. Becker
Chief Steward Tourist Class: K. Weidt
Chief Steward III Class: E.         Klosterkamp
Assistant to Chief Steward: H. Brüggemann
Assistant to Chief Steward: E. Müller
Assistant to Chief Steward: H. Wardenburg
Assistant to Chief Steward: H. Gerken
Assistant to Chief Steward: F. Dickvoss
Chief Steward (Restaurant): A. Meierhans
Assistant to Chief Steward in Restaurant: W. Niggeloh
Assistant to Chief Steward in Restaurant      : G. Zeidler
Managing Chief Cook: K. Wagner
Chief Cook I Class: P. Reddersen
Chief Cook II Class: P. Fiebach
Assistant to Chief Cook: M. Heinrich
Assistant to Chief Cook: A. Schoenlein
Chief Cook for the Restaurant: A. Riedel
Wireless Telegraph
First Officer: D. Berbig
Second Officer: W. Ehlberg
Second Officer: K. Haenschke
Third Officer:  B. Zschock
Third Officer:  H. Pilz
Assistant Officer: J. Kratz
Assistant Officer: H. Wieguwilt
First Baggage Master: H. Horstmann
Second Baggage Master:  J. Lehde
Third Baggage Master: A. Klipstein
Czechoslovakian Interpreter: J. Schlesinger
Third Class Passengers
Miss Lilian Adellmann
Mr. Vincent Albanese
Mrs. H. Albanese
Master Richard Albanese
Master Francis Albanese
Miss Erika Albrecht
Miss E. Alexander
Mr. Nels Anderson
Mrs. Nels Anderson
Miss Anderson
Miss Hilda Anderson
Mr. Eric Anderson
Mr. Paul Annes
Mr. Isaac Annes
Mr. Bankeimann
Mr. Fred Baves
Mr. Brad Baves
Miss Laura Beck
Mr. Karl Becker
Mrs. Elis. Bedacht
Miss Edith Bedacht
Mr. Max Bedacht
Miss Elsie Bedacht
Miss Ethel Bedacht
Mr. Albert Bernard
Mr. Carl Bettels
Mr. Henry Bettels
Miss Hedwig Betz
Mr. Charles Beurer
Mrs. Frieda Beurer
Mrs. Magd. Beyer and 2 children
Mr. Leonard H. Blazer
Mr. Henry C. Blum
Mrs. Henry C. Blum and Mother
Riva Bobrov
Miss Eva Bochsler
Mr. Paul Bode
Mrs. Johanna Bode
Miss Johanna Bode
Mr. Joseph Boos
Mrs. Anna Boos
Mr. Th. Bosing
Mr. Bradoir
Mrs. Bradoir
Mr. Fritz Brandenburger
Mrs. Dorothea Brandt
Miss Anna Brauch
Mr. Breuninger
Rev. Paul Brill
Mrs. Esther Brill
Mr. Edw. Brown
Mrs. Louis Brown
Miss Lily Brown
Master George Brown
Miss Elizabeth Bruchmayer
Mr. George Brunner
Mrs. Antonia Bucher
Mr. Chari Bucher
Mr. Frank Buhn
Mrs. Anna Buhn
Mr. Valentine Buhser
Mr. Paul Buhser
Mr. Fred Buigel
Mr. Martin Bulin
Mrs. Martin Bulin
Mrs. Emma Buttke
Miss Emma Caesar
Miss Sophie Camewich
Mr. Cantrill
Mr. Y. Y. Cheng
Miss A. W. Christ
Mr. A. K. Chiw
Mr. Wayne Clark
Mr. Russell Cole
Mrs. Russell Cole
Mr. Sigmond Davidovitz
Mrs. Seren Davidovitz
Mr. Anton Davidson
Miss Maria Deutsch
Mr. Harry Didicha
Mrs. George Doerfler
Mr. Max H. Doerschner
Mr. Henry Drechsler
Mrs. Yolanda Drechsler
Mr. Michael Dulyna
Mr. Willy Eggermann
Miss Marie Ehmann
Mr. Gilbert Eilertsen
Mrs. Kitty Eilertsen
Mr. Harry Eisen
Mr. Harry Eisen
Mrs. Marg. Ellinghausen
Mr. William Emmel
Mr. Edward Emmelsbregre
Mr. George Enck
Mrs. Alfred Enzensperger
Miss Louise Etscheidt
Mrs. Emilie Faas
Master Alfred Faas
Mr. Joseph Feiner
Mrs. Margaret Feiner
Mr. Martin Feinmann
Mrs. Frieda Ferchei
Mr. Gebhardt Fischer
Mrs. Gebhardt Fischer
Mr. George Fischer
Mrs. Veronica Fischer
Mr. Peter Fischer
Mr. Findeisen
Mrs. Findeisen
Mr. Stanley Fink
Miss Fiske
Mr. Josef Frank
Mr. August Freymann
Mr. Willi Friedrich
Miss Marian Fritz
Miss Dora Fritz
Miss Frieda Froehlich
Mr. Fritz Fuchs
Mr. Ludwig Fynsk
Mrs. Ludwig Fynsk
Master Arthur Fynsk
Mrs. Bertha Gabriel
Miss Elfriede Gardziella
Mrs. Pearl L. Gates
Anna Gittelmann
Mr. Karl Glimmer
Mrs. Karl Glimmer
Miss Elizabeth Glimmer
Mr. Fritz Gobrecht
Mrs. Henrieta Goermann
Mrs. Frieda Goldberg
Miss Minnie Goerz
Mr. Grarowsky
Mrs. Grarowsky Two Children
Mr. Richard Greishaber
Mr. Hans G. Groening
Mr. John Gronberger
Mrs. John Gronberger
Mr. George Grossels
Mrs. George Grossels
Mr. Georg Grother
Mr. Johann Grzemny
Miss Emma Haag
Miss Haevers
Miss Margret Hagenstedt
Bessie Halpern
Miss Evelyn Hannaweber
Mr. Henry H. Harbort
Dr. E. M. Harris
Mrs. M. M. Harris
Mr. C. B. Hartmann
Miss Anni Hauf
Mr. Karl Hausmann
Mrs. Karl Hausmann and son
Mr. Hans Heimerdinger
Miss Lena Hellerstein
Mrs. Auguste Henke
Mr. Paul Herke
Mrs. Fannie B. Herman
Mrs. Marg. Herzig
Mr. Johann Hesse
Mr. Joseph Hofmaier
Mrs. Joseph Hofmaier
Mr. Fred Holthuis
Miss Kath. Hopf
Mr. Horosko
Mrs. Horosko
Miss Emma Hupe
Mr. Paul Iff
Mr. Fred Jacobs
Mrs. Agnes Jacobs
Miss Agnes Jacobs
Mr. Nicholas Jacoby
Mrs. Barbara Jacoby
Miss Viktoria A. Jaeger
Mr. Anton Jelinek
 Mrs. Thekla Jensen
Mr. Ivan Jeppson
Mrs. Ivan Jeppson
Mrs. Mary Jovick
Miss Sidonia Jovick
Miss Ludmilia Jovick
Mr. Edmund Jung
Mrs. Albertine Kanehl
Mrs. Konstancya Kairis
Mr. Friedr. Kaiser
Mrs. Friedr. Kaiser
Mr. Ludwig Kamisch
Mr. Ernst Kamm
Mrs. Kanzler
Miss Kanzler
Mr. David Karsten
Mr. Ottomar Kasper
Mrs. Mary Kasper
Miss Anna Kassel
Emma Kassel
Mr. Harry Kavetzky
Mr. William Kensey
Mr. John Kensey
Mr. Herman Kern
Mr. Rudolf Kiebing
Mrs. Martha Kiebing
Mr. William Kittel
Mr. Bernhard Klein
Mrs. Anne Klein
Mr. R. Kloiber
Mr. Morris Klosner
Mrs. Anna Knaebele
Mrs. Ida Koegelmann and children
Mr. Philip Koehler
Mrs. Philip Koehler
Master Henry Koehler
Miss Claire Koehler
Mr. John Koelnberger
Mrs. Ada Kogler
Mr. Thomas Kohlweiss
Mrs. Anna Kohlweiss
Mr. Thomas F. Kohlweiss
Miss Marg. Kraehling
Mrs. Margarete Kraemer
Miss Ruth Kraemer
Mr. Josef Krampert
Mr. Willy Krause
Mr. Richard Krauter
Mr. John Krempels
Mr. T. Krib
Mr. George Krumholz
Mr. P. H. Kud
Mr. Rich. Kuenkel
Mrs. Rich. Kuenkel
Mrs. Karolina Kuhn
Dr. Joshua Kunitz
Mr. Peter Kurperschoek
Mr. John Langlachner
Miss Elsa Lansen
Mr. Willi Lenz
Mr. Gabriel Lerch
Mrs. Gabriel Lerch
Mr. Joseeph Leibfritz
Mr. Louis Lejeuz
Mrs. Louise Lejeuz
Miss W. Lejeuz
Miss F. Lejeuz
Miss Marg. Leu
Mrs. Elisabeth Leuchtenberger
Miss Doloris Leuchtenberger
Mr. Michael Lever
Anita Levitt
Mr. Milton Lieberman
Mr. Joseph Leibfritz
Mrs. Joseph Leibfritz
Mrs. Josie Liegeois
Miss Ida Lippke
Mr. Lippolt
Mrs. Lippolt
Mr. Max Litevky
Mr. C. N. Liu
Mr. George Loeslein
Mr. George Loeslein, Jr.
Mrs. Loeslein
Miss Ruth Loeslein
Mr. Eugene Loewenstein
Miss Catharina Lohwasser
Miss Rebecca London
Mr. Anton Luckas
Mr. Otto Ludwig
Mr. O. Lundborg
Miss Edith Lynch
Miss Viola Lynch
Mr. Macicek
Mrs. Macicek
Miss Macicek
Miss Theresa Maier
Miss Do Magnes
Mr. Benjamin Manes
Mrs. John Mann
Mrs. Mary Marencik
Miss Mary Marencik
Miss Irene Marencik
Mr. Leslie Mataffy
Mrs. Margt. Mataffy
Master Andr. Mataffy
Mr. Balint Mate
Mrs. Esther Mate
Master Danl. Mate
Laura Maynche
Mr. John V. Melchior
Mr. Theodor Menke
Mrs. Luise Menke
Hedwig Metzger
Miss M. Metzger
Mr. Walter Meyer
Miss Lina Miller
Mr. Frank Miller
Mr. Christ. Mitteldorf
Miss Sophie Mittelhammer
Miss Martha Mittelhammer
Mr. Maurice Mitzelmacher
Mr. Henry Mohr
Mrs. Henry Mohr
Mr. Peter Mueller
Master Mueller
Mr. Fr. Alfred Muesea
Mrs. Lina Muesea
Miss Christine Murphy
Mr. Max Muy
Mr. Victor Nemcek
Mr. Stefan Nemcek
Mr. Edgar Nickol
Mrs. Margret Niedermayer
Master Alfred Niedermayer
Mr. Emil Nieschler
Mr. Emil Niesschler
Mrs. Emil Niesschler
Mr. Emil Nittka
Mrs. Mary Nlynarik
Mrs. Frances Noth
Miss Else Noth
Miss Susanne Novak
Bessie Ochfeld
Mr. Ernst Oefele
Mrs. Ernst Oefele
Mr. Carl Oldenburg
Mrs. Carl Oldenburg
Mr. Charles Olken
Miss Aurelia Olsen
Mr. John Osterloh
Mrs. John Osterloh
Mrs. Pauline Otto
Mrs. Friedr. Paessens
Dr. Alois Pampichler
Mrs. Perlmutter and Son
Mr. Engelbert Pfeffer
Mrs. Maria Pfeffer
Mr. George Pittner
Miss Antonie Pommerenke
Miss Postmeister
Mrs. Veronica Privilege
Mr. Wm. Profeta
Mr. Charles Prall
Mr. Max Raisin
Mr. Karl Rapp
Mrs. Karl Rapp
Mrs. W. Rattke
Mr. Petras Raznauskas
Mr. David L. Reeves
Mr. Gottlieb Reger
Miss Anna Regler
Miss Bertha Regler
Miss Cecelia Reilly
Mrs. Frieda Reins
Frieda Ressis
Mr. Fritz Reuther
Mr. Edward C. M. Richards
Lydia Richter
Mr. Charles Riegel
Mrs. Charles Riegel
Miss Therese Rieger
Mrs. Ida Rimkus
Guenther Rimkus
Mr. Adolf Rosenthal
Mr. Sam Rosenzweig
Mrs. Sam Rosenzweig
Miss Sylvia Rosenzweig
Master Abraham Rosenzweig
Infant Shirley Rosenzweig
Mr. Abraham Rosuchowsky
Mr. Gottlieb Roth
Miss Minna Roth
Miss Cecilia Rush
Mr. A. Spencer Ryan
Dr. Eugen G. Samson
Miss Betty Samuel
Mr. Nikolas Sauer
Mr. Alois Schaaf
Mrs. Alois Schaaf
Miss Clara Schaaf
Mr. Fritz Schaefer
Mr. John Schaefer
Mrs. Babette Schaller
Hanna Schatz
Mr. E. L. Scheffauer
Mrs. M. Scheich
Mr. Fr. Scheich
Mr. Chari. Scheich
Miss Marie Schenk
Master Rudolf Scheurmann
Mr. Fred Schlueter
Mr. Frank Schmid
Miss Viktoria Schmid
Mr. Ludwig Schmider
Mr. Ludwig Schmidt
Mrs. Ludwig Schmidt
Miss Elsa Schmitz
Mrs. E. Schnabel
Miss Schnabel
Mr. R. B. Schneck
Martha Schneider
Erna Schneider
Mr. William Schnurbust
Mrs. William Schnurbust
Mrs. Emma Schork
Miss Agnes Schork
Mr. Andrew Schroether
Emilie Schuler
Mr. Max Schulze
Miss Margarete Schurmann
Miss Berta Schuster
Mr. H. Schwarzbart
Mrs. Wilhelmine Seeger
Mr. Archibald Semple
Mr. J. E. Shaw
Miss Johanna Siderits
Helen Silver
Miss Mathilde Sistemich
Mrs. Evelyn Slater
Miss Evelyn Slater
Miss Mary Sitko
Mr. Frederich A. Smith
Mr. Eiden Smith
Miss Smoke
Mr. Hans Sommer
Mrs. Anny Sommer
Mrs. Kirsten Sperling
Mr. Arno Stadthaus
Mrs. Clara Stadthaus
Mr. John Staetker
Mr. Anton Starosta
Mrs. Anton Starosta
Miss Helen Staudter
Miss Josephine Staudter
Mrs. Mary Steeb
Miss Margt. Steeb
Mr. Sam Steinberg
Mrs. Sam Steinberg
Mr. Benno Steininger
Mrs. Benno Steininger
Miss Katharine Steininger
Mr. Erich Stellmacher
Mr. Adam Stephan
Mrs. Pauline Stephan
Mr. Henry Stephan
Mr. A. F. Sternad
Mr. Wm. Stiehl
Mrs. Frieda Stiehl
Mr. Carl F. Stockinger
Mr. Hermann W. Stockinger
Mrs. Effie Stoliker
Miss Clara Stolz
Mrs. Ida Stumpf
Miss Marie Sturhan
Mr. Fritz Suffa
Mrs. Fritz Suffa
Miss Anna Sunda
Mrs. Emma Symanek
Miss Jenny Talisnik
Miss R. Talisnik
Mrs. Lina Tarcza
Mr. Wilfred Taylor
Mr. Harry Taylor
Mr. Henry Tecklenburg
Mrs. Gertrud Tennbruck
Miss Chari Thias
Miss Z. Thalen
Mrs. Minna C. Thomas
Mr. Gottfried Trabert
Mr. Adolf B. Traut
Mr. Walter Tretbar
Mrs. Walter Tretbar
Mr. Anton Trubenbacher
Mr. Harry van Landingham
Miss Käthe Vieth
Mrs. Ida Virgens Two Children
Mr. Lewis Vogt
Miss Erna Wagner
Mr. Adolf Walter
Mr. Valentin Walter
Mrs. Valentin Walter
Mr. Valentine D. Walter
Miss Lucy Weber
Mr. Emil Wegner
Mr. Hugo Wehrmann
Mrs. Anna Weingarten
Mr. Weinberger
Master Weingarten
Mrs. Lena Weier
Miss Charlotte Weier
Mr. D. Weiss
Miss Dora Weiss
Miss Rosine Weiss
Mr. J. C. Wells
Mrs. Anna Welz
Miss Kaethe Werling
Mr. Werner Wernecke
Mr. Benno Werner
Mr. Werner Werner
Mr. Franz Werner
Mrs. Lina Werner
Mrs. Werner
Mrs. Werner
Mr. John Weuthen
Mrs. John Weuthen
Miss Elli Wiemer
Mr. Bruno Wiessner
Mr. John Willets
Miss Emmy Winnat
Miss Johanna Winnat
Miss Eliza Wishefkin
Mr. Aug. Wittke
Mrs. Aug. Wittke Hildegard
Wittke Asta Wittke
Ruth Wittke
Mr. Rudolf Wolff
Mrs. Margt. Wolff
Mrs. Carl P. Wolff
Miss Charlotte Wolter
Mr. Wong
Miss Catherine Young
Mr. Thos. E. Yeh
Mr. Kechuen I. Yuen
Mr. Max Zehrer
Mrs. Mary Zeke
Miss Stella Zeke
Mr. Morris Zelmanovits
Mrs. Marguerite Zquerenlo
Mr. Adam Zimmermann
Miss Emma Zwick
Information for Passengers
Passengers are requested to comply with the orders of the Captain and his officers, who are responsible for the safety of the ship, the comfort of passengers, and order on board.
Meals will be served as follows:
1st Sitting
Breakfast: 7.30 a. m. to 8.30 a. m.
Lunch: 12 Noon to 1.00 p. m.
Dinner: 6.30 p. m. to 7.30 p. m.
2nd Sitting
Breakfast: 8.30 a. m. to 9.30 a. m.
Lunch: 1.00 p. m. To 2.00 p. m.
Dinner: 7.30 p. m. To 8.30 p. m.
Seats in the Dining Room may be reserved upon application to the Chief Steward.
Meals are not served in the cabins or on deck, unless passengers are prevented through illness from taking their meals in the Dining Room.
A selection of good beverages is carried on board.
The Smoking Room will be closed at 11 p.m. Drinks will be served until 11 p.m.
In order not to disturb passengers lights in the Social Hall and on the Promenade Deck will be extinguished at 11 p.m., those in the Smoking Room at 11.30 p.m.
Passengers are requested not to order any beverages in the Smoking Room after 11 p.m. and not to frequent the Promenade Decks between 11 p.m. and 7 a.m.
Baggage. Hand baggage and steamer trunk may be taken into the cabin, but the steamer trunk must not exceed the maximum size, 3' 3" long by 1' 11" wide and 1' 1" high.
Larger articles of baggage will be stored in the baggage room and will be accessible to passengers at certain times during the day. Baggage should not be placed in the corridors.
Baggage, parcels, etc., intended for forwarding, for storage, or for delivery to a third party, are to be handed only to the Baggage Master who is authorized to receive such baggage.
The Company accepts no responsibility for any article handed over by passengers to other members of the ship's personnel.
For their own interest passengers are especially requested upon landing to look after their hand baggage and to take care that, before leaving the steamer, no personal belongings are left in their cabins or elsewhere on the steamer.
Animals. All animals, regardless of size and kind, will be accommodated aboard in suitable quarters. It is not permissible under any circumstances to take animals into rooms used by passengers or to lead them around any part of the steamer set aside for the convenience of passengers.
Money and Valuables. Facilities are provided for the safekeeping of money, jewelry and other articles of value. The North German Lloyd however assumes no responsibility for such valuables given into its custody. The Purser or the Chief Steward will furnish complete information upon request.
Exchange of Money. The purser has only a limited supply of currency at his disposal, and thus money can only be exchanged to such an amount as is in accordance with the amount of currency available.
Library. A library on board, properly catalogued, is placed at the disposal of the cabin passengers.
Doctor. A duly qualified physician is on board who will, free of charge, attend to passengers in need of medical aid during the voyage.
Treatment of Seasickness. Travelers inclined toward seasickness have an opportunity on all North German Lloyd passenger steamers of availing themselves of an entirely new method of treatment (Dr. Dammert's Process of inhalation). Experience has hitherto shown that good results are attained by this method. Passengers wishing to be treated by this new process arc requested to apply to the ship's doctor.
A small charge of Mks. 2 (50c.) is made for each treatment, the amount to be paid to the Chief Steward. A printed form is provided on which to enter memo of treatments received, and this is to be handed in at Chief Steward's office at end of voyage when settlement is made for sundry expenses incurred during the voyage.
Bathrooms. Passengers intending to use the bath rooms, are requested to write their names, and the hour desired, on the list placed in the ante-room.
Barber, Hairdresser. Prices are exhibited in the Barber's room.
Photographer. The photographer is entitled to charge for his services in accordance with the tariff exhibited.
Cigars, Cigarettes and Playing Cards may be obtained in the Smoking-Room at list prices.
Smoking is only permitted in the Smoking Room and on deck. It is strictly prohibited below deck, in the Dining Room or in the state rooms.
Letters and Telegrams. The Chief Steward has charge of the distribution of incoming mail.
Mail for passengers is delivered on board at the port of arrival before the passengers land. Passengers should ascertain personally whether there is any mail for them before they leave the ship.
Before leaving, passengers should leave their address at the purser's office, so that any mail arriving after their departure may be forwarded to them.
Letters and telegrams may be addressed in care of any of the company's agents.
Telegrams, to be dispatched from the next port, are accepted at the purser's office only, but wireless messages at the ship's wireless station.
Deck Chairs and Blankets may be rented from the Deck Stewards on board at a charge of $1. each for the voyage.
Pastimes and Games are at the disposal of the passengers.
Service. Passengers are requested, in their own interest, to submit any complaints they may have to make to the Captain at the time of his daily round of inspection every morning. The wishes of the passengers will be complied with if possible.
Wireless Telegraph. The wireless stations (Telefunken-System) on board of all steamers of the North German Lloyd are permanently in communication with coast stations either directly or by way of other ships.
All information regarding the dispatch of wireless messages, length of time required for transmission and telegraph fee may be obtained at the wireless station on board, or on land from the Deutsche Betriebsgesellschaft für drahtlose Telegraphie m.b.H., Berlin, SW11, Hallesches Ufer 12/13; telegraphic address "Debeg," telephone No. : Lützow 3630/34.
A daily bulletin is published with news received by wireless.