SS Stuttgart Passenger List - 28 September 1933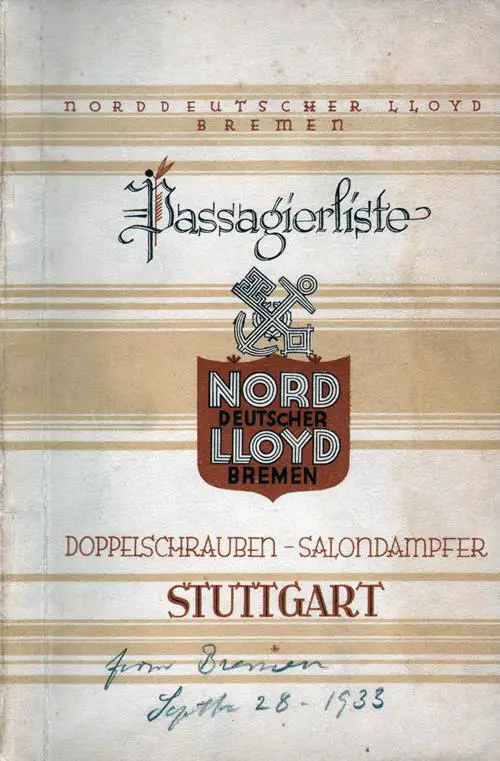 Front Cover, Cabin, Tourist, and Third Class Passenger List for the SS Stuttgart of the North German Lloyd, Departing Thursday, 28 September 1933 from Bremen to Halifax and New York via Boulogne-sur-Mer, Southampton, and Galway, Commanded by Captain O. Prehn. GGA Image ID # 1f01781160
Senior Officers and Staff
Captain: O. Prehn
First Officer: E. Mathy
Second Officer: K. Fricke
Second Officer: W. Schott
Third Officer: H. Bursch
Third Officer: H. Bremme
Fourth Officer: Kl. J. Jakobick
Physician: Dr. H. Kuck
First engineer: H. Haake
Second engineer: D. Buck
Third engineer: E. Hoeppner
Third engineer: G. Braje
Fourth Engineer: A. Ahrens
Fourth Engineer: H. Genreich
Fourth Engineer: H. Modersitzky
Purser: M. Muller
Assistant Purser: F. Richter
Chief Steward: K. steil
Assistant chief steward: A. Schumacher
Chief steward of the tourist-class: J. Ahl
Chief steward of the third class: P. Dieckvoss
Chief Cook: A. Berger
Baggage Master: J. Oestermann
First Radio Officer: F. Schuch
Second Radio Officer W. Ritz
Third Radio Officer: R. Bachmann
Interpreter: J. Swoboda
Cabin Passengers
To Halifax
Miss Margareth H. Willson
To New York
Mrs. L. S. Bayliss
Mr. Frederick D. Bepler
Mrs. Charlotte Bepler
Mr. Leopold Borda
Mr. Jos. F. Brogan
Mr. William H. Brudi
Mr. W. F. Burdett
Mrs. W. F. Burdett
Mr. Dennis
Miss Franziska Driiher
Mr. W. F. Eissing
Mr. Dietrich Graue
Mrs. Luise Graue
Mr. Lowell M. Greenlaw
Mrs. L. M. Greenlaw
Miss Shirkley Greenlaw
Miss Anna Guye
Mrs. Emma Happ
Miss Marinez Heitland
Mr. Richard Hill
Mrs. Charlotte Hoehn
Mrs. Martha Hoffmann
Mrs. Rachel Howland
Dr. John P. Lobenhoffer R. de Luca
Mr. McPherson
Mrs. Kathie Maier
Dr. Alfons L. Meyer
Mrs. Johanna Milbradt
Professor Dr. Hans Molitor
Dr. Arthur Mollmann, M.D
Mr. Konsul Alexander G. Mosle
Mr. F. A. Nettelmann
Mrs. Margarete Nettelmann
Professor Albert Nolte
Mrs. Shirley Nolte
Miss Henriette Petsche
Mrs. Adele Riesenberg
Mrs. Agnes Sagebiel
Mrs. Marie Seib
Mr. Skriver
Mr. Smith
Mr. Bernhard Thies
Mrs. Bernhard Thies
Mr. Albert Thies
Mr. Adam Waldeck
Mr. Joseph Waldeck
Mr. Herbert Wester
Mrs. Helene Westhus
Mr. Konsul Henry Wilde
Mrs. Meta Worth
Mr. Rudolf Wurlitzer
To Southampton
Mr. Richard T. Harriss
Tourist Class Passengers
To Halifax
Mrs. Johanna Quatsch
Mr. Hans Wich
To New York
Miss Erna Backmund
Mr. Georg Bartels
Mrs. Clara Bartels
Mr. Hermann Becker
Miss Sofie Betz
Mr. William Birkenmeyer
Mrs. Elsa Birkenmeyer
Miss Hildegard Birkenmeyer
Miss Johanne Blomeke
Mr. Louis Boess
Miss Lillian Bohlmann
Mr. John Brandt
Mr. Herbert Brennecke
Mrs. Adeline Cramer
Miss Bernice Dougherty
Miss Ella Dufern
Mr. Wilhelm Frantzen
Miss Anna Gasper
Miss Anna Gekeler
Rev. Joseph Gleisner
Mr. Johann Grodewald
Miss Katharine Hilbert
Mrs. Terezia lzmael
Mrs. Irma Jacob
Miss Marie Jaus
Mrs. Emma Langley
Joan Langley
Luzia Langley
Miss Martha Lecour
Miss Meta von Lehe
Mrs. Anna Lindemann
Gordon Lindemann
Mr. Otto Marquardt
Mrs. Louise Merkt
Miss Martha Mueller
Miss Katharina Mueller
Mr. Georg Newstedt
Miss Adele Oetjen
Mr. Martin Ragl
Mr. Mathias Reinartz
Mrs. Klothilde Renner
Herbert Renner
Miss Hedwig Roese
Miss Elisabeth Sommer
Mr. Dietrich Stede
Mrs. Sofie Steiger
Mrs. Ida Stengl
Miss Margarete Stier
Miss. Hertha Schmeyers
Miss. Erna Schmidt
Mr. Georg Schwarz
Mrs. Frieda Schwarz
Mrs. Elisabeth Schweitzer
William Schweitzer
Mrs. Theresa Talley
Mr. Johannes Terlau
Miss Christine Tietje
Mrs. Johanna Tofaute
Mrs. Emily Tomek
Mr. John Vollmer
Miss Emilie Weissmann
Miss Margarethe Wickbold
Mr. George Wilken
Mrs. Else Wilken
Miss Clara Wolfers
Mrs. Elfriede Zbinden
Hans Zbinden
Arthur Zbinden
To Boulogne
Mr. Harry Schorling
Mrs. Emmy Schorling
To Southampton
Miss Mavis Griffin
Miss Maria Logemann
Mr. Otto Schulze
Miss Anneliese Schulze
Third Class Passengers
To Halifax
Mr. Albert Bartl and Family
Miss Maria Braun
Mrs. Anna Bujaki and Family
Mrs. Anna Chipska
Mrs. Ona Deksniene
Mr. Paul Dummer
Mrs. Emma Dummer
Martha Dummer
Roman Dummer
Mr. Felix Einhellinger
Franz Franzen
Mr. Wilhelm Friedrich
Mr. Michael Gitschner
Mr. Josef Gnap
Mrs. Rosa Gombos
Mrs. Anna Halcicova and Child
Mr. Swirid Karp
Mrs. Kristina Koeppel and Family
Mr. Josef Kreuzpaitner
Mr. Josef Kreuzpaitner
Mrs. Kreszenz Kreuzpaitner
Otto Kreuzpaitner
Mrs. Maria Laco and Family
Mrs. Anna Moser
Miss Wilhelmine Overmann
Mr. Henrik Pietila
Miss Martha Rantala
Mrs. Anna Rochus and Child
Mrs. Jenny Salonen
Mr. Emil Sommer
Mrs. Kat ola Sommer
Mr. Karp Swirid
Mrs. Julia Szanto
Mr. Andrew Szlapak
Mrs. E. Vajda and Family
Mr. Josef R. Schmidt
Mrs. Anna Stark-Eros
Miss Marianne Strasser
Mrs. Maria Tonhauser and Child
Miss Magdalene Wallis
Mr. Gerhard Wiebe and Family
Mrs. Else Wyzick
Mr. Albert Zapf
To New York
Mrs. Elsie Bazlen
Miss Meta Berg
Mrs. Dora Boedecker
Werner Boedecker
Miss Marta Bornkessel
Mr. Julius Breuning and Family
Mr. Ignatz Brunner
Mrs. Margarete Brunner
Mr. Mathias Dick
Mr. Oswald Dillenkofer
Mrs. Elise Dillenkofer
Theodor Dillenkofer
Henry Dillenkofer
Mrs. Ida Dressler
Mr. Alexander Eichmann
Mrs. Louise Eichmann
Mr. George Engelmann
Mr. Heinz Erdenberger
Mrs. Auguste Ewald and Family
Mrs. Antoinette Gerstenbacher
Mr. Alfred Gerstenbacher
Mr. Josef Gnap
Miss Berta Gronbach
Miss Theresia Haggenmiiller
Mr. Ludwig Halbekath
Miss Annemarie Hasenburger
Mrs. Margarete Hoopmann
Ingeborg Hoopmann
Mrs. Katarine Ivans and Child
Miss Antoinette Maier
Mrs. Elisabeth Martin
Mrs. Sofie Metzger
Lore Metzger
Alex Metzger
Mr. Karl Meyer
Mrs. Emilie Meyer
Mr. Patrick Murphy
Mrs. Kreszenz Neumayer
Mr. George Ondo
Mr. Karl Pabst
Mrs. Elisabeth Palm
Mr. K. Pauliukaitis
Mrs. Anne Petersen and Child
Mr. Andreas Raspel
Mrs. Anna Redle
Anna Redle
Mr. Fred. Riemann
Mr. Clemens Riesenbeck
Mr. Georg Roemer
Mrs. Anna Roemer
Mrs. Martha Ross
Mrs. Theresia Sdesar
Margaret Sdesar
Jane Sdesar
Miss Lydia Seyfried
Mr. John H. Jaeger
Mr. Karl Jahrand
Miss Ida Kaesemeyer
Mr. Frederick Kammann
Mrs. Marie Kammann
Henry Kammann
Mr. Ernst Klages
Mr. Heinrich Kleyhauer
Mrs. Anna Kleyhauer
Mr. Peter Knabl
Mr. Arthur Kohler
Elfriede Kohler
Miss Emma Kreher
Mr. John Krenmiiller
Miss Grete Krentzel
Mrs. Frieda Krieg
Jackie Krieg
Mr. Gerhard Kroesen
Mr. Ludwig Krominga
Miss Lilly Kunkel
Mr. Theodor Lampert
Miss Marie Landwehr
Miss Elsie Leiher
Mr. Johann Lessner
Mr. Emil Lohwasser
Mrs. Helene Lohwasser
Mr. Hermann Luttmann
Mrs. Meta Mahland
Wilfried Mahland
Miss Frieda Siegele
Miss Anna Sieling
Mrs. Martha Sparrer
lrmgard Sparrer
Mr. Carl F. Susterich
Miss Margarete Tamke
Mr. Florian Tesch
Miss Elisabeth Toelz
Mr. Anton Tugendheim
Mrs. Anna Schaal
Miss Frieda Schmidt
Miss Elfriede Schmidt
Miss Gerda Schulte
Mrs. Frieda Stampe
Hermann Stampe
Miss Betty Stelzer
Miss Helen Stoval
Mrs. Mary Struppeck
Mrs. Anna Voss
Mrs. Alma Walter
Mrs. Maria Weber
Mrs. Marie Weck
Mr. Jacob Wuelpern
Mrs. Katharina Wylesel
Georg Wylesel
Katarina Wylesel
Mrs. Anna Zinser
Willi Zinser
To Southampton
Mr. C. C. Stockmann
The City of Bremen
The City of Bremen receives its Overseas Guests at the Columbus Quay, in Bremerhaven, in the European "Station on the Sea-front". In 1% hours by train or 50 minutes by motorcar one reaches the 70 Kilometers distant City on the Weser, the old Hanseatic City of Bremen; the city which, as a cultivated patrician city with its magnificent sites, offers the traveling public beautiful historical buildings and select Hotels and Restaurants, and at the same time, possessing most modern docks, is the busy centre of an extensive overseas-trade.
In contrast to the everyday appearance of many of the Hanseatic towns Bremen presents an architectural picture which makes everyone feel at home. Century-old tradition has made its impression. The Market Square is the focus of all that is characteristic of this city.
The grouping of such venerable buildings as the magnificent City Hall, the valiant Roland, the Cathedral Spires reaching heavenwards, the golden "Schiitting" (Chamber of Commerce) was created from that proud, independent spirit of citizenship which has made Bremen.
It was the same energy of tenacious citizenship that sailed the first steamship on the Weser, inaugurated the first regular transatlantic Mail Line between Bremen and New York, created the first commercial submarine and rendered possible the first East-to-West Airflight over the ocean. But all this has not disturbed the dignified tranquillity of the City.
The centre of the city is too distant from the docks, shipyards and factories to be affected by their noises. The old moats are still in a good state of preservation and, like a green garland, entwine the actual City with its numerous reminiscences of the German medieval period. Although modern Offices and Administration buildings have sprung up in the City and the Rhythm of Life has become more pronounced, the melody has remained the same.
Even Romance survives and has found an expression as equally intrepid as it is strong, in the Bottcherstrafie which, branches - off from the Market Square. No wonder then, that many a globe-trotter was captivated with Bremen and meditatively sat in the "Ratskeller" brooding over the question as to how it was that this City offered a feeling of security and at the same time disclosed so much energy; how it was that this City supplied the whole of Europe with Cotton, has old Buildings, and is the home of the Norddeutscher Lloyd who can claim as their own, the fastest ships in the world, "Bremen" and "Europa'', and who open up connections to all parts of the globe.