SS Hohenzollern Passenger List - 20 April 1881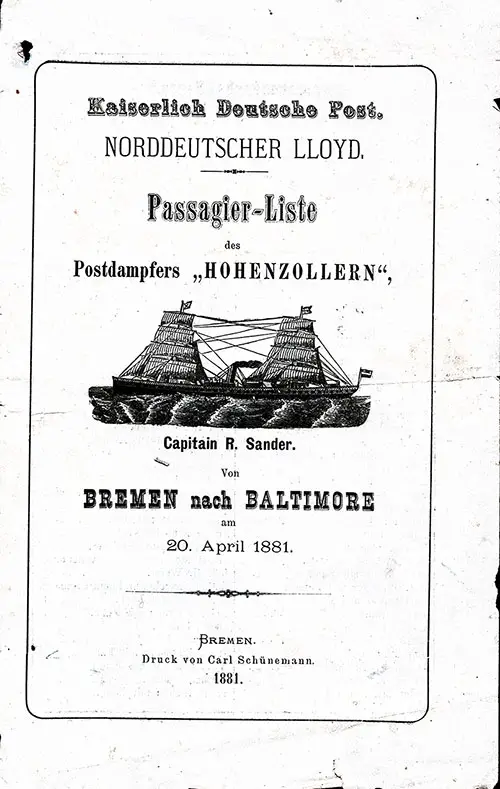 Very Rare Steerage Passenger List from the SS Hohenzollern of the North German Lloyd, Departing 20 April 1881 from Bremen to Baltimore, Commanded by Captain R. Sander.
The SS Hohenzollem, 3,092 GRT was built in 1873 and was in service for the Norddeutscher Lloyd until 1899, when she was sold.
The SS Hohenzollem's capacity was Crew 107 people. Passengers: First Class 44, Second Class 18, Third Class/Steerage: 540 people. In this voyage, they carried more steerage passengers than their stated capacity.
Senior Officers and Staff
Captain: R. Sander
First Officer: W. Schmölder
Second Officer: A. Petermann
Third Officer: W. Bodenstedt
Fourth Officer: K. Wernsing
First Engineer: F. Spormann
Second Engineer: D. Rohe
Third Engineer: G. Kaulitz
Fourth Engineer: A. Roth
Physician: Dr. G. Emont
Purser: J. Fastenau
Steward: C. Lückermann
Cook: O. Schoppe
Steerage Passengers
Martin Goe with Family
Mariane Barnika
Wojceh. Barnika and Wife
Fritz Voss with Children
Marie Jasker and Kind
Carl Klaushermeier
Herrn. Fitgemeyer
Martin Nickel
E. A. Knorr
August Hebel
Johann Rietz
N. Rodruba
Bogenkagen with Family
Fritz Bringe with Family
Franz Zymrok with Family
Anna Flenker
Vincenty Hillebrandt with Family
Thomas Gollowitz with Wife
Agniszka Barczak and Children
Carl Wentzel mit Famille
Jacob Mange with Family
Florentine Röske
Johanna March
Ernst J. Nobis
August Scheller with Family
Franz H. Jantner
Ernst A. Löscher with Family
Franz R. Hänsler
Andreas Tauer with Wife
Joh. Engel
Minna Halg
Wilh. Zimmermann
Wilh. Wegner and Wife
Wilh. Nähr with Family
Alb. Wegener with Family
Carl Gahnz and Wife
Louise Rühmer
Louise Gottmann
Marie Skolnik and Child
Joh. Bialke
Herrn. Friedrich
Albert Pietsch
Peter Masur with Children
Fr. Huskeraeyer with Family
Fr. Stühmeyer with Children
Carl Unverfert
Rieke Unverfert
Harry Heuer
Elise Bannenberg
Carl Thiele
August Henne
Johann Berndt
Ernst Manthey
Sivilla Menge
Theresia Boro
Herrn. Knoll with Children
Alb. Schwantes with Family
Carl Dumann
Aug. Groth with Family
Fr. Fuchtenhagen with Family
Fack Placko
J. Mach,
Jos. Kolb with Family
Bertha Otto
Carl Otto
Heinr. Fehlhaber with Family
Carl Ed. Claassen
Eilert Mehring and Children
Cath. Bickhold
Sigmund Pfister
Matheus Allgaier
Jadwiga Bartozeck
Andreas Kaszmarek
Minna Engel with Family
Albert Franzke
Thomas Wrezesinski with Family
Albert Maas
Joh. H. Wefer
Wilh. Schmeckel with Family
Alb. Kaap with Children
Trientje Grade with Children
Eugen Bukies
Martha Kolodzick
Franz Radmann with Children
Wilh. Schmidt with Children
Hermann Ebert
Franz Eichon with Children
Joh. Suchrowsky
Wenzel Watzik with Family
Josef Charwat with Family
Josef Nowak
Maria Nowotny
Agues Kalbac
Cath. Zika
Carl Kral
Anna Scherbont
Josef Hejl
Maria Kutina
Adalb. Christof
Wenzl Hynek
Franz Petran and Wife
Maria Boukal
Philipp Barosch
Thomas Spika
Josef Zwiek with Family
Ignatz Skabrohlid and Wife
Wenzel Zitnik with Family
Josef Skarbrohlid with Family
Philipp Schlechta with Children
Anton Chalus
Karoline Kazda
Maria Zitnik
Maria Zitnik (sic)
Franz Wopalecky
Anna Wopalecky    
Maria Wclenowsky
Vojtecli Welenowsky with Wife
Franziska Hawlas
Caroline Hawlas
Thomas Hluzek with Family
Franz Kriz
Johanne Labaschewski and Children
Maria Zillmann
Herrn. Pirnske with Family
Andreas Lisbarski
Wilhelmine Lisbarski
Louise Paszke
August Lisbarski with Children
Anton Cieslewicz
August Baschkowski with Wife
Ignatz Schierl
Anna Schierhaut
Jens A. Jensen
Andreas Andersen
Sem Söderström
Josefine Tedersen
Eduard Tedersen
Nills Olsen
Ole Kjar
Christian Larsen with Children
Peter Grau
Kunigunde Schmidt
Dorothea Schmidt
Johann Kuzel with Children
Josef Doubek with Children
Franz Dolezal and Wife
Franz Mulae
Josefa Kunz
Johann Maxa and Wife
Wenzel Burita with Children
Barbara Zirak and Child
Johann Bejcek with Children
Albert Pumper
Jacob Leschtina
Maria Tucik
Carl Bartik
Josefa Hadraba
Maria Hodidek
Mathias Sirnka with Children
Carl Bumbicka with Children
Barbara Klicka
Job. Nemecek
Anna Benje
Theresia Klumecky and Child
Ludmilla Kolacek
Franz Koranda
Johann Koranda
Theresia Preller
Wenzel Kolacek with Children
Franz Peterzelka
Anna Brycha
Kath. Blaha
Josef Homolka
Math. Wochaska
Jacob Schefcek with Children
Andr. Tafelsky with Children
Stanislaus Reholak and Wife
Josef Kostecka with Children
Aug. Henniges with Children
Jacob Chiebwsky
Josepha Ulandska
Caroline Neuhaus
Franziska Schultheiss and Children
Johann Persche
Johann Muschitsch
Schlomar Roska
Cacilie Kabes
Kasuneritz Zubrowsky with Family
Josephina Orlikowska
Joseph Skerierawski
Stanislaus Reich with Family
Mathilde Roraff
Johann Burke with Children
Franz Runowsky
Ludw. Wangrow and Wife
Bertha Gutknecht
Mathilde Ernest
Aug. Schultze and Brother
Heinr. Wangerow and Wife
Christ Lix
Heinr. Bangert
Friedr. Herzog and Wife
Julianna Müller
Andr. Kolinska with Family
Appolonia Szweda
Auguste Kolodzick
Heinr. Stöcker
Joh. Bauer
Bertha Biastoch
Wilh. Plato with Family
Carol. Klump and Children
Georg H. Strobel
Josef Werner and Wife
Carl Horn with Family
Anton Skelnik
Joh. Kszendzinski
Malson H. Mortinson
Meta Mortinson
Carl Bangert
Christ. Bangert
Albert Winke with Family
Marcyana Soniwnka
Cath. Szezseny and Children
Carl Brehmer with Family
Auguste Radtke
Heinr. Zahn
Josef Hotecki
Appolonia Kotocki and Children
Johann Dampke with Children
Victoria Kaeschna
Friedr. Nauert with Family
August Schönstedt with Family
Chomar Thieme
Ed. Kradocha with Family
Carl Barau
Janos Gorilla with Family
Franz Gorilla
Ludwig Cirbus
Kath. Cirbus
Josef Dubisch
Anna Kilian
Franz Gistinger with Family
Johann Schefcik with Family
Anton Galistel with Family
Genofeva Leimbacher with Family
Maria Schimunek and Child
Adalb. Jezak with Family
Johann Plch with Family
Emil Fikar
Maria Nemecek
Josefinc Lischka
Maria Stell
Wenzel Broz
Johann Dolezal
Wenzel Marouschek with Family
Maria Hlawac and Children
Josef Hadac with Family
Franz Hawel with Family
Maria Dolezal and Children
Michael Bimsa with Family
Jos. Jarka with Family
Aug. Robrecht
Anna Robrecht
Heinr. Johanning
Wilh. Lippmann
Wilh. Köstlin
Friedr. Strauss with Family
Marie Pippler
Theodor Schwocho with Family
Joh. Egerer
Johann Poteracki,
Lizitte Tepe
Anna v. Robakowska
Carl Plath
Hermann Nelson
Georg Meier and Wife
Auguste Pionke with Family
Jacob Salenski
Jan Mame with Family
Anton Waligorski
Jacob Kleine with Family
Jacob Klein
Heinr. Lewin
Marianna Busga
Agnes Busga
Hermann Brehmer
Joseph Stassick
Lorenz Haderski with Family
August Senske with Children
Kranz Zuntkowski with Family
Joachim Albers
Maria Link and Kinder
Anton Schürmann
Anton Wenninghoff
Wilh. Goepel with Children
Anton Hildebrandt with Children  
Constantin Cuslewicz with Family
Felix Imbowowics
Franz Marschall with Children
Dorothea Katheder
Kunigunde Katheder
Felix Spiekermann
Joseph Grotemeyer
Joh. Aug. Berntssen with Family
Carl Peter Johansson
Joh. Berent Anderf
Anders Carlsson
Anders Carlsson [sic]
Joh. B. Carlsson
Carl M. Jonasson,
Julia Tiller and Child
S. 0. Verdal
Ingeborg Verdal
Olaf Halvorsen
Martha Andersdotter
Nils Kristoffersen
Hans Kristoffersen
Per Olsen Thyberg
Anders Olsen with Children
Peder J. Haarsted
Joh. Johansen Bak
Joh. Johansen Olstad
Morthen Gund Holthangen
John Hansen Ljner
Ole Gullikson Medbön
Emanuel Andreason
Lovisa K. Hög
Lars Joh. Wig with Family
Anna Svenson
Erik Larson with Family
J. Olson
Per Joh. Persson
Victor F. Zittorin
J. F. Ahandberg
Sven Larsson
Ole Toreson
Johanne Olsen Steeusröd
Lars H. Nestingen
Carl Strandberg
G. A. Johansson
Frans Alb. Sandahl
Hulda Kaminski
Minna Kaminski
Georg Schwarz
Wenzel Portner with Family
Anna Dittrich
Elisabeth Riess
Bernh. Kruzycki
Joh. Becker
Peter Kessler and Family
Johann Smutny
Jos. Roschticky
Rud. Müller with Family
Josef Schotzko
Josefa Skulina
Josef Karwaschek with Family
Franz Ledewsky and Wife
Josef Lipa and Wife
Josepha Wranezek
Carl Cahoun and Wife
Johanne Müller
Mathias Marroch with Children
Albert Behnke with Children
Carl Kowalke
Aug. Mielke with Children
Josef Zubzok
Malcher Juwiak
Martin Myellollak
Josef Nowack and Child
Gottlieb Krause with Children
Joh. Splitter with Children
Friedr. Kaddatz
Minne Kaddatz
Heinr. Brennecke
Wilh. Kootz with Children
Jacob Steil with Children
Josef Lahmann
Carl Allgaier
Jacob Honold
Albert Schulz with Family
Jos. Zimmerwith Family
Aug. Schimmelpfennig with Family
Bertha Garmotz
Therese Wenslaff
Adeline Benke
Ernst Reichert
Hermann Tarasenka
Ernst Kraftzick
Job. Dembinski with Children
Hedwig Kaczinski
Emilie Lichtenfeld and Children
Albrecht Knoll with Children
Carl Saar with Family
Ferd. Ratke
Johann Klasinski and Wife
Franz Koptanie
Peter Schibisch
Thomas Scheschnatt
Wapsf Salewski
J. Müller
Johann Czerniak
Johann Imilinski
Victoria Klasinske and Children
Franz J. Hagemann and Wife
Andreas Zehe
Barbara Schultheis
Josef Walcek with Children
Wilhelm Scheffler with Children
Franz Kybinski with Family
Adalbert Boschack
M. Skecharzek
Valent. Zegelki
Thomas Sawadin
Andr. Andrzczak with Children
Josef Straczcuski
Josef Zeslewitz
Martin Rabiuek with Family
Peter Waligarski with Family
Ignatz Mrutrzynski and Wife
Michael Warzarowski with Wife
Wocjcech Waligorski with Wife
Wilh. Gorkow and Wife
Friederike Tillmann
Marie Tillmann
Josefa Velenowsky
Wilhelmine Weber
H. Gressendorl with Children
Hch. Moritz Zetzsehke
Paul Jonass with Children
Wilh. Bengsch with Family
Jos. Pollasch with Family
Joh. Ennebrock
Fr. Ennebrock
Lisette Holtmann
Anton Kemper
Peter Böse with Family
Magdalene Hellbich
Albert Kuttlich with Family
Fr. Wilhelm,       Olde
Dina Wilhelm
Heinr. Becker with Family
Franz Fullenkamp
Joh. Piell
Joh. Harpst with Family
Silvester Ross
Heinr. Könker with Family
Gust. Heldmann with Family
Wilh. Köter
Franz Krimine
Fritz Bitter with Family
Aug. Helmig
Heinr. Hoppe
Franz Meyer with Family
Aug. Dahn with Family
Jacob Ronter
Carl Sachweh
Wilh. Hagen with Family
Friedr. Berndt with Family
Barbara Kuhulein
Aug. Leisemann
Jos. Depczyk with Family
Friedr. Wurm
Louis Wurm
Curl Kolodzick with Family
August Ketelhut with Family
Ford. Papenfuss and Wife
Fr. Hardtke
Klaas Lay with Children
Hinderk Smit
Frerk Smit
Minna Foelrichs with Children
Heinr. Wiedemann
Maria Stoffer
Franz Schmidt
Franz Wenisch
Dorothea Weingarten
Carl Deimel
Menno Foelrichs
Johann Dombrowski with Family
Johann Grabowski
Wilh. Widletzki with Children
Anna Knoop
Andreas Racunba
Jacob Kaczmarak
Martin Skukaskowitz
Aut. Bokowsky
Barthol. Buskowitz
Michael Kaminski
Carl Niekisch with Children
Gottlieb Bösel with Children
Carl Westphal with Children
Wilhelmine Nikisch
Jan Methelski with Children
Josef Wisnewsky
Joh. Niapodriwicz with Children
Franz Doewietzky with Children
Johanne Jankowiak with Children
Wilhe. Krüger with Children
Mathias Idunak
Waroczin Goralslny
Wilh. Reckling with Family
Joh. Schroeder
Herm. Dieterichs
Rob. Reichert
Adege v. Gemmern,
Heinrich Vollmer
Anton Vollmer
Elisabeth Vollmer
Gertrud Froning
Eduard Koepp
Carl Herzog
Anna Herzog
Gottlieb Obermüller
Herm. Pillusch
Ida Pillusch
Daniel Linkner with Family
Gust. Albrecht
Herrn. Diettrich
Thomas Kaminski
Ferdinand Pioch
Aug. Timmreck with Family
Rudolph Morrenzyn
Johanne Hackparth
Joh. Brunke with Family
Wilh. Thrun
Emilie Thrun
Pauline Sitterlee
Joh. Rennewanz
Eduard Wiedenhoft
Aug. Mielke with Family
Eduard Remus
Bertha Remus
Minna Schulz
Johann Stock
Aug. Stock
Elisabeth Stock
Jacob Frisch
Johann Frisch
Anna Keil
Johann Jano
Josef März
Herrn. Wagner
Fanny Wagner
Louis Schreiber
Franz Rucizka
Theresia Krehlik
Wolborg Gülbrandsen
Bernard Grundmann
Eugen Wahl with Children
Bruno Hauseler
Ambros Kirchner
Martin Sass
August Lemke
Andrew Mitlos
Friedrich Mahnke
Anton Glaser
Franz Fauslich
G. Svensen
Anne Helene Jensen
Niels Nilsen Nyjordet
Ole Erichsen Torhangdalen
Mathea Jacobsdotter
Peter N. Nyzordet
Jeus Haug
Karen Tolzin and Children
Johs. Blomquiste with Family
Ant. Reinhardt with Family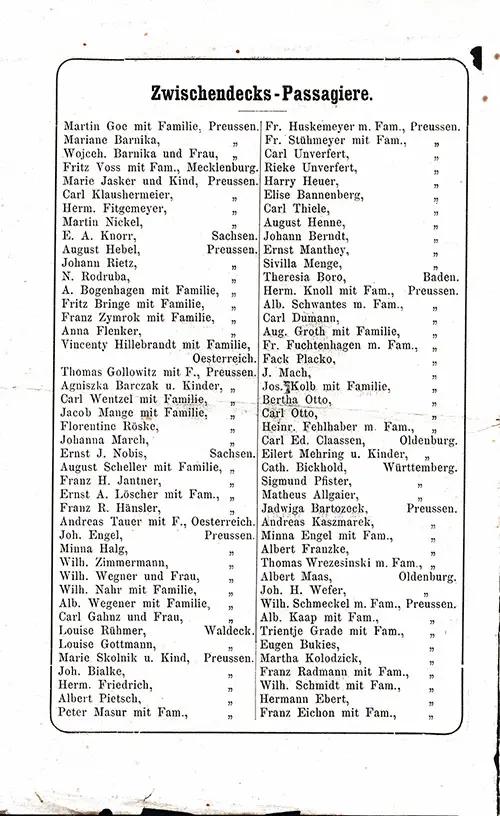 Page 2: Steerage Passengers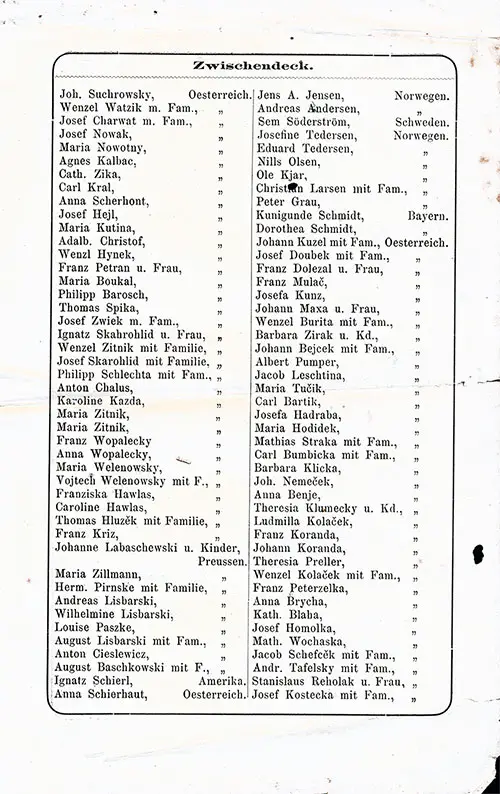 Page 3: Steerage Passengers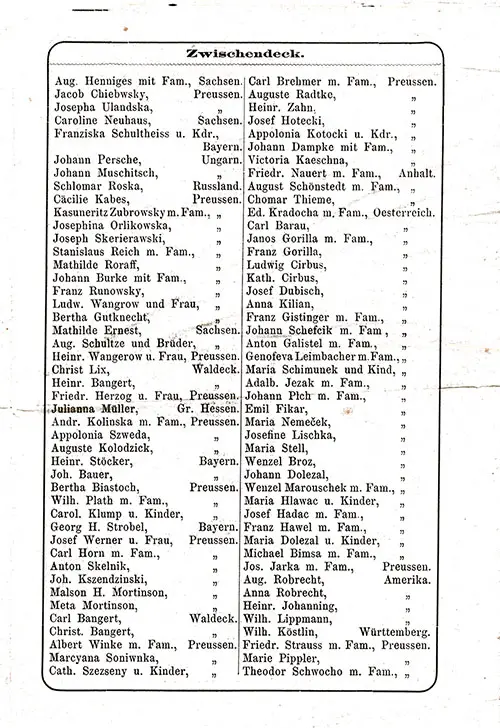 Page 4: Steerage Passengers
Page 5: Steerage Passengers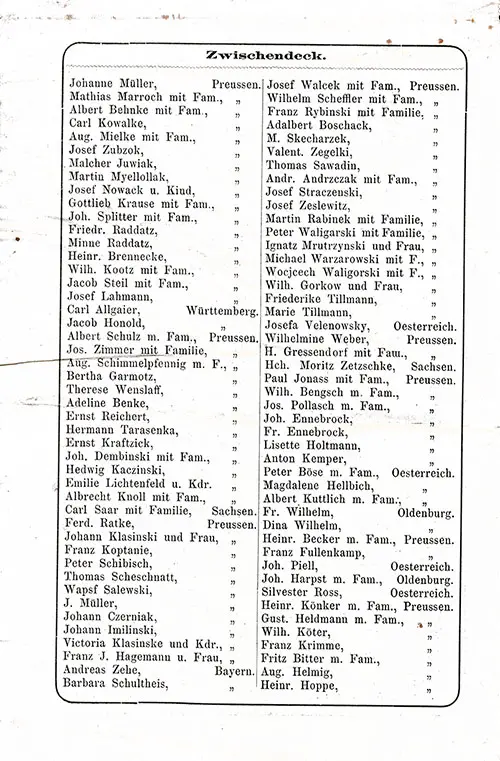 Page 6: Steerage Passengers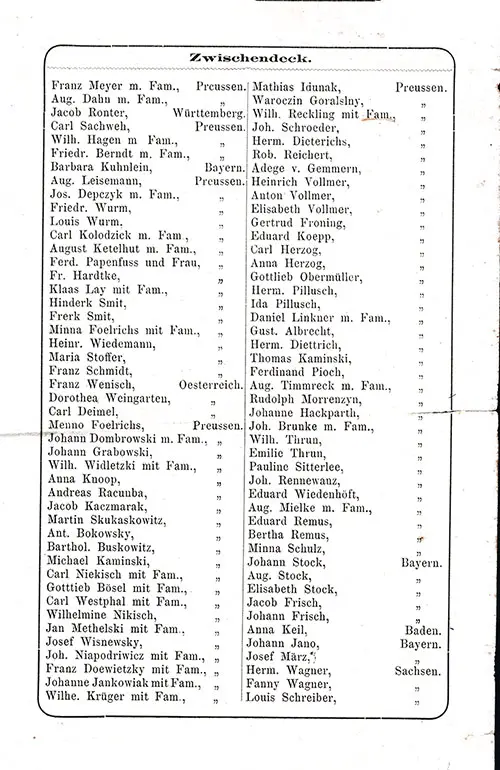 Page 7: Steerage Passengers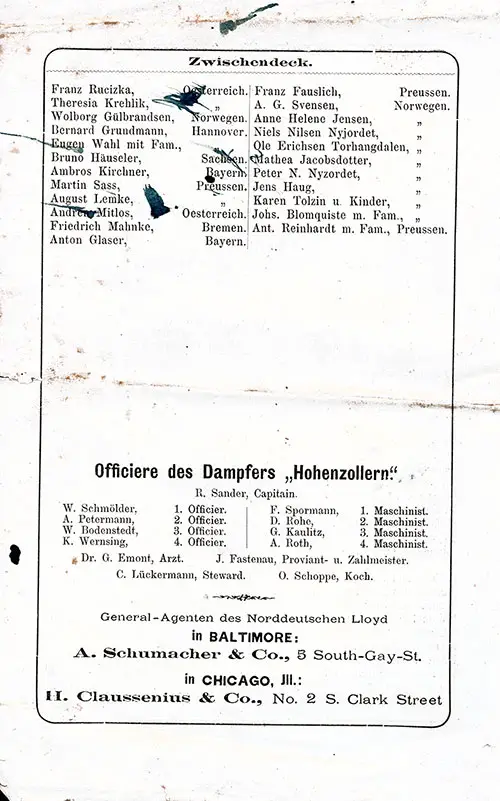 Page 8: Steerage Passengers, Senior Officers, and Agents