SS Hohenzollern Archival Collection
Hohenzollern (1873) North German Lloyd
Built by Earle's Shipbuilding & Engineering Co., Hull, England. Tonnage: 3,288. Dimensions: 353' x 39'. Single- screw, 12 1/2 knots. Compound engines. Triple expansion engines in 1890. Two masts and one funnel. Iron hull. Passengers: 142 first, 800 third. Launched, May 24, 1873. Maiden voyage: Bremen-Southampton-Panama, December 7, 1873. Service: Also in Bremen-New York service. Placed in Bremen-Far East trade in 1886. Fate: Sold in 1899 and broken up for scrap. Sister ship: Habsburg. Note: Both vessels were also used in South American trade.
Hohenzollern (1889) North German Lloyd
This Ship Sailed as the SS Hohenzollern from 1901-1908
Built by "Vulkan", Stettin, Germany. Tonnage: 6,668. Dimensions: 449'x 51'. Single-screw, 16 knots. Triple expansion engines. Two masts and two funnels. Service: Mediterranean-New York. Fate: Wrecked on Sardinia in 1908. Previous Name: Ex-Kaiser Wilhelm II (1889-1901).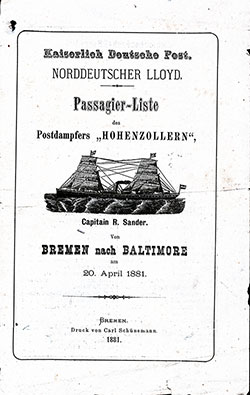 Steamship Line: North German Lloyd
Class of Passengers: Steerage
Date of Departure: 20 April 1881
Route: Bremen to Baltimore
Commander: Captain R. Sander