The First Ocean Steamship
It was a long step between steam traffic on inland waters to the navigation of the deep sea. And here again, the destroyers of the classic are stepping in.
It has been bred, so far, into the mind of every schoolchild that the Savannah was the first steamship to cross the Atlantic. She sailed from Savannah, Georgia on May 22, 1819 for Liverpool, and arrived there in due course. That much is admitted by the iconoclasts. But in the next breath we are advised that the Savannah was not a steamship, although it is admitted that she did have an engine aboard. No less an authority than Henry Frye, formerly president of the Canadian board of trade, asserts that the Royal William, a Quebec built craft, was the first real steamship to cross the ocean. Her earliest voyage was made in 1833, which, Mr. Frye says, was four years before any other steamship accomplished the feat.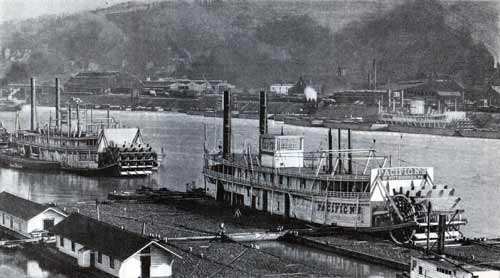 River steamers at Pittsburg, with coal barges for the Mississippi river - this shows a peculiar American type of steamboat, the sternwheeler, specially serviceable for navigating shallow rivers. It has been said that the sternwheeler can sail on a heavy dew.
It appears to be true that the Royal William was the first vessel to cross the Atlantic under steam; yet it does not seem just to deprive the Savannah of her laurels. The facts are these:
She was originally planned as a sailing ship of three hundred and fifty tons, to ply as a packet between New York and Havre. While on the ways, it was suggested by Captain Moses Rogers, who had been associated with Fulton and Stevens, that she should be changed into a steamer. Messrs. Scarborough & Isaacs, of Savannah, bought the vessel for this purpose, and a simple engine, with a cylinder of forty inches diameter and six-foot stroke was mounted amidships.
Her paddlewheels were of wrought iron, so constructed that they might be taken aboard; and because she did not make the entire passage under steam, it is now denied that she was a steamboat. It is to be acknowledged that she was not an entire success; but she deserves to keep her niche in history as the first steamer to cross the ocean, though not the first vessel to make the passage by steam power.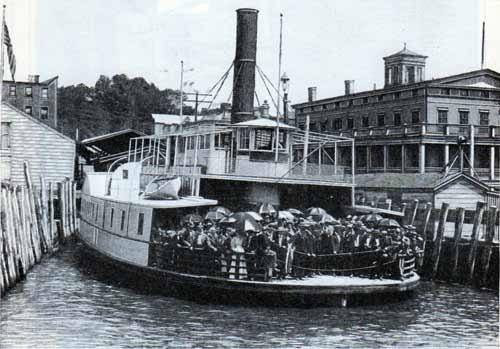 One of the oldest steam ferry boats on the Hudson River, which is still in service between Yonkers, New York, and Alpine, New Jersey.
It is safe to assume that commercial skepticism had much to do with delaying ocean steam navigation. On quiet waters, it was different. The inside traffic did not demand unusual tonnage, nor were the smaller engines excessively expensive. So the river and harbor trade throve consistently, and, with its development, demanded larger, speedier, and more economical craft.
Many improvements were made in both engine and hull, and in 1831, when the Royal William was launched at Quebec, she was considered as a developed type. She was 176 feet over all, with 29 feet 4 inches beam, and 17 feet 9 inches depth. No record remains of the type and dimensions of her engines. She was a side-wheeler, however, and it took her twenty-five days to make the passage. the Savannah consuming less than four and a half days more to make a much longer voyage.
The Story of the Steamship - Contents