SS Commonwealth Archival Collection
Commonwealth (1900) Dominion Line
Built by Harland & Wolff, Ltd., Belfast, Ireland. Tonnage: 12,268. Dimensions: 578' x 59' (594' o.L). Twin-screw, 16 knots. Triple expansion engines. Two masts and one funnel. Maiden voyage: Liverpool-Boston, October 4, 1900. Ownership Transfer: Transferred to the White Star Line in 1903. Renamed: Canopic (1903).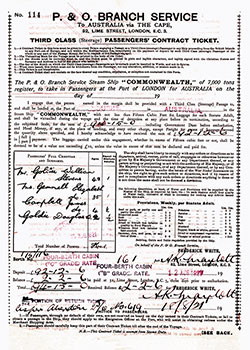 SS Commonwealth Passage Contract - 18 August 1921
Third Class (Steerage) Passengers' Contract Ticket for The Stevens Family of Four sailing on the P. & O. Line SS Commonwealth from the Port of London to Melbourne, Australia dated 18 August 1921.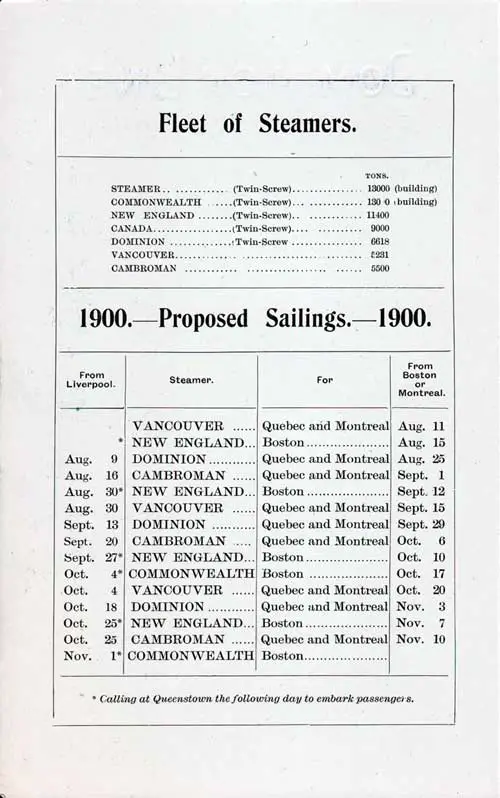 Sailing Schedule, Liverpool-Québec-Montréal or Liverpool-Boston, from 9 August 1900 to 10 November 1900. Ships Included the Cambroman, Commonwealth, Dominion, New England, and Vancouver. SS Dominion Passenger List, 9 August 1900. GGA Image ID # 1f048c83da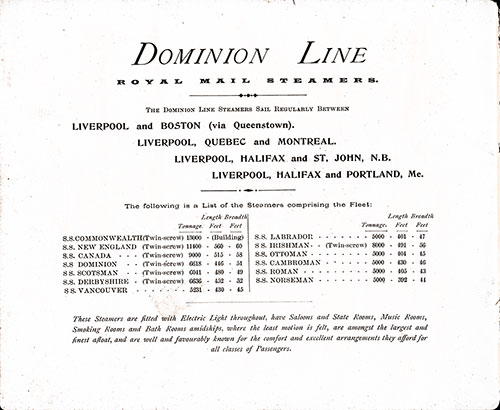 The Dominion Dine Steamers Sail Regularly Between Liverpool and Boston (Via Queenstown); Liverpool, Quebec, and Montreal; Liverpool, Halifax, St. John, NB; Liverpool, Halifax, and Portland, Me. The Following Is a List of the Steamers Comprising the Fleet: SS Commonwealth, SS New England, SS Canada, SS Dominion, SS Scotsman, SS Derbyshire, SS Vancouver, SS Labrador, SS Irishman, SS Ottoman, SS Cambroman, SS Roman, and SS Norseman. These Steamers Are Fitted with Electric Light Throughout, Have Saloons and State Rooms, Music Rooms, Smoking Rooms, and Bath Rooms Amidships, Where the Slightest Motion Is Felt, Are Amongst the Largest and Finest Afloat, and Arc Well and Favorably Known for the Comfort and Excellent Arrangements They Afford for All Classes of Passengers. Book of Views, 1900. GGA Image ID # 1f061f5e11