RMS Capetown Castle Passenger List - 21 April 1949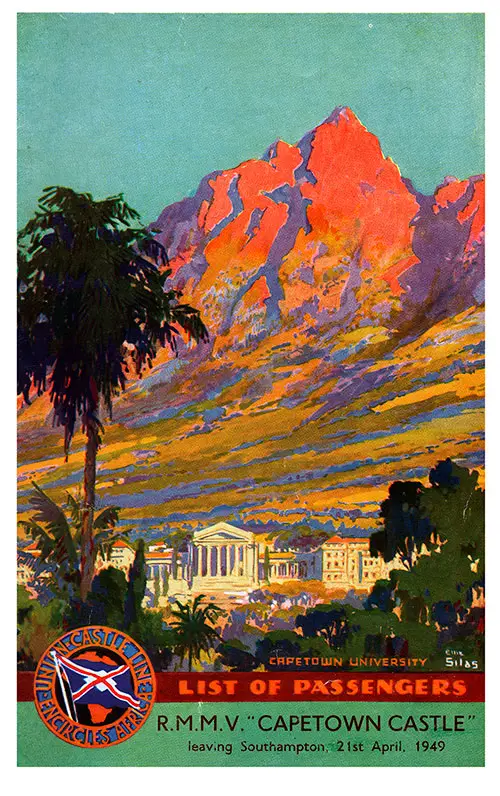 Front Cover of a First and Cabin Class Passenger List for the RMS Capetown Castle of the Union-Castle Line, Departing 21 April 1949 from Southampton to Durban via Capetown, Port Elizabeth, East London and Madeira, Commanded by Captain W. D. Roach. GGA Image ID # 13cdc0fa2c
Senior Officers and Staff
Captain W. D. Roach, Commander
Chief Officer J. M. Lycett, D.S.C., R.D., R.N.R
First Officer J. T. Coleman, R.D., R.N.R
Second Officer J. D. Todd
Third Officer P. C. Cockburn
Fourth Officer B. G. Evans
Chief Engineer J. Mills. O.B.E
First Engineer D. Younger
Second Engineer R. L. Cole, Sr
Intr. Second Engineer W. H. Ardy
Junior Second Engineer T. Ahern
Surgeon J. J. Mullally, M.B., Ch.B., L.M
Purser A. M. H. Baker, R.D., R.N.R
Second Purser D. I. James
Chief Steward E. J. Bateman
Radio Officer J. Gilbart

First Class Passengers
Madeira
Mr. O. Acciaioly
Mrs. Acciaioly
Master M. Acciaioly
Mrs. E. B. Carter
Dr. G. W. Grabham
Capetown
Mr. W. Angus
Mr. B. Averbuck
Mrs. A. I. Baker
Miss I. Baker
Master D. Baker
Mrs. E. Barlow
Mr. P. Berning
Mr. B. Black
Mrs. Black
Mr. A. V. Blake
Mr. N. Burman
Mrs. Burman
Miss C. R. Burman
Master M. Burman
Mr. E. H. Burrell
Mr. Buthwaite
Mrs. Buthwaite
Mrs. S. Butler
Mrs. G. H. Butterfield
Master B. Butterfield
Mrs. E. Cahill
Master Cahill
Mr. J. J. Clayson
F/0 A. G. W. Coulthard
Mrs. Coulthard
Mr. I. G. Craig
Mrs. Craig
Mr. A. C. Crothall
Mr. C. R. Ellis
Mrs. Ellis
Mrs. M. J. N. Fay
Master Fay
Mr. J. H. Fletcher, 0.B.E., M.C
Miss E. B. Geershon
Mr. F. Gluck
Mrs. S. V. Grant
Dr. J. Hopton
Mrs. E. B. Howard
Mrs. M. Jowett
Miss M. Jowett
Mr. J. Jupp
Cdr. The Rt. Hon. Viscount Kelburn, D.S.C., R.N
Miss J. M. Kennedy
Mrs. M. E. Lang
Miss E. F. Lang
Miss M. A. Lee
Mr. J. Levinson
Mrs. C. A. M. Macnab
Mr. V. G. Marchant
Mrs. Marchant
Mr. A. F. McGrath
Mr. L. Miller
Mrs. Miller
Mrs. E. M. L. Parker
Miss R. H. M. Parker
Mr. Plougmann
Mr. F. A. W. Robinson
Mrs. Robinson
Mr. H. Ross
Ft./Lt. J. A. Sheppard
Mr. R. W. Sillars
Lt.-Gen. G. G. Simonds, C.B., C.B.E., D.S.O
Mrs. E. C. Simpson
Cdr. E. N. Sinclair, D.S.C., R.N
Mrs. Sinclair
Master D. Sinclair
Master A. Sinclair
Mrs. D. I. Strong
Master S. Strong
Master C. Strong
Mrs. N. S. Sullivan
Miss A. N. Sullivan
Miss M. Sullivan
Miss J. Symonds
Mr. G. Taylor
Mr. H. Taylor
Miss Y. F. Thompson
Mr. J. H. Troman
Mrs. Troman
Mrs. G. Tudor-Owen
Major F. Van Niekerk
Mrs. Van Niekerk
Master L. Van Niekerk
Mr. J. Verhaighe
Mr. J. V. Vincent
Mr. H. C. Waddington
Mrs. Waddington
Mr. G. H. Wade
Mrs. Wade
Miss K. P. Weinbren
Mr. G. S. Yarwood
Mrs. Yarwood
Mr. H. O. Young
Port Elizabeth
Mr. J. H. Darbyshire
Lt. Cdr. (S) E. Hart, R.N.R
Mrs. Hart
Miss D. Hart
Master R. Hart
Mrs. L. B. Moscardi
East London
Mr. S. Outhwaite
Mrs. Outhwaite
Durban
Miss B. P. Booth
Mrs. M. Gill
Mr. W. D. L. Marsh
Mrs. Marsh
Miss A. J. Marsh
Miss M. B. Marsh
Mr. R. Mather
Mrs. Mather
Mr. J. R. Rea
Mr. M. K. Sproston
Mrs. E. E. Tidd-Pratt
Mrs. M. Tong
Mr. E. A. Walmsley
Mrs. Walmsley
List of Cabin Class Passengers
Capetown
Mr. R. V. Adams
Mrs. S. M. Aitchison
Master J. Aitchison
Mr. R. E. Anson-Cook
Mrs. M. E. Attwood
Mr. C. S. Baird
Mrs. E. Barlow
Mrs. L. Barnett
Master S. Barnett
Miss B. Barnett
Mr. J. Barrett
Mr. I. W. Bestwick
Miss E. M. Blakeley
Mr. J. Bloomstein
Mrs. F. E. Blount
Miss L. Boessl-Krause
Mrs. H. Route
Miss C. Boyd-Wilson
Miss E. C. Brendon
Mr. R. Brill
Miss H. M. Bromwich
Mrs. M. J. Brophy
Mrs. A. E. Brown
Mr. J. Bunting
Mrs. E. Burk
Master Burk
Miss Burk
Master Burk
Mrs. E. M. Butchart
Mr. Carnegie
Miss Carnegie
Mr. C. Carson
Mr. J. W. Champkins
Miss B. G. Chivers
Mr. F. M. Clark
Mrs. Clark
Miss S. Clark
Master M. Clark
Miss L. Clark
Mr. W. J. Cocks
Sister M. T. Condon
Mrs. A. M. Coventry
Mr. M. Cowan
Mr. F. G. Crisp
Mr. H. E. W. Cross
Mrs. Cross
Master T. Cross
Master S. Cross
Mrs. C. P. Cruikshank
Mrs. L. Davies
Mr. W. B. Davis
Mrs. Davis
Master R. B. Davis
Master C. J. Davis
Mrs. M. B. A. Davy
Mrs. L. J. Dawe
Mrs. L. M. Dewhurst
Master M. Dewhurst
Miss J. M. Dewhurst
Miss J. B. Dixon
Miss E. J. Dobbin
Mrs. V. Z. Doel
Master N. Doel
Mrs. I. Donaldson
Mr. G. C. Dorrestein
Mrs. Dorrestein
Miss B. Dorrestein
Miss H. M. Doull
Mrs. B. Dunne
Miss B. Dunne
Master M. Dunne
Master P. Dunne
Mrs. M. B. A. Edwards
Master O. P. Edwards
Master P. H. Edwards
Mr. A. R. W. Elford
Mr. T. F. G. Ellis
Mrs. Ellis
Master J. A. Ellis
Mr. A. Frowde
Mrs. E. A. Galsworthy
Mrs. E. Galt
Mr. R. M. Garlick
Mrs. Garlick
Mr. H. Garwood
Mrs. Garwood
Master R. Garwood
Mr. A. Geary
Mrs. Geary
Mr. E. G. A. Graham
Sister E. Greene
Mrs. A. J. M. Grobbelaar
Miss C. Grobbelaar
Mr. W. Groothof
Mrs. Groothof
Miss G. Groothof
Miss M. Groothof
Master J. Groothof
Master A. Groothof
Mr. J. Grundy
Mrs. E. Guenther
Miss C. Guenther
Master H. Guenther
Sister C. M. Guiry
Mr. I. L. Gurney
Master A. Gurney
Mr. D. W. Hallett
Mr. V. W. Hampton
Mr. F. Hardwick
Mr. L. Harris
Dr. W. H. Hart
Mrs. Hart
Mrs. V. Healey
Mr. H. Henderson
Miss G. Henderson
Mrs. H. Herzke
Mrs. L. Hewitt
Miss B. Hewitt
Mrs. M. V. Hinchco
Miss T. J. Hinchco
Miss G. Hoar
Mr. H. A. Hogarth
Mr. H. R. W. Holman
Mrs. V. M. Holmes
Mr. R. H. Home
Mr. N. Hunter
Mrs. Hunter
Mr. J. P. Hunter
Miss M. S. Hunter
Miss B. E. Hunter
Miss E. M. Ingram
Mrs. G. Isaac
Mr. F. A. Jackson
Mrs. Jackson
Miss Jackson
Master Jackson
Miss P. Jacob
Mr. J. Jenkinson
Mr. R. Jobing
Mr. I. G. Jones
Mrs. Jones
Mrs. E. M. Jones
Master P. C. G. Jones
Miss J. K. Jones
Mr. D. W. Kalkhoven
Miss M. J. Kelly
Mr. G. Kennedy
Mr. K. Kennerley
Mrs. Kennerley
Miss L. Kennerley
Miss F. E. Kite
Mrs. A. Kyle
Miss G. P. Lake
Mr. P. E. Lane
Mrs. M. M. E. Leaver
Miss H. V. Leaver
Miss M. E. Lee
Mrs. H. Leopold
Miss Lightford
Mr. F. W. Lines
Mr. R. N. Loney
Mr. P. Lush
Mrs. Lush
Mr. D. C. Lynch
Mrs. D. E. Mackay
Miss I. T. M. MacRae
Mrs. G. G. Magnas
Mr. M. Maguire
Mr. R. L. Mayhew
Mrs. Mayhew
Miss C. Mayhew
Miss R. Mayhew
Mr. W. McCamlie
Miss P. L. McEvoy
Mr. R. McKinney
Mrs. McKinney
Miss V. McKinney
Miss G. Melville
Professor G. H. Menzies
Mr. J. A. Miller
Mrs. Miller
Mrs. P. Miller
Miss M. S. Milne
Mr. J. A. Mitchell
Mrs. Mitchell
Mr. D. C. Mitchell
Mr. W. Moffat
Mr. M. A. Monk
Mrs. A. Monnik
Mr. J. Mook
Mrs. Mook
Miss M. A. Mook
Miss B. Mook
Master J. Mook
Mr. C. S. Moore
Mrs. Moore
Miss S. F. Moore
Mr. G. Morgan
Mrs. Morgan
Master B. F. Morgan
Master D. M. Morgan
Miss G. I. C. Morrice
Mr. A. C. Morris
Mr. M. Morris
Mrs. F. Morris
Miss M. I. M. Mounsey
Mrs. E. L. Mueller
Miss I. Mueller
Mrs. J. G. Muiry
Miss C. C. Muiry
Sister M. M. Murphy
Mrs. M. Murray
Miss S. Murray
Miss L. Murray
Master R. Murray
Miss R. E. Newman
Mrs. F. Nuernberger
Mr. R. E. O'Herhead
Mrs. J. C. Pearson
Mrs. P. Petersen
Mrs. M. Phillips
Mr. H. M. B. Pimm
Mr. D. Pollock
Mrs. Pollock
Miss A. Pollock
Miss V. Pollock
Master D. Pollock
Mr. A. Potts
Mr. B. J. Redhead
Mrs. Redhead
Miss Y. Redhead
Mr. F. B. Rhodes
Mrs. Rhodes
Mr. J. Rodgers
Mrs. Rodgers
Miss M. Rose
Mrs. A. Rouse
Mr. R. J. Rowse
Miss J. O. Russell
Miss M. M. Russell
Dr. M. J. Schwartz
Mrs. Schwartz
Miss M. Schwartz
Master D. Schwartz
Mrs. C. F. Sheppard
Master A. Sheppard
Master P. Sheppard
Mr. J. Shields
Mrs. Shields
Mrs. F. Sibbald
Miss E. A. Skew
Mr. C. Smith
Mr. R. A. Smith
Mrs. D. I. Smith
Mrs. P. M. B. Sneath
Mrs. A. M. Steel
Miss J. L. G. Stewart
Miss J. H. Suttie
Mr. K. Taupitz
Mrs. Taupitz
Mrs. J. Taylor
Mr. H. W. Teasel
Mr. E. J. Thomas
Mrs. Thomas
Mr. T. Thomas
Miss O. M. Thomas
Miss A. M. Tromp
Mr. A. C. Turner
Mr. W. A. Turner
Mrs. C. M. Tustin
Master W. B. Tustin
Mrs. G. lUsbome
Mrs. M. Varley
Miss E. Varley
Miss J. Varley
Mrs. L. C. Wake
Master M. Wake
Miss A. Wake
Mrs. B. Walden
Miss J. R. Walden
Master B. P. Walden
Miss E. F. Walker
Mr. R. Watkins
Mrs. Watkins
Miss L. Watkins
Mrs. M. J. White
Miss G. Whyte
Mr. F. W. J. Wilde
Mr. P. Wildman
Major G. O. Williams
Mrs. Williams
Miss P. M. Williams
Miss E. J. Williams
Mrs. J. M. Williams
Mr. H. Wilson
Mrs. Wilson
Master R. Wilson
Mrs. I. Wilson
Master A. R. Wilson
Mr. J. W. Wilson
Mrs. E. E. Wood
Mrs. E. G. Wood
Mrs. L. Wood
Dr. W. F. Wright
Mr. J. H. Wynne
Mrs. Wynne
Rev. C. Yesson
Mrs. Yesson
Miss I. D. Yesson
Master L. A. Yesson
Mrs. G. Zahn
Miss G. Zahn
Master G. Zahn
Port Elizabeth
Mrs. E. McC. Black
Mr. A. Champion
Mrs. Champion
Master J. Champion
Miss J. J. Champion
Mr. T. F. Crosbie
Mrs. Crosbie
Master E. Crosbie
Mrs. E. M. Deakin
Miss B. E. Deakin
Mrs. W. A. Gibbons
Mr. C. Ismay
Mrs. Ismay
Lt.-Col. R. J. Shearcroft
Mrs. Shearcroft
Mr. P. Skou
Mrs. Skou
Master E. Skou
Mr. W. G. Sutton
Mrs. Sutton
Mrs. S. Vons
Mrs. M. Young
East London
Mr. V. Bortz
Dr. J. E. Cawthorne
Mrs. Cawthorn
Master M. J. Cawthorne
Master M. E. J. Cawthorne
Mr. F. P. Dore
Mr. F. McLeod
Mrs. McLeod
Master B. McLeod
Master D. C. McLeod
Mrs. F. E. Nye
Durban
Mrs. J. P. Barr
Master H. G. Barr
Mr. E. D. Blacker
Miss M. J. Booth
Miss K. B. Cameron
Mrs. M. Chater
Miss J. Chesney
Mr. S. Cocking
Mrs. Cocking
Miss N. Cocking
Mrs. A. F. Collins
Mrs. B. A. Crowther
Miss G. Davison
Mrs. A. Devlin
Mrs. H. Devlin
Master M. Devlin
Mrs. M. E. Duncan
Miss D. Dunham
Mrs. C. A. Eckford
Master M. G. Eckford
Mrs. W. E. L. Gray
Mrs. E. de V. Harris
Mrs. M. Johnson
Miss M. A. Johnson
Mr. N. King
Mrs. King
Miss J. King
Mr. S. King
Master B. King
Master R. King
Mrs. H. P. Kilminster
Master G. Kilminster
Miss S. Kilminster
Miss P. Kilminster
Miss C. Kilminster
Mr. H. E. Ludford
Mr. H. F. Ludford
Mr. G. Majoor
Mrs. Majoor
Master J. Majoor
Master P. Majoor
Miss C. Majoor
Mr. R. M. Maud
Mrs. Maud
Miss Maud
Mr. R. E. Morgan
Mrs. Morgan
Miss P. A. Morgan
Mrs. L. Morley
Miss I. C. Morley
Mrs. E. Neal
Mrs. E. M. O'Donnell
Master P. O'Donnell
Miss M. O'Donnell
Miss U. G. Parkin
Mr. D. Peregrine
Mrs. Peregrine
Miss D. J. Peregrine
Mr. F. Powell
Mrs. Powell
Mrs. R. I. Ray
Miss H. Ray
Mr. F. J. Reed
Mr. B. Roberts
Miss A. D, Rooke
Mrs. I. M. Rushton
Miss G. P: Salmon
Mrs. K. M. Seeley
Mrs. A. ,Y. Sheppatd
Master K. C. Sheppard
Engr.-Capt. L. Thackara, R.N. (Ret.)
Mrs. Thackara
Mr. J. Townley
Mr. W. F. Turner
Master G. Walker
Master A. Walker
Miss M. Ward
Mrs. A. G. Waters
Miss G. M. Waters
Miss M. D. Williamson
Miss M. A. Woodward
Mrs. F. M. Wooldridge
Mrs. C. Wright
Master D. J. Wright
Miss L. Youngson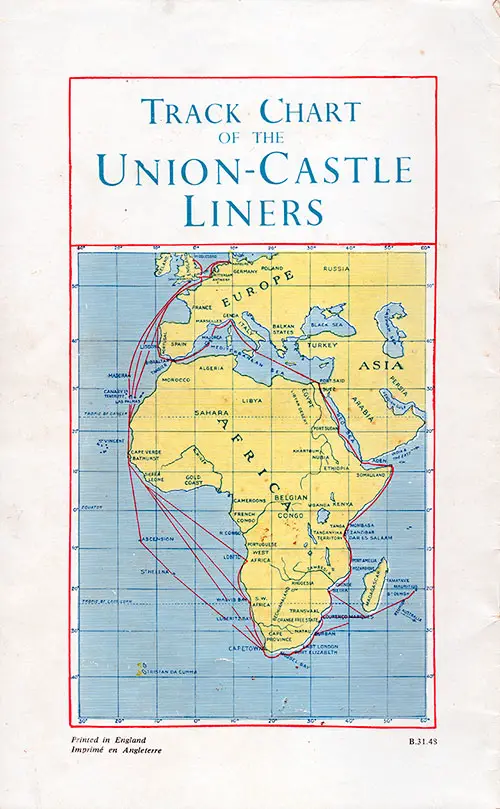 April 1949 Union-Castle Line Track Chart. GGA Image ID # 1da4915685
Information for Passengers
Hours of Meals, etc.
in the First Class the arrangements are :-
Tea and Coffee served in the cabins from 6.0 am
Dressing gong at 8:00 am
Children's breakfast at 8:00 am
Saloon Breakfast at 8:30 am
Children's dinner at 12:30 pm
Saloon Luncheon at 1:00 pm
Afternoon tea at 4.0 pm
Children's tea at 5.30 pm
Dressing gong at 6.30 pm
Saloon Dinner at 7:00 pm
The meals in the Cabin Class are :-
Tea and coffee served in the cabins from 6.0 am
Dressing gong at 8:00 am
Children's breakfast at 8:00 am
Saloon Breakfast at 8:30 am
Children's dinner at 12:30 pm
Saloon Luncheon at 1:00 pm
Afternoon tea at 4.0 pm
Children's tea at 5.30 pm
Dressing gong at 6.30 pm
Saloon Dinner at 7:00 pm
Children. It is desired that children take their meals at the special tables provided for them. Passengers are particularly requested to ensure that children in their care do not cause disturbance to other Passengers during the hours from 2 -4:00 pm when many Passengers are resting.
Hours of Closing Public Rooms. All Bars close at 11:30 pm and Smoking Rooms, Lounges and Reading Rooms close at midnight.
Baggage. Full information about Baggage is given in the Company's Handbook of Information for Passengers. Any further details may be obtained from the Purser.
Boats and Boat Drill. There is an ample number of boats on all the Company's vessels, and boat drill, in which Passengers are earnestly invited to participate, is held periodically.
Life Jackets. In every cabin life jackets equivalent to the number of berths in each cabin, will be found stowed in their special racks overhead and a passenger's Steward or Stewardess will demonstrate how these life jackets should be put on.
Deck Chairs are provided free of charge. Passengers' own chairs are only received on board and carried at owner's risk.
Divine Service is held in the First Class Lounge or Dining Saloon every Sunday at 10:30 am and all Passengers are invited to attend.
Shops and Hairdressing Saloons, with skilled hairdressers in attendance, are on all passenger vessels. Articles such as confectionery, cosmetics, toilet requisites, films, clothing, etc., are kept for sale to Passengers.
Letters, Telegrams, etc. For the convenience of Passengers a mail will be made up on board prior to arrival at a suitable port of call en route. Passengers are recommended to attend to the posting of their own letters in the letter box provided.
All information regarding telegraph rates, postal rates, stamps, etc., can be obtained from the Bureau.
All Passengers must furnish their addresses on the forms provided for the purpose on board, this information being required immediately on arrival in South Africa by the Immigration Authorities and on arrival in England by the Port Health Authorities. The assistance of Passengers in this matter is requested particularly, in order to facilitate the forwarding of any letters, telegrams, etc., which may arrive after they have left the vessel, or any articles that may be left in the cabins. Circulars or other printed matter of a similar nature will not be forwarded.
Passengers must apply personally to the Bureau for registered letters and packages.
On arrival of the vessel in England or South Africa, letters, etc., are sorted and sent on board as soon as possible and handed to Passengers in the respective classes on application.
Passengers expecting letters, etc., which do not arrive by the first delivery should make further application at the Bureau before disembarking.
It must be distinctly understood that while every care will be taken the Company cannot accept any responsibility in connection with the posting, receiving, delivery, forwarding, or transmission of letters, telegrams, parcels, etc.
Libraries. The libraries are open daily and the Librarians are in attendance to issue and receive books. Passengers are requested to ensure that books borrowed by them are duly entered by the Librarian before the volumes are taken away.
Any books found lying about are returned to the libraries, but Passengers will be held responsible for the loss of any book registered in their name. Any such loss is charged for in accordance with the price of the book.
Medical Attendance. The Surgeon of the vessel is authorized to charge for professional attendance, inclusive of medicines, at the rate of 10s. Od. per visit in the case of first class Passengers, and 5s. 6d. in the case of cabin class Passengers, with a maximum of two chargeable visits per day. Accounts for medical attendance will be rendered by the Surgeon before the end of the voyage.
Shore Excursions. For particulars of various Shore Excursions at Ports of Call, see separate booklet, a copy of which may be obtained from the Purser.
Time-Tables and Postal Guides. Railway and other time-tables, postal guides, etc., are available for reference at the Bureau.
Valuables, etc. Passengers' valuables or money may be handed to the Purser to be deposited in the vessel's safe for custody during the voyage, for which a charge is made of 3s. 6d. per £100 upon the declared value of each parcel or deposit, with a minimum charge of 2g.
Parcels required during the voyage can be re-deposited at half the above rate, a receipt being given on behalf of the Company for valuables or money so deposited.
Wireless Services enable Passengers to keep in touch with their friends throughout the voyage, either by radio-telegram or at much cheaper rates by means of ship letter telegrams. Full particulars and charges can be obtained from the Radio Office.
Complaints.—Any complaint should be addressed to the ship's authorities as promptly as possible.
The Union-Castle Mail Steamship Company, Limited Fleet
Pretoria Castle 28,705 Tons
LLANDOVERY Castle 10,639
EDINBURGH Castle ... 28,705
*KENILWORTH Castle ... 9,916
Capetown Castle ... ... 27,002
*Dr.KENSBERG Castle ... 9,904
ATHLONE Castle ... ... 25,567
*GOOD Hope Castle ... 9,879
STIRLING Castle ... ... 25,554
*RIEBEECK Castle ... 8,322
CARNARVON Castle ... 20,122
*RUSTENBURG Castle ... 8,322
WINCHESTER Castle ... 20,012
*ROXBURGH Castle ... 8,003
ARUNDEL Castle ... ... 19,118
*Richmond Castle ... ... 7,971
Vessel building ... about 17,500
*ROWALLAN Castle ... 7,950
WARWICK Castle ... ... 17,383
*ROCHESTER Castle... ... 7,795
Durban Castle ... ... 17,382
SANDOWN Castle ... ... 7,607
DUNNOTTAR Castle ... 15,002
t BRAEMAR Castle ... ... 7,067
LLANGIBBY Castle ... 12,039
*ROSLIN Castle ... 7,016
LLANSTEPHAN Castle ... 11,346
t ROVUMA ... 1,289
t Cargo Vessels. * Cargo Vessels with limited Passenger Accommodation.