RMMV Stirling Castle Passenger List - 13 July 1939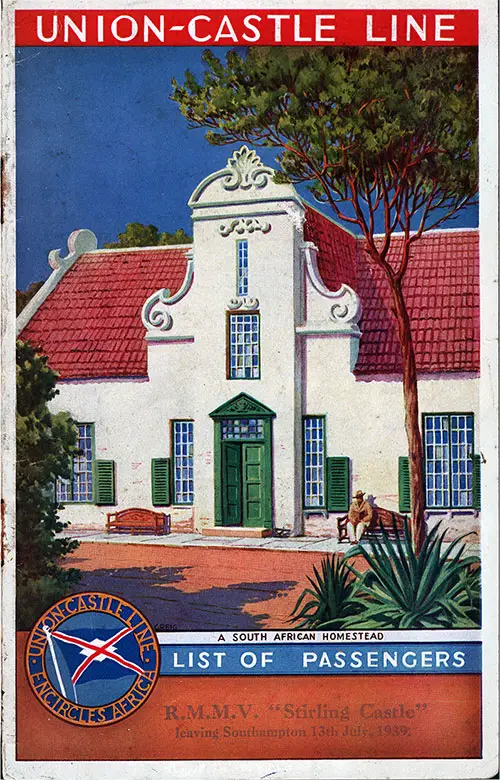 Front Cover of a Cabin and Tourist Third Cabin Passenger List from the RMMV Stirling Castle of the Union-Castle Line, Departing 13 July 1939 from Southampton to Durban via Madeira, Cape Town, Port Elizabeth, and East London, Commanded by Captain H. R. Northwood. GGA Image ID # 13ee6e7048
Senior Officers and Staff
Commander: Captain H. R. NORTHWOOD
Chief Officer: Mr. H. H. ROSE
1st Officer: Mr. E. CLANCEY
2nd Officer: Mr. J. W. S. BROOKS
3rd Officer: Mr. A. J. HORT
4th Officer: Mr. E. TRIGGS
Chief Engineer: Mr. R. MERRY
1st Engineer: Mr. J. G. CARNEGIE
Senr. 2nd Engineer: Mr. J. S. MUIRHEAD
Int. 2nd Engineer: Mr. D. H. YOUNGER
Junr. 2nd Engineer: Mr. J. SIM
Surgeon: Dr. J. H. MOORE, M.B., B.Ch., B.A.O.
Purser: Mr. T. H. HANCOCK
Chief Steward: Mr. L. C. CLAUSON
Cabin Passengers
MADEIRA
Mr. J. R. Blandy
Mr. Bow
Mr. R. R. Conway
Mrs. Conway
Mr. E. D. Eastaway
Mrs. Eastaway
Miss P. M. Eastaway
Mr. A. Klein
Mrs. Klein
Miss Klein
Master Klein
Mr. J. B. Lang
Mrs. Lang
Mr. A. T. M. Marshall
Mrs. Marshall
Miss S. R. Marshall
Mr. A. J. W. Marshall
Miss H. K. Norman
Mrs. M. Pattinson
Mr. V. S. Robertson
Mrs. J. R. B. Shaw
Capt. W. F. Stanley
Miss E. M. Stanley
Capt. G. L. Walters
Mrs. Walters
Mr. F. E. Ward
Mrs. G. C. Wilde
CAPE TOWN
Mr. A. Appleyard
Mr. W. M. Barnes
Mrs. Barnes
Mr. T. L. W. Mullins
Miss Belton
Mr. F. Benjamin
Mrs. Benjamin
Miss E. Benjamin
Mr. H. Benjamin
Mr. J. A. Bouilliant-Linet
Mrs. W. Otis Bullock
Mr. I. L. Bullock
Dr. Gerald Coburn
Mrs. D. J. Cohen
Miss S. Cohen
Mr. T. A. Cowburn
Mr. J. R. Cullen
Mr. E. L. Darter
Mr. M. H. de Kock
Mr. H. G. Duncan
Mrs. Duncan
Mr. B. Elkin
Mrs. Elkin
Miss M. Elkin
Miss Z. Elkin
Mr. E. H. Farrer
Mrs. Farrer
Mr. F. Govett
Hon. Mr. Justice L. Greenberg
Mrs. Greenberg
Mr. R. Hamilton
Mrs. J. E. Healey
Sir Alfred Hennessey. K.B.E.
Mr. A. Herbert
Mr. A. S. Hersov
Mrs. Hersov
Mrs. W. Hillman
Mr. C. J. P. Hoedemakers
Lady K. Huggard
Mrs. M. Israel
Mr. A. F. Keen
Mrs. Keen
Miss J. Keen
Mr. I. Lipschitz
Mrs. Lipschitz
Mrs. C. Lomey
Miss M. E. Lucas
Mr. B. W. Martin
Mr. J. Massey
Mr. J. D. McKenzie
Mr. S. G. Menell
Mrs. Menell
Mr. E. Monteiro
Mrs. Monteiro
Mr. C. W. Parish
Mr. M. W. Parish
Dr. G. E. Peacock
Mrs. Peacock
Mrs. E. F. Perry
Mr. L. Policansky
Mrs. Policansky
Dr. A. D. Polonsky
Mrs. Polonsky
Mr. H. Robertson
Mrs. Robertson
Mr. W. D. Robinson
Mr. J. Rolfe
Mr. S. Sacks
Mr. L. Segal
Mr. S. B. Swann
Miss K. A. Talbot
Miss E. A. Unger
Mr. F. A. Unger
Mrs. Unger
Miss C. F. Unger
Miss N. Y. Unger
Dr. C. A. Vander Merwe
Mrs. Vander Merwe
Miss H. C. Van Lennep
Mr. R. H. Watkins
Dr. J. Townley Williams
Mr. S. Zwarensteyn
Master J. Zwarensteyn
PORT ELIZABETH
Dr. W. F. de Villiers
EAST LONDON
Mr. R. F. Scott
Mr. C. S. L. Winter
Mrs. Winter
DURBAN
Mrs. I. S. Capelli
Mrs. L. Guimo
Mrs. E. Hancock and Maid
Mr. W. L. Hancock
Mrs. Hancock
Mr. H. A. Kendall
Mrs. Kendall
Mr. B. E. Dunbar Kilburn
Mr. Wilfred Leuchars and Valet
Mrs. Leuchars and Maid
Mr. A. A. Lowe
Mrs. Lowe
Master A. W. Lowe
Mr. J. Mudie
Mrs. Mudie
Mrs. E. K. J. Philpott
Miss P. Philpott
Master Porter and Nurse
Master B. Shapiro
Dr. Nigel Smith
Mrs. Smith and Maid
Mr. S. N. Turner
Mrs. Turner
Master N. Hancock and Nurse
Master D. A. Turner and Nurse
Tourist Third Cabin Passengers
MADEIRA
Mr. R. M. Anderson
Miss A. F. H. Anderson
Miss E. Bocock
Miss O. Clarendon
Miss B. Course
Mr. W. Day
Mr. A. Forbes
Mrs. Forbes
Mr. A. A. Forbes
Miss C. J. Forbes
Miss I. Hey
Mrs. G. Hutchings
Mr. G. W. Orr
Miss O. Orr
Miss B. M. Paxman
Miss E. Pyne
Miss K. Pyne
Mr. J. J. Rooum
Mrs. Rooum
CAPE TOWN
Mr. E. S. Adams
Mrs. Adams
Miss I. M. Adderley
Mr. J. A. W. Allen
Dr. Florence L. Arkin
Mr. G. R. Atkins
Mr. A. Back
Mrs. A. Bacon
Miss B. Baker
Mrs. J. E. Bierman
Miss B. Bierman
Miss C. Bloch
Mrs. R. Bloch
Miss D. A. Boag
Miss E. B. Boag
Mr. H. E. Boycs
Miss C. A. Bradshaw
Mr. M. Brandstein
Mrs. Brandstein
Mrs. E. Bresler
Mr. A. L. Brown
Mrs. Brown
Miss J. Brown
Mr. A. Burrough
Mr. A. J. Butler
Mr. W. B. Canter
Mrs. Canter
Mr. D. H. Canter
Mrs. Canter
Mrs. R. A. Charles
Mr. C. J. Clark
Mrs. C. N. Cloete
Dr. A. J. P. Coetzee
Mrs. Coetzee
Miss Cole
Miss E. K. Connolly
Mr. H. C. Cooper
Mrs. Cooper
Mrs. L. Coskv
Miss R. Cosky
Mr. B. T. Coulton
Miss Z. Covitz
Mr. D. H. Craighead
Mr. S. N. Crawford
Mr. T. W. Cullinan
Mr. G. M. Dal!
Mrs. Dali
Miss A. Davies
Mrs. F. Davis
Master D. Davis
Miss T. Davis
Mrs. Percy Day
Mr. R. A. De Manche
Mrs. Z. Domery
Mrs. G. E. Dorrington
Mrs. Drobis
Mrs. B. du Preez
Mr. Durrant
Mr. C. J. Earnshaw
Mrs. J. E. Edelstein
Mr. M. E. Ellenbogen
Mrs. Ellenbogen
Rev. W. Ellis
Mr. J. Engelman
Mr. G. G. Epstein
Mrs. Epstein
Mrs. M. Ewing
Master B. V. Ewing
Master N. A. Ewing
Mr. S. A. Foster
Mr. W. H. Fraser
Mr. C. G. French
Mrs. French
Miss M. E. French
Mrs. M. Gabriel
Mr. J. Gesundheit
Mr. S. L. Gettliffe
Mr. D. H. Girdwood
Mr. M. 1. Girdwood
Mr. J. Glcndinning
Mrs. Glendinning
Mr. Goodhind
Mr. J. H. Heatlie
Mrs. Heatlie
Mr. W. Hedley
Mrs. Hedley
Miss Higgins
Mr. D. Hill
Mrs. Hill
Miss A. Hill
Mr. P. Hoeniger
Mrs. M. A. Holmes
Miss E. Hosking
Mr. S. W. E. Hudson
Mrs. Hudson
Master A. Hudson
Master B. Hudson
Miss Hughes
Mr. C. J. Ingram
Mr. K. G. Irving
Mr. R. W. Irwin
Mrs. Irwin
Mr. P. M. Jackson
Mrs. Jackson
Miss E. Jackson
Mr. G. Jarvis
Mrs. Jarvis
Mrs. A. B. Johnson
Miss 1. M. Johnson
Miss E. Jones
Miss R. Jopling
Miss J. Kearon
Mr. J. A. Kensit
Mr. J. E. Kode
Master R. O. Kode
Mrs. H. Kordovers
Mrs. C. Laing
Mr. C. Landau
Mrs. Landau
Miss N. Lange
Mr. T. B. Langton
Mr. D. Larsen
Mr. H. R. Lederle
Mrs. Lederle
Miss G. M. Lederle
Miss D. E. Lederle
Mr. C. H. Legg
Mrs. Legg
Miss J. Lennon
Mrs. G. Leveson
Mr. I. Levinson
Miss W. M. Liddle
Mr. J. Lipschitz
Mrs. Lipschitz
Miss K. Lipschitz
Miss B. R. Lottin
Miss A. Lurie
Mr. W. J. Lyons
Miss P. Lyons
Mr. A. W. Macey
Mrs. Macey
Miss J. N. Macey
Mr. A. W. MacKinnon
Mr. A. Magniac
Mr. E. Marsh
Miss Marwick
Mrs. K. Maudsley
Mrs. A. Maybery
Mrs. E. A. McDade
Miss McDade
Mr. R T. McLeod
Mr. H. McNally
Mr. F. B. MichelI
Miss M. Minaar
Mr. C. J. Monk
Mrs. Monk
Miss D. J. Monk
Mr. A. K. Montgomerie
Miss N. E. Morrison
Mr. J. Mort
Mrs. Mort
Mrs. F. C. Nicholson
Mr. T. F. O'Brien
Mr. M. D. Oliver
Rev. L. O'Reilly
Mrs. F. O'Reilly
Miss R. C. O'Reilly
Miss D. Oxley
Miss M. Paine
Mr. B. Parkes
Mrs. Parkes
Master F. Parkes
Miss D. Parkes
Mr. Perloweiz
Miss M. C. Peto
Miss F. Pincus
Miss R. Pincus
Miss H. Pollok
Mrs. H. Radowsky
Miss H. Radowsky
Miss S. Radowsky
Mr. W. H. Randall
Mrs. D. Raphaely
Mr. R. Richardson
Mrs. Richardson
Miss M. Richardson
Miss Y. Richardson
Mrs. J. Ritscher
Prof. M. Roberts
Mr. J. S. Ronaldson
Mr. B. Rosenthal
Mr. G. Royal
Mrs. Royal
Mr. R. A. Sanders
Mr. H. Sayer
Mr. S. Schatz
Miss F. S. Slatter
Mr. J. Slim
Miss H. A. Smith
Mr. H. T. Smith
Rev. J. G. Soulsby
Mrs. Soulsby
Mr. J. Souttar
Mr. H. Spiro
Mr. S. A. Stagg
Mr. R. Stagg
Mrs. Stagg
Miss K. Stagg
Miss J. Stewart
Mrs. C. E. Stibbe
Miss C. Stibbe
Mr. J. J. Strasheini
Mr. J. G. Swanson
Mrs. H. Swiel
Miss M. I. Taylor
Mrs. M. L. Ternouth
Miss M. Ternouth
Miss B. Ternouth
Mrs. E. M. Thomas
Miss M. Thomas
Miss P. Thomas
Master D. Thomas
Mr. A. E. Thompson
Mrs. Thompson
Miss A. Thompson
Miss W. Thompson
Mr. J. R. Thomson
Mr. H. W. Tickton
Mrs. Tickton
Mr. G. C. Tisdell
Mrs. Tisdell
Master G. P. Tisdell
Mr. H. Tucker
Mrs. Tucker
Mrs. J. M. A. Tugman
Mr. R. Turner
Mrs. Van Deventer
Mr. J. W. Veal
Mrs Veal
Mr. T. G. Viljoen
Mr. A. F. Walkden-Davis
Mrs. Walkden-Davis
Mr. F. Walker
Mr. J. Ward-Thompson
Mrs. Wares
Mr. J. R. Welch
Mrs. Welch
Miss A. E. Welch
Mr. W. N. Whamond
Mrs. S. M. Winskill
Master N. G. Winskill
Mrs. M. Witherow
Miss Wood
Miss B. Woolf
Rt. Rev. Bishop Wright
Miss D. L. Zidel
PORT ELIZABETH
Mr. G. C. Aubrey
Mrs. E. A. Budgen
Miss E. M. Chalmers
Mr. N. Grant-Dalton
Mrs. Grant-Dalton
Mr. I. Hurwitz
Miss A. Morton
Mrs. L. P. Soga
Miss E. Soga
Mr. Dennis Soga
Mr. D. Soga
Mrs. Worman
EAST LONDON
Mr. H. F. Reynolds
Mrs. Reynolds
Mrs. M. Swartz
Mr. A. M. Swartz
Mr. A. D. Wilks
Mrs. Wilks
DURBAN
Mrs. F. Adley
Miss Y. M. Coleman
Mr. M. Conley
Mrs. Conley
Miss M. T. Crawshaw
Mrs. D. L. Dalby
Mr. J. C. S. D. de Marlgny
Miss M. L. Denton
Mr. J. C. Galway
Mr. E. M. Garnett
Mrs. Garnett
Mr. F. Grix
Mrs. Grix
Master G. Grix
Miss E. E. Holden
Mr. R. P. Jones
Mrs. S. G. Marsh
Master G. E. Marsh
Miss M. C. McCord
Dr. J. McKay
Mrs. McKay
Mr. J. B. Moffat
Mr. E. A. Moore
Mrs. Moore
Miss M. A. Moore
Miss G. Moore
Mr. R. S. L. Nesbit
Mrs. Nesbit
Master Nesbit
Mr. W. Noordink
Mr. G. W. Penrice
Mrs. Penrice
Mr. G. Rogers
Mrs. Rogers
Mr. A. L. Shipley
Mrs. Shipley
Mr. A. Spiess
Miss E. B. Stuart
Miss M. Walker
Miss M. M. Wilkinson
Mr. J. Young
Mrs. Young
Information for Passengers
(See also Passengers' Cabin Handbook of Information, a copy of which will be found in each cabin.)
HOURS OF MEALS, etc.
IN the First Class the arrangements are :—
Tea. coffee, etc., served in ihe cabins from 6.0 a.m.
Dressing gong at 8.0 a.m.
Children's breakfast at 8.0 a.m.
Breakfast at 8.30 a.m.
Children's dinner at 12.30 p.m.
Luncheon at 1.0 p.m.
Afternoon tea ut 4.0 p.m.
Children's tea at 5.30 p.m.
Dressing gong at 6.30 p.m.
Dinner at 7.0 p.m.
The meals in the Cabin Class are :—
Tea. coffee, etc., served in the cabins from 6.0 a.m.
Dressing gong at 8.0 a.m.
Children's breakfast at 8.0 a.m.
Breakfast at 8.30 a.m.
Children's dinner at 12.30 p.m.
Luncheon at 1.0 p.m.
Afternoon tea ut 4.0 p.m.
Children's tea at 5.30 p.m.
Dressing gong at 6.30 p.m.
Dinner at 7.0 p.m.
CHILDREN. Children are required to take their meals at the special tables provided for them.
HOURS OF CLOSING PUBLIC ROOMS. The Dining Saloon lights are turned out at 11.0 p.m., all Bars close at 11.30 p.m. and Smoking Rooms, Lounges and Reading Rooms close at midnight.
BAGGAGE. See Passengers* Cabin Handbook of Information, a copy of which will be found in each cabin. Any further information required may be obtained from the Purser.
BOATS AND BOAT DRILL. There is an ample number of boats on all the Company's vessels, and boat drill, in which passengers are earnestly invited to participate, is held periodically.
LIFE JACKETS. In every cabin life jackets equivalent to the number of berths in each cabin, will be found stowed in their special racks overhead and a passenger's Steward or Stewardess will demonstrate how these life jackets should be put on.
DECK CHAIRS are provided free of charge. Passengers' own chairs are only received and carried on board at owner's risk.
DIVINE SERVICE is held in the First Class Lounge or Dining Saloon every Sunday at 10.30 a.m. and all passengers are invited to attend.
HAIRDRESSING ROOMS AND SHOPS, with skilled hairdressers in attendance, are on all passenger vessels. Large stocks of various articles such as confectionery, haberdashery, silverware, photographic materials, footwear, are kept for sale to passengers.
LETTERS, TELEGRAMS, etc. For the convenience of passengers a mail will be made up on board prior to arrival at each port. Passengers are recommended to attend to the posting of their own letters in the letter box provided.
All information regarding telegraph rates, postal rates, stamps, etc., can be obtained from the bureau before the vessel's arrival or departure.
All passengers must furnish their addresses on the forms provided for the purpose on board, this information being required immediately on arrival in South Africa by the Immigration Authorities and on arrival in England by the Port Health Authorities.
The assistance of passengers in this matter is requested particularly, in order to facilitate the forwarding of any letters, telegrams, etc., which may arrive after they have left the vessel, or any articles that may be left in the cabins.
Circulars or other printed matter of a similar nature will not be forwarded.
Passengers must apply personally to the Purser for registered letters and packages.
On arrival of the vessel in England and South Africa, letters, etc., are sorted and sent on board as soon as possible and handed to passengers in the respective classes on application. When the vessel comes alongside the quay, the bureau is kept open until the passenger trains have left the shed.
It must be distinctly understood that while every care will be taken, the Company cannot accept any responsibility in connection with the posting, receiving, forwarding or transmission of letters, telegrams, parcels, etc.
LIBRARIES. The libraries are open daily and the Librarians are in attendance to issue and receive books.
Any books found lying about are returned to the libraries, but passengers will be held responsible for the loss of any book registered in their name. The charge for books lost from 1st or cabin class libraries is 7s. 6d. per volume, unless otherwise shewn.
MEDICAL ATTENDANCE. The Surgeon of the vessel is authorized to charge for professional attendance at the rate of 7s. 6d. per visit in the case of first class passengers and 4s. 0d. in the case of cabin class passengers, this fee to include medicines. Accounts for medical attendance will be rendered by the Surgeon before the end of the voyage.
SHORE EXCURSIONS. For particulars of the various Shore Excursions at the Ports of Call, see separate booklet, a copy of which may be obtained from the Purser. (See also advertisement on inside back cover of this List of Passengers.)
TIME-TABLES AND POSTAL GUIDES. Railway time-tables, postal guides, etc., are available for reference at the bureau.
VALUABLES, etc. Passengers' valuables or money may be handed to the Purser to be deposited in the vessel's safe for custody during the voyage, for which a charge is made of 3s. 6d. per £100 upon the declared value of each parcel or deposit, with a minimum charge of 2s.
Parcels required during the voyage can be re-deposited at half the above rate, a receipt being given on behalf of the Company for valuables or money so deposited.
WIRELESS SERVICES enable passengers to keep in touch with their friends throughout the voyage, either by radio-telegram or at much cheaper rates by means of ship letter telegrams. Full particulars and charges can be obtained from the Wireless Office.
THE SOUTH AND EAST AFRICAN YEAR BOOK AND GUIDE, containing over 1,100 pages with 64 pages of maps in color, is issued annually, and is invaluable for all visitors to South or East Africa. On sale in the Hairdresser's Shop, price 2s. 6d.
COMPLAINTS. —Any complaint should be addressed to the Commander at the time of daily inspection.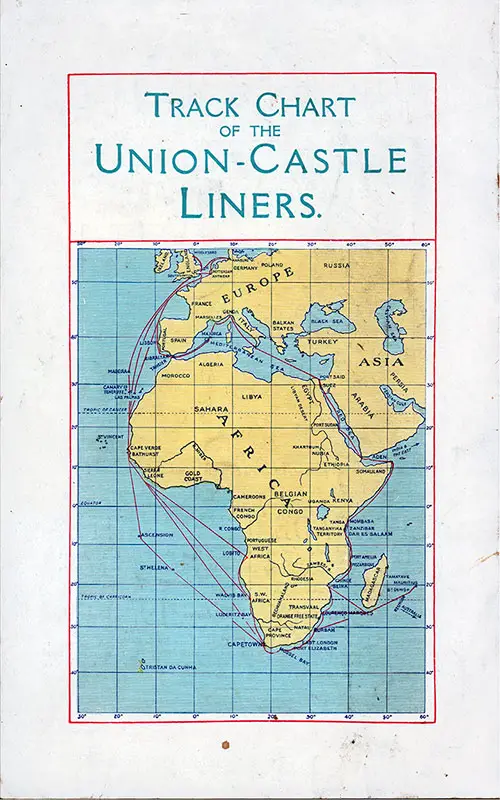 Back Cover, Union-Castle Line Track Cart 1939. GGA Image ID # 13ee71310d