RMS Warwick Castle Passenger List - 15 December 1949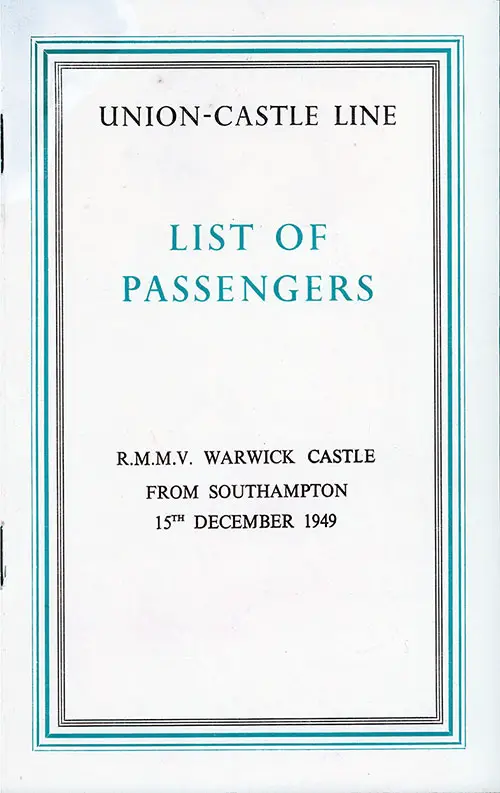 Front Cover of a First Class and Tourist Passenger List from the RMS Warwick Castle of the Union-Castle Line, Departing 15 December 1949 from Southampton to Durban via Madeira, Capetown, Port Elizabeth, and East London, Commanded by Captain J. Trayner. GGA Image ID # 13f0153acd
Senior Officers and Staff
Commander: Captain J. TRAYNER
Chief Officer: D. P. H. KLASEN, O.B.E.
First Officer: A. J. CULPIN, D.S.C.
Second Officer: M. M. MELSOM, R.N.R.
Third Officer: J. ARMSTRONG
Chief Engineer: C. D. MITCHELL
Senior Second Engineer: F. YOUNG
Intr. Second Engineer: J. McARTHUR
Junior Second Engineer: J. CHALMERS
Surgeon: R. J. COOGAN, L., L.M., R.C.S.(IreL)
Purser: M. J. CAWS
Chief Steward: F. C. GARRETT
First Radio Officer: E. A. SHAW
Voyage Schedule and Ports of Call
SOUTHAMPTON: Leave December 15th
MADEIRA: Call 18th December
CAPE TOWN: Arrive 30th December
CAPE TOWN: Depart 31st December
PORT ELIZABETH: Arrive January 1st
PORT ELIZABETH: Depart 2nd January
EAST LONDON: Call 3rd January
DURBAN: Arrive 4th January
First Class Passengers
MADEIRA
Master M. Acciaoly
Mr. D. de C. F. P. de Fiança
Mr. B. Enos
Mr. L. M. Freeman
Mrs. Freeman
Master M. R. Freeman
Mr. C. H. Miles
Mrs. Miles
Master Miles
Mr. E. W. T. Rees
Mrs. Rees
Mr. D. M. M. Rees
Mr. C. J. Smith
Mrs. Smith
Miss K. Smith
Mr. N. Thwaite
Mrs. Thwaite
CAPE TOWN
Miss E. J. Armstrong
Mrs. M. Ball
Miss J. Basset
Mrs. D. M. Beasley
Master D. L. Beasley
Miss J. D. Beasley
Mr. H. D. Bell
Mrs. Bell
Mr. P. G. R. Benson
Mrs. Benson
Mr. A. D. Bensusan
Mrs. Bensusan
Mr. G. J. B. Bos
Mrs. Bos
Miss C. Y. M. M. Bos
Sister M. P. Brady
Mrs. K. Butler
Ft./Lt. P. Carroll
Mrs. H. M. Charnley
Mr. A. E. Coglan
Mr. F. J. Comford
Mrs. J. H. Crisp
Mr. O. Curtis-Setchell
Hon. Diana Darling
Mr. J. Dennett
Mrs. Dennett
Mr. S. B. Dennett
Mr. G. H. Denton
Mr. J. R. A. Dring
Mrs. Dring
Mrs. L. Ellis
Mr. T. M. Fitzgerald
Mrs. Fitzgerald
Mrs. Goodhard
Lt.-Col. H. Gough, C.I.E.
Mrs. L. Gvvynn
Mr. R. Hammond
Mrs. Hammond
Miss P. Hammond
Mrs. M. Handley
Mr. P. Harding
Mr. E. L. Henderson
Mr. J. D. Hendry
Mrs. Hendry
Mr. J. D. Hendry
Miss E. M. Hendry
Mrs. E. Herrman
Mr. R. D. H. Holmes à Court
Mrs. Holmes à Court
Miss Holmes à Court
Master Holmes à Court
Mr. H. W. Hunt
Mrs. Hunt
Miss E. Huntley
Mr. E. Jackson
Mrs. Jackson
Mr. H. Jeffreys
Mr. W. L. Joyce
Mrs. Joyce
Miss Joyce
Miss Joyce
Master Joyce
Mr. A. Keith
Mrs. Lavery
Mrs. E. Lewis
Master J. Lewis
Miss E. Lewis
Rev. R. MacMinn
Mr. H. Marchai
Mrs. Marchai
Sister E. N. Martin
Mr. J. McArthur
Mrs. McArthur
Mr. C. Menzies
Mr. H. Miller
Mrs. Miller
Mrs. M. L. Mitchell
Mr. M. Moir
Miss I. G. Murray
Mr. R. C. Neave
Mrs. Neave
Sister G. Neville
Mr. VV. B. T. Newham
Miss F. Orchard
Sir Harold Parkinson, O.B.E., J.P.
Lady Parkinson
Ft./Lt. J. Peckowski
Mrs. Peckowski
Mr. E. S. Pcrkiss
Mrs. Perkiss
Mrs. H. M. Philips
Mr. D. J. R. Pound
Mrs. Pound
Master D. A. Pound
Miss L. V. Pound
Miss H. M. Reid
Dr. W. Richmond
Mrs. E. Rivett-Camac
Mrs. D. A. Rothchild
Miss C. Ryan
Mr. W. H. R. Schreiner
Mr. R. W. Scurfield
Mrs. Scurfield
Miss B. I. Scurfield
Mr. R. P. Scurfield
Miss L. Shipston
Mrs. L. Smith
Mrs. W. L. Snell
Mr. K. G. Taylor
Mr. A. W. Thain
Miss A. Thain
Miss E. M. Thain
Mrs. D. I. Thornewill
Mr. A. F. Tyler
Mrs. Tyler
Master T. Tyler
Master G. Tyler
Master N. Tyler
Mr. P. H. Valentine
Mrs. Valentine
Master R. Valentine
Miss P. Valentine
Mr. S. C. Van Harten
Mrs. E. Von Broemsen
Mr. A. E. Wells
Mrs. Wells
Miss S. Widrich
Mr. G. W. Wilson
Mrs. Wilson
Mr. J. Ykel
Ft./Lt. A. Young
EAST LONDON
Mr. I. Gersowsky
Mrs. Gersowsky
DURBAN
Rev. V. Benatti
Mr. L. C. Carter
Mrs. Carter
Miss V. I. Carter
Miss Y. J. Carter
Mrs. M. Chalcraft
Rev. C. Chiarine
Mrs. E. C. Cruden
Miss M. C. Cruden
Mrs. E. Dunn
Mr. L. de R. Eloff
Mrs. Eloff
Mr. R. A. Gambier-Parry
Mrs. W. M. Hards
Master A. Hards
Miss V. Hards
Miss A. Harris
Mr. H. R. Ireland, M.B.E.
Mr. H. Jeans
Mrs. Jeans
Miss M. Jones
Mr. A. Kilner
Mr. J. L. Lumsden
Mrs. Lumsden
Mrs. M. J. Maddison
Dr. K. McNeil
Mr. B. C. Meehan
Mrs. Meehan
Miss S. b. Perham
Mr. H. Pilkington
Mrs. Pilkington
Mrs. G. Prickett
Miss C. Prickett
Miss B. M. L. Purser
Mrs. V. Pym
Mr. W. Read
Miss A. J. Richardson
Mr. D. Ross-Innes
Mrs. Ross-Innes
Master D. I. Ross-Innes
Mrs. K. Sanger
Mr. G. W. O. Saul
Lt.-Col. S. R. Savill, D.S.O., M.C., T.D.
Mrs. Savill
Mr. J. Stevens
Mrs. Stevens
Mr. I. H. Tattersall
Mrs. Tattersall
Mrs. M. Tomkinson
Mr. J. A. White
Mrs. White
Mr. G. M. Wingfield
Mrs. W'ingfield
Miss V. W'ingfield
Miss C. E. Writham
Mr. A. Wrood-Hall
Tourist Passengers
CAPE TOWN
Miss C. Alfaux
Mrs. S. Alker
Miss C. M. Alker
Master J. P. Alker
Mr. D. V. Almy
Mr. S. A. Antonites
Mrs. A. Antonites
Master S. Antonites
Miss L. Antonites
Miss R. Antonites
Miss A. Antonites
Mr. G. W. Archer
Miss J. Arnold
Miss J. I. Aspden
Mrs. A. I. Aspden
Mr. W. C. Atkins
Mrs. P. E. Atkins
Mrs. A. Baer
Mr. F. W. Baldock
Mrs. D. M. Baldock
Master J. Baldock
Mrs. A. M. Barclay
Miss F. Barclay
Miss C. Barclay
Miss P. Barclay
Miss W. M. Barclay
Miss S. Barclay
Mr. E. J. Barnard
Master J. Barnard
Mrs. P. Barnard
Miss J. Barnard
Mrs. M. Barrett
Master R. H. Barrett
Mr. L. Billington
Mrs. D. Billington
Miss A. Billington
Miss Y. Billington
Mr. R. Blake
Mrs. F. B. Blake
Mr. E. A. Blatt
Master A. Blatt
Mrs. V. Blatt
Miss Blatt
Mr. H. V. Bonny
Mrs. E. M. Bontoft
Mrs. A. Bratley
Mrs. V. Bridges
Mr. J. F. Briggs
Mrs. A. Briggs
Mr. G. F. Bruce
Mr. R. R. L. Brunnstrom
Mrs. H. B. Bryson
Master A. Bryson
Miss J. R. Bryson
Mr. W. Canitz
Master K. Canitz
Mrs. I. Canitz
Miss R. Canitz
Miss R. Canitz
Mr. C. B. Cant
Mrs. M. Cant
Miss H. E. Carey
Mr. B. R. Charlesworth
Mr. F. H. Cousins
Mr. L. Cumming
Mrs. L. Cumming
Master H. Cumming
Miss M. Cumming
Mrs. C. F. Czumaj
Master R. R. Czumaj
Miss S. Czumaj
Miss J. Czumaj
Mrs. S. M. de Kleyn
Mr. A. J. de Kleyn
Mrs. M. Dennison
Mr. A. E. Dingle
Miss M. M. Du Precz
Mr. M. L. Edelstein
Mrs. Edelstein
Miss Edelstein
Miss S. F. Elelstein
Miss M. E. Empsall
Mrs. M. V. Ewcns
Miss Ewcns
Mrs. I. Faithful
Mrs. L. J. Farr
Miss J. O. Farr
Miss G. N. Farr
Miss A. Fefferberg
Mr. G. Fitz-Gerald
Mr. A. E. Forsyth-Thompson
Mr. G. Freund
Mrs. E. Freund
Mr. W. Furman
Mr. W. T. Gant
Mr. F. Gibson
Mr. A. W. Gow
Mr. H. B. Green
Mrs. R. Green
Pastor W. H. Hagens
Master Hagens
Mrs. G. Hagens
Master Hagens
Miss Hagens
Miss Hagens
Dr. G. N. Hall, O.B.E.
Mrs. Hall
Miss A. M. Hall
Mr. K. Hanley
Miss N. Hanson
Miss S. W. Harris
Mr. J. P. Heinrich
Mrs. A. Heinrich
Mr. C. J. Hemmingway
Mrs. M. Hemmingway
Mrs. J. Hillman
Miss J. Hillman
Miss C. Hillman
Master D. Hillman
Mr. S. Hirchmann
Mrs. S. Hirchmann
Master A. J. Hirchmann
Mrs. P. M. Hird
Miss J. M. Hird
Miss V. Hird
Miss D. Hodge
Mr. W. Horn
Mr. J. J. A. Hunt
Mr. A. J. M. Hutchinson
Mr. E. Inglis
Mr. D. R. P. Jackson
Mrs. Jackson
Miss G. Jackson
Mr. J. Jibson
Mr. A. Johnson
Mr. R. L. Jones
Mrs. K. Kruse
Mrs. J. M. Laidlaw
Mr. L. Lazarus
Mr. W. Lennox
Mrs. K. Lennox
Mr. F. Levy
Mr. G. M. Lloyd
Mr. G. Magener
Dr. R. Malcolm
Mrs. E. Malcolm
Mrs. E. iMastbraker
Miss B. Mastbraker
Miss C. Mastbraker
Mr. K. Mastbraker
Master H. Mastbraker
Miss M. M. Matthew
Mr. A. McCluskie
Dr. M. McGregor
Mrs. McGregor
Mrs. D. Meekin
Master G. L. Meekin
Miss J. Miller
Mrs. M. Mottram
Naval Draft
Miss R. B. Nesser
Mrs. J. H. Osier
Mr. J. M. Paterson
Mrs. iM. K. Paterson
Master C. J. Paterson
Miss S. Paterson
Mr. H. Pealling
Mrs. W. Pealling
Mr. R. G. Pearce
Mr. G. Pearson
Mrs. V. R. Pennor
Miss B. R. Pennor
Mr. A. A. Pennor
Master R. Pennor
Mrs. H. Plum
Miss B. Plum
Mrs. K. A. Priscott
Mr. D. Quinn
Miss N. Richardson
Mr. J. Richman
Mrs. J. Rimmer
Master C. Rimmer
Master J. Rimmer
Master K. Rimmer
Master M. Rimmer
Mr. J. E. Robertson
Mrs. P. R. Robinson
Mr. J. J. Rogers
Mr. P. M. Rorvik
Mr. F. P. Ryman
Mr. R. Sandall
Mr. E. R. Schofield
Mr. J. W. Senior
Mrs. K. Scrmjkslis
Mr. J. K. Shaughnessy
Miss D. M. Skipworth
Mr. J. Smith
Mrs. E. T. Smith
Miss M. Smith
Mr. W. Smith
Mrs. D. Smith
Mr. L. Smith
Miss M. Smith
Mrs. A. Smith
Miss A. Smith
Master J. Smith
Miss J. M. Spies
Mr. G. Stewart
Mrs. D. Stewart
Miss M. Stewart
Mr. H. W. Staughton
Mr. R. Sutherland
Mr. W. H. Taylor
Mr. K. Taylor
Mrs. E. Tombe
Master S. K. Tombe
Master T. Tombe
Miss M. Verster
Mr. W. D. Watt
Mrs. J. J. Watt
Mrs. E. C. Weathcrstone
Mr. D. L. Welensky
Mrs. T. Welensky
Miss V. Welensky
Mr. E. G. White
Mrs. K. White
Mrs. M. I. White
Mr. A. K. Wikberg
Master G. J. Wikberg
Mrs. A. Wikberg
Master P. N. Wikberg
Master R. A. Wikberg
Mrs. M. G. Wilson
Miss G. Wilkinson
Mr. A. I. Young
PORT ELIZABETH
Dr. G. Calwell
Mrs. G. A. Calwell
Miss I. J. Currie
Mr. H. G. Gold
Mrs. M. G. Gunn
Master G. T. Gunn
Rev. J. Kenny
Master N. Newcombe
Mrs. A. E. Preuss
Miss M. Whiteley
EAST LONDON.
Mr. Crouch
Mrs. Crouch
Mr. H. G. Granger
Mrs. H. Granger
Mr. J. Goddard
Mr. H. Malkin
Mr. F. Mashiter
Mrs. Mashiter
Miss E. H. Simpson
Mr. F. Turpie
DURBAN
Mr. J. H. Bingham-Bradshaw
Mrs. I. Bingham-Bradshaw
Mr. A. G. Butcher
Mrs. J. K. Butcher
Miss C. A. Butcher
Miss W. E. Came
Mrs. E. A. Cartwright
Mrs. M. J. Dennant
Mr. C. B. Edwards
Mr. P. Freund
Miss R. Gerloff
Miss H. Gerloff
Mrs. E. E. Graham
Miss M. E. Graham
Master C. E. Graham
Master F. H. Graham
Miss N. M. Greene
Mr. K. A. Heard
Mrs. L. Heard
Mrs. M. P. Hewitt
Mr. S. R. Humphreys
Mrs. M. A. Jones
Mrs. E. A. Kennard
Miss M. H. Kennard
Mr. H. Kitch
Mrs. H. Kroon
Master P. H. Kroon
Mr. G. Lee
Mrs. E. A. Lee
Miss P. E. F. Luckraft
Mrs. E. Luxford
Mr. W. M. Martin
Mrs. M. Martin
Miss M. J. Mauger
Mr. L. R. Meiring
Mrs. M. Miles
Miss V. Miles
Master E. Miles
Miss B. Milton
Miss L. Moyniham
Mrs. M. M. Nicolson
Mr. A. J. Phillips
Mrs. A. Phillips
Miss S. A. Phillips
Miss A. K. Powell
Mr. G. W. Rumney
Mrs. F. Rumney
Miss A. Rumney
Miss E. Rumney
Mrs. E. U. Scott
Miss U. C. Scott
Miss V. E. Scott
Mr. Sickler
Mrs. Sickler
Mr. J. Steers
Mrs. E. Steers
Master B. Steers
Mr. T. W. Storer
Miss N. O. Weate
Mr. H. Wright
Mrs. N. Wright
Miss J. Wright
Master C. Wright
Master G. Wright
Information for Passengers
HOURS or MEALS, etc.
IN the First Class the arrangements are:—
Tea and coffee served in the cabins from 6.0 a.m.
Dressing gong at 8.0 a.m.
Children's breakfast at 8.0 a.m.
Saloon Breakfast at 8.30 a.m.
Children's dinner at 12.30 p.m.
Saloon Luncheon at 1.0 p.m.
Afternoon tea at 4.0 p.m.
Children's tea at 5.30 p.m.
Dressing gong at 6.30 p.m.
Saloon Dinner at 7.0 p.m.
The meals in the Tourist Class are:—
Early morning tea and coffee from 6.0 a.m.
Dressing gong at 8.0 a.m.
Breakfast at 8.30 a.m.
Luncheon at 1.0 p.m.
Afternoon tea at 4.0 p.m.
Children's tea at 5.30 p.m.
Dressing gong at 6.30 p.m.
Dinner at 7.0 p.m.
CHILDREN. It is desired that children take their meals at the special tables provided for them. Passengers are requested to ensure that children in their care do not cause disturbance to other passengers particularly during the hours from 2-4 p.m. when many passengers are resting.
HOURS OF CLOSING PUBLIC ROOMS. All Bars close at 11.30 p.m. and Smoking Rooms, Lounges and Reading Rooms close at midnight.
BAGGAGE. Full information about Baggage is given in the Company's Handbook of Information for Passengers. Any further details may be obtained from the Purser.
BOATS AND BOAT DRILL. There is an ample number of boats on all the Company's vessels, and boat drill, in which passengers are earnestly invited to participate, is held periodically.
LIFE JACKETS. In every cabin life jackets equivalent to the number of berths in each cabin, will be found stowed in their special racks overhead and a passenger's Steward or Stewardess will demonstrate how these life jackets should be put on.
DECK CHAIRS are provided free of charge. Passengers' own chairs are only received on board and carried at owner's risk.
DIVINE SERVICE is held in the First Class Lounge or Dining Saloon every Sunday at 10.30 a.m. and all passengers are invited to attend.
SHOPS AND HAIRDRESSING SALOONS, with skilled hairdressers in attendance, are on all passenger vessels. Articles such as confectionery', cosmetics, toilet requisites, films, clothing, etc., are kept for sale to passengers.
LETTERS, TELEGRAMS, etc. For the convenience of passengers a mail will be made up on board prior to arrival at a suitable port of call en route. Passengers are recommended to attend to the posting of their own letters in the letter box provided.
All information regarding telegraph rates, postal rates, stamps, etc., can be obtained from the Bureau.
All passengers must furnish their addresses on the forms provided for the purpose on board, this information being required immediately on arrival in South Africa by the Immigration Authorities and on arrival in England by the Port Health Authorities.
The assistance of passengers in this matter is requested particularly, in order to facilitate the forwarding of any letters, telegrams, etc., which may arrive after they have left the vessel, or any articles that may be left in the cabins.
Circulars or other printed matter of a similar nature will not be forwarded.
Passengers must apply personally to the Bureau for registered letters and packages.
On arrival of the vessel in England or South Africa, letters, etc., are sorted and sent on board as soon as possible and handed to passengers in the respective classes on application. Passengers expecting letters, etc., which do not arrive by the first delivery should make further application at the Bureau before disembarking.
It must be distinctly understood that while every care will be taken, the Company cannot accept any responsibility in connection with the posting, receiving, delivery, forwarding, or transmission of letters, telegrams, parcels, etc.
LIBRARIES. The libraries are open daily and the Librarians are in attendance to issue and receive books. Passengers are requested to ensure that books borrowed by them are duly entered by the Librarian before the volumes are taken away.
Any books found lying about arc returned to the libraries, but passengers will be held responsible for the loss of any book registered in their name. Any such loss is charged for in accordance with the price of the book.
MEDICAL ATTENDANCE. The Surgeon of the vessel is authorized to charge for professional attendance, inclusive of medicines, at the rate of 10s. 0d. per visit in the case of first class passengers, and 3s. 6d. in the case of tourist class passengers, with a maximum of two chargeable visits per day. Accounts for medical attendance will be rendered by the Surgeon before the end of the voyage.
SHORE EXCURSIONS. For particulars of various Shore Excursions at Ports of Call, see separate booklet, a copy of which may be obtained from the Purser.
TIME-TABLES AND POSTAL GUIDES. Railway and other time-tables, postal guides, etc., are available for reference at the Bureau.
VALUABLES, etc. Passengers' valuables or money may be handed to thé Purser to be deposited in the vessel's safe for custody during the voyage, for which a charge is made of 3s. 6d. per £100 upon the declared value of each parcel or deposit, with a minimum charge of 2s.
Parcels required during the voyage can be re-deposited at half the above rate, a receipt being given on behalf of the Company for valuables or money so deposited.
WIRELESS SERVICES enable passengers to keep in touch with their friends throughout the voyage, either by radio-telegram or at much cheaper rates by means of ship letter telegrams. Full particulars and charges can be obtained from the Radio Office.
COMPLAINTS.—Any complaint should be addressed to the ship's authorities as promptly as possible.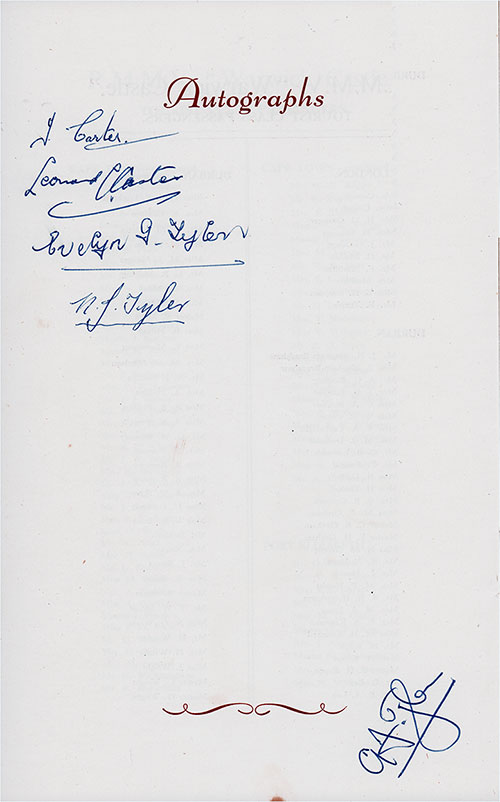 Autographs, Union-Castle Line RMS Warwick Castle First Class and Tourist Passenger List - 15 December 1949. GGA Image ID # 13f01c9e9e