SS Edinburgh Castle Collection
Edinburgh Castle (1873) Castle Line (British)
Built by Robert Napier & Sons, Glasgow, Scotland. Tonnage: 2,678. Dimensions: 335' x 37'. Single-screw. Compound engines. Two masts and one funnel. Iron hull. Service In mail service between England and Cape Town. Sale: Sold to Spanish owners in 1880. Renamed: Espana. Fate: Scrapped in 1898. Sister ship: Windsor Castle.
Edinburgh Castle (1910) Union-Castle Line
Built by Harland & Wolff, Ltd., Belfast, Ireland. Tonnage: 13,326. Dimensions: 570' x 64'. Twin-screw, 17 knots. Quadruple expansion engines. 12,500 I.H.P. Two masts and two funnels. Service: Southampton-Cape Town. Passengers: 320 first, 220 second, 250 third. Fine type of liner for her era. Withdrawn from service in 1938. Sale: Sold to British Government in 1940. World War II Service: Served as a base ship at Freetown, Sierra Leone. Fate: Sunk by British warships off Freetown in September 1945. Sister ship: Balmoral Castle. Note: Largest Union-Castle liners built to date.
Edinburgh Castle (1948) Union-Castle Line
Built by Harland & Wolff, Ltd., Belfast, Ireland. Tonnage: 28,705. Dimensions: 717' x 84' (747' o.l.). Twin-screw, 22 knots. Six steam turbines. Two masts and one funnel. Launched by Princess Margaret, on October 16, 1947. The first major public engagement for the very individualistic British Princess. The name of this beautiful liner is linked to Edinburgh, capital of Scotland. Accommodation for 214 first class and 541 tourist class passengers. Service: England-South Africa. Speed Record: In January 1954 the Edinburgh Castle made the Southampton-Cape Town voyage in the record time of 11 days, 21 hours, 5 minutes. Sister ship: Pretoria Castle.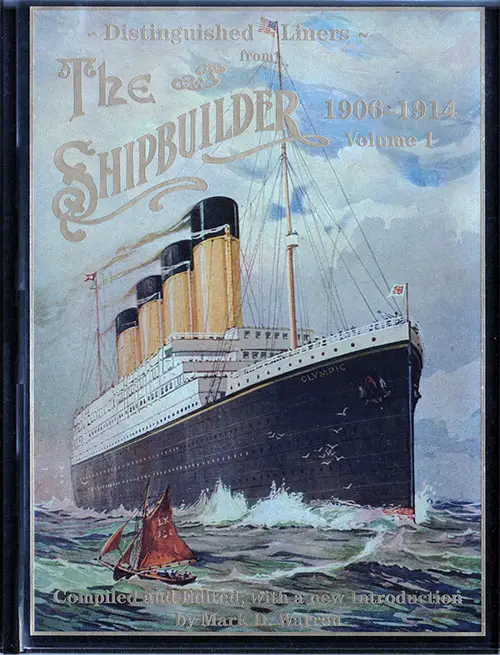 The Shipbuilder 1906 - 1914: Volume 1
Reprinted from The Shipbuilder Magazine, Volume One Distinguished Liners include: Empress of Ireland, Oriana, Oronsa, Volturno, Falaba, Amazon, Araguaya, Avon, Adriatic, President Lincoln, Lusitania, Mauretania, California, Rotterdam, Lapland, George Washingon, Laurentic, Megantic, Edinburgh Castle, Garth Castle, Balmoral Castle, Storstad, Galway Castle, Nomadic, Traffic, Zeelandic, Cameronia, Olympic, Titanic, France, Carmania, Paul LeCat, Reina Victoria-Eugenia, Ascania, Alaunia, Empress of Russia, Empress of Asia, Ceramic, Missanabie, Metagama.