Tourist Third Class: Steamship Travel in the Interwar Years - 2003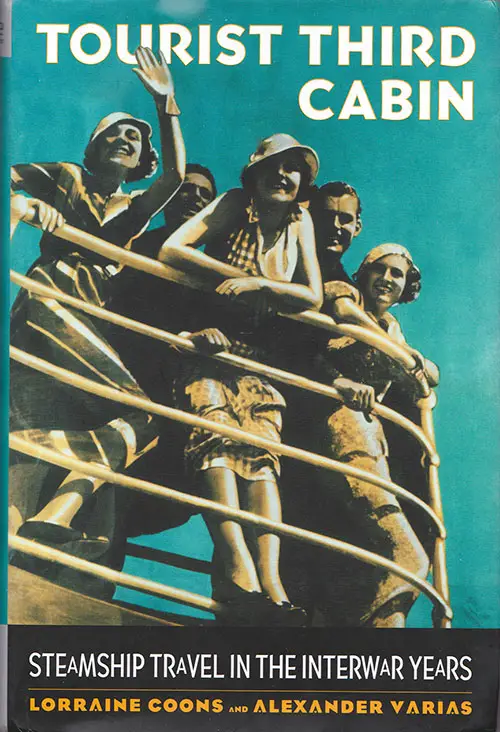 ISBN 0-312-21429-4
Tourist Third Cabin offers a window into a bygone era in which modern steamships like the Queen Mary, the Normandie, and the Olympic transported new breeds of tourists between Europe and North America and dazzled them with their technological marvels and palatial interiors.
The interwar period saw tie birth of mass transatlantic tourism as women, students, and ordinary people took to tie seas in search of education, fun, and freedom. It was also a period of tumultuous social and cultural change.
Historians Lorraine Coons and Alexander Varias offer an intimate glimpse of tbe microcosm of tie changing world that was the luxury liner. From crewmembers to passengers, ship decor to technological innovation, through labor unrest and political upheaval, we see tie social world and tie business of travel at the dawn of the modern age.
From the Back Cover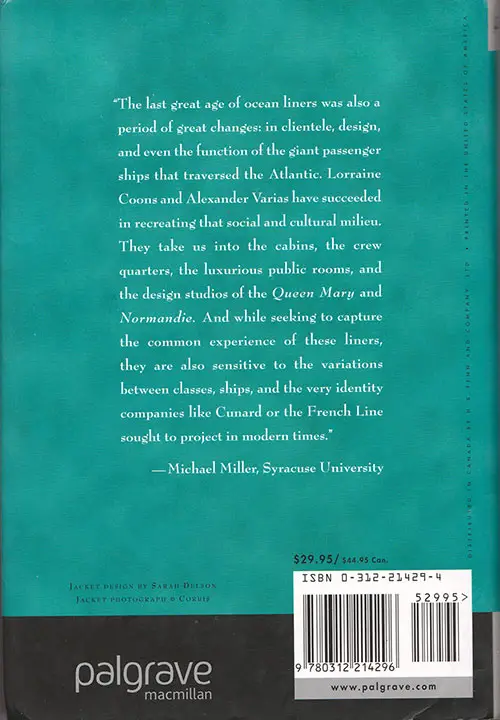 "The last great age of ocean liners was also a periotl of great changes: in clientele, design, and even the function of the giant passenger ships that traversed the Atlantic. Lorraine Coons and Alexander Varias have succeeded in recreating that social and cultural milieu.
They take us into tlie cahins, the crew quarters, the luxurious public rooms, and the design studios o f the Q ueen Mary and Normandie. And while seeking to capture the common experience of these liners, they are also sensitive to the variations between classes, ships, and the very identity companies like Cunard or the French Line sought to project in modern times."
—Michael Miller, Syracuse University
CONTENTS
Acknowledgments ix
Preface xiii
Chapter One Ocean Liners and the New Vistas of Interwar Society
Chapter Two From Immigrants to Tourists: The Changing Complexion of Transatlantic Passengers
Chapter Three "The Soul of a Ship": Experience and Life of "Below-Deck" Personnel
Chapter Four "Traveling Palace" or "Floating Sweatshop": The Experience of Women Seafarers
Chapter Five Projecting an Image: The Allure of Transatlantic Travel
Chapter Six The Controversies of Design: Modernism and Traditional Style on the Liners
Conclusion Liners in the Afterglow 229
Notes
Bibliography
Index
About the Authors
Lorraine Coons is Associate Professor of History, Chestnut Hill College in Philadelphia.
Alexander Varias lectures in history and humanities, Villanova University.
Library of Congress Catalog Listing
| | |
| --- | --- |
| Personal name | |
| Main title | Tourist third cabin : steamship travel in the interwar years / Lorraine Coons and Alexander Varias. |
| Edition | |
| Published/Created | New York : Palgrave Macmillan, 2003. |
Description
xxv, 294 p., [16] p. of plates : ill.; 22 cm.
ISBN
LC classification (full)
LC classification (partial)
Related names
Subjects
Ocean travel--History--20th century.
Steamboat lines--History--20th century.
Steamboats--History--20th century.
Notes
Includes bibliographical references (p. [277]-285) and index.
LCCN
Dewey class no.
Type of material