SS Britannia Archival Collection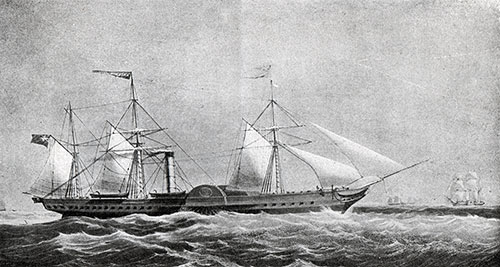 The First Cunarder: The Britannia. Story of the Cunard Line, 1902. GGA Image ID # 100209d6d6
SS Britannia Content Links
Britannia (1840) Cunard Line
Built by Robert Duncan & Co., Port Glasgow, Scotland. Tonnage: 1,139. Dimensions: 207' x 34' (228'o.l.). Paddle- wheels, 9 knots. Side lever engines. Three masts and one funnel. Wooden hull. Four boilers; 741 I.H.P. Bunkers carried 640 tons of coal. Passengers: 115 cabin. Maiden voyage: Liverpool-Halifax-Boston, July 4, 1840. Note: The pioneer Cunarder to open up regular service. The Unicorn actually made the first crossing of the Atlantic, Liverpool- Halifax, May 16, 1840. Charles Dickens was a passenger on the Britannia in 1842. Sold to German Government in November 1848. Renamed: Barbarossa (1849). Transferred to the Prussian Navy in 1852. Fate: Sunk as a target ship in 1880. Sister ships: Acadia, Caledonia and Columbia. First Voyage: On the 4th of July 1840 the first Cunarder, the Britannia, started on her voyage across the Atlantic with sixty-three passengers, landing them at Boston in a fortnight.
Britannia (1863) Anchor Line
Built by Tod & McGregor, Glasgow, Scotland. Tonnage: 1,417. Dimensions: 255' x 33'. Single-screw, 10 1/2 knots. Inverted engines. Three masts and one funnel. Iron hull. Maiden voyage: Glasgow-Quebec-Montreal, July 8, 1863. Fate: Wrecked on the Isle of Arran, January 27, 1873, with no loss of life. Sister ship: Caledonia.
Britannia (1881) Fabre Line
Built by T. Royden & Sons, Liverpool, England. Tonnage: 2,477. Dimensions: 328'x 40'. Single-screw, 11 knots. Compound engines. Three masts and one funnel. Maiden voyage: Marseilles-New York, August 30, 1882. Renamed: America (1902). Fate: Scrapped in 1909. Sister ship: Scotia.
Britannia (1887) P. & O. Line (British)
Built by Caird & Co., Greenock, Scotland. Tonnage: 6,525. Dimensions: 465' x 52'. Single-screw, 16H knots. Triple expansion engines. Four masts and two funnels. Steel hull. Passengers: 250 first and 160 second. Service: England-Australia, via Suez Canal. Fate: Scrapped in 1909. Sister ships: Arcadia, Oceana and Victoria. Note: The largest and finest P. & O. liner built to date.
Britannia (1926) Anchor Line (British)
Built by Alexander Stephen & Sons, Ltd., Glasgow, Scotland. Tonnage: 8,802. Dimensions: 460' x 59'. Single-screw, 13 knots. Ouadruple expansion engines. Two masts and one funnel. Passengers: 300. Crew: 175. Service: England- India. Fate: Sunk by enemy raider, March 25, 1941.
Brochures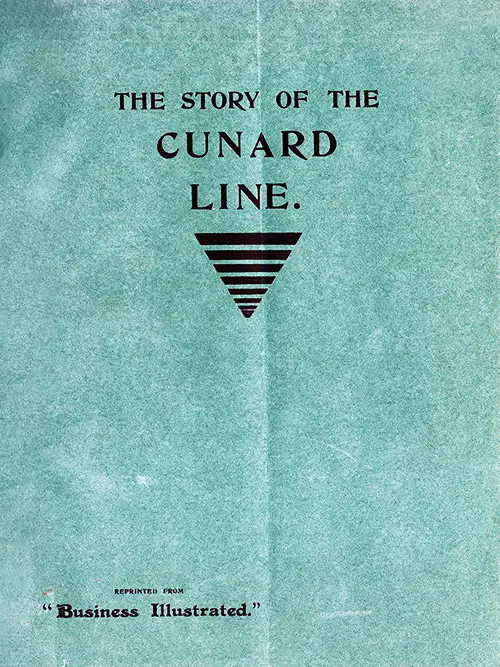 The Story of the Cunard Line - 1902
Cunard Steamship Company, Limited, one of the oldest and most famous of British steam navigation undertakings elected to remain independent and outside the scope of the great Trust. This is their Story as published by BUSINESS ILLUSTRATED. December 1902. Lavishly Illustrated including Interior Photographs. Ships Featured: Britannia, Scotia, Russia, Servia, Umbria, Etruria, Campania, Lucania, Ivernia, Saxonia.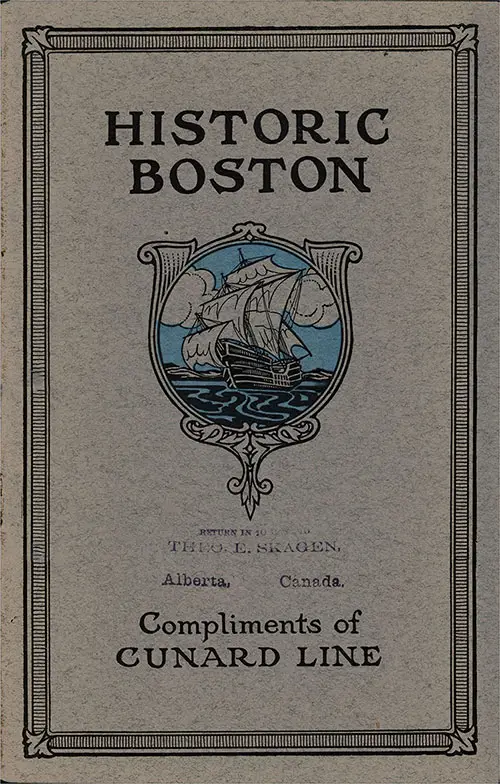 Cunard Service to Historic Boston - 1914
42-Page Brochure focused primarily on Boston, Massachusetts, with a brief summary of Cunard Line Fleet and Services to Boston. Some photographs of Cunard ships, offices, docks/piers, Boston Landmarks, and a Railroad advertisement. Ships Featured: Britannia, Franconia, and Laconia.
Photographs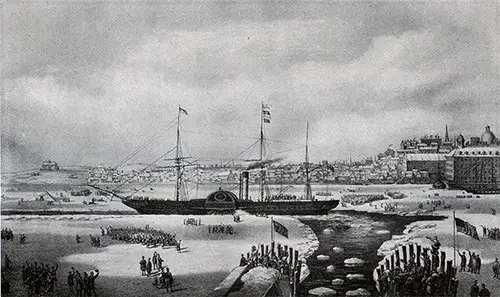 The Cunard Steamer SS Britannia in Boston Harbor 3 February 1844. GGA Image ID # 1276df737d
On the 4th of July 1840, the Britannia commenced the service from Liverpool. It was 14 days, 8 hours to Boston, or excluding 12 hours at Halifax, 13 days 20 hours. During his stay in Boston, Mr. Cunard went out in her and is said to have received no less than 1873 invitations to dinner. The Bostonians were enthusiastic about the new ship and gave a banquet to honor the event.
In February 1844, the Britannia was frozen up in Boston Harbor. When to save her from delay, the citizens, at their own expense and with the aid of thousands of volunteers, cut a channel through the ice seven miles long and set her free!
Their punctuality, comfort, and freedom from accidents greatly satisfied the public. The Great Western Company succeeded in getting a Parliamentary inquiry into the contract. Still, the committee reported favoring the Cunard Company and added that " the service had been most efficiently performed."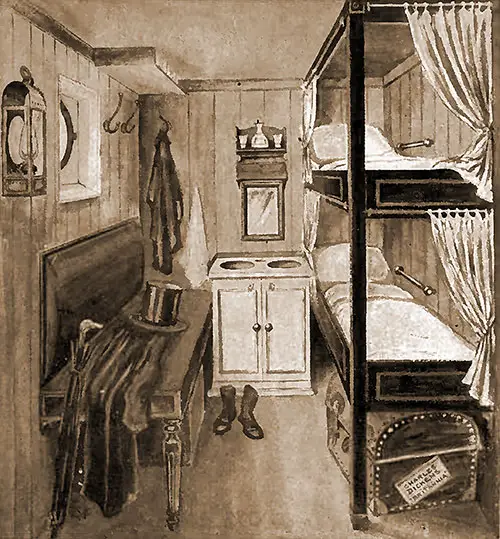 Charles Dicken's Cabin on the Britannia, 1842. Travelling Palace, 1913. GGA Image ID # 1e7618cc8a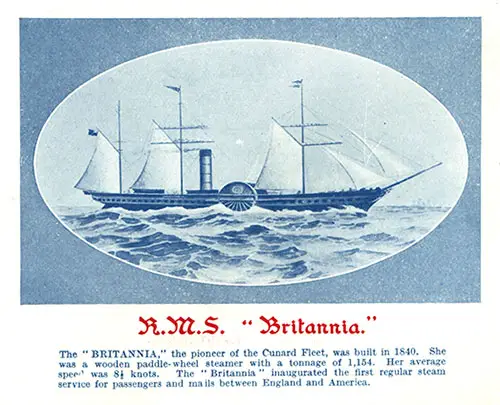 RMS Britannia, the Pioneer of the Cunard Fleet, Built in 1840. Cunard Daily Bulletin, Summer 1912. GGA Image ID # 1e762109f1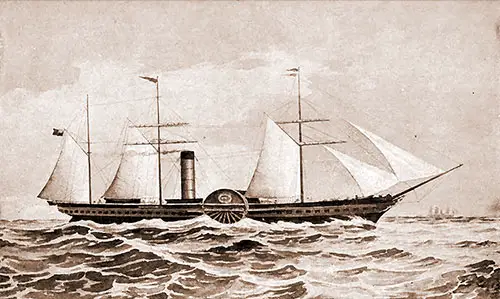 The Cunard Line RMS Britannia, 1840. The Travelling Palace, 1913. GGA Image ID # 1e764c6943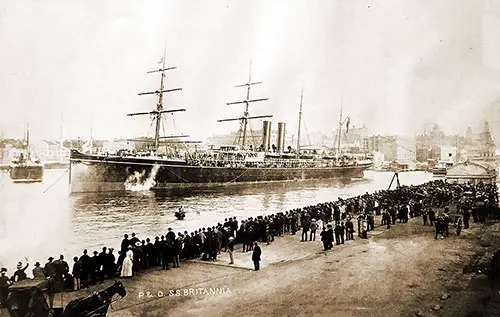 SS Britannia of the P & O Line in Sydney Harbor, 1880s. A Large Number of People Line the Pier Waiting for the Ship to Dock. GGA Image ID # 1e76a354bc
Return to Content Links
Books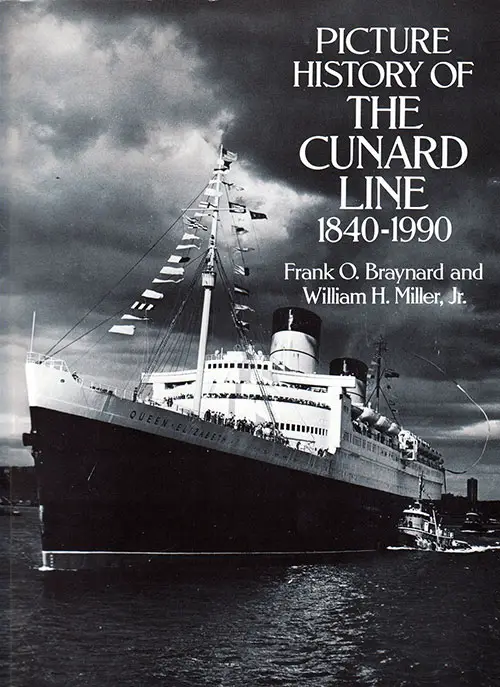 Picture History of the Cunard Line 1840 - 1990
Magnificent pictorial tribute to the long line of illustrious ships that sailed for one of the world's great shipping companies. Extensive fact-filled text, captions and over 180 photographs and illustrations recall the Britannia, Lusitania, Mauretania, Queen Elizabeth, Queen Mary and the QE2, among many others. Introduction.
Return to Content Links