Den Norske Amerikalinje 1910 - 1960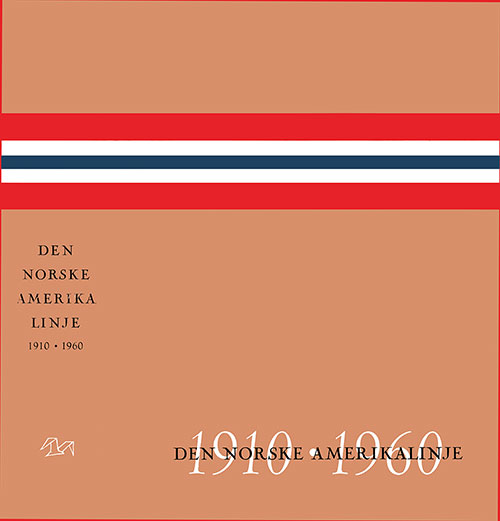 Front Cover Plus Binding Edge from Dust Jacket, Den Norske Amerikalinje 1910-1960 by Erik Vea, Johan Schreiner, and Johan Seland. Published by Grøndahl & Søn, Oslo, 1960. Hardcover, 444 Pages, Text in Norwegian. GGA Image ID # 1fc31c9c69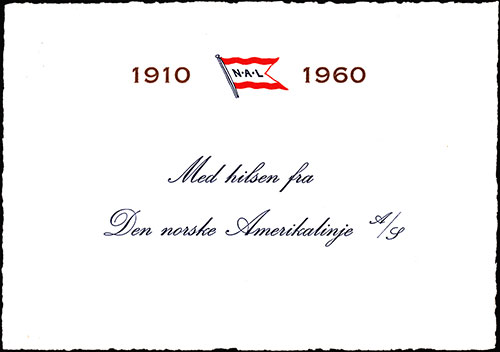 1910 NAL 1960 Med hilsen fra Den norske Amerikalinje A/S. With Thanks from The Norwegian America Line. Insert to Den Norske Amerikalinje 1910-1960. GGA Image ID #
History of the Norwegian America Steamship Line, 1910 - 1960. Profusely illustrated with photographs and illustration including interior and exterior views of their passenger fleet.
Contents
Foreword
With emigrants between covered
Made us capabilities
A national enterprise
The Norwegian America Line is founded
Life paddle across the Atlantic
A further field of activity
Its economic performance and results of operations
 Chapter 1 through 6 are written by Erik Vea, Chapter 7 of Johan Schreiner, chapter 8 of Johan Seland.
Innhold
Forord
Med emigranter på mellomdekket
Fattes det oss evner
Et nasjonalt foretagende
Den norske Amerikalinje grunn legges
Livsåren over Atlanterhavet
Et videre virkefelt
Selskapets økonomiske utvikling og driftsresultater
Kapitel 1 til 6 er skrevet av Erik Vea, kapitel 7 av Johan Schreiner, kapitel 8 av Johan Seland.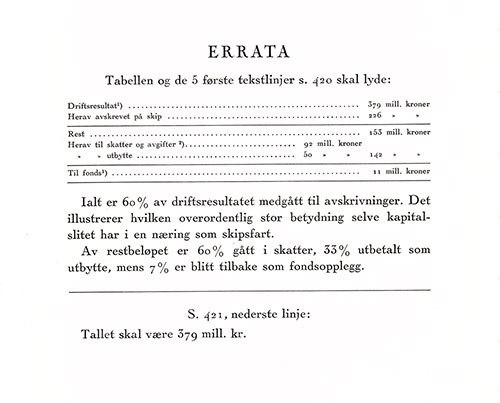 Errata for Den Norsk Amerialinje 1910-1960. GGA Image ID # 1fc384fc69
Library of Congress Catalog Listing
Personal name: Vea, Erik. [from old catalog]
Main title: Den Norske Amerikalinje, 1910-1960,
Published/Created: Oslo, Grøndahl, 1960.
Description: 443 p. illus. (1 col.) ports., facsims. 26 cm.
LC Classification: HE945.N73 V4
LC Subjects: Norske Amerikalinje. Norway--Emigration and immigration.
LCCN: 64032746
Geographic area code: e-no---
Type of material: Book