Leviathan: "The World's Greatest Ship" Volume 5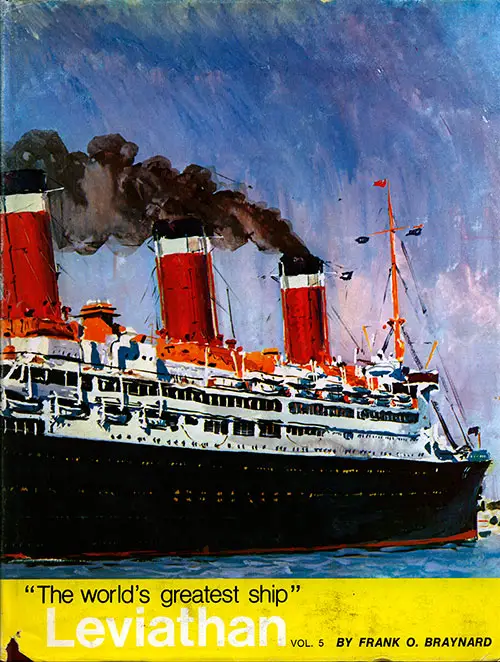 Front Cover, Leviathan: "The World's Greatest Ship," Volume 5. GGA Image ID # 1e8d7bfd55
United States LinesL: "LEVIATHAN: The World's Greatest Ship, Volume 5", by Frank Braynard, published in 1981, hardbound with original dust jacket, 320 pages.
Braynard has created what is probably the most extensive history ever written about a single ship. His ground-breaking series covers 6 volumes.
This book is volume 5 and picks up the LEVIATHAN saga as the Great Depression starts and deeply cuts into passenger loads. The great ship produces nothing but red ink for USL and even bargain cruises do not help. The ship is put into lay-up and offered for sale. There are hundreds of great photos which makes for wonderful browsing and reading.
From the Dust Jacket
In explanation for the great detail with which this story of the LEVIATHAN is presented, I would like to tell you something of my life-long love of this liner. The four pictures above document this passion. In 1923, when I was for the second time trying to pass first grade, my interest in the LEVIATHAN was stimulated by Alexander Blackburn, a teacher at the school I attended. His brother had been Executive Officer on the LEVIATHAN during her Navy career in the first great war.
I only became aware of this relationship during the research period for this series of books. I can remember vividly being asked to show the first grade how to draw the letter "L" on the blackboard when we were learning the alphabet. And I knew how to do it because I could spell "LEVIATHAN" even though I could not spell my own name (see my first sketch above).
The second picture shown here is a water color I did of the LEVIATHAN in 1926. Then comes my pen and ink drawing done in 1945 for my first book, LIVES OF THE LINERS, published by Cornell Maritime Press in 1947 (and still available). The 1955 sketch was for my book FAMOUS AMERICAN SHIPS, now out of print. The fancy letter sketches used at all chapter openings and most sub-chapter beginnings are mine. All represent scenes of or aboard the VATER LAND /LEVIATHAN.
Table of Contents
End Papers Art Deco Brochure of the Paul Chapman Era
Chapter I: RIVETS 10 INCHES LONG 7
Chapter II: NEW SEASON COMMENCES 19
Chapter III: CUNNINGHAM BATTLES THE PILOTS 32
Chapter IV: A NEW CAPTAIN 48
Chapter V: "RESCUE" RANDALL TAKES COMMAND 64
Chapter VI: LAY HER UP 77
Chapter VII: "A WEEK END HOUSEPARTY" 89
Chapter VIII: FOR SALE, WORLD'S GREATEST SHIP 101
Chapter IX: THE BLUE EAGLE HOUSEFLAG FLIES AGAIN 117
Picture Section of 64 Pages 129-192
Chapter X: UNDER ONE COMPANY 199
Chapter XI: AGROUND OFF SOUTHAMPTON 213
Chapter XII: THE LEVIATHAN RACES THE BREMEN 231
Chapter XIII: UNSCHEDULED VOYAGES 242
Chapter XIV: "WHITE ELEPHANT" 254
Chapter XV: LAST VOYAGE 264
NOTES 276
INDEX 300
APPENDIX 310
CREDITS 320
This book is dedicated to William Francis Gibbs and to his brother Frederic H. Gibbs, and to the Robert L. Hague Merchant Marine Industries Post; and to Irving H. Jones and Harry Wright, two generous LEVIATHAN engineers, and to the LEVIATHAN Veterans Association.
Information about the Publishing (From the Dust Jacket)
Publishing this history in several volumes was a decision that ran counter to the advice of many friends. With the help of 90 original patrons, the author was able to raise the necessary funds to pay for production costs. The project is a non-profit effort, with all income from all sources going to pay for each new volume. The proceeds from the sale of the final (sixth) volume will be available to repay the book patrons, whose number has grown to nearly 300.
Each volume so far has had some special feature. It was the 36-inch colored cutaway pull out in Vol. II and the 8-page colored section in Vol. IV, for example. In Vol. V it is the 64-page photo section. Most of the research for the final volume is done and it should be out in 1983. Anyone with memories of the LEVIATHAN is urged to send them to the author: Frank 0. Braynard, 98 DuBois Ave., Sea Cliff, N.Y. 11579.
About the Author (From the Dust Jacket)
THE AUTHOR—Frank 0. Braynard has had a passion for ships since his earliest days, as witness his sketch of the LEVIATHAN done in 1923 when he was 7 years old and used on the top of the front flap of this book jacket. His work as general manager of OPERATION SAIL-1976 caused a friend to comment, that as General Manager of Operation Sail the most colossal event ever witnessed by man, Frank has become world famous and millions are grateful to him for a day never to be forgotten. Walter Cronkite of CBS put everything in sharp focus. when summarizing the day, noted that, "Frank Braynard was creator and the driving force behind the whole breathtaking day".
Twice president of the Steamship Historical Society and editor of its journal for several years, he is an honorary member of the Council of American Master Mariners and of the Veteran Wireless Operators Association.
It was because of his efforts that the world's first nuclear merchant ship was named SAVANNAH, in honor of the first vessel with a steam engine aboard to cross any ocean. His writings and his sketches have been directed toward honoring merchant vessels and his enthusiasm for ships and the sea has done much to keep people aware of America's maritime heritage.
Library of Congress Catalog Listing
Personal name: Braynard, Frank O. (Frank Osborn), 1916-2007.
Main title:

"World's greatest ship"; the story of the Leviathan, by Frank O. Braynard.

Published/Created:

[New York, South Street Seaport Museum, 1972-1983]

Description:

6 v. illus. (some col.) 29 cm.

LC classification:

VM383.L3 B7

Related titles:

Leviathan.

LC Subjects: Leviathan (Steamship)
Browse by shelf order: VM383.L3
Notes
On cover: Leviathan.

Vol. 4 has imprint: Newport News, Va. : Mariners Museum, [1978]

Vol. 5 has imprint: [Sea Cliff, N.Y.] : F.O. Braynard, [1981]

Vol. 6 has imprint: [Kings Point, N.Y. : American Merchant Marine Museum, U.S. Merchant Marine Academy, 1983]

Some ill. on lining papers.

Includes bibliographical references and indexes.

LCCN:

72085207

Dewey class no.:

87.2/43

Type of material: Book