Leviathan: "The World's Greatest Ship" Volume 4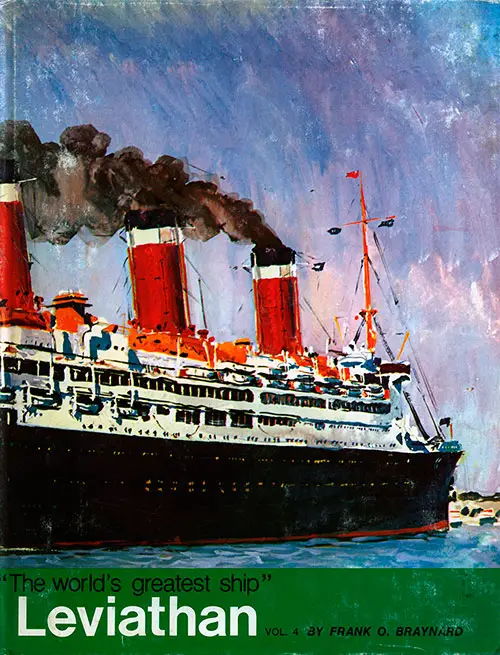 Front Cover, Leviathan: "The World's Greatest Ship," Volume 4. GGA Image ID # 1e8d972f11
USL: "LEVIATHAN: The World's Greatest Ship, Volume 4", by Frank Braynard, published in 1978, hardbound with original dust jacket, 436 pages.
Braynard has created what is probably the most extensive history ever written about a single ship. His ground-breaking series covers 6 volumes.
This book is volume 4 and picks up the LEVIATHAN saga in 1926 during the height of the ship's popularity and ends with the stock market crash in 1929. The ship's fortunes fell quickly after that. There are hundreds of great photos, including a section of color ones, which makes for wonderful browsing and reading.
TABLE OF CONTENTS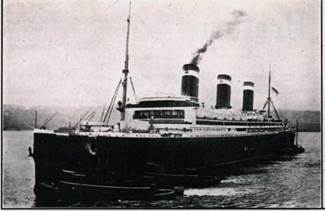 Front End Papers Tourist and Third Class Deck Plans 1928
Chapter I: FIFTIETH ROUND TRIP
Chapter II: THREE AIR CROSSINGS
Chapter III: BRINGING HEROES HOME
Chapter IV: THE SECOND A.E.F.
Photo Section No. One
Chapter V: LAST VOYAGE
Chapter VI: CUNNINGHAM COMES ABOARD
Chapter VII: STORMS
Chapter VIII: THE GREAT MAIL ROBBERY
Photo Section No. Two
Chapter IX: 'SAVE THE LEVIATHAN'
Chapter X: ELIZABETH'S DIARY
Chapter XI: HAPPINESS, HAPPINESS
Chapter XII: PAUL WADSWORTH CHAPMAN
Chapter XIII: WET OR DRY
Chapter XIV: THE ADAMS AIR MAIL PICK UP
Photo Section No. Three.
Chapter XV: CARRIES 2,716 PASSENGERS
Chapter XVI: THE CRASH
Chapter XVII: AND THE CRACK
NOTES
INDEX
APPENDIX
CREDITS
Back End Papers
Library of Congress Catalog Listing
Personal name: Braynard, Frank O. (Frank Osborn), 1916-2007.
Main title:

"World's greatest ship"; the story of the Leviathan, by Frank O. Braynard.

Published/Created: [

New York, South Street Seaport Museum, 1972-1983]

Description:

6 v. illus. (some col.) 29 cm.

LC classification:

VM383.L3 B7

Related titles:

Leviathan.

LC Subjects: Leviathan (Steamship)
Browse by shelf order: VM383.L3
Notes
On cover: Leviathan.

Vol. 4 has imprint: Newport News, Va. : Mariners Museum, [1978]

Vol. 5 has imprint: [Sea Cliff, N.Y.] : F.O. Braynard, [1981]

Vol. 6 has imprint: [Kings Point, N.Y. : American Merchant Marine Museum, U.S. Merchant Marine Academy, 1983]

Some ill. on lining papers.

Includes bibliographical references and indexes.

LCCN:

72085207

Dewey class no.:

387.2/43

Type of material: Book