SS President Grant Collection
President Grant (1907) Hamburg-American Line
Built by Harland & Wolff, Ltd., Belfast, Ireland. Tonnage: 18,072. Dimensions: 599' x 68' (615' o.l.). Twin-screw, 14 1/2 knots. Quadruple expansion engines. Six masts and one funnel. Note: Launched as the Servian, October 8, 1903, for Furness, Withy & Co., Ltd. However, before completion she was sold to Hamburg-American Line. They changed her name to President Grant. Maiden voyage: Hamburg- Plymouth-New York, September 14, 1907. Capacity: Accommodation for 200 first, 150 second and 3,000 third class. World War I Service: In service as a transport for the United States in World War I. Renamed: Republic (1924). Modifications: Reduced to four masts. World War II Service: Converted to troopship in World War II, and then to hospital ship. Fate: Scrapped in 1952. Sister ship: President Lincoln. Unusual Fact: Noted for being the only six-masted liners on the Atlantic.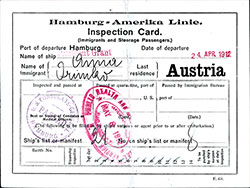 1912-04-24 Inspection Card - Austrian Immigrant
Fine example of an Immigrants and Steerage Passengers' Inspection Card issued on 24 April 1912 by the Hamburg America Line for an Austrian Immigrant on board the SS President Grant that departed from Hamburg, Germany arriving in New York on 7 May 1912. Passed American Ellis Island Inspectors on 8 May 1912.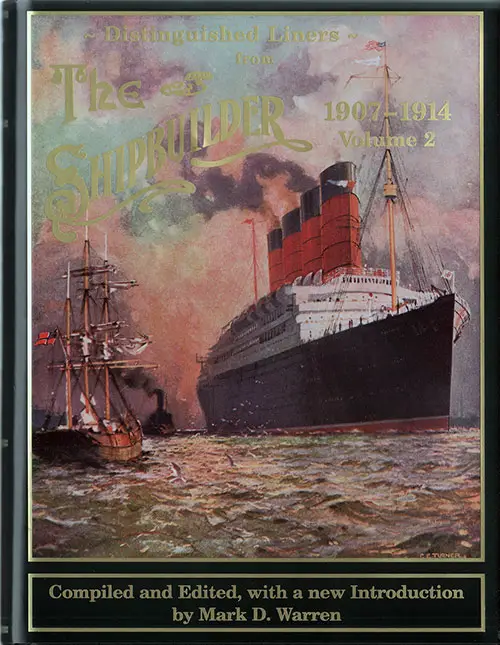 The Shipbuilder - Distinguished Liners 1907 - 1914 v2
Reprinted from The Shipbuilder Magazine, the Distinguised Liners Covered in This Volume Include: Principessa Jolanda, Corsican, Heliopolis, Asturias, City of Paris, Grampian, President Grant, Oceania, Hesperian, Martha Washington, Afrique, Waratah, Morea, Vasari, Orsova, Otway, Osterley, Otranto, Orvieto, Franconia, Laconia, Kaiser Franz Josef I, Vandyck, Medina, Orama, Arlanza, Vestris, Vauban, Pastores, Appam, Niagara, Kristianiafjord, Bergensfjord, Congress, Gablonz, Marienbad, Empress Ekaterina II, Gelria, Tubantia, Columbus, Alsatian, Britannic, Calgarian, Cap Polonio, William O'Swaldt, City of Exeter, Aquitania, Imperator, Vaterland, Alcantara, Statendam, Cap Trafalgar, Bismarck.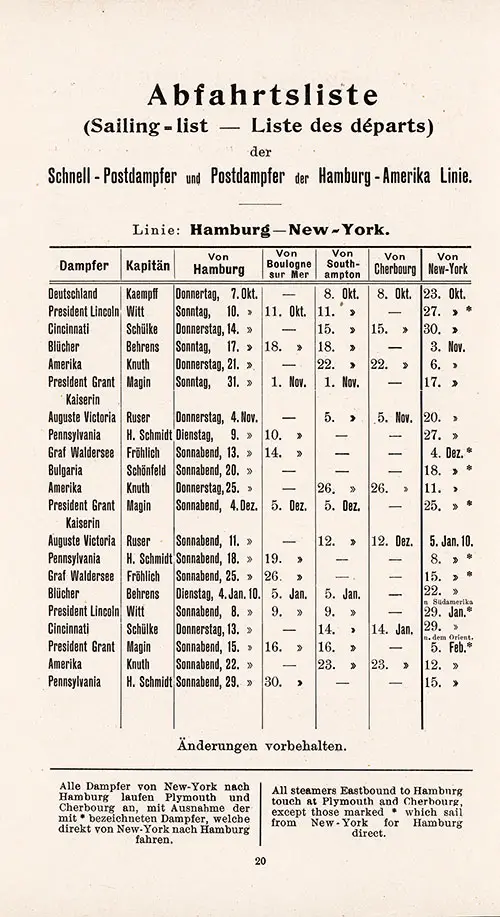 Sailing Schedule, Hamburg-Boulogne sur Mer-Southampton-Cherbourg-New York, from 7 October 1909 to 15 February 1910. Ships Included the Amerika, Blücher, Bulgaria, Cincinnati, Deutschland, Graf Waldersee, Kaiserin Auguste Victoria, Pennsylvania, President Grant, and the President Lincoln. SS Deutschland Passenger List, 7 October 1909. GGA Image ID # 1e41f7f6aa