SS Pretoria Collection
Pretoria (1897) Hamburg-American Line
Built by Blohm & Voss, Hamburg, Germany. Tonnage: 13,234. Dimensions: 561' x 62'. Twin-screw, 13H knots. Quadruple expansion engines. Four masts and one funnel. Service: Hamburg-New York. Passengers: 160 first, 190 second, 2,400 third class. Post War Service: After First World War was placed under control of British Shipping Controller, and then charted by the Ellerman Lines. Fate: Sold to British shipbreakers in November 1921. Sister ships: Graf Waldersee, Patricia and Pennsylvania. Note: All had very large cargo capacity, besides being able to transport large numbers of immigrants.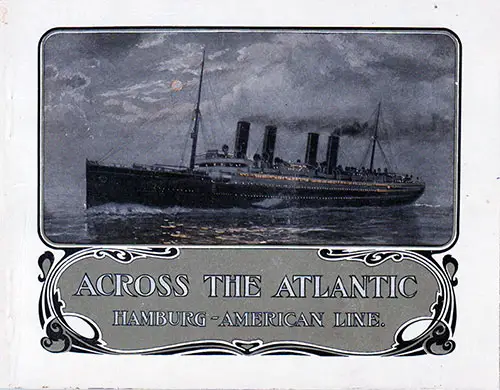 Across the Atlantic - Hamburg American Line - 1905
Although small in size, this 80 page booklet / brochure from 1905 provides an excellent record of the steamships and services of the Transatlantic Fleet of the Hamburg America Line. Ships Covered Included the Blücher, Deutschland, Graf Waldersee, Hamburg, Moltke, Patricia, Pennsylvania, Pretoria, Prinz Adalbert, Prinz Oskar, and Prinzessin Victoria Luise.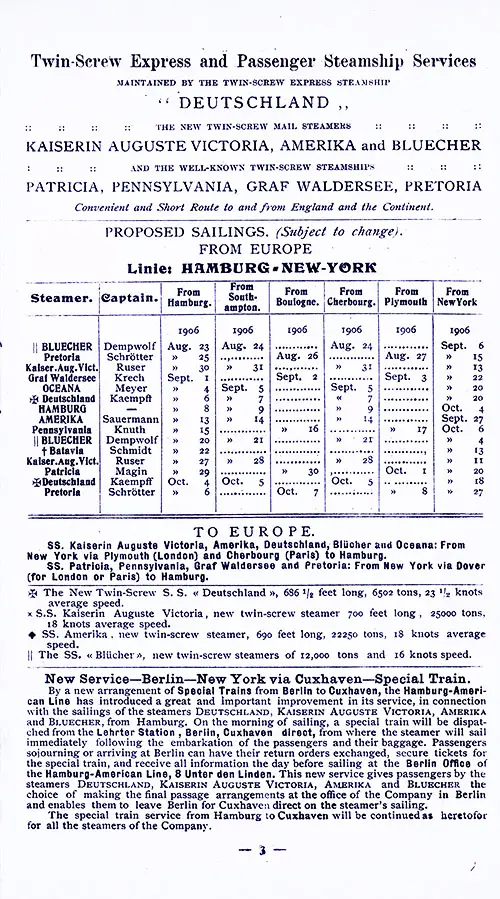 Twin-Screw Express and Passenger Steamship Services, and Sailing Schedule, Hamburg-Southampton-Boulogne sur Mer-Cherbourg-Plymouth-New York, from 23 August 2906 to 27 October 1906. Ships Included the Amerika, Batavia, Blücher, Deutschland, Graf Waldersee, Hamburg, Kaiserin Auguste Victoria, Oceana, Patricia, Pennsylvania, and Pretoria. SS Moltke Passenger List, 21 August 1906. GGA Image ID # 1e43a0cfd7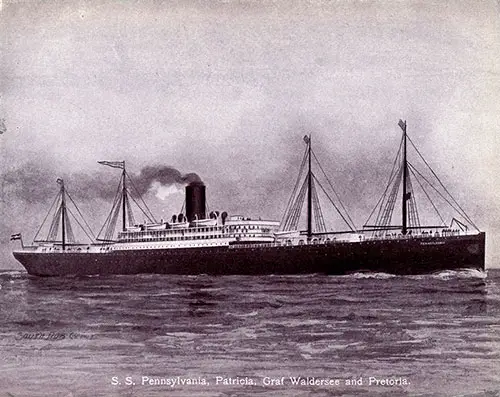 SS Pennsylvania, SS Patricia, SS Graf Waldersee and SS Pretoria at Sea. Across the Atlantic, 1905 HAPAG Brochure. GGA Image ID # 1bbd85fbb6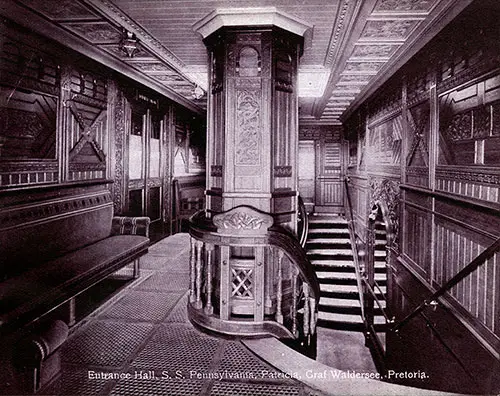 Entrance Hall on the SS Pennsylvania, SS Patricia, SS Graf Waldersee and SS Pretoria. Across the Atlantic, 1905 HAPAG Brochure. GGA Image ID # 1bbda1103f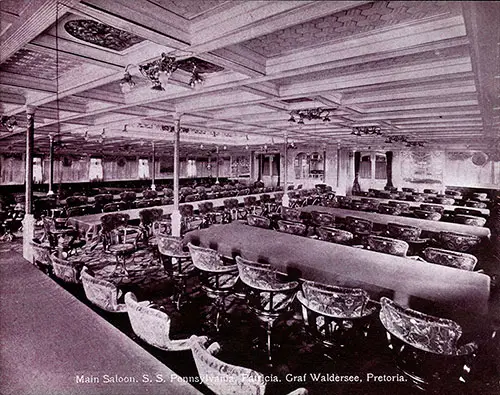 Main Saloon on the SS Pennsylvania, SS Patricia, SS Graf Waldersee and SS Pretoria. Across the Atlantic, 1905 HAPAG Brochure. GGA Image ID # 1bbda27c0e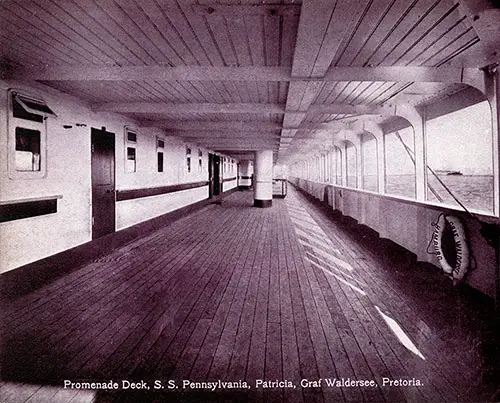 Promenade Deck on the SS Pennsylvania, SS Patricia, SS Graf Waldersee and SS Pretoria. Across the Atlantic, 1905 HAPAG Brochure. GGA Image ID # 1bbdf79745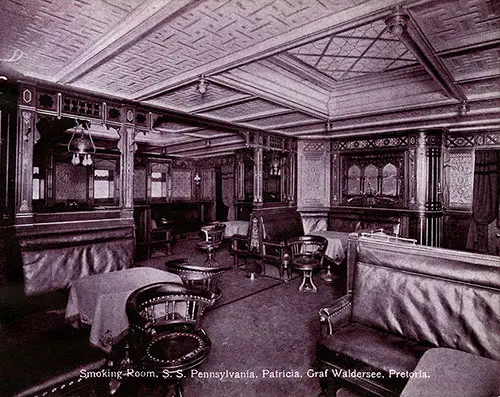 Smoking Room on the SS Pennsylvania, SS Patricia, SS Graf Waldersee and SS Pretoria. Across the Atlantic, 1905 HAPAG Brochure. GGA Image ID # 1bbe16dc5e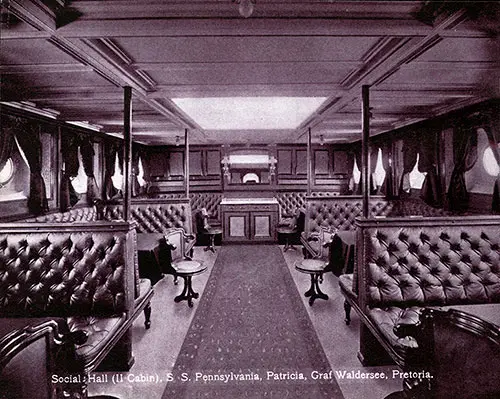 Social Hall on the SS Pennsylvania, SS Patricia, SS Graf Waldersee and SS Pretoria. Across the Atlantic, 1905 HAPAG Brochure. GGA Image ID # 1bbe17433f