SS President Fillmore Collection
President Fillmore (1899) United States Lines
Built by "Vulkan", Stettin, Germany. Tonnage: 10,532. Dimensions: 499' x 60'. Twin-screw, 16 knots. Quadruple expansion engines. Two masts and two funnels. Commenced service as the President Fillmore in 1922. Sale: Sold to Dollar Line in 1924. Fate: Scrapped in 1928. Previously Named: Ex-Hudson (1922), ex- New Rochelle (1921), ex-Powhatan (1920), ex-Hamburg (1917).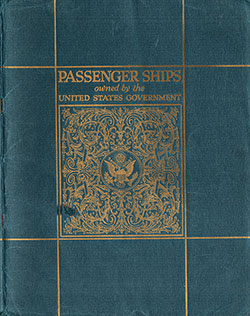 1922 - Passenger Ships of the United States Lines
One of the first and most comprehensive brochures on the early beginnings of the United States Lines. Many photographs documents the cabin class (First Class/Second Class) amenities on the many ships of the USL. Undated, but likely published in 1922 before the Leviathan came into service in 1923. Featured Ships: George Washington, America, President Roosevelt, President Harding, President Monroe, President Adams, President Van Buren, President Polk, President Garfield, President Fillmore, and President Arthur.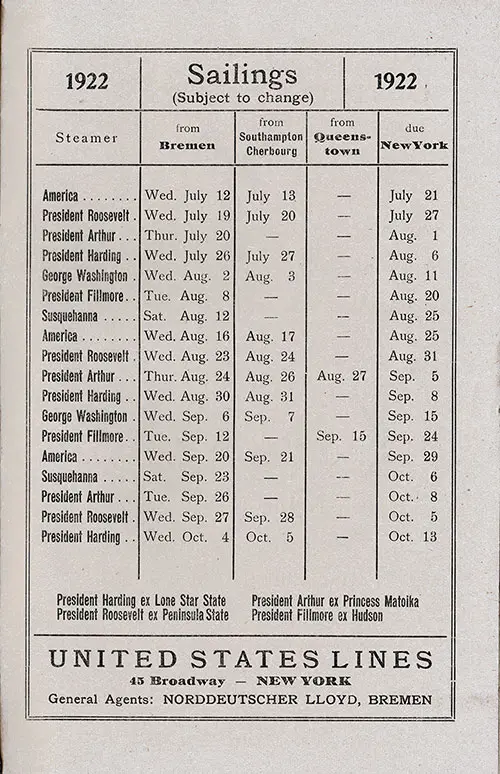 Sailing Schedule, Bremen-Southampton-Cherbourg-Queenstown (Cobh)-New York, from 12 July 1922 to 13 October 1922. Ships Included the America, George Washington, President Arthur, President Filmore, President Harding, President Roosevelt, and Susquehanna. SS America Passenger List, 12 July 1922. GGA Image ID # 1e2d1b41c3
United States Lines Fleet List for Bremen and London Services, 1922. Bremen Service Ships Included the America, George Washington, President Arthur, President Fillmore, President Harding, and President Roosevelt. London Service Ships Included the President Adams, President Garfield, President Monroe, President Polk, and President Van Buren. SS America Passenger List, 12 July 1922. GGA Image ID # 1e2d0848bb