SS President Garfield - History and Ephemera Collection
Ephemera for the SS President Garfield are available at the GG Archives, including Passenger Lists, Menus, Brochures, Event Programs, and more.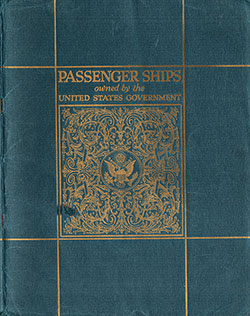 1922 - Passenger Ships of the United States Lines
One of the first and most comprehensive brochures on the early beginnings of the United States Lines. Many photographs documents the cabin class (First Class/Second Class) amenities on the many ships of the USL. Undated, but likely published in 1922 before the Leviathan came into service in 1923. Featured Ships: George Washington, America, President Roosevelt, President Harding, President Monroe, President Adams, President Van Buren, President Polk, President Garfield, President Fillmore, and President Arthur.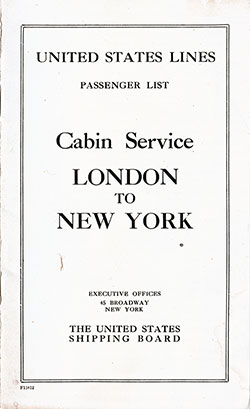 1923-02-24 SS President Garfield Passenger List
Steamship Line: United States Lines
Class of Passengers: Cabin
Date of Departure: 24 February 1923
Route: London to New York via Cherbourg and Queenstown (Cobh)
Commander: Captain H. L. Look, U.S.N.R.F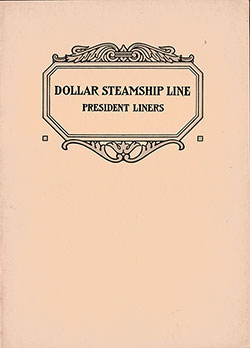 1925 - Dollar Steamship Line - The President Liners
Rare 1925 Brochure from The Dollar Steamship Line on their President Liners. Many photographs document their distinctively higher standard of luxury, comfort, and convenience -- a measure designed to meet the requirements of ocean voyagers. Ships featured: President Van Buren, President Monroe, President Harrison,
President Adams, President Garfield, President Hayes, and President Polk.
Ephemera contained in the GG Archives collection represent the souvenirs provided to the passengers of each voyage. Many of these souvenir ephemeral items have disappeared over the years.
Our selection varies considerably by ship, and likely contains only a sampling of what was originally produced and printed by the steamship lines.
Bookmark pages you're researching and check back periodically for additions as we continue to digitize our extensive ephemera materials.