SS President Garfield Passenger List 24 February 1923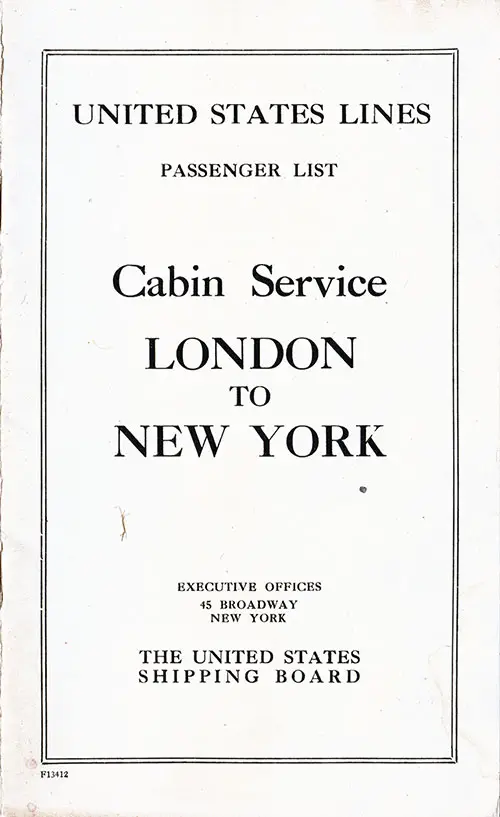 Cabin Passenger List for the SS President Garfield of the United States Lines, Departing 24 February 1923 from London for New York via Cherbourg and Queenstown (Cobh), Commanded by Captain H. L. Look, U.S.N.R.F.
Senior Officers and Staff
Captain: H. L. Look, U.S.N.R.F.. Commander
Chief Officer: Capt. B. B. Libby
Purser: R. E. Wallace
Chief Engineer: C. R. Anderson
Chief Steward: Chas. Hodge
Surgeon: M. Rosenberg
List of Cabin Passengers
Mrs. E. Anton-Smith
Mr. W. A. Ariel
Mr. Edward Austin
Mr. J. K. Baggallay
Miss M. E. 0. Barrow
Mr. E. H. Bauer
Mr. F. C. Best
Dr. W. E. Bestwick
Mr. W. J. Blaird
Mrs. Blaird
Mr. J. Bristow
Mrs. Bristow Mr. J. C. Bristow
Miss M. Burns
Miss K. M. Byrne
Mr. H. Cabrera
Mrs. Cabrera
Master Wm. Cabrera
Miss E. Cabrera
Mr. W. S. Carr
Mrs. Carr
Mrs. E. J. Carr
Mr. M. Cohen
Mrs. A. V. Cresswell And Infant
Master J. A. Cresswell
Mr. C. E. Doscher
Mr. Columbus Drake
Miss E. M. Ede
Miss Gladys Eyre
Miss Pearl Freeman
Mr. Sol. Gans
Dr. J. J. Gelz
Mrs. Gelz
Mrs. M. L. Gilman
Mr. F. S. Gorham
Mrs. Gorham And Infant
Mr. J. J. Henry
Mr. Howard Hensman
Mrs. L. Hensman
Miss J. M. Hensman
Mr. W. E. Hitchcock
Mrs. L. Karmen
Miss A. Kilmead
Mr. B. Kiralfy
Mrs. Kiralfy
Mr. Victor Kiralfy
Mr. Calvin Kiralfy
Miss V. Kiralfy
Master A. Kiralfy
Mrs. M. B. Knight
Mrs. M. A. M. Kullenberg
Miss R. R. Lansley
Miss Ruth Larned
Mr. J. D. Lavoie
Mrs. Lavoie
Mr. James Linart
Mrs. A. Lincoln
Miss A. M. Lindell
Miss C. F. Loomis
Dr. R. C. Martin
Mrs. Martin
Mr. S. Martin
Mrs. Martin
Mr. E. C. Nilson
Mr. J. Nilson
Mrs. Nilson
Mr. V. L. Nilson
Mr. Edward Petersen
Mr. J. A. Pinatel
Mrs. Pinatel And Child
Mrs. B. Remington
Miss Ada Reymell
Mrs. C. E. Rich And Child
Mr. F. C. Saxty
Mrs. Saxty
Miss Katherine Saxty
Rev. H. T. Sheets
Mrs. Sheets
Master A. W. Sheets
Miss D. Sheets
Mr. M. Sherris
Mrs. Sherris
Mr. Lawrence Smith
Mr. C. C. Soest
Mr. David Stoddard
Miss J. Strode
Miss P. Strode
Mr. Wm. Watson
Lt. Wm. Zietler
Mrs. Zietler
ADDITIONAL
Miss Odette Aude
Mrs. M. J. Bland
Miss Louise Bonney
Mrs. Y. Boyadjien
Mr. W. A. Knudson
Mrs. Knudson
Mr. Leo J. Pinkus
Mrs. J. Simard
Mr. G. A. Sayer
Miss Louise Unger
Mr. Robert Weiner
NOT ON BOARD
Mr. E. H. Bauer
Mr. W. J. Blaird
Mrs. Blaird
Mr. James Linart
Information for Passengers Cabin Class
BREAKFAST from 8:30 am until 10:00 am LUNCHEON at 1:00 pm DINNER at 7:00 pm
The Bar opens at 8:00 am and closes at 11:00 pm
Lights are extinguished in the Saloon at 11:00 pm, Lounge, Reading Room and Smoking Room at 11:30 pm
Divine Service in the Saloon on Sunday at 10:30 am
SEATS AT TABLE. Passengers who have not previously arranged for seats at table to be reserved should apply for same to the Second Steward.
SMOKING. Passengers are kindly requested not to smoke in the Dining Saloons.
AN ENQUIRY OFFICE has been provided for the convenience of passengers, where all enquiries for information of a general character should be made.
WIRELESS SERVICE. The long range wireless equipment permits of the vessel communicating with the shore from any point during the trip to or from Europe. Passengers desiring to send message will consult the operator for rates.
LETTERS, CABLES AND TELEGRAMS are received at the Enquiry Office for dispatch, and Postage Stamps can be purchased and Deck Chairs hired at this office, through which also all Mails will be distributed. Cablegrams and Telegrams should be handed in an hour before the arrival at any port of call.
None of the ship's staff other than those on duty in the Enquiry Office is authorized to accept Letters or Telegrams for dispatch.
DECK CHAIRS can be hired at $1.30 or 7s. 6d. each for the voyage.
STEAMER RUGS can be hired at $1.50 or 7s. 6d. each for the voyage.
MEDICAL ATTENTION. The Surgeon is always at the disposal of those passengers requiring his services. In case of illness originating on board, or after the departure of the steamer, no charge will be made for those services, and such medicines as are prescribed by the Ship's Surgeon will be furnished without expense to the passengers.
In cases of illness not originating on board, the Surgeon is permitted to make the following charges :—
For Office visits, $1.00 per visit
For Stateroom visits, $2.00 per visit, with a maximum charge of $4.00 per day
If passengers consider that the charges made by the Surgeon for such services as he renders are improper or excessive, they are requested, before paying same, to take up the question with the Commander, and the bill will be either adjusted to a basis that will be satisfactory to the passenger or with-drawn. The purpose of the United States Lines is to make its service satisfactory to all passengers.
BAGGAGE. On disembarking, passengers are specially requested to claim their baggage before leaving the Customs shed, otherwise under present abnormal conditions considerable delay and extra charge for carriage will be incurred in forwarding to destination any baggage not accompanying passengers on the railway.
PASSENGERS are requested to ask for a receipt on the Company's Form for any additional Passage Money, Chair Hire or Freight paid on board.
EXCHANGE OF MONEY. The Purser is prepared, for the convenience of passengers, to exchange a limited amount of money at rates which will be advised on application.
PASSENGERS' ADDRESSES may be left at the Enquiry Office in order that any letters sent to the care of the Company may be forwarded.
VALUABLES. The United States Lines has provided a safe in the office of the Purser, in which passengers may deposit money, jewels or ornaments for safe keeping. The Company will not be liable to passengers for the loss of money, jewels or ornaments by theft or otherwise, not so deposited.
LETTERS, &c. FOR PASSENGERS will be brought on board before the passengers land.
Passengers should personally ascertain whether there is any mail for them before disembarking, and they are invited to leave their addresses at the Enquiry Office for later dispatches to be redirected.
Special Notice
Pursers of the United States Lines are ready to book your return passage. Sailing lists, rate sheets, cabin plans and other information will be cheerfully furnished upon application at the Purser's Office. Tickets can be secured or deposits to secure reservations can be made. The Purser will procure by radio, without charge to the passenger, reservations or any information necessary.
Attention is invited to the other services now being operated by the United States Shipping Board. For passengers interested, the Pursers will cheerfully negotiate by wireless, without charge to the passengers, and arrange for bookings, etc., via any of the United States Shipping Board Services to all parts of the world.
Prepared 2015-06-06 by Paul K. Gjenvick, MAS, Archivist