SS America Passenger List 27 July 1924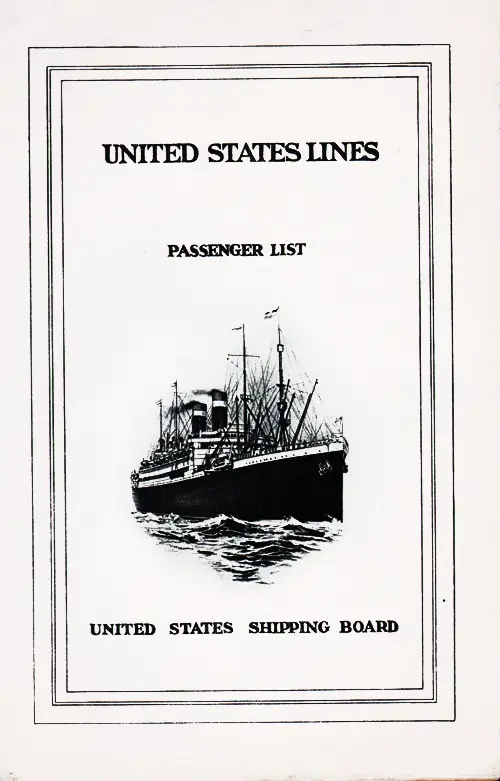 Front Cover, Cabin Passenger List for the SS America of the United States Lines, Departing 27 July 1924 from Bremen to New York via Southampton and Cherbourg, Commanded by Captain W. Rind. GGA Image ID # 1e2d87d3ec
Senior Officers and Staff
Commander: Captain W. Rind, U. S. N. R. F
Chief Officer: W. B. Oakley
Chief Engineer: Patrick Brennan
Senior First Officer: R. H. Tollen
Chief Steward: G. B. Brennon
Purser: A. Koppenjan
Surgeon: F. L. Barnum
List of Sea Post Clerks
Mr. Stephen Bleicher
Mr. W. Kuehnle
Mr. John J. Ogilvie
Cabin Passengers
▓▓▓ "A" ▓▓▓
Mr. William H. Aborn
Mrs. William H. Aborn
Mr. J. Abrahams
Mrs. J. Abrahams
Mr. Clarence E. Adams
Mrs. Clarence E. Adams
Miss Clara B. Adams
Capt. H. T. Allen
Mr. A. Allegrin
Mr. Fred Anchoensen
Mr. K. W. Anderson
Mr. O. Anderson
Mr. N. Anderson
Mrs. W. T. Andrews
Miss Gertrude Archanbault
Mr. O. Armando
Mr. C. Ashton
Mr. Emil Auerbach
Mrs. Crace Auerbach
Mrs. A. M. Austin
Miss Mabel Austin
Miss Flora Austin
Miss Helen Austin
▓▓▓ "B" ▓▓▓
Lt. G. H. Bare
Mr. Ray Barnhill
Miss A. B. Bartlett
Miss E. Becker
Mr. R. E. Bent
Miss Elisabeth Bergmann
Miss N. A. Black
Mr. H. F. Bloomer
Mrs. Victor Blue
Mr. J. Boncicault
Mr. P. S. Boren
Mr. W. C. Bowmann
Mr. C. Bowman
Lt. R. Bowman
Mr. F. Boylstein
Mr. Rene Braet
Mr. E. M. Brandstein
Mr. H. Braxton
Mr. Edward V. Brewer
Mrs. Edward V. Brewer
Mr. R. T. Breyer
Maj. Frank H. Briggs
Mr. Truman J. Brooke
Mrs. Truman J. Brooke
Mr. J. K. Brooker
Mr. L. C. Brookins
Mrs. Alphonso B. Brown
Miss Elizabeth L. Brown
Mr. L. A. Brown
Mr. Leroy T. Brown
Mr. G. V Brown
Mrs. G. V. Brown
Mr. Frank H. Brugess
Mr. Morris Bruner
Miss Dorothy Buck
Mr. L. E. Butler
▓▓▓ "C" ▓▓▓
Mr. Josef Camenzind
Mr. T. Cann
Mr. W. E. Cann
Mrs. Tedford Cann
Miss F. Y. Carder
Mrs. Clara T. Carlisle
Miss Mary M. Carroll
Dr. Theodore D. Costo
Mrs. Theodore D. Costo
Mrs. A. S. Chadwick
Mr. A. D. Chignone
Mr. W. M. Christie
Mr. E. Church
Mrs. Edgar Church
Mr. Fred V. Clark
Mr. R. P. Clayberger
Mr. A. J. Clayton
Comm. S. Cochran
Mr. R. D. Coffman
Miss Eleanor Coleman
Mr. W. A. Comins
Mrs. M. H. Condon
Mr. D. L. Conkling
Miss Susan Connelly
Mr. Joseph P. Connelly
Mr. J. Connelly
Miss Catherine J. Cornell
Mr. P. V. Costello
Mr. W. Cox
Miss Dorothy Cox
Mr. C. Creamer
Mr. C. M. Cremer
Mr. W. H. Cuddy
Miss C. V. Cuddy
Mr. J. Curran
▓▓▓ "D" ▓▓▓
Mr. F. Darrieulat
Mr. Henry G. Dauba
Mr. C. A. Dean
Mrs. C. Dean
Mr. W. L. Deane
Mrs. W. L. Deane
Mr. H. C. Delafield
Mrs. H. C. Delafield
Miss Helen F. Delafield
Mr. P. Desjardens
Miss M. D. Dond
Mr. R. E. Doolittle
Mr. R. Dowd
Mrs. W. R. Draker
Mr. Louis G. Dreyfus Jr.
Mrs. Grace H. Dreyfus
Mr. Geo A. Duerr
Mr. Napoleon L. Dusseault
▓▓▓ "E" ▓▓▓
Mr. Charles C. Eberhardt
Mr. Harrison P. Eddy
Mrs. Harrison P. Eddy
Miss Charlotte F. Eddy
Mr. Harrison P. Eddy Jr.
Miss Gertrude Ederle
Miss Babette Epple
Miss C. Epstein
Mr. Alex J. Ettl
Mr. G. A. Exline
▓▓▓ "F" ▓▓▓
Mr. S. M. Farran
Mr. E. L. Farrell
Mr. Stephen J. Farrell
Mr. R. J. Fee
Mr. D. Ferris
Mr. John E. Fetzer
Mr. J. Fields
Mr. Edward B. Finch
Mrs. Edward B. Finch
Miss Edith Finch
Mr. W. S. Finn
Mr. R. L. Flanders
Mrs. Annie D. Fleck
Mr. Karl Flemming
Mrs. Karl Flemming
Miss C. H. Fletcher
Mr. Chas. C. Forbes
Mr. C. H. Foster
Miss F. M. Fraser
Mr. Robert Freebus
Mr. Aloys Freisberg
Mr. Geo French
Mr. H. G. Frieda
Mrs. E. Fullard-Leo
▓▓▓ "G" ▓▓▓
Mr. Paul Gaertig
Mrs. Katharine Gaertig
Mr. W. J. Galvan
Mr. R. H. Gartley
Mrs. A. Garrison
Mr. C. Garrison
Mr. Robert Garrison
Mr. A. V. Geary
Mr. Adam Gebauer
Mrs. Ida Gebauer
Mr. Assy Gebauer
Master Egon Gebauer
Miss Ruth Gebauer
Miss Adelaide Gehrig
Miss A. Geraghty
Mr. R. B. Gerhardt
Mr. Max Gideon
Dr. J. Gignoux
Mr. M. Gitlitz
Mr. Jakob Glicker
Mr. Rubin Gold
Mr. J. A. Goldberg
Miss Grace Goldsmith
Mrs. Harry J. Goldstein
Miss Bernice Goldstein
Mr. E. O. Gourdin
Mr. G. Graham
Mr. M. B. Graham
Mr. John H. Grant
Mrs. E. S. Gregg
Miss Nelly M. Griggs
Mr. J. Gronkowski
Miss Grace E. Gustafsen
Miss Harriet Gusting
▓▓▓ "H" ▓▓▓
Miss Toni Haas
Miss Grace Haber
Mr. J. S. Hagedorn
Mr. L. Hahn
Mr. F. E. Haigh
Mrs. F. E. Haigh
Mr. J. J. Hallahan
Mr. B. Hamilton
Mr. L. Handley
Mr. J. Handy
Capt. E. N. Harmon
Mrs. E. N. Harmon
Mr. G. Harris
Miss Hester R. Harris
Mr. E. Hayes
Mr. De Hart-Hubbard
Mr. G. Hartranft
Mrs. G. Hartranft
G. M. Hartt
Mts. Stephen Hartwell
Miss E. Hartwell
Mr. C. W. Havens
Mr. Billy Hayes
Mr. C. B. Hayward
Mr. W. L. Hayward
Mr. A Helffrich
Mr. G. Hentschell
Mr. G. L. Hill
Mr. H. L. Hillman
Mr. R. Hills
Mr. B. Hines
Mr. H. B. Hinkel
Mr. Tom Hirschfield
Mr. T. J. Hirschfield
Miss Theresa Hitchler
Mr. V. Hopkins
Mr. O. G. Horn
General Hoskins
Mrs. Hoskins and Child
Mr. Geo B. Hotchkiss
Mrs. Geo B. Hotchkiss
Mr. C. Houser
Mr. D. H. Howard
Mr. D. Howell
Mrs. Betty Dawes Hoyt
Miss Mary D. Hoyt
Miss Nancy E. Hoyt
Miss Helen Huneke
Miss C. Hunsberger
Mr. G. Huntschel
Mr. F. V. J. Hussly
Mr. E. D. Hutchinson
Mr. W. H. Hutshell
▓▓▓ "I" ▓▓▓
Mr. Johannes Immer
Mrs. Frieda Immer
Mr. B. Irwin
▓▓▓ "J" ▓▓▓
Lt. W. Jackson
Miss Margarete Jahn
Mr. Robert Jardine
Mrs. Robert Jardine
Miss Peggy Jardine
Miss Jean Jardine
Master James Jardine
Miss Marie Jeats
Mr. S. Jelinek
Mr. M. C. Jenkins
Mrs. M. C. Jenkins
Mr. E. F. Jennings
Mr. R. E. Johnson
Mr. G. M. Jones
Mrs. G. M. Jones
Mr. F. Jones
Mr. R. Juday
▓▓▓ "K" ▓▓▓
Mr. D. P. Kahanamoku
Mr. S. Kahanamoku
Miss Mildred Kallfelz
Mr. T. J. Kanaly
Mrs. Charlotte Kaschner
Miss Ursula Kaschner
Miss L. Kast
Mr. W. D. Kealoha
Mr. P. K. Kealoha
Mr. T. F. Keane
Mrs. T. F. Keane
Mr. McCullough Keeble
Mr. J B. Kelly
Mrs. J. B. Kelly
Miss Margaret Kemp
Mr. J. G. Kennedy
Mr. E. B. Kirby
Mr. T. Kirby
Mr. W. T. Kirschbaum
Mr. Harry T. Knight Jr.
Mr. Karl M. Knight
Mr. Gottfried Koch
Mr. Ewald Kretschmar
Mrs. Ella Kretschmar
Mr. Morris Krohn
Mrs. Teresa Krohn
Mrs. Katherina Kucera
Mrs. Catherine Kugel
Miss Therese Kugel
Mrs. Clara Anna Kutzbach
▓▓▓ "L" ▓▓▓
Mr. F. La Barba
Mr. John J. La Forge
Mrs. Hettie La Forge
Mr. Francis La Forge
Miss Ethel Lackie
Mr. A. F. Lacy
Miss Harriet Lake
Mr. J. E. Larcombe
Mr. L. E. Larrivee
Miss Annie B. Law
Mr. E. Leader
Mr. James C. Leavitt
Mrs. James C. Leavitt
Mrs. Bertha Lehmann
Mr. Alexander Lehns
Rev. D. W. Lenihan
Mr. G. W. Lermond
Mr. B. Levine
Mrs. Noman Lewis
Mr. Max Lichtenholtz
Mr. Jos. W. Linahan
Mr. William Lindner
Lt. H. Liversedge
Mr. G. H. Lookabough
Mr. F. Lovejoy
Mr. C. B. Lovell
Mr. Alexander Luban
Dr. Harry Liideke
Mr. H. Luning
Mr. Arthur S. Lyon
Mrs. Arthur S. Lyon
▓▓▓ "M" ▓▓▓
Capt. H. Mabbutt
Mrs. H. Mabbutt
Mr. J. Madden
Mr. C. Madeira
Mr. R. N. Mac Guffie
Miss A. K. Mc Cleary
Miss Ethel Mc Gary
Mr. John T. Mc Govern
Mr. John S. Mc Govern
Mr. Wm. J. Mc Guiniss
Mr. Thos. M. Mc Intosh
Mr. U. T. Mc Intyre
Mr. T. Mc Kee
Miss M. B. Mc Kellar
Miss C. R. Mc Kenna
Mr. J. J. Magee
Miss E. V. Maguire
Miss Anna Mahoney
Mrs. Anna Maier
Dr. Alfred Mankiewitz
Miss Alma Mann
Mr. H. Marcus
Mr. F. A. Marsh
Miss Esther Marshall
Father Masterson
Miss Dorothy Mather
Mr. L. Mayle
Miss H. Meaney
Miss Martha Melchner
Mr. A. Mello
Mr. Charles Mellor
Mrs. Chas. L. Mellor
Mr. J. E. Meredith
Mr. E. P. Mitchell Jr.
Dr. Joseph H. Montague
Mrs. Joseph H. Montague
Major Phelps Montgomery
Mr. C. H. Moore
Mr. W. H. Morris
Mr. W. J. Morton
Lt. G. Mott
▓▓▓ "R" ▓▓▓
Miss M. Ravior
Mr. Robin Reed
Mrs. A. B. Reid
Miss F. A. Reid
Dr. J. A. Reilly
Dr. J. A. Reilly
Mr. J. A. Reilly
Mr. Geo Reynolds
Mrs. Geo Reynolds
Miss Aileen Riggin
Mr. J. G. Robertson
Mr. L. Robertson
Mrs. L. Robertson
Mr. R. A. Robertson
Lt. E. Rogers
Mrs. E. Rogers
Mr. A. E. Rose
Mr. B. Rothwell
Mr. L. Ruffalo
Mr. P. Ruffalo
Miss Ida Rummler
Master Valentin Rummler
Mr. Henry Rush
Mr. Morris Russ
Mr. J. Ryan
Miss Mary H. Ryan
▓▓▓ "S" ▓▓▓
Mr. J. Salas
Miss Maria Samson
Capt. D. M. Scott
Mr. Leon Segel
Mr. Amandus Segelcke
Miss Maria Sellers
Mr. L. M. Shore
Miss Siering
Mr. Robert Siering
Mr. J. F. Simms
Mr. R. D. Skelton
Mr. Michael Slone
Miss Carolyn Smith
Mrs. B. D. Smith
Mrs. E. A. Smith
Mr. A. Smith
Mr. L. Smith
Mr. H. Smith
Mr. Eduard Sonnenschein
Mrs. Eduard Sonnenschein
Master Leo Sonnenschein
Master Robert Sonnenschein
Master Leo Sonnenschein
Mr. J. F. Spellman
Mr. F. Spongberg
Mr. Carl Sudmeyer
Mr. Herman von Scheele
Miss Elice von Scheele
Miss Marie von Scheele
Miss Charlotte von Scheele
Mr. William F. Schmick
Mrs. William F. Schmick
Mrs. Allen Schoen
Miss Sarah Schoen
Mr. Leon M. Schooemaker
Leon M. Schooemaker
Mr. Enst Schrader
Miss F. C. Schroth
Mr. G. Schroth
Miss E. M. Schultz
Mr. Erich Schulze
Miss M. Schurich
Mr. Louis Schweizer
Mrs. Babette Schweizer
Mr. A. A. Stagg
Mr. Fred W. Stahlhut
Mr. H. D. Steel
Mr. Joseph F. Steins
Mr. W. Stevenson
Mr. Graham Stewart
Mr. C. S. Stokes Jr.
Mr. C. W. Strack
Mrs. Tilda Strauss
Mr. C. W. Streit
Mrs. C. W. Streit
Mr. O. K. Stuteville
▓▓▓ "T" ▓▓▓
Mr. T. Talliman
Mr. D. Taylor
Mr. J. T. Taylor
Mr. J. C. Taylor
Miss R. B. Thomas
Mr. Albert Thompson
Colonel Robert M. Thompson
Mr. B. Thrash
Mr. F. D. Tootell
Brig. Gen. Charles G. Treat
Mrs. Charles G. Treat
Mr. L. S. Tripoli
Mrs. J. B. Tisdall
Miss Constance Tyng
▓▓▓ "V" ▓▓▓
Miss Jonetta Vance
Miss Elsie Viets
Mr. E. Vizard
Mr. H. E. Vollmer
▓▓▓ "W" ▓▓▓
Miss Helen Wainwright
Mr. H. Wallach
Mr. C. Wander
Mr. H. M. Webb
Miss M. Wehselan
Mrs. Rebecca Weinstock
Miss Anna Weinstock
Miss Celia Weinstock
Mr. H. R. Welsford
Mr. C. F. West
Mr. R. H. Wevill
Mr. W. B. Wheelwright
Mr. H. Whelchel
Mrs. A. Wicks
Mr. H. C. Wilson
Mr. E. C. Wilson
Mr. B. F. Wolfinger
Mrs. C. H. Woodruff
Miss Helen Woodruff
Mr. M. H. Wren
Mrs. M. H. Wren
Mr. P. H. Wyatt
▓▓▓ "Z" ▓▓▓
Mrs. B. R. Zillatus
Not on Board
Miss Clara B. Adams
Capt. T. H. Allen
Mr. O. Armando
Mr. O. Anderson
Lt. G. H. Bare
Mr. Ray Barnhill
Mr. R. E. Bent
Mr. Rene Braet
Mr. E. M. Brandstein
Mr. H. Braxton
Mr. R. T. Breyer
Mr. Leroy T. Brown
Mr. A. D. Chignone
Mr. R. Creamer
Mr. Henry G. Dauba
Mr. G. A. Exline
Mr. E. L. Farrell
Mr. W. S. Finn
Mr. J. A. Goldberg
Mr. A. Hellfrich
Mr. G. Huntschell
Miss Grace Haber
Mr. B. Irwin
Miss Mildred Kallfelz
Mrs. Catherine Kugel
Miss Therese Kugel
Rev. D. W. Lenihan
Mr. F. Lovejoy
Mr. Thos. M. Mclntosch
Miss M. B. McKellar
Mr. C. H. Moore
Mr. W. J. Morton
Mr. N. Pendleton
Mr. C. F. Raber
Mrs. C. F. Raber
Mr. J. F. Spellman
Mr. H. D. Steel
Mr. C. Wander
Mr. W. B. Wheelwright
Mr. H. B. Wolfinger
Duplicated
Dr. J. A. Reilly
Mr. T. Hirschfield
Master Leo Sonnenechein
Additional Passengers On Board
Mr. W. M. Abramson
Miss L. Alfsen
Mr. Arthur Austin
Mrs. Andrew's Infant
Mrs. Anna Barry
Miss Henriette Barry
Miss Doris Barry
Mr. L. Barnes
Father E. M. Betowski
Mr. Verne Booth
Mr. S. H. Brown
Dr. John Brown
Mr. R. E. Brown
Miss Lilly Bryan
Mr. H. C. Bursley
Mrs. Bursley
Mr. A. L. Carlson
Mrs. Carlson
Master K. Carlson
Miss S. Carlson
Miss Angela Cleary
Mr. J. E. Coughlin
Mr. Thos. Considine
Comm. P. Dashiel
Miss Irene Davidson
Mr. Clay Einset
Mrs. Einset
Master J. Einset
Master L. Einset
Miss H. Einset
Miss J. Einset
Miss M. Evans
Mr. David Fall
Mr. H. M. Fitch
Mr. Louis Fitzgibbon
Mr. John Farricy
Mr. T. J. Flynn
Miss Molly Flynn
Mr. E. Goodwin
Mr. H. Glancy
Mrs. Greenleaf
Mr. J. Gray
Mr. 8, Guthrie
Mr. E. Greathouse
Mr. H. Haggerty
Mr. K. H. Hafvenstein
Mrs. Hafvenstein
Miss Katherine Harty
Mr. Frantisek Hornacek
Mr. A. P. Irving
Mrs. Howard Jacobs
Mr. W. Johnson
Mr. E. J. Jeffries
Miss Anne James
Mr. O. W. Johnson
Mrs. G. F. Kaber
Miss Grace Kaber
Mr. J. Lazarus
Mr. H. B. Lazarus
Mr. Fred Lauer
Mrs. Fred Lauer
Mr. H. Layton
Mr. A. Lefkowitz
Mr. R. E. Lent
Lt. E. Littleton
Mr. Daniel Leahy
Mrs. John T. Maher
Miss A. Mark
Mr. J. McDermott
Mr. J. McEachern
Mr. J. L. McDonald
Miss H. McDonald
Mr. R. C. Milling
Lt. F. E. McMillen
Mr. Charles Morell
Mr. Geo Mitchell
Mr. J. Merchant
Mr. C. McWilliams
Mr. F. J Muller
Mr. E. E. Meyer
Mrs. J. Mulligan
Miss P. F. Mulligan
Miss I. T. Naughton
Mr. J. Norton Jr.
Miss Hilda Nutter
Mr. W. O'Connor
Mr. J. Brooks Parker
Mr. E. T. Pickard
Mr. C. Pinketon
Lt. Cmdr. W. Patten
Miss S. Prestegard
Miss A. Parsons
Mr. John A. Riordan
Miss R. Rathburn
Mr. B. Routledge
Mr. J. Romig
Mr. John Rini
Mr. P. Sarron
Mr. F. Sefanda
Mr. A. L. Scott
Mr. Jack Strait
Mr. A. P. Spearow
Mr. Sandor Stark
Mr. J. C. Tacon
Capt. C. Train
Miss Tyler
Mr. C. Vander
Mr. C. Vuccino
Miss A. Viklund
Miss E. M. Waterman
Mr. A. C. White
Mr. S. W. Washington
Mr. Harry Whitmore
Mr. W. Wright
Mr. Earl Wilson
Errata
Mr. D. L. Conkling shduld read Hon. D. L. Conkling
Récapitulation
Cabin Passengers 610
Third Class Passengers 194
Sea Post Clerks 3
Crew 515
Total Souls on Board 1,322
The Fleet Passenger Service
Gross Register Tons
Leviathan 59,956
George Washington 25,570
America 22,622
Repbulic 18,022
President Harding 14,127
President Roosevelt 14,127
Freight Service
American Banker 8,300
American Farmer 8,300
American Merchant 8,300
American Shipper 8,300
American Trader 8,300
Express Services
Bremen - Southampton - Cherbourg - New York
DANZIG - Bremen - New York
Southampton- Cherbourg- New York
United States Lines Freight Department
All of the steamers operated by the United States Lines are combination freight and passenger ships. They are modern in every respect and some are equipped for carriage of considerable cargo under refrigeration.
Our Docks are of recent construction and modern in all equipment, offering facilities for loading direct from cars into steamer, eliminating any hauling, lighterage or transfer by trucks. This is especially advantageous to Western Shippers, and movement of through cargo consignments in carload lots.
Special attention is given to shipments of household goods, automobiles, etc.
for Rates and Space Apply To
United States Lines Freight Department
45 Broadway, New York
Carl Schilnemann, Bremen.
Information for Passengers
Hours for Meals are posted at the Information Bureau on the steamer.
Lights are extinguished in the Saloon at 11:00 pm, Lounge,
Reading Room and Smoking Room at 11.30 p. M.
Divine Service in The Saloon On Sunday at 10.30 A. N.
Information Bureau
This office has been provided for the convenience of Passengers, where all inquiries for information of a general character should be made.
Passengers should personally ascertain whether there is any mail for them before disembarking, and they are invited to leave their addresses at the Information Bureau for later despatches to be redirected.
Passengers' Addresses may be left at the Information Bureau in order that any letters sent to the care of the Company may be forwarded.
None of the ship's staff, other than those on duty in the Information Bureau, is authorized to accept Letters, cables and Telegrams for despatch.
Passengers are requested to ask for a receipt on the Lines' Form for any additional Passage Money, Chair Hire, or Freight paid on board.
Letters, Cables and Telegrams Letters, Cables and Telegrams are received at the Information Bureau for despatch, and Postage Stamps can be purchased, also all Mails will be distributed there. Cablegrams and Telegrams should be handed in an hour before the arrival at any port of call.
Letters, Etc., for Passengers Letters, etc., for Passengers will be brought on board before the Passengers land.
Wireless Service
The long range wireless equipment permits of the vessel communicating with the shore from any point during the trip to or from Europe. Passengers desiring to send message will consult the operator for rates.
Seats at Table
Passengers who have not previously arranged for seats at table to be reserved should apply for same to the Chief Steward.
Smoking
Passengers are requested not to smoke in the Dining Saloons.
Special Notice
To save Passengers from annoyance and inconvenience through being solicited for contributions for the benefit of the Musicians, special arrangements have been made whereby the Musicians engaged in the orchestra and in the band are paid a liberal extra allowance by the United States Lines for the services they render.
It is suggested that Passengers refrain from contributing to funds for the Musicians, and that .such contributions as they care to make be limited to those for charitable purposes such as concern Seamen, their widows and orphans, and deliver same to the Purser, taking receipt therefor. Information as to the manner in which such contributions or collections are distributed by the Management of the United States Lines will be furnished by the Purser, and also announced at the time such collections are undertaken or reported.
In the event Passengers prefer not to follow the suggestion made herein the Commander will upon written request authorize collections to be made for the joint benefit of the Musicians and for charitable purposes, which will be distributed by the Management upon the basis of 30°/o to the Musicians and 700/0 to Charity.
Collections should not be undertaken without first securing the approval of the Commander.
Deck Chairs and Steamer Rugs
These may be hired at $ 1.50 each for the voyage on application to the deck steward.
Medical Attention
The Surgeon is always at the disposal of those Passengers requiring his services. In case of illness originating on board, or after the departure of the steamer, no charge will be made for those services, and such medicines as are prescribed by the Ship's Surgeons will be furnished without expense to the Passengers. In cases of illness, not originating on board, the Surgeon is permitted to make the following charges :
For office visits, $ 1.00 per visit
For state-room visits, $ 2.00 per visit with a maximum charge of $ 4.00 per day
If the Passengers consider that the charges made by the Surgeon t r such services as he renders are improper or excessive, they are requested, before paying same, to take up the question with the Commander, and the bill will be either adjusted to a basis that will be satisfactory to the passenger or withdrawn. The purpose of the United States Lines is to make its service satisfactory to all Passengers.
Baggage
On disembarking Passengers are specially requested to claim their baggage before leaving the Custom-Office, otherwise under present abnormal conditions considerable delay and extra charge for carriage will be incurred in forwarding to destination any baggage not accompanying passenger on the railway.
Exchange of Money
The Purser is prepared, for the convenience of Passengers, to exchange a limited amount of money at rates which will be advised on application.
Valuables
The United States Lines has provided a safe in the office of the Purser, in which Passengers may deposit money, jewels, or ornaments for safe keeping. The Company will not be liable to Passengers for the loss of money, jewels, or ornaments by theft or otherwise, not so deposited.
Return Bookings
Pursers of the United States Lines are ready to book your return passage. Sailing lists, rate sheets, cabin plans and other information will be cheerfully furnished upon application at the Purser's Office. Tickets can be secured or deposits to secure reservations can be made. The Purser will procure by radio, without charge to the passenger, reservations or any information necessary.
Return Passengers
First and Second class Passengers, embarking at Cherbourg, must communicate with our Paris Passage Office, United States Lines, 11 bis rue Scribe, several days before sailing.
Passengers embarking at London or Southampton must communicate with our London Passage Office, United States Lines, 3 Cockspur Street S. W. 1, several days before sailing.
Passengers embarking at Queenstown must communicate with the United States Lines' Office, several days before the departure of the steamer, in order to ascertain definite information regarding the reservations and sailing hour of steamer.
First class Passengers embarking at Bremen must call at our Bremen Office, Norddeutscher Lloyd, Passenger Department, Papenstrasse, the day before sailing, in order to secure their rail tickets from Bremen to Bremerhaven.
Second class Passengers, embarking at Bremen, must call at the office of the Norddeutscher Lloyd, Passenger Department, Papenstrasse, two Days prior to the departure of steamer, in order to comply with Government Regulations and secure rail tickets from Bremen to Bremerhaven.
American Customs Regulations
On the return trip, your baggage will be subject to the same inspection on landing in America as on landing abroad. American Citizenship does not permit you to bring dutiable goods into the country without paying duty.
A blank will be furnished you aboard the steamer before landing. This must be filled out, listing in detail every article you obtained abroad which you are bringing home. The list is then given the ship's purser.
This list is called your "declaration" and should include all wearing apparel, jewelry and other articles, whether worn or not, carried on your person, in your clothing, or in your baggage. These items must give their cost or value abroad and whether they were bought or given to you. Also jewelry and wearing apparel, taken out of the United States and remodeled abroad, must be listed with the cost of remodeling.
You are allowed to bring into the United States $ 100 worth of personal effects bought abroad free of duty, in addition to all wearing apparel taken from the United States on sailing.
Recovery of U. S. Head Tax
This Tax can be recovered by Passengers, if same bas been paid, provided they inform the U. S. Immigration Inspector on arrival at New York of their intention to leave the United States within sixty days (the time prescribed by U. S. Law), and obtain from him Transit Certificate Form 514.
It is also necessary for this Transit Certificate Form 514 to be handed to the transportation company when completed, in time to allow same to be placed before the Immigration Authorities in Washington within 120 days of passenger's arrival in the United States. Unless this regulation is complied with, the Tax cannot be recovered.
Suggestions and Complaints
Suggestions, complaints or criticisms of service or of personnel should be addressed to the General Manager, United States Lines, 45 Broadway, New York City.
United States Lines
General Offices, 45 Broadway, New York
The booking of berths can also be arranged through all other agencies of the Norddeutscher Lloyd through the Weltreisebureau Union in Berlin, Unter den Linden 22 (Entrance Passage), and Hamburg, Alsterdamm 7, and by all branches of the Amtlichen Bayerischen Reisebureau, G. m. b. H., in Munchen, Promenadeplatz 16, the Bennett's Reisebureau in Christiania, Carl Johansgade 35 and the American Express Company.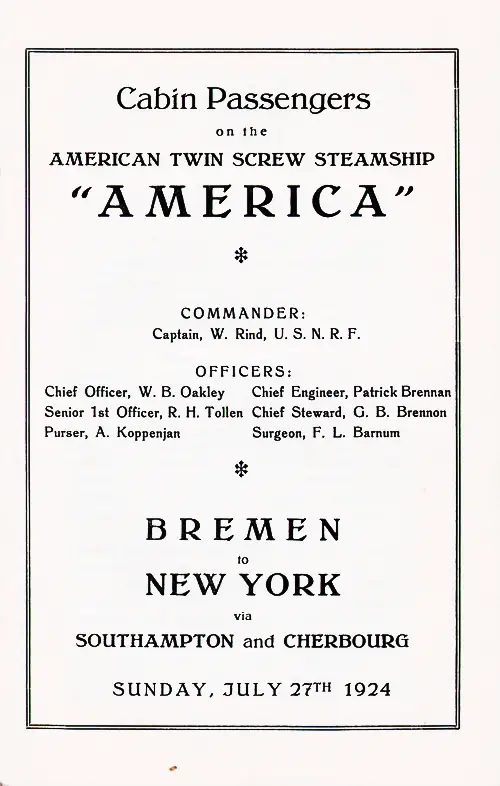 Title Page and List of Senior Officers and Staff, SS America Cabin Passenger List, 27 July 1924. GGA Image ID # 1fe06f9136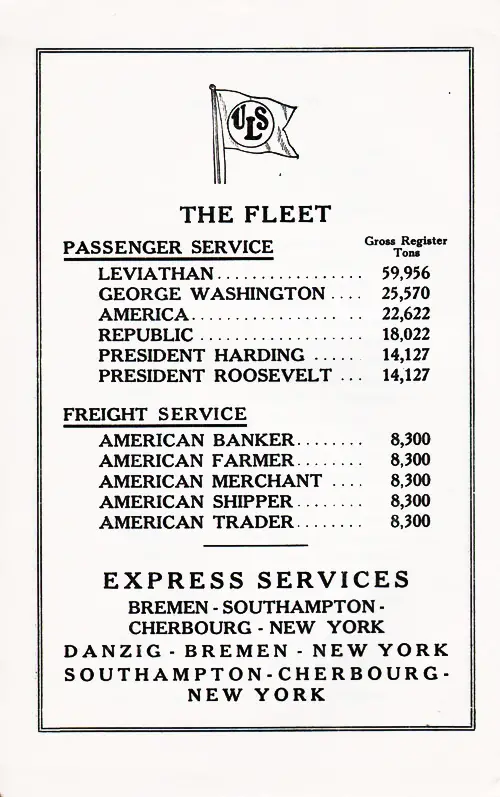 Fleet List of the United States Lines and Express Services, 1924. SS America Passenger List, 27 July 1924. GGA Image ID # 1fe0904a81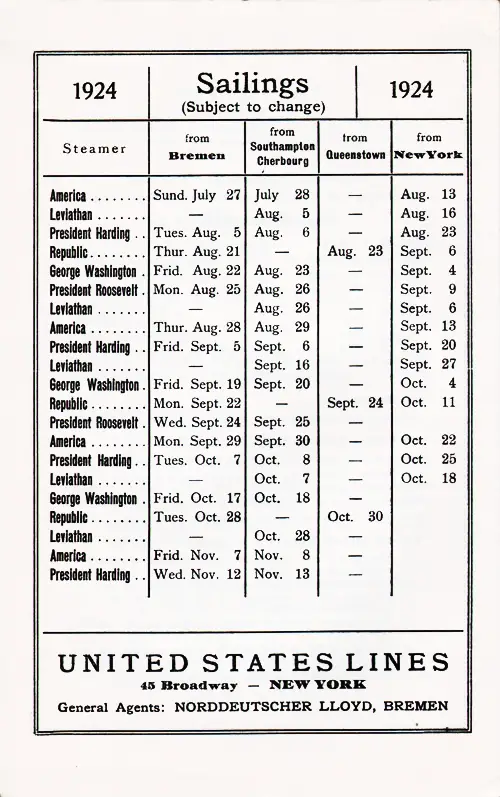 Sailing Schedule, Bremen-Southampton-Cherbourg-Queenstown (Cobh)-New York, from 27 July 1924 to 13 November 1924. Ships Included the America, George Washington, Leviathan, President Harding, President Roosevelt, and Republic. SS America Passenger List, 27 July 1924. GGA Image ID # 1fe094e486