SS Leviathan Passenger List 25 August 1925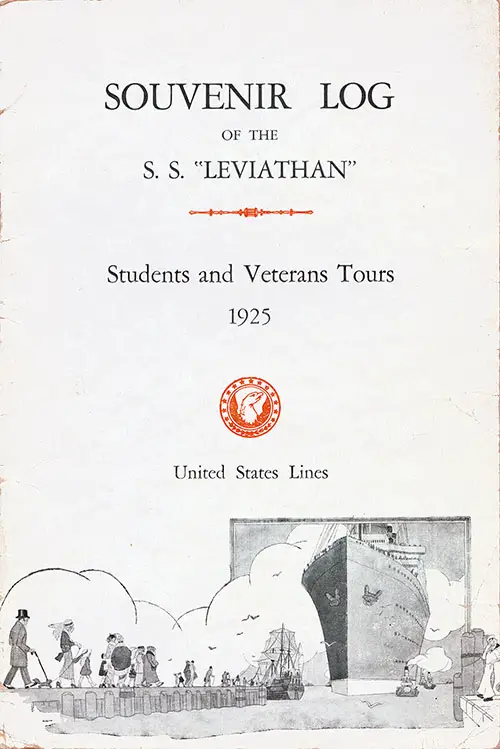 Front Cover, Students and Veterans Tours 1925 Passengers Return Voyage Home on the SS Leviathan of the United States Lines, Departing 25 August 1925 from Southampton to New York via Cherbourg, Commanded by Captain Herbert Hartley, USNRF. GGA Image ID # 1e1bcf1621
Superb Passenger list due to its depth of information about the passengers, activities and the ship. The passengers on this voyage were primarily students (nearly 800 passengers listed with their home towns) plus student written articles, poems and a costume party with a narrative of the most notable, beautiful, etc. costumes.
Students wrote much of the additional content for this expanded passenger list. View their maritime fun Student News for 1925.
Contents
About This Passenger List
Souvenir Log of the Students And Veterans Tour To Europe, Return Voyage on the S. S. "Leviathan", Quadruple Screw Turbine, 59,956 Tons, Printed on Board the Ship during the Voyage.
Senior Officers and Staff
Captain: Herbert Hartley, U. S. N. R. F., Commander
Staff Commander: A. M. Moore, U. S. N. R. F
Chief Engineer: J. J. Fagan
Purser: J. G. Summitt
Surgeon: Dr. G. B. Whitmore
Chief Steward: W. J. Lynn
List of Students And Veterans
Mrs. Agatha Ackerman
Norwood, OH
Mrs. Caroline Aitken
New York City
Miss Louisa Amundson
Minneapolis, Minn
Prof. Joseph C. Arthur
Lafayette, IN
Mr. James A. Anderson
New York City
Mrs. Mary Andrejko
Binghamton, NY
Miss Mary Augustin
Portsmouth, OH
Mr. Robert W. Abernethy
Oxford, England
Mrs. O. Abrams
New York City
Miss Frances Adams
Westport, CT
Mrs. Sophie Allard
Springfield, IL
Mr. Paul Albrecht
Cleveland, OH
Mrs. Wallner Anno
Fairhaven, MA
Miss Ruth Anderson
Melrose, MA
Mrs. Grace Anderson
Melrose, MA
Mr. J. Harry Anderson
Andover, MA
Miss Helen Armstrong
Evanston, IL
Mr. Leonard H. Arnold
New York City
Mr. John B. Ardery
Paris, KY
Mrs. Eveline Ashman
Linwood, PA
Mr. Robert Burns
Dayton, OH
Miss Antonetta M. Bonekamp
Cincinnati, OH
Mr. Nick Budack, Jr.
Indianapolis, IN
Mr. Nick Budack
Indianapolis, IN
Mr. Victor Budack
Indianapolis, IN
Miss Mary Budack
Indianapolis, IN
Miss Mary C. Busch
Murphysboro, IL
Miss Jeannette Butler
Columbus, OH
Miss Budack
Indianapolis, IN
Mr. William Breckenridge
Oberlin, OH
Mr. George W. Babbitt
Miami Beach, FL
Miss Mary K. Bach
Chicago, IL
Mr. Gerald Bath
New York City
Miss Margaret Bauers
Cincinnati, OH
Mrs. Rose Bauers
Cincinnati, OH
Miss Henrietta Bauers
Cincinnati, OH
Mr. Théophile Baumgartner
Cincinnati, OH
Miss Bernice Beard
Houston, TX
Miss Mary Beggs
New York City
Miss Marie Belvo
Miamisburg, OH
Leonida J. Berns
Harvey, IL
Miss Marie C. Berns
Harvey, IL
Mr. Jake Bickel
Bodunk, Tenn
Miss Frieda Bick
Cincinnati, OH
Miss Lucy M. Blazier
New York City
Mr. John G. Blocker
Dayton, OH
Miss Lucy Bowen
Logan, OH
Mr. Frederick E. Bowers
Lynn, MA
Miss Frances M. Bradley
Brockton, MA
Miss Clara Brandeis
New York City
Miss Josephine Braun
Dayton, OH
Miss Clara M. Brooke
Providence, RI
Miss Loiuse F. Brooke
Providence, RI
Mr. Bonnar Brown
Winnetka, IL
Mr. Richard J. Burke
Chicago, IL
Mrs. B. Burns
Dayton, OH
Mr. Wm. M. Barber
Morristown, NJ
Mr. John A. Ballord
Minneapolis, Minn
Mr. William J. Brennan
New York
Mr. Richard Barlow
Grand Rapids, MI
Mrs. Richard Barlow
Grand Rapids, MI
Miss Roberta Bailey
Demopolis, Ala
Mr. Howard J. Bartle
Chicago, IL
Mr. J. W. Babbitt
New York City
Miss Regine Berthing
Spokane, Wash
Miss Henrietta Bertling
Cincinnati, OH
Mrs. Tom O. Bellwood
Flagstaff, Ariz
Mr. Tom. O. Bellwood
Flagstaff, Ariz
Mr. J. VanW. Bergamini
Hankow, China
Miss Dorothy J. Bergamini
Hankow, China
Master Jack Bergamini
Hankow, China
Mrs. Clara D. Bergamini
Hankow, China
Mr. Anton Belskis
Chicago, IL
Miss Agnes V. Birmingham
New York City
Miss Minnie Binmore
Norfolk, VA
Mr. James W. Bleecker
Yonkers, NY
Mr. Henry W. Blanks
Concord, N. C
Miss Viola M. Blaisdell
Camden, NJ
Miss Fannie J. Boswell
LaJunta, CO
Miss Marguerite Boardman
New Yorg City
Mrs. Emilie D. Bovee
Philadelphia, PA
Miss Mary Bohannan
Surry, VA
Mr. Leonard L. Born
New York City
Miss Sara C. Bovard
Philadelphia, PA
Mrs. Ella A. Brill
Trenton, NJ
Mr. Tobias Brill
Trenton, NJ
E. Brenner
Brooklyn, NY
Mr. Ralph P. Brown
Washington, DC
Mrs. Ralph P. Brown
Washington, DC
Mr. Harry Broad
Escauaba, MI
Miss Minnie H. Brown
Hayden, Ariz
Mrs. Anna S. L. Brown
Chicago, IL
Miss Catherine Braswell
Demopolis, Ala
Miss Margaret Bridges
Williamsburg, VA
Miss M. Ethel Bruce
Philadelphia, PA
Mr. H. Lee Bridges
Staunton, VA
Miss Vera Brothers
Magnolia, OH
Mrs. Alice H. Brown
Waukesha, WI
Miss Edna Bright
Franklin, MA
Miss La Verne Bronaugh
Kansas City, MO
Miss Carrie Brandeis
New York City
Miss Margaret Burns
McClelland, Iowa
Mr. Thomas Burns
Buffalo, NY
Mrs. Cacilia Buek
Brooklyn, NY
Miss Evelyn Buck
East Orange, NJ
Mr. Thos. A. Byrd
Charleston, MO
Mr. Alfred Carr
London, England
Miss Mildred Campbell
Richmond, VA
Miss Elizabeth Cameron
Burlington, Iowa
Miss Mrs. Jessie Caldwell
Valley City, N. D
Mr. Robt. C. Camp
Ocala, FL
Miss Elizabeth Carroll
Baltimore, Md
Mrs. Mary A. Carolus
St. Joseph, MO
Mr. James B. Carruthers
Harrisburg, PA
Mrs. James B. Carruthers
Harrisburg, PA
Mrs. R. E. Cash
Cincinnati, OH
Miss Ida L. Cordesman
Cincinnati, OH
Mr. William Conner
Pittsburgh, PA
Mr. Wilbur R. Cooke
Bloomington, IL
Miss Frances Cordesman
Chicago, IL
Mrs, Mary Carolus
St. Joseph, MO
Miss Florence Chase
Chicago, IL
Miss Elena Chamberlain
Chicago, IL
Miss Elizabeth J. Cox
Chicago, IL
Miss Maria Crowley
Peoria, IL
Mr. Martin L. Cannon, Jr.
Charlotte, N. C
Miss Margaret Case
Pittsburgh, PA
Mr. Edw. J. Cotter
New York
Mr. Henry W. Calderon
Wenonah, NJ
Mr. Hugh D. Carter, Jr.
Atlanta, Ga
Miss Katherine Carpenter
Pottsville, PA
Mrs. Catherine Ward
New York City
Miss Anne R. Crouch
Philadelphia, PA
Miss Eleanor Child
Greenwich, CT
Miss Marie Chaminaud
Washington, DC
Mrs. Ida K. Chalburg
Evanston, IL
Miss Hanna Cotter
Detroit, MI
Mr. Ben Cox
Memphis, Tenn
Miss Lydia Cowan
Amherst, MA
Mr. Joseph G. Conely
Fairmont, W. VA
Miss Mildred Cotman
Des Moines, Iowa
Miss Louise Cotman
Des oines, Iowa
Mrs. R. E. Connors
Chicago, IL
Mr. John F. Conroy
New York City
Rev. Jas. W. Cotter
Williamston, MI
Mr. Jas. H. Collins
New York City
Miss Ruth F. Colclough
Malden, MA
Mrs. Bessie M. Cooley
New York City
Mr. George E. Cooley
New York City
Miss Mary V. Cunningham
East Islip, NY
Mrs. Mary Cunningham
East Islip, NY
Mrs. Robert Cummins
Boston, MA
Miss Sarah S. Cummings
Woburn, MA
Miss Alice Curtis
Mt. Vernon, OH
Miss Edith Curtis
Mt. Vernon, OH
Mr. John Curley
Chicago, IL
Mr. H. Dahl
New York City
Miss Ruth Daly
New York City
Mr. Homer G. Davison
Ft. Wayne, IN
Mr. George W. Dawson
Boston, MA
Miss Elizabeth M. Dawson
Boston, MA
Miss Emma Daley
Philadelphia, PA
Miss Miriam I. Daley
Philadelphia, PA
Miss Anne R. Daley
Philadelhia, PA
Miss Agnes Daley
Philadelphia, PA
Miss Elizabeth V. L. Deichman
Baltimore, Md
Mr. J. Edmund deCastro
Buffalo, NY
Mr. Charles Delp
Pittsburgh, PA
Mrs. Cora E. Delp
Pittsburgh, PA
Miss Fleta Douthit
Oklahoma City, Okla
Mr. Walter H. DeMott
New York City
Miss Helen M. Deane
New York City
Miss Della DeGraw
Elmira, NY
Mr. F. J. Dittrich
Chicago, IL
Mr. George H. Dixon
Uniontown, PA
Miss Isobel Dixon
Uniontown, PA
Mrs. Clara E. Doyle
Peoria, IL
Miss Mary Donaron
Boston, MA
Miss Agnes Donaldson
Alexandria, VA
Mrs. Gertrude B. Dober
Jamaica, L. I., NY
Mr. C. L. Dodds
Richmond, VA
Mr. Peter A. Dockendorf
Chicago, IL
Mr. George E, Droesch
Woodhaven, NY
Mr. John J. Droesch
Woodhaven, NY
Miss Marie Dresser
New York City
Mrs. S. M. Driscoll
Des Moines, Iowa
Mrs. Alice Dunbar
Philadelphia, PA
Miss Kathryn E. Driscoll
Bradford, IL
Miss Ethel Dundas
Rochester, PA
Mr. Will M. Duke
New York City
Miss ZillaTi E. Dyson
Chicago, IL
Miss Hallie Davis
Philadelphia, PA
Miss Elizabeth Davis
New York City
Mrs. Josephine Davis
Chicago, IL
Mr. Richard J. Deger
Dayton, OH
Mrs. Adam Deger
Dayton, OH
Miss Frances E. Dempsey
Milwaukee, WI
Mr. Chester Derezinski
Grand Rapids, MI
Mrs. Thos. J. Dougherty
Philadelphia, PA
Mr. Thos. J. Dougherty
Philadelphia, PA
Miss Mary A. Duffy
New York City
Mrs. H. Eldstohl
New York City
Miss M. Eldstohl
New York City
Miss Bernice Elliott
Ypsilanti, MI
Miss Helen Elliott
Ypsilanti, MI
Mr. Henry P. Eames
Chicago, IL
Mr. Robert M. Eaton
Chicago, IL
Miss Elizabeth Eades
Norfolk, VA
Miss Gertrude Ebel
Richmond, VA
Miss Marie Ebel
Richmond, VA
Mr. Franklin Edgerton
Lansdowne, PA
Mrs. Mary H. Edgerton
Philadelphia, PA
Miss Mary O. Eddy
Canton, OH
Mr. Murray F. Edwards
Lexington, VA
Mrs. Jean Edgerton
Poughkeepsie, NY
Mr. William F. Edgerton
Poughkeepsie, NY
Mr. Henry Ellenbogen
Pittsburgh, PA
Miss Mae Egan
Brooklyn, NY
Mrs. John Egan
Brooklyn, NY
Miss Catherine Elston
Harrogate, England
Miss Jean Ennisley
Bayonne, NJ
Mrs. Rose Ennisley
Bayonne, NJ
Mr. Edward Ennisley
Bayonne, NJ
Miss Clare Entwisle
Philadelphia, PA
Mr. Jas. H. Farrell
Brooklyn, NY
Miss Mary Fay
New York City
Mr. John F. Fetzer, Jr.
New York City
Miss Ida M. Finke
Dayton, OH
Miss Nelly Fitzgerald
Maysville, KY
Mr. Walter E. Focke
Dayton, OH
Mr. C. Elmer Forsberg
Salt Lake City, Utah
Mr. Louis J. Froelicher
Cincinnati, OH
Miss Clare Froelicher
Cincinnati, OH
Mr. Thos J. Farris
St. Louis, MO
Mr. William Falconer
Newport News, VA
Mr. O. C. Faust
Boston, MA
Mrs. Elizabeth Faust
Boston, MA
Miss Sarah Fahey
Brooklyn, NY
Master Fritz Fels
Philadelphia, PA
Mrs. Antoinette Fels
Philadelphia, PA
Miss Rita Fels
Philadelphia, PA
Miss Olivia P. Fentress
Chicago, IL
Miss Lillian Fenelon
Ripon, WI
Mrs. Lilian Fenske
Brooklyn, NY
Mrs. Constance Tillett
Brooklyn, NY
Lt.Col. Charles W. Fillmore
New York City
Mr. Charles C. Fichtner
Williamsburg, VA
Mrs. C. C. Fichtner
Williamsburg, VA
Miss Helen Fisw
New York City
Mrs. Elsie R. Fogwell
Philadelphia, PA
Miss Dorothy Fogwell
Philadelphia, PA
Mrs. John M. Fouse
Pittsburgh, PA
Miss Jean M. Fox
Chicago, IL
Miss Grace L. Foote
Jersey City, NJ
Mr. Mark P. Friedlander
Washington, DC
Miss Margaret Fraser
East Aurora, NY
Miss Carolyn Fretz
Canton, OH
Mr. Clair W. Fretz
Canton, OH
Mrs. Latha M. Fretz
Canton, OH
Miss Mary L. Freeman
Jersey City, NJ
Miss Helen Fretz
Canton, OH
Mrs. Virginia Fry
Rocky Point, L. I., NY
Miss Angeline Fullington
Philadelphia, PA
Miss Helen Fuller
New York City
Mr. Harlan W. Gorham
Snohomish, Wash
Mrs. Alice Graham
Poughkeepsie, NY
Mr. John Henry Greiwe
Cincinnati, OH
Mrs. Kate Greiwe
Cincinnati, OH
Mrs. Edw. Greiwe
Cincinnati, OH
Mr. Sydney Grimshaw
Providence, RI
Mr. Antonio Gugnoni
New York City
Mrs. Emma Gale
Valley City, N. D
Mrs. Mary Geise
Cincinnati, OH
Miss Sophia Gels
Norwood, OH
Miss Anna E. Gerber
Chillicothe, OH
Miss Margaret B. Gerdes
Cincinnati, OH
Mrs. Calar Glardon
Galveston, TX
Mrs. Henri Glardon
Galveston, TX
Malvina Guery
Springfield, IL
Miss Carmela Gallucci
Evanston, IL
Miss Katharine Gaughan
Philadelphia, PA
Mr. Maurice A. Garfinkel
Brooklyn, NY
Miss Marion A. Gardner
Brooklyn, NY
Miss Martha Garnsey
Greeley, CO
Miss Edith Gano
Freeport, NY
Mr. Gerald Postma
Grand Rapids, MI
Miss Mable Gibson
Hot Springs, S. D
Mrs. Isabelle Gieseler
Brooklyn, NY
Miss Jessie M. Gifford
Jersey City, NJ
Miss Dorothy Glaze
Canonsburg, PA
Mrs. Thomas Glaze
Canonsburg, PA
Master Kenneth Glazebrook
Hingham, MA
Mrs. G. Glazebrook
Hingham, MA
Miss Sara Golden
New York City
Miss Ina Goudie
Los Angeles, CA
Mr. Robert Gooch
University, VA
Mrs. Mary Greenberg
Chicago, IL
Mr. Robert Lee Greene
Fort Worth, TX
Miss Geneva Gregory
Decatur, IL
Miss Margaret Gray
Coshocton, OH
Miss Helen J. Gross
Pittsburgh, PA
Miss Mary E. Gregg
Tenafly, NJ
Mr. E. M. Gwathmey
Williamsburg, VA
Miss Bess A. Hankey
Pittsburgh, PA
Miss Evelyn Hargraves
Waycross, Ga
Mrs. Ina Hake
Tulsa, Okla
Mr. William H. Hake
Tulsa, Okla
Mr. Rufus Hartill
Elmhurst, L. I., NY
Miss Estelle Hagedorn
Philadelphia, PA
Mr. Henry Hayden
New Orleans, La
Miss Cornelia Hallowell
Chestnut Hill, MA
Mr. Alfred Hailed
Pittsburgh, PA
Miss Marion Hall
Evanston, IL
Mr. Jonathan W. Hampton
New York City
Miss Amy Hales
Philadelphia, PA
Mrs. Howard Harmony
Canton, OH
Mrs. Clarence E. Hall
Evanston, IL
Miss Elizabeth Hayden
Washington, DC
Mr. T. Whitfield Harrison
Richmond, VA
Mr. Gordon S. Haight
Lakeville, CT
Miss Georgine L. Herzog
Jersey City, NJ
Mrs. Ethel M. Hendriksen
Hartsdale, NY
Mr. John Hicks
Chicago, IL
Miss Esther Holloway
Des Moines, Iowa
Mr. W. L, Hofer
Peoria, IL
Mrs. W. L. Hofer
Peoria, IL
Miss Laurinda Hooks
Goldsboro, N. C
Constance Howe
Clemeton, NJ
Miss Florence Holston
Hampton, VA
Mr. Maurice R. Hunter
London, England
Mr. Leonard Hunt
Peabody, MA
Mr. John C. Hurd
Cambridge, MA
Mrs. Amanda Hosford
Washington, DC
Miss Helen Hosford
Washington, DC
Mr. John A. Hornick
Xenia, OH
Mrs. Mary Hornick
Xenia, OH
Miss Ida Holdgreve
Dayton, OH
Mr. Augustus F. Heyne
Philadelphia, PA
Mr. Henry Helmers
Cincinnati, OH
Miss Estelle Hermann
Brooklyn, NY
Miss Mary Helmers
Cincinnati, OH
Mrs. Catherine Helmers
Cincinnati, OH
Cecil Douglas Harrington
London, England
Mr. Frank S. Helme
Long Island ^ City,^ NY
Miss Lillian Heilemann
Cincinnati, OH
Mrs. Caroline Heilemann
Cincinnati, OH
Miss Alice Hayward
Pittsburgh, PA
Miss Lucy J. Hayner
Troy, NY
Mr. Aloysius Hartung
Cincinnati, OH
Mr. Joseph W. Hartings
Maria-Stein, OH
Mr. Lyman H. Hammond
St. Marys, PA
Miss Helen F. Hamal
Chicago, IL
Miss Eileen M. Ihmsen
Pittsburgh, PA
Miss Bernadine Jaekle
Dayton, OH
Mr. John H. Jaekle
Dayton, OH
Miss Sophia Jacoby
New York City
Mr. Cotter Edward James
Brooklyn, NY
Bessie H. Jenkinson
New York City
Mr. Thomas J. Joyce
Duluth, Minn
Miss Anita Johnson
Valley City, N. D
Miss Ethel Johnson
Des Moines, Iowa
Mr. John Koech
Chicago, IL
Miss Emma Ketchen
Billerica, MA
Miss Anna M. Kelly
New York City
Mrs. Clara B. Kennon
Allston, MA
Miss Blanche Kennedy
Bristol, VA
Mr. Byron King
Philadelphia, PA
Miss May King
Rescue, VA
Miss Harriet Klamroth
Essex Fells, NJ
Mr. Jules Gilmer Korner
Washington, DC
Mrs. Emma Koller
Cleveland, OH
Mr. Frank Kaulish
Spring Valley, NY
Miss Mildred Kroft
Kissimmee, FL
Miss Dorothy B. Kroft
Franklin, IN
Mr. Edmund Kahn
Dallas, TX
Mr. S. Irwin Kamin
Pittsburgh, PA
Miss Josephine Kamp
Cincinnati, OH
Mrs. Harriett Kansteiner
Qunicy, IL
Miss Roma Kansteiner
Qunicy, IL
Mr. Joseph H. Kaufmann
Alvada, OH
Mr. Adolph Ketterer
New York City
Miss Martha M. Kelley
Radnor, PA
Dr. Frank D. Kern
State College, PA
Katherine Kieley
New York City
Mr. Lansford F. King
Mr. P. J. Kloos
Dayton, OH
Mrs. P. J. Kloos
Dayton, OH
Mr. Arnold Kloos
Dayton, OH
Mr. David Kohstll
Cincinnati, OH
Mrs. Blandina Kunz
Cincinnati, OH
Mr. Anthony Kunz
Cincinnati, OH
Rev. Cletus A. Kunz
Elmwood Place, OH
Miss Hildegrade Kunkel
Springfield, OH
Mr. J. Harry LaBrum
Philadelphia, PA
Mr. Lewis Latane
Marion, VA
Mrs. Anna Latane
Marion, VA
Miss Julia Mattie Lamb
Tulsa, Okla
Miss Annie L. Lawrence
Wilson, N. C
Miss Marjorie Latimer
Springfield, MA
Miss Florence Leon
Jamaica Plain, MA
Mrs. Marie Leslie
Brookline, MA
Mr. William R. Leslie
Brookline, MA
Mr. Anthony J. Liebler
New York City
Miss Mary Littell
Dayton, OH
Miss Loretta Loew
Navarre, OH
Miss Isabel Loew
Navarre, OH
Mr. George S. Loewenstein
Brookline, MA
Miss Blanche London
Cambridge, MA
Mr. M. H. Long
Demopolis, Ala
Mr. Paul M. Long
Huntington, W. VA
Mrs. Eloise C. Long
Huntington, W. VA
Mr. Stuart Longworth
Philadelphia, PA
Mrs. Annie A. Longworth
Philadelphia, PA
Mr. Fred Lock
Huntington Beach, CA
Miss Elnora Lock
Huntington Beach, CA
Mrs. Ellen Lock
Huntington Beach, CA
Mr. Paul H. Luten
Waverly, Tenn
Dr. John P. Luthinger
Peoria, IL
Miss Rena Luck
Williamsburg, VA
Mr. Earl II. Lyall
Summit, NJ
Miss Margaret F. Lynch
New Haven, CT
Mrs. Hugh Lafferty
Brooklyn, NY
Miss Elizabeth Lafferty
Brooklyn, NY
Mr. Hugh Lafferty
Brooklyn, NY
Miss Beatrice Larson
Duluth, Minn
Mrs. Sophia Larson
Mora, Minn
Mr. Louis S. Laronge
Philadelphia, PA
Mr. Marvin J. Laronge
Cleveland, OH
Mrs. Frank H. Lefering
Cincinnati, OH
Mr. Frank H. Lefering
Cincinnati, OH
Miss Jane Lewis
Brooklyn, NY
Mr. Bernard Lindenfeld
Ambler, PA
Miss Gladys Linton
Bloomington, IN
Mr. R. Norman Lloyd
New York City
Miss Mary Loughry
Chicago, IL
Miss Alma Luft
Brooklyn, NY
Miss Sophia Luft
Brooklyn, NY
Mrs. Mary D. Malley
Cleveland, OH
Mr. Patrick Murphy Malin
New York City
Miss Margaret Madden
Philadelphia, PA
Miss Jane M. Marrin
Pittsburgh, PA
Mr. Louis F. Meyer, Jr.
Coytesville, NJ
Miss Josephine Madden
Cincinnati, OH
Miss Agnes Madden
Cincinnati, OH
Miss Caroline E. Malick
Pittsburgh, PA
Miss Kate Mahoney
Springfield, IL
Miss Grace Malick
Pittsburgh, PA
Miss Marguerite Maddox
Columbus, OH
Mrs. Della R. Maddox
Columbus, OH
Mr. Lewis V. Mays
Pendleton, IN
Miss Emilie M. Mathis
Washington, DC
Miss Edith Gwynn Mabry
Birmingham, Ala
Miss Flora G. Marshall
Albuquerque, N. Mex
Miss Julia Mahoney
Brooklyn, NY
Miss Mary Mahoney
Brooklyn, NY
Mary Makonski
Nanticoke, PA
Mr. Harvey MacLeod
Sydney, Nova Scotia
Mr. George B. Manhart
Greencastle, IN
Mrs. George B. Manhart
Greencastle, IN
Miss Elizabeth A. Mathews
Newton Centre, MA
Miss Lily Markswordt
Woodhaven, NY
Mrs. L. Markwordt
Woodhaven, NY
Mrs. Sylva G. Martin
Larkins, FL
Mr. Donald MacGregor
Madison, WI
Mr. Nelson McGowan
Philadelphia, PA
Miss Adeline McEvoy
Peoria, IL
Miss Irene Mclntrye
Chicago, IL
Miss Clementine McIntyre
Chicago, IL
Mr. George McManus
Fort Eustis, VA
Miss Grace Meyette
Philadelphia, PA
Mr. Albion Metcalfe
Reading, MA
Mrs. Valerie Mitarnowski
Nanticoke, PA
Mr. Stanley Mitarnowski
Nanticoke, PA
Miss Mary A. Miller
Peoria, IL
Mr. A. Harrisson Motley
New York City
Prof. Arthur R. Moore
New Brunswick, NJ
Miss Margaret Monahan
Cincinnati, OH
Miss Margaret S. Mosby
Meridian, MS
Dr. Mary Mitchell Moore
New Brunswick, NJ
Mr. David Charles Moore
Los Angeles, CA
Mr. George Moehlenhof
Peoria, IL
Mrs. Katherine Moehlenhof
Peoria, IL
Mr. John C. Munger
Waterbury, CT
Colebrook Mulford
Rochester, NY
Miss Veyra Myers
New York City
Mr. Edmond Marti
Pomona, CA
Mrs. Peggy Marti
Pomona, CA
Miss Pearl Markowitz
Duquesne, PA
Mrs. Helen Markowitz
Duquesne, PA
Mr. C. Marshall Muir
St. Paul, Minn
Miss Harriet N. Marsters
New York City
Miss Frances Martin
Columbus, OH
Mr. Claude B. Maxfield
West Haven, CT
Ella Miller
Hartford City, IN
Emma Miller
Hartford City, IN
Miss M. Loretta McDonald
Columbus, OH
Miss Margaret McCurdy
Norwood, OH
Miss Kathryn A. McHenry
Chicago, IL
Miss Florence McQueeney
New Haven, CT
Miss Elizabeth L. Meagher
New York City
Miss Enid L. Melick
Amityville, NY
Mr. John B. Mersmann
Cincinnati, OH
Mrs. Christina Mersmann
Cincinnati, OH
Mrs. Rachel Michaels
Brooklyn, NY
Mr. Fred Mollenkamp
Norwood, OH
Miss Adele Mollenkamp
Norwood, OH
Miss Lina L. Monnier
Columbus, OH
Miss Josephine L. Monihan
Philadelphia, PA
Mr. Charles A. Moorman
Chicago, IL
Mr. Voris Morrison
Ramsey, IL
Miss Helen Mourize
Dayton, OH
Mrs. C. Marshall Muir
St. Paul, Minn
Miss Jeanette Mullin
Lima, OH
Miss Florence Mullin
Lima, OH
Mr. Herman E. Murray
Olney, IL
Mr. Eugene Muth
Dayton, OH
Miss Ruth E. Murray
W. Jefferson, OH
Miss Helen Murray
W. Jefferson, OH
Mr. John Murray
W. Jefferson, OH
Mrs. Helen Musil
Binghamton, NY
Miss M. Irma Muth
Dayton, OH
Mr. Howard W. Muth
Dayton, OH
Mrs. J. A. Makley
Dayton, OH
Miss Grace Makley
Dayton, OH
Miss Josephine Majercik
Binghamton, NY
Mrs. Edward Mahlmeister
Dayton, OH
Miss Mary Ann Mahlmeister
Dayton, OH
Mrs. Merrick Madge
Chicago, IL
Miss Eleanor Macgowan
New York City
Master Bernard F. Nathanson
Chicago, IL
Mrs. Doris Nathanson
Chicago, IL
Mr. Abram Nathanson
Chicago, IL
Miss Irene Nathanson
Chicago, IL
Rev. A. P. Nelson
New York City
Mrs. A. P. Nelson
New York City
Mrs. Margaret Noonan
Tuxedo Park, NY
Mrs. Chas. F. Niehaus
Dayton, OH
Mr. Chas. F. Niehaus
Dayton, OH
Mrs. Christine Niklaus
Rochester, NY
Mr. John G. Niklaus
Rochester, NY
Mr. Henry F. Norton
Edgartown, MA
Mrs. Mary Olsen
Saginaw, MI
Miss Alfrida Olsen
Saginaw, MI
Miss Mary E. Oster
Yellow Springs, OH
Dr. Edward B. Ormsby
Boston, MA
Mr. James F. O'Neill
Cincinnati, OH
Mrs. J. F. O'Neill
Cincinnati, OH
Mr. Ralph E. Oliver
Long Beach, CA
Mrs. Glenne E. Oliver
Long Beach, CA
Mrs. Mary Leonard O'Connor
Bridgeport, CT
Miss Helen O'Brien
Chicago, IL
Miss Doris Oesting
Rapid City, S. D
Capt. Joseph O'Hare
West Point, NY
Miss Mabel Olmstead
St. Louis, MO
Miss Helen O'Malley
Phoenix, Ariz
Miss Julia P. O'Neill
Watertown, MA
Miss Kathryn O'Neill
Peoria, IL
Mr. Frank G. Osborne
Evanston, IL
Miss Marion Osborne
New Haven, CT
Miss Bessie Ousey
Chester, PA
Mr. Buel W. Patch
New Haven, CT
Miss Macie Parker
Grand Rapids, MI
Dr. George F. Patton
New Orleans, La
Miss Alice Person
Williamsburg, VA
Mrs. Louise A. Petitjean
New York City
Miss Marion C. Plack
Greenwich, CT
Miss Mabel Platz
Long Beach, CA
Miss Peggy Porter
Boston, MA
Mr. Richard Postma
Grand Rapids, MI
Mr. Edward Postma
Grand Rapids, MI
Miss Lilian D. Powers
Boston, MA
Mrs. Gertrude Postma
Grand Rapids, MI
Mrs. Adah E. Prentiss
New Brunswick, NJ
Mr. Eeward B. Price
Bridgeport, CT
Miss Ruth F. Paynter
White Plains, NY
Miss Caroline Protzman
Dayton, OH
Mrs. John M. Prince
Philadelphia, PA
Dr. John M. Princefi
Miami, FL
Mr. Carlo Pozzi
Chicago, IL
Mr. Andrew Popp
New York City
Mr. Max Posner
New York City
Mrs. Max Posner
New York City
Miss Cleo D. Phillips
N. Manchester, IN
Miss Grace Pemberton
St. Louis, MO
Mr. Davis Ratcliffe
Richmond, VA
Mr. Everett J. Rebell
Springfield, NJ
Miss Katherine Rhoades
Richmond, VA
Miss Judith Rhoades
Richmond, VA
Mr. Webster S. Rhoades
Richmond, VA
Miss Helen Rice
New York City
Mr. Stephen Rice
New Haven, CT
Mr. Joseph A. Richardson
Linwood, PA
Mrs. Jessie L. Ritterbusch
New ' York City
Miss Catharine Riddle
Norfolk, VA
Mr. Howell H. Richards
Lakeville, CT
Mrs. Florence L. Richards
Lakeville, CT
Estelle Richards
S. Norwood, OH
Mr. Francis X. Romback
Washington, DC
Miss Bertha Rosenheimer
Philadelphia, PA
Mr. Ed. Stanley Roberts
Anaheim, CA
Miss Lela D. Robertson
Campbellsburg, IN
Miss Mildred Rule
Wichita, Kan
Mr. Harold J. Rappaport
New York City
Mr. Albert Roth
New York City
Mrs. Marie Rost
Miamisburg, OH
Mr. E. Rost
Miamisburg, OH
Miss Gertrude Rolfes
Cincinnati, OH
Mrs. Perie C. Rites
Ithaca, NY
Miss Florence Ryan
Cincinnati, OH
Mrs. Marie Renz
Cincinnati, OH
Mr. John Rolfes
Cincinnati, OH
Miss Bernadina Roetgerman
Dayton, OH
Mrs. Rosina Roderer
Dayton, OH
Mr. George Roderer
Dayton, OH
Mr. John J. Rack
Cincinnati, OH
Mrs. Peter M. Riccio
New York City
Mr. Peter M. Riccio
New York City
Mr. Louis Rasmussen
Philadelphia, PA
Miss Marion Sarles
Mt. Kisco, NY
Mr. Eugene D. Sammon
Bloomington, IL
Rev. M. P. Sammon
Peoria, IL
Miss Etta Sawyer
Norfolk, VA
Miss Minnie Schreiner
New York City
Miss Katherine Schreiner
New York City
Miss Lillian Schlicker
Pittsburgh, PA
Mr. James Seddon
St. Louis, MO
Mr. Paul S. Seward
Guilford, CT
Mr. Robert J. Shearer, Jr.
Brooklyn, NY
Mr. Marshall H. Sheldon
Pawtucket, RI
Miss Charlotte Shipman
Williamsburg, VA
Mr. Mosby L. Simmons
Cincinnati, OH
Mr. Thomas W. Lingle
Davidson, N. C
Miss Lucy Francis Smith
Ft. Worth, TX
Mrs. Annie Smith
Pittsburgh, PA
Miss Stella Smith
Pittsburgh, PA
Miss Janice Carolyn Snook
Rapid City, N. D
Mr. Harry Smith
Charlottesville, VA
Dr. Otto J. Sorenson
New York City
Mrs. Grace T. Soward
Dayton, OH
Mrs. Alice Stewart
Detroit, MI
Miss Keith Stewart
Detroit, MI
Mr. James W. Storey
Hartford, CT
Mrs. Olga C. Stoddard
E. Aurora, NY
Miss Cynthia V. Starr
Albion, MI
Miss Edith Stollenwerck
Greensboro, Ala
Miss Lucy Pryor Stickney
Greensboro, Ala
Mrs. E. Stevens
Philadelphia, PA
Mr. Charles O. Stevens
Washington, DC
Mrs. Charles O. Stevens
Washington, DC
Miss Alletha Standish
Jeannette, PA
Mr. John L. Sullivan
Weehawken, NJ
Miss Dorothea, Sullivan
Lawrence, MA
Miss Kate Schoolfield
Mullins, SC
Miss Sarah French Smith
Washington, DC
Miss Olive R. Smith
Deadwood, S. D
Miss Alice Sullivan
Chicago, IL
Miss Ethel Sullivan
Chicago, IL
Miss Evelyn Speiden
Washington, DC
Mr. Harold L. Spates
S. Norwalk, CT
Mr. Henry Synck
Coldwater, OH
Mrs. Henry Synck
Coldwater, OH
Mr. J. Edgar Swain
Philadelphia, PA
Mrs. Esther Swain
Philadelphia, PA
Miss Bernardine Streuber
Portsmouth, OH
Mr. Joseph H. W. Stone
College Park, Md
Mr. Carl T. Stephan
Chicago, IL
Miss Lillian C. Stenger
Miamisburg, OH
Mrs. Josephine Staugler
Dayton, OH
Mrs. Kate E. Smith
Dayton, OH
Miss Clara J. Smith
Dayton, OH
Miss Adelaide Smith
Berkeley, CA
Miss Marian Slonim
Brooklyn, NY
Mr. John H. Simpson
Chicago, IL
Mr. Magnus Schultz
St. Louis, MO
Miss Laura Schilowsky
Cincinnati, OH
Miss Anna Schilowsky
Cincinnati, OH
Mrs. Mary Scalise
Binghamton, NY
A. B. Sage
Gary, IN
Miss Faye Swengle
Philadelphia, PA
Mr. Stanley Tolies
Chicago, IL
Miss Helen E. Wallace
Bedford, MA
Mr. Arthur Waugh
New York City
Mrs. Evelyn Waugh
New York City
Miss Louise Watts
Norfolk, VA
Rev. Henry E. Walhey
Philadelphia, PA
Mrs. Gertrude E. Walhey
Philadelphia, PA
Miss Mary Waters
Detroit, MI
Mr. Wm. Weinfred
New York City
Miss Marie S. Welsh
Lexington, KY
Mrs. Lillie M. Weart
Brooklyn, NY
Mr. Pete Weaver
Emporia, VA
Miss Truda T. Weil
New York City
Miss Hazel Whitsell
Pittsburgh, PA
Mr. John Whelan
Atlantic City, NJ
Mrs. Bryant White
Wilmington, DE
Mr. Jas. E. Winston, Jr.
Houston, TX
Miss Helen Wilson
Brooklyn, NY
Mr. Richard J. Wilkinson
Chicago, IL
Miss Emma F. Winslow
Hubbard Woods, IL
Mr. William Weaver
University, VA
Miss Mary E. Wilkinson
Philadelphia, PA
Deaconess Clarine V. B. Woodward
New York City
Miss Ruth J. Woodruff
Cynwyd, PA
Miss Amy L. Woodruff
Cynwyd, PA
Mrs. Mary L. Woods
Dallas, TX
Mr. Wm. P. Woodley
Suffolk, VA
Mr. William E. Wright
Toledo, OH
Miss Maude B. Wrigley
Elmira, NY
Mr. Charles Wunderly
Pittsburgh, PA
Miss Edith M. Wyant
Long Beach, CA
Miss Helen Woolery
Heltonville, IN
Mr. Fred Winters
Dallas, TX
Mr. John deWinter
Dayton, OH
Miss Helen Willenbrink
Cincinnati, OH
Mr. J. Frank Willenberg
Cincinnati, OH
Mrs. J. Frank Willenborg
Cincinnati, OH
Mr. Robert H. Wienecke
Glencoe, IL
Mr. Adolph Wiche
Milwaukee, WI
Mr. A1 White, Jr.
Philadelphia, PA
Mr. Walter White
Philadelphia, PA
Wallerian Weselsky
Chicago, IL
Miss Claire Werleman
Berkeley, CA
Mr. Henry Weiler
Cincinnati, OH
Mrs. K. Weiler
Cincinnati, OH
Miss Luella P. Weber
Dayton, OH
Mrs. Ella B. Watson
Clarksville, TX
Mrs. Charles Wassenich
Dayton, OH
Mrs. Charles Wassenich
Dayton, OH
Miss Martha K. Wahl
Dayton, OH
Mr. Fred Wangenberg
New York City
Miss Laura J. Walker
Washington, DC
Miss Julia M. Wagner
Chicago, IL
Mrs. Susan E. Wright
Miami, FL
Miss Victoria Zeller
W. Newton, MA
Mr. Joseph Zierer
Rochester, NY
Mrs. Joseph Zierer
Rochester, NY
Miss Eliza D. Putnam
Danielson, CT
Mr. Arthur L. Thorne
Evanston, IL
Miss Charlotte Stevenson
Columbia, SC
Miss Lalla Stevenson
Columbia, SC
Mr. Jay Earle Thomson
Jersey City, NJ
Miss Mira Talbot
Seattle, Wash
Mrs. Carolyn Tervehn
Chicago, IL
Mr. Kirk Tessier
Colorado Springs, CO
Miss Virginia Thomson
Goode, VA
Miss Etta Thompson
Philadelphia, PA
Prof. Wm. N. Thomas, Ph.D.
Birmingham, Ala
Mrs. Wm. N. Thomas
Birmingham, Ala
Mr. Alfred R. Thatcher
Matawan, NJ
Dr. Jacob G. Tilem
New York City
Mr. Allan Winter Todd
Manchester, England
Mr. Harry Newman Tolies
Chicago, IL
Miss Ethel C. Eorrance
Colorado Springs, CO
Mr. John Torpey
Chicago, IL
Miss Bernice Trussell
Sacramento, CA
Mr. S. Becker Treat
Rockford, IL
Miss E. May Trend
Bala-Cynwyd, PA
Miss Cornelia Tucker
Albany, NY
Miss Mary F. Tobb
Aberdeen, MS
Mr. David G. Tyler
Richmond, VA
Miss Margaret Mary Tappel
Cincinnati, OH
Miss Anna E. Tensi
Norwood, OH
Miss Doris Toward
Waterville, ME
Miss Elizabeth Tichlofen
Chicago, IL
Mrs. Yvonne Thomas
Cleveland, OH
Miss D. Thomas
Cleveland, OH
Miss Elizabeth Thole
Cincinnati, OH
Mr. Lambert Thien
Cincinnati, OH
Joseph W. Thiele
Dayton, OH
Miss Elizabeth Ijoolwine
Blacksburg, VA
Miss Merta Underhill
Tenafly, NJ
Miss Norma Underhill
Tenafly, NJ
Mr. Walter Vogt
Lincoln, NE
Miss Alice Vogelbach
Dayton, KY
Dr. Frank Vero
New York City
Mr. B. E. C. Van Riper
Boston, MA
Mr. Francis B. Valentine
West Point, NY
Mr. P. J. D. Van Dyke
Grosse Pointe Farms, MI
Miss Marporie Luella Vallat
Norwood, OH
Miss Dorothy Vallat
Norwood, OH
Rev. Frank A. Varley
W. Jefferson, OH
Mrs. Ida Vaughn
Evansville, IN
Mrs. Lillian Vallat
Norwood, OH
Miss Regina Vachon
Brookline, MA
Mr. Henri J. C. Vallat
Norwood, OH
Miss Blanche Viault
Pawtucket, RI
Mr. L. V. Warner
West Point, NY
Dr. Edward McS. Waits
Ft. Worth, TX
Miss Mary E. Waits
Ft. Worth, TX
Miss Isabelle Wallner
Fairhaven, MA
Miss Mary Walmsley
Frankford, PA
Mr. James Ferguson
Chico, CA
Prepared 2014-06-05 by Paul K. Gjenvick, MAS, Archivist
Archives Inventory Ref Nbr: AMSU 2150069377