SS President Harding Passenger List 28 July 1926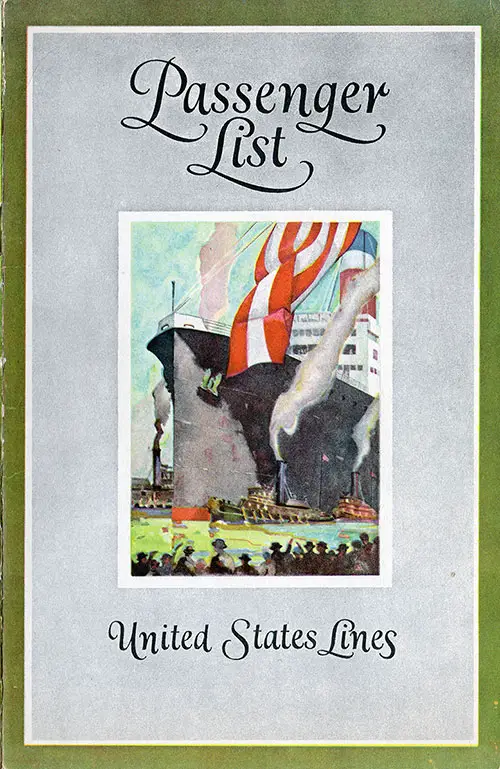 Cabin Passenger List for the SS President Harding of the United States Lines, Departing 28 July 1926 from New York for Bremen via Cobh (Queenstown), Plymouth, and Cherbourg, Commanded by Captain Theodore Van Beek, U.S.N.R. Listing includes Seapost Clerks, Summary of Passengers and Crew, and Information for Passengers Section.
Senior Officers and Staff
Captain: Theodore Van Beek, U. S. N. R., Commander
Chief Officer: G. C. Stedman
Chief Engineer: J. W. Rakow
Purser: G. J. Ross
Surgeon: Victor Neesen
Chief Steward: J. Nicholas
Seapost Clerks
United States
Mr. H. M. Coffey
Mr. W. C. Fry
German
Mr. H. Gerdes
Mr. H. Blanke
Cabin Passengers
Mr. A. L. Allan
Prof. C. E. Allen
Miss Hazel Allen
Mr. Joseph S. Altschul
Mrs. Mathina Anderson
Mr. W. D. Bagshaw
Mrs. Bagshaw
Dr. George M. Baker
Mrs. F. W. Barbour
Mrs. W. Barnsley
Mr. J. P. Barstow
Mrs. Barstow
Miss Lucy Bayard
Miss F. Belknap
Mr. Meyer Bernstein
Mrs. Bernstein
Mrs. Edna Shiras Blair
Miss Gertrude Bohem
Mrs. Bertha O. Brehm
Mrs. H. A. Bright
Miss Katherine B. Brown
Dr. O. C. Brysing
Miss Rosa Bunce
Mr. J. V. Bunzl
Mr. Samuel Bürgin
Mrs. Bürgin
Mr. Harry E. Burnham
Miss M. T. Cahill
Miss M. Caskey
Prof. H. B. Chubb
Miss Grace Clemons
Mrs. J. N. Coghlan
Miss Eileen Coghlan
Master John Coghlan
Mrs. G. M. Cokefair
Prof. Kenneth Colegrove
Mr. A. A. Conger
Mrs. Conger
Col. Arthur S. Conklin
Mrs. Conklin
Miss Margaret Conway
Miss Mathilde de Cordoba
Prof. R. F. Cornell
Mrs. Martin Costello
Miss Margaret M. Costello
Mrs. L. W. Cottman
Miss Mary C. Cottman
Dr. Nicholas W. Couseres
Miss K. Cousins
Miss Elizabeth D. Crandell
Miss Edith Crandell
Mrs. Sadie Crocking
Miss Frieda Crocking
Dr. William Dean
Mrs. Dean
Prof. E. D. Dickinson
Mrs. Dickinson
Mrs. C. B. Dickson
Mr. Louis Ditchek
Miss R. Druskin
Prof. C. A. Eagleton
Mrs. Eagleton
Dr. Henry Earnshaw
Mrs. Earnshaw
Miss Grace Eldridge
Prof. Miss G. D. Ellis
Mr. Herman Fath
Prof. Charles G. Fenwick
Prof. P. S. Flippen
Mr. Richard A. Ford
Mrs. Alexander Foster
Miss Miriam Foster
Mrs. F. F. Foye
Mrs. Adolph Friedman
Miss Eleanor Friedman
Miss Frances Friedman
Master Theodore Friedman
Mr. R. C. Gilfillan
Mr. B. H. Lamb
Mrs. Gilfillan
Dr. R. S. Leopold
Mrs. Gilfillan
Mrs. Leopold
Commissioner Chester H. Gleason
Mr. W. R. Leopold
Miss G. H. Leopold
Mrs. Gleason
Miss B. A. Leopold
Mr. Eli Goldstein
Prof. A. J. Liem
Mrs. Goldstein
Miss M. M. Lott
Mr. Edmund Gottesman
Mrs. Mary Loveland
Prof. M. W. Graham
Mrs. Graham
Major Otto W. Gralund
Miss Olga Makowska
Mrs. Gralund
Miss J. Mangan
Mrs. P. J. Grimes
Prof. C. E. Martin
Dr. J. Grossman
Mrs. Julia Martin
Mrs. Grossman
Mrs. H. H. Maynard
Prof. K. F. Guser
Prof. C. C. Maxey
Capt. C. A. McAllister
Mrs. McAllister
Prof. J. E. Harley
Miss McAllister
Mr. H. S. Haskill
Miss Mary McClave
Mr. August von Hassel
Miss Mary McFadden
Mrs. von Hassel
Mr. Michael McNarmara
Rev. Father Thomas Healy
Mr. Jerome Michael
Mrs. Margaret Hedges
Mrs. Jerome Michael
Rev. Clarence E. Hellers
Prof. F. A. Middebush
Prof. C. E. Hill
Mrs. Middebush
Mr. Leon S. Hirsch
Mrs. M. Douglas
Mrs. Hirsch Mildeberger
Dr. Bernard Hohenberg
Mrs. M. A. Mommsen
Mrs. Hohenberg
Mr. Frederick Mommsen
Mrs. Grace Hogan
Miss Martha Moore
Miss Mary Hogan
Prof. H. L. Morris
Mr. Samuel B. Horovitz
Mrs. Ethel Pearl Mott
Mrs. Horovitz
Prof. C. E. Mower
Mrs. Mower
Rev. Father Dennis Murphy
Mr. E. F. Jones
Mrs. Jones
Mrs. J. M. Junkin
Miss Josephine Junkin
Mrs. Albert Nicolovius
Prof. H. C. Nixon
Mrs. Helen Kavanaugh
Miss Shelia O'Connor
Miss Gertrude E. Lachlar
Mr. S. T. O'Kelly
Mr. Frederick Lack
Miss Mabel Olin
Mr. P. J. O'Neill
Mrs. O'Neill
Miss Doreen O'Neill
Master P. J. O'Neill, Jr.
Miss F. L. Patterson
Dr. H. D. Pasachoff
Mr. Zavol Passol
Prof. G. F. Peake
Mr. Alfred J. Peer
Mrs. Peer
Miss Florence Peple
Miss Mary L. Peple
Prof. C. P. Peterson
Mrs. R. H. Pomeroy
Prof. R. B. Potter
Miss Katherine B. Powell
Miss Mary Powell
Prof. H. S. Quigley
Mr. Edmund Quinn
Mrs. Quinn
Mrs. Catherine M. Raymond
Mr. Hugh B. Robinson
Mrs. Robinson
Mr. Hugh M. Robinson
Mr. Frank M. Robinson
Mr. F. W. Rockwell
Mrs. Rockwell
Rev. James Rossiter
Miss H. Rothschild
Prof. F. M. Russell
Prof. G. Rutherford
Mr. Elmer Schroeder
Mrs. Peter Shiras
Mr. Edward J. Sims
Mrs. Sims
Mr. R. A. Smead
Prof. H. W. Smith
Mrs. Smith
Miss M. Solomon
Miss Marjorie Stearns
Mr. F. X. Stegmeyer
Mrs. Stegmeyer
Miss Lillian Sternberg
Miss Alice Sternberg
Dr. Harold A. Stewart
Dr. Henry Stoesser
Mrs. Stoesser
Prof. G. H. Stuart
Prof. D. Taft Mrs. Taft
Miss Edith A. Talbot
Miss Jeanne Theband
Prof. E. D. Thomas
Mrs. E. C. Tinen
Mr. Thomas E. Troland
Mrs. Troland
Col. Frederick W. Van Duyner
Mrs. Frederick Wakeham
Miss Matalie Weed
Dr. Marie Wessels
Mr. Alexander White
Mrs. White
Prof. Howard D. White
Mrs. White
Mrs. Anna Wilkins
Miss Grace Wilson
Mr. John Winkler
Mrs. Winkler
Miss Grace M. Witson
Mr. Michael A. Witzman
Mrs. Witzman
Master Peter Witzman
Miss Marion E. Woodward
Mr. Fred A. Wolf
Mr. Fred M. Wolf
Mrs. Max E. Wormser
Miss Marion Wormser
Miss Helen R. Wormser
Prof. H. F. Wright
Prof. Quincy Wright
Rev. William H. Wrightor

Corrections To Passenger List
Additional
Miss Meri Glasel
Mr. Grover Herring
Mr. James Kilbane
Mrs. Anne McNamara
Mr. Charles MacRae
Mr. S.. M. Rinaker
Master S. M. Rinaker
Miss Veronica Roasio
Mr. Abigail Roche
Mr. Jack Sheehan
Major L. C. Trench
Mrs. Trench
Mr. Adolph Wolf
Not On Board
Mrs. Gilfillan
Miss Mary McFadden
Mr. P. J. O'Neill
Mrs. O'Neill
Miss Doreen O'Neill
Master P. J. O'Neill
Mr. Zavol Passol
Rev. James Rossiter
Miss Jeanne Theband
Errata
| For | Read |
| --- | --- |
| Mr. A. L. Allan | Mr. A. L. Allen |
| Miss Hazel Allen | Miss Hazel K. Allen |
| Mrs. F. W. Barbur | Mrs. F. M. Barbour |
| Miss Gertrude Bohm | Miss Gertrude Cohen |
| Dr. O. C. Brysing | Dr. O. C. Bryning |
| Mrs. Sadie Crocking | Mrs, Sadie Crockin |
| Miss Freida Crocking | Miss Freida Crockin |
| Mrs. G. M. Cokefair | Mrs. Nellie S. Cokefair |
| Dr. William Dean | Dr. W. C. Dean |
| Mrs. Dean | Mrs. Dean |
| Mr. Lewis Ditchek | Mr. Louis Ditchik |
| Mrs. F. F. Foye | Mrs. F. W. Foye |
| Pros. K. F. Guser | Prof. K. F. Geiser |
| Com. Chester H. Gleason | Com. Chester E. Gleason |
| Mrs. Gleason | Mrs. Gleason |
| Rev. Clarence E. Hellers | Rev. Clarence E. Hellens |
| Mrs. Helen Kavanaugh | Miss Helen Kavanaugh |
| Mr. B. H. Lamb | Mr. P. H. Lamb |
| Prof. A. J. Liem | Prof. A. J, Lien |
| Rev. Father Dennis Murphy | Rev. Father Dennis N. Murphy |
| Mr. Michael McNarmara | Mr. Michael McNamara |
| Mr. Frederick Mommsen | Mr. Frederick Monsen |
| Miss Shelia O'Connor | Miss Sheila O'Connor |
| Prof. R. B. Potter | Prof. P. B. Potter |
| Miss Mary Powell | Miss M. A. Powell |
| Prof. G. F. Peake | Prof. J. F. Peake |
| Mr. F. W. Rockwell | Mr. F. J. Rockwell |
| Mrs. Rockwell | Mrs. Rockwell |
| Prof. D. Taft | Prof. D. R. Taft |
| Mrs. Taft | Mrs. Taft |
| Col. F. W. Van Duyner | Col. F. W. Van Duyne |
| Rev. William H. Whightor | Rev. William H. Wrighton |
| Mr. John Winkler | Mr. John Winkel |
| Mrs. Winkler | Mrs. Winhel |
| Miss Grace M. Witson | Miss Grace M. Wilson |
Summary On Board
Cabin Class Passengers 239
Third Class Passengers 193
Seapost 4
Commander, Officers and Crew 231
Total souls on Board 667
Information for Passengers
Hours for Meals are posted at the Chief Steward's Office on the Steamer
Divine Service Sundays at 10:30 am
INFORMATION BUREAU
LETTERS, CABLES AND TELEGRAMS
Letters, telegrams, etc., for passengers will be brought on board before the passengers land. Passengers should personally ascertain whether there are any letters, telegrams, etc., for them before disembarking, and they are invited to leave their address at the Information Bureau for later dispatches to be redirected and forwarded.
Cables, telegrams, etc., are received at the Information Bureau for dispatch. Cables, telegrams, etc., should be handed in an hour before the arrival at any port of call. ONLY OFFICERS ON DUTY IN THE INFORMATION BUREAU ARE AUTHORIZED TO ACCEPT TELEGRAMS, CABLES, ETC., FOR DISPATCH.
PACKAGES & BAGGAGE SHIPMENTS IN EUROPE
On account of unsettled conditions, passengers are advised to carry all packages, principally small parcels and baggage with them to the port of embarkation. There is an incredible delay in forwarding such packages from one country to another.
The customs regulations change frequently and even if duty is prepaid, and the goods shipped grande vitesse, it seems to make little difference— such packages invariably arrive too late at the port of embarkation, causing not alone annoyance, but quite some additional expenses.
WIRELESS SERVICE
The long range wireless equipment permits the vessel communicating with all American and European stations. Rates on application at Information Desk.
Ocean Letters are accepted on board for transmission to a vessel bound in an opposite direction. They will be forwarded to destination by registered mail from first port of call after reception. A charge of $1.20, including postage, is made for twenty words and four cents for each additional word. The maximum Ocean Letter is 100 words.
VALUABLES
The United States Lines has provided a safe in the office of the Purser in which passengers may deposit money, jewels, or ornaments for safe keeping. The Lines will not be liable to passengers for the loss of money, jewels, or ornaments not deposited.
EXCHANGE OF MONEY
The Purser is prepared, for the convenience of passengers, to exchange a limited amount of money at rates which will be furnished on application. A receipt will be issued covering each exchange transaction.
TRAVELERS' CHECKS
The United States Lines has placed on board its vessels American Express checks which may be secured from the Purser on application.
TRANSPORTATION ORDERS, ETC.
Passengers holding transportation orders via any steamship line or any railroad to any part of the world are invited to inquire of the Purser or any of the Lines' Offices for information regarding them. Every assistance in securing reservations and bookings will be gladly tendered.
Attention is invited to other services now being operated by the United States Shipping Board. The Pursers will negotiate by wireless, without charge, and arrange for bookings, etc., via any of the United States Shipping Board services to all parts of the world.
SEATS AT TABLE
Passengers who have not arranged for seats at table should apply to the Chief Steward.
Passengers are requested not to smoke in the Dining Saloon and Social Hall.
DECK CHAIRS and STEAMER RUGS
These may be hired for the voyage on application to the deck steward, rental $1.50 each.
MEDICAL ATTENTION
The Surgeon is always at the disposal of those passengers requiring his services. In case of illness originating on board, or after the departure of the steamer, no charge will be made for these services, and such medicines as are prescribed by the Ship's Surgeon will be furnished without expense to the passengers.
In cases of illness, not originating on board, the Surgeon is permitted to make the following charges:
For office visits, $1.00 per visit
For stateroom visits, $2.00 per visit, with a maximum charge of $4.00 per day
If passengers consider that the charges made by the Surgeon fot any services as he renders are improper or excessive, they are requested, before paying same, to take up the question with the Commander, and the bill will either be adjusted on a basis that will be satisfactory to the passenger, or withdrawn. The purpose of the United States Lines is to make this service satisfactory to all passengers.
RECEIPTS
Passengers are requested to secure a receipt on the special form of the United States Lines for any additional passage money or freight paid on board.
BAGGAGE
On disembarking passengers are specially requested to claim their baggage before leaving the Customs Offices, otherwise considerable delay and extra charge for carriage will be incurred in forwarding any unclaimed baggage. Passengers are requested to pack only steamer trunks for their staterooms, as it is not always possible to put larger trunks in rooms.
It is recommended that passengers insure their baggage, as the Lines' liability is strictly limited in accordance with contract ticket. Baggage insurance can be arranged at any of the Lines' offices.
Westbound passengers can arrange with the United States Lines' offices in Europe for collection of baggage from hotel or residence and have such baggage placed aboard steamers at Southampton or Cherbourg. Arrangements have been made to have baggage stored at Paris or London and placed aboard steamer for passengers embarking at other ports.
DOGS
Passengers are notified that dogs cannot be landed in Great Britain without considerable delay unless a license has previously been procured from the Board of Agriculture, London. Forms of license must be obtained by direct application to this Department in London before the dog is taken on board.
AMERICAN CUSTOMS REGULATIONS
On the return trip, you! baggage will be subjected the same inspection on landing in America as on landing abroad. American Citizenship does not permit you to bring dutiable goods into the country without paying duty.
A "declaration** blank will be furnished you aboard the steamer before landing. This must be filled out, listing in detail every article you obtained abroad which you are bringing home. A 25 cent stamp is required to be affixed to the declaration. The stamps are on sale in the Purser's office. The list is then given the purser's office.
This list is called your "declaration** and should include all wearing apparel, jewelry and other articles, whether worn or not, carried on your person, in your clothing, or in your baggage. These items must give their cost or value abroad and whether they were bought or given to you. Also jewelry and wearing apparel, taken out of the United States and remodeled abroad, must be listed with the cost of remodeling.
Residents of the U. S. A. are allowed to bring into the United States $ 100 worth of personal effects bought abroad, free of duty, in addition to all wearing apparel taken from the United States on sailing.
RECOVERY OF U. S. HEAD TAX
This Tax can be recovered by passengers, if same has been paid, provided they inform the U. S. Immigration Inspector on arrival at New York of their intention to leave the United States within sixty days (the time prescribed by U. S. Law), and obtain from him Transit Certificate Form 514.
It is also necessary for this Transit Certificate Form 514 to be handed to the transportation company when completed, in time to allow same to be placed before the Immigration Authorities in Washington within 120 days of passenger's arrival in the United States.
Unless this regulation is complied with, the Tax cannot be recovered.
Pursers of the United States Lines can book your return passage. Sailing lists, rate sheets, cabin plans and other information will be furnished upon application at the Purser's Office. Tickets can be secured or deposits to secure reservations can be made. The Purser will procure by radio, without charge to the passenger, reservations or any information necessary.
RETURN PASSENGERS
First and Second class passengers, embarking at Cherbourg, must communicate with the Paris office, United States Lines, 1 Rue Auber, several days before sailing.
Passengers embarking at Southampton must communicate with the London office, United States Lines, 14 Regent St., S. W., several days before sailing.
Passengers of all classes booked outside of Germany should call at the Bremen Office of The United States Lines, An der Weide 43.
Passengers of all classes booked in Germany should call at the office of the Norddeutscher Lloyd, Papenstrasse 5/13.
Second Class passengers coming from Russia, Poland, or Turkey; and Third Class passengers coming from any country East of Germany and Austria, must arrive in Bremen not less than 5 days before sailing day, in order to fulfill the quarantine requirements of the American Public Health Service.
DISEMBARKING AT PLYMOUTH
All baggage is examined immediately upon being landed ashore. Trains will meet steamers on arrival at Plymouth. Passengers who have not obtained their European railway tickets are kindly requested to obtain same from the Purser. Special trains are provided when a sufficient number of passengers are booked to London.
DISEMBARKING AT CHERBOURG
In the event of the steamer not being able to land passengers sufficiently early to allow their reaching Paris before the early hours of the following morning, there are at Cherbourg comfortable hotels, which can accommodate anyone who wishes to stay overnight and travel to Paris during the daytime.
Hand-baggage is carried from the steamer to the tender by the stewards. Passengers are informed that from the time their hand- baggage is on the tender, they alone are responsible for it, and they must see that it is passed through the Customs and placed ,on the special train into their compartment. Hand-baggage is examined at Cherbourg. Trunks are forwarded to Paris, (Gare St. Lazare) where Customs Examination is made. It is necessary for passengers to be present or furnish keys for inspection.
All hand-baggage not claimed on the tender, or left in the Customs, is collected and included with registered baggage for Paris. For such packages there is a charge, Cherbourg to Paris.
Passengers are advised that the United States Lines cannot be held responsible for any loss or damage caused by neglect on the part of passengers not claiming their hand-baggage on the tender.
SPECIAL PARIS TRAINS
Special trains are run in connection with the arrival of steamers at Cherbourg when the number of passengers is not less than 100. Otherwise, the Company makes the necessary reservations in special or regular cars on regular trains. Passengers should purchase Cherbourg-Paris Railway tickets from the Purser before leaving the ship.
LANDING AT BREMERHAVEN
Passport officers and others will, whenever possible, board the steamer before arrival. Passengers should have their passports stamped; see to the checking of their baggage and obtain railroad tickets to Bremen.
All baggage is examined at Bremerhaven. When all baggage has been placed under initial letters on the pier, passengers will be permitted to land and must show their passport at the gangway. Tickets for inland destination may be obtained at the pier, where baggage may also be re-checked.
When the Customs examination is completed, passengers are required to remain in the waiting room until the Bremen train is ready.
A special train will take the passengers to Bremen without extra charge.
Information concerning railway travel on the Continent may be had free of charge in the LLOYD REISE-BUERO, BREMEN. Bahnhofstrasse 36, where railway tickets may also be purchased at official rates, and money be exchanged.
"Passengers expecting mail at Bremen may call for same at the office of the United States Lines, An der Weide 43, or at the Cabin Department of the North German Lloyd, Papenstrasse 5/13. If passengers will give their European forwarding address to the purser of the ship, any mail which may arrive for them in Bremen will be forwarded."
SUGGESTIONS AND COMPLAINTS
Suggestions, complaints or criticisms of service or of personnel should be addressed to the General Manager, United States Lines, 45 Broadway, New York City.

CHANGING THE CLOCK
Between New York and London there is a difference in time of five hours, and as the sun rises in the East, as we say, when the ship is going eastward she meets sunlight earlier each day and thus gains time. Exactly how much is computed each day at noon, and the ship's clocks are immediately set at the correct time for that longitude. On a vessel which makes the crossing in five days the clocks will be set ahead each day approximately an hour; on slower ships, of course, less. Going westward the clock is set back daily in similar fashion.
LATITUDE AND LONGITUDE
Latitude means "distance north or south of the equator," and longitude means distance from the Meridian at Greenwich—near London. Both are recorded in degrees, minutes and seconds. At the Equator a mintue of longitude is equal to a nautical mile, but as the meridians converge after leaving the equator, meeting at the Poles, the size of a degree becomes less. Sailing eastward a ship moves against the revolution of the earth, thus her course makes her gain time, while if she were sailing to the westward with the movement of the earth she would lengthen her time.
UNITED STATES LINES FREIGHT DEPARTMENT
All of the steamers operated by the United States Lines are combination freight and passenger ships. They are modern in every respect and some are equipped for carriage of considerable cargo under refrigeration.
The Docks in New York are of recent construction and modern in all equipment, offering facilities for loading direct from cars into steamer, eliminating any hauling, lighterage or transfer by trucks. This is especially advantageous to Western Shippers, and movement of through cargo consignments in carload lots.
Special attention is given to shipments of household goods, automobiles, etc.
FOR RATES AND SPACE APPLY TO
UNITED STATES LINES
FREIGHT DEPARTMENT 45 Broadway, New York


THE FLEET: PASSENGER SERVICE (Gross Register Tons)
LEVIATHAN 59,956
GEORGE WASHINGTON 25,570
PRESIDENT HARDING 14,127
PRESIDENT ROOSEVELT 14,127
AMERICA 22,622
REPUBLIC 18,022
NEW YORK -- PLYMOUTH -- SOUTHAMPTON -- CHERBOURG -- LONDON -- BREMEN
Sailing from Pier 4, Hoboken, N. J., and Pier 86, North River, New York City
Prepared 2015-06-10 by Paul K. Gjenvick, MAS, Archivist