SS President Monroe Passenger List - 2 August 1922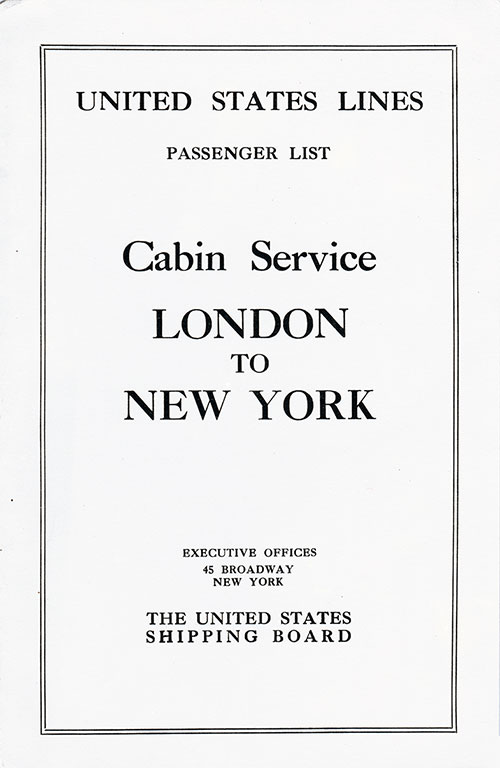 Cabin Passenger List for the SS President Monroe of the United States Lines, Departing 2 August 1922 from London to New York via Cherbourg, Commanded by Captain M. L. Pittman, U.S.N.R.F.
Senior Officers and Staff
Captain: M. L. Pittman, U.S.N.R.F., Commander
Chief Officer: T. G. Ellis
Chief Engineer: G. Spearman
Purser: E. Slight
Asst. Purser: Ira Cohan
Surgeon: H. Hodgson
Chief Steward: J. Langley
Cabin Passengers
Mrs. H. M. Austin
Mr. Thos. B. Appleget
Mr. A. F. Asten
Mrs. Asten, and infant
Mrs. R. Van Arsdale
Mr. W. A. Bruce
Miss G. L. Baxter
Mr. A. Borrie
Mrs. Borrie
Master P. Borrie
Mr. E. A. L. Best
Mr. E. F. Barry
Miss E. Bowe
Miss H. Byrne
Mr. J. Blumer
Mrs. Blumer
Mrs. S. Brewer
Miss M. Cutter
Mr. S. Clifford
Mr. A. S. Clift
Mrs. Clift
Master Clift
Master Clift
Miss E. G. Chapin
Mrs. A. S. Casselberry
Mrs. E. Dearborn
Miss Annie Docherty
Miss J. E. Elliott
Mrs. E. France
Mr. Wm. B. Farnsworth
Miss J. Faville
Miss T. G. Fowlkes
Mrs. J. Gibson
Mr. Alfred Gregory
Miss I. H. Goodnight
Mr. R. L. Hastings
Miss N. W. Hickok
Miss M. E. Hester
Miss M. Hamilton
Miss F. Halfer
Mrs. G. W. Hinman
Mr. H. L. Harding
Mrs. Harding
Miss H. G. Indge
Miss J. F. Jones
Mrs. Kennedy
Miss M. Keniston
Mrs. M. B. Kiene
Miss E. M. Kiene
Mrs. E. W. Lapham
Miss E. R. Ludgate
Mrs. H. Leckebush
Miss D. Lack
Miss Helen Lewis
Mlle. Marcelle Lee
Miss McKam
Mr. Mandell
Mrs. Mandell
Mrs. M. L. Mittell
Miss Helen Morgan
Miss Gertrude Manley
Mr. S. W. Morgan
Mrs. Morgan
Mrs. Wanda Milbourne
Mrs. D. McGrath
Mrs. A. G. Massey
Miss J. McComb
Miss L. B. Merrielees
Miss J. MacGillian
Mrs. C. O'Leary
Miss G. O'Leary
Miss L. N. Palmer
Mr. C. C. Peirce
Mr. Frederick H. Poulin
Mrs. J. G. Poritt
Mrs. P. C. Pearson
Miss M. Pivott
Miss N. C. Reynaud
Mrs. C. R. Rosal
Master M. Rosal
Miss L. E. Roe
Miss 0. L. Soule
Miss M. Seymour
Mr. John I. Settlemayer
Mr. Chas. W. Stephenson
Miss I. Spellan
Mr. W. R. Seddon
Miss Rose Saxon
Mr. M. E. Sorley
Mrs. G. H. Smith
Miss Jean le Breton Smith
Mr. Adolph Treidler
Mrs. Treidler
Mr. Andrew Thorne
Mrs. Thorne
Mr. C. Tierman
Miss C. F. Ulrich
Mr. H. Vettel
Miss G. Waddill
Miss M. 0. Wiggin
Mr. Alec Woolcott
Mrs. A. P. Witmer
Miss M. Witmer
Miss Mildred Wallace
Captain Yuatt
Miss W. R. Young
ADDITIONAL
Miss M. France
Mr. G. Marx
Mrs. G. Marx
Mr. Wm. Cooney
ERRATA
Mrs. H. Leckebush should read Mrs. E. W. Leckebusch
Mrs. C. R. Rosalshould read Mrs. C. R. Royal
Master M. Rosal should read Master M. Royal
Mrs. C. O'Leary should read Miss C. O'Leary
Miss J. E. Elliott should read Mrs. G. Eliot
Miss M. 0. Wiggin should read Miss M. O. Wiggen
Mr. A. Borrie should read Mr. A. Borie
Mrs. A. Borrie should read Mrs. A. Borie
Master Borrie should read Master Borie
Mrs. D. McGrath should read Mrs. C. L. R. McGraw
Mr. Alec Woolcott should read Mr. Alex Woollcott
Mr. C. Tierman should read Mr. C. Tiernan
Miss J. Spellan should read Miss J. Spellacy
Miss I. H. Goodnight should read Mrs. E. H. Goodnight
Miss J. McComb should read Miss G. H. McComb
Miss G. Waddill should read Miss J. Waddill
Miss F. Haifer should read Miss F. Halper
Mr. H. L. Harding should read Mr. A. L. Harding
Miss M. Pivott should read Mile. M. Pivot
DID NOT SAIL
Miss Gertrude Manley
Mrs. J. G. Poritt
Captain Yuatt
SUMMARY Total Passengers 108

Information for Passengers
If passengers consider that the charges made by the Surgeon for such services as he renders are improper or excessive, they are requested, before paying same, to take up the question with the Commander, and the bill will be either adjusted to a basis that will be satisfactory to the passenger or withdrawn. The purpose of the United States Lines is to make its service satisfactory to all passengers.
BAGGAGE. On disembarking, passengers are specially requested to claim their baggage before leaving the Customs shed, otherwise under present abnormal conditions considerable delay and extra charge for carriage will be incurred in forwarding to destination any baggage not accompanying passengers on the railway.
PASSENGERS are requested to ask for a receipt on the Company's Form for any additional Passage Money, Chair Hire or Freight paid on board.
EXCHANGE OF MONEY. The Purser is prepared, for the convenience of passengers, to exchange a limited amount of money at rates which will be advised on application.
PASSENGERS' ADDRESSES may be left at the Enquiry Office in order that any letters sent to the care of the Company may be forwarded.
VALUABLES. The United States Lines has provided a safe in the office of the Purser, in which passengers may deposit money, jewels or ornaments for safe keeping. The Company will not be liable to passengers for the loss of money, jewels or ornaments by theft or otherwise, not so deposited.
LETTERS, &c. FOR PASSENGERS will be brought on board before the passengers land.
Passengers should personally ascertain whether there is any mail for them before disembarking, and they are invited to leave their addresses at the Enquiry Office for later dispatches to be redirected.
Special Notice
Pursers of the United States Lines are ready to book your return passage. Sailing lists, rate sheets, cabin plans and other information will be cheerfully furnished upon application at the Purser's Office. Tickets can be secured or deposits to secure reservations can be made. The Purser will procure by radio, without charge to the passenger, reservations or any information necessary.
Attention is invited to the other services now being operated by the United States Shipping Board. For passengers interested, the Pursers will cheerfully negotiate by wireless, without charge to the passengers, and arrange for bookings, etc., via any of the United States Shipping Board Services to all parts of the world.
Latitude and Longitude
Latitude means " distance north or south of the equator," and longitude means distance from the Meridian at Greenwich—near London. Both are recorded in degrees, minutes and seconds. At the Equator a minute of longitude is equal to a nautical mile, but as the meridians converge after leaving the equator, meeting at the Poles, the size of a degree becomes less. Sailing eastward a ship moves against the revolution of the earth; thus her course makes her gain time, while if she were sailing to the westward with the movement of the earth she would lengthen her time.
Thus it is necessary to set forward one's watch going eastward and set it back going westward. There is five hours' difference between the Meridian at Greenwich and New York. If a ship travels the distance in five days she gains an hour each day going eastward and loses an hour going westward.
As, however, comparatively few ships make such speed, on most liners the day's length varies and the only good guide for setting watches is the ship's clock, usually found at the head of the companion stairway in the entrance hall, which is set forward twice a day, at noon and at midnight, or set backward if she is westward bound.
Ocean Lines and Distances
Transatlantic steamships follow certain lanes or tracks, unless prevented from so doing by stress of weather, or work of rescue or relief, or other unforeseen circumstances. From August 24 to January 14 a vessel going eastward follows the short track, and from January 15 to August 23 the long. Going west the short track is followed from August 15 to January 14, and the long from January 15 to August 14. Following these lanes makes for safety and enables vessels better to meet the exigencies of weather conditions.
Some of the Atlantic distances are as follows :—
Ambrose Lightship to Bishop's Rock—
Long track .. .. .. .. .. .. 2,966 miles
Short track .. .. .. .. .. .. 2,876 ,,
New York to Ambrose Lightship .. .. .. .. 22 ,,
Ambrose Lightship to Nantucket Lightship .. .. .. 193 ,,
Nantucket Lightship to Fastnet .. .. .. .. 2,659 ,,
Cherbourg to Nab Lightship .. .. .. .. .. 66 ,,
Nab Lightship to Southampton .. .. .. .. 24 "
Bishop's Rock to Lizard's Point .. .. .. .. 49 ,,
Bishop's Rock to Cherbourg .. .. .. .. .. 190 ,,
,, ,, Plymouth .. .. .. .. .. 98 ,,
,, ,, Bremen .. .. .. .. .. 683 ,,
,, ,, Antwerp .. .. .. .. .. 443 ,,
,, ,, Hamburg .. .. .. .. .. 631 ,,
,, ,, Havre .. .. .. .. .. 265 "
,, ,, Rotterdam .. .. .. .. .. 447 ,,
,, ,, Southampton Docks .. .. .. 215 ,,
United States Lines Freight Department
All of the steamers operated by the United States Lines are combination freight and passenger ships. They are modern in every respect and some are equipped for carriage of considerable cargo under refrigeration.
Our Docks are of recent construction and modern in all equipment, offering facilities for loading direct from cars into steamer, eliminating any hauling, lighterage or transfer by trucks. This is especially advantageous to Western Shippers, and movement of through cargo consignments in carload lots.
Special attention is given to shipments of household goods, automobiles, etc.
For Rates And Space Apply To
United States Lines
Freight Department 45 Broadway, New York
Express Services Bremen Line
Eastbound
New York-PIymouth-Cherbourg-London
Westbound
Bremen-Southampton-Cherbourg-Queenstown- New York
London Line
Eastbound and Westbound New York-PIymouth-Cherbourg-London
Queenstown Line
Eastbound and Westbound New York-Queenstown-Bremen
Danzig Line
Eastbound and Westbound New York-Bremen-Danzig
Prepared 2015-06-04 by Paul K. Gjenvick, MAS, Archivist