SS Manhattan Passenger List - 18 July 1934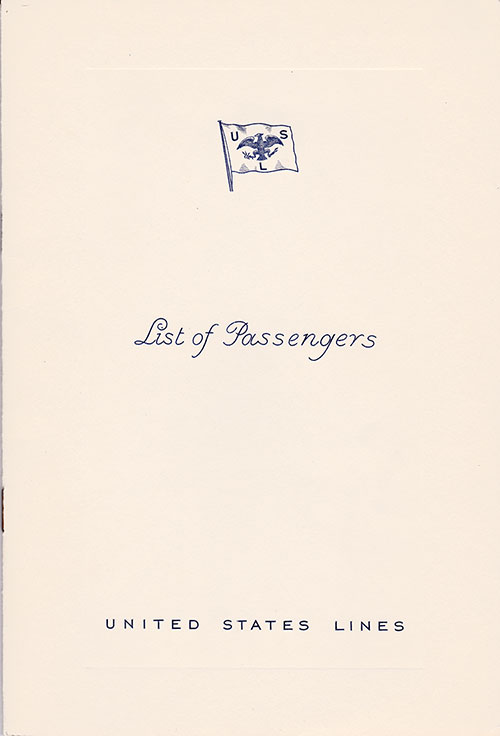 Front Cover of a Cabin Class Passenger List from the SS Manhattan of the United States Lines, Departing 18 July 1934 from New York to Hamburg via Cobh, Plymouth, and Le Havre, Commanded by Captain Schuyler F. Cumings, Lt. Cmdr. USNR. GGA Image ID # 1653f395c5
Senior Officers and Staff
Commander: Captain Schuyler F. Cumings, Lt. Cmdr. USNR
Chief Engineer: John Rakow, Lt. Comm., U.S.N.R.
Chief Officer: Wm. Dougherty, U.S.N.R.
Surgeon: G. R. Mathews, Jr.
Assistant Surgeon: John P. Connors
Purser: James G. Summitt
Assistant Purser: Thos. F. Maher
Chief Steward: J. H. King
Second Steward: J. W. Gibson
GREETINGS
We bid you a hearty welcome on board this new American liner, and we hope you will thoroughly enjoy the voyage.
The MANHATTAN and WASHINGTON are sister ships and besides being the largest liners ever built in America are the fastest cabin ships in the world.
These great steamers, the product of the vision, experience and skill of builders and owners, mark a new and forward step in the history of the American Merchant Marine.
We are confident that discriminating travelers of all lands will appreciate our endeavors to provide service and cuisine in keeping with the American standard of living—the highest in the world.
Cabin Class Passengers
Dr. Frank E. Adair
Miss Alice Van A. Alexander
Mr. S. Asher
Mrs. Asher
Mrs. Fred W. Ayers
Miss Dorothy Ayers
Dr. Harry Bakwin
Mr. M. C. Ballenberg
Mrs. Ballenberg
Miss Doris Jean Ballenberg
Mr. Henry Barbey
Mrs. Henry Barbey
Mrs. M. S. Barlow
Mr. J. A. Barnard
Mr. J. L. Barnard
Mrs. J. A. Barnard
Mr. Alan Bateman
Mr. C. A. Battenberg
Mr. Adolph Baudistel
Mrs. Baudistel
Miss Charlotte Baudistel
Dr. Michael Bensole
Mrs. Bensole
Mr. Euphimel Bereslavsky
Mrs. Bereslavsky
Mrs. D. Spencer Berger
Mr. Osborn Bezanson
Miss Elizabeth Bezanson
Hon. James Crawford Biggs
Mr. Samuel Bingham
Mrs. Bingham
Mr. Samuel Bingham. Jr.
Miss Anna Bingham
Mr. Saul Blatt
Miss Beatrice Block
Mr. Milton C. Blum
Mrs. Blum
Dr. Julius Bondy
Miss B. A. Bondy
Dr. Newton A. Bornstein
Mrs. Bornstein
Mr. H. W. Bowen. Jr.
Mrs. Bowen, Jr.
Master H. W. Bowen. Jr.
Mr. R. G. Bowman
Mrs. Bowman
Mrs. Elizabeth W. Brayton
Mr. Howard Brayton
Miss Nancy Brayton
Mr. Albert M. Bressler
Mr. Don U. Bridge
Mrs. Bridge
Mr. Jack Frost Bridge
Mrs. R. J. Bright
Mrs. Allerton Brooks
Mr. Harold S. Brown
Mrs. Brown
Mr. E. B. Brown
Mrs. Brown
Mrs. Valley Brown
Miss Elsa Buka
Mr. W. E. A. Bulkeley
Mrs. Bulkeley
Mrs. Edwin A. Bunting
Mrs. James B. Burr
Miss Jean M. Bush
Mr. William T. Bynes
Mrs. Bynes
Miss Mary E. Bynes
Mrs. A. M. Cameron
Mrs. J. A. Cattell
Miss Florence Chandless
Miss Betty Collamore
Mrs. M. Cone
Mr. J. B. Cooper
Hon. George Corson
Mrs. Corson
Dr. Ivan R. Cottrell
Miss D. Coulter
Rev. Francis Creamer
Mrs. Thomas W. Cridler
Mr. Eduardo Cristie
Mrs. Cristie and family
Mr. G. P. Crowley
Mrs. Crowley
Mr. R. C. Cunningham
Mrs. Cunningham
Mr. F. E. H. Davies
Dr. Maurice Dimand
Mrs. Dimand
Mr. W. J. Donovan
Mrs. Conrad Driscoll
Miss Jessica Driscoll
Miss Helen T. Driscoll
Rev. Mark E. Driscoll
Mrs. C. J. Driscoll
Miss Elizabeth Driscoll
Miss Ann B. Driscoll
Mr. Warren Eaton
Mrs. Warren Eaton
Mr. Warren Eaton, Jr.
Miss Louise Edgar
Mr. C. E. Elcock
Mrs. Elcock
Mrs. J. R. English
Mr. Walter Fenner
Miss Olgo Fenner
Mrs. Marguerite Fisher
Mr. Nevin Fisher
Dr. Irving J. Fisher
Mrs. Fisher
Mr. J. Wilmer Fisher
Miss M. Fisher
Mr. Washington Flexner
Mrs. Flexner
Miss Miriam Flexner
Mrs. Edward Forbes
Mrs. M. E. Forbes
Mr. Carlyle Frazier
Mrs. Frazier
Mr. Daniel A. Fraser
Mrs. G. E. Freeman
Miss Freeman
Mr. H. H. Fuhrman
Mr. Joseph M. Gamble
Mr. Peter R. Gatens
Mr. Norman E. Gatens
Mrs. Gatens
Mr. Herman Geller
Mrs. Geller
Miss Helen Geller
Miss Selma Geller
Mr. J. A. Gibbs
Mrs. Paul Gillespie
Mr. S. R. Gill
Mrs. Gill
Mrs. W. S. Gilman
Mr. F. B. Gleason
Mrs. Gleason
Mr. Arthur W. Glenk
Mr. Adolf Goetz
Mr. Nathan Goldman
Mrs. Nathan Goldman
Mr. W. E. Griswold
Mrs. Griswold
Mr. John Griswold
Mr. Edward Gunther
Mrs. Gunther
Mr. Vernon Hall
Mrs. Hall
Mr. Vernon Hall. Jr.
Miss Susan Hall
Mr. E. B. Hallett
Mr. Victor Halper
Mr. Sterling Halstead
Mrs. Halstead
Mr. Aladar Hamburler
Miss Mary Hartnett
Miss Estelle Hartnett
Miss Ann Hartnett
Mr. J. Heeper
Dr. George Heidelman
Mr. N. Heinscheimer
Mrs. Heinscheimer
Mr. C. F. Henderson
Mrs. Henderson
Miss Gertrude Henderson
Miss Dolores Henderson
Mr. J. W. Hicks. Jr.
Mrs. Hicks, Jr.
Master A. W. Hicks. Ill
Miss Edith Hoffberg
Mr. Frank A. Hoffman
Mrs. Hoffman
Mr. George T. Hoover
Mr. E. Hornbostel
Mrs. Hornbostel
Mrs. J. H. Howard
Mr. W. Huebsch
Miss Harriet Hunt
Mrs. Ralph Hurd
Mr. Chapman H. Hyams. Jr.
Mrs. Hyams
Mr. Robert Irving
Mrs. Irving
Mr. B. O. Jacobson
Miss Seignora Jeannette
Miss Mable R. Jennings
Mrs. George W. Johnson
Miss Marie E. Johnson
Miss Mary L. Johnson
Mr. G. Kaslow
Mrs. Kaslow
Com. J. A. Kavaney
Miss Rose Keller
Mrs. W. F. Kelly
Miss Catherine Kelly
Mr. R. M. King
Mr. W. Lloyd Kitchel
Miss Enid Klauber
Mr. Edward Klauber
Mrs. Klauber
Mr. Philip Kleeberg
Mr. Alfred Klein
Mrs. Klein
Miss Vera Klein
Mr. C. Rodney Kleinhans
Mrs. Kleinhans
Miss Agnes Keogh
Major H. A. Kroner
Mrs. Kroner
Mrs. A. Kupfer
Mr. R. E. La Due
Mrs. La Due
Mr. S. Lam
Miss Elizabeth Lamont
Mr. C. D. Landale
Mr. David Lawless
Mrs. Lawless
Mr. Harry Layton
Mrs. Layton
Mr. A. Leitman
Mrs. Leitman
Mr. L. Lessells
Mrs. Lessells
Mrs. Miriam Levine
Mr. Max Levitt
Miss R. A. Levy
Mr. J. W. Littleford
Mrs. G. J. Loewy
Mr. Daniel Lord
Mrs. Ethelbert Low
Miss Gertrude Low
Mrs. Edgar N. Lupfer
Miss May McCabe
Mr. James D. McGann
Mrs. McGann
Mr. G. H. Macauley
Mrs. Macauley
Mr. Joseph V. McNulty
Mr. C. F. Maguire
Mr. M. L. Manger
Mrs. Manger
Master Arthur Manger
Mrs. Roswell Miller
Mrs. Webb Miller
Master Webb Miller, Jr.
Mr. Francis Miller
Hon. Ewing Mitchell
Miss Ilene Mitchell
Miss R. Mixner
Miss Marion E. Moore
Miss H. D. Moore
Mr. Gomer Morgan
Miss Eugene Morris
Mr. E. P. Muench
Mrs. Muench
Mr. Henry Nehr
Mrs. Nehr
Mr. R. H. Nehr
Mrs. E. D. Nix
Mr. W. C. Oberg
Mrs. Oberg
Mrs. Catherine P. O'Brien
Miss Cessella O'Brien
Miss Pauline O'Brien
Miss Marion O'Brien
Master Thomas O'Brien
Rt. Rev. Mon. David O'Dwyer
Mrs. H. Otis
Mrs. A. W. Parker
Mr. Rex Parkin
Mrs. E. E. Pattison
Rev. Norman V. Peale
Mrs. Peale
Mrs. H. B. Peirce
Miss Peirce
Mr. Richard A. Perry
Mrs. Perry
Mrs. Bertha Philip
Mr. F. S. Pickle
Mrs. Pickle
Dr. C. C. Pierce
Mrs. Pierce
Mr. C. C. Pierce
Mr. Victor Pinkus
Mrs. Charles Pope
Mr. Van Zo. Post
Mrs. Post
Mr. Jesse Potter
Mr. J. S. Potts
Mrs. Potts
Miss Jennie Prenski
Mr. Henry Rahe
Mrs. Rahe
Mr. Joseph Raywid
Mrs. Raywid
Mr. Rudolf Redmann
Mr. John G. Reilly
Mrs. Reilly
Miss Elsie Reilly
Mr. M. M. Rippa
Mrs. Rippa
Mr. Frank Roderick
Mr. C. K. Roe
Mrs. Roe
Mr. Allen S. Rogers
Mr. Ernest W. Ross
Mrs. Ross
Mr. Leon Rosenbaum
Mr. Leon Rosenbaum. Jr.
Miss Emelie Rosenbaum
Mr. Rosen
Mrs. Rosen
Dr. Charles E. Russell
Mr. Walter Russell
Mr. F. J. Rutledge
Mrs. Rutledge
Mr. Ellis Sard
Mrs. G. Seidenberger
Mr. Henry T. Seymour
Mrs. Seymour
Mr. M. Shakman
Miss Emma Shenk
Mrs. Walter Shiffer and Maid
Mr. Lawrence Simon
Mrs. Simon
Mr. M. Simon
Mrs. Simon
Mr. John Simon
Mr. John Simpson
Mrs. B. I. Simpson
Mr. William Sinnot
Mr. Joseph M. Skinner
Mrs. Skinner
Mrs. O. E. Smetzer
Mr. Wilbur W. Smith
Mrs. J. A. Smith
Mrs. George S. Squibb
Mr. George S. Squibb. Jr.
Mr. Walter Staub
Mr. E. Elmer Staub
Miss Helen E. Staub
Miss Grace I. Staub
Mr. Julius Stern
Mr. Abe Stern
Dr. Clifford Strachley
Mr. Albert J. Sullivan
Mrs. Sullivan
Mrs. Blanche Swenson
Mr. W. C. Thompson
Mrs. Thompson
Mrs. Eliza Thompson
Mr. Robert Thompson
Mrs. Thompson
Mr. Edward Thonmessen
Miss Mildred Tietze
Mr. Louis B. Tim
Mrs. Tim
Mr. F. Tivoli
Mr. Paul T. Torwald
Mrs. Torwald
Mrs. Trainor
Mrs. E. Triska
Miss Marget Triska
Mr. T. J. Tunney
Mrs. Tunney
Mr. Lee Turbow
Mr. W. G. Van Schnus
Miss Catherine Van Schnus
Mr. Alfred B. Wade
Mr. Phillip T. Wade
Mr. Hugh M. Wade
Mr. Robert F. Wagner
Mr. Frank M. Walsh
Dr. George Gray Ward
Mrs. Ward
Mrs. Katie Wartmann
Mrs. Mary Weir
Dr. Albert Weinstein
Mrs. Weinstein
Master John Weinstein
Mrs. Franklin Wheaton-Smith
Miss Margaret Whelan
Mrs. Anna G. Whitcomb
Mr. Stephen Whitcomb
Miss Jane Whitcomb
Mrs. Charles R. Williams
Mr. Lansing Williams
Mr. Williams
Mr. John R. Williams
Mr. Raymond Wilson
Mrs. Wilson
Mr. Frank Wineskie
Mrs. Theresa Wipper
Dr. Anthony Wollner
Mr. C. H. Wood
Mrs. Wood
Miss Helen Woodbury
Mrs. Samuel C. Workman
Mr. J. Yanhauer
Mrs. Yanhauer
Miss Marie Yoder
Mr. George Youell
Mr. Thomas Youell
Mr. H. A. Zeller
Mrs. Zeller
Mr. Allen Zoll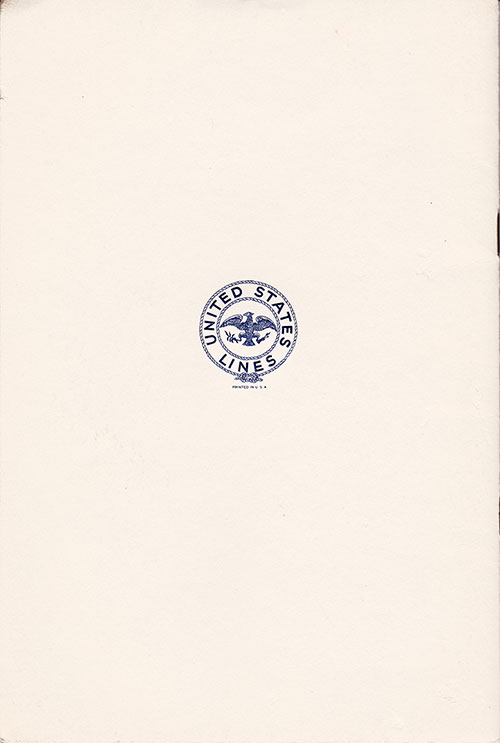 Back Cover, United States Lines SS Manhattan Cabin Class Passenger List - 18 July 1934. GGA Image ID # 165411cb5e