SS Washington Passenger List - 30 September 1938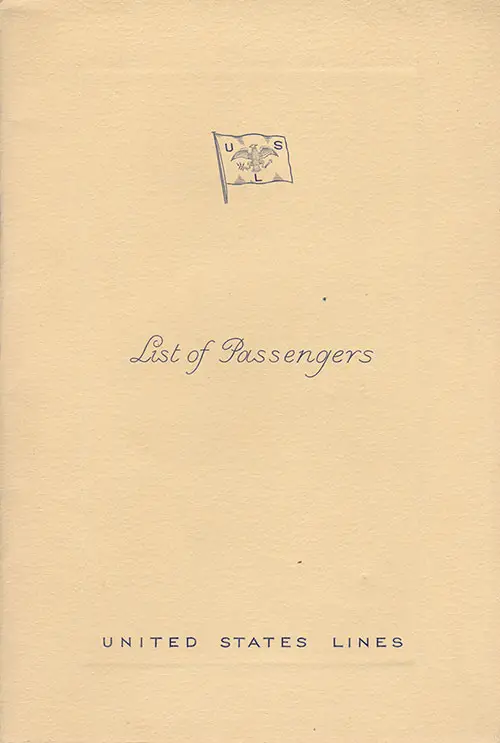 Front Cover of a Tourist Class Passenger List from the SS Washington of the United States Lines, Departing 30 September 1938 from Le Havre to New York via Southampton and Cobh, Commanded by Captain Giles C. Stedman, Lt. Comm., U.S.N.R. GGA Image ID # 166f06f6da
Tourist Class and Third Class Passenger Lists for the SS Washington of the United States Lines, Departing 30 September 1938 from Le Have to New York via Southampton and Cobh. The Ship was commanded by Captain Giles C. Stedman.
Senior Officers and Staff
Commander: Captain Giles C. Stedman, Lt. Comm., U.S.N.R.       
Executive Officer: Ralph C. Dooley, Lt., U.S.N.R.
Chief Engineer: John W. Rakow, Lt. Comm., U.S.N.R.
Chief Purser: Frank Clyde Arnoult, Lt., U.S.N.R.
Tourist Purser: A. Edison Powell
Surgeon: Hugh H. Neely
Assistant Surgeon: Joseph William Spill
Chief Steward: Hugo Schuessler
Chief Tourist Steward: John Thyen
GREETINGS
We bid you a hearty welcome on board this great American liner, and we hope you will thoroughly enjoy the voyage.
The MANHATTAN and WASHINGTON are sister ships, the largest liners ever built in America.
These superb steamers mark a new and forward step in the history of the American Merchant Marine. Their popularity shows that discriminating travelers of all lands appreciate our endeavors to provide service and cuisine In keeping with the highest standards.
"TRAVELERS abroad are to a great extent unofficial envoys of their country, and can often influence some of those they meet to return their visit, to the benefit of international understanding, commerce and good-will."
Tourist Class Passengers
Mr. Julius Abraham
Mrs. A. Adie
Mr. Gustau Adler
Mrs. Adler and 2 Children
Miss Bella Adler
Mr. Thomas Ansbro
Mrs. Ansbro
Mr. M. J. Anthony
Miss Bridie Marie Ashe
Mrs. Mary Aylward
Miss Gertrude Baganz
Mrs. Clara Bauer
Mr. Rudolf Baum
Miss Ella Baum
Prof. A. Black
Mrs. Black
Miss Alice Black
Mrs. Flora Blau
Miss Marcia Blau
Mrs. Mary E. Beatty
Miss Hilda Ber
Mr. Alfred E. Bilbrough
Mrs. Bilbrough
Mr. Karl Blott, Jr.
Miss Esther Bochner
Mr. Erich Borgs
Mrs. Borgs
Mr. J. Brewer
Mrs. Anna Bullis
Mr. Gordan A. Burke
Mr. A. A. Buzzi
Mrs. Buzzi
Mrs. L. Cable
Mrs. Caroline Caddy
Mr. Gaetano S. Caiola
Mr. R. Carbone
Mrs. M. Carbone
Mrs. Catherine Cathcart
Rev. Sister Mary Charlotte
Mrs. Mary Cody
Mrs. Therese Cohen
Mr. Michael Coleman
Miss R. Colton
Mrs. Rose Conneck
Miss Mary Connors
Mrs. Jane Conroy
Mr. Gaston Cormont
Mr. John Corrigan
Mrs. John Corrigan
Miss Mary Cowen
Mr. Phillip J. Cullen
Mrs. M. T. Cussen
Miss B. Dean
Mr. John J. Deering
Miss Helen Dengler
Mrs. Margaret Dick
Mrs. Elizabeth Dobai
Miss Norah Drew
Miss Kathleen Druen
Miss Florence Duckham
Mr. William L. Due
Mrs. Due
Mrs. Josephine Dumas
Miss Loretta Dumas
Mr. Frank W. Duncan
Miss Mary A. Durkan
Miss Susan D. Duvall
Mr. Josif Edelmann
Miss Margaret Egan
Mrs. Maria Galli de Elias
Mr. Fritz Eppstein
Mrs. Eppstein
Mr. John Falkenberg
Mr. J. Fineberg
Mr. Hans Fischei
Mrs. Zerlinec Fischei
Miss Anna Flannery
Rev. James Fleming
Mr. Garret Fleming
Mrs. Fleming
Rev. Sister Mary Florence
Rev. Harry W. Forrester
Mrs. Gisela Foss
Master Bernhard Foss
Mr. V. Fox
Mr. Julius Frank
Mrs. Frank
Master Hans Frank
Miss Lieselotte Frank
Mr. Philip Freeman
Mrs. Freeman
Master Stanley Freeman
Mr. LeRoy Edwin Froom
Mr. William Funk
Mrs. Funk
Miss Gartner
Miss Grace Gaylord
Mrs. Hans Geiringer
Prof. Bernard Geizer
Mrs. Geizer
Miss Ruth Geizer
Mr. William H. German
Mrs. German
Mr. Ray Gertsch
Miss G. M. Gibbs
Miss E. J. Gibbs
Mrs. Annie G. Gillingham
Mrs. Jennie Greger
Miss J. E. Gripper
Miss Hertha Gruenebaum
Dr. Gruenberg
Mrs. Gruenberg
Mrs. J. B. Grundy
Mr. Arthur B. Haley
Mrs. Haley
Miss C. Hallis
Mr. Edward J. Hally
Miss Lore Harris
Miss Dorothy Harris
Mr. Fred. Havlicek
Mrs. Havlicek
Mr. John J. Heavey
Mrs. Julie Heilpern
Miss Ruth B. Herblit
Mr. Wolf Hermann-Haber
Mr. Adolf Herz
Mrs. Herz
Mr. Paul Herz
Mr. Max Hirsch
Mrs. Hirsch
Miss Marianne Hirsch
Mr. Otto Hirsch
Mr. Kenneth C. Hodder
Mr. Samuel Hoffman
Mr. Willy Hoffmann
Mrs. Hoffmann
Miss Marion Hoffmann
Mrs. Catherine Hoffman
Mrs. Marie Holme
Mr. Irwin Hopfer
Mr. H. L. Horton
Mr. J. Hourihan
Mr. B. L. Hunt
Mrs. Hunt
Mr. Peter Irons
Mrs. J. Isaacs
Miss R. Isaacs
Mrs. Hedwig Israel
Mrs. Alice Jackson
Miss Ellen Jackson
Master Graham Jackson
Master Basil Jackson
Miss Z. Jackson
Miss Hilda Jelbert
Mrs. Sarah H. Jennings
Mr. Joseph Johann
Mrs. Johann
Miss Margaret John
Mrs. Waltei Johnson
Miss Beatrice Johnson
Mrs. L. E. Jones
Mrs. Annie Josefsky
Mr. Simson Joseph
Mrs. Joseph
Master Werner Joseph
Mr. S. Kalinowski
Mr. George Kaplal
Dr. Ludwig Karrenberg
Miss Frieda Katz
Mr. Leo Kaufmann
Mr. Jas. J. Keating
Mr. Thomas Keefe
Mrs. Keefe
Mr. D. A. Keefe
Mrs. Keefe
Dr. Edward J. Kennedy
Miss Gyorgi Keresztessy
Mrs. Alberte Kilcline
Mr. Calvin Kiralfy
Mr. S. C. Kirkley
Miss Lissa Klein
Mr. Leo Kohn
Miss Pol a Kossiorowski
Miss Marta Koullen
Miss Rose Marie Kunz
Mr. Martin Kyne
Mrs. Kyne
Miss Golda Landmann
Mr. Alex. Lakatosh
Miss P. Larsen
Dr. Albert Lauterbach
Mrs. Lauterbach
Miss Anna Matilde Lavine
Miss Bessie Roseline Lavine
Mr. W. T. Leach
Miss Florence Leichter
Mr. Friedrich Leyser
Mr. Heinrich Lindner
Mrs. Lindner
Miss Lore Lindner
Miss Margaret Lindner
Mrs. E. B. Lockhart
Mr. Tivadar Loew
Miss Jane Louis
Miss Erica Lustenberger
Mr. Albert Lynch
Mr. L. E. Lynch
Miss Nancy F. McBrinn
Mr. Russell McKenna
Mr. Patrick McKenna
Rev. W. J. McMahon
Mr. D. MacMillan
Mrs. Thereoa McNally
Rev. James McVann
Mr. Art Mahon
Mrs. Virginia Mahon
Mr. Hans Mann
Miss Hedwig Mann
Mr. A. D. Malet
Mr. R. R. Mansfield
Mr. F. C. Marino
Mr. William F. Martin
Mrs. Paulina Meier
Mr. Mitchell Mckasy
Mrs. B. J. Merkel
Miss D. Merkel
Mr. Werner J. Michel
Mr. David Millen
Miss Christine Miller
Mr. John B. Moran
Miss Christine Muller
Miss Kathryn Murphy
Mr. Daniel Murphy
Mr. Hans Nachmann
Mr. Karl Nagel
Mrs. Anna Naprstek
Mr. Virgil Nelson
Mr. Manfred Neu
Mr. Dale I. Nilson
Miss Diana Noel
Mr. Geo. Nostrand
Miss Elinor Nostrand
Mrs. Elizabeth Nothmann
Master H. Nothmann
Miss Nora O'Connor
Miss Margaret O'Connor
Miss Eileen O'Farrell
Mr. A. Richard.Oliver
Miss L. O'Shea
Miss Ellen Owens
Miss Anna Owens
Mr. Issi Justin Pfeiffer
Miss Anna Piller
Mr. F. Plunder
Mrs. Szerence Poller
Rev. Thos. F. Prendergast
Miss A. Preston
Mrs. P. Ramsey
Miss S. Ramsey
Dr. Morris Rand
Mrs. Rand
Dr. Israel Rappaport
Mrs. Rappaport
Miss Charlotte R. Rappaport
Mr. Jos. W. Ratigan
Mr. Alberto Ravagnan
Mrs. Delia Ravagnan
Mrs. Abby E. Regan
Miss Henny Reichmann
Mr. Peter Reinhardt
Mr. Fritz Reis
Mrs. Reis
Miss Dorothea Reis
Mr. Bcrthold Reissfeld
Mrs. Reissfeld
Rev. J. Relihan
Mrs. Telka Richter
Mr. Rodney Rickenbach
Mrs. M. H. Rioch
Mrs. A. F. Rogers
Miss Genevieve Rogers
Mr. Walter Roper
Mrs. Roper
Mr. Max Rothschild
Mrs. Rothschild
Miss Charlotte Rowen
Mrs. Else Rubel
Miss Ruth Rubel
Master Werner Rubel
Mr. Henry Rydl
Mrs. Rydl
Miss Catherine Sarbacker
Mrs. Anna Schaefer
Mr. Erich Schartenberg
Mrs. Julia Schenermeyer
Mr. Emil Scheuer
Mrs. Scheuer
Miss Elfriede Scheuer
Miss Edith Scheuer
Mr. Albert Schloss
Mrs. Schloss
Master Gerhard Schloss
Master Hans Schloss
Mr. Richard Schorsch
Mrs. F. Schwartz
Mrs. Frieda Seeh
Mrs. Ida Seligmann
Mrs. Nancy Sherburne
Mrs. Paula Simon
Mrs. Camilla Simpson
Mrs. Germamaine Smith
Miss Collette Smith
Mrs. Harvy J. Smith
Mrs. A. Snider
Miss T. Speary M
rs. Josephine Spitzler
Mr. A. Stadin
Mrs. Stadin
Mrs. Dora Starkman
Mrs. Setti Stern
Miss Irene Page Stevens
Mr. Erich Strauss
Mr. Ernst Strauss
Mr. Erwin Streisinger
Dr. J. F. Sturtevant
Mr. Joseph Sundheimer
Mrs. Sundheimer
Miss Caroline Taylor
Master William Taylor
Miss Sarolta Telegdi
Miss Katharyn Terry
Mrs. Louise Thyen
Mrs. C. E. Tideman
Mr. W. W. True
Mrs. Louise G. Vance
Mrs. Sylvia Viatanen
Mr. Joseph D. Vince
Mrs. Marion Vince
Dr. Volk
Mr. Edward J. Volz
Mrs. Volz
Miss Ray Wacholder
Mr. George R. Wallace
Mrs. Wallace
Dr. Edgar Watson
Mrs. Laura Wermelinger
Mr. John J. White
Mr. Robert Wilderman
Miss Helen Wilderman
Miss Edna M. Wilson
Mr. R. L. Wilson
Mr. Edward Wimmer
Miss Ellen Wistinctzki
Dr. John Wolfram
Mrs. Wolfram
Miss Anna Wolfram
Mr. Norman Wood
Miss Grace S. Wright
Mr. A. F. Wunderlich
Third Class Passengers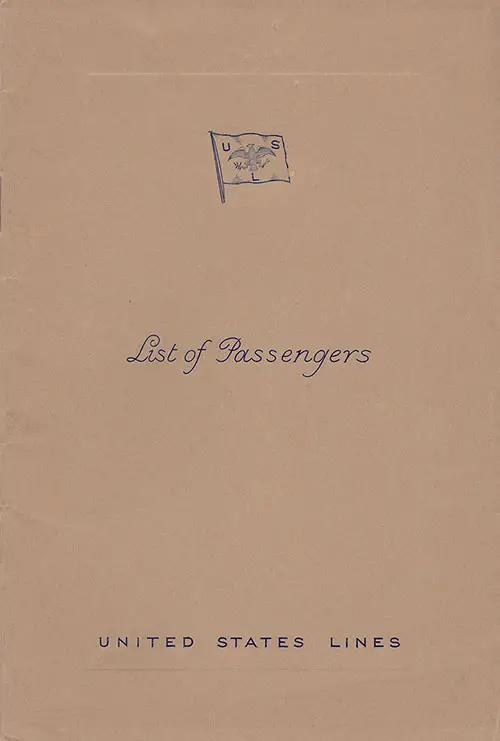 Front Cover of a Third Class Passenger List from the SS Washington of the United States Lines, Departing 30 September 1938 from Le Havre to New York via Southampton and Cobh, Commanded by Captain Giles C. Stedman, Lt. Comm., U.S.N.R. GGA Image ID # 166ed3eef5
Mr. George Ahrend
Mrs. Ahrend
Master George Ahrend
Miss Elsie Arneth
Mrs. Barbara Babaics
Mr. w A. Beaman
Mrs. Beaman
Mr. Ove S. Beck
Mrs. Beck
Mr. John Bogdan
Mrs. Maria Bogdan
Miss Martha Bogdan
Mr. Allred Bothe
Mr. Hans Brenzel
Mrs. Brenzel
Mrs. Brueck
Mr. Fred Buhler
Miss Mary A. Burke
Miss Amelia Campbell
Mr. Patrick J. Caraghan
Miss Margaret Carew
Mrs. Mary E. Champion
Mr. Michael Clair
Master Thomas B. Cormack
Miss Adelaide K. Cormack
Mr. Michael Culhane
Mrs. Charlotte Dahmen
Mrs. Ethel Davey
Master William Davey
Mrs. Bertha De Leeuw
Master Maurice De Leeuw
Mrs. Domhardt
Miss Virginia Drapeau
Mrs. Frieda Engel
Miss Luise Faller
Miss Marjorie Finnegau
Mr. Jacob Fischer
Mrs. J. Fischer
Master Fred Fischer
Master Jack Fischer
Mr. George Fleming
Miss Mary E. Flvegel
Miss Katie Fowley
Miss E. Garofalo
Mrs. Wilhelmina Gastl
Miss Wilhelmina Gastl
Mr. Hans Gaye
Mrs. Gaye
Mrs. Johanna Gerst
Mrs. Wilhelmine Giamais
Miss Katie Golding
Mr. Ferdinand Grewe
Mrs. Grewe
Miss Elsie Grewe
Mr. L. A. Gulbert
Miss Mary E. Harkins
Mr. Daniel Harrison
Miss Helen M. Haskew
Mr. Stewart Hayes
Mr. Siegfried Herzberg
Mr. Richard Hickson
Miss Nellie Hitchins
Mrs. Theresa Hitchins
Mrs. Annie Hodge
Miss F. Hoffman
Miss M. L. Hugo
Mrs. Lillian Jones
Mrs. Veronika Kaminsky
Mr. J. D. Kerentarto
Mrs. Margaret Kissane
Mr. M. M. Knight
Mrs. M. M. Knight
Mr. Samuel Kovacz
Mr. John Krajesovich
Mr. August Krauss
Mrs. Krauss
Master August Krauss
Miss Carolyn Krauss
Miss Helen Kuligowski
Mrs. F. Lavallee
Miss Anna Lengel
Mr. Howard Childon Leonard
Mr. F. Lingel
Miss Erna Luetteke
Miss Isabelle McConville
Mr. A. M. McDannald
Mrs. McDannald
Miss Agnes McDonough
Miss Kathleen Mclnerney
Miss Mary A. Mclnerney
Mrs. Annette Macoun
Mr. Henry Mahler
Mr. William J. Mahoney
Master Jeremiah Mahony
Master John Mahony
Miss Catherine Mahony
Miss Mary Mahony
Mr. Harry Meth
Mrs. S. G. Mitchell
Miss R. Moch
Mrs. Herbert Moseley
Miss Johanna Moyinihan
Mr. John Muessig
Mr. Steve Novotny
Mrs. Susan Novotny
Mr. Alfred Nowack
Mrs. Nowack
Mr. Oliver Nuss
Miss Margaret O'Keefe
Mrs. Nora O'Shea
Mr. Henry Pegelow
Mrs. Clara Peglow
Miss Ruth Perle
Miss Rose Perz
Miss Helen Perz
Mr. John Pfister
Mrs. Pfister
Miss E. Phelan
Mr. Barnet Pikser
Mrs. Ethel S. Potter
Mr. Chas. Protas
Mrs. Eva Prussack
Rev. Andrew Rasmussen
Mrs. Helene Reece
Mr. James Reidy
Mr. Karl Reinighaus
Mrs. Drina Rclich
Mr. Richter
Miss Esther Ryan
Mrs. Anni Schmidt
Mrs. Louise Schumacher
Miss Doris Schumacher
Mrs. Mary C. Sheehan
Miss Ellen Sheehy
Miss F. L. Stover
Mr. Fritz Streck
Mrs. Dorit Strutz
Mrs. Mary Tabacar
Mrs. Anna Taufenbach
Mrs. Sidonic Tetzlaff
Mr. D. E. Thomas
Mr. Robert Tilippincott
Miss Bridget Togher
Mr. Bernard Totteni
Mrs. Henrica Vertongen
Master foseph Vertongen
Miss Milka Vranjes
Miss Hannah Walsh
Miss Julia Walsh
Miss Pauline Weller
Mr. Bert Wirtschafter
Mrs. Therese Wisser
Miss Hedwig Zehden
Mrs. Ruth Zeiss
Master Fred Zeiss