SS Manhattan Passenger List - 29 June 1938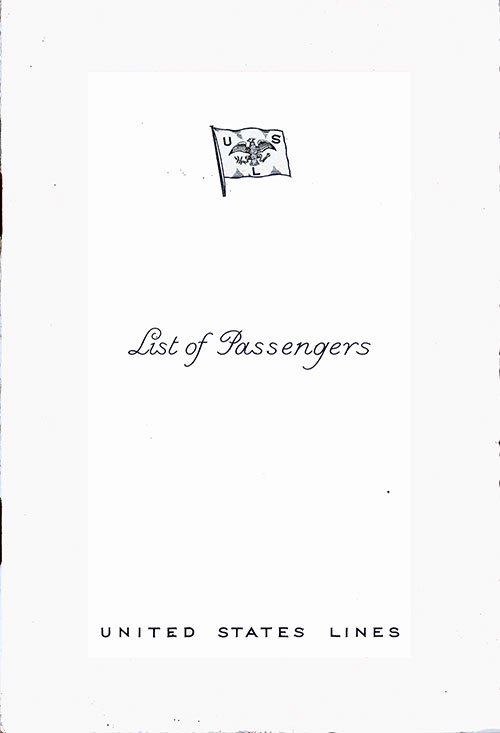 Front Cover of a Tourist Class Passenger List from the SS Manhattan of the United States Lines, Departing 29 June 1938 from Hamburg to New York via Le Havre, Southampton and Cobh, Commanded by Captain Albert B. Randall, U.S.N.R. GGA Image ID # 166baa1d22
Title Page, SS Manhattan Passenger List, 29 June 1938. GGA Image ID # 1ea7df8bcb
GREETINGS
We bid you a hearty welcome on board this great American liner, and we hope you will thoroughly enjoy the voyage.
The MANHATTAN and WASHINGTON are sister ships, the largest liners ever built in America.
These superb steamers mark a new and forward step in the history of the American Merchant Marine. Their popularity shows that discriminating travelers of all lands appreciate our endeavors to provide service and cuisine in keeping with the highest standards.
UNITED STATES LINES.
Travelers abroad are to a great extent unofficial envoys of their country, and can often influence some of those they meet to return their visit, to the benefit of International understanding, commerce, and goodwill."
Senior Officers and Staff
Commander: Albert B. Randall, Captain (U.S.N.R.)
Executive Officer: Edward A. Richmond (LT., U.S.N.R.)
Chief Engineer: James J. Ganly
Chief Purser: Clarence P. Gehrig
Tourist Purser: Stanley G. Morgan
Surgeon: Frank Stewart
Assistant Surgeon: James Henderson
Chief Steward: John H. King
Chief Tourist Steward: Egon Brieda
Tourist Class Passengers
Mr. Julius Aberbach
Mr. Guillermo Arce
Rev. M. B. Aspinwall
Mr. Kurt Bacharach
Mrs. Jennie Bacharach
Mr. Emanuel Bachenheimer
Mrs. Bachenheimer
Mr. Herbert Baer
Mrs. Baer
Miss Johanna Baer
Mrs. Auguste Baer
Mr. H. Barnett
Mr. Richard Bauer
Mrs. Tustine Becker
Mrs. Ellen Behan
Mr. Clemens Belling
Mrs. Belling
Miss Maud Belling
Mrs. Sophie Berger
Miss E. Bevans
Mr. Maurice Bilton
Mr. Hermann Bittmann
Mrs. Bittmann
Miss Hilda Bittmann
Mrs. Judd Blackstone
Mr. Frank Blied
Mrs. Blied
Mr. Albert Block
Mr. Lew Bloom
Mr. Ludwig Blumenthal
Miss Gerda Bohdanetzky
Mr. Montague Boyd
Mr. Carroll A. Boynton
Mrs. Boynton
Mrs. Regine Brueck
Mr. Josef Brustmann
Mrs. Rosa Buchsbaum
Miss Eugenie Buchsbaum
Mr. Ovin M. Bullock
Mrs. Bullock
Mr. Herman Buse
Mrs. B. Bryan
Mr. Patrick Cassidy
Mr. Carl W. Cedarberg
Mrs. Cedarberg
Mr. James Centaver
Mrs. Centaver
Miss Anneliese Centaver
Rev. Timothy Champoux
Mr. C. R. Child
Dr. George A. Collett
Mrs. Collett
Miss Ida V. Collins
Mr. Justin Condon
Mrs. Condon
Rev. Conway
Count M. B. Czernin
Mr. Norbert Daniel
Mrs. Daniel
Master Ernst Daniel
Master Heinz Daniel
Mr. Max Daniel
Miss Rose Dawes
Mr. William Day
Mrs. Germaine Delaby
Master James Delaby
Mr. C. Charles De Pauw
Rev. M. J. Donnelly
Mr. D. L. Dowling
Mrs. Dowling
Miss Gisela Drechsler
Mr. Russell Duer
Mrs. Duer
Mrs. Maureen Dunne
Miss Maureen Dunne
Miss Dorothy Eggers
Mrs. Lucie Eichenberg
Mrs. Jenny Emann
Mr. Bertes Embry
Miss Lieselotte Emmert
Mr. Kurt Engel
Mr. Felix Ermann
Mrs. Ermann
Dr. Phillip Ernst
Mrs. M. W. Fairhead
Rev. J. J. Feeley
Mrs. Feeley
Mr. Wolfgang Feigenheimer
Mrs. Feigenheimer
Mr. Herbert Feigenheimer
Dr. Paul Feist
Mrs. Feist
Miss Rose Feldmann
Mr. A. Ferber
Master Ferber
Miss J. Fine
Mr. Benno Frank
Mr. Karl Frenkel
Mrs. Frenkel
Miss Gabriele Frenkel
Mr. Julius Frohsinn
Mrs. Frohsinn
Mr. C. D. Fuchs
Mrs. Fuchs
Master Martin Fuchs
Miss Erna Gans
Mr. Werner Gerson
Mr. John C. Gibbs
Miss Kaete Goldschmidt
Mr. Lippmann Goldschmidt
Mrs. Goldschmidt
Mrs. Sophie Goldschmidt
Mr. Ernest Goldschmidt
Mr. Efroim Gombinski
Mrs. Gombinski
Miss Helga Gombinski
Miss Marion Gombinski
Miss Karoline Gottlieb
Miss Ruth Gottleib
Mrs. James Gowan
Mr. Alfred Greenfield
Mr. O. Greenwald
Miss E. Grimwood
Mr. Julius Grueneberg
Mrs. Grueneberg
Mr. Fritz Grueneberg
Mr. Siegfried Gutmann
Mr. H. L. Haag
Mrs. Haag
Mr. Wm. Hailparn
Mrs. Hailparn
Mrs. Jette Halporn
Mr. Hugo Hanauer
Mr. F. W. Hansen
Miss Eva Heilbronn
Mrs. P. Henry
Mr. Robert Hess
Miss Mathilde Heumann
Mr. Sally Hirsch
Mrs. Hirsch
Miss Gretel Hirsch
Mr. Rupprecht Hirsch
Miss Liesel Hirsch
Mr. Sidney Holland
Mr. Moses Huebschmann
Dr. Morris Isaacson
Mrs. Frances Israel
Mr. A. R. Jackson
Mr. O. Jakes
Mrs. Jakes and 2 Children
Rev. R. E. Jennings
Mr. Fritz Kahn
Mr. Erich Kapell
Mr. Karl Katz
Mrs. Katz
Mr. Samuel Katz
Mrs. Katz
Master Fritz Katz
Miss Karola Katz
Mr. Max Katz
Dr. Mina Kaufmann
Miss Margaret E. L. Kay
Rev. Thos. M. Kealy
Rev. J. J. Keane
Mr. Arthur Keller
Mrs. Keller
Miss Margaret Keller
Miss Ruth Keller
Mr. Kellermann
Mrs. Kellermann
Mr. J. King
Mr. Eugen Kirchheimer
Mrs. Kirchheimer
Master Ernst Kirchheimer
Mr. Natan Kirchheimer
Mrs. Sofie Klaus
Master Ludwig Klaus
Mr. John Knepper
Mrs. Knepper
Miss Margaret F. Knox
Mr. Heinrich Koch
Mr. Mendel Koppel
Mrs. Koppel
Master Michael Koppel
Master Leo Koppel
Miss Paula Koppel
Miss Karola Koppel
Mr. Erno Koves
Mr. Max Kraft
Dr. Hermann Kristall
Mrs. Kristall
Mr. Justin Kuhl
Mr. Justin Kuhl
Master Hans Kuhl
Mrs. Lili Kuhn
Mr. Leo Kurz
Mr. Max L. Larsen
Mr. Karl Lauchheimer
Mrs. Lauchheimer
Rev. W. K. Leahy
Mr. Alan T. Legg
Mrs. Legg
Mr. Meier Levi
Mrs. Levi
Miss Alice Levi
Miss Irene Levi
Mr. Aron Levisohn
Mrs. Levisohn
Mr. Arnold Levy
Mrs. Levy
Master Siegbert Levy
Miss Betty Levy
Mr. Georg Levy
Mrs. Levy
Master Wolfgang Levy
Miss Eva Levy
Dr. Berthold Lewkowitz
Mr. Lindsam
Mrs. Sarah Loeb
Miss Margot Loeb
Mr. Guenther Loewenstein
Mrs. Frida Lowy
Mr. Franz P. Ludwig
Dr. Gerhard Luft
Judge T. F. McAnarney
Mrs. McAnarney
Mr. E. McAuliffe
Rev. Raymond T. McCarthy
Mr. Thos. McDonnell
Mrs. McDonnell
Mrs. Eileen McEnany
Mrs. Eileen McGowan
Mr. Basil Macgowan
Rev. John A. McMahon
Rev. John F. McNally
Mr. Michael Maloney
Mr. Thos. Maloney
Mr. Ferdinand Mann
Miss Enrichetta Mann
Dr. Konrad Maril
Mrs. Bertha E. Marks
Mr. Herbert Marx
Dr. Manfred Mattissohn
Mrs. Beatrice Mayor
Mr. Max C. Meade
Mr. Fritz Mendelsohn
Mrs. Mendelsohn
Mr. Siegmund Metzger
Mrs. Metzger
Miss Lore Metzger
Miss Grete Metzger
Mrs. Meyer
Mr. Leo Meyer
Mr. Leo Meyer
Mrs. Tilly Meyer
Master Rudolf Meyer
Miss Hanny Meyer
Mr. M. Meyer
Mrs. Paula Michel
Miss Mary Anne Middeleer
Miss Ethel M. Mirfield
Mr. R. Miskin
Miss Elvira F. Mitchell
Mrs. Frieda Mittel
Mrs. Margot Moldenhauer
Master Joseph Moldenhauer
Miss Margit Moldenhauer
Mr. Moses Morchower
Rev. W. C. Morris
Mr. Jack Morris
Mr. Alfred Mueller
Mrs. Mary Muldoon
Mr. James J. Murphy
Miss Agnes V. Murphy
Mr. Berthold Nachmann
Mrs. Nachmann
Mrs. Hilda Naumann
Miss Lotte Naumann
Miss Ruth Naumann
Master Fritz Naurnann
Mrs. Thurza Nicholson
Rev. Jas. T. Nolan
Mr. Donald Norton
Mr. Ferdinand Nussbaum
Mrs. Nussbaum
Master Nussbaum
Mr. Max Nussbaum
Rev. L. F. Obrist
Prof. Frederick C. O'Dell
Mrs. O'Dell
Master Frederick C. O'Dell
Master Willet O'Dell
Mrs. Helene O'Grady
Miss Winifred B. O'Hara
Mr. Stephan O'Malley
Mrs. O'Malley
Miss Alice Ottenheimer
Mr. T. C. Owen
Mrs. Lillian Panke
Miss Tsa L. Partch
Mrs. Charles Pembroke
Master Charles H. Pembroke
Mrs. Berta Peter
Miss Elsie Phillips
Mr. Ephraim Piekny
Mr. Guido Prager
Mrs. Prager
Dr. Walter Redisch
Mrs. Redisch
Mr. Salb Reinberg
Mrs. Reinberg
Miss Anni Reiss
Rev. V. A. Rezek
Mr. Bruno Rindsberg
Mrs. Rindsberg
Mr. Erich Rosenbaum
Mr. Max Rosenberg
Mr. Isaak Rosenthal
Miss Isabel O'Donovan Rossa
Mrs. Kathinka Roth
Master Herbert Roth
Master Walter Roth
Mr. Lothar Sachs
Mrs. Sachs
Miss Erna Sauer
Mr. A. W. Schade
Mr. Curt Schaeffer
Mr. Glenn Schwendemann
Mrs. Schaeffer
Mr. Simon Schuba ch
Mrs. Schubach
Mrs. Trude Schueller
Prof. H. L. Scott
Mrs. Scott
Mr. David Scott
Miss Gerda Seligmann
Mr. E. C. Shipp
Mr. Wm. Siefen
Mrs. Siefen
Mr. O. J. Simon
Mr. H. R. Simonsen
Mr. Alfred Sommer
Mrs. Sommer
Miss Margot Sommer
Miss Lotte Sommer
Miss Edith Sommer
Mrs. Mary E. Smith
Mr. Legrand Spilsbury
Mrs. Lillie Sporer
Mr. Drahomira Steflova
Mr. Max Stein
Mrs. Stein
Mr. Siegfried Stein
Mrs. Stein
Mr. Jacob Stern
Miss Grete Stern
Miss Olga Strasburg
Mr. Leo Strauss
Mr. Rudolf Strauss
Mrs. Ilse Strauss
Miss Ingeborg Strauss
Miss Gisela Strauss
Mrs. Franziska Strauss
Mr. Harold Taylor
Mrs. Alice Tennenblatt
Miss Liselotte Tennenblatt
Mr. Norman F. Turtle
Mrs. Irene Ullmann
Miss Margot Ullmann
Mr. Ferdinand Valk
Mrs. Valk and Children
Mr. Emanuel van Geldern
Mrs. van Geldern
Miss Erna van Geldern
Dr. Jacob Verber
Mrs. Verber
Mr. George Vollmer
Miss Esther M. Walsh
Dr. Weber
Mr. Kurt Weber
Mrs. Louise Wegner
Mr. Isidor Weil
Mr. Benno Weil
Mr. Kurt Weil
Mr. Hans Weil
Mrs. Klara Weil
Mr. Rudolf Weingaertner
Mr. Gerhard Weiss
Miss F. Weisshaupt
Mr. M. P. Welsh
Mr. Peter Wendlinger
Mrs. Bertha Wertheim
Miss Jenny Wertheim
Mr. Moritz Wertheim
Mr. Weston
Mrs. Ellen Whitham
Miss Eunice Willson
Mr. F. H. Wilson
Mr. Paul Wolff
Mr. Leib Ziegler
Mrs. Marie Zimmerman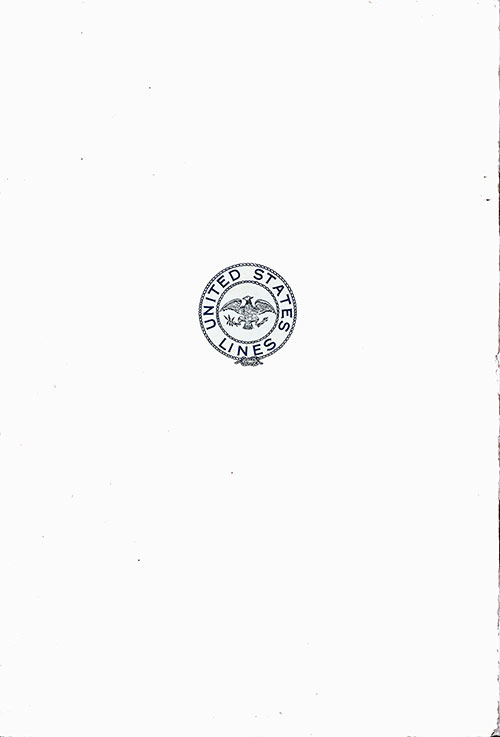 Back Cover, United States Lines SS Manhattan Tourist Class Passenger List - 29 June 1938. GGA Image ID # 1ea88145fe