SS America Passenger List - 5 August 1925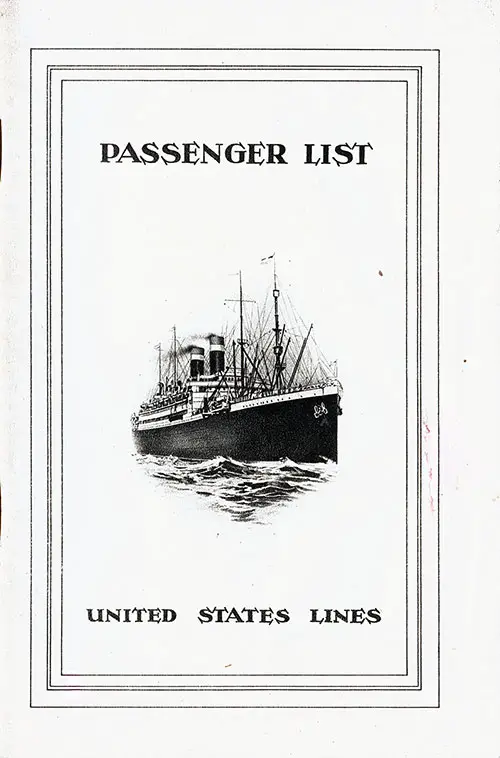 Cabin Passenger List for the SS America of the United States Lines, Departing 5 August 1925 from Bremen to New York via Southampton and Cherbourg, Commanded by Captain W. Rind, U.S.N.R.F. Includes extensive Information for Passengers Section and listing of Sea Post Clerks.
Senior Officers and Staff
Captain: W. Rind, U. S. N. R. F., Commander
Chief Officer: W. B. Oakley
Chief Engineer: Patrick Brennan
Senior First Officer: F. Soboll
Chief Steward: John H. King
Purser: A. Koppenjan
Surgeon: F. Stewart
Sea Post Clerks
Mr. H. Blume
Mr. F. E. Kempster
Mr. A. Sandner
Mr. Christian Ehrens
Cabin Passengers
Mr. Ignaz Adler
Mr. Paul Ainsworth
Mr. Gustav Albrecht
Mrs. Albrecht
Mr. Hugo Amrhein
Mrs. Marcella March Aubry
Mrs. Alice Julia Aubry
Master Victor I Aubry
Master Robert S. Aubry
Mrs. Mary Aukstakalnis
Mrs. Louis Baker
Master L. Baker
Mr. L. L. Baker
Mr. Nicholas J. Baker
Mr. Paul L. Baruch
Mrs. Emmy Baum
Mr. L. Baumann
Mrs. Baumann
Miss J. Baumann
Miss Lucille Beard
Miss May Beegle
Miss Helena A. Beegle
Mrs. Clara Bokop Bell
Mr. Thomas Joseph Biciam
Mr. H. D. Bokop
Mrs. Bokop
Mr. John Bollinger
Mrs. Katherine Bollinger
Mrs. L. D. Bolton
Dr. Anna Boudin
Mr. F. H. Boulden
Mrs. Boulden
Miss Ruth Boulden
Miss Florence Bowden
Miss Elsa Braber
Miss Bradshaw
Mr. A. G. Brandes
Mrs. Martha Brandes
Mr. Georg Brandi
Mr. Julius C. Braun
Mr. S. F. Brewster
Dr. H. W. Briggs
Mrs. Briggs
Mr. Frank Brinkmann
Mrs. Brinkmann
Miss Katherine Broeckel
Dr. Lloyd C. Brown
Mrs. Brown
Mrs. Mag. St. John Brownell
Mr. Josef Brull
Mrs. Brull
Mr. Albert D. Burgunder
Rev. A. Canas
Mr. J. Wallace Carrel
Mrs. Carrel Mrs. P. Case
Dr. John H. Cauley
Miss Eloise K. Cauley
Miss Grace M. Cleary
Mrs. F. S. Coleman
Dr. Addison B. Collins
Mrs. Collins
Miss Mariam V. N. Collins
Mrs. M. Conard
Miss F. Conard
Miss M. Conard
Mr. Julius Conzatti
Miss Pauline Cook
Mr. M. F. Corcoran
Mrs. Corcoran
Mrs. Ellen Corcoran
Mr. Charles J. Cornmick
Miss Charlotte Cowles
Mr. G. S. Cullen
Mrs. Emili Cunningham
Dr. Abe Dattner
Mrs. Elisabeth Dattner
Miss Charlotte Dattner
Miss Frieda Daus
Mr. C. O. Davidson
Mrs. C. Davidson
Miss Margaret C. Davidson
Miss Henrietta Davidson
Miss Anne Davidson
Miss M. Elizabeth Davis
Mr. S. S. Davis Mrs. Davis
Mr. Alfred Dehnert
Mr. George W. Diener
Mrs. Diener
Mrs. George W. Diener Jr.
Mr. S. M. Dohanian
Miss Dorothy Douglas
Miss Julia Drew
Mrs. Anna Drew
Miss Paulina Duesch
Miss Flora Duesch
Mr. Ebert
Mr. D. N. Edwards
Mrs. Sarah Edwards
Mrs. Anna Egresitz
Miss Anna Egresitz
Miss Rose Ellinger
Miss Anna Ernst
Mr. Lawrence C. Fish Jr.
Judge Lawrence C. Fish
Mrs. Fish
Dr. Ernst Fischel
Miss Anny Flender
Mrs. A. D. Flick
Mrs. S. H. Folwell
Master M. B. Folwell
Master R. P. Folwell
Miss R. Fournier
Rev. J. W. Francis
Mrs. Francis
Mrs. Mary Freitag
Mr. Geo P. Frenkel
Mr. J. Frindt
Mrs. C. F. Frothingham
Miss Marie Adelaide Gaiser
Miss K. Louise Galbreath
Miss Rose E. Galbreath
Mr. L. M. Gardner
Mr. L. E. Godfriaux
Miss Alice Godillot
Mr. Max Goldsmith
Mrs. Goldsmith
Mrs. Dora Goodman
Mr. Harry Gordon
Mrs. Gordon
Mr. Philip Gottfried
Mrs. Gottfried
Miss Catherine Greacen
Mr. Robert Gross
Mr. Erich Gumpert
Mrs. Gumpert
Mr. Percival Hall
Mr. Percival Hall Jr.
Rev. R. H. Hamilton
Mr. George Harms
Mrs. Harms
Miss Alice Harrison
Mr. L. Headley
Mrs. Headley
Miss M. Headley
Master M. Headley
Mr. James Hearl
Mr. Arthur Heinsohn
Mr. Geo W. Heller
Mrs. Heller
Miss Florence Heller
Mr. B. W. Hendrickson
Mrs. Hendrickson
Miss Doris Hendrickson
Mr. Otto Herrmann
Miss Alice A. Herr
Mr. Johann Hertlein
Miss Wilhelmine Hertlein
Miss Florence Heywood
Dr. Preston M. Hickey
Miss Lucille Hickey
Miss Nora Hoffmann
Miss Lydia Hoffmann
Miss Marie Hohberg
Miss M. Hollander
Mrs. Erna Hoecker
Mrs. M. W. Holman
Mr. Harry S. Horrochs
Mr. E. H. Horsting
Mrs. Horsting
Dr. E. M. Houghton
Mrs. Houghton
Mr. Ralph Houghton
Miss Agnes H. Houghton
Miss Eleonora Houston
Mr. W. Hoyer
Mr. Robert W. Hubei
Mrs. Hubei and infant
Mr. Wm. M. Hudson
Mrs. Florence Hudson
Master Leslie Hudson
Miss Florence Hudson
Miss Harriet Hudson
Mrs. R. C. Hutchinson
Miss Martha Irnhof
Mr. Meyer Jacobs
Miss Jenny Jacobs
Mr. Istvan Janosick
Miss Zerlina E. Jenkins
Dr. Karl Jienke
Miss Ruby H. Johnson
Miss Mary S. Johnson
Mr. James E. Johnstone
Mrs. Pauline Jones
Rev. J. Juanmarti
Mr. H. E. Judge
Mrs. H. E. Judge
Miss Erbestine Kaehlen
Miss Johanna Kampa
Miss Clara Kauffmann
Rev. R. O. Keen
Mrs. L. S. Keim
Miss Ruthalia Keim
Mr. Eugen Keller
Miss Ginevia Kennedy
Mrs. KatherineW. Kerstetter
Miss Barbala Kerekes
Mr. R. Ketzinger
Mrs. Ketzinger
Mr. A. Kiesele
Mrs. Kiesele
Mrs. J. N. Kirkland
Miss W. Kirkland
Miss Anna Kley
Mr. George E.Knappenberger
Mrs. Knappenberger
Master Knappenberger
Mrs. Clandea Knowlton
Miss Caroline Knowlton
Miss Clandea Knowlton
Miss Babette Korn
Miss Wilhelmine Kraus
Mr. David A. Kriesfeld
Miss Elsbeth Krueger
Mr. Joseph Kupfa
Miss Florence E. Lang
Miss Ida Lang
Mrs. Ida Laurie
Dr. W. S. Lawler
Mr. Joseph E. Leddy
Mrs. Leddy
Mr. F. J. Leddy
Mrs. T. A. Lemon
Mrs. T. T. Leonard
Mrs. Lissberger
Miss L. A. Little
Miss Emilie Lohrer
Mrs. M. Loeffler
Mr. Robert Frank Lowith
Mrs. Lowith
Miss M. Lummey
Miss F. Lummey
Mrs. Isabel Lypincott
Miss Martha Madox
Mr. John F. Maher
Mr. Otto Eugen Mahler
Miss Marie Mahler
Mr. Ferdinand Maillard
Mrs. Maillard
Mr. Josef Mang
Miss Antonie Mang
Mrs. Martha Marks
Mr. Ben Markowitz
Mrs. Markowitz
Mrs. Georg M. Marshall
Mrs. D. L. Marx
Miss Ruth Marx
Mrs. John T. Mason
Miss Ellen B. Massie
Mr. Richard Matuszczak
Miss Franziska Mayr
Mrs. F. W. Means
Mr. B. Mears
Master W. H. Mears
Miss M. B. Mears
Mrs. B. Mears
Master B. Mears
Miss M. L. Mears
Rev. W. G. Meehan
Mrs. W. O. Meyer
Mrs. Meyer
Mr. Joseph A. Meyers
Miss Mary Middleton
Mr. F. Miranda
Mrs. J. D. Morgenthau
Mr. Ludwig Moser
Miss Mary Moyer
Miss Luella Moyer
Mr. Edward Mueller
Mr. Charles Muller
Mrs. K. S. McGilvra
Miss Virginia McGilvra
Miss Dorris McLean
Rev. J. McMahon
Mr. Frank L. H. Nason
Mrs. Nason
Mr. Robt. Nason
Miss C. Longer Necker
Miss Nora Nester
Miss H. Newton
Mrs. M. K. Nexsen
Mr. S. H. Nicholson
Mr. Reginald van Norden
Miss Anna Nuesslein
Miss Isabella O'Connor
Mr. Lou Paley
Mrs. Paley
Miss Antoinette Parison
Mr. J. F. Patitz
Mrs. Elizabeth Patitz
Miss Martha Patitz
Mrs. H. C. Patterson
Dr. J. P. Pecival
Mrs. Pecival
Mr. A. M. Pedersen
Mrs. Pedersen
Miss Lily Perrett
Mrs. Vance Peters
Mr. Frank Q. Peters
Mrs. Anna G. Pillsbury
Miss Elizabeth Pillsbury
Dr. Sterling Pillsbury
Mr. A. B. Pope
Mrs. A. B. Pope
Miss M. Poter
Mrs. Powenbrowska
Mrs. Hattie Powers
Dr. A. D. Price
Mrs. A. D. Price
Miss Alberta Price
Miss Gertrude Price
Miss Luciila Puckett
Mrs. Camilla Puckett
Miss Emine Puckett
Mrs. Paul Pusch
Miss Eileen Quinn
Mr. Jacob Rabinowicz
Mr. Henryk Rabinowicz
Miss Chaja Rabinowitz
Miss Gusta Rabinowitz
Mr. Leopold Rauch
Mrs. Bertha Rauch
Mr. C. N. Rayburn
Mrs. A. B. Reed
Miss Annie Reed
Miss Elizabeth Reed
Miss Katherine Reed
Mr. Martin B. Reed
Dr. E. H. Reid
Mrs. Reid
Master R. Reid
Mrs. Amalia Reisapfel
Miss Ruth Reisapfel
Mr. Frederick Renner
Mrs. Renner
Miss Renner
Dr. L. Reynolds
Mr. Chas. Ridgley
Mrs. Chas. Ridgley
Miss Frieda Rieck
Miss Madeline Rive
Dr. James J. Robinson
Mr. Francis W. Robinson
Miss Merry M. Rockwood
Master Charles Rockwood
Major A. L. Rockwood
Mrs. Rockwood
Mr. Josef Rohrer
Miss Grace Roden
Miss Mae Roman
Mr. Conrad Roth
Mrs. Roth
Miss Frida Roth
Mrs. Justine Rougert
Mrs. Wilhelmine Ruchl
Mrs. Sienetla Russel
Miss Maria Russel
Mrs. Augusta Sammons
Miss Eliz Sammons
Mr. David E. Sasseen
Mrs. Sasseen
Dr. David D Scannell
Mrs. Scannell
Mr. David D. Scannell Jr.
Mr. John Gordon Scannell
Miss Frances Schant
Mr. Ludwig Scherbel
Mr. Schlesinger
Miss C. Schmidt
Miss Friederik Schoppmann
Mis. Kathleen E. Schulte
Miss Eileen Schulte
Mr. Henry Schwarberg
Miss Norine Sears
Mrs. Rebecca Selker
Dr. V. Heber Sergeant
Miss M. Bernice Sergeant
Mr. Alberts Serra
Mrs. Ray Shearer
Master B. Shelley
Mr. J. H. Shifner
Mr. Fred Smith
Mrs. Smith
Mrs. Ellen H. South
Master Gerry C. South Jr.
Mr. Benjamin Spinoza
Mrs. Spinoza
Miss Janet Spitzer
Miss Mara Spitzer
Mr. Edward A. Steadman
Mrs. Steadman
Mr. Hugh R. Stephenson
Mrs. Stephenson
Miss Mary T. Still
Mr. Harry Stoddard
Miss Marjarie Stone
Mr. J. G. Sullivan
Mrs. Sullivan
Mr. F. M. Supplee
Mr. Robert Haldane Swindell
Mr. Walter B. Swindell Jr.
Mrs. B. Swindell Jr.
Miss Margaret de Velasco Swindell
Miss. A. E. Taliaferio
Mr. F. H. Taylor
Mrs. Taylor
Miss Helen B. Tedford
Judge C. J. Ten Eyck
Mrs. C. J. Ten Eyck
Mr. R. Ten Eyck
Mr. P. M. Thomas
Mrs. Thomas
Mr. Morgan Thomas Jr.
Mr. Thomas sr
Miss Catherine Tilleran
Miss Celia Tilleran
Mr. John Toeckelt
Mr. John W. Troy
Mrs. Troy
Master Paul Troy
Mr. Benj. Trask
Mrs. Trask
Mr. George W. Tully
Mrs. Helen Urban
Mr. Charles P. Valentine
Mrs. Frieda M. Valentine
Mr. J. G. Vinegard
J. J. Vinegard
Mr. Jerry Vojtech
Mrs. Vojtech
Mrs. E. Wade
Miss Nan Wade
Miss Wade Mastermann
Dr. Geo W. Waldeck
Mrs. Waldeck
Mr. Jacob Waldmann
Mrs. Waldmann
Master Leon Waldmann
Master Milton Waldmann
Mr. R. Wallace
Miss Mary Waller
Miss H. B. Warren
Dr. H. F. R. Watts
Mrs. Watts
Mrs. Anna Wazansky
Miss Jarmilla Wazansky
Miss Marie Wazansky
Mr. Joe Wazinsky
Mr. Vladimir Wazinsky
Miss E. Weaver
Mrs. Gertrud Weikel
Mr. Weinberg
Mrs. Weinberg
Mr. J. S. White
Mrs. White
Mr, George Wigglesworth
Mrs. Wigglesworth
Mrs. Daniel Wiley
Mr. Willis Williams
Mrs. Florence S. Williams
Rev. Robt. Williams
Miss Anna L. Williamson
Mr. J. H. Williamson
Mrs. Horace Williston
Miss Emily Wilson
Mr. Paul E. Wolfer
Mrs. Wolfer
Master Paul Wolfer
Dr. Alan C. Wood
Mr. Wood
Mr. James P. Woods
Mrs. Woods
Elisabeth Woods
Kathryn Woods
James P. Woods Jr.
Miss Anne S. Wright
Miss Dorothy C. Wyman
Dr. Daniel J. R. Youngblood
Mrs. Youngblood
Mrs. Christine Zanner
Mr. Andrew Zeiler
Mrs. Zeiler
Mr. William Zimaitis
To Southampton
Mr. Charles E. Cooper
Mr. John Helgesen
Mr. H. D. Hutchins
Mr. W. J. Swearsey Powers
Mrs. Swearsey Powers
Mr. H. J. Textor
Mrs. Textor
Mr. Percy Trewyn
Mr. Douglas Yates
Mrs. Doris Yates
To Cherbourg
Miss Frieda Kruger
Mr. Ernst Marckwald

Additional Cabin Passengers
Mr. Geo Aird
Mrs. H. S. Balderston
Master Balderston
Master Balderston
Mr. C. Bieber
Mrs. Bieber
Master Stefan Bintinger
Mrs. TheresiaBlutmager
Rev. H. Buckley
Mrs. E. C. M. Burton
Mr. E. P. Campbell
Miss F. H. Campbell
Miss Anita E. Cahn
Mr. E. A. Chelton
Mrs. Chelton
Mr. Chester Cohen
Capt. R. L. Coon
Mrs. E. L. Coon
Mr. C. J. Connick
Miss A. M. Conley
Hon. Cyrenus Cole
Dr. Geo Corrigan
Miss Ivy. E. Craig
Mr. J. O. Crosby
Mrs. Crosby
Mr. Wm. Crowder
Miss A. Currie
Mrs. Elsa Daden
Master Henry Daden
Miss M. Dean
Miss C. Dean
Mr. A. De Marco
Mr. V. R. Dharwarker
Mr. Anthony Dinnis
Master Paul Dinnis
Mrs. S. J. Dohan
Miss Mary A. Dohan
Mr. Frank English
Miss Millicent Evans
Rev. L. B. Fink
Mr. J. H. Frink
Mrs. Frink
Mr. Johann Fuchs
Mr. Columbus C. Fuller
Mrs. Fuller
Mr. Everett Fuller
Mr. F. Gstoan
Miss Louise D. Gibbs
Mrs. W. Gilbert
Miss M. Gilbert
Miss Katherine Gilleran
Miss Deliah Gilleran
Mrs. M. Goldsmith
Mr. Ralph Hanbury
Mrs. Hanbury
Miss F. L. Harper
Mr. Dewitt C. Hayes
Mrs. Hayes
Miss Edna Hayes
Miss E. L. Hearle
Mr. H. C. Hoagland
Mrs. Hoagland
Miss Ethel Hoagland
Miss Emily Hoagland
Mr. E. F. Hughes
Mr. A. E. Humes
Mr. A. Jelinek
Miss Helen Kelly
Mrs. H. Kohn
Mr. T. W. Lamb
Mr. T. J. Larkin
Hon. Frederick Larrabee
Mr. A. W. Lawton
Mrs. H. A. Longworth
Mrs. Betty Loveday
Mr. R. L. Maguire
Mr. Matthew Meiklejohn
Miss E. Merrell
Mr. Samuel Morano
Mr. S. Muller
Mrs. Muller
Master Muller
Miss Muller
Miss E. M. Puzzan
Miss H. Lei Red
Mrs. C. H. Rose
Mr. W. A. Royal
Mrs. Royal
Master N. V. Royal
Mr. G. Salacha
Miss G. H. Scoville
Mr. Bernhard A. Sears
Mrs. J. Shuford
Miss M. Shuford
Sister Mary Alberta
Sister M. Laurentia
Mr. Edwin Smith
Miss Ruth D. Starkey
Mr. T. Cassily Stephens
Mrs. B. Stewart
Master Stewart
Miss D. Taggart
Mr. L. Taggart
Dr. D. G. Thompson
Mr. R. Thompson
Miss Ruby H. Thompson
Miss Edith Tilly
Mr. J. Vosnick
Miss L. W. Wallace
Miss Ethel Wallace
Mr. A. Walter
Mrs. M. Witt
Master E. Witt
Miss E. Witt
Miss H. Wixcey
Mr. Wm. M. Woods
Mrs. Woods
Master R. W. Woods
Cabin Passengers Not On Board
Mrs. Mary Aukstakalnis
Mr. A. G. Brandes
Mrs. Martha Brandes
Miss Grace M. Cleary
Miss Pauline Cook
Mr. Charles J. Cornmick
Miss Rose Ellinger
Dr. Ernst Fischel
Mr. J. Frindt
Mr. Wm. M. Hudson
Mrs. R. C. Hutchinson
Miss Jenny Jacobs
Miss Ruby H. Johnson
Miss Barbala Kerekes
Miss Johnna Kampa
Mr. John F. Maher
Mr. S. H. Nicholson
Mr. J. G. Sullivan
Mrs. Sullivan
Miss Catherine Tilleran
Miss Celia Tilleran
Mrs. Helen Urban
Miss Emily Wilson
Miss Dorothy C. Wyman
Cabin Passengers Errata
| Listed As | Should Read |
| --- | --- |
| Miss Elsa Braber | Miss Elsa Broberg |
| Miss Ida Laurie | Miss Ida Lurie |
| Miss Martha Madox | Miss Martha Maddox |
| Miss Nora Nester | Miss Nora Naeter |
| Mrs. Paul Pusch | Mr. Paul Pusch |
| Mrs. Justine Rougert | Mrs. Justine Rougeot |
| Miss Frances Schant | Miss Frances Schaub |
| Dr. V. Heber Sergeant | Dr. V. Helen Sergeant |
| Mrs. Ellen H. South | Mrs. Jerry C. South |
| Master Gerry C. South Jr. | Jerry C. South Jr. |
| Miss Marjorie Stone | Miss Marjorie Stoner |
| Mr. J. G. Vinegard | Mr. J. G. Vineyard |
| J. J. Vinegard | Mrs. J. J. Vineyard |
Passenger and Crew Summary
Cabin Passengers 589
Third Class Passengers 326
Sea Post Clerks 4
Master and Crew 530
Total Souls on Board 1449
Information for Passengers
Hours for Meals are posted at the Office of Chief Steward on the Steamer
Divine Service in the Social Hall on Sunday at 10:30 am
INFORMATION BUREAU
This office has been provided for the convenience of Passengers. All inquiries for information should be made at the office.
Passengers are requested to ask for a receipt on the Lines' Form for any additional Passage Money, Chair Hire, telegrams and wireless messages or Freight paid on board.
LETTERS, CABLES AND TELEGRAMS
Letters, Cables and Telegrams are received at the Information Bureau for despatch, also all Mails will be distributed there. Cablegrams and Telegrams should be handed in an hour before the arrival at any port of call.
Passengers should personally ascertain whether there is any mail for them before disembarking, as mail for passengers is brought on board by a special courier.
Passengers' Addresses may be left at the Information Bureau in order that any letters sent to the care of the Lines may be forwaded.
None of the ship's staff, other than those on duty in the Information Bureau, is authorized to accept letters, cables or telegrams for despatch.
WIRELESS SERVICE
The long range wireless equipment permits of the vessel communicating with the shore from any point during the trip to or from New York. Passengers desiring to send message will consult the operator for rates.
Ocean Letters are accepted on board for transmission by Wireless to a vessel bound in an opposite direction. They will be forwarded to destination by registered mail from first port of call after reception, A charge of $ 1,20, including postage, is made for twenty words and four cents for each additional word. The maximum Ocean Letter is 100 words,
SEATS AT TABLE
Passengers who have not previously secured seats at table should arrange with the Chief Steward.
SMOKING
Passengers are requested not to smoke in the Dining Saloon and Social Hall.
COLLECTIONS
Contributions that passengers desire to make at Concerts or on other occasions, should be delivered to the Purser, who will make public announcement of the total amount collected, giving a receipt for the information of all passengers.
The total amount collected will be distributed by the Management of the United States Lines to the following charitable institutions:
Seamen's Charities in New York;
Seamen's Charities at terminal ports in Europe at which our steamers call;
The Actors' Fund of the United States
No requests for contributions for musicians or other employees on the steamers will be made.
DECK CHAIRS and STEAMER RUGS
These may be hired at $ 1,50 each for the voyage on application to the deck steward.
MEDICAL ATTENTION
The Surgeon is always at the disposal of those passengers requiring his services. In case of illnes originating on board, or after the departure of the steamer, no charge will be made for these services, and such medicines as are prescribed by the Ship's Surgeon will be furnished without expense to the passengers. In cases of illness, not originating on board, the Surgeon is permitted to make the following charges:
For office visits, $ 1,00 per visit
For state-room visits $ 2,00 per visit, with a maximum charge of $ 4,00 per day
If the passengers consider that the charges made by the Surgeon for such services as he renders are improper or excessive, they are requested, before paying same, to take up the question with the Commander, and the bill will be either adjusted to a basis that will be satisfactory to the passenger or withdrawn. The purpose of the United States Lines is to make its service satisfactory to all passengers.
BAGGAGE
On disembarking, passengers are specially requested to claim their baggage before leaving the Custom-Office, otherwise considerable delay and extra charge for carriage may be incurred in forwarding to destination any baggage not accompanying passenger on the railway. Passengers are requested to pack only steamer trunks for their staterooms, as it is not always possible to put larger trunks in rooms.
It is recommended that passengers insure their baggage, as the Lines' liability is strictly limited in accordance with contract ticket. Baggage insurance can be arranged at any of the Lines'* offices.
Westbound passengers can arrange with the United States Lines' offices in Europe for collection of baggage from hotel or residence and have such baggage placed aboard steamers at Southampton or Cherbourg. Arrangements have been made to have baggage stored at Paris or London and placed aboard steamer for passengers embarking at other ports.
EXCHANGE OF MONEY
The purser is prepared, for the convenience of passengers, to exchange a limited amount of money at rates which will be advised on application. A receipt covering each transaction will be given.
VALUABLES
The United States Lines has provided a safe in the office of the Purser, in which passengers may deposit money, jewels, or ornaments for safe keeping. The Lines will not be liable to passengers for the loss of money, jewels, or ornaments by theft or otherwise, left in baggage in staterooms, or carried on the person.
TRAVELERS' CHECKS
For the convenience of patrons, the United States Lines has placed on board its vessels American Express checks which may be secured from the Purser on application.
RETURN BOOKINGS
Pursers of the United States Lines are ready to book your return passage. Sailing lists, rate sheets, cabin plans and other information will be cheerfully furnished upon application at the Purser's Office, Tickets can be secured or deposits to secure reservations can be made. The Purser will procure by radio, without charge to the passenger, reservations or any information necessary.
Bookings can also be made through the agencies of the United States Lines in all principal cities of the United States and Canada, Reservations, especially during the Summer mouths, should be made, of possible, several weeks in advance.
AMERICAN CUSTOMS REGULATIONS
On arrival in New York your baggage will be subject to the same inspection on landing as on landing abroad, American Citizenship does not permit you to bring dutiable goods into the country without paying duty.
A blank will be furnished you aboard the steamer before landing. This must be filled out, listing in detail every article you obtained abroad which you are bringing home, A 25 cent revenue stamp must be affixed to the declaration. Stamps may be purchased from Purser, The list is then given the ship's purser.
This list is called your "declarationM and should include all wearing apparel, jewelry and other articles, whether worn or not, carried on your person, in your clothing, or in your baggage. These items must give their cost or value abroad and whether they were bought or given to you. Also jewelry and wearing apparel, taken out of the United States and remodeled abroad, must be listed with the cost of remodeling. Residents of the United States are allowed to bring into the United States $ 100 worth of personal effects bought abroad free of duty, in addition to all wearing apparel taken from the United States on sailing.
RECOVERY OF U, S, HEAD TAX
This Tax can be recovered by passengers, if same has been paid, provided they inform the U, S. Immigration Inspector 011 arrival at New York of their intention to leave the United States within sixty days (the time prescribed by U, S. Law), and obtain from him Transit Certificate Form 514,
It is also necessary for this Transit Certificate Form 514 to be turned over to the Steamship Line when completed, in time to allow same to be placed before the Immigration Authorities in Washington within 120 days of passenger's arrival in the United States. Unless this regulation is complied with, the Tax cannot be recovered.
SUGGESTIONS AND COMPLAINTS
Suggestions, complaints or criticisms of service or of personnel should be addressed to the General Manager, United States Lines, 45 Broadway, New York City.
LATITUDE AND LONGITUDE
Latitude means "distance north or south of the equator", and longitude means distance from the Meridian at Greenwich — near London. Both are recorded in degrees, minutes and seconds. At the Equator a minute of longitude is equal to a nautical mile, but as the meridians converge after leaving the equator, meeting at the Poles, the size of a degree becomes less. Sailing eastward a ship moves against the revolution of the earth, thus her course makes her gain time, while if she were sailing to the westward with the movement of the earth she would lengthen her time.
CHANGING THE CLOCK
Between New York and London there is a difference in time of five hours, and as the sun rises in the East, as we say, when the ship is going eastward she meets sunlight earlier each day and thus gains time. Exactly how much is computed each day at noon, and the ship's clocks are immediately set at the correct time for that longitude. On a vessel which makes the crossing in five days the clocks will be set ahead each day approximately an hour; on slower ships, of course, less. Going westward the clock is set back daily in similar fashion.
TIME AT SEA
Time on board is marked by bells, the ship's bell being sounded in single and double strikes.
OCEAN LANES AND DISTANCES
Transatlantic steamships follow certain lanes or tracks* unless prevented from so doing by stress of weather, or work of rescue or relief or other unforeseen circumstances. From August 24 to January 14 a vessel going eastward follows the short track, and from January 15 to August 23 the long. Going west the short track is followed from August 15 to January 14, and the long from January 15 to August 14. Following these lanes makes for safety and enables vessels better to meet the exigencies of weather conditions. Some of the Atlantic distances (short track) are as follows:
Sea Miles
New York to Cobh (Queenstown) 2876
New York to Plymouth 2991
New York to Southampton 3122
New York to Cherbourg 3071
New York to London 3341
Sandy Hook to Bremerhaven 3558
New York Pier to Bremerhaven 3582
Nantucket Lightship to Fastnet 2659
New York to Ambrose Lightship 22
Ambrose Lightship to Nantucket Lightship 193
Plymouth to Bremerhaven 528
Cherbourg to Nab Lightship 66
Nab Lightship to Southampton 24
Cherbourg to Lizard's Point 143
Cherbourg to Bremerhaven 539
Southampton to Cherbourg 89
Southampton to Bremen 458
Bishop's Rock to Lizard's Point 49
Bishop's Rock to Plymouth 98
Bishop's Rock to Cherbourg 190
Bishop's Rock to Southampton Docks 215
Bishop's Rock to Bremen 683
MEASURING BY SOUND
It is possible to determine by sound how far distant a passing ship is if she blows her whistle or, in case of a warship, if she fires a gun. If the steam from a vessel s whistle is seen and ten seconds elapse before the sound is heard, she is just 21/10 miles off. If one second elapses, she is distant slightly more than one-fifth of a mile; if five seconds, a little more than one mile; if twenty seconds, 4% miles.
PORT AND STARBOARD
Formerly the two sides of a ship were called "Starboard" and "larboard", the two prefixes being derived from old Anglo-Saxon words meaning, respectively, "loading" and "rudder", and the word "board" meaning side. The term "Larboard" has given place to the word "Port'\ To "port the helm" carries a vessel to starboard, and to "starboard the helm" carries her to port. The French equivalent for port is "Babord", and starboard is "tribord".
THE BAROMETER
Next to the mariner's compass and chart, the barometer is the most important aid to navigation ever invented. Many persons know that a barometer is an instrument for recording changes in the weather, and the student of physics is taught that this is done by measuring the weight or pressure of the atmosphere. A rising barometer denotes the approach of good weather; a falling barometer, the reverse. A sudden fall warns the mariner to be on the lockout for a severe storm. The barometer was invented during the seventeenth century by Torricelli. The ship's barometer, which is kept in the chart room, is very different from the original device. It traces a barometer chart, recording the atmospheric pressure throughout the voyage.
THE TIDES
The surface of the ocean rises and falls twice in a lunar day of about 24 hours and 52 minutes. The tides do not always rise to the same height, but every fortnight after the new and full moon they become much higher than they were in the alternate weeks. These high tides are called Spring Tides, and the low ones Neap Tides. The close relation which the times of high water bear to the times of the moon's meridian passage shows that the moon's influence in raising the tides is two and one-half times greater than that of the sun.
THE GULF STREAM
By far the most important as well as best known of the great ocean currents derives its name from the Gulf of Mexico, out of which it flows between Cuba and the Bahamas on the one side and the Florida Keys on the other. In its narrowest portion the Gulf Stream is about fifty miles wide, and there it has a velocity at times of as much as five miles an hour. Flowing in a northeasterly direction along the American coast, its current gradually widens and its velocity diminishes. Reaching the banks of Newfoundland it turns and sweeps across the Atlantic then, dividing into two portions, it sends one arm down toward the Azores and the coast of Morocco, while the other passes near the shores of the British Isles and on to Norway.
As it emerges from the Gulf of Mexico it has a temperature of 84 degrees in summer, higher than that of the ocean at the equator. Even by the time it has reached mid- Atlantic it has fallen not more than 14 degrees. The effect of the Stream upon the climate of Great Britain and the northwest coast of Europe, 4000 miles away from the Gulf, is to raise the winter temperature about 30 degrees above what would be the normal temperature of those latitudes.
Prepared 2015-06-07 by Paul K. Gjenvick, MAS, Archivist