SS America Passenger List 29 September 1924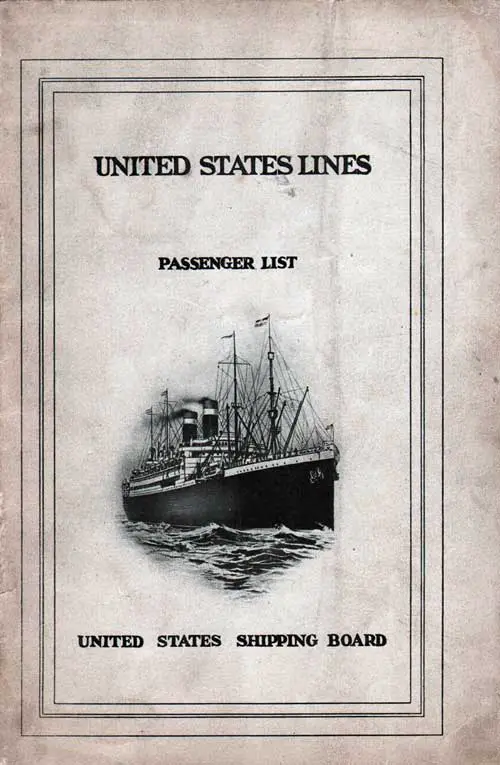 Cabin Passenger List for the SS America of the United States Lines, Departing 29 September 1924 from Bremen to New York via Southampton, Cherbourg, and Queenstown (Cobh), Commanded by Captain W. Rind.
Senior Officers and Staff
Captain: W. Rind, U. S. N. R. F.

Chief Officer, W. B. Oakley
Chief Engineer, Patrick Brennan
Senior First Officer, J. C. Henderson
Chief Steward, G. L. Brennon
Purser, A. Koppenjan
Surgeon, F. Stewart
List of Cabin Passengers
Mrs. E. Acevedo
Mrs. Elise Achilles
Mr. Hermann Albinus
Mrs. Florence Alexander
Miss Letitia Alexander
Mr. H. B. Allin-Smith
Miss Josephine Andrle
Mrs. K. Anderson
Dr. William N. Anderson
Mrs. Kathryn Anderson
Mrs. Grace Andrews
Mr. Rudolph Apel
Mrs. Agnes Apel
Mrs. G. W. Archibald
Hon. P. W. A. Armbrister
Mrs. P. W. A. Armbrister
Miss Hilda Armbrister
Mrs. A. J. Ayers
Master A. J. Ayers
Miss Florence M. Baker
Miss M. Baldwin
Mrs. G. Baron
Miss Muriel Baron
Mr. William B. Baum
Mrs. William B. Baum
Mr. Anton Bayer
Mrs. Mary D. Becker
Mrs. E. R. Beebee
Mr. Peter Beisel
Miss Elizabeth Bennett
Mrs. Gussie Bernstein
Miss Ruth Berolzheimer
Miss Helen Bock
Mrs. Barbara Blumenthal
Miss Katharina Boehle
Mr. C. H. Bond
Mrs. H. D. Bowler
Miss M. Bowler
Mrs. Adolfina Brenner
Mr. D. S. Bridgman
Mrs. D. S. Bridgman
Col. C. E. Brigham
Mrs. C. E. Brigham
Master Ernest D. Brigham
Dr. Paul J. Bronson
Mr. H. W. Brooks
Mrs. H. W. Brooks
Mrs. Rachael Brown
Miss Betty Brown
Mrs. J. J. Budde
Master H. Budde
Mrs. C. B. Bull
Mr. C. B. Bull
Mr. Ludwig Bulis
Mrs. Olga Burianova
Miss Emma Buser
Miss L. A. Cabmus
Mr. Robert Candy
Mrs. Robert Candy
Mrs. J. F. Cannon
Mr. Todor Caran
Mrs. Eva Caran
Miss M. Carpenter
Miss Anna Carlson
Miss Marjorie Carpenter
Mr. J. M. Castello
Mr. Frank W. Chambers
Mrs. Chase
Mrs. G. E. Clapp
Mrs. M. B. Cockburn
Mr. Louis Cohen
Mr. Thomas Coleman
Mrs. Annie H. Coleman
Mrs. Colyer
Mrs. G. A. Comstock
Mrs. Elizabeth Cumisky
Mr. Edward Cush
Mr. Alphons Cyphers
Dr. Arthur E. Davis
Mrs. Arthur E. Davis
Miss M. D. Davis
Mrs. E. D. Davies
Miss M. E. Derry
Mr. Walter Dewitt
Mrs. A. H. Dibblee
Miss E. Dibblee
Master A. Dibblee
Mr. W. M. Dickerson
Miss Mildred Dilling
Mr. John C. Dilworth
Mrs. John C. Dilworth
Master Lawrence Dilworth
Miss Mary Dilworth
Miss L. Dimond
Mrs. Elly Dinse
Mrs. Florence A. Donnelly
Miss Jean Downes
Mrs. Katarina Draxler
Mr. Julian Drendel
Mr. E. T. Driebelbias
Mr. Charles Drury
Mrs. Charles Drury
Miss V. Dupont
Mrs. R. P. Eckart
Miss M. Eckart
Mr. Adolph J. Eckstrom
Mr. Phillip Eisler
Mrs. Catherine Eisler
Mr. William Elliott
Mrs. William Elliott
Miss Leila S. Elliott
Miss Margaret S. Elliott
Mrs. R. Ellis
Miss Alla B. Elwood
Mrs. M. L. Ely
Mr. Richard M. Erdmans
Mr. O. J. Evans
Mrs. D. Ewing
Mr. Charles Faist
Mrs. Mina Faist
Miss Marie Faist
Miss Edna Faist
Dr. Humphrey J. Falvey
Mr. Josef Fath
Mr. Andrew Faulhaber
Mrs. Mary Faulhaber
Mr. Henry Carl Feldmann
Mrs. Bertha Feldmann
Miss Evelyn Feldmann
Miss Olga Feldmann
Mr. Rudolph Fichtel
Mrs. Anna Fichtel
Mrs. L. Finkel
Mrs. Meta Fischer
Miss N. F. Fisher
Mrs. Susanne M. Fisk
Miss J. W. Flanigan
Miss Louise Fletemeyer
Mr. Robert O. Foerster
Mr. M. J. Foley
Miss Mary Folsom
Miss Matilda Fortriede
Miss M. Fraboni
Mr. C. Fraboni
Mrs. C. N. Francis
Miss Mary B. Francis
Mrs. Ida Frank
Miss E. M. Frank
Mrs. Julia Frankl
Miss Regina Frankl
Master Carl Frankl
Dr. Matthew C. Freilinger
Mrs. Matthew C. Freilinger
Mrs. A. L. W. French
Master L. P. French
Miss P. A. French
Mr. Adolf Frey
Miss Freida Frup
Mrs. M. H. Gautier
Mr. Stephen Gavura
Mr. Pasquale Gervasini
Mrs. Pasquale Gervasini
Miss Margaret Gervasini
Master Charles Gervasini
Mr. Hipolit Ghovic
Mrs. Regina Girtwine
Mrs. Frances Goldman
Miss Virginia Goldman
Miss Mildred Goodrick
Mrs. A. L. Goodwillie
Miss Patricia Goodwillie
Mr. Meier Gottlieb
Miss Dorothy Grafly
Dr. John W. Grant
Mrs. Helen Greenberg
Miss Lenora Greenberg
Mr. Eugene Gregg
Dr. George A. Griot
Dr. Chas. A. Gundelach
Mrs. Chas. A. Gundelach
Master Chas. A. Gundelach
Master Theo G. Gundelach
Mr. John Gunesch
Mr. Victor Hafner
Mrs. Victor Hafner
Miss Maria-Anne Haidlen
Miss A. E. Hale
Mr. Ray E. Hallings
Mrs. John K. Halsey
Mrs. Mathilde Hansen
Mr. E. R. Hardy
Mrs. E. R. Hardy
Master E. R. Hardy
Mrs. Fannie Harris
Mr. Ernest Hartwig
Mrs. Winifred Havlicek
Miss Suzanne Havlicek
Miss Jennie Hedrick
Miss Mary E. Hedrick
Miss Lina Heilmann
Mr. Samuel Heiman
Mrs. Emilie Heiman
Miss Helen Heiman
Mr. Adalbert Hein
Miss Leonie Helmrich
Mr. Edward E. Hendrickson
Mrs. Edward E. Hendrickson
Mr.EdwardE.Hendrickson Jr.
Miss Josephine Herrick
Miss Agnes Herrick
Mrs. Hilda Heywood
Rev. N. Higgins
Mr. Erno Hilfreich
Mr. Wm. S. Hines
Mrs. Wm. S. Hines
Miss Judith Hines
Mrs. Sara Hochmann
Miss Rosa Hochmann
Dr. Emil Hofman
Miss A. Hollenbeck
Mrs. I. R. Horton
Miss C. W. House
Miss H. H. House
Mrs. Karolina Hradilak
Mr. Ray Lee Jackson
Mr. H. D. Jacques
Miss Caroline Jagoda
Dr. John E. James
Mrs. John E. James
Mr. M. Johanson
Mr. H. Johnson
Miss Ethel S. Johnson
Mr. John Jordak
Mr. M. Edwin Judy
Mrs. Minna Kabisch
Miss Gertrud Kabisch
Mr. E. Kallgrist
Mrs. J. F. Katz
Rev. Francis Keenan
Mr. J. T. Kelley
Mrs. J. T. Kelley
Miss J. E. Khobbout
Miss Martha Kindel
Mr. C. F. Krauss
Mrs. L. Krauss
Miss E. Krauss
Mrs. Judita Kucera
Mr. John K. Lasher
Mr. A. R. Leeds
Mrs. A. R. Leeds
Mr. Rudolf Leick
Mrs. Mabel Leick
Mr. Julius Leiter
Mr. Julius Levy
Mrs. Fannie Levy
Miss Selma Levy
Mr. Samuel Levy
Mrs. Salli Levy
Mr. Karoly Liedl
Mr. Ivar Lindbom
Miss Rose Marie Luberger
Miss K. Lux
Mrs. John Mac Aday
Miss Mary P. Mac Aday
Mr. W. Mac Aday
Mrs. E. J. Mc Kinney
Mrs. Elsie Mc Lain
Mr. John B. M. Mac Taggert
Mrs. John B. M. Mac Taggert
Mr. W. A. Mac Williams
Mrs. W. A. Mac Williams
Mr. Jan Machovec
Miss B. R. Macon
Mrs. Carl Manahan
Miss Gerda Manson
Miss Zdenka Marsanova
Mrs. Carl B. Marshall
Miss Nancy Marshall
Miss Meredith Marshall
Mr. Charles Materna
Miss Johanna Matheis
Mrs. Kathleen Mathews
Mrs. Marie Menien
Miss Eva Meyer
Mrs. Marie E. Miller
Mrs. Charles P. Miller
Mr. Joseph Milner
Mrs. Genevieve Milner
Miss Millie Mohr
Miss O. F. Moody
Miss Della Moore
Mr. William G. Morgan
Mrs. William G. Morgan
Mr. Wm. James Morgan
Mrs. Wm. James Morgan
Mr. Edmond Morgan
Mrs. Elsie Morgan
Miss Roberta Morgan
Master Edmond Morgan
Mrs. W. D. Morgan
Miss G. Morgan
Mr. Georg Muller
Mr. J. T. Mutch
Mrs. J. T. Mutch
Mrs. L. H. Nason-Sturgis
Miss S. L. Nason-Sturgis
Miss Caroline Navratil
Mrs. Elizabeth Neilson
Miss Margaret Neilson
Miss Caroline Neilson
Mr. S. Nelson
Mr. L. Niederhauser
Mrs. L. Niederhauser
Mrs. E. A. Nooney
Master G. A. Nooney
Miss B. Nooney
Mrs. William O'Brien
Miss M. O'Brien
Mr. Gustav Oppenheimer
Miss Minnie Overacker
Miss Lucie Peres
Miss Elizabeth Perry
Mrs. A. W. Phinnery
Mr. Walter Pichutzki
Mr. A. C. Pierce
Miss L. C. Pierce
Miss Lorraine C. Pierce
Mr. Charles Pistorius
Mrs. Nora M. Pitou
Miss N. M. Pitou
Dr. George Pollack
Dr. Isaac Pollack
Miss E. O. Porter
Miss Bessie Porter
Miss Ethel Powell
Mr. Vincent Praninskas
Mrs. W. S. Proudfit
Mr. Mark Pyne
Mr. Bruce Rae
Mrs. Bruce Rae
Dr. John A. Ragoni
Dr. Geo E. Raiguel
Mrs. Geo E. Raiguel
Miss Katherine Raiguel
Mr. Frederik A. Ramig
Mr. Curt Ramig
Mr. Vlados De Ramoris
Mr. Eric Ravndal
Miss A. Page Reed
Mrs. Laura Rehling
Mrs. C. Reichman
Miss Anna Reichman
Mr. Julius Reinhaus
Miss Pauline Reinhaus
Mr. Willi Reinecke
Mr. Max E. Reuter
Mr. William W. Reynolds
Mr. A. E. Reynolds
Mr. L. W. Reynolds
Mrs. Martha A. Richards
Mrs. M. Riddle
Miss Jeanne Riedlinger
Miss Margaret Riordan
Mrs. Alice S. Rising
Mrs. W. B. Rising
Mr. L. Rising
Mrs. Edward T. Robertson
Master William Robertson
Master Allan Robertson
Miss A. A. Rogers
Mr. Hymann Rovinsky
Miss Emily Rudd
Miss Frieda Rufenacht
Miss Hattie Salomon
Mr. Gustav A. Sander
Mr. H. H. Seeley
Mrs. H. H. Seeley
Master John Seeley
Mrs. E. Sercombe
Miss L. D. Shervard
Mr. Charles Sidenberg
Mr. Vladas Smalinskas
Miss Eleanor Smerda
Mr. Robert F. Smith
Mrs. Robert F. Smith
Mr. Frank Smrcka
Mr. George W. Spearl
Mrs. George W. Spearl
Miss Anna Sperling
Mrs. Therese Springmann
Master Freddie Springmann
Mr. Albert J. Svehla
Miss Anna SchOnwald
Mrs. Augusta Schumacher
Mr. John H. Schultz
Mrs. Lilly H. Schuster
Mr. Edgar Schwab
Mrs. Edgar Schwab
Mr. Benno Schwarz
Rev. Robert Schwickerath
Miss Rachel M. Stevens
Miss Paula Stockstrom
Mr. M. Strasser
Mrs. M. Strasser
Miss A. K. Strasser
Mrs. Rosa Strauss
Mr. Frank R. van der Stucken
Dr. N. Takenomata
Mrs. Hindie A. Taylor
Miss Grace E. Temple
Miss D. Thompson
Mrs. Julia Thompson
Mrs. A. M. Thorsen
Mrs. K. T. Throup
Miss F. E. Throup
Mr. C. H. P. Thurston
Mrs. C. H. P. Thurston
Mr. Heinrich Togemann
Mr. S. Torrvella
Mrs. S. R. Torrvella
Mr. F. Townsley
Mr. F. H. Tressider
Miss E. M. Tucker
Miss Katherine Turner
Dr. Roy Upham
Mrs. Roy Upham
Mr. E. W. Vallandigham
Mrs. E. M. Vallandigham
Miss E. Vallandigham
Dr. Joseph A. Vance
Mrs. Joseph A. Vance
Miss D. Vance
Miss M. Vance
Miss Elisabeth L. Veith
Mrs. M. B. Walker
Miss C. K. Wallum
Mrs. Frank O. Walther
Mrs. Elizabeth M. Ward
Miss J. Webster
Mrs. J. L. Wentworth
Mr. Henry Weyl
Mrs. Henry Weyl
Miss Dorothy Wiehl
Miss Marie Wicki
Mrs. Zilah Wilcox
Miss Nancy Wilcox
Master I. D. Wilcox
Miss M. Williams
Miss Mary Williams
Mr. Toni Wimmer
Mrs. H. R. Wood and Infant
Mrs. Elsie Wolff
Mr. J. van Wyk
Mrs. J. van Wyk
Miss Florence van Wyk
Miss Mary Katherine van Wyk
Master M. J. van Wyk
Master Richard C. van Wyk
Miss E. Zallio
Mrs. Gabriella Zima
Miss Irmgard Zoeppritz
To Southampton:
Mrs. Emmy Binger
Mr. Davis
Dr. Walter Neuberg
Mr. Charles Richards
Mrs. Anne Richards
Mr. Alvan E. Geisler
Mr. Thomas A. Monroe
To Cherbourg
Miss Ethel Disse
To Queenstown:
Right Hon. Justice O'Shaughnessy
Information for Passengers
Hours for Meals are posted at the Office of Chief Steward on the steamer.
Lights are extinguished in the Saloon at 11:00 pm, Lounge,
Reading Room and Smoking Room at 11.30 p. in.
Divine Service in The Social Hall On Sunday at 10.30 A. M.
Information Bureau
This office has been provided for the convenience of Passengers, where all inquiries for information of a general character should be made.
Passengers should personally ascertain whether there is any mail for them before disembarking, and they are invited to leave their addresses at the Information Bureau for later despatches to be redirected.
Passengers' Addresses may be left at the Information Bureau in order that any letters sent to the care of the Company may be forwarded.
None of the ship's staff, other than those on duty in the Information Bureau, is authorized to accept Letters, cables and Telegrams for despatch.
Passengers are requested to ask for a receipt on the Lines' Form for any additional Passage Money, Chair Hire, or Freight paid on board.
Letters, Cables and Telegrams Letters, Cables and Telegrams are received at the Information Bureau for despatch, also all Mails will be distributed there. Cablegrams- and Telegrams should be handed in an hour before the arrival at any port of call.
Letters, Etc., for Passengers Letters, etc., for Passengers will be brought on board before the Passengers land.
Wireless Service
The long range wireless equipment permits of the vessel communicating with the shore from any point during the trip to or from Europe. Passengers desiring to send message will consult the operator for rates.
Seats at Table
Passengers who have not previously arranged for seats at table to be reserved should apply for same to the Chief Steward.
Smoking
Passengers are requested not to smoke in the Dining Saloon and Social Hall.
Collections
Contributions that Passengers desire to make at Concerts or on other occasions, should be delivered to the Purser, who will make public announcement of the total amount collected, give receipt for same to those in charge Of the arrangements, and post copy of such receipt in the public rooms for the information of all Passengers.
The total amount collected will be distributed by the Management of the United States Lines to the following charitable institutions:
Seamen's Charities in New York;
Seamen's Charities at terminal ports in Europe at which our steamers call;
The Actors' Fund of the United States.
Passengers are urged to disregard all requests for contributions for musicians or other employees on the steamers.
Employees who participate in any public collections will not be permitted to remain in the service of the United States Lines.
Deck Chairs and Steamer Rugs
These may be hired at $ 1.50 each for the voyage on application to the deck steward.
Electric Bath
The Charge for the use of the Electric Bath is fixed at $ 1.50.
Medical Attention
The Surgeon is always at the disposal of those Passengers requiring his services. In case of illness originating on hoard, or after the departure of the steamer, no charge will be made for those services, and such medicines as are prescribed by the Ship's Surgeons will be furnished without expense to the Passengers. In cases of illness, not originating on board, the Surgeon is permitted to make the following charges:
For office visits, $ 1.00 per visit
For state-room visits, $ 2.00 per visit with a maximum charge of $ 4.00 per day.
If the Passengers consider that the charges made by the Surgeon f r such services as he renders are improper or excessive, they are requested, before paying same, to take up the question with the Commander, and the bill will be either adjusted to a basis that will be satisfactory to the passenger or withdrawn. The purpose of the United States Lines is to make its service satisfactory to all Passengers.
Baggage
On disembarking Passengers are specially requested to claim their baggage before leaving the Custom-Office, otherwise under present abnormal conditions considerable delay and extra charge for carriage will be incurred in forwarding to destination any baggage not accompanying passenger on the railway.
Exchange of Money
The Purser is prepared, for the convenience of Passengers, to exchange a limited amount of money at rates which will be advised on application.
Valuables
The United States Lines has provided a safe in the office of the Purser, in which Passengers may deposit money, jewels, or ornaments for safe keeping. The Company will not be liable to Passengers for the loss of money, jewels, or ornaments by theft or otherwise, not so deposited.
Return Bookings
Pursers of the United States Lines are ready to book your return passage. Sailing lists, rate sheets, cabin plans and other information will be cheerfully furnished upon application at the Purser's Office. Tickets can be secured or deposits to secure reservations can be made. The Purser will procure by radio, without charge to the passenger, reservations or any information necessary.
Return Passengers
First and Second class Passengers, embarking at Cherbourg, must communicate with our Paris Passage Office, United States Lines, 1 Rue Auber, several days before sailing.
Passengers embarking at London or Southampton must communicate with our London Passage Office, United States Lines, 14 Regent Street S. W. 1, several days before sailing.
Passengers embarking at Queenstown must communicate with the United States Lines' Office, several days before the departure of the steamer, in order to ascertain definite information regarding the reservations and sailing hour of steamer.
First class Passengers embarking at Bremen must call at our Bremen Office, Norddeutscher Lloyd, Passenger Department, Papenstrasse, the day before sailing, in order to secure their rail tickets from Bremen to Bremerhaven.
Second class Passengers, embarking at Bremen, must call at the office of the Norddeutscher Lloyd, Passenger Department, Papenstrasse, two Days prior to the departure of steamer, in order to comply with Government Regulations and secure rail tickets from Bremen to Bremerhaven.
American Customs Regulations
On the return trip, your baggage will be subject to the same inspection on landing in America as on landing abroad. American Citizenship does not permit you to bring dutiable goods into the country without paying duty.
A blank will be furnished you aboard the steamer before landing. This must be filled out, listing in detail every article you obtained abroad which you are bringing home. The list is then given the ship's purser.
This list is called your "declaration" and should include all wearing apparel, jewelry and other articles, whether worn or not, carried on your person, in your clothing, or in your baggage. These items must give their cost or value abroad and whether they were bought or given to you. Also jewelry and wearing apparel, taken out of the United States and remodeled abroad, must be listed with the cost of remodeling.
You are allowed to bring into the United States $ 100 worth of personal effects bought abroad free of duty, in addition to all wearing apparel taken from the United States on sailing.
Recovery of U. S. Head Tax
This Tax can be recovered by Passengers, if same bas been paid, provided they inform the U. S. Immigration Inspector on arrival at New York of their intention to leave the United States within sixty days (the time prescribed by U. S. Law), and obtain from him Transit Certificate Form 514.
It is also necessary for this Transit Certificate Form 514 to be handed to the transportation company when completed, in time to allow same to be placed before the Immigration Authorities in Washington within 120 days of passenger's arrival in the United States.
Unless this regulation is complied with, the Tax cannot be recovered.
Suggestions and Complaints
Suggestions, complaints or criticisms of service or of personnel should be addressed to the General Manager, United States Lines, 45 Broadway, New York City.
The Fleet
Passenger Service (Gross Register Tons)
Leviathan 59,956
George Washington 25,570
America 22,622
Repbulic 18,022
President Harding 14,127
President Roosevelt 14,127
Express Services
Bremen-Southampton-Cherbourg-New York
Southampton-Cherbourg-New York
United States Lines Freight Department
All of the steamers operated by the United States Lines are combination freight and passenger ships. They are modern in every respect and some are equipped for carriage of considerable cargo under refrigeration.
Our Docks are of recent construction and modern in all equipment, offering facilities for loading direct from cars into steamer, eliminating any hauling, lighterage or transfer by trucks. This is especially advantageous to Western Shippers, and movement of through cargo consignments in carload lots.
Special attention is given to shipments of household goods, automobiles, etc.
for Rates and Space Apply To United States Lines
Freight Department
45 Broadway, New York
Carl Behlinemann, Bremen
Updated 2015-06-07 by Paul K. Gjenvick, MAS, Archivist