SS George Washington Passenger List - 22 August 1934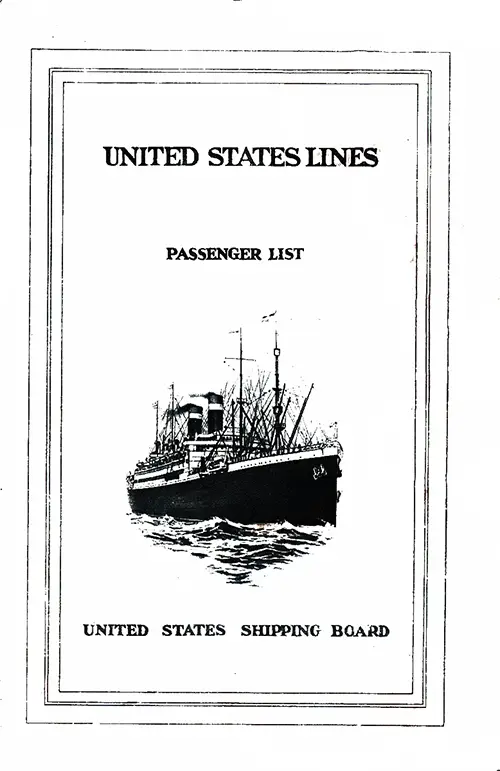 Front Cover, Cabin Passenger List for the SS George Washington of the United States Lines, Departing 22 August 1924 from Bremen to New York via Southampton and Cherbourg, Commanded by Captain H. A. Cunningham, U.S.N.R.F. GGA Image ID # 1e866cd27f
Senior Officers and Staff
Commander: Captain, H. A. Cunningham, U. S. N. R. F.
Chief Officer: James Ford
Chief Engineer: W. G. Grace
First Officer: Janis Swers
Chief Surgeon: Dr. R. H. Bolling
Purser: F. C. Arnoult
Chief Steward: A. Sudman
First Cabin Passengers
To New York
▓▓▓ "A" ▓▓▓
Mrs. Louis Ackermann
Mr. Julius Adler
Mrs. Julius Adler
Miss Myrthe Aggas
Judge J. Ailshen
Mrs. J. Ailshen
Mr. J. C. Alley
Mr. J. L. Alley
Mrs. F. Anthes
Mr. S. A. Arnstein
Mrs. S. A. Arnstein
▓▓▓ "B" ▓▓▓
Miss Helena Maude Babbage
Mr. J. S. L. Baker
Miss Vera Barad
Mr. H. Barker
Miss G. Barley
Mr. T. S. Barnes
Mrs. F. S. Barnes
Mr. Charles B. Barnes
Mr. Otmar Bauer
Mr. C. D. Bells
Mrs. C. D. Bells
Miss Tjelma Belyea
Mr. Frank J. Bennett
Mrs. Frank J. Bennett
Mrs. F. V. Benjamin
Mrs. M. N. Benson
Master G. K. Benson
Mr. August Berg
Miss Anna F. Berry
Miss M. Birth
Mrs. E. Bohrmann
Mrs. G. M. Brady
Mr. Geo Brakeles
Mrs. Thos. C. Brown
Major Robert D. Brown
Mrs. Rosalie V. Brown
Master Robert Brown
Miss Rosalie Brown
Miss A. T. Brown
Mr. E. L. Bruce
Mrs. E. L. Bruce
Mr. E. L. Bruce Jr.
Mrs. E. L. Bruce Jr.
Mrs. Cecile Brunswick
Miss Ilice Brunswick
Mr. W. Marshall Bullitt
Mrs. W. M. Bullitt
Mr. S. F. Burki
Mr. Aug. A. Busch
Mr. George K. Busch
Miss Anna Buttler
▓▓▓ "C" ▓▓▓
Mr. Th. Camp
Mrs. Th. Camp
Master James Camp
Mrs. Lillian Campbell
Miss Marion Candler
Miss Ada Candler
Miss Eleonor Candler
Miss A. G. Cassers
Miss Sara L. Cassers
Mrs. A. M. Chapman
Mrs. C. Clare
Mr. John Clafein
Mrs. John Clafein
Mr. F. T. Cleary
Mrs. V. B. Cohen
Miss D. Cohen
Dr. H. L. Cook
Mrs. H. L. Cook
Mrs. Emma W. Colman
Mrs. J. J. Coonley
Miss F. Coonley
Mrs. Charlotte Conlin
Miss Charlotte Conlin
Mr. Robert E. Coppinger
Mrs. Frances T. Coppinger
Mrs. S. Ralph Corbin
Miss Helen Corbin
Miss A. Crippen
Mrs. L. S. Critchell
Mr. Lawrence Critchell
Mr. Howard Critchell
Mr. Eugen T. Crowther
Mrs. Eugen T. Crowther
Miss Alice M. Cusak
▓▓▓ "D" ▓▓▓
Mrs. L. Delafield and Maid
Mr. John R. Demarest
Mrs. John R. Demarest
Mr. Toby Deutschmann
Mr. William A. Devin
Mr. Carl H. Diehl
Mrs. T. M. Dixon
Mr. Milos Dlouhy
Dr. Florence E. Donnelly
Miss Marguerita Dorr
Mr. John D. Dorris
Mrs. John D. Dorris
Mr. H. H. Douglas
Mrs. H. H. Douglas
Miss Beatrice R. Doyle
Mrs. M. T. Dunigan
Miss M. A. Dunn
Mrs. Martha Dyrenforth
▓▓▓ "E" ▓▓▓
Miss Lucy Elliot
Mr. August Ernstthal
Mrs. August Ernstthal
Mr. Harry M. Evans
Mrs. Harry M. Evans
Miss Helen Evans
▓▓▓ "F" ▓▓▓
Mr. Wm. Fleischmann
Mrs. P. M. De Ford
Prof. Carl Gustav Forsell
Mrs. Eva K. Foster
Mr. Wm. L. Foushee
Mr. J. D. Fredericks, Member of Congress
Mr. James B. Fredericks
Miss. Deborah A. Fredericks
Mrs. John D. Fredericks
Miss Doris Fredericks
Miss Elly Freund
Miss Paula Friede
Dr. Henry Friedenwald
Miss C. Friend
Miss Emilie Frisch
Miss Gertrude Frye
▓▓▓ "G" ▓▓▓
Mr. Gade
Mr. Isaac Ginsburg
Mrs. Julia Ginsburg
Mr. Herman Ginsburg
Mr. Harry Goeldlin
Mr. M. Goldberg
Mrs. M. Goldberg
Mr. Max Goldstein
Mrs. Max Goldstein
Miss T. Gouddraux
Mr. Max Greenhut
Mrs. Max Greenhut
Mr. Isaak Gropper
▓▓▓ "H" ▓▓▓
Mr. Marshal Hale
Mr. John G. Hanke
Mrs. J. G. Hanke
Master Waren W. Hanke
Mr. Chas. de Harrach
Mr. G. E. Harris
Mrs. G. E. Harris
Mr. O. J. Harris
Mrs. O. J. Harris
Mr. Overton Harris
Mr. Hermann Hartmann
Mrs. Hermann Hartmann
Miss. Mary Harts
Mrs. Marie Harts
Mr. B. A. Hearon
Mrs. B. A. Hearon
Mrs. L. Hebard
Mr. Louis J. Heckler
Mrs. Louis J. Heckler
Mrs. G. J. Heflin
Miss. B. Helm
Mrs. R. G. Hemmingsway
Mrs. F. Herbst
Dr. Ernst James Heymann
Mr. Lavine A. Higgins
Mrs. J. P. Hill
Miss C. C. Hill
Miss C. D. Hill
Miss S. C. Hill
Miss Gertrude Hill
Hon. Jesse Holdon
Mrs. Jesse Holdon
Mr. Frank Hollingsworth
Mrs. Frank Hollingsworth
Judge Wm. G. Holt
Mrs. Wm. G. Holt
His Excellency A. B. Hougthon, American Embassador
Mr. A. Hougthon
Mrs. E. C. Houlkes
Mr. Geo M. Huey
Mrs. Geo M. Huey
Miss Frances M. Hulla
Mr. M. Hunt
Mrs. M. Hunt
Miss Hunt
▓▓▓ "I" ▓▓▓
Mr. Conrad C. Ingold
Mr. Josef Isner
▓▓▓ "J" ▓▓▓
Mr. Hans Joachim
Mrs. S. Joachim
Miss Edith Joachim
Mrs. Helen C. Johnson
Mr. W. B. Jones
Mrs. W. B. Jones
Miss Ella Virgina Jones
▓▓▓ "K" ▓▓▓
Mr. Charles L. Kagey
Mr. Henry Kahn
Mr. Harry A. Kangesser
Mr. Robert Kangesser
Mr. Wm. Fritz Kaufmann
Mrs. J. A. Keene
Mr. Nicholas Kelley
Mrs. Nicholas Kelley
Mr. Kelley
Mrs. Kelley
Master D L. Kiehle
Miss K. G. Kiehle
Mr. Allan T. MacKiell
Mrs. Allan T. MacKiell
Mr. William Klingenberger
Mrs. William Klingenberger
Mr. A. Knaus
Mr. Max Knobloch
Mr. P. Kochanski
Mrs. P. Kochanski
Mr. Robert Konig
Mrs. Robert Konig
Dr. Otto Konig
Miss Elizabeth König
Miss Helen König
Mrs. F. G. Kreye
Mr. J. A. Kronson
Mrs. S. Kugel
Miss H. Kugel
▓▓▓ "L" ▓▓▓
Mr. Paul Langerfeld
Mrs. Paul Langerfeld
Judge Alonzo McLaughlin
Mrs. Alonzo McLaughlin
Mrs. Henry Leach
Mr. Henry Lee
Mrs. Henry Lee
Miss Catherine Leeper
Mrs. Bessic Levin
Dr. P. A. Levine
Mrs. P. A. Levine
Miss Elizabeth Logan
Miss Margaret Logan
Mr. John Logeman
Mr. John Logeman Third
Mr. J. Herbert Low
Mr. Lloyd Lubetkin
Mr. H. G. Luckhaus
Mrs. J. Luckhaus
Mr. Rodolfo Luckhaus
Mr. Fritz Luckhaus
Mr. Carlos Luckhaus
Miss Edith S. Lufts
Mr. Lujan
▓▓▓ "M" ▓▓▓
Mr. Alexander Margruder
Dr. A. F. Margruder
Mrs. M. C. Marholfer
Miss Helen Marks
Mrs. C. Hall Martin
Master Hall Martin
Mr. D. M. Martin
Mr. L. Martin
Mrs. L. Martin
Vicekonsul Abbol Martin
Mrs. C. D. Matthews
Mr. J. T. Maynard
Mr. W. H. Maynard
Mr. E. Maynz
Miss Clara McCall
Miss Florence McCrossin
Mr. W. J. Menko
Mrs. W. J. Menko
Mr. Alfred Meyer
Mrs. Alfred Meyer
Mr. Dudley H. Millee
Mrs. H. Millee
Miss Julia Miller
Mrs. A. L. Miller
Miss N. Miller
Capt. M. Miller
Mrs. M. Miller
Miss Nancy Lee Miller
Miss M. Montgomery
Miss T. Montgomery
Mr. C. R. Moore
Master John C. Mott
Mr. Howard S. Mott
Mrs. Howard S. Mott
Master H. Mott Jr.
Miss Ruth Mueller
▓▓▓ "N" ▓▓▓
Mr. A. Neve
Mrs. A. Neve
▓▓▓ "O" ▓▓▓
Mrs. Clarence Oppenheimer
Miss Muriel Oppenheimer
▓▓▓ "P" ▓▓▓
Miss Ellen F. Pendleton
Miss E. Perry
Mr. Nathan E. Posner
Mrs. Ethel Proser
Mrs. George C. Priissing
Mr. Pulver
▓▓▓ "Q" ▓▓▓
Mr. John F. Quinn
Mrs. John F. Quinn
▓▓▓ "R" ▓▓▓
Mrs. Charles Rands
Mr. Woodbory Ranson
Mrs. Woodbury Ranson
Mr. Woodbury Ranson Jr.
Mr. Alice N. Ranson
Mr. Leo M, Real
Mr. C. F. Redenour
Mr. William Reid
Mrs. William Reid
Mr. J. Reynolds
Mrs. L. L. Richards
Miss Imogene R. Richards
Master Wm. S. Richards
Mrs. W. T. Riddell
Mrs. M. E. Ridenour
Mr. David Rieser
Mr. Thos. C. Ridgway
Mrs. Thos. C. Ridgway
Lt. P. M. Robinett
Mrs. Josephia Rohn
Mrs. Joseph Rohn
Mr. Edward A. Rosenberg
Mrs. Edward A. Rosenberg
Miss Jane Rosenthal
Miss A. Rupright
Miss Dorothea Rushmore
Mr. D. Ryan
▓▓▓ "S" ▓▓▓
Miss Louise Sahr
Mr. H. W. Scovell
Mrs. H. W. Scovell
Mrs. Lella M. Sewall
Mr. James O'Shaugnessy
Mrs. James O'Shaugnessy
Mr. Wm. M. Shaw
Mr. Harry Shaw
Mrs. Harry Shaw
Mr. Victor Shaw
Mr. George Sickel
Dr. E. Skelton
Mrs. E. Skelton
Miss Dorothy Smith
Mrs. F. Smykal
Miss Smykal
Miss E. G. Spindlers
Mr. J. Sullivan
Mrs. J. Sullivan
Mr. F. M. Supplee
Mrs. F. M. Supplee
Mrs. Mimie L. Spitzer
Miss Catherine Schafer
Mr. J. J. Scheuch
Mrs. J. J. Scheuch
Mrs. Leo Schlager
Mrs. K. G. Schroff
Miss G. Schroff
Mrs. N. A. Schulman
Mr. C. E. Stamvood
Mr. G. W. Stearns
Mrs. G. W. Stearns
Mr. Benjamin Steinberg
Mr. Henry C. Steneck
Mrs. Henry C. Steneck
Miss Olga Steneck
Master John Steneck
Mr. E. L. Steward
Mrs. Catherine Steward
Mr. Rudolph Strauß
Mrs. Rudolph Strauß
Mr. Meyer Strauil
Mrs. Meyer StraufS
Mrs. G. Streusand
▓▓▓ "T" ▓▓▓
Mrs. T. Tamback
Mr. A. H. Thorndike
Mrs. A. H. Thorndike
Miss Marion Thorndike
Miss Kate Nelson Turnirseed
▓▓▓ "U" ▓▓▓
Mr. Richard Uhlfelder
Mrs. Richard Uhlfelder
Mr. Carl v. d. Upwich
▓▓▓ "V" ▓▓▓
Mr. B. Veit
Mrs. B. Veit
Miss Marion Veit
Dr. Lucien Viberol
Mr. E. J. Vigneron
▓▓▓ "W" ▓▓▓
Miss Lella M. Wales
Miss H. B. Walsh
Miss M. A. Walsh
Mrs. M. Walzer
Miss Edna Walzer
Judge Gleme E. Warner
Miss Lillie Watt
Mr. Matthews Webber
Mrs. Louise Weissker
Mr. S. S. Weitzer
Mrs. S. S. Weitzer
Mr. Wm. J. Wemple
Mrs. Wm. J. Wemple
Miss Caroline Wemple
Mr. Max Weyl
Mr. Adolph Weyl
Mrs. Adolph Weyl
Captain Charles Wharton
Miss L. M. Whitall
Miss L. G. Whitney
Miss Clarissa Wiggins
Mrs. S. Wilde
Major F. W. Wile
Mrs. F. W. Wile
Mr. George Williams
Mr. T. W. Wisotzkey
Miss Vivian Wright
Mr. Thomas B. Wright
Mr. Vincent W. Woytisek
▓▓▓ "Z" ▓▓▓
Mrs. B. Zimmermann
To Southamton:
Mrs. Otto Adam
General-Consul Fr. Dumont
Mrs. Dumont and Maid
Mrs. Hans Freudenberg
Master H. K. Freudenberg
Miss Ida M. Freudenberg
Master W. Ph. Freudenberg
Mr. Otto Halberg
Mrs. Otto Halberg
Mr. Joachim Hillger
Mr. Hermann Hillger
Mr. Hoehne
Mrs. Hoehne
Colonel Johnson
Mrs. Johnson, child and gouverness
Mr. Georg Jansen
Mr. George Kemnitz
Mrs. George Kemnitz
Mr. Walter Knopf
Mr. Kochmann
Mrs. Kochmann
Mr. Wilhelm Lange
Mrs. Wilhelm Lange
Mr. Ernst Meier
Mrs. Anni Meier
Mr. M. A. Meyer
Miss Rosa Wagner
Mr. Konrad Warnecke
Mr. Alfred Werthaimer
Mrs. Alfred Wertheimer
To Cherbourg:
Baron de Camas
Second Cabin Passengers
To New York
▓▓▓ "A" ▓▓▓
Mrs. Anna Adamez
Mrs. H. M. Allison
▓▓▓ "B" ▓▓▓
Mr. Thos. Bullock
Mrs. Wilhelmina Burkhardt
Miss Louisa Burkhardt
Miss A. J. Baldwin
Miss E. M. P. Bartlett
Mr. Fred Bastian
Mrs. Fred Bastian
Miss Matilde Bastian
Miss Anita Bastian
Master Ernest Bastian
Mr. Harold Little Bear
Mrs. Fanny Berger
Miss Lilly Berger
Mr. Julius Berliner
Miss Edith Blake
Mrs. Elizabeth Blatter
Miss Meta Boettcher
Mr. W. E. Borden
Mrs. W. E. Borden
Mrs. Breuer
Miss Breuer
Mr. Meyer Brod
Mrs. M. E. Buckley
Miss Barbara Buckley
Mr. Harry A. Buffmann
Mrs. Ella M. Buffmann
▓▓▓ "C" ▓▓▓
Miss E. M. Childs
Mother Mary Coelestine
Mrs. G. E. Cook
Miss L. I. Cook
Mr. John A. Cox
Mrs. M. W. Craig
Mr. A. W. Craver
Miss M. G. Cupran
▓▓▓ "D" ▓▓▓
Mrs. Mary Damm
Mr. Nathan H. Davis
Mrs. Flora N. Davis
Miss Josephine Dercalik
Miss May F. Devine
Miss E. J. Dolgluich
Mrs. Marie Duda
Mrs. Mary Dunn
Miss Margaret Dunn
Mrs. Minna Dworatzek
Miss M. Dykes
▓▓▓ "E" ▓▓▓
Miss E. Eckert
▓▓▓ "F" ▓▓▓
Mrs. Maria Falkner
Mr. Ludwig Falkner
Miss Fanny Falkner
Mr. Joseph Fietz
Mrs. Stephany Fietz
Miss Marie Finster
Mrs. C. F. Flynn
Master C. F. Flynn
Mr. August Fortmann
Rev. Wm. Francis
Mrs. Wm. Francis
Mr. John G. Fraune
Mr. Benjamin Fredman
Mr. George Funk
▓▓▓ "G" ▓▓▓
Miss Blanche C. Gadbois
Miss M. Gallagher
Miss M. J. S. Gallon
Mrs. G. Garbe
Master G. Garbe
Miss Faith Garland
Miss Ida Gesner
Miss Chaje Gewirtz
Miss Bessie Gewirtz
Miss Helen Gewirtz
Master Oscar Gewirtz
Master Seymour Gewirtz
Mr. Jonas Gewirtz
Mr. Jakob Gewirtz
Miss M. Gillies
Mr. Georgeo C. Gilo
Miss Anna M. Godderz
Mr. Mike Gold
Mrs. Mike Gold
Mrs. Melita Gutgesell
Master Alfred Gutgesell
Mrs. Amalie Graner
Mrs. A. B. Griscom
Miss A. B. Griscom
Mr. Hermann Grossmann
Mr. Hermann W. Grossman
Mrs. Goldie Grossman
Miss Mildred Grossman
Mr. Heinrich Grube
Mr. Adolf Gutmann
▓▓▓ "H" ▓▓▓
Miss Marion P. Hallock
Miss Mary T. Hamelman
Miss Gertrude Hamelman
Mr. Carl Hampel
Miss Yazella Hancsar
Miss Mildred Hardy
Miss Lillian Hardy
Miss May Hardy
Miss M. B. Harrie
Miss Anne Hathaway
Miss Ester Hayden
Mr. Ernst Heck
Mr. Paul Hediger
Mr. Karl Heidelberger
Mr. August Heins
Mr. Franz Hellmann
Mrs. Ida Hellmann
Miss Magda Hellmann
Miss Johanna Hellmann
Mr. Hermann Hempe
Mrs. Hannah Henderson
Miss Olive Henderson
Miss Kathleen Henderson
Miss Blanche Henderson
Miss Anna E. Hennessey
Miss Ruth Henry
Mrs. Alma Hentschel
Dr. H. D. Herold
Mrs. H. D. Herold
Mr. F. W. Hertrich
Mr. S. G. Heuse
Mrs. Margaret Hofmeier
Mr. J. R. Hollidey
Mrs. J. R. Hollidey
Miss Nellie I. Hopkins
Mr. Gustav A. Hunziker
Mrs. Gustav A. Hunziker
Mr. Walter J. Hunziker
Miss Ida M. Hunziker
Mr. Frank Hyland
▓▓▓ "I" ▓▓▓
Mr. Charles H. Intemann
Mrs. Margarete Intemann
Miss Martha J. Irvine
▓▓▓ "K" ▓▓▓
Miss Mary Keefe
Mr. Friedrich Kegel
Mrs. Gozella Kegl
Master Stefan Kegl
Mr. Edwin Kelly
Miss E. L. Kenworthy
Mr. Hermann Killian
Mrs. Kirby
Mr. William Kiskpatrick
Mrs. Johanna Kixmiller
Miss Johanna Kixmiller
Miss Sarah Kleinman
Mrs. Marie Klingenberger
Miss Susie Klingenberger
Mrs. E. Kneedler
Mr. H. F. W. Knowles
Mrs. H. F. W. Knowles
Mr. Georg Koch
Mr. Nicholas Kovac
Mr. P. G. Kramer
Mrs. P. G. Kramer
Mr. Arthur H. Krauss
Mr. Frank Krefetz
Mrs. Rosa Krefetz
Miss Freda Krefetz
Mrs. Marie Kreissig
Miss Traute Kreissig
Mrs. Margaret A. Kyper
▓▓▓ "L" ▓▓▓
Mrs. R. Langley
Miss Hilma Leers
Mrs. Helene Lennig
Miss Felicitas Lennig
Miss Cecilia Lepetes
Miss Beatrice Lepetes
Mr. Charles Lewandowski
Mrs. Louise Lewandowski
Mr. Morris Lieberman
Miss Olga Loeffart
Mrs. Anna M. Ludwig
▓▓▓ "M" ▓▓▓
Miss C. Macrae
Mr. Peter Manthey
Mrs. Wilhelmine Manthey
Mrs. Antonia Manthey
Mrs. Franziska Marchlewski
Master Henryk Marchlewskil
Master Alfred Marchlewski
Miss Wanda Marchlewski
Mrs. Elisabeth Martin
Miss Amalija Mavric
Miss W. Mayers
Miss L. L. McCafferty
Miss Helen McDowall
Mr. J. E. McElainney
Mrs. J. E. McElainney
Mr. G. S. McElainney
Miss M. F. McElainney
Miss Agnes McKee
Miss Josefine Menz
Mrs. Bertha Miller
Miss Sarah Miller
Mrs. Maria Moser
Miss Helen Moser
Mrs. Annie Mostkov
Mrs. Olga Myers
▓▓▓ "N" ▓▓▓
Mr. Peter Neary
Mr. John N. Neary
Rev. Bernard Neary
Rev. Raymond Neary
Miss Flora Neckvitz
Mrs. J. G. Neil
Master William Neil
Miss Berta Neumann
Mr. Jorgen Nissen
▓▓▓ "O" ▓▓▓
Mr. Frank Oleksinski
Miss Helen C. O'Reilly
▓▓▓ "P" ▓▓▓
Mrs. Zdenka Parizek
Miss Rosie Parizek
Mr. Rudolf Parizek
Mr. Harry 'Parker
Miss Harriet C. Parker
Miss Emma Paskarbeit
Mrs. Frances Pecha
Mr. Gustav Peck
Miss Ada Peyer
Mr. Thos. J. Phelps
Mrs. Thos. J. Phelps
Mr. J. Phillips
Miss Nancy Phillips
Miss H. Phillips
Mrs. J. Picken
Miss E. Picken
Miss M. Picken
Mr. Wm. Carson Piess
Miss D. Pocock
Mr. John Postelion
Miss Marie Prang
Mr. G. H. Pritchard
Mrs. G. H. Pritchard
Mr. Siegfried Putz
Mrs. Gertrud Putz
▓▓▓ "R" ▓▓▓
Mr. Edward Radtke
Mrs. Theresia Radtke
Mrs. Ida A. Radtke
Dr. Fred M. Ray
Mrs. Rachel Ray
Mr. Ralph M. Ray
Miss Helen E. Ray
Gottlob Reber
Mrs. Frieda Reber
Mrs. Theresa Retzer
Mr. Samuel Rich
Mrs. Fanny Rich
Mrs. H. Richards
Mr. W. H. Richardson
Mr. Frank Rixius
Miss Elizabeth Rixius
Mr. William Robertson
Mrs. William Robertson
Miss E. J. Robertson
Miss Victoria M. Roberts
Miss Minnie Roberts
Mrs. I. Rockwell
Mrs. Karoline Rodegerdts
Mr. Leo Rosenblum
Mr. Oscar Rosenbaum
Mr. Ph. Rothfader
Mrs. Ph. Rothfader
Mrs. M. M. Ryan
Mr. W. S. Ryder
▓▓▓ "S" ▓▓▓
Mr. Josef Samek
Mrs. Anna Samek
Miss Elsie Samek
Mr. Sidney de Santy
Rabbi Aizer Sapoznikof
Mr. George Sasu
Mr. Henry A. Sauer
Mrs. Henny A. Sauer
Mr. George E. Sayce
Mrs. George E. Sayce
Miss Elsa Scheerer
Miss Elizabeth Scheerer
Mr. Theo Scheerer
Mr. P. Scheller
Mrs. P. Scheller
Master P. Scheller
Miss Josephine Schildgen
Miss Dora Schlaeger
Miss Margaret Schlauch
Mr. Karl H. Schmatzler
Mrs. Ida Schmatzler
Mrs. Stephanie Schneck
Miss Karla Schoeps
Mrs. Frida Schultz
Miss M. Schumaker
Mrs. Katharina Schwartz
Miss Helene Schwartz
Mr. S. G. Shearer
Mr. J. T. Sheer
Mrs. J. T. Sheer
Miss Alice M. Sheer
Mr. J. W. Sherwin
Mrs. J. W. Sherwin
Miss R. A. Sherwin
Mrs. Elsie Silvermann
Master Paul Silvermann
Mr. David W. Smith
Mrs. Cecilie Smutny
Master Vaclav Smutny
Mrs. Mary Socey
Master Stephen Socey
Miss Katharina Sonn
Mrs. E. B. T. Spencer
Mr. Rudolph Stahli
Mrs. Rudolph Stahli
Mrs. Ann Stark
Miss Valeria Stark
Master Alexander Stark
Rev Henry Stauffer
Mr. Henry Stammerjohann
Dr. Wood Stewart
Mrs. Wood Stewart
Mrs. R. G. Stoddart
Mr. Anthony Stukas
Mr. Benjamin Subin
Mr. Kalman Szalai
Mrs. Katalin Szalai
Mr. Alex Szegedy
▓▓▓ "Sister" ▓▓▓
Sister Mary Dionysia
Sister Leopoldine
Sister Bilfrieda
Sister Anna
Sister Rosalia
Sister Serapia
Sister Lamberta
Sister Illuminata
Sister Raineldes
Sister Elisabeth
Sister Juliana
Sister Bernardine
Sister Hildegard
Sister Jona
Sister Trudberta
Sister Aetheria
Sister Luise
Sister Davina
Sister Reinharda
Sister Maria
Sister Katharina
▓▓▓ "T" ▓▓▓
Miss Nellie Taylor
Mr. Henry Taylor
Mrs. Mary Teppert
Mrs. Sabina Teppert
Miss Gertrud Thurau
Mr. John Torok
Mr. Angelo Traviani
Mrs. Angelo Traviani
Miss Alba Traviani
Mr. Giudo Traviani
Miss Marjanna Trzeszcynska
Mr. Ignacy Tukalski
Mr. William F. Turnbull
Mrs. William F. Turnbull
Mrs. R. J. Twisaday
▓▓▓ "V" ▓▓▓
Mother Mary Vita
Miss Elisa Volkert
▓▓▓ "W" ▓▓▓
Mrs. Gesine Wacker
Miss Johanne Wacker
Miss Anni Wacker
Mrs. Mary Wagner
Mr. Friedrich Wagner
Mrs. Elisabeth Wagner
Mrs. William Wagner
Mrs. Anna Walter
Mrs. Anna Wasem
Miss L. Wattes
Miss Paula Weber
Mr. Alois Weimar
Mrs. Anna Weiner
Miss Julia Weiner
Mr. John Weingartner
Miss Edith Welle
Mrs. Elizabeth Weyermann
Mr. Israel Wildstein
Rev. G. P. Williams
Mrs. Esther Williams
Miss Margery Wilson
Miss B. Winn
Mrs. H. D. Wishard
Miss Blanche Wishard
Mr. Stanley Wright
Mrs. Barbara G. Wright
Miss Rachel G. M. Wright
Mrs. I. D. Wyse
Miss Louise Wyse
▓▓▓ "Y" ▓▓▓
Miss Helen V. Yonker
▓▓▓ "Z" ▓▓▓
Mr. Eric Ziegenhorn
Mrs. Minni Zimmer
Miss Elise Zuber
Mr. Hugo Zwicker
Information for Passengers
Hours for Meals are posted at the Information Bureau on the steamer.
Lights are extinguished in the Saloon at 11:00 pm, Lounge, Reading Room and Smoking Room at 11:30 pm
Divine Service in The Saloon On Sunday at 10.30 A. M.
Information Bureau
This office has been provided for the convenience of Passengers, where all inquiries for information of a general character should be made.
Passengers should personally ascertain whether there is any mail for them before disembarking, and they are invited to leave their addresses at the Information Bureau for later despatches to be redirected.
Passengers' Addresses may be left at the Information Bureau in order that any letters sent to the care of the Company may be forwarded.
None of the ship's staff, other than those on duty in the Information Bureau, is authorized to accept Letters, cables and Telegrams for despatch.
Passengers are requested to ask for a receipt on the Lines' Form for any additional Passage Money, Chair Hire, or Freight paid on board.
Letters, Cables and Telegrams Letters, Cables and Telegrams are received at
the Information Bureau for despatch, and Postage Stamps can be purchased, also all Mails will be distributed there. Cablegrams and Telegrams should be handed in an hour before the arrival at any port of call.
Letters, Etc., for Passengers Letters, etc., for Passengers will be brought on board before the Passengers land.
Wireless Service
The long range wireless equipment permits of the vessel communicating with the shore from any point during the trip to or from Europe. Passengers desiring to send message will consult the operator for rates.
Seats at Table
Passengers who have not previously arranged for seats at table to be reserved should apply for same to the Chief Steward.
Smoking
Passengers are requested not to smoke in the Dining Saloons.
Special Notice
To save Passengers from annoyance and inconvenience through being solicited for contributions for the benefit of the Musicians, special arrangements have been made whereby the Musicians engaged in the orchestra and in the band are paid a liberal extra allowance by the United States Lines for the services they render.
It is suggested that Passengers refrain from contributing to funds for the Musicians, and that such contributions as they care to make be limited to those for charitable purposes such as concern Seamen, their widows and orphans, and deliver same to the Purser, taking receipt therefor. Information as to the manner in which such contributions or collections are distributed by the Management of the United States Lines will be furnished by the Purser, and also announced at the time such collections are undertaken or reported.
In the event Passengers prefer not to follow the suggestion made herein the Commander will upon written request authorize collections to be made for the joint benefit of the Musicians and for charitable purposes, which will be distributed by the Management upon the basis of 30% to the Musicians and 70% to Charity.
Collections should not be undertaken without first securing the approval of the Commander.
Deck Chairs and Steamer Rugs
These may be hired at $ 1.50 each for the voyage on application to the deck steward.
Electric Bath
The Charge for the use of the Electric Bath is fixed at s 1.50.
Medical Attention
The Surgeon is always at the disposal of those Passengers requiring his services. In case of illness originating on hoard, or after the departure of the steamer, no charge will be made for those services, and such medicines as are prescribed by the Ship's Surgeons will be furnished without expense to the Passengers. In cases of illness, not originating on board, the Surgeon is permitted to make the following charges :
For office visits, $ 1.00 per visit
For state-room visits, $ 2.00 per visit
with a maximum charge of s 4.00 per day.
If the Passengers consider that the charges made by the Surgeon f r such services as he renders are...
-:- Page Obscured by Baggage Ticket Sticker -:-
Return Passengers
First and Second class Passengers, embarking at Cherbourg, must communicate with our Paris Passage Office, Milted States Lines, 1 Rue Auber, several days before sailing.
Passengers embarking at London or Southampton must communicate with our London Passage Office, United States Lines, 14 Regent Street S. W. 1, several days before sailing.
Passengers embarking at Queenstown must communicate with the United States Lines' Office, several days before the departure of the steamer, in order to ascertain definite information regarding the reservations and sailing hour of steamer.
First class Passengers embarking at Bremen must call at our Bremen Office, Norddeutscher Lloyd, Passenger Department, Papenstrasse, the day before sailing, in order to secure their rail tickets from Bremen to Bremerhaven.
Second class Passengers, embarking at Bremen, must call at the office of the Norddeutscher Lloyd, Passenger Department, Papenstrasse, two Days prior to the departure of steamer, in order to comply with Government Regulations and secure rail tickets from Bremen to Bremerhaven.
American Customs Regulations
On the return trip, your baggage will be subject to the same inspection on landing in America as on landing abroad. American Citizenship does not permit you to bring dutiable goods into the country without paying duty.
A blank will be furnished you aboard the steamer before landing. This must be filled out, listing in detail every article you obtained abroad which you are bringing home. The list is then given the ship's purser.
This list is called your "declaration" and should include all wearing apparel, jewelry and other articles, whether worn or not, carried on your person, in your clothing, or in your baggage. These items must give their cost or value abroad and whether they were bought or given to you. Also jewelry and wearing apparel, taken out of the United States and remodeled abroad, must be listed with the cost of remodeling.
You are allowed to bring into the United States $ 100 worth of personal effects bought abroad free of duty, in addition to all wearing apparel taken from the United States on sailing.
Recovery of U. S. Head Tax
This Tax can be recovered by Passengers, if same bas been paid, provided they inform the U. S. Immigration Inspector on arrival at New York of their intention to leave the United States within sixty days (the time prescribed by U. S. Law), and obtain from him Transit Certificate Form 514.
It is also necessary for this Transit Certificate Form 514 to be handed to the transportation company when completed, in time to allow same to be placed before the Immigration Authorities in Washington within 120 days of passenger's arrival in the United States.
Unless this regulation is complied with, the Tax cannot be recovered.
Suggestions and Complaints
Suggestions, complaints or criticisms of service or of personnel should be addressed to the General Manager,' United States Lines, 45 Broadway, New York City.
The Fleet
Passenger Service, Gross Register Tons
Leviathan 59,956
George Washington 25,570
America 22,622
Repbulic 18,022
President Harding 14,127
President Roosevelt 14,127
Express Services
Bremen - Southampton - Cherbourg - New York
Danzig - Bremen - New York
Southampton - Cherbourg - New York
United States Lines Freight Department
All of the steamers operated by the United States Lines are combination freight and passenger ships. They are modern in every respect and some are equipped for carriage of considerable cargo under refrigeration.
Our Docks are of recent construction and modern in all equipment, offering facilities for loading direct from cars into steamer, eliminating any hauling, lighterage or transfer by trucks. This is especially advantageous to Western Shippers, and movement of through cargo consignments in carload lots.
Special attention is given to shipments of household goods, automobiles, etc.
for Rates and Space Apply To
United States Lines
Freight Department
45 Broadway, New York
Carl Schiinemann, Bremen.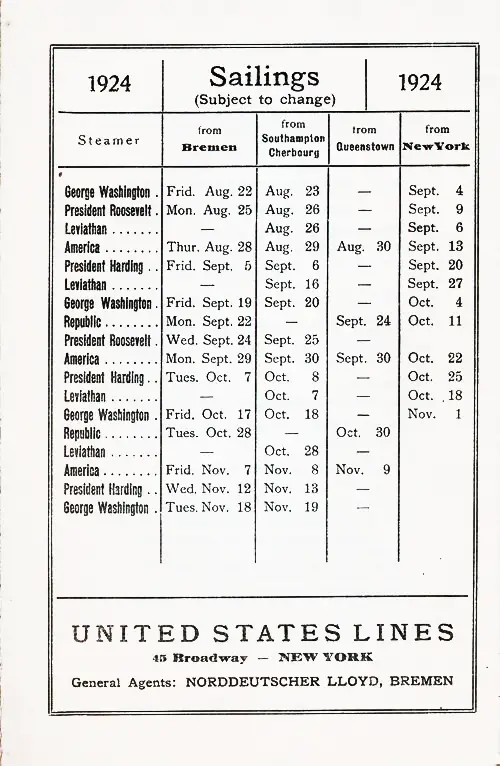 Sailing Schedule, Breman-Southampton/Cherbourg-Queenstown (Cobh)-New York, 22 August 1924 to 19 November 1924. Ships Included the America, George Washington, Leviathan, President Harding, President Roosevelt, and Republic. SS George Washington Passenger List, 22 August 1924. GGA Image ID # 1e8670ac9c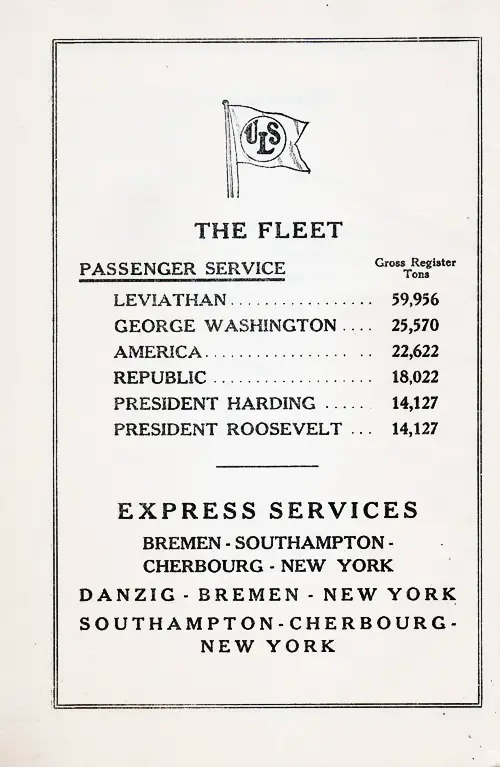 United States Lines Passenger Service Fleet List and Express Services, 1924. SS George Washington Passenger List, 22 August 1924. GGA Image ID # 1e867406aa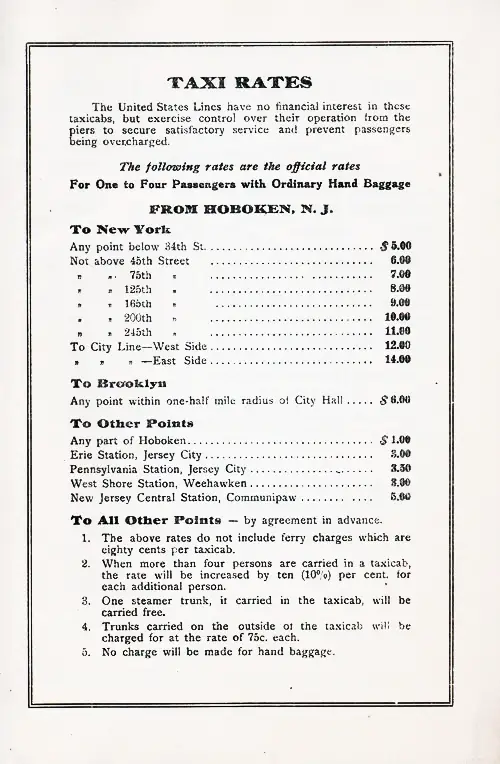 Taxi Rates from Hoboken to New York, Brooklyn, and Other Points, 1924. SS George Washington Passenger List, 22 August 1924. GGA Image ID # 1e86d940a2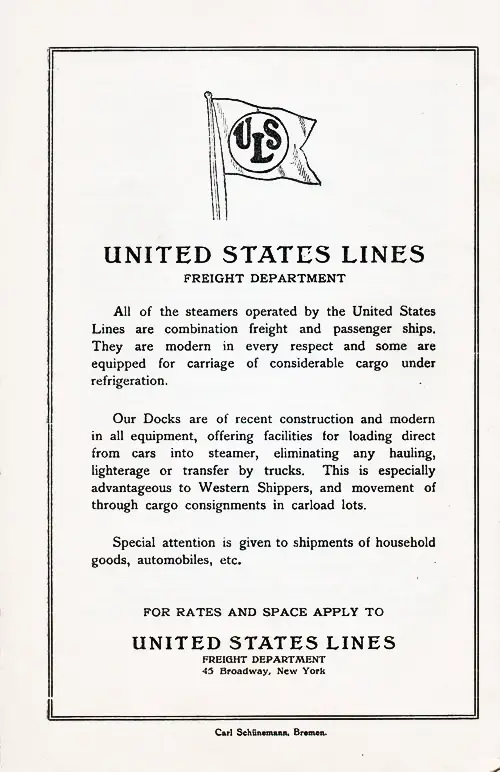 Advertisement: United States Lines Freight Department, 1924. SS George Washington Passenger List, 22 August 1924. GGA Image ID # 1e86fcbac3
Passenger List Contributed by Pat Tiffany 2012