SS President Arthur Passenger List - 19 October 1923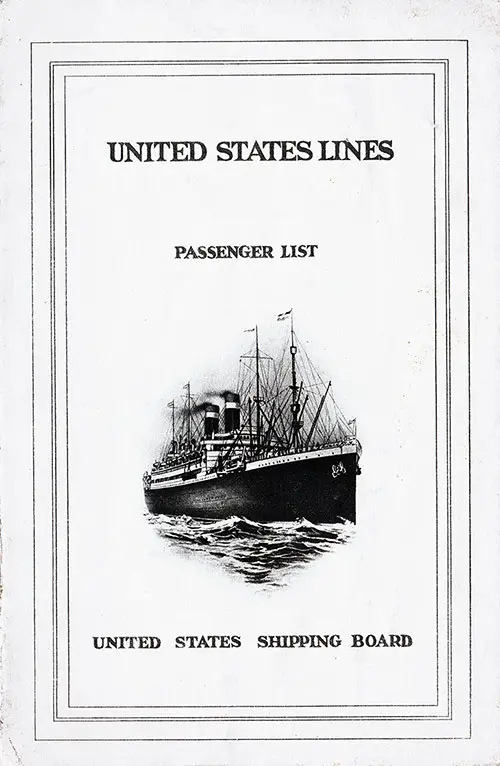 Front Cover, Cabin Passenger List for the SS President Arthur of the United States Lines, Departing 19 October 1923 from Bremen to New York via Southampton and Cherbourg, Commanded by Captain P. H. Kreibohm, U.S.N.R.F. GGA Image ID # 1fd6f76ca7
Passenger List is unique in listing of four Stowaways in the Summary of Souls on Board.
Senior Officers and Staff
Captain: P. H. Kreibohm, U. S. N. R. F., Commander
Chief Officer: S. F. Cumings
Chief Engineer: H. A, Kennedy
Surgeon: Paul Shuey
Purser: J. Raymond
Chief Steward: G. L. Brennon
Cabin Passengers
▓▓▓ "A" ▓▓▓
Miss E. G. Andrews
▓▓▓ "B" ▓▓▓
Mr. Daniel Baker
Miss Kreszenz Bauer
Miss Anna Bauer
Mr. Joseph Becker
Miss Margarete Becker
Miss Marie Behringer
Mr. S. Bell
Mrs. S. Bell and child
Mr. Adolf Beschorner
Miss Grete Beutner
Mrs. Anna Biles
Mrs. Master William Biles
Mr. Clarence Bird
Miss Babara Bleif
Mr. J. Biyth
Mrs. Catherine Boesenberg
Mrs. A. Bowden
Master C. Bowden
Mrs. E. Bowden
Miss M. Bowden
Mr. Lan Breuil
Mr. N. E. Brookman
Mr. Franz Buchberger
Miss Elsie Bucher
Mrs. E. Buttrick
Master W. Buttrick
Master A. Buttrick
▓▓▓ "C" ▓▓▓
Mr. Vaclav Cabelka
Mr. Charles Chester
Mrs. Charles Chester
Mr. Chorlian
Mr. Conrad Claus
Mrs. M. G. Clove
Mr. Wilhelm Cohrs
Mrs. Anna Cohrs
Mr. Conter
Mrs. Conter
▓▓▓ "D" ▓▓▓
Mrs. Josefne De Corini
Mrs. Marie Antoinette Crump
Mr. P. Davis
Miss M. Davis
Mrs. E. M. Davis
Miss Edith Depmeyer
Mrs. Franziska Dervenich
Miss Katherine Dervenich
Mrs. E. M. Dohir
Mr. Christian Dohrmann
Mr. Karl Donner
Mrs. Elisabeth Dotterweich
Mr. John Dow
Miss G. F. V. D. Dowell
Mr. Johannes Drechsler
Miss Gertrud Drechsler
Mrs. Dora Dude
Mr. Carl Dude
Miss Dora Dude
Miss Anna Dude
Miss Duran
▓▓▓ "E" ▓▓▓
Mrs. M. Ellen
Miss Rosina Engelhardt
▓▓▓ "F" ▓▓▓
Mrs. M. O. Flare
Mr. John Fleckenstein
Miss A. B. Foshach
Mr. Albert Fossen
Miss Maria Frick and infant
Miss E. Friel
Mr. Karl Fuchs
▓▓▓ "G" ▓▓▓
Miss Anna Gerold
Mr. John Gilheam
Mr. Stanislaus Glas
Miss B. Gliicksman
Mr. L. Gluck
Miss Ottilie Graef
Mrs. N. Gracey
Miss Marie Graf
Miss E. Greaves
Mrs. Chawa Green
Miss Ellen M. Grey
▓▓▓ "H" ▓▓▓
Mrs. Elsa Haferkorn
Miss Mathilde Hagen
Master J. Hare
Master J. Hare
Miss C. Hare
Miss E. M. Harris
Miss E. E. Harris
Mr. H. E. Harris
Miss Rosina Haubner
Miss M. Hazel
Miss Kreszenz Hecht
Miss Marie Heidloff
Mr. Arno Heidrich
Mrs. Auguste Heinz
Miss Antonia Herbert
Mr. Erich Hermeneit
Mr. Fritz Herriger
Mr. Robert Hertl
Mrs. Clara Hertl
Mrs. Florence Hill
Miss Constance M. Hill
Miss Marie Hisoinkova
Miss N. M. Hoath
Mr. Heinrich Hoffmann
Mrs. G. S. Hooper
Mr. Wilhelm Horster
Mrs. F. Hughes
▓▓▓ "J" ▓▓▓
Mr. Stefan Janak
Mr. A. L. Jeffries
Mrs. A. L. Jeffries
Mr. Lewis Jenkins
Mr. G. Jones
Mrs. G. Jones
Mr. Frank Joy
Mrs. Frank Joy
Mr. J. Judge
▓▓▓ "K" ▓▓▓
Mrs. Kasimira Kapteyn
Miss Johanna Kaufmann
Miss Marie Kiesl
Mrs. R. Kirk
Miss Janetta Kirk
Miss Sophie Kirsch
Miss Wilma Kleemann
Miss Elisabeth Klumb
Miss Emma M. Kohl
Mr. Kurt Kohler
Mrs. Anna Kohler
Master Albert Kohler
Miss Emmi Kokemiiller and infant
Mrs. Anna Knop
Miss Minna Krahmer
Mr. August Kratzer
Miss Wilhelmine Kretzmann
Miss Antonie Kucharova
Mrs. Marie Kulemann
Mr. Gustav Kulka
Mr. J. Kurnan
▓▓▓ "L" ▓▓▓
Mr. William E. Lane
Mr. H. Lefcovitch
Miss Frieda Leopold
Miss Klara Lepski
Mr. Salomon Lewin
Mrs. Marcelle Lewis and infant
Master Donald Lewis
Mr. James Lindsay
Miss Helene Linke
Miss Johanna Lucken
Mrs. L. Luvin
▓▓▓ "M" ▓▓▓
Mr. J. E. Mac Intosh
Mr. W. Mackie
Mrs. H. Mackie
Miss J. Mackie
Rev. Theophile Malau
Mr. W. Malcolm
Miss Anna Maria Marschall
Miss Walburga Marschall
Mr. Joseph Me Cotter
Mr. F. W. Melville
Mr. Fodor Menyhart
Miss Gretchen Merkel
Miss Kate Monschauer
Mr. E. Moran
Miss Elsa Mueller
Mrs. Sofie Mueller
Miss S. Mulvey
Miss B. Murphy
Mrs. Susanna Muskovics
Master Terez Muskovics
Mr. Janos Muskovics
▓▓▓ "N" ▓▓▓
Mr. S. Nathan
Mrs. J. Nathan
Master J. Nathan
Master C. Nathan
Mr. Paul Nebel
Mr. Nicolaus Neubauer and infant
Miss Marie Nordmann
Miss Verna H. North
Mr. Paul Noven
Mrs. Josefine Noven
Master Fritz Noven
Miss M. Mackie
Miss Brigitte Noven
▓▓▓ "O" ▓▓▓
Miss M. Ogilvie
▓▓▓ "P" ▓▓▓
Mrs. J. Parks
Miss G. H. Payne
Mrs. Emma Penzel
Miss Marie Pfaller
Miss Liesel Piez
Mrs. Robert J. Pigott
Mr. George Pigott
Mr. Alois Pipper
Mrs. S. K. Polsen
Mr. H. Price
Miss Anna Profotova
▓▓▓ "R" ▓▓▓
Mr. John Raabe
Mrs. John Raabe
Miss Eleanor Raabe
Mr. Karl Reichelt
Mr. N. Me D. Reid
Mrs. Mathilde Reith
Mr. Wilhelm Reuland
Mrs. Mathilde Reuland
Mrs. M. L. Rennolis
Mr. Geza Revesz
Mrs. Rogers
Mrs. Meta Rosenbaum
Miss Hildegart Rosenbaum
Miss Francesca Rossi
Miss Germinala Rossi
Master Omero Rossi
Mr. Harry Rowan
▓▓▓ "S" ▓▓▓
Miss Elise von Salzen
Mr. Jokubus Sazeckis
Miss Hermine Sauter
Master Louis Shapira
Mr. Heinrich Sembdner
Dr. Abraham Shapira
Mrs. Sadie Shapira
Mrs. Elisabeth Simon
Mr. Josef Simunek
Mr. E. W. Smith
Mrs. A. R. Smith
Mr. Robt. Sproull
Mr. Bedrich Sramek
Miss M. C. Sutherland
Miss Barbara Svoboda
Mrs. Marie Svobodova
Miss Vlasta Svobodova
Master Ladislav Svobodova
Mr. Walter Schack
Mrs. Emilie Schaefer
Miss Emilie Schaefer
Miss Use Schaefer
Mrs. Lena Schildbach
Miss Kreszenz Schmelcher
Miss Ottilie Schmeller
Miss Eva Schminksch
Mr. Georg Schroder
Miss Marie Schumacher
Mr. Walter Stahl
Mrs. T. Staines
Miss E. E. Staines
Mr. Paul Steffen
Mr. Mathias Steiner
Mr. N. Steward
Mr. G. Stevenson
▓▓▓ "T" ▓▓▓
Miss N. Terresfield
Mr. Emil Topp
Mrs. M. Towers
Master J. W. Towers
Miss Luise Traub
Mr. G. Tuck
Mrs. Henriette Twick
▓▓▓ "U" ▓▓▓
Mr. Paul Unrath
Mr. J. A. Urquhart
▓▓▓ "V" ▓▓▓
Mrs. B. E. Vandepladuste
Miss Walburga Vetter
Miss Maria Vetter
▓▓▓ "W" ▓▓▓
Mr. Alfred Wadewitz
Mr. Adolf Wehle
Mr. Albert Weiglein
Miss Kvetoslava Weissova
Miss E. S. Wilson
Miss L. Wilson
Mr. Franz Winkler
Mr. Georg Woernlein
Mrs. Elisabeth Woernlein
Miss Lina Wolfsohn
Miss Martha Wragge
▓▓▓ "Z" ▓▓▓
Mr. Max Zeller
Miss Hedvika Zichova
Miss L. Zucker
Miss D. Zucker
For Southampton
Mr. Suren Arntunoff
Mrs. Suren Arntunoff
Mrs. Margarete Blau
Miss May Ethel Denney
For Cherbourg
Capt. Hermann Dreier
Cabin Passengers Errata and Summary
NOT ON BOARD
Mr. A. Beschorner
Mr. L. Breuil
Mr. C. Chester
Mrs. C. Chester
Mrs. M. A. Crump
Miss M. Davis
Mrs. M. Ellen
Miss A. N. Foshach
Mrs. Auguste Heinz
Miss A. Herbert
Miss M. Hlsoinkova
Mr. F. Menyhart
Miss K. Monschauer
Miss B. Murphy
Miss M. Ogilvie
Mrs. Rogers
Mr. G. Schroder
Mr. M. Zeller
ADDITIONS
Mr. V. Albrecht
Mrs. E. Albrecht
Mr. E. Guttmann
Mrs. A. Guttmann
Miss M. Hundt
Miss A. Hlavinka
Mr. R. Mueller
Mr. M. Podor
Mrs. M. Pertzel
Mrs. K. Reichardt
Mrs. B. Simunek
Mr. F. Schreibmeyer
Mr. L. Du Breuil
Mrs. S. M. E. Du Breuil
Mr. W, J. Glen
Mrs. M. Glen
Mr. E. J. Mahy
Mrs. M. L. Mahy
Miss A. Matthews
Mr. W. Parr
Miss E. Parr
Mr. J. W. Shortland
Mr. L. Wheadon
Mrs. A. Wheadon
Mr. C. Gerard
ADDENDA
| WHERE | SHOULD BE |
| --- | --- |
| Mrs. Master W. Biles | Master W. Biles |
| Miss E. M. Harris | Mrs. E. M. Harris |
| Mrs. G. Hooper | Miss G. Hooper |
| Mr. J. Kurnan | Mr. J. Kiernan |
| Mr. N. McD. Reid | Miss N. McD. Reid |
| Miss Duran | Mr. M. Duran |
| Mrs. M. O. Hare | Mrs. M. O'Hara |
| Master J. Hare | Master J. O'Hara |
| Miss C. Hare | Miss C. O'Hara |
| Master J. Hare | Miss J. O'Hara |
Récapitulation
 
Cabin
3rd Class
Total
Bremen to New York
160
367
527
Southampton to New York
109
0
109
Cherbourg to New York
15
5
20
 
284
372
656
Consular Passengers
 
2
Stowaways
 
4
Master, Officers & Crew
 
242
Total Souls on Board
 
904
Information for Passengers
Hours for Meals are posted at the Information Bureau on the steamer.
Lights are extinguished in the Saloon at it p. Lounge, Reading Room and Smoking Room at 11.30 p.
DIVINE SERVICE IN THE SALOON ON SUNDAY AT 10.30 A M.
INFORMATION BUREAU This office has been provided for the convenience of Passengers, where all inquiries for information of a general character should be made.
Passengers should personally ascertain whether there is any mail for them before disembarking, and they are invited to leave their addresses at the Information Bureau for later despatches to be redirected.
Passengers' Addresses may be left at the Information Bureau in order that any letters sent to the care of the Company may be forwarded.
None of the ship's staff, other than those on duty in the Information Bureau, is authorized to accept Letters, cables and Telegrams for despatch.
Passengers are requested to ask for a receipt on the Lines' Form for any additional Passage Money, Chair Hire, or Freight paid on board.
LETTERS, CABLES AND TELEGRAMS Letters, Cables and Telegrams are received at the Information Bureau for despatch, and Postage Stamps can be purchased, also all Mails will be distributed there. Cablegrams and Telegrams should be handed in an hour before the arrival at any port of call.
LETTERS, ETC., FOR PASSENGERS Letters, etc., for passengers will be brought on board before the passengers land.
WIRELESS SERVICE The long range wireless equipment permits of the vessel communicating with the shore from any point during the trip to or from Europe. Passengers desiring to send message will consult the operator for rates.
SEATS AT TABLE Passengers who have not previously arranged for seats at table to be reserved should apply for same to the Chief Steward.
SMOKING
Passengers are requested not to smoke in the Dining Saloons.
SPECIAL NOTICE To save passengers from annoyance and inconvenience through being solicited for contributions for the benefit of the Musicians, special arrangements have been made whereby the Musicians engaged in the orchestra and in the band are paid a liberal extra allowance by the United States Lines for the services they render.
It is suggested that passengers refrain from contributing to funds for the Musicians, and that such contributions as they care to make be limited to those for charitable purposes such as concern Seamen, their widows and orphans, and deliver same to the Purser, taking receipt therefor. Information as to the manner in which such contributions or collections are distributed by the Management of the United States Lines will be furnished by the Purser, and also announced at the time such collections are undertaken or reported.
In the event passengers prefer not to follow the suggestion made herein the Commander will upon written request authorize collections to be made for the joint benefit of the Musicians and for charitable purposes, which will be distributed by the Management upon the basis of 30‰ to the Musicians and 70‰ to Charity.
Collections should not be undertaken without first securing the approval of the Commander.
DECK CHAIRS and STEAMER RUGS These may be hired at $ 1.50 each for the voyage on application to the deck steward.
ELECTRIC BATH The Charge for the use of the Electric Bath is fixed at $ 1.50.
MEDICAL ATTENTION The Surgeon is always at the disposal of those passengers requiring his services. In case of illness originating on board, or after the departure of the steamer, no charge will be made for those services, and such medicines as are prescribed by the Ship's Surgeons will be furnished without expense to the passengers.
In cases of illness, not originating on board, the Surgeon is permitted to make the following charges:
For office visits, $ 1.00 per visit
For state-room visits, $ 2.00 per visit with a maximum charge of $ 4.00 per day
If the passengers consider that the charges made by the Surgeon for such services as he renders are improper or excessive, they are requested, before paying same, to take up the question with the Commander, and the bill will be either adjusted to a basis that will be satisfactory to the passenger or withdrawn. The purpose of the United States Lines is to make its service satisfactory to all passengers.
BAGGAGE
On disembarking passengers are specially requested to claim their baggage before leaving the Custom- Office, otherwise under present abnormal conditions considerable delay and extra charge for carriage will be incurred in forwarding to destination any baggage not accompanying passenger on the railway.
EXCHANGE OF MONEY The Purser is prepared, for the convenience of passengers, to exchange a limited amount of money at rates which will be advised on application.
VALUABLES
The United States Lines has provided a safe in the office of the Purser, in which passengers may deposit money, jewels, or ornaments for safe keeping. The Company will not be liable to passengers for the loss of money, jewels, or ornaments by theft or otherwise, not so deposited.
RETURN BOOKINGS Pursers of the United States Lines are ready to book your return passage. Sailing lists, rate sheets, cabin plans and other information will be cheerfully furnished upon application at the Purser's Office. Tickets can be secured or deposits to secure reservations can be made. The Purser will procure by radio, without charge to the passenger, reservations or any information necessary.
RETURN PASSENGERS
First and Second class passengers, embarking at Cherbourg, must communicate with our Paris Passage Office, United States Lines, 11 bis rue Scribe, several days before sailing.
Passengers embarking at London or Southampton must communicate with our London Passage Office, United States Lines, 3 Cockspur Street S. W. 1, several days before sailing.
Passengers embarking at Queenstown must communicate with the United States Lines' Office, several days before the departure of the steamer, in order to ascertain definite information regarding the reservations and sailing hour of steamer.
First class passengers embarking at Bremen must call at our Bremen Office, Norddeutscher Lloyd, Passenger Department, Papenstrasse, the day before sailing, in order to secure their rail tickets from Bremen to Bremerhaven.
Second class passengers, embarking at Bremen, must call at the office of the Norddeutscher Lloyd, Passenger Department, Papenstrasse, two Days prior to the departure of steamer, in order to comply with Government Regulations and secure rail tickets from Bremen to Bremerhaven.
AMERICAN CUSTOMS REGULATIONS
On the return trip, your baggage will be subject to the same inspection on landing in America as on landing abroad. American Citizenship does not permit you to bring dutiable goods into the country without paying duty.
A blank will be furnished you aboard the steamer before landing. This must be filled out, listing in detail every article you obtained abroad which you are bringing home. The list is then given the ship's purser.
This list is called your "declaration" and should include all wearing apparel, jewelry and other articles, whether worn or not, carried on your person, in your clothing, or in your baggage.
These items must give their cost or value abroad and whether they were bought or given to you. Also jewelry and wearing apparel, taken out of the United States and remodeled abroad, must be listed with the cost of remodeling.
You are allowed to bring into the United States $ 100 worth of personal effects bought abroad free of duty, in addition to all wearing apparel taken from the United States on sailing.
RECOVERY OF U. S. HEAD TAX This Tax can be recovered by passengers, if same bas been paid, provided they inform the U. S. Immigration Inspector on arrival at New York of their intention to leave the United States within sixty days (the time prescribed by U. S. Law), and obtain from him Transit Certificate Form 514.
It is also necessary for this Transit Certificate Form 514 to be handed to the transportation company when completed, in time to allow same to be placed before the Immigration Authorities in Washington within 120 days of passenger's arrival in the United States.
Unless this regulation is complied with, the Tax cannot be recovered.
SUGGESTIONS AND COMPLAINTS Suggestions, complaints or criticisms of service or of personnel should be addressed to the General Manager, United States Lines, 45 Broadway, New York City.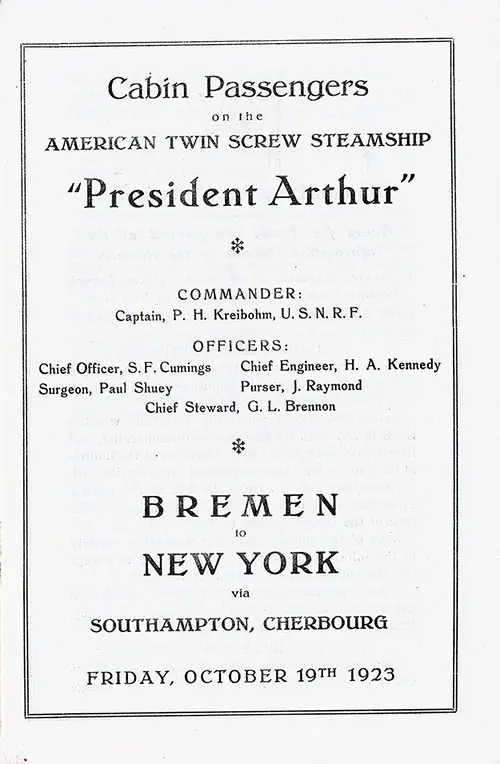 Title Page, SS President Arthur Cabin Passenger List, 19 October 1923. GGA Image ID # 1fd70e1fe7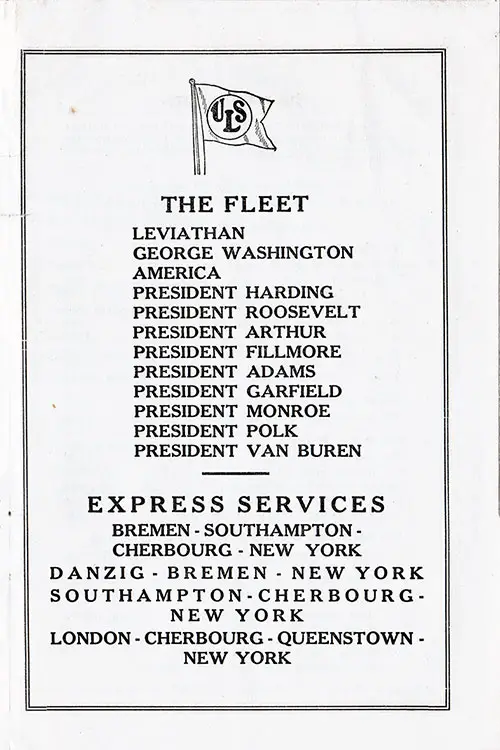 United States Lines Fleet and Express Services, 1923. SS President Arthur Cabin Passenger List, 19 October 1923. GGA Image ID # 1fd71f51cd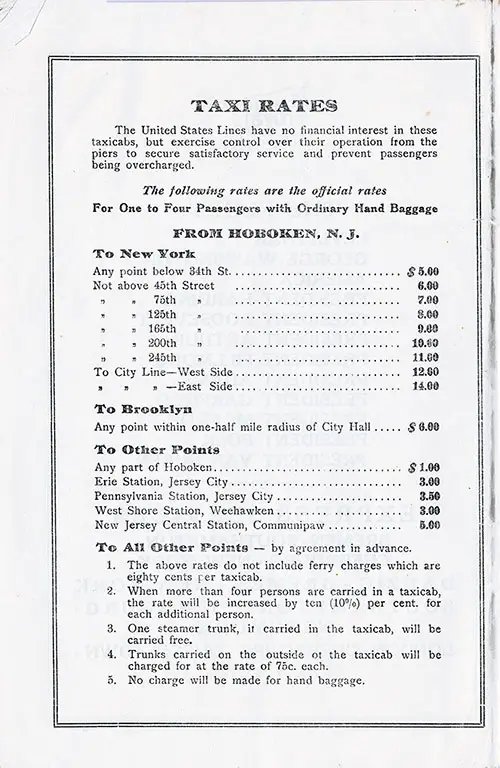 Taxi Rates (1923) from Hoboken to New York, Brooklyn, and Other Points. SS President Arthur Cabin Passenger List, 19 October 1923. GGA Image ID # 1fd7456ab0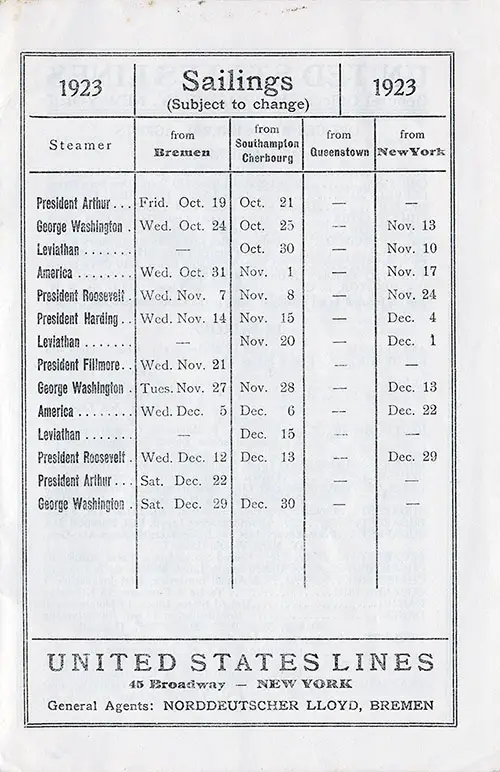 Sailing Schedule, Bremen-Southampton-Cherbourg-Queenstown (Cobh)-New York, from 19 October 1923 to 30 December 1923. Ships Included America, George Washington, Leviathan, President Arthur, President Fillmore, President Harding, and President Roosevelt. SS President Arthur Cabin Passenger List, 19 October 1923. GGA Image ID # 1fd760f385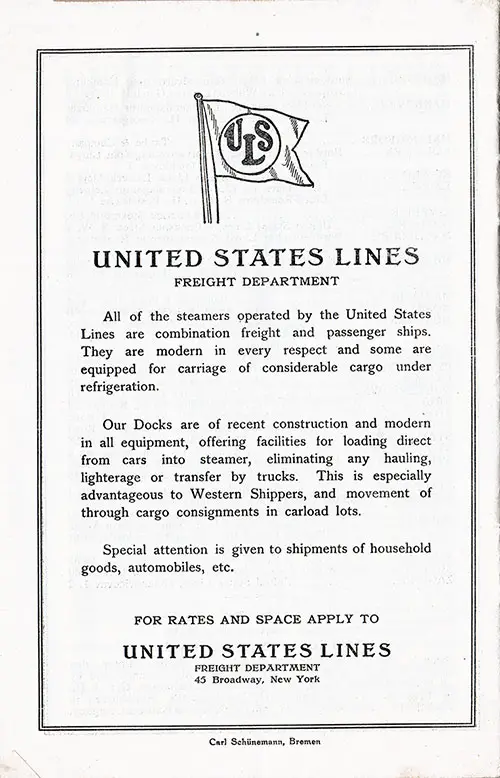 United States Line Freight Department Services, 1923. SS President Arthur Cabin Passenger List, 19 October 1923. GGA Image ID # 1fd7cd2f4e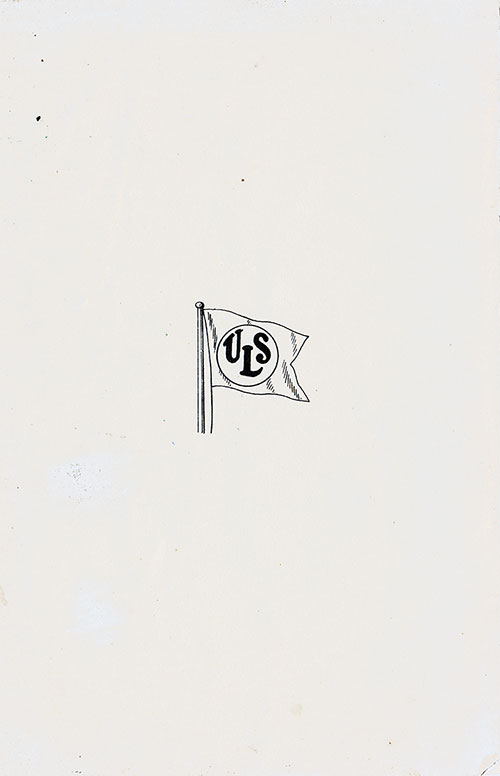 Back Cover, SS President Arthur Cabin Passenger List, 19 October 1923. GGA Image ID # 1fd7d1c89b