SS George Washington Passenger List - 19 September 1924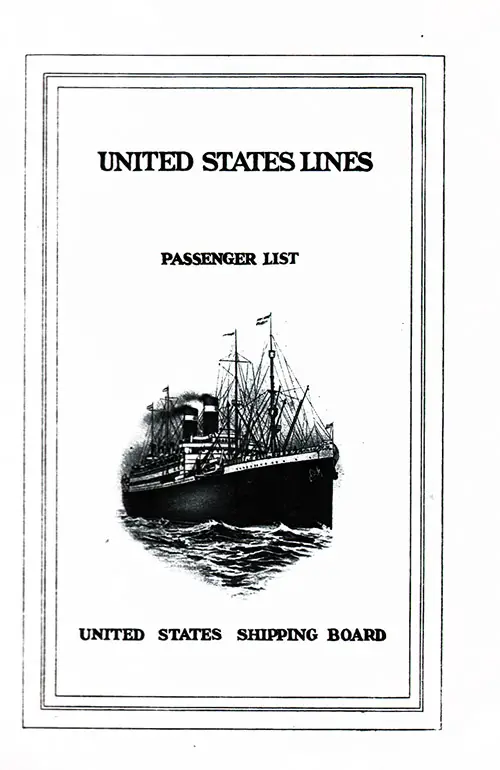 Front Cover, Cabin Passenger List for the SS George Washington of the United States Lines, Departing 19 September 1924 from Bremen to New York via Southampton and Cherbourg, Commanded by Captain H. A. Cunningham. GGA Image ID # 1e87182acd
Senior Officers and Staff
Commander: Captain H. A. Cunningham, U. S. N. R. F
Chief Officer: J. W. Ford
First Officer: Janis Swers
Purser: F. C. Arnoult
Chief Engineer: W. G. Grace
Chief Surgeon: Dr. R. H. Bolling
Chief Steward: A. Sudman
First Cabin Passengers
Dr. R. Abrahams
Mrs. R. Abrahams
Mr. William Abrahamsen
Mrs. William Abrahamsen
Miss Marga Adler
Mr. Lawrence J. Adams
Mr. F. W. Allport
Mrs. Rosalie Ashton
Mr. Hermann Auerbach
Mrs. E. F. Ayres
Mr. Leonard D. Baldwin
Mrs. Leonard D. Baldwin
Mr. Arthur J. Baldwin
Mrs. Arthur J. Baldwin
Rev. A. P. Baltutis
Mrs. B. Barber
Mrs. E. Barber
Mr. J. A. Barry
Dr. S. Basar
Mr. J. Baumgarth
Mrs. J. Baumgarth
Prof. S. Becka
Mr. Belcke
Mrs. E. K. Bender
Dr. J. Berlot
Mr. J. M. Biberman
Mrs. H. H. Bimm
Mr. Sal. Boehm
Mrs. Sal. Boehm
Mr. S. Boeners
Mrs. Oberin Boldt
Mrs. H. A. Bomer
Mr. Bordli
Mrs. Bordli
Mr. Robert M. Brinkerhoff
Mrs. Robert M. Brinkerhoff
Mr. Walter Buchholz
Miss Helen Buck
Mrs. C. H. Calvert
Mrs. J. F. Canon
Mrs. Louise Carp
Mr. E. Cedar
Mrs. E. Cedar
Miss H. Cedar
Mrs. Harriet A. Chandler
Mrs. E. S. Chapin
Miss Louise Chapin
Miss Elisabeth Chapin
Mr. M. Christensen
Miss Julia Clemens
Mr. Robert E. Coper
Mrs. Robert E. Coper
Mr. Isadore Cohen
Miss Rosel Collishan
Rev. Thos. Connors
Mrs. Paul Cram
Mr. Walter Crzclak
Mrs. Walter Crzclak
Mrs. D. N. Dalton
Miss Serina Dalton
Miss Marie L. Davey
Mr. Hans Delmonte
Miss Cecil Derteaux
Miss D. van Deventer
Mrs. Wm. H. Doherty
Miss Anne Doherty
Master Henry Doherty
Mr. Jas. W. Droll
Mrs. Jas. Droll
Mr. John Dudikoff
Mrs. Mary Dudikoff
Master Michael Dudikoff
Master George Dudikoff
Mr. T. W. Duke
Mrs. T. W. Duke
Mr. Frank M. Dunbaugh
Mrs. Frank M. Dunbaugh
Mr. James Webb Dunham
Mr. Rudolph Eiseman
Mrs. Hanna Eiseman
Mrs. Stella Eiseman
Miss Lucile Eiseman
Judge Guy L. Fake
Mrs. Guy L. Fake
Miss M. Fitch
Mr. Fitzgerald
Mr. Albert Fox
Mr. John P. Frenzel
Mrs. John P. Frenzel
Rev. Walter Frery
Mrs. W. Freudenthal
Miss Elsbeth Freudenthal
Mrs. Carrie Fuchs
Mr. Herman Fuld
Mrs. Herman Fuld
Miss U. Fulliovan
Dr. Andrew Gaal
Mr. E. J. Gainor
Mrs. E. J. Gainor
Miss K. Gallwey
Miss J. Galvin
Miss Georgie Garrigan
Miss Josephine Garrigan
Miss Agnes E. Garrigan
Mrs. Henry S. Gibson
Dr. B. Ginsbourg
Mrs. Geo C. Glorney
Rev. Francis Goggin
Miss Maxine Goldstine
Mr. M. Goldsmith
Miss J. H. Goldsmith
Miss Marjorie Goldsmith
Master B. H. Goldsmith
Master Daniel Goldsmith
Miss Viola Goldstine
Mrs. Max Goldstine
Miss Kathleen. Goodman
Mr. W. L. Granberry
Mrs. W. L. Granberry
Miss Elisabeth Grane
Mr. Edward Granley
Mr. Greenbaum
Miss Margret Gushman
Mrs. H. Haller
Mr. Edmund Hamann
Mr. Charles Haman
Mr. L. Hardy
Mrs. L. Hardy
Miss M. Hardy
Mrs. E. C. Hardy
Mr. E. C. Hardy
Mr. P. S. Hardy
Rev. John Francis O'Hearn
Dr. Jivador Hebizy
Miss Florence Heinrich
Mr. Karl Heuberger
Bishop Thos. F. Hickey
Mr. Hugh Hill
Mrs. Hugh Hill
Mrs. Robert Hinckley
Mr. James Hirschberg
Mrs. James Hirschberg
Mr. Franz Hoffmann
Miss M. Holyoke
Mr. Chas. Howard
Mrs. Chas. Howard and child
Mr. Hugo Huettig
Mrs. Hugo Huettig
Mr. Hugo Huettig Jr.
Miss Dora Huettig
Miss Alice Huettig
Miss Sh. Ichihashi
Mr. Wm. Jacobus
Mrs. Wm. Jacobus
Mr. Arthur Johannsen
Dr. John Jollman
Mrs. Carmen Johannsen
Mr. M. V. Joseph
Mrs. M. V. Joseph
Mr. Harry P. Judson
Mrs. Harry P. Judson
Hon. Louis H. Junod
Master Frank R. Kaiser
Mr. H. V. Kaltenborn
Mr. C. H. Kammerer
Mr. N. Kann
Mrs. N. Kann
Miss M. Kann
Master W. F. Kann
Dr. C. M. Karowski
Mr. John J. Kelly
Mrs. L. Ketcham
Mrs. M. M. Kineball
Miss M. Kineball
Mrs. J. Kingsbury
Dr. Lewis Kiss
Mr. S. Klein
Mrs. S. Klein
Dr. Harol Korn
Mrs. Harol Korn
Miss Ruth Korn
Miss Phylis Korn
Mr. Milton Kraemer
Mr. Josef Kraus
Mr. Hermann Kruger
Miss Olga Kruger
Mr. A. Kutner
Mrs. S. Kutner
Mr. Samuel Landau
Mrs. Dora Landau
Master Abraham Landau
Mr. C. E. Landell
Mrs. C. E. Landell
Mr. Wm. B. Lawson
Mrs. Wm. B. Lawson
Mrs. Thomas Leaning
Mr. Eddie O. Lee
Mrs. Eddie O. Lee
Mrs. James Legate
Miss Marie Lehman
Mr. Louis Levis
Mr. B. J. Levy
Mrs. B. J. Levy
Dr. S. Lewy
Mrs. S. Lewy
Miss Ruth H. Leyendecker
Miss Louise E. Leyendecker
Dr. P. T. Leyendecker
Mrs. W. Lieberoth
Mrs. Therese Liebeskind
Miss B. Ling
Mr. J. Lins
Mr. F. Lins
Dr. Clara M. Little
Mr. M. Loewenthal
Mrs. M. Loewenthal
Mrs. F. W. Lolland
Dr. O. S. Lowsley
Mrs. O. S. Lowsley
Miss Lowsley
Prof. Lucian-Bernhard
Mr. Otto von Lumbe
Mr. J. Lurya Mrs. J. Lurya
Mr. Harold Lurya
Mrs. C. C. Marburg
Mr. George E. Marks
Mrs. F. T. May Miss Dorothy
May Miss Reb. McClane
Mr. D. H. McBride
Mrs. D. H. McBride
J. H. McEwen
Miss Nedda McGrath
Mrs. F. S. McGinnac
Mrs. G. P. Meier
Dr. V. Mersolj
Mr. Ben Michaelsen
Dr. H. H. Miner
Mrs. Anna R. Morley
Dr. D. H. Morris
Mrs. G. F. Morris
Mrs. J. W. Moses
Miss M. R. Moses
Mrs. J. W. Moses
Miss M. Moses
Consul Mueller
Mrs. Mueller
Mr. F. W. Muller
Mr. E. P. Murray
Mrs. E. P. Murray
Mrs. J. W. Murray
Mr. Ernest Newman
Mrs. Ernest Newman
Mrs. W. T. Nolting
Mrs. Hazel Nolting-White
Master Stephan Nolting-White
Dr. B. Nowakowski
Mrs. E. C. Oak
Mrs. F. H. Page
Mr. C. Parker
Mrs. Mercedes A. Peine
Miss E. M. Phillippi
Mr. S. W. Phoon
Mrs. E. L. Louis Pitney
Mr. Cecil de Wolf Pitney
Mrs. Jennie Presser
Miss Presser
Mr. Eug. H. Przylecki
Mr. Morris Rippenbein
Mrs. Morris Rippenbein
Miss Jaqueline Rippenbein
Mrs. H. G. Robbins
Mrs. C. A. Romeyn
Mr. Max Roth
Mrs. Max Roth
Mrs. Andree Saugues
Miss Ruth A. Sawyer
Mr. E. M. de Castro E. Silva
Mr. Jacob Sbucil
Mrs. Jacob Sbucil
Mrs. J. V. Scarfe
Mr. J. V. Scarfe Jr.
Mrs. Mary B. Scott
Dr. Gustav Seeligmann
Mrs. Gustav Seeligmann
Miss Constance Siegel
Dr. S. Sierakowski
Mrs. R. D. Silliman
Mr. S. E. Silliman
Miss W. Simonton
Miss Lilli Smith
Mr. Carl Sonnenschmidt
Miss N. Sullivan
Miss Henrietta Swope
Miss Hannah Sweeney
Mrs. Lilly Scheuer
Miss Ruth Scheuer
Mr. Niels Schultz
Mrs. Ellen Schultz
Mr. Henry Schutz
Mrs. Emma Schutz
Mr. Paul Schutt
Miss Marie Starck
Mr. A. Steiner
Mrs. A. Steiner
Mr. Chas. Stelzle
Mr. Ferdinand Stern
Mr. Salomon Stern
Mrs. Lillie Stern
Mr. Straetz
Mr. C. O. Strutz
Mr. N. Jacob Taub
Mrs. Johanna Taub
Mrs. Joseph B. Thorman
Mrs. Dexter J. Tiffany
Miss Sa. Tompson
Mr. Robert C. Traub
Mrs. Robert C. Traub
Miss Barbara Traub
Mr. Angel M. Tuasson
Mr. M. L. Turner
Mr. H. B. Turpin
Mrs. H. B. Turpin
Dr. Wilhelm R. Valentiner
Mrs. Caecilie Valentiner
Mr. Ricardo Vilalda
Mrs. Angela Vilalda
Miss Mathilde Vogliazzo
Miss Marion van Wageman
Mrs. F. A. Wagner
Miss Catherine Wagner
Miss Ruth Wagner
Mr. J. G. Walsh
Mrs. F. P. Walsh
Miss V. Walsh
Mr. Albert Weiss
Mrs. Albert Weiss
Mr. Wilhelm Wellhausen
Miss M. Wendich
Mrs. W. C. Whitcomp
Miss Kathleen Whitcomp
Miss M. C. Wilconson
Mr. William Williams
Mrs. William Williams
Master William Williams
Miss Mabel Witte
Mr. E. B. Witte
Miss Eloise Zallio
Mr. Edward M. Zehnder
Mrs. Ella R. Zehnder
Mr. David Zimetbaum
Mrs. Fanny Zirn
Miss Ruth Zirn
To Southamton:
Mr. Anderson
Mrs. Anderson
Miss Kulenkampff
Miss Ruth Muller
Mr. Pfeiffer
Mrs. Whetam
Miss Whetam
To Cherbourg:
Mrs. Elisabeth Griin
Second Cabin Passengers
Mr. Emil Abrolat
Mrs. Margaretha Abrolat
Master Walter Abrolat
Miss Erna Abrolat
Miss Mina Adel
Mr. Hermann Ahrens
Mrs. M. Alfafara
Miss Lilly Mabel Andrews
Mrs. Maria Angermann
Mrs. A. Arndt
Mrs. Emily Baker
Mrs. Apolonya Baltadonis
Mr. Charles Bandendistel
Mrs. Carrie Bandendistel
Miss Augusta Bandendistel
Miss Alma Bandendistel
Miss Maria Bannmiiller
Miss Lotte Barthel
Mrs. Sadie Bates
Mr. S. Beck
Miss Martha Beer
Mr. John H. Behr
Mrs. Amanda Borrmann
Mr. Friedrich Biener
Mrs. Helen Biener
Mr. George Blank
Mr. Edward Blumenstein
Mrs. Charlotte Blumenstein
Mrs. Bertha Bork
Miss Georgette Bowers
Mr. William Breitwieser
Mrs. Maria Britting
Mr. Alfred Britting
Mr. Adolph Brown
Mrs. Stefi Brown
Mr. Robert Brown
Mr. Bernhard Buba
Mrs. Margret Buba
Mr. Richard Buckley
Mrs. F. M. Budde
Mrs. F. M. Budge
Mr. Joseph Caplan
Mrs. Joseph Caplan
Mr. Samuel Cantor
Mrs. Samuel Cantor
Mr. E. Cedarleaf
Mr. Clarence Carlesson
Mr. F. Craigmyle
Mr. Hermann Caserta
Dr. Maurice Caspe
Mrs. Maurice Caspe
Miss Florence M. Clifford
Mr. Kazimier J. Czepaitis
Mr. A. A. Correa
Mrs. A. A. Correa
Mr. Frank Cossick
Mr. A. F, Cutchen
Mrs. A. F. Cutchen
Mrs. Louise Dankelmann
Miss Louise Dankelmann
Mrs. Martha Dauber
Mr. Frederick Daut
Mrs. Louise Daut
Miss Margaret Daut
Master Philip Daut
Master Carl Daut
Miss T. Dobie
Mr. John Drawbell
Mrs. John Drawbell
Mr. Stanislaw Dernoga
Miss Emilie Eckert
Mr. T. R. Edwards
Mrs. T. R. Edwards
Miss E. Edwards
Mrs. Regina Ehrenreich
Miss Henrietta Ehrenreich
Miss Goldie Ehrenreich
Mr. Paul Ehrenteit
Mrs. Paul Ehrenteit
Miss Johanne D. Eisentraeger
Mr. Alfred Engler
Mrs. Meta Essbach
Mr. Theodor Estelmann
Mr. S. Ellinpen
Mr. John Erickson
Mrs. John Erickson
Miss M. Erickson
Miss G. Erickson
Mrs. D. Ellingsen
Miss F. Ellingsen
Mrs. Caroline Faxel
Mrs. Anna Feldhaus
Miss Babette Fischer
Mr. Paul Frank
Mrs. Pauline Frank
Mr. Benno Frank
Mr. Otto Franz
Mr. Isidor Friedman
Mr. Johannes Frosch
Mrs. Luise Frosch
Mr. John Fecko
Miss K. Gallivey
Mr. Marcel Gary
Mrs. Elise Gary
Miss Frieda Gebauer
Mrs. Liesel Gemind
Miss Irma Gerlach
Mr. August Gerlach
Mr. Karl Gotsch
Mrs. Meta Graetsch
Miss Helga Graetsch
Miss Marie Grammes
Mrs. Meta Groening
Mr. A. Haden
Mrs. M. K. Hamilton
Mr. Julius Haarstick
Mr. Jakob Haas
Miss Johanna Hartmann
Mr. Gustav Helvst
Mr. Wilhelm Henning
Miss Flora Herren
Mr. Adolf Hess
Mrs. Pauline Hessenthaler
Miss Ruth Hessenthaler
Mr. Frank Heuberger
Mrs. M. Louise Hinrichs
Miss Margaret Hofrneier
Mr. O. F. Hohn
Mr. Johann v. Holt
Mrs. Emma Holub
Master Frank Holub
Miss Mildred Honing
Miss Ruth Horn
Mr. Jay Hrdlicka
Mrs. Josephine Hrdlicka
Mr. Frank Hronek
Mrs. Mary Hrncir
Miss Mary Hrncir
Mrs. Annie Hubert
Mr. Anchel Husid
Mrs. Gittel Husid
Mrs. Meta Hyber
Mr. William A. Illigen
Mr. Karl W. Illigen
Mrs. Mina Israel-Rosenfeld
Mr. Mausha Ivenskis
Miss Katie Jackie
Mrs. Fanny Jakobovits
Mr. Heinrich Janzen
Mr. Louis Joffe
Mr. Abie Joffe
Mrs. Dora Joffe
Mrs. Bertha Jonas
Mr. Henry Wm. v. Jorgensen
Mrs. Lucie P. v. Jorgensen
Mr. Joseph Joshek
Mr. Jacob Jungerman
Miss Justh
Mr. Johann Kaczmarek
Mrs. Else Kaczmarek
Master Hans Kaczmarek
Mr. Charles Kammerer
Mr. Martin Karch
Mrs. Wilhelmina Karch
Mrs. Auguste Keil
Miss Margarete Keil
Miss Dora Kellner
Mrs. Setta Kemper
Master Hubert Kemper
Mr. R. Kinsella
Mrs. R. Kinsella
Mrs. Margarete Kleber
Miss Anna Kleber
Mr. Wilhelm Kleile
Miss Grace R. Knapp
Mrs. Elsie Knight
Miss Theresia Knitig
Mr. Fred C. Klockow
Mrs. Louise Konig
Mrs. Maria Kogl
Mr. Stanli Kondrat
Mrs. Therese Korber
Mr. Schmul Korman
Mrs. Zlata Korman
Mr. Jossel Korman
Mrs. Kristina Kotala
Master Emil Kotala
Mr. John Krapt
Mr. Otto Krause
Mrs. Ida Kreutzkamp
Mrs. Josephine Krich
Mr. Joseph Kruntorad
Mrs. Blanche Kunzendorf
Master Ronald Kunzendorf
Miss Klara Kunzendorf
Mrs. Eva Kuraszynska
Mr. Henry Kusik
Mrs. Annie Kusik
Master Henry Kusik
Master Charles Kusik
Master John Kusik
Miss Annie Kusik
Mrs. M. Laborman
Master W. Laborman
Mr. Rudolph Langfelder
Mrs. Emma Langfelder
Mr. P. Larsen
Mrs. P. Larsen
Miss R. Larsen
Miss J. Larson
Mrs. F. B. Leach
Miss E. M. Leach
Mr. Emil Lehmann
Mrs. Frieda Lehmann
Miss Elisabeth Lengen
Mr. William D. Lewis
Mrs. Emma Liebermann
Mr. Linsay
Mrs. Linsay
Mr. Gustav Lotz
Mrs. Marie Lotz
Miss Else Lotz
Mrs. Anna Maassen
Miss Alice Maassen
Mr. Werner Maassen
Miss E. Mac Donald
Miss Regina Magnus
Mr. Ernst Mahlo
Miss Henriette Manger
Mrs. Elfriede C. Mann
Miss Aranka Matichka
Mr. Robert F. Mautner
Mrs. Mary Mautner
Mr. Robert Mautner
Miss Mary Mautner
Mr. B. Maxwell
Mrs. W. C. Maxwell
Miss M. Maxwell
Mr. Louis Metzger
Mrs. Lottie Meyers
Mr. Frantisek Michalek
Mr. Henry Misener
Mrs. Theresie Misener
Miss Treno Misener
Mr. J. H. Moss
Mr. Fritz R. Mueller
Mrs. Martha Mueller
Mr. William Muller
Mrs. Marguerite Muller
Mr. Robert Musil
Mrs. Bozena Musil
Miss Frances Musil
Miss Mildred Musil
Mr. Antonin Musil
Mrs. Caroline Mussig
Mrs. Anna Mutz
Mr. L. M. Myking
Mrs. L. M. Myking
Mrs. Jeanie Neilson and Infant
Miss J. G. Neilson
Mrs. Therese Neuendorf
Capt. Newton
Mrs. Newton
Mr. R. S. B. P. Newton
Mr. Harry Newton
Miss M. M. Newton
Master S. Newton
Miss A. Nicholson
Miss C. Nicholson
Mr. Mathew Novotny
Mrs. J. Nuller
Mr. Kurt Oberreich
Mr. Raimund Ordogh
Mrs. Theresia Ordogh
Mr. Frederick Oschmann
Mrs. Mary Oschmann
Miss Anezka Ourednik
Mrs. Vladislava Pakrosnis
Mrs. Olga Paletz
Mr. Wendel Panenka
Mrs. Anna Panenka
Miss M. A. Paxton
Mr. Walter Pietras
Mrs. Cecylia Pietras
Master Daniel Pictras
Mr. Johannes Pfau
Mr. Anthony S. Pocius
Mrs. Zuzana Polomec
Mr. John Postellon
Mr. Jonas Prueser
Mr. Paul Rahmig
Mrs. Magdalena Ramsauer
Master R. Ramsauer
Miss Emilia Rehberger
Mr. Diedrich Rehfinger
Miss Emmy Reiner
Miss Luise Reinhardt
Mrs. Catharine Rentschler
Mr. Saul Richman
Mr. Otto Richter
Miss Clara Richter
Mrs. Meta Riedel
Mr. Sam Rose
Mrs. Anna Rosenberg
Miss Murray Rosenberg
Mrs. Serena Rosenberg
Mrs. Florestine Rosenfeld
Master Marcell Rosenfeld
Mrs. Regine Rosenfeld
Miss Selma Rosenfeld
Mr. Julius Rosenfeld
Mrs. Elisabeth Rudolph
Mr. Horst Rudolph
Miss Eleonore Rudolph
Miss Elisabeth Rudolph
Master Helmuth Rudolph
Master Kurt Rudolph
Master Werner Rudolph
Mrs. F. Saunders
Mr. M. E. Scully
Mrs. Centa Seiler
Miss Paula Seifferth
Mrs. Fanny Seilin
Mrs. Luise Seyboth
Mr. William Sims
Mrs. William Sims
Mrs. Anna Sipan
Miss Marie Sipan
Master Vaclav Sipan
Mr. Franz Slickers
Mr. John Smith
Mrs. John Smith
Mrs. J. Smith
Miss J. Smith
Mrs. Marta Smolin
Mr. August Sokolowski
Mr. Oskar J. Sundstrand
Mrs. Lars G. Sundstrand
Mrs. Anna Sundstrand
Miss Adela Sutula
Mrs. John W. Schaeffer
Mr. Richard Schaller
Miss Margarete Scheerer
Mr. Lewis Schenk
Mrs. Josephine Schenk
Miss Gertrude S,:hengber
Mr. Bruno Schikorra
Mr. Paul Schikorra
Mrs. Bertha Schlick
Mr. Georg Schlicke
Mr. Johann Schneider
Miss Anna Schneider
Mr. J. J. Schobinger
Mrs. J. J. Schobinger
Mr. Henry Schramek
Miss Luise Schumann
Mrs. A. Stanbury and Infant
Master D. Stanbury
Mrs. Irmgard Stockmeier
Mrs. Fanny Stockmeier
Mr. E. E. Stubbs
Mrs. E. E. Stubbs
Miss E. T. Stubbs
Miss Babchen Thul
Mrs. Florence M. Titus
Master Bristol Titus
Miss Marjanna Trzesczynska
Mrs. M. Underhill
Mrs. Mary Vanecek
Mr. Oscar Vesecky
Mrs. Berta Vodicka
Miss Alma Vogel
Mrs. Louise Voigt
Master Gottfried Voigt
Miss Maria Wagner
Mrs. Louise Walke
Master Paul Walke
Mr. P. Walsh
Mr. Alfred R. Watt
Mr. John D. Webb
Mrs. John D. Webb
Mr. Hugo Weber
Mr. Albert Weber
Mrs. Elsa Weber
Mr. Adolph Wechsler
Mrs. Fanny Wechsler
Master Sanford Wechsler
Mr. L. W. Wehrle
Mrs. Fanny Weissmann
Mrs. Welsh
Miss Benadette Welsh
Master Charles Welsh
Mr. F. R. D. Wickham
Mrs. M. B. W. Wickham
Mr. W. H. Wilson
Mrs. W. H. Wilson
Mr. Carl Wiechmann
Mrs. Hermine Wiechmann
Master Kermit Wiechmann
Miss Cecilie Windhagen
Miss Hattie Wille
Mrs. Johanne Winkelmann
Mr. Henry Witt
Mrs. Henry Witt
Mrs. Maria Wolska
Miss Martha Zieher
Information for Passengers
Hours for Meals are posted at the Office of Chief Steward on the steamer.
Lights are extinguished in the Saloon at 11:00 pm, Lounge,
Reading Room and Smoking Room at 11:30 pm
Divine Service in The Social Hall On Sunday at 10.30 A. M.
Information Bureau
This office has been provided for the convenience of Passengers, where all inquiries for information of a general character should be made.
Passengers should personally ascertain whether there is any mail for them before disembarking, and they are invited to leave their addresses at the Information Bureau for later despatches to be redirected.
Passengers' Addresses may be left at the Information Bureau in order that any letters sent to the care of the Company may be forwarded.
None of the ship's staff, other than those on duty in the Information Bureau, is authorized to accept Letters, cables and Telegrams for despatch.
Passengers are requested to ask for a receipt on the Lines' Form for any additional Passage Money, Chair Hire, or Freight paid on board.
Letters, Cables and Telegrams Letters, Cables and Telegrams are received at the Information Bureau for despatch, also all Mails will be distributed there. Cablegrams and Telegrams should be handed in an hour before the arrival at any port of call.
Letters, Etc., for Passengers Letters, etc., for Passengers will be brought on board before the Passengers land.
Wireless Service
The long range wireless equipment permits of the vessel communicating with the shore from any point during the trip to or from Europe. Passengers desiring to send message will consult the operator for rates.
Seats at Table
Passengers who have not previously arranged for seats at table to be reserved should apply for same to the Chief Steward.
Smoking
Passengers are requested not to smoke in the Dining Saloon and Social Hall.
Collections
Contributions that Passengers desire to make at Concerts or on other occasions, should be delivered to the Purser, who will make public announcement of the total amount collected, give receipt for same to those in charge of the arrangements, and post copy of such receipt in the public rooms for the information of all Passengers.
The total amount collected will be distributed by the Management of the United States Lines to the following charitable institutions:
Seamen's Charities in New York;
Seamen's Charities at terminal ports in Europe at which our steamers call;
The Actors' Fund of the United States
Passengers are urged to disregard all requests for contributions for musicians or other employees on the steamers.
Employees who participate in any public collections will not be permitted to remain in the service of the United States Lines.
Deck Chairs and Steamer Rugs
These may be hired at s 1.50 each for the voyage on application to the deck steward.
Electric Bath
The Charge for the use of the Electric Bath is fixed at $ 1.50.
Medical Attention
The Surgeon is always at the disposal of those Passengers requiring his services. In case of illness originating on board, or after the departure of the steamer, no charge will be made for those services, and such medicines as are prescribed by the Ship's Surgeons will be furnished without expense to the Passengers. In cases of illness, not originating on board, the Surgeon is permitted to make the following charges :
For office visits, s 1.00 per visit
For state-room visits, $ 2.00 per visit with a maximum charge of s 4.00 per day
If the Passengers consider that the charges made by the Surgeon rr such services as he renders are improper or excessive, they are requested, before paying same, to take up the question with the Commander, and the bill will be either adjusted to a basis that will be satisfactory to the passenger or withdrawn. The purpose of the United States Lines is to make its service satisfactory to all Passengers.
Baggage
On disembarking Passengers are specially requested to claim their baggage before leaving the Custom-Office, otherwise under present abnormal conditions considerable delay and extra charge for carriage will be incurred in forwarding to destination any baggage not accompanying passenger on the railway.
Exchange of Money
The Purser is prepared, for the convenience of Passengers, to exchange a limited amount of money at rates which will be advised on application.
Valuables
The United States Lines has provided a safe in the office of the Purser, in which Passengers may deposit money, jewels, or ornaments for safe keeping. The Company will not be liable to Passengers for the loss of money, jewels, or ornaments by theft or otherwise, not so deposited.
Return Bookings
Pursers of the United States Lines are ready to book your return passage. Sailing lists, rate sheets, cabin plans and other information will be cheerfully furnished upon application at the Purser's Office. Tickets can be secured or deposits to secure reservations can be made. The Purser will procure by radio, without charge to the passenger, reservations or any information necessary.
Return Passengers
First and Second class Passengers, embarking at Cherbourg, must communicate with our Paris Passage Office, United States Lines, 1 Rue Auber, several days before sailing.
Passengers embarking at London or Southampton must communicate with our London Passage Office, United States Lines, 14 Regent Street S. W. 1, several days before sailing.
Passengers embarking at Queenstown must communicate with the United States Lines' Office, several days before the departure of the steamer, in order to ascertain definite information regarding the reservations and sailing hour of steamer.
First class Passengers embarking at Bremen must call at our Bremen Office, Norddeutscher Lloyd, Passenger Department, Papenstrasse, the day before sailing, in order to secure their rail tickets from Bremen to Bremerhaven.
Second class Passengers, embarking at Bremen, must call at the office of the Norddeutscher Lloyd, Passenger Department, Papenstrasse, two Days prior to the departure of steamer, in order to comply with Government Regulations and secure rail tickets from Bremen to Bremerhaven.
American Customs Regulations
On the return trip, your baggage will be subject to the same inspection on landing in America as on landing abroad. American Citizenship does not permit you to bring dutiable goods into the country without paying duty.
A blank will be furnished you aboard the steamer before landing. This must be filled out, listing in detail every article you obtained abroad which you are bringing home. The list is then given the ship's purser.
This list is called your "declaration" and should include all wearing apparel, jewelry and other articles, whether worn or not, carried on your person, in your clothing, or in your baggage. These items must give their cost or value abroad and whether they were bought or given to you. Also jewelry and wearing apparel, taken out of the United States and remodeled abroad, must be listed with the cost of remodeling.
You are allowed to bring into the United States $ 100 worth of personal effects bought abroad free of duty, in addition to all wearing apparel taken from the United States on sailing.
Recovery of U. S. Head Tax
This Tax can be recovered by Passengers, if same bas been paid, provided they inform the U. S. Immigration Inspector on arrival at New York of their intention to leave the United States within sixty days (the time prescribed by U. S. Law), and obtain from him Transit Certificate Form 514.
It is also necessary for this Transit Certificate Form 514 to be handed to the transportation company when completed, in time to allow same to be placed before the Immigration Authorities in Washington within 120 days of passenger's arrival in the United States. Unless this regulation is complied with, the Tax cannot be recovered.
Suggestions and Complaints
Suggestions, complaints or criticisms of service or of personnel should be addressed to the General Manager, United States Lines, 45 Broadway, New York City.
United States Lines Freight Department
All of the steamers operated by the United States Lines are combination freight and passenger ships. They are modern in every respect and some are equipped for carriage of considerable cargo under refrigeration.
Our Docks are of recent construction and modern in all equipment, offering facilities for loading direct from cars into steamer, eliminating any hauling, lighterage or transfer by trucks. This is especially advantageous to Western Shippers, and movement of through cargo consignments in carload lots.
Special attention is given to shipments of household goods, automobiles, etc.
for Rates and Space Apply To
United States Lines
Freight Department
45 Broadway, New York