SS Pretoria Passenger List - 28 July 1901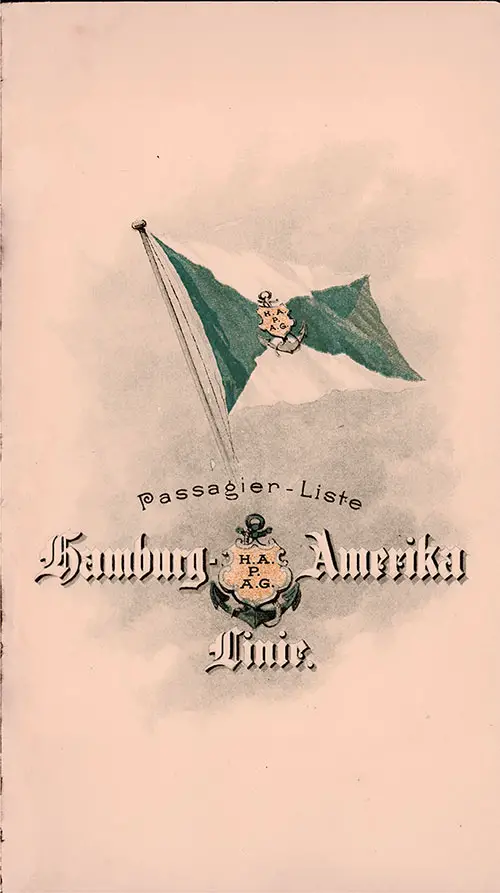 Front Cover of a First and Second Cabin Passenger List for the SS Pretoria of the Hamburg America Line, Departing 28 July 1901 from Hamburg to New York via Plymouth and Boulogne-sur-Mer, Commanded by Captain Karlowa. GGA Image ID # 1782453ea9
Senior Officers and Staff
Commander: Captain Karlowa
First Officer: P. Ciossek
Second Officer: G. Meisner
Second Officer: M. Daberkow
Third Officer: M. Zimmermann
Fourth Officer: R. Hauschildt
First Physician Dr. Franzen
Second Physician Dr. Ohlmer
First Engineer: Th. Heinsen
Second Engineer: O. Frank
Third Engineer: E. Kruse
Fourth Engineer: W. Heyer
Fourth Engineer: H. Delwater
Fourth Engineer: W. Rothe
Purser C. Niens
Assistant Purser Bredenkamp
First Chief Steward: Krüger
Second Chief Steward: Mahlstedt
Chief Steward Assist.: Struck
First Cabin Passengers
Prof. Edw. Althaus
Mr. A. Abbott
Mrs. Carl Alves
Mr. Waldemar Alves
Miss Elsie Alves
Mr. W. L. Brygan
Mrs. W. L. Brygan
Mr. E. Bardeleben
Mr. Feodor Boas
Miss Else Boas
Mr. Theodor Bunte
Mrs. M. Boyd
Miss Grace Beuster
Mr. F. W. Benz
Miss Lydia M. Benz
Mr. Walter Benz
Mr. John Bopp
Mrs. John Bopp
Miss Linnie Bopp
Miss Ottilie Bopp
Mr. E. Berndt
Mrs. E. Berndt
Miss Laura J. Beach
Mr. C. Brunner
Mrs. C. Brunner
Miss Fanny Brunner
Mr. J. W. Beardslee
Mrs. J. W. Beardslee
Miss M. Bensel
Mr. Frank M. Bingham
Mr. James Bremer
Mrs. Frank Bliss Coleman
Miss Braley Coleman
Miss Johanna Cronemeyer
Miss M. Clark
Mrs. J. B. Cowen
Mr. G, C. Daball
Mr. J. R. Dats
Mr. B. Dats
Mr. W. G. Evans
Mrs. A. Friedlander
Miss Frieda Friedlander
Mr. Geo H. Fullenkamp
Mrs. Geo H. Fullenkamp
Mrs. Paul Goldschmidt
Dr. A. B. Gray
Mrs. L. E. Holden
Mrs. C. Hess
Miss D. Hess
Mr. S. Hess
Mr. J. H. Hess
Mr. Carl Huncke
Mr. Rudolph Hesse
Miss Louise F. Heinritz
Mr. Adolph Hironimus
Mr. G. D. Hadzsits
Mr. W. D. Hadzsits
Mr. E. F. Hermanns
Mr. W. W. Johnston
Mrs. W. W. Johnston
Mr. Theodore A. Kosters
Mrs. Theodore A. Kosters
Mr. Moritz Keil
Mrs. Mary E. King
Mrs. Bertha Kühne
Mr. Chr. Krehbiel
Mrs. Dorothea Kleiner
Mr. Paul Lungstras
Mrs. A. Lightbody
Mr. J. E. Leonard
Mr. James McLester Van Hoose
Mr. Max Meyer
Mr. H. Morell
Mrs. J. C. Marston
Mr. F. M. Mack
Mrs. F. M. Mack
Mr. James McCall
Mrs. James McCall
Mr. Gustav Myers
Mrs. Gustav Myers
Dr. Fred C. Meyer
Mr. Clarence Mallen
Miss Alice Neil
Miss Fay Neil
Mr. B. J.. Nockin
Mr. C. Neef
Mrs. John Nuffer
Mr. J. Austin O'Donnell
Mr. S. Ossoski
Miss Bertha Oberbeck
Prof. Geo. D. Olds
Mrs. Geo. D. Olds
Mr. Leland Olds
Mr. George Olds
Miss Clara Olds
Prof. J. R. Van Pelt
Mrs. J. R. Van Pelt
Mr. Van Pelt
Mrs. Van Pelt
Mr. C. E. Pryor
Mrs. C. E. Pryor
Mr. Jacob F. Paulsen
Mrs. Jacob F. Paulsen
Rev. E. P. Parker
Mrs. E. P. Parker
Mrs. A. E. Ransom
Mr. B. P. Ransom
Miss Frances Reubelt
Mr. S. Rowe
Miss Olga Schlüsser
Mr. Jacob Schloss
Mrs. Jacob Schloss
Mrs. H. L. Stern
Mrs. Elise Schmutzer
Mr. G. A. Simmons
Dr. Roland E Skeel
Mrs. Roland E. Skeel
Miss E. Sked
Miss Jeanette Spencer
Mr. Fritz Schumacher
Mr. Will. J. Schorrkopf
Mr. Wolf Saalfeld
Miss Else Saalfeld
Miss Johanna Saalfeld
Mr. Albert Salzenstein
Miss Flossie Steinhart
Miss Carry Steinhart
Mrs. Sachsleben
Mr. Oscar Schein
Mr. Jos. F. Scheehau
Mrs. Jos. F. Schechau
Dr. Gaston Thevenots
Mrs. Gaston Thevenots
Mr. O. W. Uhlig
Mrs. O. W. Uhlig
Mr. Carl Voelcker
Mrs. Carl Voelcker
Miss Grethchen Voelcker
Mr. Edward Wessels
Mr. Arthur Wäntig
Mr. Carl Willenborg
Mrs. Carl Willenborg
Miss E. Willenborg
Mr. W. Willenborg
Mr. C. J. Willenborg
To Plymouth
Mr. J. Rabeler
Mrs. J. Rabeler
Mr. Alexander Gowan
Mrs. Alexander Gowan
To Boulogne:
Mr. Generalconsul von Oertzen
Mr. Philipp Kropp
Dr. Neftel
Mrs. Neftel
Second Cabin
Mr. Nicolai Braude
Mrs. Nicolai Braude
Mr. Rud. Hauck
Second Cabin Passengers
Mrs. Lina Appel
Mr. Jacob Appel
Miss Lina. Bartz
Mrs. Lucie Boysen
Mrs. Pauline Boysen
Mr. Robert Boysen
Mr. William Brennle
Mr. Chas Burchard
Mrs. Chas Burchard
Mr. Fried. Bruhn
Mrs. Fried. Bruhn
Mr. Bruhn
Mr. A. Bustanger
Mrs. A. Bustanger
Miss Minna Benthin
Mr. Sigm. Cohn
Mrs. M. Deckwerth
Miss M. Deckwerth
Mr. Fred Daehne
Mrs. Fred Daehne
Mrs. Magdalena Dostal
Miss Mary Dostal
Miss O. Dostal
Mr. Hugo Dostal
Miss Helena Domkowska
Mr. F. Dewenter
Mrs. F. Dewenter
Miss Marie Eimers
Miss Marie Ecker
Mr. Hugo Westphal
Mrs. Hugo Westphal
Miss Sara Wolf
Mrs. Edward Wessels
Miss Ruth Wessels
Mr. Chas. Wessels
Mrs. G. Frasch
Dr. A. Frank
Miss Margarete Golde
Mr. Heinr. Gravert Mrs
Heinr. Gravert
Rev. A. G. Hermann
Mr. John Hardekopf
Miss Johann e Hardekopf
Mrs. Marie Hansen
Miss Julia Hansen
Mr. Karen Hansen
Mr. Albert Haeussler
Mr. Fred Kolwing
Mrs. Clara Koch
Mr. Paul Kullberg
Mr. Joseph Koeck
Mrs. Joseph Koeck
Mrs. Ed. Kirchner
Miss Elsa Kirchner
Mr. S. Kaufmann
Mr. H. Kaul
Mrs. H. Kaul
Mr. M. Katzenellenbogen
Mr. Charles Köhler
Mrs. Anna Kröger
Miss Anna Kröger
Miss Louisa Kröger
Miss Elsa Kroger
Mr. Adolf Kroger
Miss E. Lehner
Miss Cecilie Lorenzen
Mr. Henry Liese
Mrs. Henry Liese
Mrs. E. Liese
Mr. Albert Liese
Mrs. Alvina Lohse
Mr. Willie Lohse
Mr. Herbert Lohse
Miss Hedwig Leicht
Mr. F. B. Mumford
Mrs. F. B. Mumford
Miss Marguerit Mumford
Miss Dorothea Mumford
Miss Catherine Mumford
Mr. Gustav H. Marquardt
Mrs. Gustav H. Marquardt
Miss Anna Mariaskin
Mrs. Louise Marschall
Miss Elisa Mumm
Mrs. Minna Meitz
Mr. Paul Mattern
Mrs. Magdalena Martens
Mr. Oscher Muller
Mr. Louis Ortmann
Miss Catharina Pieper
Mr. Simon Pfeiffer
Frau' Simon Pfeiffer
Miss Dora Rehren
Mr. Wm. Reinhardt
Mrs. Wm. Reinhardt
Miss E. Reinhardt
Mrs. Helene Richelsen
Miss Anna Regel
Mr. Paul Reusch
Miss Auguste Rickert
Mr. John W. Rehauser
Mr. Ilja Romm
Mr. Johann Rieder
Mrs. Johann Rieder
Miss M. Schmüser
Mr. S. Schönfeld
Mr. Carl Stoltow
Mrs. Maria Schulz
Mr. Carl Schulz
Miss Dora Schmidt
Miss Mary Schmidt
Mrs. Albert Schneider
Mr. J. W. Senne
Mrs. J. W. Senne
Mr. Samuel Stittner
Mr. Aug. Triebel
Mrs. Aug. Triebel
Mr. Walter Triebel
Mr. G. B. Thomson
Mr. F. F. Volkens
Mr. Peter Wahl
Mr. Edwin Wunderlich
Miss Josefine Weiss
Mr. Marcell Weiss
Mr. Rich. Wagner
Mr. William Wilton
Information for Passengers
MEALS. Breakfast is served at 8:00 am, Lunch at 12:30 pm, Dinner at 6:30 and tea at 9:00 pm A Bell will be run 15 minutes before each meal, and a second signal will be given at the beginning of the meal.
Promenade Deck. Steamer Chairs belonging to the Ocean Comfort Company can be rented for use on the voyage, at a charge of one dollar, upon application to the Deck Steward.
Stewards. The stewards have strict instructions to attend to the wants of passengers in a prompt and courteous manner. Passengers are requested to bring any inattention to the notice of the Chief Steward, and if the complaint made is not promptly investigated, to report it to the captain.
Baggage. As only small pieces of baggage can he taken into the cabins all large pieces will be stored in the hold. In good weather access may be had to the hold and passengers desirous of getting at their large baggage should apply to their Room steward.
Hot or Cold Baths. A number of comfortable bathrooms are provided aboard. The Bathroom Steward or Stewardess will attend to the bath upon the passenger's request. No charge is made for baths. The water used is sea-water.
Smoking Saloon. Smoking is allowed only on deck and in the Smoking Room; It is positively prohibited in the cabins and below deck.
Lights in the Smooking Room are extinguished at midnight.
Valuables. The Company is not responsible for theft if valuables are kept in the staterooms, a safe is provided in the office of the Purser, to whom money, jewelry, etc-, may be handed for safe-keeping, but without guaranty of the Company.
Surgeon and Apothecary. An experienced Physician is attached to every steamer For medical attendance in cases of sickness contracted on board no charge is made; medicines also are provided free of charge.
The Barber is entitled to charge for his services according to the tariff fixed by the Company.
Library. The books in the library, which may be obtained upon application to the Library Steward, are at the disposal of passengers, free of charge. A catalogue of the German, English and French books In the ship's library can be had from the Library Steward.
Writing Paper, Envelopes and Telegraph Forms will be supplied by the Saloon Steward.
Foreign Money. The Purser is prepared to exchange foreign money.