SS Stuttgart Passenger List - 14 September 1937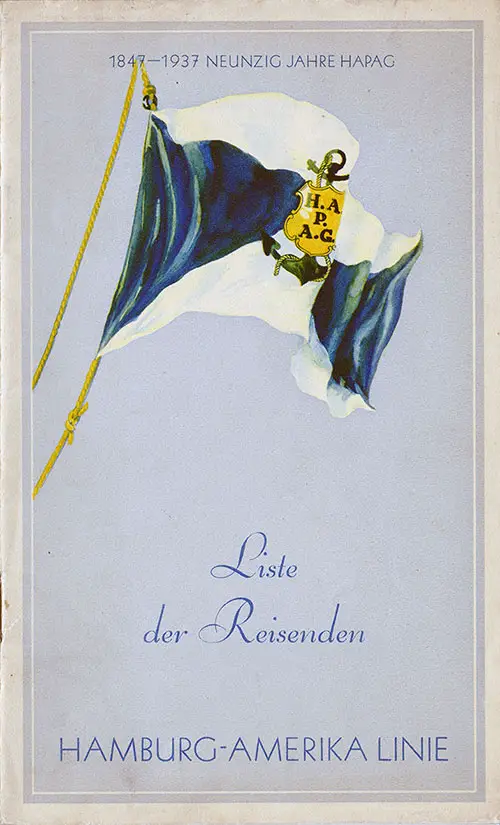 Front Cover of a Cabin, Tourist, and Third Class Passenger List from the SS Stuttgart of the Hamburg America Line, Departing Tuesday, 14 September 1937 from Hamburg to New York via Southampton and Cherbourg, Commanded by Captain A. Kinkel. GGA Image ID # 17858d1a02
Senior Officers and Staff
Commander: Captain A. Kinkel
First Officer: A. Grasshoff
Chief Engineer: D. Buck
First Radio Officer: E. Osthues
First Physician: Dr. W. Brahms
Second Physician: Dr. Reibnitz
Purser: H. Hüttenrauch
Second Purser: R. Seitz
Baggage Master: G. Tietjen
Chief Steward, Cabin Class: K. Stiehl
Chief Steward, Tourist Class: H. Bertz
Chief Steward, Third Class: G. Drüner
Head Cook: H. Kracke
Cabin Passengers
To NEW YORK
Miss Barbara Blech
Mrs. Randolph Bolles
Miss Jeanne Bolles
Mr. A. C. Bond
Mrs. Luise Bossard
Miss Blanche Brackett
Mrs. Thomas C. Brown
Mrs. Blanche M. Corse Adele Costello
Mr. W. H. Cotton
Mrs. W. H. Cotton
Mr. Franz Eben
Mrs. Clara Egloff
Mr. Willy Eirich
Mr. Lothar Faber
Miss Eleanor Feiek
Miss Lois Feiek
Mr. Othmar Gamillschlag
Miss Dr, Carola Geiger
Mr. Ferdinand Gerber
Miss Gabriele Goldsehmidt
Mr. Viktor Halbaerth
Mr. Hermann Hammersdorf
Mrs. Hermann Hammersdorf
Mr. Jan Hanek
Mr. Arthur Hesser
Mrs. Arthur Hesser
Mr. Frank R. Johns
Mr. Louis Kamper
Mrs. Louis Kamper
Mr. Otto F. Koehler
Mrs. Otto F. Koehler
Mr. Hans Kohn
Mrs. Hans Kohn
Mrs. Priedel Kühn
Mr. John R. Lanigan
Mrs. John R. Lanigan
Miss Anna Levy
Mr. Helmut Loeb
Mr. Richard Maerklin
Mr. William Mailing
Miss Flora Mayer
Mr. William Mockel
Mrs. William Mockel
Mr. Konsul Alexander Moslé
Mrs. Sam F. Parker
Mr. Djordje A. Petrovie
Miss Nada Petrovie
Mrs. Claiborne Pirtle
Mr. Giovanni Porrini
Mr. Hermann W. Read
Mrs. Hermann W. Read
Mr. Rhoads and Familie with Staff
Mr. Robert Sauter
Mrs. Robert Sauter
Miss Margaret Rosa Sauter
Mr. H. F. Shew
Mrs. H. F. Shew
Miss Ethel May Simpson
Miss Karoline Sollnitz
Mr. Jacob Sonnen
Mrs. Johanna Staley
Mr. Robert W. S. Whitelaw
Miss Natalie Wipplinger
Mr. Staatssekretär a. D. Dr. Artur Zardon
Mrs. Artur Zarden
Mr. Max B. Ziegler
To SOUTHAMPTON
Mr. Arthur Baerlocher
Rev. Thomas A. Garnett
Mrs. Thomas A. Garnett
Mrs. Lotte von Lauenstein and Kind
Mr. Hans Michalowitz
Miss Bribid M. Newland
Mrs. Merey Uhde
Miss Pamela Uhde
Tourist Passengers
To NEW YORK
Mrs. Adele Altenburger
Miss Henriette Alwes
Mr. Fugen Anderson
Mrs. Eugen Anderson
Mr. Max Andreas
Mrs. Max Andreas
Miss Charlotle Arlt
Mr. William Balde
Mr. Oliver Barker
Mrs. Oliver Barker
Mr. Aquiles Bassat
Mrs. Gertrudis Bauer
Mrs. Margarethe Bäuerlein
Mrs. Mary Beek
Mrs. Dorothea Becker
Mrs. F. Beleher
Mrs. G. Benson
Mr. Hans Bestmann
Mrs. Hans Bestmann
Mrs. Emma Beyer
Mr. Hans Biermann
Mrs. Hans Biermann
Mr. August Birmele
Mrs. August Birmele
Robert Birmele
Mrs. Lisel Blob
Günther Blob
Mr. Günther Borries
Mrs. Katharina Borstelmann
Jonny Borstelmann
Mrs. Amalia Boye
Miss Marie Brendel
Mr. Heinrich Briel
Miss Else Brunn
Mr. Osborne Bryan
Mr. Fred Bultman
Mr. Frcdcriek Bunjes
Mrs. Margrite Burkart
Miss Dora Burkhardt
Mrs. Elly Carstens
Mr. Julius Carstens
Mrs. Martha Coto
Mrs. Frieda Denker
Miss Lisa Denker
Mr. John Deutschel
Mrs. Alice Doubman
Mr. Hermann Dräger
Mr. Karl Dullinger
Mrs. Karl Dullinger
Marion Dullinger
Miss Mary Dunlap
Miss Jone Dunn
Mr. William Edebohls
Mrs. William Edebohls
Elrita Edebohls
Mr. Kurt Ehrmann
Johanna Elliott
Miss Kita Emmert
Mrs. Katherine Enz
Miss Glendora Enz
Mr. Hans Epstein
Mrs. Kate Ericmann
Mrs. Bertha Esser
Mr. Max Falk
Mrs. Max Falk
Mr. Edward Finnin
Mr. Dr. John Finnin
Kind William Fischer
Mr. Alfred Fisher
Miss Anna Fishpaugh
Mrs. Hannah Flügel
Christa Flügel
Mrs. Margarethe Freund
Mr. Carl Freund
Mrs. Anna Freygang
Mr. Jürgen Fries
Mrs. Wilhelmine Friese
Mrs. Therese Gerstl
Miss Joscfine Gerstl
Mrs. Isabella Girz
Mr. Gohsen
Mrs. Gohsen
Mr. Armin Graul
Mrs. Armin Graul
Mr. Roland Guenther
Mr. Ludwig Hackenjos
Mr. Karl Haessel
Mrs. Gisclla Hartig
Miss Agnes Heemsoth
Miss Dr. Frieda Heilberg
Miss Gertrude Helff
Mr. Arthur Heinemann
Mrs. Arthur Heinemann
Mr. Siegfried Heinemann
Mr. Rudolf Helms
Miss Josefa Hillenbrand
Mrs. Thekla Hinz
Mr. Oskar Hirling
Mr. Arthur Hirsch
Mr. Georg Hoppe
Mr. Paul Hohmann
Mrs. Paul Hohmann
Mr. Hermann Horn
Mr. Frank Hutter
Mrs. Frank Hutter
Frank Hutter
Mr. Frederick Irmseher
Mrs. Susanna Irmseher
Gertrud Irmseher
Mr. Rudolf Jacobi
Mrs. Rudolf Jacobi
Miss Frieda Jacobi
Miss Dorothy Jacobi
Miss Anna Jäger
Mrs. Elcanorc Jensen
Mr. Holgei Jensen
Mr. Joseph Jürgens
Mrs. Maria Kaelber
Mr. Kathner
Mrs. Kathner
Mrs. Johanna Kayan
Mr. Gustavus Kershaw
Mrs. Gustavus Kershaw
Adele Kershaw
Ruth Kershaw
Mr. Erhardt Kettner
Mr. George Kilb
Mr. Albert Koestle
Mrs. Albert Koestle
Mrs. Margot Koppel
Sonja Koppel
Helmut Koppel
Miss Helene Kremer
Mrs. Georgine Krück
Mrs. Eugenie Kurz
Mr. Leopold Labergo
Miss Michacia Lange
Miss Elisabeth Laufs
Mrs. A. Lauper
Miss Martha Leibell
Miss Therese Lentze
Miss Anna Levy
Miss Irmgard Lichtenberg
Mr. Jacob Lieberum
Mrs. Marie Lindner
Mr. Helmut Loeb
Mr. William Locffler
Miss Eugenie Loehr
Mr. John Lührs
Mrs. John Lührs
Miss T. Ludy
Mr. Henry Macke
Mrs. Henry Macke
Mr. Professor Dr. Fritz Mann
Mrs. Fritz Mann
Mr. Karl Mann
Miss Gisela Mann
Dietrich Mann
Hellgardt Mann
Miss Martha Manske
Miss Bertha Markmüller
Mr. Donald McVay
Mrs. Rose Meech
Mrs. Olga Meinhardt
Mrs. Mary Mornshausen
Mrs. Marianne Melk
Miss Charlotte Mende
Miss Katharina Messer
Miss Philippine Messer
Miss Erna Michel
Mrs. Elfriede Moebius
Mr. Philip Mohr
Mrs. Philip Mohr
Mrs. T. Moore
Miss Mary Moore
Miss Theresa Müssig
Mr. Martin Nebel
Mrs. Wally Neussel
Mr. Dr. Lothar Nordheim
Mrs. Lothar Nordheim
Mr. Norie
Mrs. Lottie O'Brien
John O'Brien
Gloria O'Brien
Mr. Ralph Oesper
Mr. Peter Oesper
Mr. Frederick Otten
Mr. Heinz Otto
Mrs. Olga Pape
Mr. W. Parker
Mr. George Pedersen
Miss Christine Peters
Mr. John Pflaum
Mr. Pinney
Mrs. Elise Pollmann
Mrs. Rebecka Porschberger
Mr. Karl Pump
Miss Anna Rahmer
Mrs. Mary Reents
Herbert Reents
Mrs. Ida Reck
Mr. Carol Reiner
Miss Dorothy Rodrian
Mr. Kduardo Rodriguez
Mr. Karl Roeser
Mrs. Helene Rosenberg
Miss Elisabeth Rossberg-Leipnitz
Mr. Henry Rügen
Mr. William Runge
Mr. Hugo Salinger
Mrs. Hugo Salinger
Miss J. Schlafly
Miss Theresa Schlegel
Mr. Charles Schleiffer
Mr. Sebastian Schlenk
Mr. Christian Schmidt
Miss Else Schmidt
Miss Helene Schmidt
Mrs. Louise Schoch
Mrs. Lioba Schuessler
Mr. Oskar Schuller
Mrs. Oskar Schuller
Dorothy Schuller
Miss Elizabeth Schulte
Mrs. Friedel Schultz
Hans Schultz
Mr. Jean Schultze
Mrs. Frieda Schulze
Mrs. Hedwig Sehwandt
Mrs. Mina Schweitzer
Rudolf Schwenzer
Mrs. Julia Schwing
Miss Ethel Schwing
Mr. Dr. Wolfgang Seiffert
Mrs. Elizabeth Seiffert
Erich Seiffert
Mr. John Seipell
Mr. Robert Sesmann
Mrs. Josephine Sesmann
Mrs. Ida Sevekow
Mr. Ernst Siefken
Mr. Charles Skousgaard
Mr. Josef Smida
Mrs. Karoline Solmitz
Miss Elconor Stanbach
Mrs. Anna Stanger
Miss Gerda Stanger
Mrs. Dora Stauss
Mr. Leo Steiner
Mr. Albert Stettner
Fraulein Anna Stiegele
Miss Jane Stith
Miss Clara Stolle
Mr. Hermann Storch
Mr. Dr. Christian Storz
Mr. Hans Straub
Mrs. Auguste Strey
Mr. Joseph Strohmeier
Mrs. Joseph Strohmeier
Miss Lieselotte Strohmeier
Mr. John Strunk
Miss Katherine Strüven
Mr. William Stutz
Mrs. William Stutz
Elaine Stutz
Miss Elfriede Suchsdorf
Mrs. Anna Suter
Mr. Frederick Taggart
Mr. Professor Thatcher
Mrs. Charlotte Thimey
Mr. Arthur Treibs
Mrs. Martha Uthenwoldt
Roland Uthenwoldt
Mrs. Edith Vandereike-Krieg
Mr. Hans Vaterlaus
Mrs. Hans Vaterlaus
Miss Heidi Vaterlaus
Mr. Robert Vaterlaus
Mrs. Lilly Veit
Miss Ursula Veit
Mr. Vogel
Mrs. Ella Vogel
Günther Vogel
Mr. Professor Dr. Joachim Wach
Miss Bertha Wahl
Miss Barbara Weckesser
Mrs. Mimi Wegat
Juttana Wegat
Miss Magdalene Werle
Mrs. Emmy Wettermann
Mr. Arnold Wichmann
Mr. Friedrich Wiese
Mr. Theodore Willrath
Mrs. Theodore Willrath
Mrs. Anna Woliung
Mrs. Nettie Yonke
Mr. Rudolf Zedelius
To SOUTHAMPTON
Mrs. Erna Adlum
Miss Klmu Adlum
Mr. Hartwig von Behr
Mr. Kenneth Bishop
Miss Patricia Brown
Miss Margaret Cowan
Miss Anne Harris
Mr. Elliot Geisinger
Mrs. Elliot Geisinger
Mr. John Hennings
Miss Gerda Hillmann
Miss Gudrun Mayer
Miss Joan Woods
Third Class Passengers
To NEW YORK
Mrs. Emma Adler
Schwester M. Agathine
Mr. Dietrich Ahrens
Schwester M. Alena
Mr. Ernest Alester
Schwester M. Amadea
Mr. Eugen Anderson
Mrs. Eugen Anderson
Mr. Dr. Karl-Otto Arndt
Mr. Hans-Georg Baare-Schmidt
Miss Gertrud Backes
Mr. Walter Badekow
Mrs. Walter Badekow
Mr. Berthold Bauer
Mrs. Margaret Baum
Mr. Eugen Bayer
Mrs. Eugen Bayer
Mr. Faul Beck
Mrs. Faul Beck
Mrs. Charlotte Beerbaum
Mr. Mathias Benzinger
Miss Erika Beseler
Mr. Wilhelm Best
Mrs. Wilhelm Best
Mr. Hans Biermann
Mrs. Hans Biermann
Mrs. Anna Bischoff
Mr. Paul Booms
Miss Ilse Borchers
Mrs. Charlotte Bousse
Mr. Fritz Brandi
Mr. Hugo Brinkmann
Miss Erika Brockmann
Mr. Fred Brunk
Mrs. Fred Brunk
Mrs. Berta Bühlinger
Miss Karoline Bühlinger
Mrs. Bertha Christopher
Miss Anne Daehnio
Miss Yolanda Damo
Mr. John Deubel
Mrs. John Deuhel
Miss Ursula Dibbern
Mrs. Alwina Dietrich
Alfred Dietrich
Mrs. Clara Domnick
Mrs. Flora Drechsel
Mr. George Dresch
Mrs. George Dresch
Mrs. Minna Eggers
Miss Maria Ehrhardt
Mr. Emanucl Eisenstein
Mrs. Gertrud Emichlmeier
Walter Emichlmeier
Miss Marie Emig
Helmut Engler
Mrs. Maria Ernst
Miss Therese Ernst
Mrs. Elise Fehlberg
Miss Marie Fiedler
Mr. Henry Follmer
Mrs. Henry Follmer
Mrs. Wilhelmine Friese
Mr. Albert Froinholdt
Mrs. Albert Fromholdt
Mr. Erwin Fromm
Mr. Adolf-Henning Frucht
Mr. Albert Ciall
Mr. Hans-Werner Gensichen
Mrs. Anna Gräfe
Mr. John Grissel
Mrs. John Grissel
Mrs. Wilhelmine Gutfleisch
Irene Gutfleisch
Mr. Siegfried Güttner
Mrs. Rosa Hahle
Mrs. Therese Harbich
Mrs. Mary Harrington
Mrs. Pauline Haskins
Mrs. Anna Hass
Elroy Hass
Mr. Hans Hefti
Mrs. Toni Heinig
Evelyn Heinig
Mrs. Florence Heibig
Franccs Heibig
Mr. Friedrich Helmke
Mrs. Friedrich Helmke
Mr. Louis Hermle
Mrs. Louis Hermle
Mr. Karl Herrmann
Miss Maria Herzer
Mrs. Agnes Hinrichs
Mr. Andreas Hittscher
Mrs. Andreas Hittscher
Mrs. Meta Hoch
Marianne Hoch
Hannelore Hoch
Mr. Eduard Hoefel
Mr. Max Hoefer
Mrs. Lucia Hoerlein
Elisabeth Hoerlein
Mrs. Käthe Hoffmann
Miss Marie Holling
Mr. Carl Hopke
Mrs. Carl Hopke
Charlotte Hopke
Mr. Rolf-Harry Hoppe
Miss Mary Horvath
Mr. Franz Hosemann
Mrs. Franz Hosemann
Miss Betty Huber
Mr. Julius Jordan
Mr. Friedrich Kaeppel
Mrs. Friedrich Kaeppel
Pauline Kaeppel
Miss Maria Kahrs
Mrs. Ella Kaiser
Mr. Otto Kalippke
Mrs. Otto Kalippke
Mr. William Kamper
Mr. William Kersten
Mrs. William Kersten
Miss Josefine Kiehzler
Mrs. Annie Kindermann
Miss Agnes Kliegel
Miss Minna Klingenfuss
Mr. Werner Kluck
Mr. Alfred Kneile
Mrs. Alfred Kneile
Alfred Kneile
Mr. John Knust
Mrs. John Knust
John Knust
Mrs. Susanna Koch
Charles Koch
Mr. Simon Koch
Mrs. Simon Koch
Mrs. Gertrud Kohlhaase
Mrs. Anna Kolassa
Gertrud Kolassa
Mrs. Maria Kolliver
Hildegard Kolliver
Mr. Franz Korber
Mr. Robert Kosing
Miss Marie Luise Köster
Mr. William Koster
Mrs. William Koster
Miss Marie Koster
Mr. Fred Kowalxyk
Mrs. Fred Kowalzyk
Mr. Adam Kramer
Mrs. Susana Kramer
Miss Maria Kramer
Mrs. Katharina Kronenberg
William Kronenberg
Mr. Ernst Kroplin
Mrs. Elsa Kurz
Mary Kurz
Mr. Hermann Lacher
Mrs. Fannie Laumann
Mr. Wellington Lee
Mr. Josef Leuchs
Miss Ingeborg Lindemeyer
Mrs. Emilie Löhdorf
Mr. William Lührs
Miss T. T. Ludy
Mr. Wilhelm Lüring
Mrs. Ida Lutzenburg
Mr. Johann Mangels
Schwester M. Mary Ann
Mr. Charles Mayer
Mrs. Charles Mayer
Mr. Donald McVay
Mrs. Emilie Mchrekens
Schwester M. Michaela
Miss Maria Mock
Mr. Friedrich Mothes
Mr. Richard Müller
Mr. Kurt Müller
Mrs. Anna Müller
Wilfried Müller
Mr. S. Murray
Miss Virginia Neha
Mrs. Emilie Niekel
Ilse Nickel
Mrs. Lina Noll
Henry Noll
Mrs. Frida Noller
Mr. Karl Oellerich
Mrs. Karl Oellerich
Herbert Oellerich
Mr. Petes Oesper
Mr. Ralph Oesper
Mr. Werner Octmann
Mr. Mathias Ohlinger
Miss Margaret Omuska
Mr. Alfred Petersen
Mrs. Allred Petersen
Mr. Konrad Plann
Mrs. Kunigunde Pfeil
Mrs. Aloisia Pfingstl
Miss Marie Pfingstl
Mr. John Pfingstl
Miss Hanncle Piel
Mr. Mathias Pinisch
Mrs. Mathias Pinisch
Edna Pinisch
Matilda Pinisch
Mr. Joseph Plum
Mr. Emil Porsche
Miss Martha Preprast
Mrs. Ida Re
Miss Hildegard Reichelt
Miss Anneliese Reitz
Mr. H. Richey Jr.
Mrs. Minnie Richter
Mrs. Marie Rieg
Mrs. Charlotte Rode
Ruth Rode
Ralph Rode
Mr. Walter Roessel
Mrs. Walter Roessel
Mrs. Professor Lola Sargent
Mr. Rudolf Satori
Mr. Erich Sauer
Mr. Ernst Schäfer
Mrs. Ernst Schäfer
Miss Florette Schäfer
Mr. Thomas Scheidacker
Mr. Reinhold Schimanke
Mrs. Reinhold Schimanke
Otto Schimanke
Walter Schimanke
Mrs. Frieda Schimmlng
Lore Schimmlng
Miss Mary Schlageter
Mrs. Magdalena Schock
Jakob Schock
Mrs. Helene Schoenfuss
Walter Schoenfuss
Miss Maria Schreiner
Mr. Michael Sehulterer
Mr. Carl Schumacher
Mr. Ernst Schumacher
Mr. Klaus Sehwarz
Mr. John Schweigart
Mrs. Charlotte Schwevers
Charlotte Schwevers
Mrs. Julia Schwing
Ethel Schwing
Mrs. Bertha Sihler
Albert Sihler
Mr. Josef Smida
Mrs. E. Sperschneider
Mylius Sperschneider
Mr. Klaus Stabel
Miss Theresia Stahl
Mr. Johann Steck
Mrs. Johann Steck
Elisabeth Steck
Mr. Henry Stender
Mrs. Henry Stender
Mr. Edward Steppuhn
Mrs. Ella Stoeckel
Eleanor Stoeckel
Günther Stoeckel
Mr. Kurt Stolley
Mrs. Kurt Stolley
Mrs. Elisabeth Straight
Mr. Hans Strassburg
Mrs. Hans Strassburg
Mr. Frank Strigler
Mrs. Frank Strigler
Mr. Emil Striebel
Mrs. Emil Striebel
Lilian Striebel
Edmund Striebel
Miss Lieselotte Strohmeier
Mr. Joseph Strohmeier
Mrs. Joseph Strohmeier
Miss Elisabeth Thiermann
Mrs. Martha Thomas
Ronald Thomas
Mr. Otto Uliisch
Mrs. Otto Ulliseh
Mr. Richard Ulried
Mrs. Richard Ulried
Gloria Ulried
Schwester M. Ulrika
Mr. Adolf Ungemach
Miss Aranka Valiska
Miss Margaret Vlha
Mrs. Anna Vogel
Mrs. Liddy Vogel
Mr. Bruno Vollmer
Mrs. Bruno Vollmer
Mr. Arthur Vormann
Mrs. Arthur Vormann
Arthur Vormann
Warren Vormann
Mr. Hermann Wächter
Mrs. Hermann Wächter
Mr. Johann Wagner
Mr. Adam Walter
Mrs. Adam Walter
Mr. Joseph Walter
Mrs. Joseph Walter
Mr. Albert Walther
Mrs. Albert Walther
Miss Frieda Weber
Miss Caroline Wegner
Mr. Edward Weissenstein
Mr. Karl Weitkamp
Mrs. Maria Wernli
Miss Ilse Wienand
Mrs. Margarete Willmann
Mr. William Winklbauer
Mrs. William Winklbauer
Mrs. Magdalene Wolf
Marie Wolf
Jacob Wolf
Mr. Karl Wunner
Mrs. Karl Wunner
Mrs. Gertrud Zielinski
Mrs. Marianne Zukovsky
To SOUTHAMPTON
Mrs. Grete Bruchmeyer
Mr. Rodney Colling
Miss Mary Cook
Information for Passengers
According to the German Currency Regulations putting an embargo on the import of German Reichsmark Notes and Silver Coin officials and members of the crew are prohibited from accepting German Reichsmark Notes and German Silver Coin.
Passengers are therefore kindly requested to pay their bills and intended gratuities only in Ships Money Orders or in foreign currencies.
Films and Chemicals. Any large quantities of films, chemicals and other photographic material of inflammable nature may under no circumstances be kept in the cabins. Passengers are requested to hand them to the purser on board for safe-keeping.
Utilization of Public Rooms. Passengers are sincerely requested to confine themselves to the public rooms, promenade decks and deck space specifically provided for the class in which they travel.
Wireless Telegraph Service. The Wireless Station (Telefunken system) is in uninterrupted communication with the mainland and may be used for cable messages both ways.
Information regarding the use of this service may be had free of charge on application to the wireless operator, whose office is on the Bridge Deck. All inquiries, complaints, etc.. should be exclusively addressed to Deutsche Betriebsgesellschaftfiir drahtlosc Telegrafie in. b. H., 2Q, Hardenberg Strasse, Berlin-Charlottenburg II, and not to the Hamburg America Line, the latter company assuming no responsibility for the wireless services.
New York Mail for Passengers. The New York Office of the Hamburg America Line/North German Lloyd has made arrangements that mail addressed to passengers arriving in New York may be obtained at the principal exit on the upper floor of the Pier. This only applies to such letters, etc-, that arrive too late to be delivered to passengers on board during their stay at the quarantine station.
Landing Card. On arrival in New York the "Landing card" attached to your ticket is to be handed to the Immigration Officer for endorsement. Cabin passengers will receive the landing cards by the purser during the voyage.
New York Porter Service. Passengers are reminded that the porters on the New York piers are not allowed to ask for gratuities in consideration of the handling of passengers' baggage, they being paid sufficient wages for their services.
If, nevertheless* any porter should demand payment for handling such baggage, passengers are requested to note the number plate on his cap and to report him to one of the uniformed policemen on the pier.
In addition, passengers are earnestly advised to direct their enquiries concerning baggage or passage matters exclusively to persons who,, by their uniforms, are plainly seen to be Hapag employees.
Failing this precaution, they expose themselves to the risk of being taken advantage of by unauthorized persons.
Sailing Permits for Non-Americans. Non-Americans (including visitors to the United States who intend a temporary stay only) must obtain, prior to their departure from the United States, a Sailing Permit, which must be produced previous to going on board, when the final passage ticket is examined.
Such Sailing Permits are issued at theCustom House, Battery, New York.
Further information will be gladly given by the Hamburg America Line/North German Lloyd, 57. Broadway, New York.
Imported Plants and Soil, etc. Prohibited. The United States Department of Agriculture, Plant Quarantine and Control Administration, advises under "Notice of Quarantine No. 37," that plants, soil or other similar materials cannot be imported into the United States, either as souvenirs or in any other category.