SS Hamburg Passenger List - 30 August 1934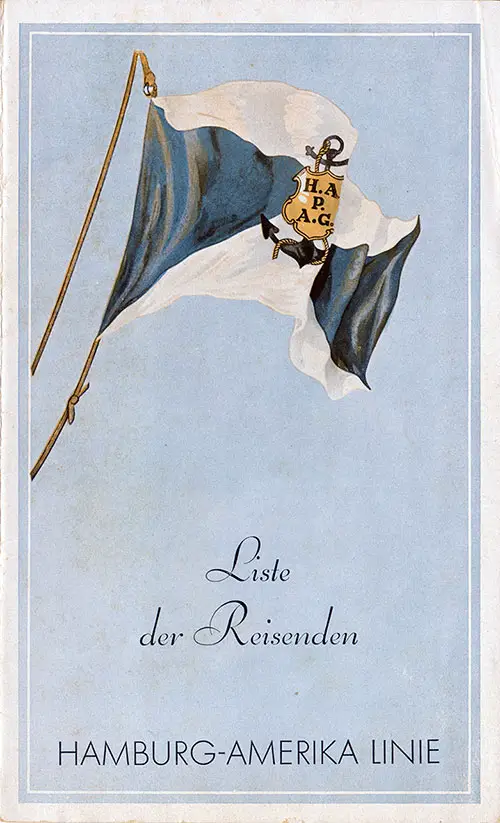 Front Cover of a First Class and Tourist Passenger List from the SS Hamburg of the Hamburg America Line, Departing Thursday, 30 August 1934 from Hamburg to New York via Southampton, Cherbourg, and Cobh (Queenstown), Commanded by Captain Koch. GGA Image ID # 177686de58
Senior Officers and Staff
Commander: Captain Koch
First Officer: F. Friske
Second Officer: E. Scheel
Second Officer: P. Friedrich
Second Officer: O. Faller
Third Officer: H. Nippa
Fourth Officer: F. Sohnke
Fourth Officer: W. Koop
First Radio Officer: E. Bading
Second Radio Officer: E. Neuwald
Third Radio Officer: W. Groene
Chief Engineer: R. Rix
Second Engineer: A. Thöne
Second Engineer: F. Eggert
Third Engineer: H. Kreutziger
Third Engineer: C. Wiencke
Third Engineer: P. Schelle
Third Engineer: W. Brecht
Third Engineer: W. Heuer
Fourth Engineer: W. Schweinsberg
Fourth Engineer: W. Eikkoff
Fourth Engineer: K. Weber
Fourth Engineer: G. Strüfing
First Electrician: H. Kneller
Second Electrician: H. Schlüter
Projectionist: E. Hirsch
First Physician: Dr. H. Kickton
Second Physician: Dr. H. Happe
Trained Nurse: Hildegard Jonas
Purser: R. Leschper
Second Purser: M. Janssen
Second Purser: E. Rüssel
Assistant Purser: M. Pollow
Assistant Purser: W. Eckhoff
Assistant Purser: E. Vogt
Baggage Master: G. Tamm
Chief Steward, First Class: R. Bunke
Assistant Chief Steward, First Class: J. Martens
Assistant Chief Steward and Grill Room Chef: B. Klicks
Chief Steward, Tourist Class: H. Möller
Assistant Chief Steward, Tourist Class: O. Fürsterling
Chief Steward, Third Class: W. Kröger
Assistant Chief Steward, Third Class: W. Schrelp
Kitchen Manager: E. Diesner
Music Leader: E. Fruth
First Class Passengers
To NEW YORK
Mr. C, Sperry Andrews
Mr. C, Sperry Andrews III
Mr. David Andrews
Mrs. R. H. Bahre
Mr. Henry G. Barbey
Mrs. Henry G. Barbey
Mr. Alfred Bauer
Mrs. Alfred Bauer
Fräuldn Daphne Bayne
Mr. Howard Bayne
Mr. J. N. Beasley
Mrs. J. N. Beasley
Miss Mary Beasley
Mrs. John Austin Black
Mrs. William M. Bosman
Mr. William C. Brennan
Mrs. W. C. Brown
Mr. G. G. Browne
Miss Elizabeth Burrage
Miss Mina Busch
Mr. Richard Cadwalader
Mrs. Richard Cadwalader with Staff
Miss Mary L Caidwell
Miss Alice Caldwell
Mr. Robert G. Caldwell
Mr. Dr. William C. Carl
Mr. Robert J. Clark
Mr. Charles M, Clark
Mr. Wilson Compton
Mr. Wilson Compton Jr.
Mrs. Anna Darms
Mr. Laurent C. Deming
Mr. Dr. John A. Devivaux
Mrs. John A. Devivaux
Mr. Joseph Donahue
Mrs. Joseph Donahue
Mrs. J. Doyle
Mr. Adolf Dreher
Mrs. E. R. Early
Mr. John C. Early
Miss Kathleen Forler
Mr. Leon Fräser
Mrs. Leon Fräser
Mrs. Lucinda C. Friend
Miss Alice Gade
Mr. A. T. Galloway
Mrs. A. T. Galloway
Mr. John Gans
Mr. John H. Gans
Mr. Richard H, Gans
Miss Margaret Garrison
Mr. A. Gauch
Miss Grace Gordon
Mrs. James Gillespie
Miss Polly Gillespie
Mr. W. B. Gillespie
Mrs. Johanna Goehmann
Miss Emma J. Goehmann
Mr. Dr. Heribert P.A. Groll
Mrs. Thomas Hall
Mr. Bernard J. Harrison
Mrs. Bernard J, Harrison
Rev. John Hayes
Mr. Bernhard Hofmann
Mrs. Bernhard Hofmann
Mr. Harry H, Hollesen
Mrs. Harry H. Hollesen
Miss Mabel E. Howe
Mrs. W. Hughes
Mr. William P. Hunt
Mrs. William P. Hunt
Mr. Henry Janssen
Mrs. Henry Janssen
Miss Virginia Jantzen
Miss Amelia Karg
Mr. Konsul Alphonse Karl
Mr. Karl Keller
Mr. Robert K. Keller
William Keller
Mr. Wolfgang Kempff
Miss Helen Kobler
Miss Mary E. Kienzle
Mr. Carl A. Koelsch
Mrs. Carl A. Koelsch
Miss Leona Krehbiel
Mr. Albin Kuehnert
Mrs. O. F. C Kuvan
Miss Gladys Kuvan
Mr. Thomas W. Kuvan
Mr. Alexander Le Vino
Mrs. Alexander Le Vino
Mr. Frederick W. Loewe
Mrs. Frederick W. Loewe
Miss L. Loewe
Mr. E. Richard Meining
Mrs. E. Richard Meining
Mr. Otto Meyer-Nelthropp
Miss Margaret Mitchell
Miss Helen C. Musson
Miss Charlotte C, Musson
Mrs. A. C. Noyes
Miss Eleanor Hilton Noyes
Mrs. Albert E. Oelschlaeger
Mr. Albert E. Oelschlaeger Jr.
Mr. Lazare Pialoglou
Mrs. K. Parker Potter
Mr. Henry Rahe
Mrs. Henry Rahe
Mrs. Laura M. Rankin
Miss Susan Reeves
Miss M. C. Rudolph
Schwester Theresa Francesca Rockford
Schwester Lelia Rockford
Rev, James Ryan
Rev. Michael Ryan
Mr. Dr. Bernard Samuels
Colonel W. S. Sanday
Mr. Franklin Scherrer
Mrs. Franklin Scherrer
Mrs. Liselotte Schlie
Heigo Schlie
Reimar Schlie
Miss Dora Schmidt
Miss Ella Schmidt
Mr. William Schmidt
Mrs. William Schmidt
Mr. Jacob Gould Schurman III
Mrs. William A. Scully
Miss Kate Hyde Scully
Mr. Hall Scully
Miss Elizabeth Seiden
Mr. E.V. D. Seiden
Mr. W. K. Seiden
Mr. Dr. Bernhard Siefer
Mrs. Bernhard Siefer
Miss Viola F. Snyder
Mr. Richard Sommer
Mr. H. Theodore Sorg
Mrs. H. Theodore Sorg
Mrs. Maria von den Steinen
Miss Marion Stevenson
Miss Beverly Sutherland
Mr. Ernst Teves
Mr. Dr. F. F. Tisdall
Mrs. F. F. Tisdall
Mr. Dr. Everett A. Tyler
Mrs. Everett A. Tyler
Miss Vaney May Tyler
Mr. Charles O. Tyler
Mr. Dr. Berschel C. Walker
Mrs. Herschel C. Walker
Baroness Otty von Wassilko
Miss Elisabeth Watties
Mrs. Christine M, Weber
Agnes Weber
Nancy Weber
Mr. Dr. William Weber
Mr. Frederick Winkhaus
Mr. Philipp Wirth
Miss Mary M. Wood
To SOUTHAMPTON
Miss Kläre Bahrdt
Miss Phyllis Bellington
Mrs. C. O. Crowley
Mr. Robert A. Dix
Mr. John L. Esmonde
Mr. B. W. F. Farrell
Mrs. B. W. F. Farrell
Mr. Gustav Frahm
Mr. Wm. Gamble
Mrs. Wm. Gamble
Mrs. Alice Gohnsburg
Mr. Direktor Max Gutschke
Miss Elisabeth Gutschke
Mrs. Elsa Hesselmann
Mr. Generaldirektor Georg D. Huband
Mrs. Ellen Lüthke
Mr. Edward Kingsley Melbourne
Mrs. Edward Kingsley Milbourne
Mr. Joseph J. Mooney
Mr. Hermann Pohl
Mr. Dietrich Rahn
Ralph Graf von der Reche-Volmerstein
Elisabeth Gräfin von der Reche-Volmerstein
Mr. Harry Sanctuary
Mrs. Harry Sanctuary
Mr. James Simpson
Mrs. James Simpson
Mr. John M. Simpson
Mrs. John M. Simpson
Mr. Kurt Szafranski
Miss Marianne Tancre
Mr. Tapp
Mrs. Tapp
Coloncl Arthur W. Täte
Mrs. Arthur W. Täte
Miss Monica Täte
Mr. William Voysey
Mr. Ludwig Wiener
Mrs. Ludwig Wiener
Miss Norah Wilkins
Miss Bertha Wolf
To CHERBOURG
Mrs. Anna Altmann
Mr. Timothy F. Breen
Mrs. Timothy F. Breen
To COBH
Mr. Dr. Robert Jantscha
Mr. Generaldirektor Dr. Robert Jurenka
Mr. Legationssekretär C. J. O'Donovan
Miss O'Donovan
Tourist Passengers
To NEW YORK
Rev. Percy C. Adams
Mr. Sidney Aggas
Mrs. Sidney Aggas
Miss Annie T. Ahern
Mr. Charles Alexander
Miss E. Alexander
Miss Margaret Allen
Mr. Dr. William Armstrong
Miss M. Armstrong
Miss Gertrude Arndt
Mrs. Maria Auer
Miss Rita Auer
Mr. Benjamin Baldwin
Mrs. Klara Bauer
Mr. Julius Baum
Miss Ethel W. Beemann
Schwester M. Bernardis
Mrs. H. Bittel
Mr. Dr. Hugo Bittnet
Mrs. Hugo Bittner
Miss Caroline Blomberg
Miss Katharina Boegl
Miss Grete Böhning
Mr. William Bonthron
Mr. William C. Boone
Mrs. Ruth Boone
Mrs. Rebecca Brady
Miss Annie F. Brown
Mr. Robert Buchheit
Mrs. Anna Busch
Miss Martha M. Byrnes
Rev. Patrick T. Casey
Miss Elizabeth Christian
Rev. William Clavin
Rev. David Coleman
Mr. G. W. Connor
Rev. Lawrence Cornelissen
Miss Belle Craigwell
Mrs. Frances Crane
Mr. S. A. Derwik
Miss Dorothe Derwik
Mrs. Minnie Deschu
Mr. Edgar A. Deutsch
Mr. Edward B. Dingler
Mr. A. Ditargiani
Miss Lucille D. Doan
Miss Margueritc Dobbs
Miss Lucilla Doepke
Mrs. Florence van Dören
Mr. A. E. Dorr
Mrs. A. E. Dorr
Mr. Anthony D. Eastman
Mrs. Else Eckert
Mrs. Clara Egloff
Miss Louise Ehlers
Mr. Walter Eissing
Mr. John Ekeberg
Miss Loraine Ellis
Mrs. Auguste Endler
Miss Alice Endler
Eleanor Endler
Mrs. Ella G. Esler
Mr. Friedrich Esser
Mr. William Evans
Miss Mary S. Evans
Mrs. Marian M. Evans
Miss Frances Evans
Miss Ruth Evans
Miss Nora Evans
Mr. Eduard Eyrich
Mrs. Frances Ferber
Mrs. Rosa Feyl
Mr. Dr. Wladimir Fewkes
Mrs. Anne Fiebig
Mr. A. O. Fischer
Mrs. A. O. Fischer
Mrs. Fanni Fite
Miss Julia Fitzpatrick
Miss Anna Flood
Miss Madge Flood
Mr. Donald Fobes
Miss Evelyn Fox
Mr. Sutherland Frame
Mr. Julius Franklin
Mrs. Julius Franklin
Mr. Ernst Frischknecht
Mrs. Ernst Frischknecht
Miss Helen Gaal
Miss Frieda Gaeckle
Miss M. J. Gamble
Miss Marjorie Gardner
Mr. Sextus O. Garrett
Mrs. Sextus O. Garrett
Rev. Wilhelm van Garsse
Mrs. G. A, Garvin
Miss M M. Garvin
Edward Garvin
Mr. Carlos Gasteln Iturri
Mrs. Luise Gerber
Ingeborg Gerber
Miss Amelia Gerhard
Miss Kunigunde Gerstl
Miss Martha L. Gibbons
Mr. Paul Gies
Mr. Gustav Gille
Mrs. Gustav Gille
Miss A. Gleunon
Miss Marguerite Goodsell
Mrs. Ida Goss
Mrs. Hope W. Graham
Miss Clara Grauten
Mr. Ernst Grünfeld
Miss Frieda Grupp
Miss Fanny Haefelin
Miss Oda Hall
Miss Ida R. Hall
Mr. Arthur Haller
Miss Ida S. Halsted
Mr. John Hamilton
Mrs. W. T. Harris
Miss Nelson Hatchett
Miss Harriet Haynes
Mrs. Doretta Heide
Mrs. Gerda Heisig
Schwester M. Heianus
Mr. Dr. Eduard Helbing
Mr. Richard Heller
Miss Elisabeth Henn
Miss Ethel Hering
Mr. Henry Herlitz
Miss Luise Heyde
Mrs. Wilhelmine Heyer
Miss Mary W. Hinman
Miss Ella Hjertas
Miss Ruth Hlavaty
Mr. J. C. Hogan
Mr. Otto Hoevels
Mrs. Otto Hoevels
Joseph Hoevels
Lucy Hoevels
Miss Irma E. Hoffmann
Miss Gertrud Hoffmann
Miss Alene Holdereque
Miss Tilly Holzapfel
Miss Pauline Holzapfel
Miss Mary Holzapfel
Mr. Arthur Holzapfel
Miss A. E. Hudson
Mr. Peter Hudtwalker
Mrs. Peter Hudtwalker
Mr. Hans Huebner
Mr. Hermann Huetten
Miss Emma Jacobson
Miss Mary Jauch
Miss Gertrude Johnson
Mrs. Celeste Joice
Miss Frances Joice
Miss Mary Joice
Mr. Helmuth Jordan
Miss J. G. Jordan
Mr. Bernhard Juettner
Mrs. Bernhard Juettner
Mr. Wm. P. Kearns
Mr. Patrick Kearns
Miss M. F. Keenan
Mr. Frances R. Kelley
Mr. Dr. Claude King
Miss Alma M. Kohn
Miss Julia Kraus
Mrs. Charles Knill
Miss Hertha Kruse
Mrs. Prof. Ida Kubitz
Mr. Willy Küchler
Mrs. Willy Küchler
Mr. Kurt Lamm
Miss Lucy Lampkin
Mr. Arthur Landers
Mrs. Emma Lange
Rev. James F. Laughton
Schwester S. Leibold
Miss Mabel Lewis
Miss Emma Linz
Miss Anne J. Locher
Mr. Dr. Edward Lodholz
Mrs. Edward Lodholz
Miss Mary Loebel
Miss Elisabeth Lorentz
Miss Lesbia Lowry
Mr. George W. MacDonald
Mrs. George W. MacDonald
Mr. C. O. Mahoney
Mr. Herbert Martens
Mr. Richard C, Manning
Mrs. Richard C. Manning
Mr. Dr. Ulrich Marquardt
Mrs. Dr. Ulrich Marquardt
Mr. Dr. Walter Marx
Rev. Norman Maunz
Miss Elisabeth Mayer
Miss Elise Mayer
Miss M. J. McCarthy
Miss Mabcl McDonald
Mrs. Helen McDonald
Mr. James T. McGuckin
Mr. Kapitän
Milton Medenbach
Miss Friedel von Megan
Mr. Dr. Wesly Megaw
Mrs. Wesly Megaw
Mr. Ellison Megaw
Mr. Neill Megaw
Mrs. Margarethe Meier
Miss Sarah Mendell
Mr. Otto Mehlig
Miss Mizzi Mendelsky
Miss Elfriede Menges
Mr. R. C. Merrell
Mrs. R. C. Merrell
Miss Elsa Metzger
Miss Sophie Metzler
Miss Erika Meyer
Miss Elizabeth Meyer
Miss Gertrude Meyer
Miss Helene Miankowski
Schwester Maria Michelberger
Miss Nannie L. Miller
Miss Katharina Miller
Mr. Oscar Morgenfrüh
Mrs. Oscar Morgenfrüh
Harold Morgenfrüh
Miss Anna Mueller
Miss Elizabeth Murphy
Mr. Andrew Nebel
Miss Sara T. Nero
Miss Mildred Neukamm
Miss Doris Newhouse
Miss Frieda P. Newman
Miss Mary L. Nickell
Mr. August Niemann
Miss Clara C. D. Nissen
Mr. Dr. Stanley B. Norton
Mrs. Rachel O'Connell
Miss Nelli A. Ogle
Mr. H. W. Olmstead
Rev. Charles Osborn
Rev. Theodore Patrick Jr.
Karl Heinz Pavesi
Miss Margaret Pianca
Mr. Dr. E. W. Peterson
Mr. Harris Peterson
Mr. John Phelan
Mrs. John Phelan
Mr. Daniel Pinkovsky
Mrs. Daniel Pinkovsky
Mrs. Christine Poleiner
Schwester M. Presentina
Mr. Adolf Priebe
Mrs. Adolf Priebe
Mr. Dr. A. W. Prince
Mrs. A. W. Prince
Mr. Fritz Radowski
Mr. John I. Reade
Miss Mary Reagor
Miss Laura M. Reimherr
Mr. William H. Richardson
Mr. Harold J. Roberts
Mr. Maurice Roche
Mrs. Maurice Roche
Miss Anna C. Roche
Miss Elizabeth Root
Miss Dr. Cassy Rose
Miss Paula Rothhaas
Rev. John I. Ryan
Mr. Otto Schäfer
Mrs. Otto Schäfer
Miss Elisabeth Schäfer
Miss Hedwig Schefe
Mr. Lawrence Schmidt
Mrs. Hedwig Schneid
Alfred Schneid
Mr. Rudolph Schneider
Miss Johanna Schnuch
Miss Louisa Scholl
Miss Louisa Scholl
Mrs. Antonie Schroer
Miss Marcella Schroth
Mr. Herbert Schubert
Miss Margarete von Schumann
Mr. Richard Schwabe
Mrs. Richard Schwabe
Mr. Felix Schwammberger
Mrs. Sophie Schwartzier
Rev. William G. Schwemmer
Mrs. Frieda Seligmann
Mrs. Hilde Semmler
Norman Semmler
Mrs. Bertha Senger
Miss Johanna Senger
Miss iM.T. Sheahan
Miss Alice R. Sheppard
Mr. I. Ray Shute
Miss Pauline Siems
Mr. Donald W. Smith
Miss M. Stnythe
Miss Elizabeth Smythe
Mr. Hans Sohni
Miss Regina Sparla
Miss Auguste Spingler
Mrs. Anna Sternal
Mrs. Sylvia M. Stone
Miss Ruth Strand
Mr. Dr. L. C. Stratton
Mr. Ferdinand Strens
Mrs. Ferdinand Strens
Miss Maude Strong
Rev. Fred Struckholz
Mr. Paul Stübing
Mrs. Paul Stübing
Mr. Dr. M. M. Summars
Mrs. M. M. Summars
Mr. Max Sündermann-Power
Mr. John Wm. Symonds
Mrs. John Wm. Symonds
Mrs. M. Tarbett
Mrs. Woodworth Taylor
Robert W. Taylor
Mrs. Else Teichmann
Mr. Guy Thackcray
Mr. B. F. Titus
Miss Y. Togasaki
Mrs. Barbara Trumm
Miss A. M. Türk
Mr. Gerhard Ulrich
Mrs. Gerhard Ulrich
Mr. Joseph Vaskevicius
Mr. Edward Vogt
Miss Helene Voss
Miss Luise M. Voss
Mr. Laurence R. Wallace
Miss Kate H. S. Weeks
Miss Elizabeth Weinmann
Mr. John Wenzel
Mrs. John Wenzel
Manfred Wenzel
Miss Helene Werner
Miss Wilhelmine Wichmann
Mrs. Betty Wiehl
Mr. Dr. Henry M. Willard
Miss Caroline Williams
Miss Natalie Williamson
Miss H.W.Wirth
Miss Elizabeth Wohnhas
Miss Anna E. Wood
Mrs. Johanna M. Wronski
Mr. Conrad Wronski
Mr. Dr. John Wyckhoff
Mrs. John Wyckhoff
Miss Helen Zimmermann
To SOUTHAMPTON
Miss Ingeborg Altenfelder
Mr. A. Aufrichtig
Rev. W. Barton
Mrs. W. Barton
Mr. Walter Beck
Mr. Alan Boase
Mrs. Alan Boase
Mrs. Bella Borgzinner
Miss Andrey Bradbury
Mr. D. J. Bray
Miss S. D. Bryett
Miss Minna Clothier
Miss Paula Clothier
Miss Irene Conrad
Miss H. Cooke
Mr. Abraham Crompton
Mrs. Cordelia Curie
Mr. Adam Curie
Mr. Oscar Evans
Mrs. Oscar Evans
Miss Grace Evelyn
Mrs. Elfriede Farenholz
Miss Elisabeth Fietze
Miss Annemarie Finckler
Mr. Albert Forshall
Mrs. Elsbeth Fränkel
Mr. Arthur Gannon
Mrs. Arthur Gannon
Mr. Noel Griffith
Miss Doris H. Hall
Miss Elenora Hammerschlag
Miss F. Hartmann
Mr. Erich Hauck
Miss Anna M. Hirsekorn
Miss Bessie Holden
Mr. Robert A. Hornell
Mrs. Frieda Hottenroth-Roffey
Miss Bertha Hultgren
Rev. Austin J. Hurley
Mr. Adla Johnson
Mr. John Joice
Miss Viktoria Karabasz
Miss Dr. Irmgard Klink
Mrs. Dr. Hanna Korn
Mr. Percy Larke
Mr. S. Law
Mr. Martin Lewin
Mrs. Martin Lewin
Miss C. M. Lockett
Mr. Daniel Mabey
Miss Phyllis Mabey
Mr. Albert Madzulat
Miss Catharina Mair
Miss Dagmar Matthies
Rev. J. McClement
Miss Charlotte Morgan
Mr. Stanley Muschamp
Miss J.V. Needham
Miss Cyra Needham
Mr. J. E. J. Newman
Mr. Dr. William Nixon
Miss Anna M. Riber
Mr. E. Schwarz
Miss Ehel Scott
Rev. John Shanahan
Mr. Robert Simpson
Miss V. M. Spilling
Miss Dorothy Stock
Mr. F. W. G. Stuckey
Mr. J. L. Tempel
Mr. Richard W. Trechmann
Mr. Albert C. Trechmann
Miss Hildegard Utthoff
Mrs. Jane Vallance
Mrs. Valerie Vallance
Miss Elsie Wilson
Mrs. Ella Wolters
Miss Camilla Wybrants
To CHERBOURG
Mr. Berelis Bekens
Msgr. Jean Raymond
Mr. Albert C. Schwarting
Gräfin Josephine Wolff Metternich
To COBH
Mr. Hermann Gebler
Mr. John O'Keeffe
Mr. Samuel Süttle
Information for Passengers
New York Mail for Passengers. The New York Office of the Hamburg-Amerika Linie has made arrangements that mail addressed to passengers arriving in New York may be obtained at the principal exit on the upper floor of the Pier. This only applies to such letters, etc., that arrive too late to be delivered to passengers on board during their stay at the quarantine station.
Landing Card. On arrival in New York the "Landing card" attached to your ticket is to be handed to the Immigration Officer for endorsement, First-class passengers will receive the landing cards by the purser during the voyage.
New York Porter Service. Passengers are reminded that the porters on the New York piers are not allowed to ask for gratuities in consideration of the handling of passengers' baggage, they being paid sufficient wages for their services. If, nevertheless, any porter should demand payment for handling such baggage, passengers are requested to note the number plate on his cap and to report him to one of the uniformed policemen on the pier. In addition, passengers are earnestly advised to direct their enquiries concerning baggage or passage matters exclusively to persons who, by their uniforms, are plainly seen to be Hapag employees. Failing this precaution, they expose themselves to the risk of being taken advantage of by unauthorized persons.
Passengers proceeding to interior Destinations. Wireless advance bookings of Pullman, sleeping and parlor car accommodation for the journey from New York to places situated in the interior may be effected on board through the intermediary of the Purser.
Sailing Permits for Non-Americans. Non-Americans (including visitors to the United States who intend a temporary stay only) must obtain, prior to their departure from the United States, a Sailing Permit, which must be produced previous to going on board, when the final passage ticket is examined. Such Sailing Permits are issued at the Custom House, Battery, New York.
Further information will be gladly given by the Hamburg America Line/North German Lloyd, 57, Broadway, New York.
Imported Plants and Soil etc. Prohibited. The United States Department of Agriculture, Plant Quarantine and Control Administration, advises under "Notice of Quarantine No. 37," that plants, soil or other similar materials cannot be imported into the United States, either as souvenirs or in any other category.
Advance Reservations of Automobiles. The Hamburg America Line has made arrangements with the Pennsylvania Cadillac Motor Service, New York, whereby private limousines may be ordered by wireless to our New York piers for arrival of our ships. Information as to rates and all other details are obtainable at the Tourist Department of the Hamburg America Line on board.