SS Hamburg Passenger List - 11 July 1935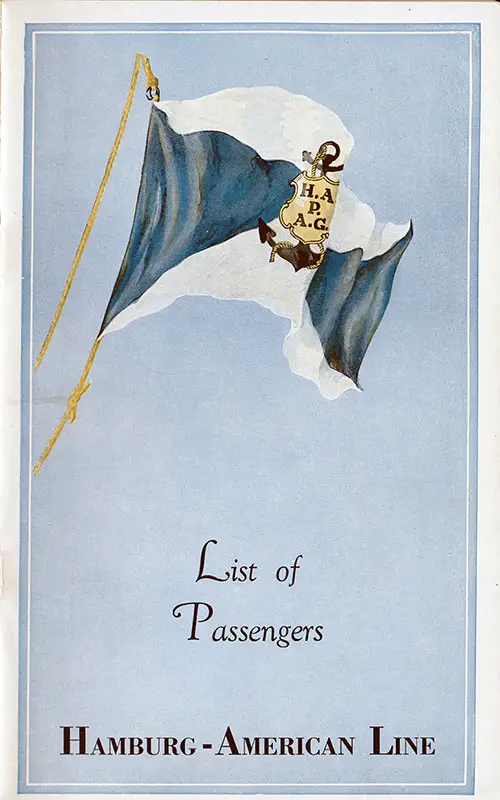 Front Cover of a First, Tourist, and Third Class Passenger List from the SS Hamburg of the Hamburg America Line, Departing Thursday, 11 July 1935 from New York to Hamburg via Cobh, Cherbourg, and Southampton, Commanded by Captain Theodor Koch. GGA Image ID # 1776f484c0
Senior Officers and Staff
Commander: Captain Theodor Koch
First Officer: F. Friske
Second Officer: G. Otto
Second Officer: H. Bartels
Second Officer: K. Blashberg
Third Officer: W. Duborg
Fourth Officer: G. Salecker
Fourth Officer: C. Raulff
First Radio Officer: E. Bading
Second Radio Officer: B. Heiklenborg
Third Radio Officer: W. Plöger
Fourth Radio Officer: F. Höck
Chief Engineer: R. Rix
Second Engineer: R. Schacht
Second Engineer: A. Thöne
Third Engineer: H. Thedhran
Third Engineer: H. Hardewardt
Third Engineer: P. Schelle
Third Engineer: W. Brecht
Third Engineer: K. Weber
Fourth Engineer: H. Tesmer
Fourth Engineer: W. Eikhoff
Fourth Engineer: W. Quell
Fourth Engineer: J. Knudsen
First Electrician: H. Kneller
Moving Picture Operator: E. Ross
First Physician: Dr. H. Kickton
Second Physician: Dr. H. Hennis
Trained Nurse: Hildegard Jonas
Purser: R. Leschper
Second Purser: M. Janssen
Second Purser: W. Bauer
Assistant Purser: G. Wolff
Assistant Purser: H. Schulze
Assistant Purser: F. Meyer
Assistant Purser: H. Kirsten
Baggage Representative: W. Rulfs
Chief Steward, First Class: R. Bunke
Assistant Chief Steward, First Class: J. Martens
Assistant Chief Steward, First Class and Grill Room Chef: M. Feig
Assistant Chief Steward, First Class: R. Nieter
Chief Steward, Tourist Class: H. Möller
Assistant Chief Steward, Tourist Class: E. Schubert
Chief Steward, Third Class: O. Schreiter
Assistant Chief Steward, Third Class: W. Schreid
Chief Cook: E. Diessner
Band Leader: E. Fruth
First Class Passengers
Miss Maria Antonia Aguera y Montoro
Mr. R. H. Bahre
Mrs. Bahre
Mr. Frederick A, Barker
Mrs. Barker
Mrs. Adams Batcheller
Miss Marian Batcheller
Mrs. Julian B. Beaty
Miss Nancy Lee Beaty
Mr. Warren Blatz
Mrs. D. A. Blodgett, II
Mr. Francis Boardman
Mrs. Wm. Bosman
Mr. Marshall S. Brown
Mrs. Brown
Mr. Bernhard Budde
Mrs. Budde
Mr. R, E. Burks
Mrs. Burks
Miss Ellen Butler
Mr. L. H. Paul Chapin
Mrs. Katie Chors
Mr. Werner Chors
Mr. Philip Clover
Mrs. Edward T. Collins
Mr. Paul Collins
Mr. C. W. Cumbers
Mrs. Cumbers
Rev. Cornelius Cuyler
Mrs. E. E. Cuyler
Dr. M. H. Deffenbaugh
Mrs. Deffenbaugh
Mrs. Bertha De Long
Mrs. Martha M. Diem
Mr. Hermann Doehner
Dr. Francis D. Donoghue
Mr. Archibald Douglas
Mrs. Douglas
Miss Leone Evans
Mrs. Edward B. Field
Mr. Paul Frank
Mr, Henry Fry
Mrs. Fry
Miss Nora Garvey
Mrs. Wilbur F. Gordy
Dr. John Greiwe
Mrs. Greiwe
Mrs. Anna Hachman
Miss Elsie D. Hachman
Rev. John Halpin
Mr. Stefan Hancin
Mrs. Hancin
Major Walter Hartmann
Most Rev. Edmund F. Heelan
Prof. Yandell Henderson
Mrs. Henderson
Mrs. Mary E. Henderson
Mr. J. Steven Higham
Mrs. Higham
Mrs. E. G. Jackson
Master Edward C. Jackson
Miss Margaret A. Kenney
Mr, John M. Kingsley
Master John M. Kingsley, Jr.
Mrs. John M. Kingsley
Miss Elizabeth Kingsley
Mr. A. W. Koch
Miss Erna Koch
Dr. George W. Kosmak
Mrs. Kosmak
Mr. P. A. Kruuse
Mr. Hermann Kusserow
Mr. Alexander Le Vino
Mrs. Le Vino
Dr. Christoph Linder
Mrs. A. R. Lucke
Miss Gertrude Maass
Mrs. Flora Magraw
Mr. Gerhard Manser
Mrs. Manser
Mr. Hans J, Manser
Mr. Diethelm Manser
Mr. Sonnhild Manser
Mr. Chas. D. McDurae
Mrs. McDuffie
Mrs. Frank McEwan
Miss Margaret E. McEwan
Mrs. Donald H. McLaughlin
Mr. W. Merton
Mrs. Merton
Mr. Georg Mette
Mr. Alfred Mueller
Mrs. Mueller
Mr. Kenneth Murdock
Mrs. Murdock
Mr. Charles Naegele
Dr. Eugen Nienhaus
Mr. O. G. Norton
Mrs. Norton
Miss Katherine O'Brien
Miss Mary 0'Leary
Dr. Hans J. Orth
Mr. E. S. Pendleton
Mrs. Pendleton
Mr. John Reynolds
Mr. J. De Forest Richards
Mrs. Richards
Miss Marie A. Ringler
Mrs. Chas. H. Rohrbach
Mr. C. E. Roseman
Mrs. Roseman
Mrs. John H. Ross
Miss Salby Ross
Miss Marie A. Ruddy
Mr. Otto Scheffler
Mrs. Scheffler
Mrs. A. E. Schirger
Mr. Walter Schulz
Mrs. Schulz
Miss Bella Scide
Mr. Roger Sherman
Mrs. Sherman
Miss Frances Shirley
Mr. Robert Simon
Mrs. Gretchen Sparenborg
Mr. Raymond Sprague
Mrs. Sprague
Mr. Raymond Sprague, Jr.
Miss Muriel Sprague
Mr. Walter R. Stenger
Mrs. Stenger
Miss Irene H. Stockham
Miss Mabel S. Stockham
Mrs. Gladys Stoll
Miss Marjorie Stoll
Mr. Edward M. Stout
Mrs. Stout
Mr. Brereton Teagle
Mrs. Teagle
Mr. Lawrence Copley Thaw
Mrs. Thaw
Mr. Lawrence Copley Thaw, Jr.
Mr. David M. Thaw
Rev. Edward James Tobin
Dr. Hans Tropsch
Mrs. Tropsch
Mr. Eduardo Ulacia
Mrs. Elena Ruz de Ulacia
Miss H. B. Walsh
Miss Anna Lisa Wassast-Jerna
Mss Margaretha Wassast-Jerna
Miss Lina A. Weber
Miss Mathilde E. Weber
Miss Frances L. Weber
Mr. Sigmund Weiser
Mr. P. Westendorff
Mr. Charles F. Windisch
Mrs. Windisch
Dr. W. Beran Wolf
Mrs. Mathew Wood
Mr. Gunther Wunsch
Mr. Max B. Ziegler
Tourist Passengers
Mr. Leland Allen
Miss Theresa M. Altman
Mr. Hale Anderson, Jr.
Miss Elsie Anton Tweiten
Mr. Hans Antz
Miss Kopic Armaghanian
Mr. George Arroyo
Miss Florence Atkins
Miss Mary Aull
Mr. Tim Banko
Mrs. Katherine Banko
Mr. C. A. G. Barios
Prof. J. L. Barnes
Mrs. Barnes
Mr. Martin Baumann
Mrs. Baumann
Mrs. Lilly Bechtle
Rev. Boniface M. Berger, O.S.M.
Dr. Hans Bethe
Rev. Wilhelm Bethke
Mrs. Bethke
Mr. V. Bezdek
Mrs. Bezdek
Dr. Hugo Bittner
Mrs. Bittner
Mr. Paul Blaess
Rev. J. T. Blackmore
Mrs. Blackmore
Miss Lorna Blackmore
Mrs. E. M. Blackwell
Miss Charlotte Bluhm
Mrs. Emilie Bock
Mrs, Jiilde Bocker
Miss Elizabeth Boeker
Mrs. Erika Boerger
Miss Margarethe Boerger
Mr. Randolph Bolles, Jr.
Mrs. Randolph Bolles
Miss Jeanne Bolles
Sister M. Sophie Bonska
Mrs. Ann Bossert
Mr. Walter Bossert
Miss Elsa Braun
Mrs. S. Brauninger
Miss Mary Bredehorst
Miss Martha Breuer
Mr. T. W. Brown
Mr. J. H. Buchanan
Mr. Carl Buehler
Mrs. Anna Busch
Rev. Finnian Carroll
Mr. John L. Case
Miss Emilie C. Caase
Miss Merz Christann
Mr. Carlos E. Compte
Miss Claire Conley
Mr. P. J. Connaughton
Miss Liddy Mina Conrad
Mr. George W. Cooper
Mrs. Cooper
Miss Anna Cordes
Miss Emma Cordes
Dr. Herman Cramer
Mr. Eric Dannhauser
Mr. Maybury Deady
Miss G. Dean
Brother Ulrich Debets
Miss H. Delachappelle
Mrs. Anna Dinkel-Hoffmann
Mrs. Minnie Ditel
Mr. Hugh Doonan
Miss E. Duncombe
Mr. James Duvaras
Mrs. Olga Duvaras
Master J. Duvaras
Miss Christina Duvaras
Miss Rose Eberhardt
Miss Elisabeth Eitel
Mr. Fred Enders
Miss Paul Faust
Mrs. Agnes Feldhusen
Mrs. Friedericke B. Fischel
Miss Elise Fischer
Miss Mary Flannigan
Miss Alice Foldvery
Rev. Patrick Forde
Miss Margaret Frazier
Mrs. Anna S. Freund
Mr. Werner Freund
Mrs. Margarita Fuchs
Mr. Fred Galm
Mrs. Galm
Mrs. Aloine Gillwald
Mrs. Mary Glacken
Miss Margarethe Gladisch
Rev. John Glesson
Mr. Fred Goctze
Mrs. Emilie Gromoll
Miss Mary Griffin
Mrs. Charles Grube
Mrs. Lina Gruender
Mrs. W. Grund
Mr. Hermann Gruss
Mrs. Gruss
Mr. George Guentherman
Mrs. Guentherman
Mr. Otto S. Gumpich
Mr. Frederick S. Giutekunst
Mrs. Giutekunst
Miss Kathleen Guthrie
Mr. Chris J. Haeberle
Mr. Alexander Ham
Mrs. W. Hamilton
Mrs. Ernest J. Hanford
Miss Molly B. Hanford
Mr. Niles L. Hanley
Mrs. L. M. Hartmann, Jr.
Master L. M. Hartmann
Mrs. M. Hassmann
Mrs. George Hauss
Master George Hauss, Jr.
Miss Charlotte Hauswald
Mrs. Fred M. Hawes
Mr. Paul Hegner
Mrs. Maria Heinen
Mr. Karl Heinen
Mrs. Ida Hellegoard
Mr. D. Hill
Commander R. M. Hinkley
Mrs. Hinkley
Mr. George Hinkley
Miss Marion Hitler
Miss Emilic Hoeger
Mr. Otto Hoheisel
Mrs. Clara Hollander
Mrs. Honneger
Miss Anna Huber
Mr. Otto Huzenlaub
Mrs. Huzenlaub
Mr. Henry Jaeger
Mrs. Jaeger
Miss E. A. Janeway
Mrs. Elby Jany
Miss Lucille Jenkins
Mr. Robert C. Johnson
Miss Mary H. Jones
Miss M. Joyce
Dr. Jung
Mrs. Jung
Miss Marie Jung
Miss Barbara Jung
Mrs. William Kaufmann
Mr. Alfred Keerl
Mr. Walter Keighley
Mrs. Keighley
Miss Frieda Keller
Mrs. Mary Keller
Miss Eleanor Keller
Mr. John Kennedy
Mrs. Kennedy
Josef Freiherr von Ketteler
Mrs. Johanna Kirchem
Miss Gloria Kirchem
Miss Helen Kirchem
Master Theo Kirchem
Mr. Klessel
Mr. J. L. Koch
Miss Tina Koehler
Mrs. Aurel Koenig
Mr. Kaspar Koeniger
Mrs. Hedwig Koester
Miss Gertrude Koester
Miss Margaret Koschub
Miss Priscilla M. Kramer
Mr. Gottfried Krauss
Mrs. Krauss
Mr. Carl Krepper
Miss C. J. Kretz
Prof. Kroitz
Mrs. Kroitz
Prof. Hans Kurath
Mr. Wm. T. Kurth
Miss Marie Lange
Miss Martha Lange
Mr. David Langmuir
Mr. Ernest Laube
Mrs. Laube
Mrs. Carl F. Lauber
Mrs. Hanna Lehner
Mrs. Antonie Leins
Mrs. Richard Leusch
Mrs. Louise Leusch
Miss Rose Leuterstorfer
Mr. Willi Liebelt
Mrs. Liebelt
Mr. Lode
Mr. Hermann Loeper
Mrs. Loeper
Mr. Hermann Lubkemann
Mrs. Lubkemann
Miss Barbara Luisoder
Mrs. Lusby
Mr. Arthur Lust
Miss Kate Lynch
Miss Harriet Lyons
Miss Gertrud Maas
Miss Paula Maenak
Mr. Harold Martin
Mrs. Edda Rennuf v. d. Marwitz
Miss Mary Maxwell
Mrs. Kathcrine McAuliffe
Miss Mildred McDonough
Miss Margaret McGinnis
Mr. Patrick McLoughlin
Mrs. McLoughlin
Master John McLoughlin
Mr. John Meerkamp
Mrs. Meerkamp
Rev. Charles J. Mertens
Mr. Adolf Mesecke
Mr. Fred Meyer
Miss Margarethe Middelthon
Miss Mathilda Misner
Mr. George Missir
Miss Lois E. Mixer
Miss Else Molitor
Mrs. Edna Dutton Moore
Mr. R. W. Morehead
Mr. Fred Moritz
Mr. Ernst Mueller
Miss Marie Mueller
Dr. Werner A. Mueller
Miss Margaret M. Mullany
Mr. John Mulligan
Mrs. Mulligan
Miss Rosa A. Naundorf
Mr. Victor Nielson
Miss Nellie O'Callaghan
Mrs. Mary O'Connell
Mr. Martin P. Ohlman
Mr. Bruno Herreria-Olazabal
Mrs. Herreria-Olazabal
Miss Marie K. Owens
Miss B. Paderova
Miss Elizabeth Palmer
Prof. James Palmer
Mr. Richard Park
Mr. C. L. Patterson
Mrs. Patterson
Miss Martha Pegran
Brother Amsclm Peschel
Mr. Ingemann Petersen
Mr. J. Petersen
Mrs. Liesel Pfeiffer
Mrs. Auguste Pfeiffer
Mrs. Antonie Pfeiffer
Mrs. Anna Piller
Miss Louise Piller
Mrs. A. Pohz
Miss A. Pohz
Mrs. S. Porsche
Mr. F. Porsche
Mrs. R. M. Posgen
Consul Franz Proiszl
Miss Elizabeth Proiszl
Master Nikolaus Proiszl
Mr. J. W. Proudnt
Mr. Julius Puskayler
Miss Eleanor Reardon
Mr. Reichenberger
Mr. Thomas Reiners
Mrs. Reiners
Miss Elizabeth Reinhardt
Miss Mary Renner
Mrs. Stephanie Riedel
Mr. Oswald Riediger
Miss Mariam J. Riggs
Miss Isabelle Rite
Mrs. John Rocco
Miss J. Rossi
Miss Eleanor Ryan
Rev. James S. Ryan
Mr. John J. Ryan
Mrs. Mary P. Ryan
Mrs. Martha Sarandos
Mr. Y. Sasamori
Mrs. Anna Schaubeck
Miss Anna Schaubeck
Master Paul Schaubeck
Mr. J. Schaumberger
Mr. Wm. Schempf
Mrs. Schempf
Mr. Christian Scheurer
Miss Johanna M. Schleimer
Mr. G. Hof Schmeds
Mr. Paul Schmidt
Rev. Dr. Edgar Schmiedler
Miss Giscla Schobert
Mrs. Magda Schubert
Rev. Edward Schuelke
Mr. Albert Schulz
Mr. Theodor Schulze
Mr. H. A. Scidl
Mr. George Semergio
Dr. Bernhard Sengfelder
Miss Ida Sevecke
Mr. T. Shimanura
Mr. K. Shinohara
Mrs. K. Shinohara
Mrs. Paul Sienold
Mrs. A. C. Smith
Mr. Fred Smith
Mrs. Fred Smith
Mrs. Alex Sorensen
Miss Grace Sorensen
Mr. H. Sorensen
Miss Spencer
Mrs. Mary Springsteel
Mr. Rudolf Stadelhoefer
Mrs. Stadelhoefer
Mr. Steiger
Mr. Jack Steinhausen
Mr. W. Steinruck
Miss Elisabeth Stewart
Mrs. Irene Stimm
Mr. Nic Stoffel
Mr. Gustav Stresow
Mr. Alois Susin
Mrs. Susin
Mr. Edmund Teichgraeber
Mrs. Teichgraeber
Mr. John Theivogt
Miss Ellen Tulp
Mr. W. D. Urry
Mrs. Urry
Mrs. Caroline Valenta
Rev. Theodor Vogler
Mrs. Vogler
Mr. Fritz Vogel
Mrs. Vogel
Mrs. Maria Wachsenschwanz
Miss Lena Wagner
Miss Maria Wagner
Mrs. Erna W. Wahrendorff
Miss Winnifred Waid
Rev. C. F. Wallin
Mrs. Wallin
Mrs. Gertrud Walter
Master Richard Walter
Miss F. Warncke
Mr. Austin Warren
Mr. Weber
Miss Katherine Weber
Dr. George Wegener
Mrs. Wegener
Mr. Kurt Wehmann
Mrs. Wehmann
Mr. Hans Weimann
Mrs. Rosie Weimann
Miss Mary Weimann
Master Ronald Weimann
Mr. Frederic J. Wells
Mrs. Luise Wendelstein
Mr. Erich Werdermann
Mrs. Margaret Wernet
Miss Therese Wernet
Miss Minny Wertheimer
Mr. L. H. Wharton
Mr. James J. Wilson
Mrs. Wilson
Miss Mary C. Wilson
Miss Jeanne A. Wilson
Mr. Ernst Windhagen
Mrs. Anna Wyen
Mrs. Hannah Zeilinger
Mrs. M. Ziechmann
Mrs. Katherine Zons
Third Class Passengers
Miss Marie Abele
Dr. Herbert Alber
Mrs. Berta Allscher
Miss Catherine Altmann
Miss Else Amberg
Mrs. Helen Artl
Mr. Jan Babrica
Mr. K. S. Bastin
Miss Anna Bauer
Mr. H. Benifohr
Mrs. Emma Benker
Mr. Hans L. Benthin
Mrs. Benthin
Miss Anne Lore Benthin
Mr. Anton Biringer
Mrs. Barbara Bock
Mrs. Emma A. Bolenz
Master Waltraud Bolenz
Miss Pauline L. Bordt
Mr. Karl Brandstater
Miss Dora Breiltgens
Mrs. Wally Brent
Mrs. Marie Briedl
Mr. Karl W. Buchler
Mr. Henry Burfeindt
Mr. Markus Burkard
Mrs. Hedwig Burkard
Mr. Thomas R. Butler
Mrs. Hilde Carl
Master Karl Carl
Miss Lizzie Cawley
Mr. Jan Cipala
Mrs. Johanne Coizon
Miss Johanna F. Coizon
Miss Kate Mary Connelly
Mr. Patrick Cox
Mrs. Cox and child
Mr. Joseph Dachs
Mrs. Dachs
Master Dachs
Mr. Julius Dachnel
Mrs. Dachnel
Mr. Hermann Dahl
Mr. P. S. Darlington, Jr.
Mr. Max Demmler
Mrs. Elsie Dicktner
Mrs. Anne Diedentop
Miss Liselotte Diedentop
Mr. Willie H. Dierig
Mrs. Dierig
Mrs. Emma Dorff
Mr. Guenther Driedrich
Miss Charlotte Duerkop
Mr. William Dwyer
Miss Hildc Eberitzch
Mrs. Babette Eichhorn
Mrs. Charles Eimer
Mr. August Ellenrieder
Mr. Adolf Engel
Miss Karoline Engelbrecht
Mr. Michael Engler
Miss Edith Erdmann
Miss Hclma Esmarch
Mrs. Pauline Fidrich
Miss Charlotte Fidrich
Mrs. Elise Fietsch
Mr. Henry Fischer
Miss Emma Frank
Mr. Walter Frind
Mr. Carl Fritz
Mr. Kurt Fuss
Mrs. Fuss
Mr. Adolf Gietz
Mrs. Frieda Girrbach
Mr. Ludwig K. Glaser
Mr. Heinrich Graehlert
Mrs. Elise Graehlert
Mrs. Anna Greiner
Miss Hermine Gross
Mr. John Haeusser
Mrs. Philippine Haeusser
Miss Mary Haeusser
Mrs. Hacvz
Miss Isabella Hagen
Mrs. Ida Hahn
Mrs. Marie Halenke
Master Helmut Halenke
Mr. Martin Haller
Mrs. Haller
Miss Haller
Mrs. Johanna Hansen
Miss Phyllis Hansen
Mrs. Louise Hansen
Mrs. Ethel Hare
Miss Marie Harmisch
Mrs. Ida Hartmann
Mr. Peter Hatterscheid
Mrs. Frieda Hatterscheid
Miss Margaret Hatterscheid
Mr. Bruno Hattwig
Miss Marie Haumcier
Miss Johanna Hausen
Mr. Henry Heine
Mrs. Heine
Mr. David Heinlein
Prof. J. P. Heironimus
Mr. Peter Hermann
Mr. Hein Heuer
Miss Johanna Heutrich
Miss Mary Hibler
Mrs. Auguste Hinsch
Master Johann Hinsch
Master Willy Hinsch
Mr. Willy Hoffmann
Mrs. Johanna Hoffmann
Miss Margarete Hoffmann
Mr. Thomas Horgan
Mr. Lester C. Houck
Miss Mildred Hough
Mr. Mike Hrehovcik
Miss Mary Huttenlochner
Mrs. Auguste Jacobs
Mr. Hugo Jaeckel
Mrs. Jaeckel
Mr. Paul Jausch
Miss Elisabeth Jordan
Mr. Jule
Mr. Philo Junghans
Mr. Henry Karl
Mrs. Magdalena Karl
Miss Magdalena Karl
Master Konrad Karl
Mrs. Kayser
Mr. John Kempf
Mrs. Kempf
Mr. Martin Kenny
Miss Maria Kerner
Miss Katherine Kich
Mrs. Frances Klawitter
Miss H. Kleffel
Mr. Albert Knipping
Mr. Henry Koch
Mr. Hermann Koch
Mrs. Margarethe Koch
Master Gerd Koch
Miss Eleanore Kohl
Mrs. Kohl
Master John Kohl
Miss Marie Kohl
Mrs. Anna Koller
Mr. Simon Kopfhammer
Mr. William G. Kovalik
Mr. Wilhelm Kraemer
Mrs. Kraemer
Miss Audry Krauss
Mr. Siegfried Krauss
Mrs. Martha Kretzschmar
Mrs. Mary Krivas
Miss Dora Kroeger
Mrs. Bridget Kroeneke
Miss Dora Kummernun
Mr. R. M. Kutz
Mr. Ladwein
Mrs. Ladwein
Mr. James Lehane
Mrs. Lehane
Miss Elise Lembke
Rev. Alex Leonhardi
Mr. Bruno Lewandowski
Mrs. Else Lewandowski
Master Lothar Lewandowski
Mrs. Edith Locher
Mr. Edward R. Loeffler
Mrs. Elizabeth Loeffler
Mr. Justus Luchrs
Miss Hedwig Mader
Miss Winifred McMurren
Mr. George Meier
Mrs. Elsie Meissner and child
Miss Mary H. Merrian
Miss Lovell van Meter
Mrs. Johanna Mewing
Master Edward Mewing
Miss Gladys Mewing
Mrs. Ella Michaelis
Mr. Peter Miniter
Mr. Michael Miniter
Mrs. Miniter and child
Mrs. Marie Mueller
Miss Ruth Mueller
Miss Rosemarie Mueller
Mr. Robert Mueller
Mrs. Johanne Mumm
Mr. Vasil Negrich
Miss Hanora Neill
Mr. William Nelius
Mrs. Auguste Neubauer
Miss Elni Nilsen
Mrs. Elly Nitsch
Mr. Walter Noack
Mrs. Noack and child
Miss Thyra Nygren
Miss Loraine O'Bannon
Miss Julia O'Brien
Mr. Carl Offenderlein
Miss Eleanor Offenderlein
Mr. Edward Ohnesorge
Mrs. Magdalena Ohnesorge
Mr. Istvan Orszagh
Miss Josephine Pasck
Miss Margaret Peters
Mr. Karl Pettay
Mrs. Elizabeth Pettay
Master Kare Pettay
Miss Bridget Phelan
Mr. John Piskla
Mrs. Anna Piskla
Mrs. Erika M. Pruin
Miss Erika Pruin
Mr. Thomas Purcell
Miss Ellen Quinn
Mrs. Alma Raave
Mr. Hermann Rath
Master Rath
Mr. Karl Reck
Mrs. Emma Reck
Mrs. William Regenold
Master William Regenold
Mrs. Katherine Reibel
Miss Reibel
Mr. Carl Renner
Mr. Karl Rest
Mrs. Johanna Reyers and infant
Miss Margarete Richardson
Mr. Frank Rintje
Miss Margareta Rintye
Miss Johanna Roeckert
Mrs. Wanda Rogge
Master Bernard Rogge
Mr. Hans Rossmann
Mrs. Rossmann
Mr. Rothenhauser
Mrs. Rothenhauser
Mrs. Wally Rottmeyer
Mr. Henry B. Ruckhardt
Mrs. Ruckhardt
Mrs. Agnes Samo
Miss Betty Schatz
Mr. W. F. Schaufelberger
Mrs. Katharine Schaufelberger
Miss Anita Schiffer
Miss Doris Schiffer
Master Herbert Schiffer
Mr. Ernst Schilling
Mrs. Schilling
Mrs. Maria Schlatter
Mrs. Ida Schleicher
Mr. Frank E. Schlemeier
Miss Babcttc Schmidt
Mrs. Betty Schmidt
Miss Eleanore Schmidt
Mrs. Lina A. Schmidt
Miss Mary Schmidt
Mr. Thomas Schmidt
Mrs. Maria Schmitz
Dr. Hildegard Scholtz
Mr. Peter Schultz
Miss Johanna Schwarz
Mr. Robert Schweizer
Mrs. Emilie Schweizer
Mr. Fritz Seidel
Mrs. Ella Seidel
Master Herbert Seidel
Mrs. Anne Shea
Mrs. Hedwig Siegel
Miss Mary E. Siegel
Mr. Emil Sigg
Mrs. M. Smrkovska
Mr. John Soell
Mrs. Hedwig Soell
Mr. Richard Soell
Mr. Hugo Spiecker
Mr. Waldcmar Spitzbart
Miss Hermine Sporer
Mr. Anton Stachl
Mrs. Stachl
Mr. John Standtke
Mr. Hans Stechel
Mrs. Stechel and children
Mrs. Margarethe Steck
Master Lawrence Steck
Dr. A. H. Steinhaus
Mrs. Steinhaus
Mr. Charles W. Stipck
Mr. Heinrich Strunk
Mrs. Gertrude Stubner
Master Walter Stubner
Mrs. Catherine Sullivan
Miss Julia A. Sullivan
Mr. Dan Sullivan
Mrs. Gertrud Thun
Mr. Daniel Treacey
Mr. Francis J. Treanor
Miss Anna Tutewohl
Mr. Karl F. Untermann
Mr. Otto Voges
Mrs. Margaret Voss
Mrs. Wilhelmine Wagner
Mrs. Emma Waldeck
Miss Catherine Walleri
Mr. David Walsh
Mr. Henry P. Ward
Mrs. Anna Warda
Mrs. Flora Weber
Miss Louise Weber
Miss Helen Weeber
Mr. Ferdinand von Weymann
Mr. Rudolf Wicklein
Mrs. Wicklein
Mrs. Ida Wiegand
Mrs. Sophie Winkler
Miss Rosa Winterhalter
Mrs. Katherine Wist
Master Edwin Wist
Mr. Paul Gerhard Witte
Mr. Witz
Mrs. Gertrud Woelk
Miss Christine Woelk
Miss Ursula Woelk
Miss Erna Woelk
Mr. Hermann Worch
Mr. William Woybe
Mrs. Hedwig Woybt
Mr. Johannes Wrobel
Mrs. Pauline Wull
Mr. Willy Wurster
Mrs. Wurster
Mrs. M. A. Zellers
Mr. Frank J. Zemann
Mrs. Zemann
Mrs. Marga Zinser
Mr. Eduard Zoeller
Mrs. Zoeller
Master Eduard Zoeller
Master Gerhard Zoeller
Information for Passengers
SAFETY DEVICES
Lifebelts ready for use, wiil be found at the head of the beds in the staterooms. They are put on like a coat or a vest and tied securely in front at the neck and around the waist.
The signal for the passengers is seven short and one long blast of the whistle, and when this signal is sounded passengers should immediately go to the assigned meeting places, the location of which will be announced on the bulletin boards aboard the vessel.
The room stewards, under the direction of the officer in charge, will conduct the passengers from these meeting places to the lifeboats.