SS Pennsylvania Passenger List - 21 June 1902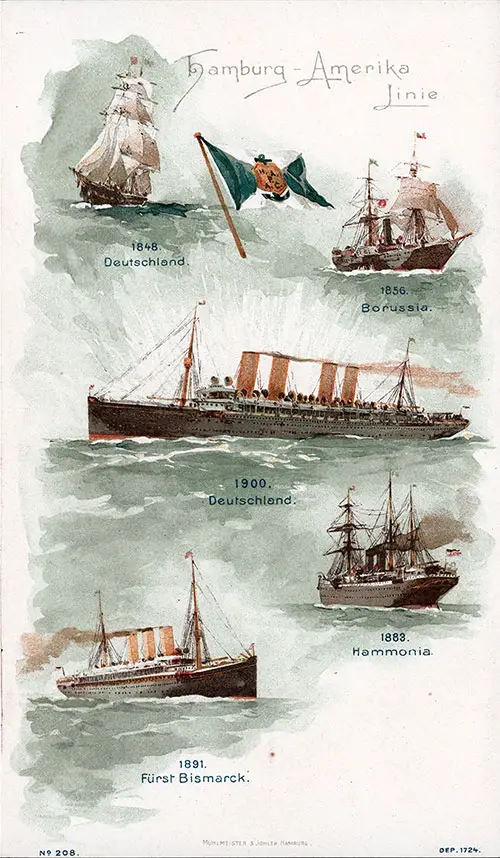 Front Cover of a First and Second Cabin Passenger List for the SS Pennsylvania of the Hamburg America Line, Departing 21 June 1902 from Hamburg to New York via Boulogne-sur-Mer and Plymouth, Commanded by Captain H. Spliedt. GGA Image ID # 17811eecf8
List of Senior Offcers and Staff
Commander: Captain H. Spliedt
First Officer : Th. Kier
Second Officer : J. Wecker
Second Officer : W. Hennecke
Third Officer : C. Profiihr
Fourth Officer : W. Mellini
Chief Engineer: R. Bernhardt
Second Engineer : W. Kiliwer
Third Engineer : L. Edelmann
Fourth Engineer : W. Utecht
Fourth Engineer : F. Jourdan
Fourth Engineer : A. Kaak
Physician : Dr. Heberlein
Purser: A. Freydanek
Assistant Purser : R. Toepel
First Chief Steward : R. Markmann
Second Chief Steward : C. Petersen
Assistant Chief Steward : A. Ellenberg
Assistant Chief Steward : R. Lemcke
Head Chef : F. Winter
First Cabin Passengers
Mr. Wm. Adler
Mr. Robert Adler
Miss S. Acker
Mrs. J. G. Beadle
Alice Beadle
Miss Rosa Baumgarten
Mr. Emil Bittrolff
Mrs. Emil Bittrolff
Miss C. Bittrolff
Miss L. Bittrolff
Mr. Federico Beyer
Mrs. W. J. Chalmers
Miss W. J. Chalmers
Miss Christian
Mr. N. C. Cushing
Mr. F. Edwin
Mrs. F. Edwin
Mr. Chas. E. Emery
Mr. Max Eisenthal
Mrs. Caroline Fihe
Dr. Clement C. Fihe
Mr. Chas. Givernand
Mrs. Chas. Givernand
Mr. Louis Givernand
Mr. Martin Guhl
Mr. Rud. Gortz
Miss Lisa Gonulski
Miss Hansen
Mrs. W. E. Hamilton
Miss Anna von Heyderstâdt
Mr. C. O. Hoyt
Mrs. C. 0 Hoyt
Miss Lucile Hoyt
Mr. Walter Hoyt
Miss J. Hawkes
Mr. Chas. D. Hahn
Miss Pauline von Heyderstâdt
Mr. Elias Jout
Miss Anita Kelly
Mr. Walter Kraeft
Mr. P. J. Klapperich
Mr. F. J. Mapperich
Miss Lila Lowell
Miss Ellen Bowen Logan
Mrs. Marie du Mont
Miss Claire du Mont
Mrs. J. E. Montgomery
Mrs. Jacob Meyer
Miss Osborne Mr. G. Oppenheimer
Mr. Ernst Paulsen
Mrs. Helene Paulsen
Fritz Paulsen
Miss Elise Paulsen
Anita Paulsen
Helene Paulsen
Henriette Paulsen
Mr. W. C. Pope
Mrs. W. C. Pope
Mr. Louis M. Rice
Mrs. Louis M. Rice
Mr. A. J. Torrilhou
Mr. Chr. Torsleff
Mr. Underhill
Mrs. General-Konsul O. M. Vogler
Mr. General-Konsul Albert Véler
Mr. Wilhelm Voigt
Mr. Norman Williams Jr.
Mr. Johs. Weber
Mrs. Johs. Weber
Miss Elsa Wicht
Mr. Otto Wiese
Miss Flora Wilber
Miss Marion W. Williams
Second Cabin Passengers
Mrs. Christine April
Mrs. Lina Burkard
Miss Catharine Baumgartner
Mrs. Franzisea Briegel
Mrs. Lea Blum
Miss Magda Bonnichson
Miss Antonia Bonnichson
Miss Auguste Berger
Miss D. Borooh
Miss R. Borooh
Sore Borooh
Noch Borooh
Arcadia Borooh
Esther Borooh
Mr. M. Borook
Mr. M. Czugler
Mr. Paul Demuth
Mrs. Magdalene Dreessen
Miss Dorothea Dreessen
Joh. Dreessen
Mrs. Chas. Dahnhart
Mr. Willy F. Dickert
Mr. Alois Dedter
Mr. S. Dagner
Mrs. S. Diigner
Mr. Jacob Dworecki
Mr. E. Drozdowski
Mr. D. Dzewenischky
Mr. J. Dzewenischky
Mr. Paul Epping
Mr. Wilh. Eberhard
Mr. E. Ehrlich
Mr. Albert Fischer
Mrs. M. Fre dricksen
Mrs. G. Fowler
Mrs. Fritzsche and Child
Miss Ludwina Fitterer
Mr. A. Fink
Mr. G. Gohner
Mr. Jos. Gutmann
Mr. Fritz Goschel
Mrs. Guff and Child
Mr. Kapt. Herm. Game
Mr. Otto Gross
Miss K. Gauck
Mr. E. Guam
Mr. J. Galantzky
Miss Ella Heise
Mr. Rich. E. Helbig
Mrs. Rich. E Helbig
Mr. Alfons Heber
Mr. Herm. Hotop
Miss Magdalena Hasselfeldt
Mr. Henry Haxo
Mrs. Hannah Jeckel
Mrs. Laura Jacobsen and Child
Mr. Carl Krebs
Mr. Heinr. Kirschner
Mr. W. H. Klump
Mr. Johann von Kampton
Johann von Kampton
Ella von Kampton
Mrs. Hulda Auguste von Kampton
Miss M. Kiechler
Mr. E. Kuhtz
Miss M. Koch
Mrs. Dora Licht
Miss Ella Lehmann
Miss Ida Leniartek
Mrs. Elise Lohr
Mr. A. Mandel
Mr. E. H. H. Muns
Mrs. Anna Miinzenberg
Mrs. Auguste Moebius
Miss Clara Moebius
Mr. Henry Meyer
Mrs. Henry Meyer
Mrs. Auguste Mock
Miss Zeline Mock
Mr. Frank P. Miller
Mrs. Frank P. Miller
Mr. Leon Miropolsky
Mrs. Sophie Miropolsky and Child
Mr. Max Miropolsky
Mrs. Maria Martinkus
Mr. Jonas Morgenstern
Mr. A. Markow
Mr. A. A. Mata
Mrs. Pauline Naehrlich
Mrs. Anna K. Nauer
Mrs. K. Oelerich and Child
Mr. Hans E. Petersen
Miss Anna Plank
Mrs. A. Pabst
Mr. Joh. Petersen
Mr. A. Plonnis
Miss Johanna Riihse
Mrs. Emma Rossberg
Miss Lina Rossberg
Mr. Louis Rickheimer
Mrs. Fr. Rohrbach
Mr. Alfred Seeler
Miss Anna Spörl
Mr. Val. Stenger
Miss Cecilia Simon
Miss Ernestina Solomonesen
Mr. Paul Schmidt
Mr. Gustav Spohr
Mrs. Gustav Spohr
Mrs. Theod. Schmitz
Mr. S. Schneider
Mr. Aba Schamesch
Mrs. Aba Schamesch
Benjamin Schamesch
Mr. A. H. Steebar
Mr. Otto Schauderna
Miss Martha Soost
Mr. J. Seligmann
Mr. A. Silbermann
Mr. R. Schwan
Mr. Rich. Vogel
Mrs. M. Vormelker
A. Vormelker
Mr. Martin Woltje
Mr. Heinr. Wulf
Mrs. Heinr. Wulf
Mrs. Anna Wittenberg
Mr. Carl Wiemann
Mrs. Augusta Walposki
Mrs. Ludowika Wisnisewska
Mrs. Bernh. Walther
Mr. Carl Wimmer
Mr. Paul Wistuba
Mr. Franz Walaitis
Mr. Kasimir Zapalowski
Miss Kasimira Zalewska
Mrs. Anna Zeidler
To Boulogne: First Cabin.
Mr. Rud. Hoffmann
Mrs. Rud. Hoffmann
Mrs. Mistarlet
To Plymouth: Fist Cabin.
Miss Urzula Eccler
FAiulein Bertha Eccler
Miss Patricia Eccler
Mr. Paul Gunther
To Plymouth: Second Cabin
Mr. W. H. E. Osten
Mr. Ch. Thygesen
Mr. A. Becker
Mr. Franz Ropke
Mr. Herm. Müller
Information for Passengers:
Meals. Breakfast is served from 8 to 10 am., lunch at 12 noon., dinner at 6 pm. and tea at 9:00 pm A bell will be rung 15 minutes before each meal, and a second signal will be given at the beginning of the meal.
Promenade deck. Steamer Chairs belonging to the Ocean Comfort Company can be rented for use on the voyage, at a charge of one dollar, upon application to the Deck Steward,
Stewards. The Stewards have strict instructions to attend to the wants of Passengers in a prompt and courteous mapper. Passengers are requested to bring any inattention to the notice of the Chief Steward, and if the complaint made is not promptly investigated, to report it to the Captain.
Baggage. As only small pieces of baggage can be taken into the cabins all large pieces will be stored in the hold. In good weather access may be had to the hold and Passengers desirous of getting at their large baggage should apply to their Room Steward.
Hot or Cold Baths. A number of comfortable bathrooms are provided aboard. The Bathroom Steward or Stewardess will attend to the bath upon the passenger's request. No charge is made for baths. The water used is sea-water.
Smoking Saloon. Smoking is allowed only on deck and in the Smoking Room; it is positively prohibited in the cabins and below deck. Lights in the Smoking Room are extinguished at midnight.
Valuables. The Company is not responsible for theft if valuables are kept in the staterooms. A safe is provided in the office of the Purser, to whom money, jewelry, etc., may be handed for safe-keeping, but without guaranty of the Company.
Surgeon and Apothecary. An experienced Physician is attached to every steamer. For medical attendance in cases of sickness no charge is made; medicines also are provided free of charge.
The Barber is entitled to charge for his services according to the tariff fixed by the Company.
Library. The books in the library, which may be obtained upon application to the Library Steward, are at the disposal of Passengers, free of charge. A catalogue of the German, English and French books in the ship's library can be had from the Library Steward.
Writing Paper, Envelopes and Telegraph Forms will be supplied by the Saloon Steward.
Foreign Money. The Purser is prepared to exchange foreign money.