SS Albert Ballin Passenger List - 6 July 1927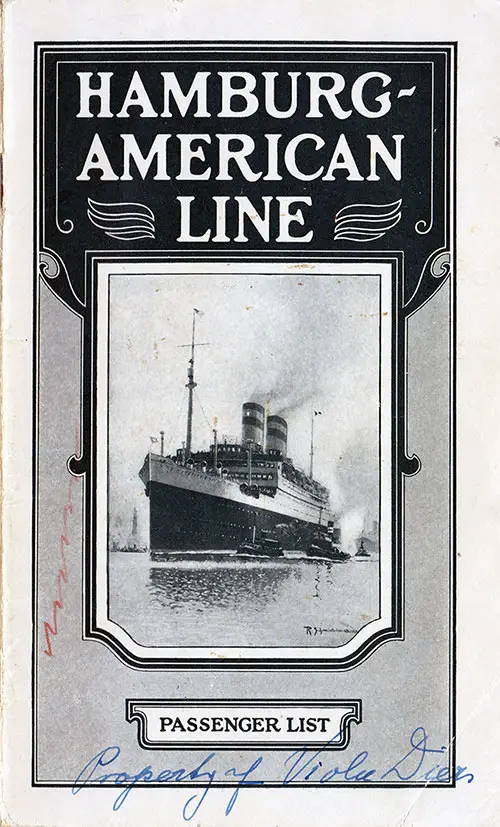 Front Cover of a Third Class Passenger List for the SS Albert Ballin of the Hamburg America Line, Departing 6 July 1927 from New York to Hamburg via Cherbourg and Southampton, Commanded by Captain Paul Wiehr. GGA Image ID # 176bc331d0
This voyage probably was remarkable for the original owner of this passenger list who produced a mini-yearbook of the journey including an autographed photograph of the Chief Steward, Third Class, Mr. A. Groß. The passenger list had four pictures of various areas of Albert Ballin's Third Class. This is how to turn a souvenir into a memory. The Third Class doesn't get any better than this!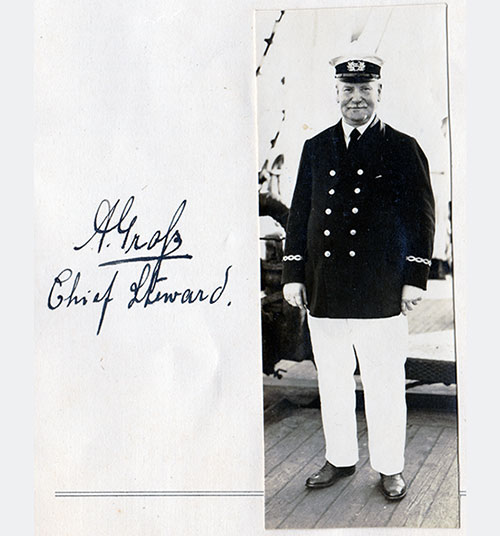 Chief Steward, Third Class, A. Gross. GGA Image ID # 176bd7445b
Senior Officers and Staff
Captain: Paul Wiehr, Commander
1st Officer: R. Blume
2nd Officer: G. Schröder
2nd Officer: C. Krebs
2nd Officer: W. Glahn
3rd Officer: F. Römer
4th Officer: K. Ludwig
4th Officer: K. Stieglmayr
1st Radio Officer: A. Hegemann
2nd Radio Officer: H. Form
3rd Radio Officer: E. Toppke
4th Radio Officer: O. Steffan
Chief Engineer: M. Schmidt
2nd Engineer: B. Wüpper
3rd Engineer: W. Körner
3rd Engineer: O. Müller
3rd Engineer: H. Boye
4th Engineer: H. Schön
4th Engineer: H. Klintworth
4th Engineer: W. Johr
4th Engineer: A. Degener
1st Electrician: P. Lass
2nd Electrician: K. Müller
Moiling Picture Operator: L. Sturzwage
1st Physician: Dr. K. Koch
2nd Physician: Dr. F. Meyer
Trained Nurse: Anna Hammer
Purser: K. Zeplien
2nd Purser: A. Gisy
2nd Purser: A. Von Weely
Asst. Purser: G. Seler
Asst. Purser: K. Packendorff
Baggage Representative: Th. Hartmann
Chief Steward, 1st Cabin: R. Markmann
Asst. Chief Steward: J. Kölln
2nd Chief Steward: H. Hausmann
Grill Room Chef: W. Dicht
Chief Steward, 2nd Cabin: H. Bauer
Asst. Chief Steward: W. Kleemann
Chief Steward, 3rd Class: A. Gross
Asst. Chief Steward, 3rd Class: P. Cordts
Chief Cook: R. Hesse
Orchestra Leader: O. Engel
Band Leader: W. Stahlkopf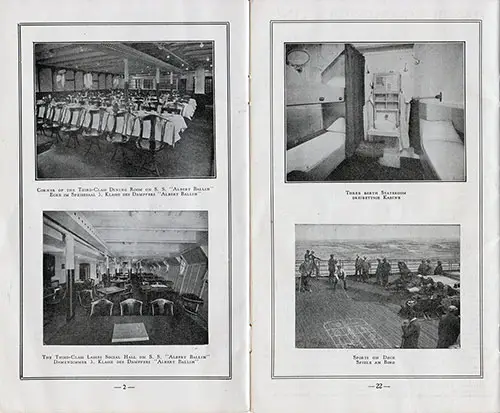 Scenes of the Third Class on S. S. "Albert Ballin'' circa 1926. GGA Image ID # 176c10a4f7
Third Class Passengers
Mr. Paul Abel
Mrs. Emma Abel
Mrs. Anna Amberge
Master George Amberge
Mr. Frank Amend
Mr. Rintao Aoki
Dr. W. T. Armstrong
Mrs. Anna Asperger
Miss Gertrude Barth
Miss Emma Bastert
Mr. William Bauer
Mrs. Maria Bauerlein
Mr. Herbert Becker
Mrs. Augusta W. Becker
Mrs. F. A. Becker
Mr. Josef Behrend
Mr. Albert Beissmann
Mrs. Victoria Belunas
Mr. Jacob Bertscb
Mr. Paul C. Bibbs
Mrs. M. Bitterly
Mr. Max Blankenstein
Miss Margarete A. Bligh
Mr. Theodore Block
Mrs. Emma Blocker
Mr. Robert Blum
Mrs. Julia Blum
Mr. Robert Blum, Jr.
Miss Clara Breiholdt
Mr. John Breines
Mrs. Anna Breines
Miss Frances Breines
Miss Gladys Breines
Mrs. Antonie Breuer
Master Bernhard Breuer
Mr. Fred Brooks
Mrs. Fred Brooks
Mr. Edward Brown
Mr. Viktor Cavoj
Mrs. Viktor Cavoj
Master Anton Cavoj
Mrs. J. Decker
Rev. Adolf H. Diers
Mrs. Adolf H. Diers
Mrs. George Doering
Miss Edeltraut Doering
Miss Marcella Doering
Miss Rosa Marie Doering
Miss Marie Doherty
Mrs. E. Dorfei
Mr. Fred Dreschermeier
Mrs. Katie Dreschermeier
Miss Margarethe Eckhardt
Miss Magda Eckhardt
Mr. Emil Egeling
Miss Ida Eggers
Miss Ella Ehrich
Mr. William Enke
Mr. Nasser Ensha
Mr. Jacob Epstein
Mrs. Jacob Epstein
Mrs. Elfriede Erhart and child
Mrs. Lizzie Fauth
Miss Elizabeth Fauth
Mr. Friedrich Fehrmann
Mr. William Feil
Mr. Charles Fero
Mrs. Charles Fero
Mr. Gustav Finke
Mr. Carl Fischer
Miss Anna Fischer
Miss Margarethe Fischer
Mr. Paul Flaeschel
Miss Franziska Franz
Mr. Jacob Fried
Miss Perl Fried
Mrs. E. Fruehwein
Miss E. Fruehwein
Mr. Frank Führer
Mr. Jacob Furnweger
Mr. Emil Gebhardt
Mrs. Emil Gebhardt
Miss Hedwig Gebhardt
Mr. Fridolin Gehlert
Mrs. Martha Gehlert
Mrs. Minna Gehlert
Miss Erna Gehlert
Mr. Frank A. Gemple
Miss Emma Giese
Miss Katherine Gillich
Dr. John J. Ginsberg
Mrs. Ruth Ginsberg
Mr. Charles Gliewe
Mr. Hans Golle
Mr. Heinrich Gramkow
Mr. Hans Gropp
Mrs. Hans Gropp
Mr. Charles Grueneisen
Mr. Anthony Grueneisen
Miss Rosa Gruenwald
Miss Erna Guderian
Miss Else Gussenstetter
Mr. Paul Hachnel
Mr. Isidor Hamann
Mr. Otto Hannemann
Mrs. Otto Hannemann
Mr. Reinhard Hansen
Mr. Dietrich H. Harms
Mrs. Dietrich H. Harms
Mr. John Harold
Mrs. Bertha Harold
Mr. Henry Hauenstein
Mrs. Katharine Hauenstein
Mr. Josef Hauer
Mr. Edwin Hausier
Mrs. Emil Hecht
Miss Else Hermann
Miss A. E. Hinchliffe
Miss Emma Hinrich
Miss Anna Hollander
Miss Leonore Holzhäuser
Mr. August Hornef
Mrs. Mary Horvath
Miss Helen Horvath
Mr. Andrew Hosner
Mr. Henry Hoss
Mrs. Anna Hoss
Miss Victoria Huber
Mrs. Frieda Huettner
Master Adolph Huettner
Mr. William Jabusch
Miss Recha Jacobs
Mr. Fred Jaenisch
Miss Cecilia Jannen
Mrs. Eva Jobb
Miss Martha Jobczyk
Mrs. Louise Jordan
Miss Margaret Kahrs
Mr. S. Kalb
Mrs. Helene Kandzia
Mrs. Margaret Kern
Mr. William Killian
Miss Louise Kladde
Mr. John Kleinert
Mr. Herman Kluge
Mr. Franz Knab
Mrs. Franz Knab
Miss Irma Koch
Mr. Adolf Koener
Mr. Steven Kolmanko
Mrs. Maria Kolmanko
Mr. John Krause
Mr. Paul Krause
Mrs. Elizabeth Kremers
Mrs. Ida Kroll and children
Mrs. Minna Krueger
Mr. Emil Kuhn
Mr. Frank Kunz
Miss Lina Laemmel
Mr. Mike Lapsansky
Miss Mary Legleiter
Miss Emma Lentfer
Mr. August Lenz
Mr. Fritz Lieberwirth
Mrs. Mary Lindner
Mrs. Therese Loos
Miss Mary Luchau
Miss Elsie Luschau
Mr. Ernst R. Madler
Mr. Hirsch Magilnitzky
Mr. Dave Marcus
Miss Maria Marosch
Mr. Ludwig Mebler
Mr. Karl Meier
Miss Augusta Melsch
Mrs. Bertha Merner
Mrs. Jennie Meyer
Mr. John F. Miller
Miss Anna Mueller
Mr. Martin Muenzer
Mrs. Emily Muenzer
Master Thomas Muenzer
Mr. Emil Munger
Mrs. Fanny Munger
Miss Josephine Ness
Mr. Montasser Nosrat
Mrs. Anna Oldag
Miss Jenny Oldag
Mr. Ernst Ordoy
Mr. Ernest Paul
Mrs. Katharine Paulsen
Miss Grete Paulus
Mr. Paul J. Pinck
Mrs. Mina Pohla
Master Richard Pohla
Miss Elsa Pohla
Miss Mary Pohland
Mr. Wilhelm Rabe
Mrs. Helene Reimers
Miss Senta Reimers
Miss Ida Reinhardt
Mr. Carl Reiss
Mr. Ludolph Reiss
Mr. Yochim P. A. Rethmann
Mrs. Auguste Riemer
Mrs. Alma Roherer
Mrs. Anna Roppelt
Mrs. Katherine Roth and son
Mr. Nicholas Roth
Mr. Nicholas M. Roth
Mr. Franz Rueb
Miss Anna Ruecker
Mrs. Pepi Samuel
Mrs. Karoline Sandau
Miss Margaret Sandau
Miss Gertrud Sandau
Mrs. Dorothea Sandau
Miss Grete Sandleben
Mr. Joseph Schaeffer
Mrs. Barbara Schaeffer
Miss Frances Schaeffer
Master Joseph Schaeffer
Miss Anna Schaeffer
Miss A. Schaffer
Mr. John Scheuermann
Mrs. Theresia Scheuermann
Mr. Gottlob Schick
Mrs. Elizabeth Schlichting
Miss Marie Schlichting
Master Richard Schlichting
Miss Charlotte Schlums
Mr. Erich Schlüter
Mrs. Gertrud Schmeichel
Mrs. Amelia Schmid
Mr. Adolf Schmidt
Miss A. Schmidt
Mr. Eugen Schmidt
Miss Elizabeth Schmidt
Mr. Fred Schmidt
Mr. Henry Schmitt
Mr. Kurt Schnalke
Mr. Herman Schneider
Mr. Richard Schneider
Mrs. Olga Schneider
Mr. Schneider
Mrs. Schneider
Mrs. A. Schnitzler
Miss Katrin Schoen
Mr. Eduard Schroeder
Dr. Erich W. Schroetter
Mrs. Arthur F. Schubring
Mr. Theodor Schult
Mrs. Frieda Schulz
Mr. Andrew Seawick
Mr. Paul Seifert
Mrs. Paul Seifert
Mrs. Hildegard Siebert
Mr. Hermann Siemers
Mrs. Taube Sigel
Mrs. Amalie Sitz
Master Raymond Sitz
Master Clifford Sitz
Mr. Sam Somesan
Mrs. Sam Somesan and children
Mr. Jacob Sonderling
Mrs. Emma Sonderling
Master Hans Sonderling
Mr. Martin Spornraft
Mr. Louis Stange
Mrs. Mathilde Steiger
Mrs. Ida Stoll
Mrs. Anna Straky
Mr. Paul Szabo
Mrs. Rosalie Tabbert
Master Henry Tabbert
Miss Emmy Tabbert
Mr. Frederick Trinks
Mrs. Emma Trinks
Mr. Paul Tschampke
Mr. John Unrau
Mr. Erich Ventur
Miss Elfrieda Vis
Mr. Paul Voigtland
Mr. Henry Wagner
Mrs. Henry Wagner
Mrs. Amelia Wagner
Mr. Paul Walther
Mrs. Paul Walther
Mrs. Hildegard Walther
Master Paul Walther
Mr. Louis Weber
Mrs. Lilly Weber
Mr. Ludwig Weiss
Mrs. Ludwig Weiss
Mr. Martin Weiss
Mr. John Wichner
Mrs. Agnes Wichner
Miss Theresia Wichner
Miss Elsie Wichner
Mr. Joseph Wieder
Miss Mary Wieder
Mrs. Estelle G. Winant
Miss Chr. Wukics
Mrs. Olga Yache
Mr. Karl Yung
Mr. Frank Zazbec
Mrs. Katharine Zettel
Mr. Albert Zimmermann
Miss Elisabeth Zummallen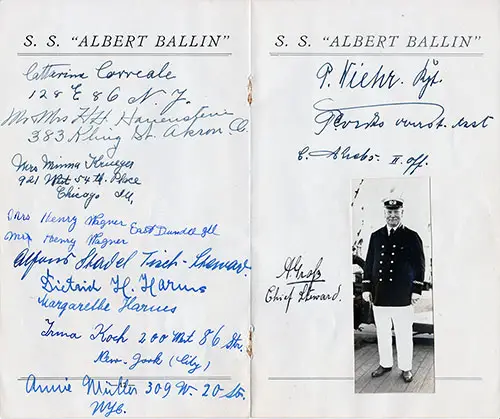 Centerfold Containing Autographs Collected During Voyage of the Albert Ballin, 6 July 1927. GGA Image ID # 176c6ae08e
TWIN SCREW OIL BURNING STEAMER "ALBERT BALLIN"
21,000 GTons Gross 626 Feet Long 79 Feet Wide
Equipped with wireless and submarine Bell Signal apparatus.

Capacity 21,000 gross reg. tons : Length 626 ft : Beam 79 ft : Depth 56 ft. Builders: Messrs. Blohm & Voss, of Hamburg (1923)
Abert Ballin, after whom the vessel has been named, was born in C-/X Hamburg on August 15, 1857. After finishing his education, he entered his father's business—Morris 6? Co.—at the age of seventeen, and in 1877 became the head of the firm. The firm's business consisted in the booking of emigrants. In 1881 Albert Ballin was appointed general representative of the passenger business of the Carr Line, a newly established shipping company, which soon started ujion a protracted rate war with the Hapag.
An understanding, however, was eventually arrived at between the two companies, and Albert Ballin, in connection with the settlement, joined the Hapag as head of its passenger department. This event initiated a new era in the history of the Hamburg America Line. In him the Company acquired a leader whose genius intuitively foresaw the economic development of his country and of the world at large years ahead of others, and who was willing to devote his incomparable organising gifts to the furtherance of the Company's fortunes.
The progress made by the Hapag during his leadership up to the war was enormous and has been rivalled by that of few, if any, other concerns. This period of nearly thirty years may be described as one of practically uninterrupted expansion in every direction, and one during which everything was done to strengthen the position of the Company against its competitors and against the danger of sudden crises.
The Hapag, indeed, became the biggest shipping concern in existence. It owned a fleet totalling 1,360,000 gross reg. tons and carrying 8,300,000 cubic metres of goods and 463,571 passengers in the year preceding the outbreak of the war, whereas the corresponding figures for 1885 were only 65,000 gross reg. tons, 420,000 cubic metres of goods, and 57,383 passengers (N. B. One cubic metre= 35.32 cu. ft.).
The world war destroyed Albert Ballin's life-work. He did not live to see the surrender to the Entente of all the sea-going ships owned by his company under the terms of the Versailles treaty. He died on November 9, 1918. The destruction of his work, however, was only temporary. The reconstruction of the Hamburg America Line after the close of the war proceeded in a comparatively short space of time with the result that it now owns a fleet which, including vessels ordered and building, totals more than one million gross reg. tons, whilst its services extend to all parts of the world.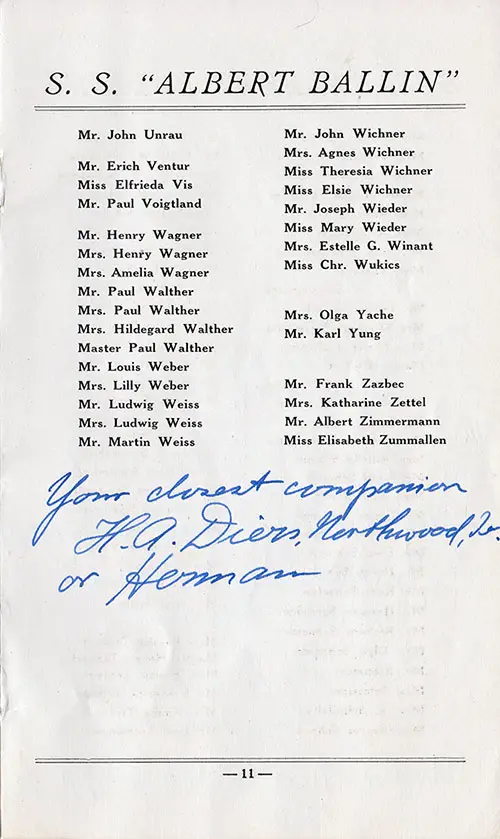 Inscription from Herman Diers, the Original Owner of this Passenger List. GGA Image ID # 176c8f7804
Information for Passengers
Attendance. The stewards have strict instructions to attend promptly and courteously to the wants of passengers. Passengers are requested to bring any inattention to the notice of the chief steward, and, if the complaint is not promptly investigated, to apply to the purser.
Valuables and Money. Valuables or money should be placed in charge of the purser for deposit in his safe. It is especially pointed out, however, that the Company can not accept any responsibility for loss or damage.
Letters and Telegrams. Mail and telegrams intended to be sent from the next port of call should be delivered to the purser or one of his assistants at the purser's office. No other ship's employees are authorized to receive mail to be posted. Stamps are sold at the purser's office.
Wireless Telegraph Service. Passengers may obtain all information about the sending of wireless telegrams from the Chief Steward.
Steamer Chairs and Rugs. Upon application to the deck stewards, steamer chairs and rugs, can be rented during the voyage, at a charge of $1.00 each. Places for steamer chairs are assigned by the deck steward.
Baggage. Large pieces of baggage cannot be taken into the cabins and should be placed in the Baggage Room. Access to the Baggage Room may be had daily upon application to the room steward. Passengers may have their baggage checked through to their final destination upon application to the Baggage Representative-on board.
Hot and Cold Baths. A number of comfortable public bathrooms are provided on board. The bathroom steward or stewardess will attend to the bath upon the passenger's request.
Meals.
Breakfast at 8:00 am
Dinner at 12:00 noon.
Supper at 6:00 pm
As well as:
Coffee and Cake at 3.00 pm
Smoking Room. The smoking room is open early in the morning until 12:00 pm Smoking is prohibited in the social rooms and the staterooms as well as in the passageways below deck.
Library. The books in the library may be obtained upon application to the library steward, and are at the disposal of passengers free of charge. A list of such books is kept by the library steward. Passengers are requested not to leave books lying on deck or in the social rooms.
Music. The orchestra plays daily for 1 hour either in the forenoon, or in the afternoon, and also for 2 hours in the evening either for concert or dancing.
Amusements. A number of games such as Shuffle Board, Dominoes, Chess, Quoits, etc., are at the disposal of passengers. Moving pictures are shown several times during the trip.
Physician. An experienced physician is attached to the staff of this steamer. For medical attendance in case of sickness contracted on board, no charge is made; medicine is also provided free of charge.
Barber. The barber is authorized to charge for his services according to the tariff fixed by the Company. The price list will be found in the barber shop.
European Railroad Tickets. Railroad tickets to points in Continental Europe may be purchased from the Purser on board; passengers will find this a great convenience, and it will avoid unnecessary delays after arrival in Hamburg.
Foreign Money. The purser is prepared to exchange foreign money and will meet passengers' wishes as far as possible. Travelers' checks of well known companies and banks will be taken in payment, provided the amount of the check does not greatly exceed the amount of the bill to be paid. Personal bank checks cannot be cashed.
Money Orders
The Hamburg America Line accepts money for transmission to Germany, Austria, Czechoslovakia and Hungary. Payment is effected in actual U. S. Dollars. For rates, apply to any of our offices or agents.
Landing at New York
Citizens and bonafide residents of Germany, Great Britain, Ireland, Belgium, Holland, Denmark, Norway, Sweden, Poland and Luxemburg are now examined in their respective countries by the U. S. Public Health Doctors and Immigration officials, and upon arrival in New York, are discharged at the pier, thus avoiding the necessity of going to Ellis Island.
United States Citizens. Returning Resident Aliens holding Re-entry Permits, and persons coming for a temporary visit for business or pleasure, are also discharged at the pier, the same as First and Second Class passengers.