SS Hamburg Passenger List - 14 September 1905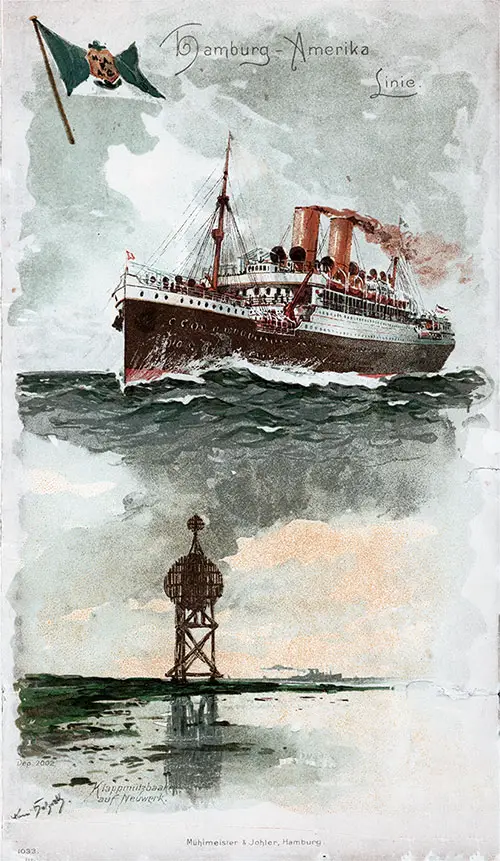 Front Cover of a First and Second Cabin Passenger List for the SS Hamburg of the Hamburg America Line, Departing 14 September 1905 from Hamburg to New York via Dover and Boulogne-sur-Mer, Commanded by Captain E. Burmeister. GGA Image ID # 1775f5f94a
Senior Officers and Staff
Commander: Captain E. Burmeister
First Officer A. Heissler
Second Officer L. Pust
Second Officer J. Cederholm
Third Officer R. Schirlilz
Fourth Officer A. Bauer
First Physician Dr. C. Brexendorff
Second Physician Dr. G. Sehoene
Chief Engineer W. Bonneval
Second Engineer A. Koopmann
Purser D. Peinert
Assistant Purser M. Schmidt
Provision Master R. Basch
First Chief Steward H. Jobannsen
Second Chief Steward A. Martienssen
Assistant Chief Steward H. Ottens
Baggage Master Christ. Imcke
Chief Cook A. Bodenhausen
First Cabin Passengers
Mr. Ch. L. Ackermann
Mrs. Ch. L. Ackermann
Mrs. R. Atkinson
Mrs. R. Brown and Servants
Mr. C. M. Boscowitz
Miss H. Beinhorn
Mr. Wm. G. Bamsted
Mrs. Wm. G. Bamsted
Miss E. Buemler
Miss G. C. Bender
Mr. B. Boekelman
Miss C. Boekelman
Mrs. R. Burke
Mr. L. Blass
Mrs. L. Blass
Mr. L. Blass Jr.
Dr. Milton J. Ballin
Mr. Rend Brègre
Mr. John F. Buerkel
Mrs. John F. Buerkel
Miss W. F. Buerkel
Miss S. Banton
Miss E. Beck
Mr. Gg. Hch. Bender
Miss A. Berger
Miss W. Claflin and Servants
Mr. E. G. Clemente
Mrs. E. G. Clemente
Miss R. Clemente
Mr. M. Cohn
Mr. H. G. Dalton
Mrs. H. G. Dalton
Mr. Howard A. Davis
Mrs. Howard A. Davis
Herr. Thos. N. Davey
Mrs. Thos. N. Davey
Miss M. Davey
Mrs. M. Danielson
Mr. M. Danielson Jr.
Mr. W. Degener
Mrs. W. Degener
Miss J. Degener
Mr. H. Degener
Mr. A. Degener
Mr. O. Degener
Miss J. Erdtmann
Mr. S. C. Engel
Mr. M. Frank
Mr. L. Frank
Mr. R. H. Fraenkel
Mrs. R. H. Fraenkel
Mr. C. H. Fraenkel and Servants
Mrs. H. Fuerst
Mr. E. Freund
Mrs. E. Freund
Miss J. Forrer
Mrs. J. Goldschmidt
Miss A. Goldschmidt
Mr. Julius Goldschmidt
Mr. Jack Goldschmidt
Dr. A. Gregory
Mr. Wm. B. Howland
Mrs. Wm. B. Howland
Mr. J. Hirschl
Mrs. J. Hirschl
Miss J. Th. Hirschl
Mr. Korvettenkapitän Marineattaché Hebbinghaus
Mrs. Hebbinghaus and Servants
Mrs. M. D. Harter
Mr. H. Harter
Mr. Prof. Dr. F. Hirth
Miss Hermann
Mr. G. Herzberg
Mr. M. Heyman
Mr. G. Heymann
Mrs. G. Heymann
Mr. G. Hanauer
Mr. E. Hanfstängl
Miss L. A. Kaufholz
Miss F. G. Kaufholz
Mrs. L. Klopsch
Miss M. Klopsch
Mr. H. Klopsch and Servants
Mr. L. Kirchheimer
Mrs. E. Kirchheimer
Mr. S. Kirchheimer
Mrs. W. P. Ketcham
Miss E. M. Ketcham
Mrs. J. W. Kauffmann
Miss V. Kauffmann
Miss M. Kauffmann
Mrs. E. Krauss
Mr. P. Lowenfeld
Miss A. Lowenfeld
Miss E. Lowenfeld
Miss P. Lowenfeld
Mrs. Florence B. Longstreth
Miss F. Longstreth
Miss M. Longstreth
Mr. Longstreth
Mr. A. Landauer
Miss E. Landauer
Miss B. Landauer
Mr. L Levy
Mrs. L. Levy
Mr. J. H. Levy
Mr. M. E. Levy
Miss F. Littmann
Mr. J. Fred Lohmann
Mrs. J. Fred Lohmann
Mr. J. Fred Lohmann Jr.
Mrs. C. Loewenstein
Miss S Lins
Miss C. Lins
Mr. W. T. Lins Jr.
Miss M. Ludwig
Mrs. F. Lyon
Mr. Ch. H. Mattlage
Mrs. Ch. H. Mattlage
Miss Cl. Mattlage
Mr. Professor H. Münsterberg
Mrs. Professor H. Münsterberg
Miss M. Miinsterberg
Miss E. W. Münsterberg
Dr. A. Marx
Mrs. Dr. A. Marx
Mrs. A. McNaughton
Miss L. McNaughton
Mr. K. Mueller
Mrs. F. May
Miss L. S. May
Miss P. May
Miss N. McKughon
Miss V. Moisson
Mr. L. W. Newell
Miss Helen Nutting
Miss Lois Nutting
Mr. L. H. Nutting
Mrs. L. H. Nutting
Miss Ruth Nutting
Mrs. H. Oppenheimer
Miss Oppenheimer
Mrs. Anna Otto
Miss Ella Otto
Mr. Oreilly
Mrs. Oreilly
Miss C. Petersen
Mr. Ch. K. Payne
Mrs. Ch. K. Payne
Miss J. C. Romer
Mr. J. Rittenhausen
Mr. Wm. J. Reid
Mrs. Wm. J. Reid
Mr. St. Reid
Mrs. E. Rieck
Miss J. Ringen
Mr. J. M. Rommel
Mrs. A. M. Ritchie and Party
Miss F. W. Smith
Miss L. Sulzberger and Servants
Mrs. A. Schoverling
Miss S. Schoverling
Mr. R. B. Schneider
Mrs. R. B. Schneider
Mr. W. B. Stone
Mrs. W. B. Stone
Miss P. Stone
Mr. P. Salom
Mrs. P. Salom
Miss M. Szpera
Miss A. Sottmann
Miss H. Smith
Mr. Ch. Schoenstein
Mrs. R A Sammis
Mr. F. Turnbull
Mrs. F. Turnbull
Mr. D. Turnbull
Mrs. F. M. Thieriot and Servants
Miss M. Thieriot
Miss C. Thieriot
Mr. C. Tilenius
Mrs. C. Tilenius
Miss E. Tilenius
Miss J. Tilenius
Miss W. Turner
Mr. A. Vermeulen
Mrs. A. Woerishöffer with Maid
Miss C. Woerishöffer
Mr. J. Wolfe
Mrs. J. Wister
Mrs. M. Wister
Miss E. Wirth
Embarking at Dover / To Dover :
Miss A. Ahrens
Mrs. Henry Brandt and Kinder and Servants
Miss Claney
Mrs. Stanton Coit
Miss M. Stanton Coit
Miss D. Stanton Coit
Mr. R. Stanton Coit
Mrs. von Deeckt
Mr. Reichskommissar
Captain zur See F. Draeger
Mrs. F. Draeger
Mr. A. Ebert
Dr. Haase
Mr. Hansen
Mr. Hansen
Mrs. A. von Helmolt
Mr. Amtsverwalter D. Kaemmerer
Mrs. D. Kaemmerer
Mr. R. Lehmann
Mr. E. J. Magerstadt
Mrs. E. J. Magerstadt
Miss Della Magerstadt
Mr. Earl Magerstadt
Mr. Inspektor Metzenthin
Miss Ramdohr
Mr. P. Schabert
Mrs. P. Schabert
Mr. E. Scherling
Mrs. E. Scherling
Mrs. White
Miss White
Mr. White
Mr. E. Wrench
Embarking at Boulogne-sur-Mer / To Boulogne:
Mr. Becker
Mrs. Becker
Mr. Pierre Boucher
Mr. E. Buchwaldt
Mrs. E. Buchwaldt
Mr. Deyhlle
Mr. F. Diolé
Mr. R. Giffey
Mr. E. Herrmann
Mr. A. von Holtzendorff
Mr. Emile Janets
Mr. C. Matthaei
Mr. R. F. Rabe
Mrs. R. F. Rabe
Mr. Charles Sommer
Mr. M. Vincent
Mrs. M. Vincent
Mr. M. Vincent Jr.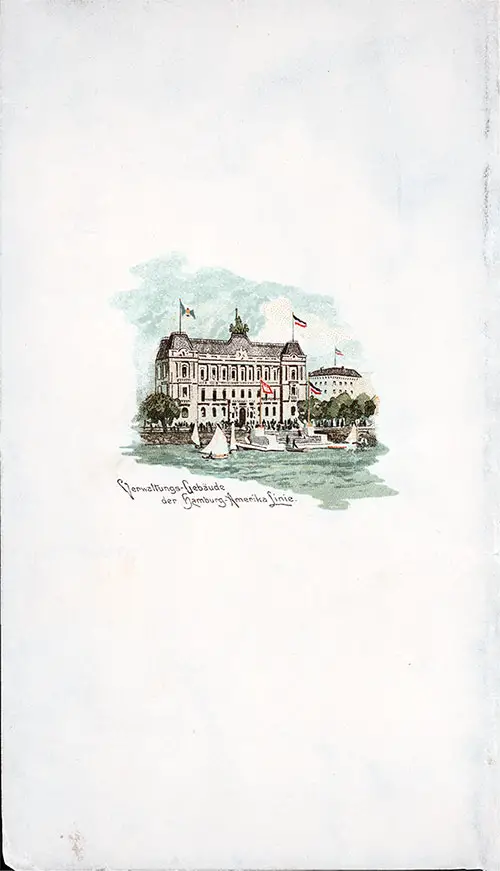 Back Cover of a First & Second Cabin Passenger List for the SS Hamburg of the Hamburg America Line, Departing 14 September 1905 from Hamburg to New York via Dover and Boulogne-sur-Mer. GGA Image ID # 1775f6964c
Second Cabin Passengers
Miss R. Adinsky
Dr. C. Böhm
Frau. Dr. C. Böhm
Mrs. J. Borchardt
Mrs. S. Biel
Mr. W. E. Barclay
Miss S. Burghardt
Mrs. Chas. J. Berg
Miss Emma Berg
Mr. H. Babson
Mr. P. F. Boyens
Mrs. Bertha Boyens
Miss C. Berndt
Miss O. Berndt
Mr. R. Beck
Mr. M. P. Beck
Miss M. Buckel
Mrs. F. Bauer
Miss V. Bauer
Miss G. Bauer
Mrs. M. Clodius
Mr. F. Czaprau
Mr. W. Dietzsch
Mr. F. Datschefsky
Mr. Chs. Emrich
Mrs. Chs Emrich
Lucille Emrich
Charlet Emrich
Mr. E. H. Eden
Mr. C. Eden
Mrs. E. H. Eden
Mr. A. L. Eaton
Mr. M. Eggemann
Mrs. H. Folda
Miss A. Freese
Mrs. C. A. Goebel
Miss A. Kleine Goebel
Mrs. J. Grebel
Mrs. K. Geisser
Miss L. Geisser
Mr. E. Gutsche
Mrs. R. Geller
Mr. J. Herrmann
Mrs. J. Herrmann
Miss S. Horowitz
Miss W. Hartlef
Mrs. M. Höhne
Mrs. B. Haile
Mr. J. H. Herold
Mrs. J. H. Herold
Miss E. Herold
Mrs. A. Hoffmann
Miss J. Hoffmann
Mr. W. Hirsch
Mrs. A. Irmusch
Miss H. Irmusch
Mr. E. Jung
Mrs. E. Jung
Miss A. Jensen
Mr. M. Kramer
Miss E. Kurtz
Mr. S. H. Kleinfield
Mr. J. Kurtz
Mr. A. J. Lehner
Mrs. M. Lavender
Mr. H. Lamp
Mr. M. Luz
Mrs. C. Lehmann
Miss M. Lastovka
Mr. A. Ludwig
Miss H. Lieberenz
Mr. W. H. Lieberenz
Mrs. W. H. Lieberenz
Mr. M. L. Landau
Mr. G. C. Laubscher
Miss P. Lazard
Miss Merz
Mr. H. Merz
Mr. A. Moltzen
Mr. A. Maus
Mr. J. Marcus
Miss P. Majowski
Mrs. M. Masech
Miss M. Masech
Miss E. Meyer
Mr. C. Nemethi
Mrs. C. Nemethi
Miss C. Nemethi
Miss M. Nemethi
Miss O. Nemethi
Miss J. Nemez
Miss M. Nartelski
Mrs. H. Nartelski
Miss M. Oellien
Mr. H. Pataky
Mrs. H. Pataky
Miss O. Pataky
Miss E. Pataky
Mr. A. Petermann
Dr. K. Pietsch
Mrs. Dr. K. Pietsch
Mr. E. Pietsch
Mr. P. Pietsch
Mr. A. E. O. Rasmussen
Mr. H. B. Richardson
Mr. Prof. G. Rohr and Kind
Miss C. Roes
Mrs. M. Rothenstein
Mr. Herbert Rothenstein
Miss J. Roth
Mr. M. H. Silberkraus
Mr. Jacob Schrank
Mrs. L. Spanhake
Miss L. Spanhake
Dr. L. A. Shepard
Mr. H. Shepard
Mr. J. Sternberg
Mr. R. Schnepel
Miss M. Stunck
Mrs. C. Toettcher
Miss Hulda Toettcher
Miss Hermine Toettcher
Mr. E. Todt
Mrs. M. Thomsen
Mrs. E. Todt Mr. R. Todt
Miss A. Todt
Mrs. M. Weber
Miss H. Waldmann
Mrs. P. G. Woodruff
Mr. F. Wulf
Mr. J. Fred Wuerth
Mr. Fred. Walker
Mr. A. Walker
Mrs. A. Walter
Mr. T. F. Wittkoff
Mrs. J. Wild
Mr. M. Watschek
Mrs. E. Watschek
Miss M. Werner
Mrs. A. Wilms
Mrs. T. Zeeek
Mr. B. Zippelius
Embarking at Dover / To Dover:
Mr. M. O. Friedlaender
Mr. S. Kulla
Mr. H. N. Nunn
Embarking at Boulogne-sur-Mer / To Boulogne:
Mr. P. von Döhren
Information for Passengers
Meals.
First Cabin.
Breakfast is served from 8:00 am to 10:00 am
lunch à la carte from 12:30 to 1:30 p. m.
dinner at 6:30 p. m
Second Cabin.
Breakfast at 8:00 am
dinner at 12:00 pm
supper at 6:00 pm
A menu is printed for each meal. Seats at table are allotted by the Chief 'Steward. A bugle call will be sounded 15 minutes before each meal, and a second signal at the beginning of the meal. Children paying half-fare must dine at the children's table.
Steamer Chairs. Upon application to the Deck Steward, steamer-chairs belonging to the Ocean Comfort Company can be rented for use on the voyage, at a charge of one dollar per chair.
Music. The ship's band performs on the promenade deck during the forenoon from 10:00 am t0 11:00 am, in the first cabin saloon during dinner and in the second cabin from 9:00 pm to 10:00 pm
Staterooms. All staterooms are lighted by electricity. They are also provided with connections for an electric heater for a hair-curler, as well as for an electric food warmer, by which milk, coffee, etc., can be kept warm during the night. The apparatus will be supplied by the Stewardess.
Passengers are recommended to lock the doors of their staterooms while the steamer is in port.
Baggage. As only small pieces of baggage can be taken into the cabins, all large pieces will be stored in the hold. Access to the hold may be had upon application to the Room Steward.
Hot or cold Baths. A number of comfortable bathrooms are provided aboard. The Bathroom Steward or Stewardess will attend to the bath upon the passenger's request. No charge is made for baths. The water used is sea-water.
Gymnasium. The gymnasium on the boat-deck is open daily for first class Passengers : for gentlemen from 9 1/2-11 a. in. and from 2 - 4:00 pm, for ladies from 11:00 am to 12:30 pm and from 4:00 pm to 5:00 pm Exercises take place under the supervision of experienced attendants. Children cannot be admitted.
Smoking is allowed only on deck and in the Smoking Room; it is positively prohibited in the cabins and below deck.
The Bar closes at midnight.
Lights are extinguished in the Saloons at it p. in. and in the Smoking Room at midnight.
Surgeon and Apothecary. An experienced Physician is attached to every steamer. Medical attendance and medicines are provided free of charge.
The Barber is entitled to charge for his services according to the tariff fixed by the Company.
Library. The books in the library, which may be obtained upon application to the Library Steward, are at the disposal of Passengers, free of charge. A catalogue of the English, French and German books in the ship's library can be had from the Library Steward.
Besides the Library a bookstall, supplied by the firm of George Stilke, Berlin, will be found on board, where all the latest newspapers and publications, weekly and monthly magazines, souvenirs, etc., are on sale.
Letters and Telegrams. Only the purser is authorized to receive letters and telegrams for delivery in the next port of call. Several telegraph-codes will be found in his office.
Writing Paper, Envelopes and Telegraph Forms as well as a limited number of Souvenir Postal Cards will be supplied by the Saloon Steward.
Valuables or Money. — The Company is not responsible for theft if valuables or money are kept in the staterooms. The same should be placed in charge of the Purser for deposit in his safe, and a receipt will be given on the Company's form. As no charge is made for carriage, the Company can accept no responsibility for loss or damage, however arising, but Passengers can protect themselves by insurance.
Foreign Money. The Purser is prepared to exchange foreign money.
Wireless Telegraphy. The "Telefunken" station will receive messages for transmission to shore stations or passing ships at the time and rate stated on the bulletin board.
Amusements. A number of pastime games, such as shuffleboard, quoits, chess, dominoes, etc., are provided for on board.
Attendance. The Stewards have strict instructions to attend to the wants of Passengers in a prompt and courteous manner. Passengers are requested to bring any inattention to the notice of the Chief Steward, and if the complaint made is not promptly investigated, to report it to the Captain
Souvenir Postal Cards will be furnished to Passengers free of charge by the Purser or Chief Steward.