SS Hamburg Passenger List - 4 June 1936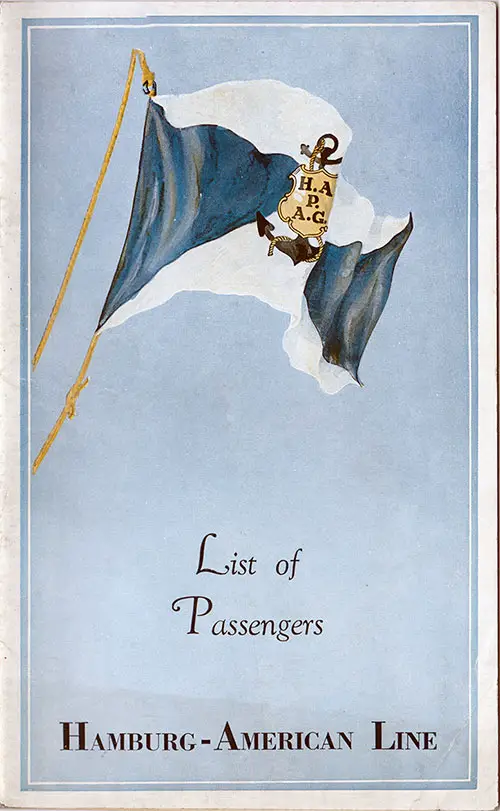 Front Cover, Cabin, Tourist and Third Class Passenger List from the SS Hamburg of the Hamburg America Line, Departing Thursday, 4 June 1936 from New York to Hamburg via Cherbourg and Southampton, Commanded by Captain Theodor Koch. GGA Image ID # 17779500ec
Senior Officers and Staff
Commander: Captain Theodor Koch
First Officer: F. Friske
Second Officer: G. Otto
Second Officer: O. von Essen
Second Officer: K. Blasberg
Third Officer: R. Kraft
Fourth Officer: A. Seek
Fourth Officer: C. Raulff
First Radio Officer: E. Bading
Second Radio Officer: B. Heiklenborg
Third Radio Officer: H. Dornbusch
Chief Engineer: J. Hettmann
Second Engineer: K. Buck
Second Engineer: A. Thöne
Third Engineer: H. Thederan
Third Engineer: R. Hubert
Thrid Engineer: P. Reppenhagen
Third Engineer: E. Eppler
Third Engineer: W. Reinicke
Fourth Engineer: W. Westphal
Fourth Engineer: W. Gütschow
Fourth Engineer: W. Quell
Fourth Engineer: F. Knaack
Electrician: H. Kneller
Moving Picture Operator: E. Wilrodt-Schröder
First Physician: Dr. H. Kickton
Second Physician: Dr. H. Giesbertz
Triained Nurse: Hildegard Jonas
Purser: R. Leschper
Second Purser: W. Bauer
Second Purser: R. Bergmann
Assistant Purser: F. Meyer
Assistant Purser: H. Kirsten
Assistant Purser: R. Haerting
Baggage Representative: W. Rulfs
Chief Steward, Cabin, Tourist and Third Class Class: A. Specht
Assistant Chief Steward, Cabin, Tourist and Third Class Class: F. Kohlmann
Assistant Chief Steward, Cabin, Tourist and Third Class Class and Grill Room Chef: O. Feig
Assistant Chief Steward, Cabin, Tourist and Third Class Class: R. Nieter
Chief Steward, Tourist Class: W. Kröger
Assistant Chief Steward, Tourist Class: E. Schubert
Chief Steward, Third Class: O. Schreiter
Assistant Chief Steward, Third Class: W. Schreip
Chief Cook: E. Diessner
Band Leader: E. Fruth
Cabin Passengers
Miss Inez Alexander
Dir Richard Anger
Mr. H. P. Angermueller
Mrs. Angermueller
Mr. H. P. Angermueller, Jr.
Miss Mary Y. Bettis
Mr. J. Bisaillon
Mrs. C. W. Blakeslee
Mr. G. Boolsen
Mr. Moritz Borinski
Mrs, Borinski
Miss Martha Bruning
Mrs. John Burling
Mr, Arthur Butterfield
Mr. G. H. Byles
Mr. John Campbell
Mr. Thomas Coggeshall
Mrs. Coggeshall
Mr. Ernest Colov
Mrs. Colov
Mrs. Dorothea Cross
Miss D. W. Cross
Mr. G. T. von Daggenhausen
Miss Edith S. Danforth
Mrs. Andree d'Alara R. Decarpenterie
Mr. C. R. DeLong
Mrs. DeLong
Mr. Stephan Demuth
Mrs, Demuth
Mr. George V. Doerr
Mrs. Doerr
Miss Carolyn Doerr
Miss Chloe Doerr
Mr. Henry W. Doscher
Mrs. Doscher
Mrs. Tracy Dows
Mr. Henry E. Dunn, Jr.
Mrs. Dunn
Mrs. Lucie Falkenberg
Miss Renate Falkenberg
Mrs, Hermine Fraenkel
Mrs. J, B. Frear
Miss Phyllis Frear
Mr. A. Freyman
Miss Gabrielle Goldschmidt
Mr. Karl W. Gunther
Miss E. Hankinson
Mrs. Clive Hastings
Mr. Matthias Helmreich
Mr. Wilhelm Herbst
Mrs. Herbst
Mr. Albert Hermann
Mrs. M. M. Holzmaister
Mr. W. Horn
Mrs. Horn
Mrs. Lilly Iversen
Dr. Rolf Jaeger
Mr. Karl Junge
Mr. Charles G, Keferstein
Mr. D. B. Keyes
Mrs. Keyes
Miss Nancy C. Keyes
Mr. Hans Kraemer
Mrs. Kraemer
Mr. John A. Lengel
Miss Lena Lengel
Mr. William Lichtenfels
Mrs. Lichtenfels
Master Carl Lichtenfels
Master Theodore Lichtenfels
Mr. F. Luchsinger
Mrs. Luchsinger
Mr. Svend E. Lundt
Mrs. Cora Lynch
Mr. Arthur J. Mahnken
Mrs. Mahnken
Mme. Marie Mengelte
Dr. Arara Meyer-Borggraefe
Miss Blanche Michelin
Mrs. Elses Michels
Mrs. Auguste Muller
Miss Anne Munds
Miss Ann H. Munds
Master L. Del A. Munds and maid
Mr. Valentin Nathan
Mrs. Elsa Neumann
Mr. Gottfried Nilssen
Miss Evelyn W. Preston
Mr. Emil Pruefert
Mr. John Pulvermann, Jr.
Mr. S. J. Robotham
Mr. Alfons Roesle
Mr. Carl Schilcher
Miss Elizabeth Schmidt
Mr. George A, Schmidt
Baron Carl Schroeder
Mr. Waldo Sehumway
Colonel de Seiancy
Miss Ethel Simpson
Mr. E. O. Spindler
Mrs. Spindler
Mrs. Susanne Staffel
Miss L. C. Thomas
Miss Betty Jane Thompson
Mr. Joseph J. L. Van Lier
Mrs, Van Lier
Mr. J. A. Wagenbauer
Mr. Theodor Wagner
Mrs. Max Waldhausen
Master Hans A. Waldhausen
Mr. Newell J. Wallisch
Mr. J. H, Watty
Mrs. Watty
Mrs. M. C. Wells
Mrs. Lenore A. Wicks
Miss Pamela Wicks
Miss Union Worthington
Tourist Passengers
Mr. Curt H. Abel
Mrs. Frieda Ahmling
Miss Susanne Aletter
Miss Jaquelin Ambler
Mr. Otto Antoine
Mrs. George C. Armstrong
Miss Elsa Anrig
Mrs. Fanny Bange
Miss Marion Bange
Sister M. Banita
Miss Martna Bardorf
Mr. Rudolf Bardorf
Mrs. Bardorf
Miss Inno Bartb
Mr. Frederick Bayer
Mr. Karl Beck
Mr. Wilhelm Becker
Mrs. B. Behrend
Mrs. Therese Behrens
Dr. Louise Belitz
Miss Adele Bellmann
Prof. Dr. Julius A. Bewer
Mrs. Bewer
Master Julius Bewer
Miss Louisa Bleyer
Miss Thea Blumenthal
Miss Barbara Brandl
Miss Anna Buck
Miss Trude Buhl
Mr. George Bundschu
Mrs. Elsa Burger
Miss Maria Burger
Master Henry Burger
Mr, H. C, Cassidy
Mrs, Cassidy
Mr. Thomas Corinth
Mrs, Robert Coyne
Master Robert Coyne
Mrs. Cunningham
Mr. Victor H. Czegka
Mrs. Charlotte Czylwik
Mrs, Elise Darwick
Master Frederick Darwick
Mr. Peter Delfs
Mrs. N. F. Dicks and child
Mr. W, Diekmann
Mrs. Anna Diemert
Miss Dorothy Diemert
Mr. Ferdinand Dippel
Mrs. Dippel
Mrs, Ida B, Doss
Miss Agnes Doyle
Mr. Max Edel
Mr. Hans Effenberger
Mr. Horst Eigner
Mrs. Eigner
Mrs. Maria Eppler
Miss Hilde Farrenkopf
Miss Agnes Feulner
Miss Ernestine Fiedler
Miss Anna Flechsel
Mr. Bernhard Flor
Miss Louise Franz
Mr. Max Freiberg
Mrs. Freiberg
Miss Lina Friedrich
Miss Claire Geiler
Mrs. L. Goos
Mr. Erich Greiner
Mrs. Greiner
Mr. Lothar Greiner
Miss Hilde Gronwald
Dr. Gertrud Guenther
Mr. Robert Gyr
Mrs. H. Hambleton
Mrs. Mina Hansen
Prof. J. J. Haranny
Mr. W. W. Harrowing
Mrs. Harrowing
Miss Anna Hartmann
Mr. Harry Haus
Mrs. Haus
Master Bodo Haus
Mrs. Auguste Hausler
Mr. John Hausler
Miss Maria Heim
Miss Ella Heinemann
Mr. Anton Held
Mrs. Held
Mrs. Maria Th. Heller
Miss Francis Hendricks
Mrs. Mathilda Hendrickson
Miss Else Henry
Mr. Karl P. Herbruck
Mrs, Herbruck
Mr. William Herdt
Mrs. Agnes Herkommer and child
Mr. John Herrich
Mr. Erich Heydenreich
Mrs. Heydenreich
Master Erich Heydenreich
Sister M. Hilda
Mrs. Eva U, Hidden
Miss Klara Hinz
Mrs. Anna Hisgen
Mrs. Mary Hoermann
Mrs. Maria Hopf
Miss Gabriele Horwitz
Mr. F. J. Hundt
Mrs. Thea Jeckle
Mr. C. Ernestino Joaristi
Mr, Ignacio Joaristi
Mr. James S. Johnston
Miss Margaret Johnston
Mrs, Margarethe Johnson
Master Ralph. Johnson
Master George Johnson
Mrs. Gladys Joseph
Sister M. Juliana
Mrs, Dora Jungbluth
Master Roland Jungbluth
Dr. E. E. Just
Mr. E. Kariya
Miss Marie Kaufmann
Mrs. Maria Keller
Master Gerhard Keller
Miss Florence Knies
Mrs. C. Knop
Mr. M. Koga
Mrs. Marie Kraul
Miss Frieda Kraut
Mrs. Ida Krolikiwicz
Mr. Hans Krueger
Miss Marga Krueger
Mr. Gerhard Kruse
Mr. Heinrich Kubitza
Mrs. Kubitza
Mrs. Anna Marie Kucs
Miss Annemarie Lechner
Mr. John G. Leipert
Mrs. Leipert
Mr. Charles Lenker
Miss Anne E. Leuschner
Mrs. Louise Liebermann
Dr. Edgar Lorch
Rev. Peter Lussi, O.S.B.
Mr. Karl Lutz
Mrs. Lutz
Miss Gertrude Lutz
Master Karl Lutz
Mr. Helmut Madler
Miss Dorothea Malchus
Mrs. Auguste Marschner
Mr. Josef Matejka
Mrs. Matejka
Mrs. Helen Mathis
Mr. Erwin May
Mr. G. J. McNeill
Mr. Peter Meireis
Mrs. Meireis
Mrs. Gertrud Metz
Mr. Fritz Metzger
Mrs. Metzger
Mr. Ludwig Metzger
Mrs. Metzger
Mr. Erwin Meyer
Mrs. Meyer
Mr. Frederick Meyer
Mrs. Meyer
Mr. Alexander Miller
Miss Clara Mittler
Miss Gertrud Mohlin
Mr. Fred Moske
Mrs. Moske
Mr. Carl Mueller
Mrs. Mueller
Mr. Johannes C. Mueller
Mrs. Mueller
Mr. Gottlieb Muenchinger
Mr. Adolf Muller
Mrs. Muller
Miss Else Munding
Mr. George Neumann
Miss Marie Neumeister
Mrs. Luise Ney
Mr. Carl Nicolay
Mr. H. Oberfeld
Mrs. Oberfeld
Mrs. Gretna Offermann
Mrs. C. V. Ozroske
Mr. Karl Paquet
Mr. Parker
Miss Parker
Mrs. Emma Paun
Miss Alice Petersen
Miss Eva Petersen
Miss Ethel Petersen
Miss Julia Petersen
Mrs. Anna Pillusch
Miss Yvonne Poissonier
Mr. Otto Pollmann
Mrs. Pollmann
Miss Mary Wick Pollock
Mrs. C. Prange
Mr. Charles Preissler
Mrs. Preissler
Miss Marie Prell
Mr. Theodore Preuninger
Mr. C. W. Prior
Miss Marion Prior
Mr. Frederick Rafehl
Mr. Charles Ringer
Mrs. Christine Rippe
Mr. Heinrich Roenneburg
Mr. Eugen Rook
Mrs. Hatty Rothschild
Mr. Amandus Rueckert
Mr. Peter B. Rupprecht
Mr. George Rush
Mrs. Mary Sabarth
Mr. C. P. Savelotf
Mrs. Savcloff
Miss Fredericke Schaber
Mr. Paul Schaft
Miss Adele Schlichting
Miss Irma Schmidt
Mr. Karl Schmidt
Mrs. Paula Schmidt
Miss Gertrud Schneider
Mr. Hermann Schneider
Mrs. Schneider
Miss Nanny Schneider
Dr. Cornelia B. J. Schorer
Miss Elisabeth Schreiber
Miss Gertrude L. Schuelke
Miss v. Schulz-Heinersdorf
Miss Florence Schweizer
Mr. Henry Schwiering
Mrs. Schwiering
Dr. Eric Seemann
Mrs. Johanna Seitz
Mrs. Luise Siegmann
Miss Anne Marie Siegmann
Mr. Karl Sievers
Miss Elise Solbrig
Miss M. Stapleton
Mrs. Edda Staub
Mrs. Katie Steffen
Miss Helen Steen
Mrs. Lillian Stickney
Mr. F. Strauss
Mrs. Strauss
Mr. K. Takimara
Mr. Ulrich Tappe
Miss Marg. Tietze
Mrs. Charlotte Tietze
Mrs. Elisabeth Ullmann
Prof. Dr. Joachim Wach
Miss Helen Wachs
Mr. Adolf Wagner
Mrs. Wagner
Mrs. Marg. Wagner
Mr. Newel Wallisch
Mr. C. Walters
Miss Kathe Warm
Mr. Albert Wehrle
Mr. Fred Weigel
Mrs. Weigel
Miss Elsa Weigert
Mr. R. M. Weiser
Mrs. Weiser
Mr. Wm. Welter
Mrs. Welter
Mr. Paul Wenzel
Mrs. Wenzel
Miss Nellie Werle
Mr. C. M. Weynandt
Miss Bertha Will
Miss Fanny Will
Miss Margarete Will
Mr. Karl E. Wille
Miss Antoinette Wille
Miss Helen Wittmann
Miss Elisabeth Woehrle
Mr. Leon Woit
Miss Louise Wolf
Mr. Kurt Zimmer
Mr. Gerold Zraig
Mrs. Margarete Zur
Third Class Passengers
Mrs. Mina Adolphsen
Mrs. Carla von Ahn
Master Willy von Ahn
Mrs. Anna Albrecht
Miss Gertrud Albrecht
Master William Albrecht
Mr. Robert H. Anacker
Mrs. Anacker
Master Max Anacker
Master Andres Anacker
Mr. Albert Arndt
Mr. Josef Back
Mr. Richard Barthel
Mrs. Barthel
Mrs. Louise Baumbusch
Miss Luise Becherer
Miss Rosa Bechle
Mr. Willy Beck
Miss Anna Becker
Mrs. Else Becker
Miss Gladys Becker
Master Wilhelm Becker
Miss Emma Benner
Miss Lena Benner
Mr. Wilhelm Bernau
Mrs. Helene Beyer
Mrs. Else Binz
Master Emil Binz
Miss Rosa Birk
Mr. Eugen Birlenbach
Miss Katharina Blab
Miss Anna Blessmann
Mr. Karl Blume
Mrs. Marg. Blume
Miss Martha Bode
Mr. Karl V. Borstel
Mrs. Borstel and child
Miss Anna Bosche
Mrs. Erna Bothmann
Mr. Carl Branstetter
Mr. J. Braun
Mrs. Braun
Mrs. Fred Brenner
Mr. Carl Breuer
Mr. Johannes C. J. Breuer
Mr. W. Brueckner
Mrs. Brueckner
Master Guenther Brueckner
Mr. Wilhelm Buder
Mrs. K. Busse
Mrs. Klara Chmielowska
Mrs. Ida Clemens
Mr. Ernst Conrad
Mrs. Conrad
Mrs. Conrad and daughter
Mrs. Franciska Constantaras
Master Nicholas Constantaras
Miss Anna Crusius
Miss Elizabeth Curtis
Mr. Edmund Daun
Miss Anna Degler
Mr. Willy Dehne
Mrs. Dehne
Mr. August Diehr
Mrs. Diehr
Miss Margarete Diehr
Mrs. Hedwig Dielmann
Mrs. Robertine Dohrmann
Mrs. John Dressen
Mr. Carl Droege
Mrs. Minnie Dunkler
Mrs. Gusta Edelmann
Miss Edelmann
Mr. Herbert Ehlers
Mrs. Ehlers
Mr. Hans Ehrhardt
Mrs. Ehrhardt
Mr. John D. Eilers
Miss Louise Ernst
Mrs. Kaethe Evert
Miss Evert
Master Herbert Evert
Mrs. Johanna Fassnacht
Mr. Marcus Feddersen
Mr. William Feddersen
Mrs. Carolina Feldhauser
Miss Irma Feldhauser
Miss Louise Feldhauser
Mr. Herman Feuchter
Mrs. Feuchter
Mr. Ernest Finger
Mr. August Fischer
Mr. Peter Bach Fischer
Mr. William Flohr
Mrs. Gertrud Flohr
Mr. A. L. France
Miss Martha Frasch
Mrs. Frieda Freudenthal
Miss Edith Freudenthal
Mr. William Furschbach
Mr. Fritz Gablenz
Miss Henrietta Gallus
Miss Jenny Gelber
Mr. John Geller
Mr. Ewald Gerber
Mrs. Paula Gerrerstorfer
Mrs. Marie Gessert
Master Arthur Gessert
Miss Minna Giessner
Mr. Max Gleisberg
Mr. Franz Goese
Mrs. Goese
Miss Goese
Mrs. Anna Goetz
Mr. Hans Gosau
Mrs. Gosau
Mr. Felix Graf
Mr. Fred W. Gravius
Mrs. Anna Grimmeis
Mr. Franz Grimmeis
Mrs. Helen Gross
Mrs. Margarethe Groth
Mr. Kurt Guether
Mrs. Guether
Mr. Paul Guhra
Miss Adele Haeberle
Mr. J. Haeberle
Mrs. Haeberle
Mr. Bruno Haerich
Mrs. Haerich
Miss Louise Hahner
Mrs. Anna Hass Hamann
Mrs, Eberhard Handel
Miss Mildred Handel
Miss Paula Hartmann
Miss Pauline Heidenreich
Mrs. Eugenia Heim and infant, Ruth
Miss Elise Heimann
Mrs. Richard Heinrich
Mr. Centan Heinzmann
Mrs. Heinzmann
Mrs. Anna Hellerbrand
Mr. Adolf Henry
Mrs. Henry
Mr. Otto A. Herford
Mr. Oscar Hertel
Mrs. Hertel
Miss Rosa Hertel
Mr. Carl Hesse
Mrs. Elisabeth Heuser
Master Helmuth Heuser
Master Siegfried Heuser
Mrs. Mary Hinsch
Miss Hinsch
Mrs. Paula Hintzen
Miss Irene Hintzen
Miss Amalie Hinz
Mrs. Theresa Hofmann
Mr. Wilhelm Hohe
Mr. Walter Hohl
Mrs. Hohl
Mr. Sebastian Holzinger
Mr. Paul Jacobi
Miss Magda Jacobs
Mr. Leonard Jaeger
Mrs. Jaeger
Mr. Karl Jaindl
Mrs. Jaindl
Mr. A. Janik
Mrs. Janik
Miss Jenny Joergensen
Mrs. Frieda Johannes
Miss F. Johannes
Mrs. Bertha Juergensen
Mrs. Helene Kahle
Miss Margarethe Kahle
Mr. Emil Kaiser
Mr. Karl Kalb
Mrs. Kalbe
Mr. Fritz Kappler
Mrs. Kappler
Mrs. August Karch
Master Otto Karch
Miss Erika Kassler
Mrs. Sophie Keck
Master Gustave Keck
Mr. Hermann Kilian
Mrs. Pauline Klintworth
Mr. Bruno Klohoker
Mrs. Klohoker
Mrs. Amalie Kluth
Mrs.Kath. Knobel
Mr. Josef Kobras
Mrs. Kobras
Miss Elfriede Kobras
Mr. Otto Koch
Mr. Charles Kohl
Mrs. Kohl
Mr. Ludwig Kolbert
Mrs. Kolbert
Miss Konopka
Mrs. Gertrud Kop and child
Mr. Vasil Korolchuk
Mrs. Etna Kottke
Mrs. Hilda Kranz
Mr. Rudolf Kraus
Mr. Ernst Emil Krause
Mr. Paul Kreft
Mrs. Kreft
Mr. Erich Krieg
Mrs. Krieg
Mr. Heinrich Krohn
Miss Caroline Krummrein
Mr. Josef Kuenzig
Mrs. Kuenzig
Master Wolfgang Kuenzig
Mr. Engelbert Kuhndorfer
Mrs. Kuhndorfer
Miss Emilie Kummerer
Miss Mathilde Kummerer
Mrs. Karl Leuflfen
Master Karl Heinz Leuflfen
Mrs. Marie Lies
Master Charles Lies
Master Erwin Lies
Miss K. Lietens
Miss Centa Linder
Mr. Joseph Loonier
Mrs. Loeffler
Miss Anna Loge
Mrs. Augusta Luhrs
Miss Marie Lukas
Mr. Rolf W. Maassen
Mr. Herman Mahlow
Miss Ida M. Mann
Mrs. Lena G. Markert
Mr. Wilhelrn Marcmardt
Mrs. Marquardt
Mr. Peter Martens
Mrs. Martens
Mrs. Hete Mathe
Miss Evelyn Mathe
Gisel G. Mathews and child
Mrs. Hannchen Matthiesen
Miss Hildegard Maywold
Mr. McHugh
Mrs. Erna Moog
Mr. Lather Munch
Mr. Wilhelm Nastvogel
Mrs. Augusta Neumann
Mrs. Anna Neuse
Mrs. Margarethe Nicdorfer
Mr. William Notter
Miss Anna M. Nubel
Mrs. Gertrude Nuetzel
Mr. Rudolph Oehlke
Mrs. Anna V. Ophemert
Miss Maria V. Ophemert
Mr. Marcel Orlandie
Mr. Adolf Orth
Mrs. Orth
Mastetr Karl Orth
Miss Edith Osswald
Mr. Andrew Oswald
Mrs. Oswald
Mr, Frank Paehler
Mr. Theodore Pfaue
Mrs. Pfauen and child
Mrs. Claire Pilz
Mr. Matthew Pirkcl
Mrs. Emilia Post
Master Otto Post
Mrs. Martha Priebe
Mr. Bernhard Purk
Mrs. Gertrud Raether
Mr. Curt Rahlfs
Mrs, Olga Rahlfs
Master Otto Rahlfs
Mr, Max Raihofer
Mrs. Elizabeth Raihofer
Miss Bertha Raith
Mrs. Katie Ramsey
Master Henry R. Ramsey
Mrs. Amalie Rathgeb
Miss Evelyn Rathgeb
Mr. Joseph Raunecker
Mrs. Raunecker
Mr. Eustach Reder
Mrs. Reder
Master Hermann Reder
Mr. Edward Reese
Mrs. Therese Reichel
Master Stephen Reichel
Mr. Johannes Reichhold
Miss Elfriede Reifenberger
Mrs. Mita A. Reinhardt and infant, George
Mr. Hans Reinwald
Mrs. Reinwald
Miss Margarete Reinwald
Miss Anna W. Rettmer
Mr. Waldemar Richter
Mrs. Alice Rink
Master Lawrence Rink
Mr. Herman Robel
Mr, Thomas Roidl
Mrs. Roidl
Mr. Karl Rokitte
Mrs. Karoline Roos
Miss Ruth Roos
Mr. Wm. Rulfs
Mrs. Rulfs
Mr. A. Rziszuthew
Mr. William Sammet
Mr. Georg Schaub
Mrs. Schaub
Mrs. Schirrmeister
Master Walter Schirrmeister
Master Charles Schirrmeister
Mrs. Ida Schiueck
Miss Irene Auguste Schiueck
Mr. Martin Schlenker
Mrs. Schlenker
Miss Clara Schloer
Mrs. Marie Schlotthauer
Mrs. Mary Schinid
Master A. Schmid
Miss Cecilia Schmidt
Mr. George Schmitt
Mr. Ben Schmitz
Mrs. Martha Schmuelling
Mrs. Anna Schneck
Mr. Karl Schneck
Mrs. Marg. Schneider
Mrs. Ana Schomaker
Master Fred Schomaker
Mrs. Frieda Schreiber
Miss Agnes Schulz
Mrs. Greta Schulz
Miss Virginia M. Schulze
Mrs. Ida Schuster
Miss Schuster
Mr. Emil Schwegler
Mr. Kurt Seibt
Mr, Eugene Seidel
Miss Martha Senf
Mrs. Marga Shepermann
Mr. George Siebert
Mr, Gustav Siegel
Mrs. Josephine Sihreiner
Mrs. Louise Silber
Master Robert Silber
Mrs. Ernestine Soinmer
Mr. Hans Sonntag
Miss Margaret Stam
Mr. Horst Stephan
Mrs. Dorothea Stephan
Mr. Wilhelm Sternal
Mrs. Sternal
Master Willi Sternal
Mrs. Therese Stoll
Maria Strunk
Mr. Bino Tamminga
Mrs. Tamminga
Mr. August F. Tetzlaif
Mr. Karl Tolle
Mrs. J. Turm
Mrs, Mary Uhrig
Mr. Kiliam Umscheid
Mrs. Umscheid
Mrs. Mira Vedder
Miss Edna I. Vedder
Miss Evelyn I. Vedder
Mr. Karl Vogt
Mrs. Vogt
Mrs. Margarethe Voigt
Mr. Chas. Volz
Mrs. Volz
Miss Margarete Walker
Mrs. Frieda Washaek
Miss Bernice Washaek
Mrs. Bertha Weigand
Mr. Joseph Weindl
Mr. Karl Weissenberger
Mr. William Wemmann
Mrs. Wemmann
Mrs. Frieda Widmann
Miss Paula Widmann
Mrs. Elizabeth Williams
Erna Wiskow
Mr. Erich Wittenberg
Mrs. Carola Wolf
Mrs. Erna Wolf
Master Harold Wolf
Mr. Julian Wolz
Mrs. Wolz
Miss Eleanore Wolz
Miss Mary Ann Wolz
Mrs. Elizabeth Ziegler
Miss Erna Zschache
Information for Passengers
SAFETY DEVICES
Lifebelts ready for use, will be found at the head of the beds in the staterooms. They are put on like a coat or a vest and tied securely in front at the neck and around the waist.
The signal for the passengers is seven short and one long blast of the whistle, and when this signal is sounded passengers should immediately go to the assigned meeting places, the location of which will be announced on the bulletin boards aboard the vessel.
The room-stewards, under the direction of the officer in charge, will conduct the passengers from these meeting places to the lifeboats.
TOUR DEPARTMENT OF THE HAMBURG-AMERICAN LINE
on the A-Deck of the SS HAMBURG
an Office of the Tour Department has been established. This Office furnishes information to passengers concerning the sailings of the steamers, the railway services from port of arrival into the interior, the air service and all other arrangements of the Hamburg America Line.
It also provides information with regard to customhouse and passport arrangements and other questions which are of importance to travelers. At the office tickets are issued for railroads and steamers to all ports of the world.
Baggage Insurance. Passengers who prior to sailing omitted to insure their baggage against all or any risks can still do so at moderate premium rates and favourable conditions, upon application to the purser or baggage master on board.