SS Cincinnati Passenger List - 8 September 1910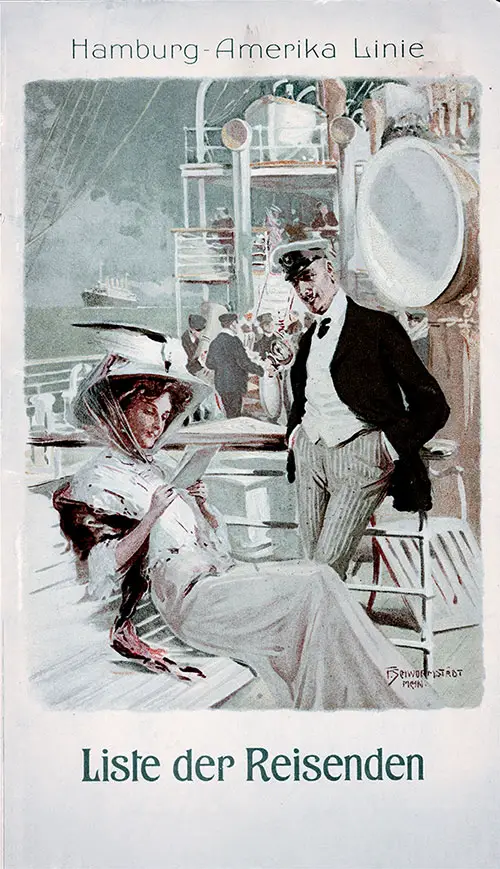 Front Cover of a First and Second Cabin Passenger List for the SS Cincinnati of the Hamburg America Line, Departing 8 September 1910 from Hamburg to New York via Southampton and Cherbourg, Commanded by Captain Schülke. GGA Image ID # 176ec3195a
Senior Officers and Staff
Commander: Captain Schülke
First Officer: W. Hennecke
Second Officer: Fr. Gallus
Second Officer: R. Bradhering
Second Officer: A. Jacobs
Third Officer: E. Gerdasmann
Fourth Officer: P. Wünschel
Chief Engineer: W. Erler
Second Engineer: P. Stolle
Third Engineer: M. Nowak
Third Engineer: H. Giese
Third Engineer: R. Rix
Fourth Engineer: C. Hopp
Fourth Engineer: H. Bauermeister
Fourth Engineer: A. Mayer
Electrician: W. Ohm
First Physician: Dr. Ludwig Pauly
Second Physician: Dr. Hans Schmidt
First Chief Steward: H. Westermann
Second Chief Steward: G. Schwartz
Third Chief Steward: A. Hauschild
Assistant Chief Steward: F. Claussen
Assistant Chief Steward: A. Schmidt
Assistant Chief Steward: E. Reupcke
Purser: D. Peinert
Provision Master: L. Meiling
Assistant Purser: H. Krüger
Assistant Purser: Fr. Ott
Chief Cook: M. Meisner
First Cook: R. Schwarz
First Cook: P. Gebhardt
Baggage Master: C. Schwarck
Leiter des Musikensembles: C. Poschardt
Representative of the Hamburg-America Line Passenger Division: Gustav Wedekind
First Cabin Passengers
Miss Lucy Adam
Mrs. G. C. Archer
Mrs. Mary J. Anderson
Miss Lucille Anderson
Miss Ruth Anderson
Miss Jane Bigelow
Mr. Frank E. Bogues
Mr. Robt. A. Bagnell
Mr. W. W. Beebe
Mrs. W. W. Beebe
Miss Beebe
Mr. Francis C. Bonner
Mr. J. T. Bottomley
Mrs. J. T. Bottomley
Mr. Geo W. Blossom
Mrs. Geo W. Blossom
Miss Katherine M. Blossom
Mr. George B. Blossom
Mr. Francis R. Blossom
Mr. Leon Braun
Mr. B. Barries
Mr. S. Leonard Boyce
Mrs. S. Leonard Boyce
Miss Helen Boyce
Miss Elizabeth Boyce
Mr. William Reynolds Brown
Mr. Chas. P. Blancy
Mrs. Chas. P. Blancy
Mr. K. E. Bunnell
Mrs. K. E. Bunnell
Mrs. W. P. Billings
Mr. W. F. Brintzinger
Mr. George Bruck
Mrs. George Bruck
Mrs. H. L. Block
Miss Margaret B. Block
Miss Anna M. Block
Miss Hull Block
Mr. Victor L. Berger
Mr. Direktor Emil L. Boas
Mr. Courtney Burr
Mrs. George H. Burr
Miss Olga Boenkhen
Mr. A. Z. Bendheim
Miss de Carriere
Mr. Clarence Abuer Chamberlin
Mr. F. J. Clamer
Mrs. F. J. Clamer
Miss Maria Clamer
Mrs. Jas. Cool
Mr. R. J. Cary
Mrs. A. Colter
Miss Ella Colter
Mr. Robert W. Craiz
Miss M. Chappell
Miss Rose B. Chisman
Mrs. A. D. Crozier
Miss Marion A. Crozier
Miss Harriet S. Crozier
Miss Lita Camp
Mrs. Nelly Camp
Mrs. John B. Drayton
Miss Margaret Drayton
Miss Catharine Drayton
Miss Isabel Dinkey
Mrs. Max Danziger
Miss Maybelle Davis
Mr. Richard Henry Depew
Mr. Richard Henry Depewjr
Mr. W. J. Duana
Mr. D. W. Dougherty
Mr. Ernst Dietel
Mrs. James E. Dean
Mr. Willi. Engelmann
Mrs. Ophelia Ehrman
Miss Elizabeth Eamman
Mr. Everett Earle
Miss J. Ellwood
Mr. Percival E. Foerderer
Mrs. Percival E. Foerderer
Mr. Leopold Friedmann
Mrs. Leopold Friedmann
Mrs. Caroline Friedberger
Mrs. G. W. Fairman
Mr. John Favill
Mr. Robert Fleer
Mrs. Robert Fleer
Mr. Robert Fleer Jr.
Mrs. Emil Frenkel
Mr. John Flanagan
Mrs. John Flanagan
Mr. John Flanagan Jr.
Miss Medora Freeman
Mr. George Zieber Goetz
Mr. Livingston Gifford
Mrs. Livingston Gifford
Miss Evelyn Gifford
Mr. Douglas H. Gordon
Mrs. Douglas H. Gordon
Mr. A. Goodman
Mrs. A. Goodman
Mr. Wm. Goodman
Mr. Abe Goodman Jr.
Mr. Chas. Goodman and Servants
Mr. John M. Green
Mr. Warren Goddard
Mrs. Warren Goddard
Miss Helen Goldstein
Mrs. Wm. Goldstein
Mr. Alvin Heyman
Mr. Christian Heurich
Mrs. Christian Heurich
Mr. Christian Heurich Jr.
Miss Anita Heurich
Miss Karla Heurich
Mr. S. H. Hirsch
Mrs. Marie Hilgendorff
Mrs. Emma Hall-Weiler
Mrs. George J. Heusner
Mr. Williams E. Hutchings
Mrs. Williams E. Hutchings
Dr. M. B. Hertzell
Mr. Robert Hind
Mrs. Edw. M Harlam
Miss Beatrice Harlam
Miss Cordelia Jackson
Miss Marg. Jackson
Mr. A. T. Johnson
Mrs. Edward H. Johnson
Miss Florence Earle Johnson
Mr. Stanhope Boyne Jones
Miss Hattie L. Jefferson
Miss Adaline Jone
Mr. Ferdinand F. Jelke
Mr. F. Kreuter
Mrs. F. Kreuter
Mrs. Josefine Kauffman
Miss Winifred H. King
Mr. P. L. Keyser
Mrs. S. Kritzman
Miss Ida Kittay
Mr. Dean Kalbfleisch
Mr. M. D. Kalbfleisch
Miss Jeanette Kennedy
Miss Anna B. Kennedy
Mr. F. W. Lafrentz
Mrs. F. W. Lafrentz
Miss Olga L. Lafrentz
Miss Hazel R. Lafrentz
Miss Bertha Lew
Dr. J. King Love
Mr. Hermann Levy
Mrs. Hermann Levy
Miss Mary Longworth
Dr. S. Levin
Mrs. M. L. Mozier
Mr. Walter Briggs. Mason
Hon. Robt. von Moschzisker
Mr. James Mullen
Mrs. James Mullen
Mr. J. B. Mulford
Mr. M. S. Meyerhoff
Mrs. M. S. Meyerhoff
Mr. Paul Meyerhoff
Mr. Direktor W. Meyn
Miss Ida Maneuvre
Mr. H. H. Mayer
Mrs. H. H. Mayer and Kind and Servants
Mr. Julius A. May
Mrs. Julius A. May
Miss M. Mounts
Mr. W. W. Mounts
Mr. H. K. Messick
Mrs. O. Newman
Dr. Paul Nathan with Servants
Mr. James H. Oppenheimer
Mrs. Sylvia Oppenheimer
Mrs. S. Oppenheimer
Miss Cecilie Oppenheimer
Mr. Chas. A. O'Neil
Mrs. H. E. Packer
Mrs. O. H. Perry
Miss Esther M. Perry
Mrs. Anna J. H. Pennybacker
Miss Ruth Pennybacker
Mr. Pavey V. Pennybacker
Mr. James H. Penniman
Dr. Josiah H. Penniman
Mrs. J. L. Penniman
Miss Sarah E. Power
Mr. W. F. Pattan
Mrs. W. F. Pattan
Miss Ruth Pattan and Servants
Mr. Frederick Peters
Mr. Richard H. Pleasants
Mr. Thos. V. Porter
Mrs. Thos. V. Porter
Mrs. Thos. V. Porter
Miss Bessie Porter
Miss Ruth Porter
Mr. Captain S. D. Rockenbach
Mr. Thomas Reath Jr.
Mr. Perez Rosenberg
Mrs. Perez Rosenberg
Mr. Julian Rosenberg
Mr. Lester Rosskam
Mr. S. M. Rosenthal
Mrs. S. M. Rosenthal
Miss Rosenthal
Miss Margaret Ross
Miss Jessie Rilot
Mrs. B. Siegel
Mr. Benjamin Siegel
Mr. Leonard Siegel
Mr. Louis Stern
Mrs. Louis Stern
Mr. Paul Stern
Miss Florence Stern
Mr. Professor Henry P. Smith
Frau. Professor Henry P. Smith
Mr. F. G. Smith Jr.
Mrs. P. G. Smith Jr.
Mr. Clarke Smith
Mr. C. L. Smith
Miss Sylvia Smith
Mr. John Adams Scudder
Mrs. M. Schwenger
Mr. B. Steiner
Mrs. B. Steiner and Child
Mrs. E. A. Salisbury
Mr. A. P. Schmidt
Mr. Chas. Fred Steinway
Mrs. E. Strong
Mr. J. Saul
Miss E. Saul
Mr. Robert Sehurig
Miss Elise Streiff
Mr. Ricardo Streber
Miss Julia Streber
Mrs. Marie Tetzlaff
Mr. Tetzlaff
Mr. Nelson Taylor
Mrs. Nelson Taylor and Servants
Miss Eva Terrall
Mr. L. E. Townley
Mrs. A. K. Wolff
Miss Florence Wolff
Miss Stella Wolff
Mr. Herbert Wolff
Mr. Richard Wolff
Mr. E. P. Williams
Mrs. E. P. Williams
Mrs. Thos. H. Williams
Miss Vida C. Williams
Mrs. Frederick D. White
Mrs. James Willcox
Mrs. William Willcox
Miss Eulalie Willcox
Mr. F. O. Wells
Mrs. F. O. Wells
Miss Dorothy V. Wells
Mr. L. Weingarten
Mrs. L. Weingarten and Servants
Miss Hannah Wieting
Mrs. Lizzie S. Webb
Mr. W. W. Wentz
Mrs. W. W. Wentz
Miss Edith P. Warner
Mr. Harold L. Warner
Miss Miriam L. Weil
Mr. Daniel Zimmermann
To Southampton:
Mr. J. Sinclair Armstrong
Mrs. J. Sinclair Armstrong
Miss Armstrong and Servants
Mr. Sven Anderson
Mrs. Sven Anderson
Miss Melita Anderson
Lady Abinger
Sir John Brickwood
Sir Archer Brickwood
Mr. Eduard Brill
Mr. F. Bachmann
Mr. Alfred De Buys
Mrs. Alfred De Buys
Miss Marg. De Buys
Miss Alice De Buys
Lord Camerthen
Miss D. Van Dyke
Mr. Paul Greve
Mrs. Paul Greve
Mr. Hermann Goldschmidt
Mr. George Goldschmidt
Mr. W. de Geijer
Mr. E. de Geijer
Mr. Paul Gulden
Mrs. Paul Gulden
Mr. Prof. Max Hummel
Mrs. Prof. Max Hummel
Miss Frieda Hummel
Mr. Vize-Konsul Wilhelm von Kuhlmann
Mrs. Violet Kallenbach
Miss Lucy Kallenbach
Mr. Harry Kallenbach
Mr. Ludwig Krahl
Dr. Lappenberg
Mrs. Dr. Lappenberg
Her Grace The Duchess of Leeds and Servants
Mr. Moritz von zur Mühlen
Mr. R. Meyer
Mrs. R. Meyer
Miss Rosi Meissner
Lady G. Osborne
Mr. Albert Pulvermann
Mr. S. G. Ponsouby
Mrs. S. G. Ponsouby and Children
Mr. R. Padfield
Mr. Freiherr Ernst von Salza and Lichtenau, Royal. Saxon Messenger
Mrs. Freifrau Marie von Salza and Lichtenau, née Countess Vitzthum of Eckstaedt
Miss Marie Barbara von Salza and Lichtenau
Miss Karia von Salza and Lichtenau
Mr. Hary Silding Reid
Mrs. Hary Silding Reid
Miss D. Silding Reid
Dr. Uhlmann
Mrs. Dr. Uhlmann
Mr. Max Voss
Mr. Anenrin Williams
Mr. Geh. Legationsrat Joh. Zahn
To Cherbourg:
Mrs. Direktor Emil S Boas and Servants
Mrs. S. W. Morshead
Mr. Morshead Jr.
Mr. Richard Mussfeldt
Mrs. Armgard von Radowitz
Second Cabin Passengers
Miss Andrussier
Miss Marie Anschauer
Miss Gertrud Andrae
Mrs. Amay Armstrong
Mr. Geo H. Alfs
Mrs. Geo H. Alfs
Miss Johanna Andler
Mr. Bruno Andler
Miss Viola Adam
Mr. Joseph Albert
Mrs. Joseph Albert
Mrs. Helene Auerbacher
Mr. Johann Adelmann
Miss Emma Althaus
Mr. Paul Arm
Miss Katalin Anton
Miss Marianne Bitzlberger
Mr. Robert Bauer
Mrs. Robert Bauer
Mr. Wm. Brendle
Mrs. Wm. Brendle
Miss Käthe Bergherr
Mrs. Katherine Braun
Miss Lina Braun
Mrs. J. Beckert
Mr. John Behrens
Mrs. Dora Behrens
Mr. J. L. Bergner
Miss Elsa Becker
Mrs. Moritz Boel and Child
Mr. Rudolf Bardewyck
Mrs. Rudolf Bardewyck
Mr. Gerhard Boerner
Mrs. Kathinka Boerner
Mr. Ludwig Boerner
Mrs. Auguste Boerner
Mrs. Amanda Bahnsen
Miss Ella Bang
Mr. Charles Baer
Mrs. Charles Baer and Kind
Mr. Clarence Boysen
Mr. Conrad Boysen
Mrs. Ida Boysen
Miss Ilma Boysen
Miss Edna Boysen
Miss Josine Bundesen
Mr. Hermann Bundesen
Mr. John Bahr
Miss Emma Bahr
Mr. Walter Bahr
Mr. Theodor Baaske
Mr. Ernst A. Brede
Mr. Henry Behrend
Miss Magdalene Bohdan
Mr. Fred Brisk
Mr. Bochler
Mrs. Elise Boedcher
Mrs. Elisab. Banar
Mr. Josef Banar
Mr. Jan Banar
Miss Elisab. Banar
Miss Agnes Banar
Mr. Franziszek Balloch
Miss Helene Brenner
Mr. Albert Bluhm
Mr. Leopold Bluhm
Mrs. E. Bronstein
Mrs. Wm. Boeppler
Mr. Fred Boyd
Mrs. Fred Boyd
Miss Berta Bertschinger
Mr. Bernhard Baum
Mr. A. H. Bachmann
Mrs. A. H. Bachmann
Miss Mande Bachmann
Mrs. Barbara Bergmann
Mr. Harry von Brook
Miss Grace Bunce
Mr. Rudolf Beckmann
Mrs. Maria Beckmann and Child
Mrs. Lina Biermann
Miss Anna Beine
Mr. Gerhard Becker
Mrs. Gerhard Becker
Miss Charlotte Becker
Miss Lydia Bottner
Miss Ida Bucks
Mr. Jürgen Böhrensen
Miss Margarethe Bosch
Miss Emma Bahr
Miss Marie Bindermann
Mrs. Mary Budzinska and Child
Mr. Moritz Basseches
Miss Gassie Basseches
Mrs. Peter Carstens and Children
Mr. P. Christensen
Mr. I. Grant Cramer
Mrs. Milian Cramer
Mrs. Samuel Cohen
Miss Helena Cipera
Miss C. B. Cowlay
Mr. Eduard Csoll
Mrs. Matilde Csoll
Miss Matilde Csoll
Miss Marie Cermak
Miss Antonia Czopiak
Miss Lucija Cagran
Miss Elisab. Cagran
Mrs. Paul Dwenger
Miss Helen Dwenger
Miss Dorothee Dwenger
Mr. Erich Duns
Mr. Edward Duns
Mrs. Sophie Duns
Miss Clara Duns
Mr. August Dethlefs
Miss Elsbeth Diederichs
Mrs. Alma Dorner
Mr. Harry Dorner
Mr. Hermann Dorner
Miss Martha Drescher
Frau. Barbara Dittrich
Miss Else Drenkhahn
Miss EIIy Drenkhahn
Mr. Helmuth Dickmann
Mr. Lawrence J. Damm
Mr. Daniel Donvan
Mr. Fred. Endress
Mr. John Endress
Miss Catherine Endress
Mrs. Marie Engel
Mrs. Selma Engel
Mrs. Marg. Engel
Miss Johanna Engel
Mr. Walter Engel
Mr. E. Engel
Miss Johanna Etzer
Mrs. Henriette Eichmann
Mrs. K. L. Ettlinger
Mr. S. Ehrlich
Mrs. S. Ehrlich
Miss Regina Ehrlich
Mr. Charles Egstein
Miss Charlotte Ersson
Mr. John Frödthandl
Mr. Henry O. Fuhrberg
Mrs. Henry O. Fuhrberg
Mr. Oscar Fehrmann
Mr. Julius Fichtl
Mrs. Julius Fichtl and Children
Miss Bettie Fuhrmann
Mr. Emil Fränkel
Mrs. R. Fetzner
Miss Pauline Fetzner
Mrs. Katalin Fuchs
Mr. Josef Fuchs
Miss Elise Fisch
Mrs. E. B. Feller
Mrs. Mary Feistel
Miss Elise Feistel
Mr. Walter Fischer
Mr. Rudolf Frei
Mr. Morris Feldon
Mrs. Fanny Feldon
Miss Milared Feldon
Mr. Karl Göhmann
Mr. Henry Groudahl
Mrs. Henry Groudahl
Miss Emma Gunther
Mr. Frank Glinke
Mrs. Frank Glinke
Mrs. Hermine Green
Mr. E. Herbert Gilg
Mrs. Max Gross
Miss S. Gross
Miss A. Gross
Miss Elsa Grönwoldt
Mrs. Amelia Gasslee
Mr. Gilbert L. Gasslee
Mrs. Tilli Goodmann
Mr. Max Gruber
Mrs. Josephine Gruber
Mr. Paul Grimm
Mr. Franz Grill
Mrs. Louise Grill
Mr. Jacob Greenberg
Mrs. Jacob Greenberg
Mr. Imie Greenberg
Miss Riwa Greenberg
Mr. Michael Grederer
Mr. Samuels B. Goldberg
Mr. Howald C. Gray
Mrs. Howald C. Gray
Mr. Donald Grey
Mr. Charles Grey
Mr. Walter Glyn
Mr. H. W. Goldwater
Mr. Andreas Gutekunst
Rev. Albert Goetz
Miss T. Grose
Mr. Saul Grill
Mr. Max Grose
Miss Elise Grisel
Mrs. Herman Gerken
Mr. Willy Gerken
Miss Alice Gerken
Mrs. Hedwig Heymsfeld
Mrs. Julia Heil
Miss Elsie Heil
Mr. Heinr. Horstmann
Mrs. Mary Hempel
Mr. Reinhold Hartmann
Mrs. Reinhold Hartmann
Mr. Fred Hennings
Mr. Arthur Beck Hamilton
Mr. Kenneth Gardnier Hamilton
Miss Victoria Högel
Mr. Fritz Heimerdinger
Mrs. Anna Heimerdinger
Mr. Jens Hansen
Mr. Hermann Hansen
Miss Rosa Hansen
Miss Josine Hansen
Mr. Gustav Henke
Mr. Franz Hariton
Mrs. Antoinette Hariton
Miss Anna Hlavackova
Miss L. Haberli
Miss Mathilde Holzbrecher
Frau. Margarethe Henke
Mr. Pastor H. Helweg
Mrs. Ellen M. Helweg
Mrs. Louise Himmer
Mr. George Himmer
Mrs. Therese Hofmann
Mr. Emil Herbold
Mr. Konrad Hilk
Mr. Gustav Henk
Mrs. H. Hurwitz
Mrs. Mathilde Hartman
Mrs. Emma Herschmann
Mrs. John Hutter
Mr. Frank Hutter
Mrs. H. V. D. Heinz
Mr. Isaac Hyman
Mrs. Christine Honig
Mr. Anton Haubl
Mr. Adolf Heinze
Mr. Paul Heckel
Miss Frieda Henning
Miss Annie Jewczak
Mrs. Marie Jesensky
Mr. Carl Jensen
Dr. B. W. Junge
Miss Helene Lich
Mr. Otto Juschke
Mr. Hans Johannsen
Mr. Samuel Jerochim
Mrs. Helene Juergens
Mr. Chas. Kohn
Mr. Herm. Kohl
Miss Hannah Kaufmann
Mrs. Kath. Kanz
Mr. Philipp Knauber
Mr. Victor Kafka
Mr. Johann H. Köster
Mr. Klein
Mrs. Lina Klein
Mrs. Beile Kohane
Mr. Friedrich Arthur Kuhn
Miss Erna Kühnel
Miss Hedwig Kurz
Mr. Fred Kaplan
Mr. Josef Kost
Mrs. Iwa Kornes
Miss Ehne Kornes
Mr. Abram Kornes
Mr. George Kane
Mr. A. Kalasch
Mrs. A. Kalasch
Mr. Ferdinand Kramer
Mrs. Barbara Kramer
Miss Martha Kohn
Mr. Hans Kleemann
Frau. Chas. Kulfuss
Miss Lilly Kulfuss
Mr. Chas. M. O. Keefe
Mr. Cadi Klein
Mrs. Cadi Klein
Miss Klein
Mr. Julius Kess
Miss G. Kaehler
Mrs. Mariem Kaczck
Mr. James Kosowir
Mr. Leon Kozakiewicz
Mrs. Johanna Kozakiewicz
Mr. Hans Klein
Miss Marie Lander
Mr. Ed. Lundgren
Mr. John Lieni
Mrs. John Lieni
Mrs. Kathinka Lang
Miss Alwine Lampe
Mrs. Käthie Lenz
Mrs. Korone Lenz
Mr. Karl Lenz
Mr. Max Loewenthal
Miss Maria Lehnen
Mrs. Rosa Letzter
Mrs. Elisabeth Linhart
Mr. Stefan Loeffler
Mrs. A. K. Löhner
Miss Anna Kata Löhner
Mrs. Riwka Lustig
Mr. Benjamin Lustig
Mrs. Appolonia Linder
Mr. Paul Leptien
Mrs. Helene Lehr
Miss C. Lehr
Mr. F. Lange
Miss Elisab. Linster
Mr. R. H. Linkhard
Miss Marie Lindhorst
Miss Emilie Lampl-Mayerhofer
Mr. Henry Matthiassen
Miss F. M. Meylan
Mrs. Minna Mueller
Miss McInnis
Mrs. G. Mintler
Miss Anna Mintler
Mr. G. Mintler
Miss Martha Mertz
Mrs. Elise Minks
Miss Hedwig Minks
Mrs. Hermina Moskovitz
Mr. Hermann Merl
Mr. William Mencke
Miss Marie Molidor
Mrs. Rarbara Matejkova
Mr. Max Moses
Mrs. Max Moses
Mr. Stefan Menzl
Mr. Senö Majorossy, gen. D. I. Andreé
Mr. Fred Meyer
Miss Maria Möller
Mrs. E. Mohritz
Miss Louise Mohritz
Miss Isabel Mohritz
Miss Ernestine Mohritz
Mr. Edw. A. Muller
Mrs. Edw. A. Muller
Mr. Edw. Muller Jr.
Miss Hedwig Muller
Miss Alice F. Merrill
Miss Kuni Meissel
Miss Rosa Moskowitz
Mrs. Lina Marquardt
Mr. Karl Marquardt
Mr. Alfred Marquardt
Mr. A. Meyer
Mrs. A. Meyer
Miss A. Meyer
Mrs. Clara Marcus
Miss Elisabeth Niemann
Miss Amanda Nickelsen
Mr. Fritz Neher
Mrs. Pauline Neher
Miss Pauline Neher
Mr. John Neuroth
Mr. Peter Nissen
Mr. Hermann Niemann
Mrs. Hermann Niemann
Miss Bertha Nitsch
Mr. L. M. Nelson
Mrs. Hannah Nelson
Miss Mabel Nelson
Mr. Melvin Nelson
Miss Daisy Needham
Mr. Henry Niehaus
Mrs. Emma Niehaus
Mr. Jegeschna Neumark
Miss Emma Oest
Mr. Hans Osther
Mrs. Anna Osther
Mr. Robert Oberfellner
Mr. Albert A. Peckert
Miss Sophie Pastor
Mr. August Paulsen
Mrs. Marie Paulsen
Mr. Friedr. Paulsen
Miss Frieda Pagel
Mrs. Dorothea Prinz
Mr. John Petry
Mrs. Katharina Petry
Mr. Jacob Petry
Mr. John Petry
Mrs. Mary Polerecki
Miss Margil Polerecki
Mr. August Papez
Miss Caroline Prehn
Mr. David Prager
Mrs. Mathilde Prager
Miss Laura B. Pfeiffer
Mr. Franz Parkan
Miss Apolonie Psochaska
Mr. Josef W. Quatmann
Mrs. Mary Quatmann
Mr. Peter Heinrich Rump
Mrs. Johanna Rump
Miss Johanna Rump
Miss Emma Rump
Miss Emma M. Ruge
Miss Lillian Roessing
Mr. E. Rittenhouse
Mr. Albert Rist
Mrs. Hulda Rist
Miss Elsa Rist
Mr. Walther Rist
Mr. Emanuel Reichard
Mrs. Cilie Reichard
Miss Ethel Reichard
Mr. Harry Reichard
Miss Helene Rimke
Mr. Georg J. Boesch
Miss Auguste Riske
Miss Marie Blake
Mr. Alexander Rothstein
Mr. Wolf Roches
Miss Apolonia Rochazka
Mr. Arthnr Reinhardt
Mr. Franz Ritz
Mr. Moses Rawiezer
Mr. Josef Reiss
Mr. Emil Basch
Miss Frieda Rasch
Miss Eleonor Rentz
Mr. Adolf Rosenblum
Mr. M. Rosenblatt
Mrs. Bella A. Read
Mr. J. H. Redfield
Miss Teresa Rieger
Mrs. George Rappenglück
Mr. G. F. Reinking
Mr. Franz Rosener
Mr. Josef Reiss
Miss Blume Ruzaiskaja
Mr. G. S. Richards
Mrs. G. S. Richards
Frau. Emma Rosenberg
Mr. Ernst Rosenberg
Mr. Josef Rettenbeck
Mr. Georg Rudiger
Mr. Hubert Siebert
Mr. Thomas Sauer
Mr. Konrad Sauer
Mrs. Johanne Scheele
Mr. Franz Sacher
Mrs. Julia Stocke
Mr. Alfred Solman
Mr. Robert M. Staples
Mrs. Georg Schnepper
Mr. Alfred Schleif
Mrs. Herm. Schleif
Miss Lydia Schramm
Mr. Wm. J. Selling
Miss Lena Schukai
Mrs. Hedwig Schmidt
Mr. Bernhardt Schmidt
Miss Sophia Schmidt
Mr. Adolf Semtner
Mrs. Anna Semtner
Mr. Ernst Stoepler
Mrs. Margarete Stoepler
Mr. Ernst Scheffel
Mrs. Susanne Sitz
Mrs. Catharine Starr
Mr. Karl Senf
Mr. Aug. Senf
Mr. Em. Merz Schmid
Mrs. Em. Merz Schmid
Mr. Heinr. Schettler
Mrs. Grete Sohettler
Mr. Adam Schwabe
Mrs. Bertha Schwab
Miss Edmas Schwale
Mrs. Anna Stern
Miss Antonie Stadler
Mr. Max Stabler
Mrs. Maria Staller
Mr. Willibald Sölliner
Mr. Georg Sallinger
Miss Marie Schulze
Mr. Andreas Schultes
Mrs. Elisabeth Schultes
Mr. Mathias Starch
Miss Elisabeth Seidemann
Mr. Jacob Spiegel
Miss Caroline Schmidt
Mrs. Kat. Sztanko
Miss Henriette Stuck
Mr. Emanuel Schmauck
Mrs. Edm. Schmauck
Miss Luise Schmauck
Miss Helen Schmauck
Mrs. Nikolaus Schultz
Miss Eleanor Schultz
Miss Mildred Schultz
Miss Elizabeth Schaefer
Mr. Rudolf Schmidt
Miss Marie Schütt
Miss Mario Stehr
Mr. Albert Sülzenfuß
Mr. W. H. Short
Rev. Chr. Staebler
Mrs. Marie Schellbach
Miss Christine Sarama
Mrs. M. Schlesinger
Miss Julie Spleth
Mr. A. Schaub
Mrs. Chat. Schreiner
Miss Emma Schreiner
Mrs. Josephine Schulz
Mr. Fcrencz Schwachtye
Mrs. Elise Schwachtye
Mrs. Maria Schuh
Miss Maria Schuh
Mr. Bela Schuh
Dr. A. D. Schragg
Mrs. May Wood Simon
Mr. Mirian Simon
Mr. Konrad Späth
Mrs. Anna Späth
Mrs. Fanny Trebitsch
Mr. Georges Thereses
Mr. R. Tautenhahn
Mrs. R. Tautenhahn
Mrs. Hatzel Taplez
Mr. Erwin Tretler
Mr. Bennevoie Thereses
Mrs. Bennevoie Thereses
Mr. Gustav Troltsch
Mrs. Gustav Troltsch
Mrs. M. Trotman
Mr. Wilhelm Törber
Miss Aurelia Towne
Miss Iren Tornai
Mrs. Stella Tobias
Miss Hanna Tobias
Miss Beatrice Tobias
Mr. M. Underberg
Mrs. M. Underberg
Mr. Jacob. Ungar
Mrs. Jacob Ungar
Mr. Wenzel Vancura
Mrs. Rezie Vachcova
Mr. J. F. Volkerts
Mrs. Mathilde Volkerts
Miss Mathilde Volkerts
Mr. Morris Wanderby
Mr. A. F. Westcott
Mrs. A. F. Westcott
Miss Katharine Winter
Mr. Arthur Weinreb
Mrs. Arthur Weinreb
Miss Bertha Wolff
Mrs. Augusta Wolff
Mrs. Lillie Wolff
Miss Rosa Wolff
Miss Margot Weiss
Mrs. Elisa Wieland
Mr. John Wieland
Miss Meta Weste
Mrs. Anna Weidner
Mrs. R. H. Wilcox
Miss Josephine Wolf
Miss Edna Werner
Miss Lulu Wunder
Miss Minnie Winters
Mrs. G. A. Wachburn
Mr. Win. Wiegand
Mrs. Wm. Wiegand
Miss Marg. Wiegand
Miss Johanne Wulff
Mr. Sam Williams
Mrs. Sam Williams
Miss Mary C. Young
Mrs. Hedwig Zeller
Mr. Wilhelm Zierfuss
Mrs. Auguste Zierfuss
Mrs. Louise Zangrandi
Miss Marie Zangrandi
Mrs. Auguste Zuck
Mr. Karl Zurheide
Mrs. Johanna Zurheide
Mr. Norbert Zoerkler
Mrs. Bertha Zoerkler
Mr. Alois Zoerkler
Mr. Norbert Zoerkler
Mrs. Margaret Zahn
To Southampton:
Miss Theresia Brini
Mrs. Bannau
Mrs. Hedwig Castellot
Mr. Henry Jahn
Mr. Charles Johnson
Miss Korman
Mr. Wm. H. Maxey
Mr. Meyer Mrs. Meyer and Child
Mr. Hans Morawiz
Mrs. Aloisa Marini
Miss Milbradt
Mr. Milbradt
Dr. Petersen
Mr. Edward Rideal
Mr. Hermann Stendel
Mrs. Douglas Schneider
Mr. Bennett Schneider
Mr. Douglas Schneider
Miss Doris Schneider
Mr. Ralph Scharrer
Miss B. Whincup
Information for Passengers
Important!
Passengers' attention is called to the ships rules and regulations, a copy of which will
be found in each cabin.
Passengers are requested to apply for their Mail on board to the Office of the Passenger Department.
Public Telephones, with booths and an operator, are located on the Hamburg America Line Pier, foot of First street, Hoboken, N. J.
Travellers' Checks issued by the Hamburg -Amerika Linie. Payable everywhere. The Most Desirable Means of Carrying Funds Abroad. Combining both Safety and Convenience.
We issue Travellers' Checks in U. S. of America in denominations of $ 10, $ 20, $ 50 and $ 100 and of A. 50 and A. 100 in Germany.
These Checks will not be accepted on board the steamers of the Hamburg America Line for any other purpose than in payment of passage, or of bills incurred on board, provided check is not greatly in excess of bill. They cannot, however, be cashed on board, as the Pursers and Chief Stewards on the steamers usually have only a small amount of ready money to dispose of.
Office of the Hamburg-Amerika Linie Passenger - Department.
On the C. - Deck of the S. S. Cincinnati an Office of the Passenger - Department has been established. This Office furnishes information to Passengers concerning the railings of our steamers, the railway services from port of arrival into the interior, the Pleasure and Health Cruises arranged by the Hamburg - Amerika Linie and the various personally Conducted Tours managed by the Company's Tourist Office (Reisebureau der Hamburg-Amerika Linie).
It also provides information with regard to the despatch of baggage, customhouse arrangements and other questions which are of importance to travelers. At the Office, tickets are issued for the return - passage either from or to America, for the other regular services of the Hamburg-Amerika Linie and for Pleasure and Health Cruises, as well as for Conducted Tours on shore. The Office is the place where the letters and telegrams arriving on board for Passengers are kept and delivered.
The Office has also full control of all matters relating to change of staterooms, as well as charge of all unoccupied cabins.
The Marconi Wireless Telegraph Service.
The Marconi Station on board is almost daily in communication with any part of the world either directly through the shore-stations, or indirectly by means of passing ships. The names of the shore-stations and of the ships with which communication is expected during the day, are posted every morning in different parts of the ship.
The Hamburg-Amerika Lithe is not responsible for the transmission of the telegrams.
Passengers and their friends are informed that an office of "La Compagnie Française maritime et coloniale de Télégraphie sans fil" has been opened in Paris at 35, Boulevard des Capucines (opposite Rue Scribe) for the special purpose of accepting wireless messages for transmission through Marconi Coast Stations to Passengers on steamers fitted with Marconi apparatus.
All information regarding tariffs and rates can be obtained on application to the Marconi Station on Board, which is situated on the Sonnendeck, or in one of the following offices:
London W. C., Watergate House, Ade1phi: The Marconi International Marine Communication Co. Ltd
Brüssel, 19 Rue Bréderode: La Compagnie de Télégraphie sans fil
Rom, Corso Vittorio Emanuele 317: Compagnia Internazionale Marconi per le comunicazioni marittime
The telegrams from shore to ship should be addressed as follows and must reach in good time the shore stations from which they will be transmitted to the ships:
Name of passenger
Name of ship preceded by the word "steamer"
Telegraphic address of the shore station by the intermediary of which the telegram is to be forwarded
Names of the wireless Stations in Europe: Cuxhaven, Norddeich, Borkum, Scheveningen (Netherlands), North Foreland (near Dover), Niton (Isle of Wight), Lizard (England), Crook-haven (Ireland).
Names of the wireless Stations in America: Cape Race (Newfoundland), Sable Island (Nova Scotia), Siasconset (Massachusetts), Sagaponack (New-York) and Sea Gate (New-York).
The Reisebureau der Hamburg-Amerika Linie
8, Unter den Linden, Berlin W.
Telegraphic Address : Hapag
Telephone 1, 9197, 9198, 9199
by virtue of its Own System of Combinable Tickets for Railways and Steamers
(Hapag-Tickets) is in a position to supply at original prices to Passengers tickets from all large centres to port of embarkation, or from port of embarkation, back to the principal places in Europe, including tickets for beds in Sleeping-Cars, &c. &c.
In order to obtain these tickets application should be made to the Reisebureau or one of its Branch Offices.
Traveller guides (Baedecker, Meyer, Woerl) as well as all literature referring to traveling may be obtained from the Reisebureau.
In the Reisebureau in Berlin, there is an official booking office for combined tourist tickets. This Office is also entitled to receive baggage officially on behalf of the railway, for despatch from Berlin to all the large towns in Europe.
The Reisebureau der Hamburg-Amerika Linie also acts as Agent for all the most important Railway and Steamer Companies both at home and abroad. On the strength of many years' experience, and an abundant provision of time - tables, tariffs, &c., information concerning traveling in all parts of the world, is furnished gratis. All further particulars appear in the prospectuses, which can be had free of cost, on application to the Reisebureau.
The Hamburg-Amerika Linie was founded in 1847. It owns a fleet of 168 large ocean-steamers, 217 steam-launches, tugs and lighters, aggregating together, with the ships in course of construction, 385 vesseis, registering 979,217 tons. Its services
embrace the entire globe.
The Twin-Screw S. S. "Deutschland" is 686 1/2 feet in length, 67 1/2 feet beam, 44 feet deep. 16 502 tons, 35 600 horse-power, 23 1/2 knots average speed.
Fastest ocean-passage westwards: 5 days, 11 hours, 54 minutes.
Fastest ocean-passage eastwards: 5 days 7 hours 38 minutes
The now giant steamers of the Hamburg-Amerika Linie SS. Amerika and Kaiserin Auguste Victoria
Some of the advantages offered by these steamers:
Complete Safety Appliances
They are unsinkable, because of their numerous water-tight compartments
Automatic Fire-extinguishing Apparatus
Submarine Bell Signalling System for detecting the proximity of danger in fog
Extreme steadiness, owing to large carrying capacity and bilge keels
Perfectly balanced Engines, entirely eliminating vibration
Excellent Ventilating System. Central Filtering System
Gypsy Band in Ritz's Carlton Restaurant
Promenade Concerts and Concerts during Dinner
Three Spacious Promenade Decks. Numerous Sheltered Corners on Deck
Luxurious and Home-like Furnishings throughout the Steamer
Luxurious Ladies' Parlors, Smoking and Writing Rooms
Chambers de Luxe, consisting of Parlor, Dining-room, Bedroom, Dressing-room, Bath and Toilet. Dining-room à la carte
Ritz's Carlton Restaurant k la carte
Fresh Flowers always on sale
Gymnasium with Electro-Zander Apparatus
Electric-light Baths
Trained Nurses connected with the Physician's staff
Telephone connections
Office of the Passenger Department. Ladies' Hairdresser
The new large twin-screw steamers of the Hamburg-Amerika Linie Cincinnati and Cleveland.
The new liner "Cincinnati", which was launched at the yards of the Schichau Shipbuilding Company at Danzig, Germany, in August, 1908, and her sister-ship, the "Cleveland", which was constructed at the yards of Blohm & Voss at Han burg, Germany, are intended for the New-York passenger and freight service, and both vessels are splendidly appointed for the transportation of Passengers as well as freight.
They are similar in type and appearance to the steamers "KaiserIn Auguste Victoria" and "Amerika", though of somewhat smaller dimensions. These vessels afford the greatest comfort and luxury, as they are provided with all of the modern features of the two weli-known liners referred to above : they may be classed among the most modern liners of the present day.
The dimensions of the "Cincinnati" and "Cleveland", are as follows : length, about 600 feet; width, about 65 feet; height, from water-line to upper deck, about 50 feet; tonnage, 17,000 tons. They are built of the best steel, and are provided with 5 steel decks and a doubie bottom extending the entire length of the ship. which latter is sub-divided into numerous water-tight chambers, and the hull itself is divided into 11 water-tight compartments.
Two well-balanced high and low pressure engines of the quadruple expansion type, which are supplied with steam from three double and three singie boiiers, give these vessels a speed of about 15 1/2 knots.
They have the capacity for about
230 First Cabin Passengers
400 Second Cabin Passengers
530 Third Cabin Passengers
2200 Steerage Passengers
and have a cargo capacity of about 15,000 tons. The crew comprises about 860 officers and men.
The accommodations in the first cabin have received special attention, and in addition to the iarge number of ordinary staterooms there will be 70 rooms for the sole use of one passenger; severai suites comprising parlor, bedroom and bath-room, and number of large rooms with bath and toilet.
The spacious dining-room, which is located on the upper deck, has been equipped with smail tabies for two, four and six persons, and the saloon is large enough to accommodate all Passengers at one sitting, even during the height of the season.
On the promenade deck there is located a spacious iounge, music room, writing room, smoking room and gymnasium, and on the different promenade decks sheltered corners are provided affording protection from the wind and weather when the conditions are unfavorable.
In addition to the above-named features, there is an electric passenger elevator connecting the different decks, a well-equipped gymnasium with eiectrical apparatus electric light baths, a dark room for photography, a book-stall, library, Office of the Passenger Department etc.
For promenading there are two large promenade decks, and in addition there is a iarge open deck on the top of the uppermost deck-house.
The arrangement of the second cabin has also been given special attention, and affords every modern comfort and convenience. The main saloon, ladies' parlor and the smoking room are simiiar in size, design and decoration to those of our most recent vessels.
For the safety of the vessel, the doors of the water-tight compartments have been equipped with automatic hydraulic devices, enabling the Captain to close ail of the doors in a few seconds from the bridge. The vessels have also been equipped with sub-marine bell systems, fire extinguishers, a complete Ore alarm system, steam pumps, etc.