SS New York Passenger List - 9 August 1934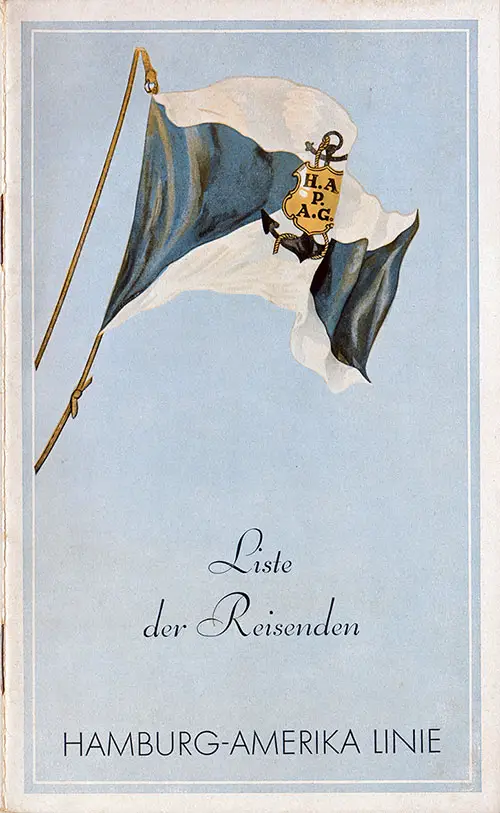 Front Cover of a First and Tourist Class Passenger List for the SS New York of the Hamburg America Line, Departing Thursday, 9 August 1934 from Hamburg to New York via Southampton, Cherbourg, and Cobh (Queenstown), Commanded by Commodore Kruse. GGA Image ID # 177eeb284c
List of Officers
Commander: Commodore Kruse
1st Officer: W. Arfsten
2nd officer: H. Vasel
2nd Officer: A. Franiel
2nd officer: H. Westphal
3rd Officer: W. Ziegler
3rd Officer: R. Büschler
4th Officer: H. Damnitz
1st radio officer: H. Stoldt
2nd radio officer: A. Heide
3rd Radio Officer: W. Ast
4th radio officer: H. Hansen
Chief Engineer: R. Franz
2nd engineer: G. Matthiessen
2nd engineer: F. sleeper
3rd Engineer: B. Hamann
3rd Engineer: W. Schlichting
3rd Engineer: F. Meyer
3rd Engineer: L. Momsen
3rd Engineer: M. Stoltenberg
4th Engineer: P. Koopmann
4th Engineer: A. Scheel
4th Engineer: P. Gottwald
4th Engineer: W. Gütschow
1st Electrician: A. Bublitz
2nd Electrician: F. Matzen
Projectionist: B. Miessner
1st Physician: Dr. C. L. Schmidt
2nd Physician: Dr. G. Paschlau
Nurse: Käthe Rotmann
First Purser: O. Höfel
Purser: A. Pape
Purser: F. Smeikal
Assistant Purser: K. Keim
Assistant Purser: H. Glaeser
Assistant Purser: W. Brueggemann
Baggage Master: O. Schmidt
Chief Steward 1st Class: A. Specht
Assistant Chief Steward 1st Class: R. Nieter
Assistant Chief Steward 1st Class: P. Baum
Assistant Chief Steward 1st Class and Grill Room Chef: K. Kiews
Chief Steward Tourist Class: A. Martiensen
Assistant Chief Steward Tourist Class: E. Thomas
Steward Tourist Class: P. Gerhard
Assistant Steward Tourist Class: A. Bucherer
Head Chef: K. Schneider
Orchestra Conductor: H. Reimers
First Class Passengers
To New York:
Miss Helen Altman
Mr. Kapitän Walter L. Anderson
Mrs. Walter L. Anderson
Mrs. William Andrews
Mr. Vallee O. Appel
Mrs. Vallee O. Appel
Mrs. Luise Atkinson
Mr. Dr. John H. Banks
Mrs. John H. Banks
Mr. Dr. Karl A. Bauer
Mrs. Karl A. Bauer
Mr. August Beutkamp
Mr. Karl A. Beutkamp
Mr. William Clayton Black
Mrs. William Clayton Black
Mrs. John Borg
Mr. Donald Borg
Mr. Max Breitung
Miss Priscilla Bromley
Miss Pauline Brown
Mrs. Grace Buckminster
Miss Susan Canfield
Mr. Clifford C. Carpenter
Miss Priscilla Cartwright
Miss Marion Cartwright
Miss M. K. Casey
Mr. Herbert O. Caster
Mrs. Herbert O. Caster
Miss Mary Caster
Miss Catherine Conklin
Mr. Gardner Cushman
Mr. Edward H. Dederick
Mrs. Edward H. Dederick
Mr. Robert Densmore
Mrs. Robert Densmore
Mrs. W. H. Dickey
Mr. D. D. Dickey
Mr. Herman H. Doehler
Mrs. Herman H. Doehler
Miss Ruth Doehler
Mr. Frederick Draeger
Mrs. Frederick Draeger
Miss Dorothy Drew
Miss Helen Drew
Miss T. Marie Dunbar
Mr. R. L. Ellington
Miss Grace E. Emery
Miss Katherine Emery
Mr. Frederick A. Fable
Mrs. Frederick A. Fable
Mr. Lawrence G. Fell
Mrs. Lawrence G. Fell
Miss Hildreth Fessler
Mr. Heinrich Freudenberg
Mrs. Heinrich Freudenberg
Mrs. Grace B. Gilbert
Mr. John J. Gordon
Mrs. John J. Gordon
Mr. Robert N. Gordon
Mrs. Maybelle D. Gouert
Mrs. R. W. Gray
Mr. Joseph A. Gutekunst
Mr. Bayard Hand
Mrs. Bayard Hand
Mr. Bayard R. Hand Jr.
Mr. J. M. Colton Hand
Barclay L. Hand
Mr. Flugkapitän Alfred Henke
Mr. Edwin Hickman
Mrs. Edwin Hickman
Mr. Norman G. Hickman
Mrs. Gertrude Pierce Hoage
Mr. J. Oakley Hobby Jr.
Mrs. J. Oakley Hobby Jr.
Mr. Dr. jur. Walter Hoffmann
Mr. A. L. Holme
Mrs. A. L. Holme
Mr. Frank J. Hooley
Miss Francis Hooley
Mr. Direktor G. Hüttner
Mrs. G. Hüttner
Mrs. Florence Innes
Mr. Kurt Janke
Mr. William H. Kingsley Jr.
Mrs. William H. Kingsley Jr.
Miss Katrina Kipper
Miss Marie D. Klein
Miss A. Catherine Klein
Mr. John H. Knebels
Mr. Konsul C. Porter Kuykendall
Mrs. C. Porter Kuykendall
Mr. Herbert Kusserow
Mr. William P. Lade
Miss Margaret Lancto
Miss Evelyn K. Laporte
Mr. Oscar R. Lundin
Mr. Thomas A. Manning
Miss Katherine Mannix
Mrs. John Maquire
Miss Kathryn Maquire
Miss Gertrud Merchel
Miss Alice Merriam
Mrs. F. C. Merry
Mr. Allerton Miller
Mrs. Lillian Davis Miller
Mr. William A. Miller
Mrs. William A. Miller
Mr. William A. Miller Jr.
Mr. Philip G. Miller
Mrs. D. J. Miskey
Mr. Dr. Walter Mund
Mrs. L. W. Murfey
Mr. L. W. Murfey Jr.
Mr. E. Albin Nebel
Mrs. E. Albin Nebel
Mr. Edgar Nolger
Mr. Eric von Nostitz
Mrs. Eric von Nostitz
Mr. Charles H. O'Brien
Mr. C. H. O'Brien
Miss Frances O'Brien
Mr. Hans Oppenheimer
Miss Marie E. Page
Miss Dr. Louise Pearle
Mr. Charles Perry
Mrs. Edwin Phipps
Miss Helen Pierce
Mrs. Romaine Pierson
Mrs. Robert C. Rathbone
Mr. H. Lee Rauch
Mrs. H. Lee Rauch
Mrs. George J. Raymond
Mr. Herman H. Remecke
Herman H. Remecke
Miss Josephine Reynolds
Mr. Willard Robinson
Mrs. George A. Robinson
Mr. Georg Rothstein
Mrs. Marie M. Schneidereith
Miss Helene M. Schneidereith
Mrs. C. N. Shelden
Mr. George Simon
Mrs. George Simon
Mr. Direktor Hans Simon
Mrs. Hans Simon
Mr. William T. Snyder Jr.
Mr. Xaver Sogalla
Mr. Anton Soukop
Mrs. Anton Soukop
Miss Josephine Stapleton
Mr. A. Ernest Succop
Miss Mary L. Succop
Mr. Jacquelin A. Swords
Mrs. Jacquelin A. Swords
Mr. Gerhard Tappert
Mr. Peter Thomson
Miss Fredericka Venables
Mr. John C. Weadock
Mrs. John C. Weadock
Mrs. K. D. White
Miss D. White
Mr. Lansing Wilcox
Mrs. Lansing Wilcox
Miss Joan Wilcox
Miss Nancy Wilcox
Mrs. Rosemarie Wild
Mr. Dr. Percy H. Williams
Mrs. Percy H. Williams
Mr. Richard W. Wolfe
Mrs. Richard W. Wolfe
Mr. Dr. A. Wollner
Mr. Richard Wright
Mr. Satoschi Yamane
To Southampton:
Mr. Alfred S. Black
Mrs. Alfred S. Black
Mrs. John Austin Black
Mr. Dr. Wilhelm Blank
Mrs. Guy Bolton
Guy Bolton
Miss Mina Busch
Mr. Einar L. Dane
Mr. Dr. Curt Drotschman
Mrs. Curt Drotschman
Mr. R. Lindsey Ellington
Miss Margareth L. Farley
Mrs. Maria Fuhrmann
Mr. Phil. Gray
Mr. Hans Gülck
Mrs. Thomas Hall
Mrs. Margaret Hanke
Mrs. Bertha Jacobsen
Mrs. Friedrich Joch
Mr. Reginald H. Jones
Mrs. Reginald H. Jones
Miss Jean Kennedy
Miss Emmy Körner
Miss Julia B. Lockwood
Mr. Staatssekretär Dr. Johannes Krohn
Mrs. Johannes Krohn
Miss Maries Elisabeth Krohn
Mr. Ernest Ainsworth Lambert
Mrs. Ernest Ainsworth Lambert
Patricia Lambert
Joan Lambert
Mr. Charles W. H. Mennig
Mrs. Olivia Murrays-Tosh
Mr. Dr. Hans Naunberg
Mrs. Hans Naunberg
Miss Anhey Paige
Mr. Charles B. Prettyman
Mrs. F. A. Richter
Adolf Dietrich Freiherr von Schönberg
Mrs. M. G. Jacobsen
Mr. Seckel
Miss Patricia Squire
Mr. Arnold H. Vorster
Rev. Walter Westow
Mrs. Wilma Wilfarth
Mr. Arthur Wolters
To Cobh:
Mr. Dr. Paul Ehlers
Mrs. Paul Ehlers
From Southampton To Cherbourg:
Mr. Dr. Otto Campe
From Southampton To Cobh:
Mr. Mathias McCarthy
Tourist Class Passengers
To New York:
Mr. Theodor Aichmann
Mr. Martin Anderson
Mrs. Martin Anderson
Miss Mabel Anderson
Mr. Willy Andresen
Mrs. Willy Andresen
Mrs. Gladys Andrews-König
Mrs. Berince Andrews-Johnston
Miss Lydia Appel
Mrs. W. C. Baker
Miss Virginia Ballard
Mrs. Helen D. Barrett
Mrs. Rosa Barth
Schwester Amy Baver
Rev. Ernst Bayes
Mrs. Wilhelmine Benatzky
Mrs. Maria Berghoff
Miss Wilma Berghoff
Mr. Dr. Michael Berliner
Mrs. Olga Bindseil
Miss Gertrud Bindseil
Miss Mae Bliss
Mrs. Elsa Bocker
Mr. Alfred Böhmer
Mr. Grant R. Bourne
Miss Adah S. Borgerding
Miss Grace Borgerding
Mr. Richard Brady
Mrs. Richard Brady
Neal Brady
Jozee Brady
Mrs. Bertha Braun
Miss Blanche Brickett
Miss Anna M. Brodbine
Mr. John F. Brugger
Mr. Dr. Max Brumann
Mrs. Max Brumann
Mr. Hermann Buck
Mrs. Hermann Buck
Mr. Heinrich Bühring
Mr. Dr. Georg Burkhardt
Mrs. Georg Burkhardt
Miss Lucille M. Burianek
Mrs. Dorothy Burns
Miss Lisa Buschner
Mr. Fritz Busemann
Mrs. Anna Campbell
Mrs. Thomas Carrie
Mr. Frank Carroll
Mrs. Frank Carroll
Miss Greta Cashion
Miss Frieda A. Caviezel
Colonel Alfred Chandler
Mr. Thomas Cherry
Mr. Professor George M. Chrony
Mr. Professor Robert Clark Jr.
Mr. Georg Clasing
Miss Hertha Classen
Rev. Thomas Colreany
Mrs. Josephine Conroy
Mr. Professor Wm. Alpha Cooper
Miss Mona M. Corlett
Mr. Präsident Wm. Crome
Miss Grace A. Cruickshank
Mr. Dr. John Daly
Mrs. John Daly
Miss Francis Daly
Mr. George Damerell
Miss Juana Danziger
Miss Blanche Davis
Mr. Evan B. Davis
Miss Rose G. Davis
Mrs. J. Davison
Mrs. F. L. Decker
Mrs. Martha Diebel
Mr. Richard Dohme
Mrs. Richard Dohme
Rev. Anthony Doherty
Rev. Michael Donoher
Mr. Walter Döring
Mrs. Wilhelmine Dubbels
Mr. Karl Dürr
Mrs. Karl Dürr
Karls Werner Dürr
Mr. Professor Clarence W. Eastman
Miss Arlene Egger
Miss Elizabeth Ellis
Miss Agnes C. Engel
Mr. Wilhelm Ensslin
Mr. Manuel Eraso
Mr. Henry E. Fischer
Mr. Denison Fish
Mr. Hugo Flatz
Mrs. Hugo Flatz
Sofie Flatz
Miss Dorothy Fly
Mrs. L. F. Francis
Mrs. Helene Frank
Mr. Max Freudenthal
Miss Ida Fuhrmann
Mr. Dr. Ellis Fuller
Mr. Dr. Günther Gaede
Mrs. Ida Ganz
Miss Harriet Garrison
Mr. Wilhelm Gayde
Mrs. Wilhelm Gayde
Mrs. Hermana Gerth
Miss Clarence Gifford
Mr. Professor Henry Glasson
Miss Elisabeth Gmelin
Miss Helma Goldenberg
Mr. Theo Goldenberg
Mrs. Grace B. Goss
Miss Emma Gould
Mr. Paul Greenfield
Mrs. Paul Greenfield
Miss Julia W. Griffin
Miss A. L. Guilfoyle
Mr. Pfarrer C. Günther
Miss Delia Hadsell
Miss Gertrude Halleran
Mrs. Therese Hallmann
Leo Hallmann
Mrs. Hedwig Hamlet
Mrs. Marie Harder
Rev. M. P. Harney
Mr. Professor Raymond Harriman
Miss Dorothy Harrison
Miss Edith Hasselberger
Mr. Albert Heineberg
Mrs. Julia Helmick
Mrs. Julia Hendricks
Mrs. Johanna Henle
Mr. Walter Herrington
Mr. Dr. E. T. Hessle
Mrs. E. T. Hessle
Miss Dr. Anna L. Hicks
Mr. Hans Hiedemann
Miss Liesel Hiemenz
Miss Sarah E. Hinman
Mr. Maurice Hinman
Miss Margarethe Hörz
Mrs. Anna Hörz
Mrs. Anna Hughes
Miss Bessie Hunton
Miss Agathe Illaya
Mr. Wm. Jackson
Mrs. Wm. Jackson
Mr. Albert Jacometti
Mrs. Albert Jacometti
Miss Erna Jandorf
Mr. Fred Jark
Mr. Dr. C. S. Joakum
Mr. Seymour St. John
Mr. George St. John
Miss Maude Lou Johnson
Miss Ada Johnson
Mr. Dr. William H. Jones
Miss Norma Jones
Mr. Ernst Jung
Mrs. Ernst Jung
Mr. Felix Jung
Mrs. Felix Jung
Mr. Walter Jung
Mrs. Walter Jung
Mr. Max Kahn
Mr. Karl Kalkoffen
Mrs. Karl Kalkoffen
Mr. Christian Kaupp
Miss Margaret E. Kennedy
Mrs. Alma W. Kimball
Mr. Roy Kimmei
Miss Elsa Kirchheimer
Mr. Fred A. Klemm
Mrs. Friedo Klemm
Miss Gertrude Klemm
Mr. Theodor Kling
Mrs. Antonie Klingenberg
Mr. Dr. Max Knoefel
Mr. Arthur Köhler
Mrs. Arthur Köhler
Mr. Johann Kriebs
Mrs. Johann Kriebs
Mr. Otto Krug
Mr. Dr. Heinrich Kruse
Mrs. Heinrich Kruse
Rolf Kruse
Mrs. E. Kypke
Miss Selma Laabs
Mr. Erich Laboschinski
Mr. Karl Landahl
Mr. Kurt Lande
Mrs. Kurt Lande
Miss Pauline Laurer
Miss A. Leissner
Miss Helen Lesk
Miss Lotti Loeb
Mrs. L. S. Lombard
Miss Marion Long
Miss Rose Longan
Miss Elizabeth Loomis
Mr. Michael T. Lynch
Rev. Richard Maloney
Miss Katherine Mannix
Miss Janet MacDonald
Mr. Montgonary McIntosh
Mr. Anton Memmer
Miss Helen A. Metz
Miss Catharina Meyertöns
Mr. Richard Michel
Mrs. Martha Michel
Miss Gertrud Michel
Mr. Dr. Karl S. Miller
Mr. C. J. Milz
Mr. Anton Missong
Miss Else Molitor
Miss Susan Monahan
Miss Loretta Monahan
Mrs. Susanne Montbrun
Miss Marie Montbrun
Mrs. John M. Moore
Mr. Garfield Morgan
Mr. David A. Morris
Mrs. David A. Morris and Familie
Mr. Wm. Morrison
Mrs. Wm. Morrison and Familie
Miss Alice M. Mortell
Miss Anne Moynihan
Mr. John Murphy
Mr. M. A. Murtagh
Mrs. M. A. Murtagh
Mrs. Anna Neff
Mr. B. Nelson
Mrs. B. Nelson
Mr. Justin Neumann
Mr. Jerry Newby
Mrs. Jerry Newby
Mr. Byron R. Newton
Mr. Friedrich Niemann
Mr. Direktor Joh. Nobis
Miss Frances O'Brien
Mr. William Ohlhaber
Miss L. M. O'Neale
Mr. Daniel O'Neill
Miss Ethel O'Neill
Mr. Heinrich Opitz
Mrs. Sophie Ottenheimer
Mr. Elias Ottenheimer
Mrs. Elisabeth Otto
Mrs. Caroline Pahler
Miss Florence B. Palmer
Mr. Stanislaus Papych
Miss Elizabeth Pardy
Miss Jewell Parkin
Schwester Mary Patrick
Miss Ruth de WittsPearl
Miss Louise Peck
Miss Gertrude Pecoroni
Miss Marie Petruscheck
Mrs. Dr. Anna Plessing
Mr. Professor Dr. James Pollock
Mrs. Liselotte Prietzel
Mr. Rudolf Prinz
Mr. Hugh Quinn
Mr. Professor Dr. John Rachen
Mr. John J. Reade
Miss Ann Regner
Miss Beatrice Reilly
Miss Mary Reilly
Miss Bertha H. Reinke
Mr. Dr. Eduardo Ricaurte
Mr. Ernest Ricckmann
Mr. Walter Rist
Miss Caroline Rives
Mrs. Bertha Roberts
Mr. Frederick Rodel
Mrs. Frederick Rodel
Mr. Fred Rodel
Miss Ilse Roth
Mrs. M. A. Rügen
Mr. George van Santvoord
Mrs. W. H. Schaefer
Mr. Friedrich Schäfer
Miss Cordelia Schaffner
Miss Grace A. Schaffner
Miss Professor Dorothy Schaffter
Mr. Wilhelm Scherwitzki
Mrs. Wilhelm Scherwitzki
Mr. Georg Schlange
Schwester Edna Schmid
Mrs. Margarete Schmidt
Mr. Dr. Georg Schmiel
Mrs. Georg Schmiel
Miss Berta Schmitt
Miss Margarete Schmitthenner
Miss Dell. Schoonmaker
Mr. Otto Schöneberg
Miss Henriette Schrauer
Mr. Professor Dr. Carl Schreiber
Mrs. Louisa Schutte
Mr. Ernst Schwarz
Mrs. Ernst Schwarz
Mr. Wilhelm Schwarz
Mrs. Wilhelm Schwarz
Mr. Philipp Schwender
Mrs. Philipp Schwender
Mr. Karl Schwender
Miss Gretchen Schwoebel
Mr. John Sederle
Mr. Chas. Seymour Jr.
Miss Florence Shaw
Mrs. J. Marden de Shorn
Mr. Präsident Homer Le Roy Shantz
Miss Ettel Singer
Mrs. Martha G. Sloan
Mrs. Mary Sorensen
Miss Ethel Sorensen
Mr. Harry Stanton
Mrs. Harry Stanton
Mr. Charles G. Staubitz
Mrs. Charles G. Staubitz and Familie
Mr. Ludwig Steiger
Mr. Walter Stein
Mrs. Marie Steinhardt
Mr. Friedrich Steinmetz
Miss Paula Stern
Miss Elizabeth F. Stevens
Mr. Professor Stewart Stoke
Miss M. H. Stoll
Mr. W. A. Strobach
Mrs. Josephine Sturzenegger
Mr. H. B. Taylor
Mrs. H. B. Taylor
Miss Helen Taylor
Mary Taylor
Harry Taylor
Berody Taylor
Mr. Dr. Kornel L. Terplan
Mrs. Helen Thayer
Walter Thayer
Mr. F. Traugott
Mrs. F. Traugott
Miss Jane Trimble
Miss Mary Trimble
Miss Gertrude Trombly
Mrs. Anna Turner
Mr. Professor Herbert Vogel
Mrs. Herbert Vogel
Miss Hedwig Wachowsky
Miss Catharina Wachowsky
Mrs. Hildegard Wagner
Miss Constance Walker
Mr. Jean W. Wanamaker
Mr. D. S. Warfel
Mrs. D. S. Warfel
Mrs. Anna Warschaver
Mr. Professor Oliver Washburn
Miss E. M. Watts
Miss May Watts
Mrs. Therese Weber
Mr. Professor Oswald Wedel
Miss E. M. Weller
Miss Margaret Wells
Miss Julia Williams
Mrs. Martha Wille
Mr. Direktor Karl Wilke
Miss Ethel Winterfield
Mr. Professor Benjamin Wright
Mr. Henry Wulfsohn
Mr. Christian Ziegenspeck
Mrs. May Zwilgmeyer
To Southampton:
Mr. George Abernathy
Miss Anny Allen
Miss Betty Allen
Mr. James Andrews
Mrs. Inge Baker
Miss E. E. Baldwin
Miss Bertha Bessunger
Mr. Professor Dr. Herbert Blumer
Mr. Albert Bossom
Mr. Dr. Kurt Busemann
Mr. Dr. Rudolf Cassierer
Mrs. Rudolf Cassierer
Miss Irmgard Christiansen
Mr. Gerald Clayton
Mr. Pres. Thomas Conser
Mr. John Coupe
Mr. Walter Crainger
Mrs. Walter Crainger
Walter Crainger
Mr. George Downes
Mr. Edward Downes
Mr. Artur Dunton
Mrs. Gertrude Ettinger
Mr. Dr.William Gallaugher
Mrs. William Gallaugher
Mr. Arthur Gardner
Mr. John Gardom
Mrs. Dr. Erna Haas
Mr. Kenneth Hill
Mrs. Rosalie Hughes
William D. Hughes
Mr. Harry Johnes
Mrs. Harry Johnes
Miss Klara Jürgensen
Mr. Bernard Kent
Mr. Horst Klemund
Miss Margarete Knoke
Mr. John Longley
Mr. John Longley Jr.
Mr. Professor McKinn Marrick
Mrs. Edith Morris
Miss Johanna Müller
Mr. Professor Wm. A. Orton
Miss Ellen Paczyna
Mr. Leonhard Page
Mrs. Leonhard Page
Mr. Alfred Partridge
Miss Margareth Phillips
Mr. Rodney S. Pearson
Mrs. Rodney S. Pearson
Davis Pearson
Miss Magda Raabe
Mr. Otto Reiche
Mrs. Otto Reiche
Mr. Franz Riecke
Mrs. Franz Riecke
Miss Anna Schupfer
Mrs. Margarethe Schwartz
Mr. A. Mason Ronald Schwartz
Mr. Professor W. Smith
Miss Mollie Thorn
Mr. William Tompkins
Mrs. William Tompkins
Miss Ida Tompkins
Miss Mary Warren
Miss Dora Waterhouse
Mr. Ashley Williams
Miss Phyllis Wood
To Cherbourg:
Mr. Professor Reginald Coggs-Hall
Mr. Horace Nickels
Mrs. Horace Nickels
To Cobh:
Rev. Patrick Brown
Miss H. Browner
Miss K. Byrne
Mr. Joseph Clavin
Rev. Daiti Conchbair
Rev. Maurice Dufficy
Miss J. Duffy
Rev. A. Griffith
Mr. J. Griffith
Mr. Cornelius Heffernan
Miss J. Keeley
Rev. Fr. Kennedy
Rev. Fr. P. Kennedy
Rev. William Kiernan
Mr. Daniel P. King
Miss M. J. Mäher
Miss J. O. Mäher
Miss Mary Maloney
Miss L. Maroney
Mr. W. J. Morris
Mr. Dr. Patrick McDonough
Mrs. Patrick McDonough
Rev. Patrick Menton
Rev. John Menton
Rev. James Menton
Mr. Martin J. Murphy
Mr. Patrick Murphy
Miss B. O'Connor
Miss N. O'Connor
Mr. J. O'Donnell
Mr. J. Piggott
Mrs. J. Piggott
Mrs. Gräfin Robert von Rhoden
Mr. Dr. Joseph Sexton
Mrs. Dr. Sarah Sexton
Miss Kathleen Timmons
Miss Mary Timmons
Rev. Michael Troy
The Hamburg America Line (HAPAG)
The Hamburg America Line was founded in 1847. Its growth to importance was slow at first, but exceedingly rapid afterwards, so that—in 1914—the Company was the world's biggest shipping undertaking, its fleet aggregating more than 1,300,000 gross register tons. The war and its after-effects completely destroyed the work which it had taken seven decades to build up; but reconstruction set in at once, with the result that the Hapag is now once more one of the largest and most important shipping companies. Its fleet consists of 155 sea-going ships and 221 vessels of smaller size, whose combined tonnage amounts to about one million gross register tons.
The routes served by the Company's ships once more span the globe. More than 30 regular services are operated to North, Central and South America, to Africa, the Netherlands Indies, the Far East and Australasia. Several pleasure cruises are also undertaken annually by some of the Company's ships, including cruises to the Scandinavian and Baltic countries, to the Mediterranean, the Orient, the Atlantic Isles, the West Indies, around Africa (4 Continents) and a cruise around the world.
The Company's shore organization is equally comprehensive. The Head Office is situated in a fine building facing the Binnenalster in Hamburg. It accommodates, among others, the offices of the managers, the passenger and freight departments, the shipbuilding section, the bookkeeping departments, etc. The harbour installations of the Hapag comprise Kaiser-Wilhelm-Hafen, Ellerholzhafen, part of Indiahafen, and certain parts of other harbor basins. No less than 158 cranes with a total hoisting capacity of 588 tons are available on the quays for the handling of merchandise. The length of the railway sidings connecting the harbour installations with the network of the National Railways is 10-8 miles. As regards the other establishments operated by the Hapag in the port of Hamburg, special mention must be made of the Overseas Home, where passengers are boarded and lodged at moderate rates prior to their departure. The large installations at Cuxhaven where passengers are embarked and disembarked are also of considerable interest.
A few figures may be added to give a rough idea of the importance of Germany's largest shipping undertaking. Since its foundation its ships have carried 8,1 million passengers and 5,367,000,000 cubic ft. of cargo. The total number of beds on the whole of the ships is 16,500, so that as many as 16,500 persons can be carried across the sea at the same time. The number of clerical employees, workmen, etc., required to keep the firm's business going, is about 12,700. Of these, 8,600 are employed on board the Company's ships, 3,400 on shore, and 700 act as passenger or freight agents in all parts of the world.
Information for Passengers
New York Mail for Passengers. The New York Office of the Hamburg-Amerika Linie has made arrangements that mail addressed to passengers arriving in New York may be obtained at the principal exit on the upper floor of the Pier. This only applies to such letters, etc., that arrive too late to be delivered to passengers on board during their stay at the quarantine station.
Landing Card.
On arrival in New York the "Landing card" attached to your ticket is to be handed to the Immigration Officer for endorsement. First-class passengers will receive the landing cards by the purser during the voyage.
New York Porter Service. Passengers are reminded that the porters on the New York piers are not allowed to ask for gratuities in consideration of the handling of passengers' baggage, they being paid sufficient wages for their services. If, nevertheless, any porter should demand payment for handling such baggage, passengers are requested to note the number plate on his cap and to report him to one of the uniformed policemen on the pier. In addition, passengers are earnestly advised to direct their enquiries concerning baggage or passage matters exclusively to persons who, by their uniforms, are plainly seen to be Hapag employees. Failing this precaution, they expose themselves to the risk of being taken advantage of by unauthorized persons.
Passengers proceeding to interior Destinations. Wireless advance bookings of Pullman, sleeping and parlor car accommodation for the journey from New York to places situated in the interior may be effected on board through the intermediary of the Purser.
Sailing Permits for Non-Americans. Non-Americans (including visitors to the United States who intend a temporary stay only) must obtain, prior to their departure from the United States, a Sailing Permit, which must be produced previous to going on board, when the final passage ticket is examined. Such Sailing Permits are issued at the Custom House, Battery, New York.
Further information will be gladly given by the Hamburg America Line/North German Lloyd, 57, Broadway, New York.
Imported Plants and Soil etc. Prohibited. The United States Department of Agriculture, Plant Quarantine and Control Ad-ministration, advises under "Notice of Quarantine No. 37," that plants, soil or other similar materials cannot be imported into the United States, either as souvenirs or in any other category.
Advance Reservations of Automobiles. The Hamburg America Line has made arrangements with the Pennsylvania Cadillac Motor Service, New York, whereby private limousines may be ordered by wireless to our New York piers for arrival of our ships. Information as to rates and all other details are obtainable at the Tourist Department of the Hamburg America Line on board.
Hapag Cruises for Health and Pleasure
A number of Cruises for Health and Pleasure are organized each year by the Hamburg America Line, enabling passengers to enjoy the beauties of Northern and Southern lands. The vessels used for this purpose are the s. s. "Oceana"—which was specially designed for a pleasure cruise steamer—and several other suitable ocean-going vessels.
Hapag Northern Cruises 1934
These will take place from June to the end of August. The cruise steamer "Oceana" and the motorship "Milwaukee" will undertake Cruises from Hamburg to Norway as far as the North Cape, to Scotland, Iceland and Spitsbergen.
Hapag Scandinavia, Russia and Baltic Cruise 1934
This Cruise will take place after the completion of the Northern Cruises. Starting from Travemünde August 19th, the pleasure cruise steamer "Oceana" will proceed to Visby, Sweden, Finland, Russia (Moscow), Danzig, and Denmark and will return to Hamburg via the Kiel Canal.
Autumn Cruise through the Western Mediterranean
The triple-srcw de-luxe s. s. "Resolute" will sail from Naples on September 3rd on a 12 day Cruise to Hamburg visiting en route Villefranche, Barcelona, Tanger, Lisbon, Vigo, Cobh and Cherbourg.
Cruises to the Atlantic Islands 1934
During September, October and November the Cruise Steamer "Oceana" and the motorship "Milwaukee" will make three cruises from Hamburg to Madeira, the Canary Islands, Tanger and Vigo.
Christmas Cruise 1934/35
Starting from Hamburg the twin-screw motorship "Milwaukee" will undertake a Christmas Cruise calling at Lisbon, Gibraltar, Tanger, Santa Cruz de Tenerife, Funchal (Madeira) and Vigo. Duration 15 days.
Hapag West Indies Cruises 1934/35
From December 1934 to April 1935 the de-luxe s. s. "Reliance" will make several Cruises from New York to the West Indies and the Caribbean.
Hapag Educational Tours to Central America and Cuba/Mexico
By the two up-to-date twin-screw motorships "Caribia" and "Cordillera" Educational Tours to Central America can be made, in connection with which shore excursions have been arranged in the ports of Barbados, Trinidad, La Guayra. Puerto Cabello, Curasao, Puerto Colombia, Cartagena, Cristobal, Puerto Limon and Puerto Barrios. The most suitable time for such tours is from December to February. The return trip may be made, if desired, via Mexico and Cuba, by Hapag steamer.
Hapag Mediterranean Cruises 1935
Between the middle of February and the beginning of June the motorship "Milwaukee" will make several Cruises to the eastern and western parts of the Mediterranean sailing either from Hamburg, Genoa or Venice.
Hapag Around the World Cruise 1935
The triple-screw de-luxe steamer "Resolute" will undertake an Around the World Cruise lasting from the beginning of January to the end of May. Thirty countries will be visited and a distance of about 27.500 miles will be covered.
For information and bookslets apply to the Tourist Office on board this vessel or to
Hamburg-Amerika Linie, 25, ALSTERDAMM, HAMBURG 1 or to any of their agents or representatives.