SS Pennsylvania Passenger List - 11 November 1905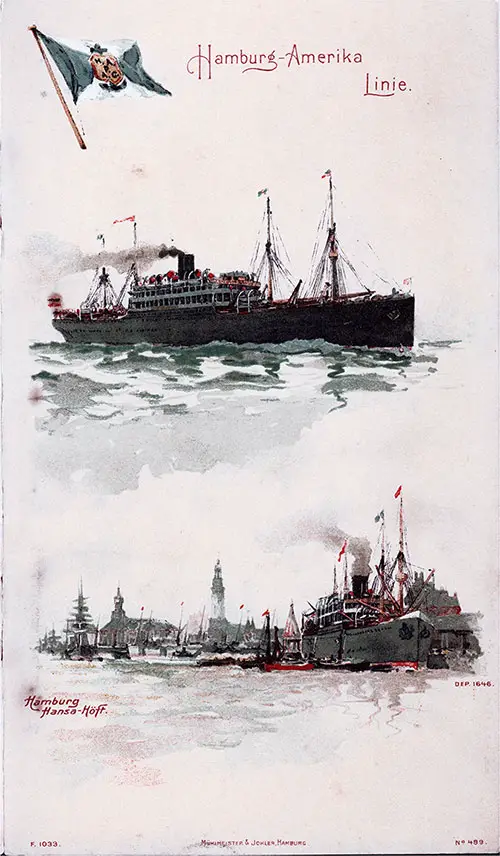 Front Cover of a First & Second Cabin Passenger List for the SS Pennsylvania of the Hamburg America Line, Departing 11 November 1905 from Hamburg to New York via Boulogne-sur-Mer and Plymouth, Commanded by Captain H. Knuth. GGA Image ID # 1781751eba
Senior Officers and Staff
Commander: Captain H. Knuth
First Officer C. Schetelig
Second Officer M. Zimmermann
Second Officer E. Ritter
Third Officer F. Capell
Fourth Officer E. v. Franekenberg
Chief Engineer J. Korte
Second Engineer C. Kreutziger
Third Engineer G. Schmidt
Fourth Engineer H. Malkewitz
Fourth Engineer F. Toss
Electrician A. Nadolski
Physician Dr. E. Mayerle
Purser A. Freydank
Provision Master F. v. Stoltzenberg
Assistant Purser W. Schmitz
Assistant Provision Master J. v. Woltersdorff
Chief Cook P. Schmidt
First Chief Steward H. Siemoh
Second Chief Steward C. Petersen
Baggage Master N. Schoenewald
Assistant Chief Steward N. Kalil
First Cabin Passengers
Miss M. H. Allen
Mrs. A. Bose
Miss A. E. Bose
Mr. C. Bose
Mrs. A. Brünning
Mrs. E. Beauchamp
Mr. W. Beauchamp
Mrs. F. P. Bowersock
Miss S. Baillie
Mrs. M. v. Bartóky
Mrs. J. Clarke
Mr. F. Carew
Mrs. F. Carew
Mrs. F. B. Calman
Miss E. W. Conger
Miss G. H. Conger
Miss H. G. Conger
Dr. W. F. Cope
Mrs. Dr. W. F. Cope
Mr. C. Diez-Gutierrez
Mr. H. J. Dolittle
Mrs. H. J. Dolittle
Mr. A. Dohmeyer
Mrs. A. Dohmeyer
Miss H. T. Emerson
Mrs. L. Ebert
Miss L. Encking
Dr. J. H. Emerson
Miss A. von Frantzius
Miss M. Foster
Mrs. C. J. Foss
Miss Foss
Mrs. E. Fischer
Miss C. Ficke
Miss E. Fern
Miss H. Fera
Miss N. M. Gregg
Mrs. C. A. Gramm
Mr. A. A. Gumuchian
Miss T. Hummer
Miss G. Hummer
Miss L. Hamilton-French
Miss P. Haak
Miss Elsie Haak
Miss Edna Haak
Mrs. H. C. Haense
Mrs. S. Houston
Miss. E. Hassenzahl
Mr. F. Herrmann
Miss F. Itten
Mrs. G. Kemper
Miss L. Krause
Mrs. G. Kennedy
Mr. G. Koop
Mrs. J. Loche
Mr. M. Levy
Mrs. R. Levy
Miss C. Levy
Mr. W. Lüttmann
Mrs. W. Lüttmann
Mr. O. Larsen
Mrs. E. Larsen
Mrs. Wm. Loeb
Miss C. Langer
Miss E. M. Lewis
Mr. R. Lapöhn
Mr. A. Lapöhn
Mrs. H. Litarwitz
Mr. A. Litarwitz
Rev. H. J. Meigs
Mrs. MacIlwaine
Mr. N. Martens
Mrs. M. Orgonyes and Kind
Mr. F. Pabst
Mrs. F. Pabst and Servants
Miss H. Pabst
Miss E. Pabst
Mr. A. Pabst
Mrs. C. F. Parkhurst
Mr. Walter Parkhurst
Mr. A. Petersen
Mrs. A. Petersen
Mr. H. Rubens Jr.
Mrs. H. Rubens Jr.
Mr. S. Rosenberger
Mrs. S. Rosenberger
Mr. L. A. Rosenberger
Mr. R. S. Rosenberger
Miss M. Rosenberger
Miss H. Rolker
Miss L. F. Russ
Mr. C. E Renshaw
Mrs. C. E. Renshaw
Miss A. Renshaw
Miss S. F. Renshaw
Miss E. Renshaw
Miss C. Renshaw and Servants
Mrs. J. J. Redmond
Mr. C. W. Rawson
Mr. A. Rauschenplat
Mrs. O. Rauschenplat
Mr. G. Schachtel
Mrs. G. Schachtel
Mr. G. Schachtel Jr.
Mrs. L. Sternberg
Miss P. Sternberg
Mrs. Mary L. Stuart
Mr. M. Stein
Mr. A. Stark
Mr. H. v. Schönberg-Pötting
Miss F. W. Schneider
Mrs. M. Schumann Leclerq
Mrs. A. Schweitzer
Mr. R. Schweitzer
Miss Elsa Tamsen
Mr. H. v. Wetter
Mr. E. Wallach
Mrs. E. Wallach
Mr. H. Witt
Mr. H. Wundram
Mr. S. Werner
Mr. T. A. Wark
Mr. M. Wolfeil
Miss A. Young
Embarking at Dover / To Dover :
Mrs. Ellen Waechter
Miss E. Waechter
Mr. A. Wolf
Mrs. A. Wolf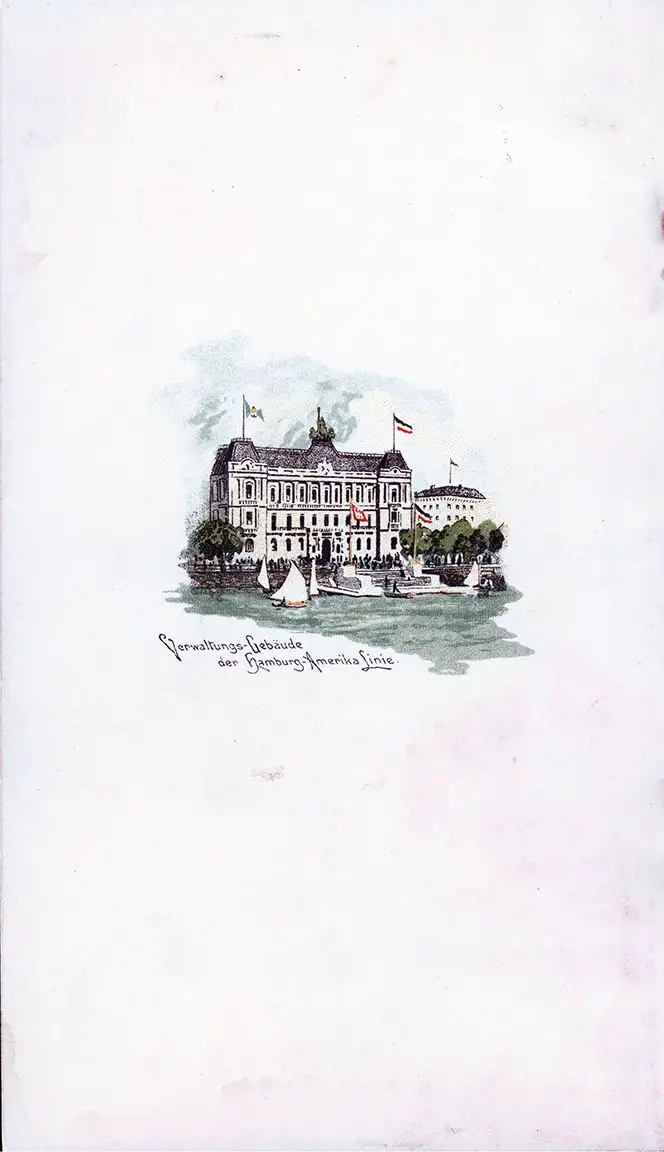 Back Cover of a First & Second Cabin Passenger List for the SS Pennsylvania of the Hamburg America Line, Departing 11 November 1905 from Hamburg to New York via Boulogne-sur-Mer and Plymouth. GGA Image ID # 178191c48e
Second Cabin Passengers
Mrs. E. Austeensen
Mrs. M. Arnleiter
Mrs. M. Alev
Miss M. Alev
Mrs. N. Anzeliowitz
Miss L. Anzeliowitz
Mr. S. Anzeliowitz
Mr. J. Anzeliowitz
Mr. W. Adikes
Mr. F. Bose
Mrs. R. Bursch
Mr. J. C. Buns
Mr. E. F. Bensen
Mrs. R. Baum
Mr. A. Brandt
Mrs. S. Baum and Kind
Miss M. Breit
Mr. O. Berlow
Mr. Z. Blau
Mr. O. Binder
Mrs. B. Binder
Miss F. Baars
Miss M. Brambach
Mr. L. Balbach
Mrs. M. Boll
Mr. J. Boll
Mrs. E. Bunn
Mr. T. Canorau
Mrs. T. Canorau
Mr. C. Canal
Mrs. A. Chapman
Mr. E. Chapman
Miss M. Dethloff
Mr. J. Dramm
Mrs. M. Deuter
Mr. C. Deuter
Mr. H. Deuter
Mr. E. Deuter
Mrs. M. Dickstein
Miss M. Erdmann
Mrs. M. Eckoldt
Mr. A. Eckoldt
Mrs. C. Epstein
Mr. C. D. Flor
Miss G. Fischmann
Mr. M. Falk
Miss M. Friedrichowitz
Miss P. Friedrichowitz
Mrs. B. Gerlich
Mrs. M. Grabowsky
Mrs. K. Griczinska
Miss W. Griczinska
Mr. J. Griczinska
Miss R. Grossmann
Mr. R. Grosch
Mr. V. Glaeser
Mr. S. Goldschein
Miss S. M. Herzog
Mrs. L. Habel
Miss F. Habel
Mr. W. Habel
Mr. W. Habel
Mr. H. Habel
Mr. W. Haas
Mrs. L. Hesse
Miss L. Hesse
Miss H. Hermann
Mrs. C. Hartenstein
Mr. H. Hartenstein
Mr. A. Hartenstein
Miss M. Hartenstein
Mr. B. O. Hemm
Mr. M. Hickli
Mrs. J. Heydorn
Mr. O. Heydorn
Mr. P. Hubricht
Mr. F. Häusler
Mrs. J. Horebler
Mr. J. Hulka
Mr. M. Hübener
Mr. H. Jaeger
Miss W. Jaeger
Mr. W. Jungblut
Miss F. Jauber
Mr. V. Jung
Mr. H. Jonas
Mrs. F. Igielski
Mr. J. Krup
Mr. W. A. Kappey
Miss D. Kluender
Miss F. Kappey
Mr. J. Kurts
Mr. F. Kubik
Mr. O. Krull
Mrs. K. Kohn
Miss M. Kohn
Miss M. Kohn
Mr. K. Koch
Mr. G. Krauss
Miss B. Kupka
Mr. F. Koerber
Mrs. J. Kovacs and Kind
Mrs. M. Kletschka
Miss A. Kletschka
Mr. K. Kletschka
Mrs. E. Kraucher
Miss K. Braucher
Miss H. Kraucher
Mrs. R. B. Kile
Mr. A. Kamalinsky
Mr. O. Kaebler
Mrs. A. Kreklau
Mrs. J. E- Krines
Miss H. Krenn
Miss F. Kolberg
Mr. J. Leonhardt
Mr. W. Loose
Miss T. Lux
Miss H. Leitner
Mr. H. Lau
Mrs. T. Lausch
Miss A. Lausch
Mr. A. Lung
Miss A. T. Lewald
Miss A. Laube
Mrs. H. Litovnitz
Miss A. Litovnitz
Mr. A. Lebonsky
Mrs. R. Lehoczky
Miss J. Lehoczky
Mrs. A. Menzel
Miss F. Menzel
Mr. G. Menzel
Miss M Manfrast
Miss M. Muller
Miss C. Mahland
Mrs. F. Mehring
Mr. W. Mehring
Mrs. M. Meyer
Miss R. Margosches
Mr. A. H. Meyer
Mr. O. Martin
Mrs. W. Matausch
Mr. Muller
Miss Muller
Mrs. M. Merki
Miss M. Merki
Miss A. Merki
Mr. J. Meyer
Miss E. Nauschütz
Mrs. C. Nebendale
Mr. John Oiler
Mr. B. K. Putz
Marg. Phillips
Mr. K. Pfeffer
Mr. C. Rassmussen
Mrs. M. Rulner
Mr. Rud. Rabe
Mrs. Rud. Rabe
Miss G. Rosenfeld
Mr. W. Ross
Mr. F. Ritter
Mrs. A. Ruhberg
Fran J. Rakose and Child
Mrs. T. Sallinger
Miss B. Sallinger
Mr. C. Schluntz
Mrs. A. Schluntz
Mr. H. Schluntz
Miss R. Sillge
Mrs. S. Schwartz
Mr. D. Schwartz
Miss A. Schwartz
Miss S. Schäfer
Mrs. M. Senff
Miss M. Senff
Mrs. E. Schanz
Miss E. Schanz
Mr. Jonny Suhr
Mrs. F. Suhr and Child
Mr. H. W. Stanley
Mrs. A. Stanley
Mrs. C. Sellbach
Mr. H, Sobatz
Mr. R. Steiner
Mr. S. Scharbs
Miss B. Straka
Miss D. Steinberg
Mrs. K. Spangenberg
Miss A. Semmler
Mr. W. Sindler
Mr. K. Sandrock
Miss B. W. von Staden
Miss A. C. von Staden
Mrs. S. Sobel
Mr. L. Sobel
Miss E. Sobel
Mr. O. Schäfer
Miss B. Subot
Mr. F. Schmidt
Miss A. Schuhbote
Miss R. Schlecht
Mrs. G. Scheier
Miss M. Steinmetz
Mr. B. Schaffer
Mr. H. Tietje
Miss A. Tews
Mrs. M. Thener
Mrs. M. Theophil
Mrs. M. E. Todd
Miss H. Todd
Miss A. Tonner
Mr. J. Ulbert
Mrs. A. Ulbert
Mr. R. Vetter
Mrs. M. Vetter
Mr. J. Vogler
Mr. G. Wilms
Miss C. Weber
Mrs. M. Waurisch
Mr. H. Wiedemann
Mrs. G. Wiedemann
Miss G. Wiedemann
Mrs. P. Wirth
Miss L. Wirth
Miss E. Wirth
Mr. Aug. Wulff
Mrs. E. Westermann
Miss L. Westermann
Miss E. Wolff
Mr. Ch. Wils
Mr. F. Wanner
Mr. W. Wagner
Mrs. A. F. Weyers
Fran E. Zilka
Mr. D. Zilka
Information for Passengers
Meals.
First Cabin.
Breakfast is served from 8:00 am to 10:00 am
lunch at 12:30 pm
dinner at 6:30 p. m
Second Cabin.
Breakfast at 8:00 am
dinner at 12:00 pm
supper at 6:00 pm
A menu is printed for each meal. Seats at table are allotted by the Chief Steward. A bugle call will be sounded 15 minutes before each meal, and a second signal at the beginning of the meal. Children paying half-fare must dine at the children's tahle.
Steamer Chairs. Upon application to the Deck Steward, steamer-chairs helonging to the Ocean Comfort Company can be rented for use on the voyage, at a charge of one dollar per chair.
Muslc. The ship's hand performs on the promenade deck during the forenoon from 10:00 am t0 11:00 am, in the first cabin saloon during dinner and in the second cabin from 9:00 pm to 10:00 pm
Staterooms. All staterooms are lighted hy electricity. They are also provided with connections for an electric heater lot a hair-curler, as well as for an electric food warmer, by which milk, coffee, etc., can be kept warm during the night. The apparatus will he supplied by the Stewardess.
Passengers are recommended to lock the doors of their staterooms whilc the steamer is in port.
Baggage. As only small pieces of baggage can be taken into the cabins. all large pieces will be stored in the hold. Access to the bold may be had upon application to the Room Steward.
Hot or cold Baths. A number of comfortable bathrooms are provided aboard. The Bathroom Steward or Stewardess will attend to the hath upon the passenger's request. No charge is made for baths. The water used is sea-water.
Smoking is allowed only on deck and ln the Smoking Room; it is positively prohibited in the cabins and below deck.
The Bar closes at midnight.
Lights are extinguished in the Saloons at 11:00 pm and in the Smoklug Room at midnight.
Surgeon and Apothecary. An experienced Physician is attached to every steamer. Medical attendanee and medicines are provided free of charge.
The Barber is entitled to charge for his services according to the tariff fixed hy the Company.
Library. The books in the library, which may be obtained upon application to the Lihrary Steward, are at the disposal of Passengers, free of charge. A catalogue of the English, French and German books in the ship's library can be had from the Lihrary Steward.
Besides the Library a hookstall, supplied hy the firm of George Stilke, Berlin, will he found on hoard, where all the latest newspapers and publications, weekly and monthly magazines, souvenirs, etc., are on sale.
Letters and Telegrams. Only the purser is authorized to receive letters and telegrams for delivery in the next port of call. Several telegraph-codes will he found in his office.
Writing Paper, Envelopes and Telegraph Forms as well as a llmited numher of Souvenir Postal Cards will be supplied by the Saloon Steward.
Valuables or Money. — The Company is not responsihle for theft if valuables or money are kept in the staterooms. The same should he placed in charge of the Purser for deposit in his safe, and a receipt will he given on the Company's form. As no charge is made for carriage, the Company can accept no responsihility for loss or damage, however arising, but Passengers can protect themselves by insurance.
Foreign Money. The Purser is prepared to exchange foreign money.
Amusements. A numher of pastimc games, such as shuffleboard, quoits, chess, dominoes, etc., are provided for on board.
Attendance. The Stewards have strict instructions to attend to the wants of Passengers in a prompt and courteous manner. Passengers are requested to bring any inattention to the notice of the Chief Steward, and if the complaint made is not promptly investigated, to report it to the Captain.
Souvenir Postal Cards will be furnisfied to Passengers free of charge by the Purser or Chief Steward.