RMS Oroya Passenger List - 22 January 1925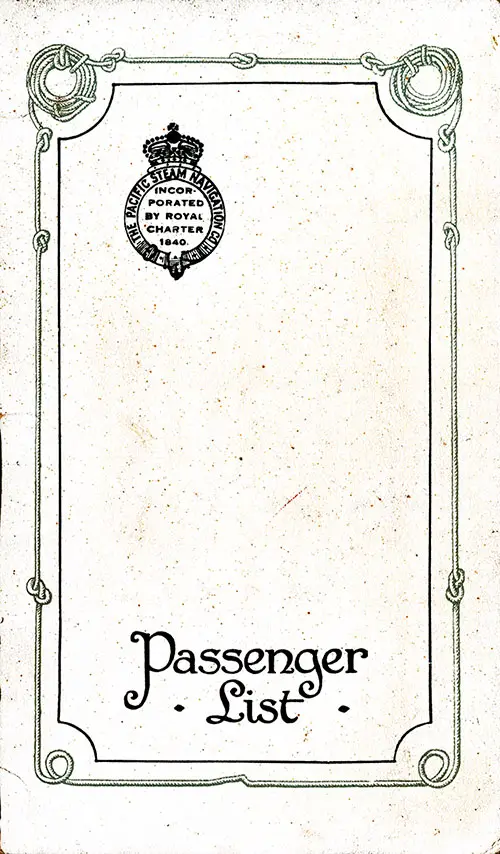 Front Cover, Saloon Passenger List for the RMS Oroya of the Pacific Line (PSNC), Departing 22 January 1925 from Liverpool to Valparaíso via La Pallice, Corunna, Vigo, Lisbon, Recife, Salvador, Rio de Janeiro, Montevideo, Buenos Aires, Port Stanley, Punta Arenas, Coronel, and Talcahuano, Commanded by Captain A. W. Pearse, R.N.R. GGA Image ID # 1fea61b953
Senior Officers and Staff
Captain: A. W. Pearse, R.N.R., Commander
Chief Officer: J. Jackson
Second Officer: F. J. Martin
Third Officer: G M. Lewis
Fourth Officer: P. H. Ray
Junior Fourth Officer: A. R. Ness
Surgeon: J. Fulton Barr
Purser: A. H. Eglen, O.B.E
Assistant Purser: E. W. Dunkley
Assistant Purser: E. S. Howe
Chief Engineer: J. G. Webster
Chief Steward: H. Collins
Wireless Operator: A. W. N. Evans
Wireless Operator: E. C. Forbes
Wireless Operator: G. W. G. Mackie
First Saloon Passengers
Mr. G. S. Ägero
Dr. Alfredo Alcaino
Mrs. L. de Alcaino
Mr. L. E. Alcivar
Miss D. V. Amil
Mrs. E. de Antlres
Miss A. de Antlies
Mrs. A. Balbuena de Mejia
Miss T. Mejia Balbuena
Miss L. Mejia Balbuena
Mr. C. Mejia Balbuena
Master L. Mejia Balbuena
Miss A. Mejia Balbuena
Capt. G. A. Balfour
Mr. W. R. Baseden
Capt. K. B. K. Bibby
Mrs. Bibby
Miss Q. Bird
Mr. David Blair
Mrs. Blair
Miss L. Blair
Miss G. Blair
Miss A. Blair
Miss B. Blair
Master J. Blair
Mrs. Bianca de Bombal
Admiral Francis Clifton Brown C.B., C.M.G., R.N
Lady Clifton Brown
Miss J. W, W. Brown
Mr. H. H. Bunting
Mr. C. Caryallo
Mrs. Carvallo
Miss T. Carvallo
Master A. Carvallo and Governess
Miss C. G. Cumming
Mrs. M. Dayies
Master O. Davies
Miss S. Davies
Mrs. M. Nau de Diaz
Miss L. de Diaz
Mr. H. Dixon
Mrs. Dixon and Maid
Mr. H. W. M. D ulley
Mr. C. Eduen
Mr. G. K. Ford
Mr. R. W. Frazer
Mr. A. Furber
Mr. Francis Gardiner
Mrs. Gardiner
Mr. M. Gomez
Mr. J. Grundy
Mrs. Grundy
Master W. H. Grundy
Mr. R. de la Guardia
Mrs, de la Guardia
Master R. de la Guardia
Miss C. de la Guardia
Mr. H, W. Heseltine
Mrs. Heseltine
Mr. D. E. Heselton
Mrs. V. G, Hobley
Miss B. M. L. Hobley
Mr. A. Hogg
Mr. F. O. N. Hurdle
Mr. Y. M. Janer
Mrs. Janer
Mrs. G. Jardi
Mr. J. Kelly
Mr. J. F. C. King
Lt. Cmdr. R. C. Kinnear, R.N
Mr. G. S. McLay
Mrs. McLay
Mr. T. Marsano
Mrs. C. Marsano Campodonica
Miss A. Marsano
Mr. T. Meares
Mrs. M. W. Moir
Mr. E. D. Monteiro
Mrs. Monteiro
Mr. L. P. Napier
Mrs. Napier
Mrs. M. Erick de Nail
Mr. A. Nazabal
Mr. A. G. Nicoll
Mrs. Nicoll
Miss K. Nicoll
Miss J. Nicoll and Nurse
Mr. G. A. Nicoll
Mr. Luis Nossardi
Lt. Col. R W. Oppenheim
Mr. A, D. Palmer
Mr. F. A. Perez-Falacio
Mr. George Pflug
Mr C. R Finder
Mrs. T. Pingaud
Miss M. Pingaud
Miss J. Pingaud and Maid
Mr. A. Pinillos
Mrs. L. Bingham Powell
Mr. N. Prebble
Mrs. A. de Rangel and Maid
Miss P. Rogers
Miss F. Rogers
Mr. A. Rosado
Miss J. T. Sharland
Mr. R. J. C. Shipley
Mrs. V. Siccoli
Col. R. J. Stordy
Mrs. Stordy
Miss M. D. Stordy
Mr. A. G. Thompson
Mr. F. C. Tyrrell
Mrs. R. Valiancy
Miss P. Valiancy
Mr. L. Velez-Lopez
Mrs. Velez-Lopez
Mr. A. W. Wade
Mr. E, P. Waldron
Miss E. Watkinson
Mr. S. Williams
Mrs. Williams
Mr. A. L. Wodehouse
Mr. P. Woods
Miss C. Woods
Second Saloon Passengers
Mr. A. Anacreon
Mr. 0. C. Banwell
Mr. J. L. Barda
Miss E. Bascombe
Mrs. A. Bethe
Mr. P. S. Blaneard
Mr. E. ßotur
Mr. L. Bossu
Mr. ]. Boulay
Miss Y. Boutonnet
Miss J. Boutonnet
Mrs. M. Bruce
Mr. W. Cann
Mrs. Cann
Miss J. Castro
Mr. M. Garcia Chamoso
Mr. W. G. Charlton
Mr. W. E. Clayton
Mr. D. G. B. Collis
Mr. A. Cosso
Mr. IC. Coudtay
Mr. T. L Dawson
Mr. L. Delery
Mr. E. l)iaz
Mr. A. A.:. DouailLier
Mr. P. A. Duez
Mr. A. Duguet
Mr. E. J. Everest
Mr. E Rojas de Fernandez
Mrs. de Fernandez
Master J. L. de Fernandez
Miss A. de Fernandez
Mr. A. G. Fontaine
Mrs. Fontaine
Miss A. Francis
Mr. F. Fulbrook
Mr. R R Garcia
Miss F. Garcia
Mr. L. Gomez
Mr. R. K. Green
Mr. J. Guennec
Mr. R A. Hitchcock
Mrs. Hitchcock and Child
Mrs. R. Hockless and Two Children
Mr. A. Howson
Mr A. Janyier
Mr. V. J. Jessop
Mr. E. J. W. Johnston
Mr. E. Kirchhoffer
Mrs. Kirchhoffer
Master J. Kirchhoffer
Mr. A. L. Knight
Mr. Z. G. Lagache
Mr. P. Lahr
Mrs. Lahr
Mr. G. L. Lambert
Mr. R. L. Lois
Mr. A. K. Lowder
Mr. G. Masey
Mrs. Masey
Master A. J. Masey
Master S. G. Masey
Dr. J. Meneses
Mr. R. Mischer
Miss A. Mocourt
Mr. J. E. Moore
Mr. P. Mura
Mrs. Mura
Miss O. Mura
Miss M. Pagola
Miss A. Pastor
Mr. W. E. Penny
Mr. E L. Perrot
Mr A. L. Quilbe
Mr. A. M. Raffet
Mr. j. T. Roberts
Miss R. Sarano
Mr. A. Siebenmann
Mrs. Siebenmann
Master R. Siebenmann
Master G. Siebenmann
Mr. F. Smith
Mrs. Smith
Master J. Smith
Master L. Smith
Miss M. A. Smith
Mr. J. Smith
Miss D. Stone
Miss O. Suchicr
Mrs. A. L. Triggs
Mr. Santiago Yidales
Mrs. Santiago Yidales and Child
Mr. W D Webb
Mr. C E. Wyatt
Mr. P H. Zijderyeld
Information for Passengers
Letters Of Credit for limited amounts—payable at specified Agencies—are issued at the Head Offices of the Company free of charge. They must be obtained not later than the day before sailing. Sums of £25 and under are payable on demand; above that amount at one day's sight.
Surgeons are authorized to charge for professional attendance. The fee for each visit is 7s. 6d. for first-class passengers and 2s. 6d. for second-class passengers.
Accounts will be rendered by the Surgeon before the termination of the voyage.
Medicines prescribed will be supplied by the Company free.
Animals, birds, etc., cannot be accepted by the Company's passenger Steamers, unless by special arrangement. They are not allowed in Cabins or on the passenger decks, and must be handed over to the care of the Official appointed by the Commander. Rates for conveyance of Livestock will be furnished on application.
No livestock, including dogs, cats, birds, etc., will be conveyed to England, unless a special permit from H. M. Board of Agriculture is produced to the Company's Officials before embarkation.
Deck Chairs may be hired on board. For charges apply to the Purser.
Baggage Regulations, Insurance of Baggage. Full particulars about the Company's Baggage Regulations, Insur-ance of Baggage, etc., will be found in the separate pamphlets supplied by the Company.
Baggage is carried by weight or measurement at Ship's option.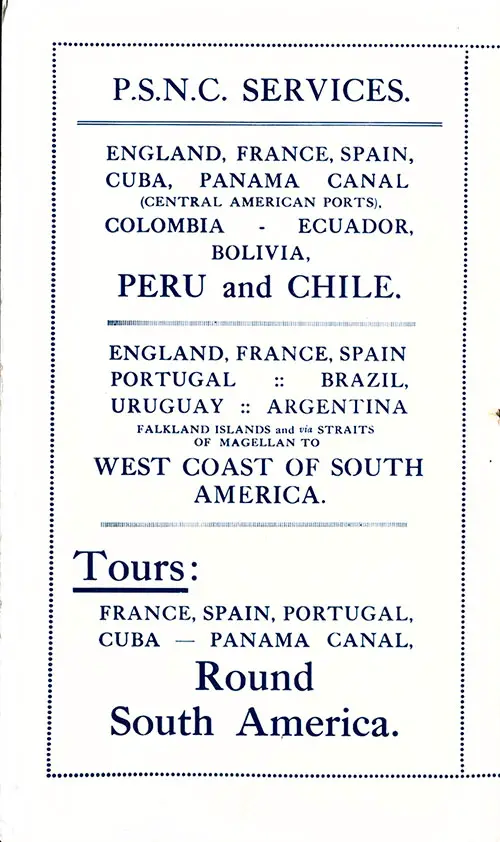 P.S.N.C. Services and Tours, 1925. The Pacific Steam Navigation Company, Liverpool. SS Oroya Cabin Passenger List, 22 January 1925. GGA Image ID # 1feada693a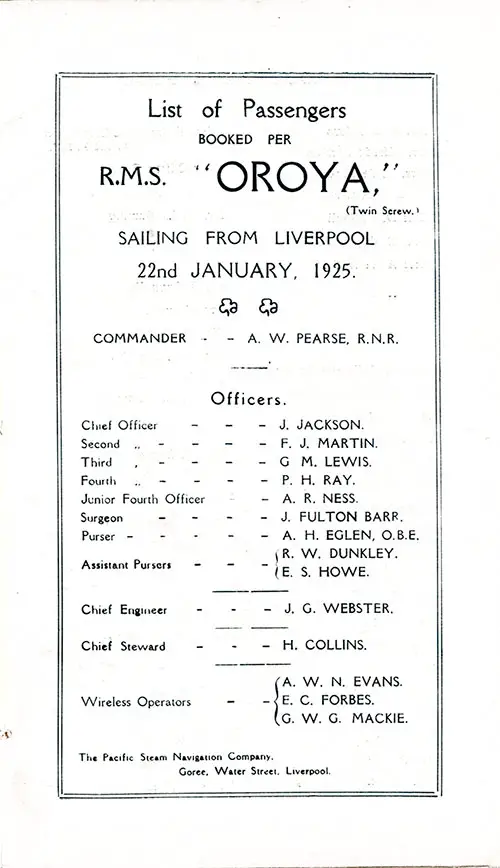 Title Page and List of Senior Officers and Staff, SS Oroya Passenger List, 22 January 1925. GGA Image ID # 1feb53c22c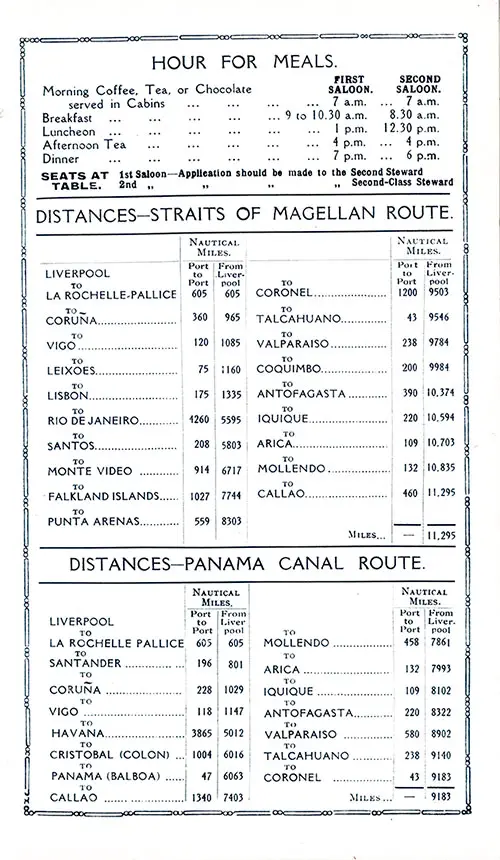 Hours for Meals, Distances-Straits of Magellan Route, and Distances-Panama Canal Route. SS Oroya Passenger List, 22 January 1925. GGA Image ID # 1feb899885
P.S.N.C. Services, Monthly Service by Palatial Passenger Steamers SS Ebro and SS Essequibo, 1925. SS Oroya Passenger List, 22 January 1925. GGA Image ID # 1febe0fa5a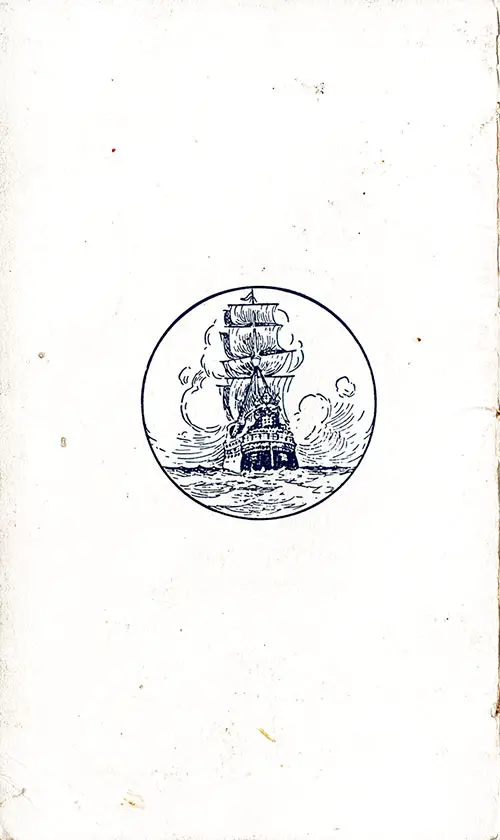 Back Cover, SS Oroya Passenger List, 22 January 1925. GGA Image ID # 1fec131781