RMS Asturias Passenger List - 18 June 1935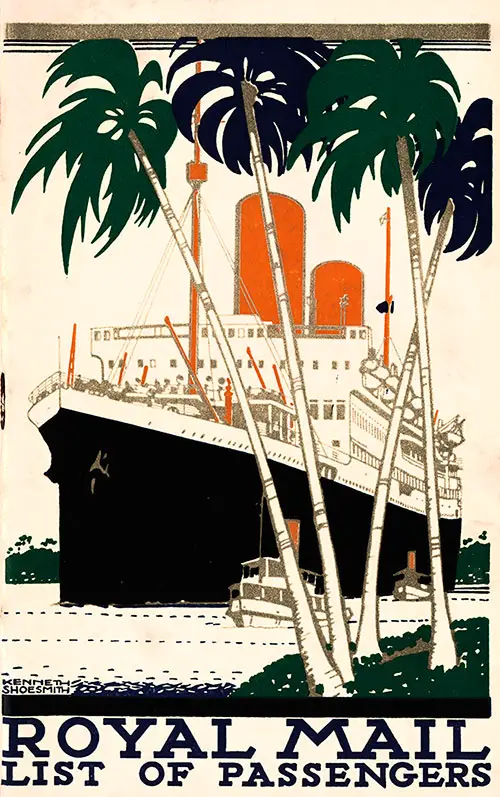 First and Second Saloon Passenger List for the RMS Asturias of the Royal Mail Lines, Departing circa 1 June 1935 from Southampton to Buenos Aires via London (Tilbury), Cherbourg, Boulogne-sur-Mer, Spain (Coruña Galicia, Las Palmas, Vigo), Portugal (Leixöes, Lisbon), Madeira, St. Vincent, Cape Verde Island, Brazil (Bahia, Pernambuco, Rio de Janeiro, Santos, São Paulo), Montevideo, Uruguay. Ariving Buenos Aires, Argentina on 18 June 1935. Commanded by Captain A. Purvis.
List Of Senior Officers and Staff
Captain: A. Purvis
Chief Officer: D. A. Casey, D.S.C., R.D., R.N.R
First Officer: H. R. HENDIN
Senior Second Officer: P. M. BURRELL
Junior Second Officer: E. SANDYS
Third Officer: J. H. Rous
Chief Engineer: J. Russell
First Engineer Officer: H. G. LOWE
Senior Second Engineer Officer: H. J. MEADER
Intermediate Second Engineer Officer: A. C. ROBBIE
Junior Second Engineer Officer: A. W. WILSON
Surgeon: S. B. White. B.A., M.B., B.Ch., Oxon., M.R.C.S. Eng., L.R.C.P. Lond
Certificated Nurse: Miss M. G. ALLEN, S.R.N
Purser: E. T. Chamberlain
Assistant Purser: T. B. WALTON
Assistant Purser: A. R. KIRWIN
Chief Steward: C. J. GALE
R.C. Chaplain: Rev. B. MCFADDEN
Cabin Passengers
Montevideo
Mr. J. B. Henderson
Mrs. Henderson
Mr. I. A. de Leäo
Mr. J. M. Comas Nin
Mrs. Comas Nin
Miss M. M. Comas Nin
Miss L. Comas Nin
Miss M. E. Comas Nin
Miss G. E. Reive
Mr. B. Ribeiro
Mr. D. Ribeiro
Buénos Aires
Mr. J. Alexander
Mr. J. F. Alves
Mrs. Alves
Miss N. Alves
Miss E. Alves
Miss E. Alves
Mrs. M. C. Anderson
Miss B. F. Anderspn
Mr. P. M. Anderson
Mrs. Anderson
Mr. C. P. Billings
Mrs. Billings
Mr. G. M. Brinnand
Mrs. Brinnand
Mr. J. H. Brinnand
Mr. H. H. Brown
Mr. F. Baumann
Mr. C. R. Dickinson
Mr. N. Esteves
Mrs. Esteves
Master L. Esteves and Maid
Mr. R. Flack
Mrs. Flack
Mrs. H. D. Francis
Mrs. N. Furness
Miss J. Furness
Mr. E. Spencer Grey, C.B
Mr. B. Gjuranovic
Miss V. Heslop
Mr. H. G. Hughes
Mrs. Hughes
Mr. J. L. Haworth
Miss E. B. Helmick
Mr. G. J. Hardman
Mrs. Hardman
Mr. S. Klabin
Mrs. Klabin
Miss M. Kalemkerian
Mr. A. E. Livock
Lt.-Com. G. S. Laurence
Mr. G. Leone
Mr. M. E. Malbran
Mr. A. McArthur
Mr. J. MacDonald
Mr. A. J. Mays
Mr. W. MacDonald
Mr. T. N. Morgan
Mrs. Morgan
Mr. G. E. Maxwell
Mrs. Maxwell
Mr. J. Moselli
Spanish Doctor and Emigration Inspector Dr. V. Molina
Dr. M. V. Ponisio
Mrs. Ponisio
Dr. T. A. B. Soden
Mrs. Soden
Miss J. L. Soden
Mr. K. G. R. Strachan
Miss Z. Semurkas
Mr. J. Sabioncello
Mrs. E. M. de Spiller
Miss M. C. Spiller
Miss E. M. Spiller
Mr. H. M. Sorenson
Portuguese Doctor and Emigration Inspector Dr. L. Serejo
Mr A. W. Thompson
Mrs. Thompson
Miss M. V. Thompson
Mrs. M. D. Thomson
Master A. A. L. Thomson
Miss E. M. W. Thomson
Mr. J. Walker
Mrs. Walker
Royal Mail South American Services Information for Passengers
Baggage—Enquiries as to hold or baggage room should be addressed to the Chief Officer, and cabin baggage to the Purser.
Full information regarding Custom House and other regulations in respect to baggage can be obtained on application to the Purser.
Barber—The ship's Barber is authorized to charge for his services according to a fixed scale, a copy of which can be seen on application.
Foreign money will be taken at the rates of exchange authorized by the Company, the list of which can be seen in the Barber's shop.
Electric hair curlers are supplied for the use of passengers, free of charge, and can be obtained on application to the Stewardess.
The use of spirit and other lamps (a source of great danger) is prohibited on board.
A detailed price list of the articles for sale may be seen in the Barber's shop.
Cheques—Passengers' own cheques cannot be accepted on board the Company's vessels in payment of passage money, wine or other accounts, but Pursers may accept drafts on well-known Bankers or approved Travelers' Cheques.
Correspondence and Telegrams—Letters, etc., Posted On The High Seas, in the ship's letterbox, are delivered to the Postal Authorities at the next appropriate port of call according to destination. Such letters must have British postage stamps affixed.
(N.B.—Particular attention is drawn to the notices giving the current postal rates. Passengers are reminded that British inland rates are not applicable.)
On arrival in territorial waters the ship's letter-box is closed, and thereafter correspondence should be handed in to the Enquiry Office or Purser's Office. Such correspondence must bear local postage stamps and be prepaid at the rates applicable in the countries concerned. For stamps and information regarding postage rates, application should be made at the Enquiry Office or Purser's Office.
Cablegrams and Telegrams for dispatch immediately on arrival in port should be handed in at the Purser's Office not later than two hours before arrival.
In order to facilitate the Re-Directing Of Letters, Telegrams, Etc., passengers are requested to notify the Purser in writing of the address to which they will proceed after leaving the ship.
Passengers are requested to apply at the Enquiry Office for their mail before disembarking.
Code Books—Copies of " Bentley's Complete Phrase Code " and/or " A.B.C. (5th Edition) Code " are provided on board for use of passengers. Application should be made to the Purser.
Complaints—In the event of any passengers considering that they have cause for complaint, either of the personnel, food, service or accommodation, they are requested to bring the matter directly to the notice of the Captain, preferably in writing, and if possible before disembarkation.
Deck Chairs—Deck chairs are available for hire at fixed charges, particulars of which can be obtained from the Purser or Deck Steward.
Deck Chair Cushions ("A" Ships Only) AND Travelling Rugs—Cushions for deck chairs and traveling rugs can be hired for the voyage at fixed charges, particulars of which can be ascertained from the Purser or Deck Steward.
Differences In Time—When it is 12 o'clock noon at Greenwich, the time at the various ports of call is as under—
Boulogne ... Noon. Madeira ... 11.00 am
Cherbourg ... Noon. Pernambuco ... 9.00 am
Coruna ... Noon. Bahia ... ... 9.00 am
Vigo ... ... Noon. Rio de Janeiro 9.00 am
Las Palmas ... 11.00 am Santos ... 9.00 am
Leixöes ... Noon. Montevideo ... 8:30 am
Lisbon ... Noon. Buenos Aires ... 8:00 am
Divine Service—Divine Service is held on Sundays at 10:30 am (weather and other circumstances permitting).
Mass is celebrated on " A " Ships when a Roman Catholic Chaplain is carried.
Dogs, Birds, Etc.—Small lap dogs may, by special permission, be carried in their owner's cabins, but large dogs and other animals, birds, etc., must be given into the charge of the appointed official.
Laundry—There is a well-equipped laundry on board, where Passengers' Soiled Linen, etc., can be laundered at reasonable cost.
Library. Books may be borrowed through the Lounge Steward upon a deposit of 5s. per volume. Passengers are particularly requested to see that all books are returned before they leave, when the deposit will be refunded.
Medical Staff—A fully qualified Surgeon is carried on all passenger vessels and the services of a Nurse are at the disposal of Passengers on each " A '' vessel.
SURGEON. The surgeon is authorized to charge for professional attendance. The fee for each visit is : "A " ships, 7s. 6d. First Class, 2s. 6d. Second Class; " Highland " ships, 5s. First Class, 2s. 6d. Intermediate Class; but no fee is chargeable for visits in excess of two per diem.
MEDICINES. All medicines prescribed by the Surgeon are supplied free. " A " Ships Only—
NURSE. The services of the Nurse are at the disposal of Passengers under the direction of the Surgeon. The Nurse's services are gratuitous for all ordinary medical or surgical purposes. Application for Nursing Attendance must be made to the Surgeon.
MASSAGE. Massage ordered by the Surgeon for any illness contracted, or accident which may occur on board, is gratuitous. In all other cases a charge will be made of 5s. per application First Class, and 2s. 6d. per application Second Class. In every case the treatment must be approved by the Surgeon.
Money Exchange—Can be arranged with the Purser.
Photography—A professional Photographer is carried in each " A " ship. Passengers' photographic films can be developed and prints made at reasonable charges. Cameras, films and other photographic material can be purchased on board at the ordinary retail prices.
Sailing Notices—On the ship's arrival at a port an announcement will be displayed on the ship's notice board, giving information as to time of departure or transfer to other ships, etc.
SERVANTS—Passengers' servants (including valets) will take their meals at the special times stipulated.
Service- Dining Saloons— " A " Vessels.
SEATS AT TABLE. Application Should Be made to the Chief Saloon Steward on board the vessel on day of sailing.
First Saloon.
Coffee or Tea served Luncheon ... 12:30 pm
in Cabin ... 7:00 am Afternoon Tea ... 4:00 pm
Breakfast 8.30-9.30 am Dinner ... ... 7.45:00 pm
CHILDREN.
Breakfast ... 8:00 am Tea ... ... 3.30 pm
Luncheon ... Noon Dinner ... ... 5.30 pm
Second Saloon.
Breakfast ... 8:00 am Afternoon Tea ... 4:00 pm
Luncheon ... Noon Dinner ... ... 7:00 pm
" Highland " Vessels.
SEATS AT TABLE. Application should be made to the Chief Steward on board the vessel on day of sailing.
First Saloon.
Coffee or Tea served Luncheon ... 12:30 pm
in Cabin ... 7:00 am Afternoon Tea ... 4:00 pm
Breakfast 8.30-9.30 am Dinner 7.30 pm
Intermediate Saloon.
Breakfast ... 8:00 am Afternoon Tea ... 3.30 pm
Luncheon ... Noon Dinner ... ... 6.30 pm
A light breakfast in Cabins will be provided for Passengers who desire it.
CHILDREN. The menus are varied as much as possible, but parents are recommended to consult with the Chief Steward as to the requirements of their children.
Ship's Regulations. Passengers must conform to the regulations which Royal Mail Lines, Ltd., or their officials may at any time consider necessary for the discipline or comfort of all on board.
Smoking—Passengers are respectfully reminded that the careless disposal of lighted cigar, cigarette, or pipe refuse and matches may lead to serious consequences, and are requested to use the receptacles specially provided for the purpose. Throwing cigarette or cigar ends overboard is also dangerous, as such may be blown by the wind into an open porthole.
Valuables—Money, Jewelry and other valuables should not be packed with personal effects. On board they may be deposited with the Purser.
Wines—A choice selection of Wines, Spirits, Beer, Mineral Waters, Cigars, Cigarettes and Tobacco is obtainable at reasonable prices as per Wine Lists and Wine Cartes exhibited on board the vessels.
Passengers, if they so desire, can sign cards for wines, liquors, etc., served to them in the Smoking Room, Dining Saloon, etc. Accounts for such will be rendered to them before disembarking or at any time by arrangement.
Wireless Telegraphy—Wireless messages for dispatch should be handed in at the Purser's Office, where full information regarding charges can be obtained.
Landing, Embarkation, Etc.
All information contained in the following paragraphs is liable to alteration with or without notice.
Bahia, Brazil.
The usual price by special launch for passengers from ship to shore, or vice versa, is Rs. 50$000. However, there are generally gasoline launches available to take passengers at Rs. 5$000 per head provided there is a sufficient number making the trip.
Special terms can, of course, always be arranged with the launch masters, in accordance with the number of passengers landing or embarking in a party.
Boulogne-sur-Mer.
Embarkation and disembarkation by tender.
Buenos Aires, Argentina.
Vessels usually go alongside the Disembarkation Quay in the North Basin (Darsena Norte), after which passengers are free to land in order to despatch their luggage in the Custom House.
Declaration Forms for Argentine Customs, to be filled in before arrival at Buenos Aires, may be had on application t< the Purser.
Custom House attendance is as follows :—
Week-days ... 7 to 11:00 am
(6.30 to 10.30 Dec. to Feb.)
1 to 5:00 pm
Sundays and Holidays ... 7 to 11:00 am only.
Only hand baggage is dealt with when ships enter at other than official hours.
Cherbourg.
Embarkation and Disembarkation by Tender.
Passengers should refer to the Purser for full information in regard to Customs formalities. Merchandise is not to be landed as baggage.
All baggage which has been passed through the Customs is conveyed by the special train from Cherbourg to Paris. Baggage for examination by the Customs in Paris cannot be taken by the special train, but is forwarded later in Customs transit by " Grande vitesse " or " Petite vitesse," according to instructions given by passengers.
Coruña (Galicia, Spain).
Embarkation or disembarkation by motor launch.
Charges per passenger : Weekdays ... ... Ptas. 2.50
Sundays and after nightfall ,, 5.00
Passengers in transit going on shore for a visit are charged as follows : Weekdays ... Ptas. 3.00 Return
Sundays and after nightfall ... ,, 5.00 Return
Las Palmas, Spain
Embarkation and landing by launch.
Single journey : Ptas. 2.00 per passenger by day and Ptas. 3.00 by night.
Baggage : Ptas. 1.50 per trunk; Ptas. .75 per suit case or small package.
Leixöes, Portugal.
Charges levied for carrying passengers and baggage to and from ships.
IN ROWING BOATS.
From the ship to the shore or vice versa.
Per Passenger ... ... ... ... ... Esc. 3$00
For each piece of baggage ... ... ... Esc. 1$20
Minimum Payment for each Rowing Boat ... Esc. 15$00
IN STEAM OR MOTOR EAUNCHES.
An increase of 50 per cent, on the prices authorized for Rowing Boats.
Children up to the age of three years inclusive, are carried free; from three to seven years they pay half fare.
Charges for landing and embarking passengers and passengers' luggage are doubled when a blue flag is flying over the Harbor Master's Office.
Lisbon, Portugal.
Vessels go alongside.
London (Tilbury).
Vessels usually berth alongside Tilbury Landing Stage for embarkation and disembarkation of passengers.
Madeira.
Passengers landing or embarking by tender are charged 4/- per head, each way, including baggage.
Transit passengers visiting the island are charged 3/- for the return trip.
Montevideo, Uruguay.
Ships go alongside the quay for the purpose of landing and embarking passengers unless prevented by unforeseen circumstances, in which case they will be landed or embarked by tug.
Motor launches are usually available for transit passengers for about $1 per head each way.
Pernambuco, Brazil.
Vessels berth alongside the quays.
Baggage can usually be cleared at the Baggage Warehouse within three hours of ship's arrival.
Vessels seldom remain in port for more than three hours
Rio de Janeiro, Brazil.
Practically all vessels go alongside the Quay, which is about 15 minutes' walk from the centre of the City.
When vessels do not go to the Quays, passengers for Rio and those in transit are conveyed to and from the ship in motor launches. The usual charge for transit passengers for the return trip is Rs. 10$000 per person. Passengers destined to Rio are charged Rs. 10$000, this charge covering transportation of small hand baggage.
If a passenger destined to Rio or in transit requires a special launch to himself, special terms are made, the usual charge being Rs. 40$000 for the single trip.
The above charges are sometimes increased should the vessel be anchored a long distance from the shore.
St. Vincent, Cape Verde Island
Embarkation or disembarkation by launch or boat. Vessels seldom remain in port for more than four hours.
Santos, São Paulo, Brazil.
All passenger vessels invariably go alongside anywhere between Warehouse No. 13 to No. 25. The Baggage Warehouse (No. 16) is open all day from 7:00 am till 4.30 pm and, if required, at night and on Sundays and Holidays at the request and expense of the Company.
All baggage, including hand-baggage, is conveyed from the ship to the Baggage Warehouse in railway wagons, motor lorries or electric trucks, according to the quantity and the distance ship is berthed away from the Baggage Warehouse.
The centre of the city is about two miles from the Baggage Warehouse and can easily be reached by taxi, for which the charge is 6$000, or by tram—$200.
Southampton.
For full particulars regarding landing arrangements at Southampton, see separate Pink Leaflet obtainable from the Purser.
Vigo, Spain.
BOAT CHARGES ARE AS FOLLOWS;—
During the day : Single journey ... ... Ptas. 1.50
Return journey ... ... ,, 3.00
During the night : Single journey ... ... Ptas. 3.00
Return journey ... 6.00
BAGGAGE.
For one suitcase ... ... ... Ptas. 1.00
For one trunk ... ... ... ... ,, 2.50
EXTRA SERVICES, CONVENTIONAL CHARGES.
The following charges are authorized for the handling of baggage from the time it enters the Custom House for examination to its delivery at home or hotel (NOT railway station) :—
Weights.
From 1 to 20 kilos ... ... ... Ptas. 1.00
" 21 to 50 ,, ,, 2.00
" 51 to 100 " " 3.00
Over 100 kilos, charges are pro rata.
Moving baggage inside the Custom House.
Suitcases ... ... ... ... Free.
Trunks, etc Ptas. 1.00
Optional sealing baggage for removal ,, 0.50
NOTE.—The bigger hotels, which possess private launches, have their own arrangements and special charges for transfer of passengers and their baggage between shore and ship, and vice-versa.
Passengers should find out the weight of their packages prior to leaving the Custom House.
Ail porters working under this arrangement are numbered and provided with a copy of the above tariff (in Spanish), which they will produce when called upon to do so.