RMS Orion Passenger List - 7 February 1948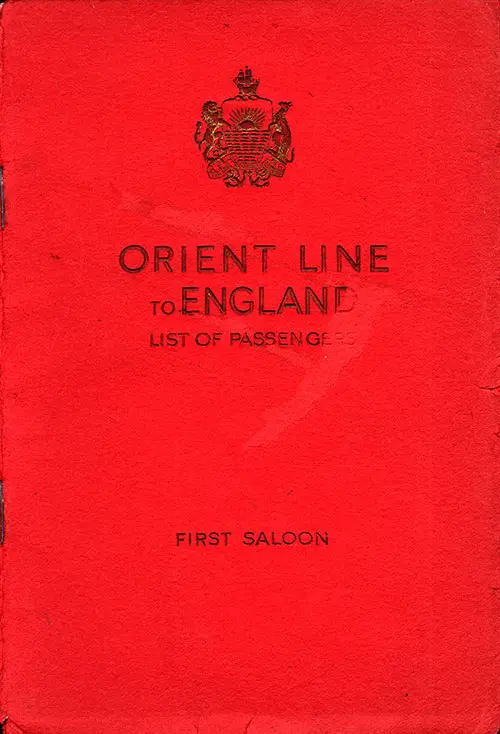 First Saloon Passenger List for the RMS Orion of the Orient Line, Departing 7 February 1948 from Sydney to Southampton via Melbourne, Fremantle, Colombo, Aden, and Port Said, Commanded by Captain C. Fox, C.B.E.
Notable Passengers: The Rt. Hon. The Viscount and Viscountess Nuffield, G.B.E., Rt. Hon. Lord and Lady Rotherwick, Col. The Rt. Hon, Sir Leslie Wilson, G.C.S.I., G.C.M.G., G.C.I.E., D.S.O. and Lady Wilson, Sir George Aylwen and Lady Aylwen, The Archbishop of Belbourne & Mrs. J. J. Booth, The Bishop of Riverina and Mrs. C. H. Murray, Rt. Rev. R. Thomas, Bishop of Willochra, Dr. W. H. Johnson, Bishop of Ballarat
Senior Officers and Staff
Captain: C. Fox, C.B.E
Staff Commander: Cmdr. R. J. Galpin, R.D., R.N.R
Supernumerary Staff Commander: S. S. Burnnand, O.B.E
Chief Officer: R. W. Roberts, O.B.E., D.S.C
First Officer: R. J. Craddock, O.B.E
Senior Second Officer: T. S. Hardy
Junior Second Officer: C. K. Knight
Senior Third Officer: W. B. Thompson
Junior Third Officer: B. Noble
Chief Engineer: V. H. Phillips, M.I.Mar.E
Senior Second Engineer: R. S. Harvey, M.B.E
Junior Second Engineer: G. Hutton
Senior Third Engineer: D. Follett
Junior Third Engineer: T. Prynn Jones
Purser: E. W. Rope
Supernumerary Purser: J. G. H. Thorp
Deputy Purser: K. M. W. Gosden
Surgeon: H. M. Royds-Jones, M.D., B.S.(Lond.)T M.R.C.S., L.R.C.P. C. I
Assistant Surgeon: Wilkinson, M.B., B.S. (Qld.)
Nursing Sister: Mrs. Comber-Higgs
Nursing Sister: Miss J. Roche
Chief Radio Officer: N. A. Boon
Children's Hostess: Miss E. Hagerty
List of First Saloon Passengers
Round Voyage from U.K.
Mrs. M. P. Bainton
Hon. M. A. R. Cayzer
Mr. J. E. Cohen
Mrs. J. Cooper
Mr. H. Gordon Ferguson
Mr. & Mrs. W. Hickman
Mr. J. C. lonides
Mr. C. T. Kingerlee
Mr. J. Mathieson
Mrs. F. K. Miles
Mrs. Mary Mitman
The Rt. Hon. The Viscount Nuffie G.B.E
Viscountess Nuffield
Rt. Hon. Lord Rotherwick
Lady Rotherwick
Miss C. 1. V. Seedhouse
Capt. C. W. Whish, R.N. (Ret'd)
Mrs. Whish
Col. The Rt. Hon. Sir Leslie Wilson, G.C.S.I., G.C.M.G., G.C.I.E., D.S.O
Lady Wilson
Queensland
Miss M. V. Baldwin
Mr. & Mrs. Kevin J. Barry
Miss Joan Barry
Mrs. C. Beatty
Mrs. M. H. Bennett
Mr. & Mrs. R. F. G. Fogarty
Mrs. R. G. Groom
Mr. L. W. Harpham
Miss Barbara A. Harpham
Miss S. E. Hawkins
Dr. & Mrs. L. Morris
Mr. D. D. Morris
Miss Iris Philpott
Mr. & Mrs. James Steven
Mr. & Mrs. D. H. Stewart
Miss Fiona Stewart
Miss M. A. Sword
Mr. & Mrs. A. H. Warner
Mr. & Mrs. W. K. Watson & 2 infants
New South Wales
Miss Margaret Abram
Rev. & Mrs. O. V. Abram
Mr. & Mrs. Alfred Adams
Miss E. Albrighton
Mr. Ross Arnott
Mr. & Mrs. A. E. Baker
Miss J. R. P. Baker
Miss Q. Baker
Miss A. Banks
Miss D. Banks
Mr. J. Banks
Miss J. Banks
Mr. & Mrs. R. D. Banks
Mr. R. Banks
Miss M. B. Bartlett
Mr. & Mrs. J. W. N. Baclay
Miss Moya Barnes
Hon. H. C. H. Bathurst
Hon. Mrs. Bathurst
Mr. G. C. Beardsmore
Comdr. O. H. Becher, R.A.N
Mr. George Bielitch
Mr. & Mrs. H. Bleakley
Miss R. Bleakley
Miss J. Blunt
Mrs. C. Box
Miss F. A. Box
Mrs. F. M. Boydell
Mr. lan Boydell
Miss P. J. G. Britts
Mr. & Mrs. Colin Venn Brown
Miss Helen Venn Brown
Miss Janet Venn Brown
Miss A. M. Buckingham
Mr. W. Buckingham
Miss Alice I. Buddee
Miss Helen Burdekin
Mr. & Mrs. A. Bush
Mr. & Mrs. C. G. Caiman
Miss Jean Caiman
Mr. P. A. Cameron
Mr. E. C. T. Carden
Major Charles Carington
Mrs. Carington
Mr. A. D. Cattanach
Mrs. E. M. Champion
Miss Janet Chisholm
Miss Freda Connor
Miss Maud M. Dangar
Miss Barbara L. Davidson
Miss H. M. Dobell
Miss Margaret Dowling
Mr. H. W. Dunn
Mr. & Mrs. P. R. Dunn
Mrs. E. C. Eilbeck
Mr. & Mrs. H. S. Fisk
Dr. A. Fleischmann
Miss O. E. Fort
Mrs. E. Fraser
Mrs. Hugh Fraser
Miss P. E. Fraser
Mr. & Mrs. H. B. Fry
Mrs. Doone Gregory
Mr. & Mrs. J. A. L. Gunn
Mr. & Mrs. W. K. Gunn
Mr. & Mrs. W. Haines
Mr. W. R. Haines
Mr. James F. S. Hall
Miss Y. A. Halsall
Miss A. R. Halsall
Mr. & Mrs. S. T. C. Hardy
Miss Dolly Harmer
Mr. & Mrs. A. S. Harrison
Mrs. Peggy Hart
Mr. & Mrs. G. Hazlewood
Mr. G. 1. Hazlewood
Dr. C. B. Heald, C.B.E
Mrs. Heald
Mrs. W. E. Hearn
Miss Robin Henderson
Mrs. Yorke Henderson
Mrs. E. Heron
Mrs. C. A. Hickman
Miss Marjorie Hoskins
Mrs. George Hughes
Miss B. E. Hulks
Mrs. Hutton
Mrs. E. B. Jeffes
Mr. & Mrs. A. W. Keighley
Miss E. Kenny
Mr. & Mrs. C. A. Kerr
Miss 1. Kirwan
Mr. & Mrs. F. Klement
Mrs. J. C. Learmont
Miss A. D. Leckie
Mr. H. C. Leggatt
Miss M. L. Lockhart
Rt. Rev. Monsignor T. Lynch
Mr. & Mrs. E. C. Lysaght
Mr. C. G. McArthur
Mr. & Mrs. A. Macbeth
Mrs. Kelvin McGarrity & 3 children
Miss A. Macbeth
Mrs. G. A. Mackenzie
Mrs. C. Macleod
Mr. F. V. McPhillips
Dr. Muriel McPhillips & child
Mr. & Mrs. Neville L. Manning
Miss Patricia Manning
Miss S. W. Marriott
Miss I. W. Marshall
Mrs. L. S. T. Marshall
Miss H. Melocco
Miss J. Melocco
Mr. & Mrs. L. G. Millward & 2 children
Mr. & Mrs. M. A. Moran
Rt. Rev. John S. Moyes
Mrs. Helen M. Moyes
The Bishop of Riverina & Mrs. C. H. Murray
Mr. & Mrs. N. Murray & child
Mrs. M. T. Nelson
Capt. E. W. Nowill
Mr. Derek Ogilvie
Miss M. Oxenham
Miss A. Pattinson
Miss J. Pauli
Miss M. Pearson
Mrs. W. H. Perndt
Mr. W. E. Perry
Mr. T. B. Peterson
Father T. J. Pierse
Mrs. Hugh Poate
Miss Jeannette Poate
Mrs. M. V. Point
Mr. & Mrs. H. S. Porter
Mrs. G. E. Prior
Mr. & Mrs. Sydney Rawlings
Mrs. Janet Read
Mr. Edgar Ritchard
Mr. A. Roberts
Captain N. G. Roskruge
Mrs. Roskruge
Miss J. D. Roskruge
Miss M. Hilda Ross
Major G. E. D. Sandars
Mr. & Mrs. L. Sanders
Mrs. J. Sangster
Mr. & Mrs. H. W. Seymour
Miss M. Sherwin
Miss F. Sherwin
Miss Beryl M. Simpson
Mr. & Mrs. J. M. Sims
Miss P. R. Smith
Miss M. L. Staniland
Mr. & Mrs. F. E. N. St. Barbe
Mrs. F. Stewart
Mrs. E. Stoker
Mr. & Mrs. H. Stokes
Mr. & Mrs. Brian S. Tait & child
Mr. & Mrs. F. J. Taplin
Mrs. Ethel Taylor
Mrs. Herbert H. J. F. Teale
Miss L. Thomson
Miss Grace M. Tomlinson
Mr. & Mrs. A. W. Waddell
Miss Ruth Walker
Miss H. Wallace
Mrs. M. A. Walls
Miss Margaret Walls
Mr. & Mrs. F. Walmsley
Miss Patricia Walmsley
Father M. E. Walsh
Mrs. C. L. Waterman & child
Miss Gwen H. Watt
Mr. & Mrs. C. T. Williams
Miss D. Williams
Mr. & Mrs. George W. Williams
Miss Jennie Williams
Mr. & Mrs. Roy B. Williams
Mr. R. R. Williams
Miss S. M. Williams
Mrs. G. M. Wilson
Miss H. M. Wilson
New Zealand
Sir George Aylwen
Lady Aylwen
Mrs. G. E. Cumming
Mr. & Mrs. C. G. Dickson
Mr. & Mrs. R. K. Jones
Mr. & Mrs. W. Lee
Mr. & Mrs. B. A. Lewis
Mr. & Mrs. E. Merz
Miss A. Merz
Miss T. Turnbull
Victoria & Tasmania
Mr. & Mrs. John Anderson
Miss Dorothy Anderson
Mr. & Mrs. H. J. Atkins
Mrs. L. Bailey
Mr. & Mrs. A. G. Billing
The Archbishop of Melbourne & Mrs. J. J. Booth
Miss E. Boyd
Comdr. W. S. Bracegirdle, D.S.C., R.A.N
Mrs. Bracegirdle & family
Mr. & Mrs. D. M. Bradshaw
Miss G. Bromley
Mr. J. M. Brown
Mr. & Mrs. E. P. Bussey
Captain & Mrs. J. Benjamin
Mr. & Mrs. A. D. Campbell
Mr. S. H. Campbell
Maj.-Gen. Jas. H. Cannan & Mrs| Cannan
Mr. & Mrs. A. Carter
Miss P. Carter
Miss J. Connell
Mr. C. Coleman
Mr. & Mrs. H. G. Cooney
Miss N. E. Corney
Mr. & Mrs. E. C. Coverdale
Father Cullen
Mr. & Mrs. J. Cumisky
Miss M. E. Davies
Mr. & Mrs. A. J. Dean
Mr. Fred W. Dennett
Rev. Mother Kathleen Douglas
Capt. R. R. Dowling, D.S.O., R.A.N
W/Cdr. & Mrs. J. Dutton
Mr. J. F. Dynon
Mr. & Mrs. S. A. Eagle & family
Mrs. J. S. Feehan
Mr. & Mrs. L. Fenton
Miss L. Fraser
Miss N. Ferguson
Mr. H. G. Ferguson
Miss B. E. Fleming
Sister Flora
Miss Beryl Fricke
Mr. & Mrs. W. E. Gair
Miss M. Galtry
Miss O. E. M. Gardner
Mrs. E. Goetz & child
Air Marshal R. Graham, C.B., C.B.E., D.S.O., D.S.C., D.F.C. & Mrs. Graham
Mrs. T. Grantham
Miss M. Grantham
Mrs. S. B. Greenlees
Rev. J. J. Griffin
Mr. & Mrs. J. M. Grist
Mr. H. F. Gurney, O.B.E., & Mrs. Gurney
Miss P. J. Gurney
Mrs. A. F. Gutteridge
Miss P. S. Gutteridge
Mrs. G. Haggard
Miss J. Haggard
Mr. B. P. Hamilton
Mrs. K. Harris
Mr. S. Harris
Miss M. Harris
Mrs. C. F. Henderson
Miss M. Holyoake
Mrs. C. 1. Horsfall
Dr. & Mrs. H. R. Hyett
Miss Shirley Hyett
Miss Joan Hyett
Mother Ida C.H.N
Dr. W. H. Johnson (Bishop of Ballarat)
Mrs. C. W. Kershaw
Mrs. W. E. King
Lt.-Col. J. Kitchen
Mr. G. Knowles
Mr. & Mrs. S. C. Ladbury
Mr. & Mrs. R. Lawson
Miss Jean Lawson
Mr. R. S. Lawson
Mrs. L. C. Lowry
Miss L. Luly
Mrs. T. P. Luxton
Miss H. McArthur
Rev. Father B. McDermott
Miss M. P. McDonald
Mr. & Mrs. L. F. Martin
Rev. Mother Dorinda Meagher
Sister Mildred
Mr. G. A. Miller
Mrs. K. Mitman
Miss E. M. Moffatt
Miss G. M. C. Moorees
Miss J. Nevett
Mrs. W. Noall
Miss E. Noall
Miss J. Noall
Mr. & Mrs. S. J. Norris
Miss M. O'Brien
Mr. C. D. Ogilvie
Captain & Mrs. H. Page & infant
Mr. F. Peters
Mr. & Mrs. W, F. Pfeiffer
Miss M. E. Pousty
Mrs. E. M. Pousty
Mr. & Mrs. H. Prowse
Mr. C. G. Ramakrishnan
Miss E. P. Reynolds
Mr. & Mrs. G. Riley
Mr. & Mrs. H. E. Roberts
Miss Dorothy J. Rolph
Mother Rosemary
Dr. D. B. Rosenthal
Mr. & Mrs. G. Sarasin
Mrs. 1. Sargeant
Mrs. M. 1. Sawrey
Miss S. M. Sawrey
Mr. A. M. Sayce
Mr. H. L. Scott
Mr. & Mrs. George Seggie
Miss P. Seggie
Miss M. Seward
Mr. & Mrs. R. Sheppard
Mr. J. Sheppard
Mrs. E. Smith
Mr. & Mrs. F. Staff
Mrs. Allen Southey
Miss Helen Southey
Miss F. M. Steel
Miss L. J. Steel
Miss M. Strang
Mr. & Mrs. J. S. Tait
Col. & The Hon. Mrs. A. C. R. Waite
Miss K. Walker
Mr. & Mrs. M. J. Walsh
Miss Ann Walsh
Lieut. J. Watson, R.N
Miss E. Weston
Mr. & Mrs. C. Lawson White
Miss D. E. Whitehead
Mrs. Burton Withy
Miss D. Wykes
South Australia
Miss J. M. Astley
Miss D. Barham
Miss 1. V. Bridgland
Miss K. J. Bryant
Mr. R. Laidlaw Davidson
Miss M. Douglas
Miss G. Duffy
Miss O. Duffy
Mrs. E. Duncan
Miss K. H. Hilfers
Mrs. F. E. L. Human
Mrs. Carlile McDonnell
Miss M. Murray
Miss K. T. Richardson
Mrs. S. Richardson
Rt. Rev. R. Thomas, Bishop of Willochra
Mr. Joseph Vaughan
Western Australia
Mother Mary Martina Anderson
Mr. & Mrs. J. Ball
Dr. H. W. Bennetts, C.B.E
Mrs. Bennetts
Miss M. Birley
Mrs. W. E. Blackall
Mrs. N. Boxall
Mrs. G. E. Burdett
Mrs. M. L. Burke
Mrs. E .M. Cox
Mrs. Ann Hudson
Mr. & Mrs. C. H. Hunter
Miss M. B. Lefroy
Rev. T. J. Linnane
Rev. J. Lyne
Mother Mary Conception McDonnell
Miss M. McLean
Miss Nance C. Myatt
Miss Betty North
Mrs. Edith Payne
Mr. & Mrs. W. J. Payne
Mr. & Mrs. F. Ridgway
Mr. & Mrs. T. J. Snooks
Mr. R. J. Taylor
Mr. & Mrs. H. M. Whitford & child
Mr. G. J. Wight